Taking electricity with you is every desire of the outdoorsmen, but it is much easier said than done. With the advance of portable technology, though, portable batteries have been close behind these requests. Tech and outdoor companies have paired up to meet the demand to take electricity outdoors and they've done it in a big way.
Some would argue that technology in the outdoors is against the natural ethics of those who call themselves "real outdoorsmen" but with the many advantages in safety are now encouraging outdoorsmen to take some sort of safety device with you often out-weigh the disadvantages.
Having a portable battery with you could save your life. Not only will it charge your phone or camera, it will charge important GPS devices or radios to stay in contact with the civilized world. There are many situations in which we find ourselves out in nature; biological research, hunting, fishing, hiking, or leisurely walking.
Whatever your situation, you will want to ensure that you are safe and connected. Making sure that you can keep in contact with others in case of emergency and be found if something goes terribly wrong. Having the best battery with you in the wild is one of the easiest ways to protect yourself and we believe this article will guide you in getting the right one!
Features To Consider
Portable battery varies a lot in size, shape and extra features. However, we have compounded these essential features to help you pick the correct one for your desire and budget
Dimensions
Obviously, one of the largest determining factors when choosing the right portable battery for you is just that: portability. Is it easy to carry along with you and not proving to be an inconvenience? The size and dimensions are important in anything you choose to take with you when you travel.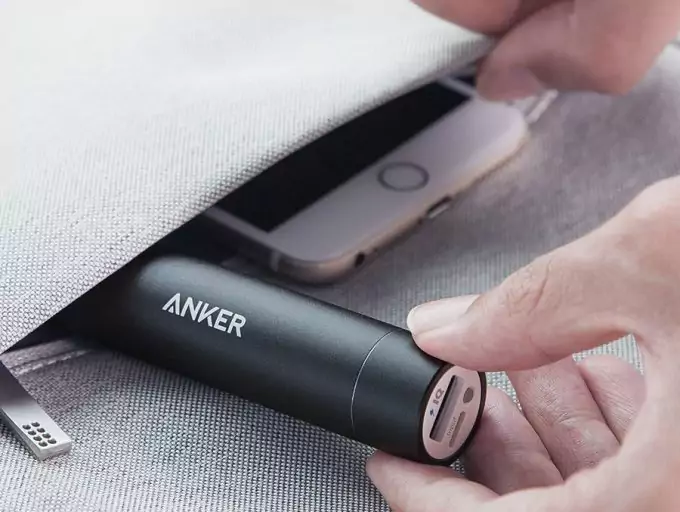 Whether the size is determined by a hiking pack where every ounce counts or you have special supplies for hunting or fishing equipment that automatically make the cut, the portable battery should be the appropriate size to help you to never carry more than you need while not sacrificing safety.
Every outdoorsman has their set supplies needed for the type of excursion they are embarking on and the battery should be added to the list. It's not something that takes the place of other supplies. It should be small enough to go unnoticed, but large enough to do its job well.
Weight
Weight and dimensions go hand in hand in the sense that they are the main part of the decision behind a purchase. It's always a balance of heavy versus capabilities. The bigger, isn't always the better, but neither is the smallest.
In the end, the buyer has to ask themselves if this portable battery has all of the functions they need while maintaining the ability to fit within their needs before hitting the trail or packing the suitcase. The ideal portable battery would fit into a many different parts of life, not just outdoors.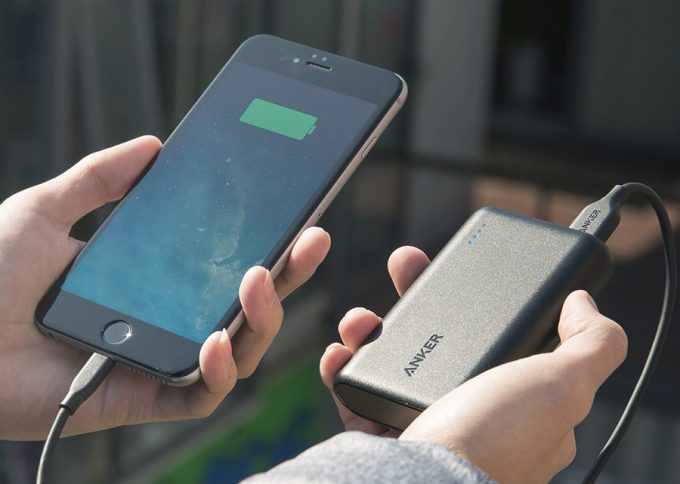 A portable battery should bring safety and peace of mind to the hiker and backpacker, it should bring added benefits to the fishermen and hunter, it should also give the student or employee piece of mind when traveling abroad or cross-country. The most fitting portable battery for you should be the most versatile as well.
The mAh
The mAh stands for the milliamperes per hour (milliAmp hour) and it refers to the measure of a battery's storage capacity for the energy that it holds. For example, picture the portable battery like the fuel tank in your car.
The mAh is just a measure of how much hypothetical "fuel" your battery can hold- the more fuel, or energy, the better. This is also an indicator of size and weight. The larger the mAh the battery holds, the larger the battery will physically be. This also correlates well with the devices you might be connecting to your portable battery.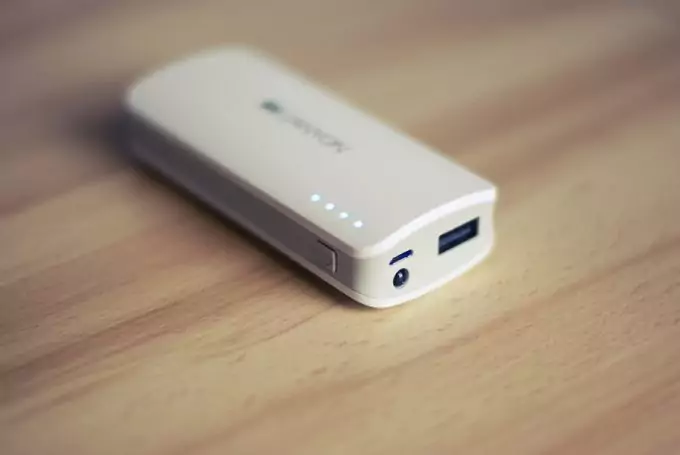 If you want a small, lightweight, portable battery, then you may not be able to charge your laptop all the time with a lower mAh battery. The technology behind these batteries really is amazing. For example, the standard iPhones have a capacity of between 1420-1800, therefore, to fully charge an iPhone one time, you would need at least 2000 mAh in capacity.
Charge Output & Protection
Charge output indicates how powerful the output is to charge various devices. This could be a deal-breaker for some consumers. We want the best of both worlds, something that charges quickly, but gives enough power to other devices for charges that will last much longer.
To put this into perspective, most smaller devices such as cell phones or digital cameras only require 1A (amp) of output to charge them.
In contrast, larger devices that use more power to run such as laptops or tablets, often require more than 2.1A (amps) of output to charge them effectively. This means that the smaller portable batteries may hold a lot of mAh storage, but if their output isn't strong enough, they will not be able to charge larger devices as well as you might like.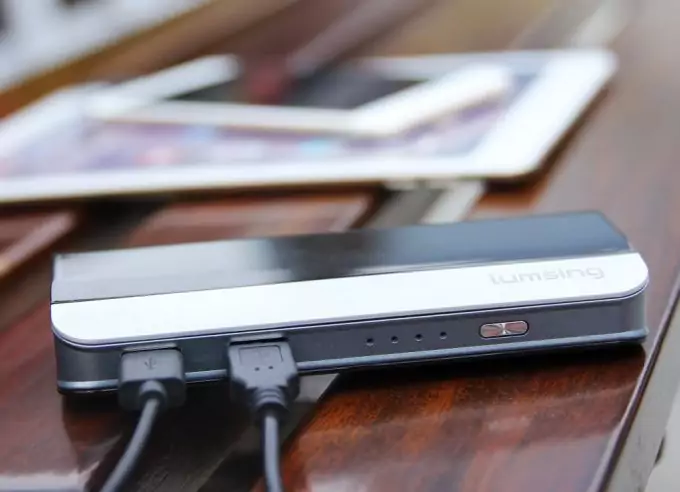 Another aspect of charge output is based on how well the battery will protect itself. Often times, devices get burnt out or worn down because they are charged for much longer than necessary at full power.
If you leave your smartphone plugged into the wall even when it's at 100% charge, the battery will begin to deteriorate because the current is constantly flowing into it even when it doesn't need it. Some of the highest quality batteries actually monitor themselves.
Making sure never to send too much current into another device or avoiding short circuits in the event of power surges or losses and much more. These are just a few ways to preserve the life of your battery and the life of the devices it may be charging.
Features & Uses
Each portable battery comes with a variety of uses. Most come with a standard cord, but many have various plug-in types and places. These can be used to charge any number or types of devices you might need as long as the cords are compatible. There are also specific devices that some portable batteries can charge.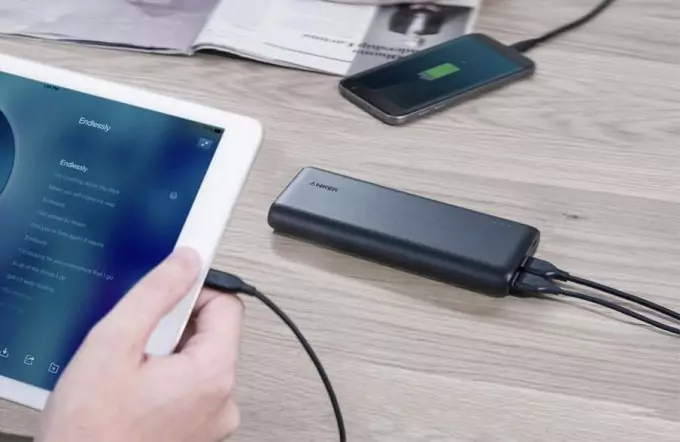 Some charge only phones or tablets, others charge phones, tablets, laptops and more. Some even charge your car battery if it dies! There are so many uses for each of these portable batteries that each one individually needs to be researched in detail before making the decision on which fits you best.
Top Product Reviews
There are numerous models you can select from, and they're all available from an extensive variety of organizations and come in different sizes. To help you pick the correct one, we will review the top 9 best ones available in the market today.
Asus External Battery Pack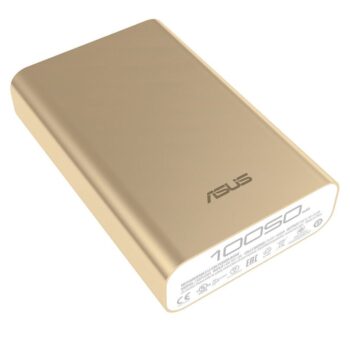 Price: $20 – $40
Weight: 8 ounces
Dimensions: 2.3 x 3.6 x 0.9 in.
Specific features: 2.4 A output & temperature, short circuit, reset, input & output over-voltage, and over-charge protection, standard usb plug-in (cord not included), basic device charging
Best use: Phone accessories, travel accessories, outdoor accessories
Description: The Asus External Battery Pack is small but mighty. One thing to note is that although it's small in size, it is still thick, which is why it is able to pack so much power into such a small device.
It is conveniently sized and will fit into pockets, backpacks, or even purses for power on the go. This battery has a ton of key protections that are one of the ways it separates itself (other than the amazing colors it comes in).
With temperature protection, this battery pack won't overheat and will gauge the outside temperature to ensure safety for itself and the device it's charging. With the reset and short-circuit safety, a power surge or outage won't harm this charger or the devices plugged in either.
It is easily compatible with other Asus devices, but does not come with cords. Make sure if you buy this product that you have a way to charge what you need through USB port. This small battery pack has enough mAh to charge your phone, multiple times, and is still strong enough to charge a tablet or a laptop as well.
PROS:
Highly durable
High battery capacity in a portable size
Premium design
No heating while charging or discharging
Charges up ZenFone quicker than stock charger
Light weight
CONS:
Charging time could be faster
Related: If you are looking for an ever higher capacity and a smaller design, we suggest checking out the Anker PowerCore 20100.
PowerAll PBJS 16000-RS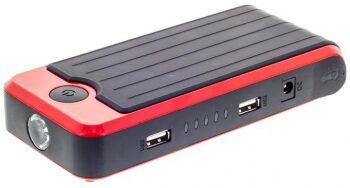 Price: Approx. $100
Weight: 41.6 ounces
Dimensions: 11 x 9 x 2.3 in.
Specific features: 600 A output & over current, short circuit, over-voltage, overload, overcharge, and auto-shutoff protection, battery charger, car jump-starter, led flashlight, 2 usb ports, ports for jumper cables
Best use: Phone accessories, travel accessories, outdoor accessories, automobile accessories
Description: We know what you're thinking, 600A output and 16000 mAh is a lot of power! And you would be right. PowerAll Pbjs 16000-RS and & Jump Starter is a literal lifesaver of a device.
Equipped with two USB ports to charge multiple devices, a port that connects to jumper cables to restart a dead car battery, and a built-in LED flashlight, this is a portable battery that needs to be in everyone's car.
One of the worst scenarios is completely avoidable. You're lost, the car battery is dead, your phone is in the red zone, and you have no idea how to get help. Keep this battery power pack charged up and your questions are answered.
Charge your phone up, jumpstart your own car, and see what you're doing the whole time with one small device. The flashlight itself boasts three important features, a regular light mode, a strobe mode, to catch attention, and an SOS signal in the event of emergencies. This battery has all kinds of protections built in to preserve the battery itself and the device that it is charging too.
This is a little larger than your average phone-charging portable batteries, but with its capabilities, that is to be expected. At about the size of a small tablet, it fits into a backpack, briefcase, or glovebox with no problems.
PROS:
Compact Jump Starter
Has charging adaptors for electronic devices
Lightweight
Easy to operate
Simple to Store
Accompanies a carrying case.
CONS:
Not good to jump start bigger or heavy vehicles, such as trucks.
Related: If you want a portable battery charger with charging adaptors for tablets and smartphones, you can check out the PowerAll PBJS32000R 24V.
Anker Powercore+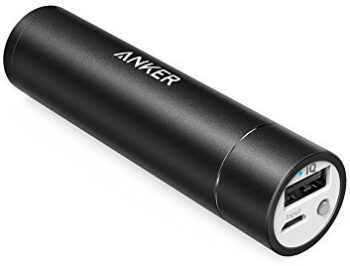 Price: $14 – $40
Weight: 2.7 ounces
Dimensions: 3.7 x 0.9 x 0.9 in
Specific features: 1 A output & surge and short circuit protection, battery charger, travel pouch, 1 usb port (cable not included), 1 micro usb port & cable included
Best use: Phone accessories, travel accessories, outdoor accessories
Description: The Anker PowerCore+ is unbelievably small. It's is labeled at about the size of a lipstick tube and still has the ability to charge your phone effectively. This tiny device recharges in about 3-4 hours, but only gives out about 1A of output.
That kind of output works really well for phones and other smaller devices like cameras or even a GPS, but this might not cut it for a tablet or computer. It is built to work for smaller devices and does that very well. It features some of the same protections that larger chargers have including surge protection, short circuit protection, and more.
All of this packed into a battery that weighs about as much as an egg. It comes in a variety of colors and fits well in any backpack or purse for charging on the go. It also gives you a heads up on the charge with small lights that indicate how much charge is left to be used.
These tiny chargers make great gifts for loved ones with smart phones that you want to stay safe and in contact.
PROS:
PowerIQ gadget identification
High capacity
Incredibly small
High quality built
Amazing Panasonic-Sanyo Lithium Ion Cell
CONS:
USB port issues
Slow charging may happen on some gadgets
Battery heat and productivity issues
Related: if you are in need of a portable charging station to take along on your outdoor trip, you can check out the Anker 2nd Gen Astro Mini 3350 mAh.
AmazonBasics Power Bank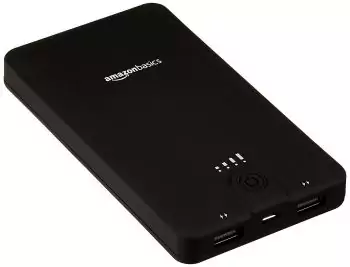 Price: Approx. $30
Weight: 4.16 ounces
Dimensions: 4.5 x 2.6 x 0.5 in.
Specific features: 2.4 A output & overload protection, battery charger, 1 usb port, 1 micro usb port & cable, black carrying pouch
Best use: Phone accessories, travel accessories, outdoor accessories
Description: AmazonBasics has come out with varying sizes of these little chargers. The AmazonBasics Power Bank has 5600 mAh and 2.4A output which is great for charging small devices such as phones, cameras or GPS's.
That being said, you probably won't get a full charge from this for your tablet or laptop. It has the output to charge a device like a laptop, but the capacity won't last long. It's lightweight at a little over four ounces and very small for how much it can do.
This model is powered by a lithium-ion polymer battery specifically used to keep the product as lightweight as possible. With the added overload protection, the AmazonBasics Power Bank will actually stop charging the device if the device has reached capacity.
The portable battery will also show this through an LED indicator when the lights turn off. These same LED lights will also tell the amount of charge the device has left. This will help the battery life last longer for more charges and keep the device that is being charged from becoming overloaded and hurting the internal battery.
PROS:
Accompanies 1-year guarantee
Alternatives for battery power
Affordable and lightweight
CONS:
Durability isn't that awesome
Related: If you want a 10000 mAh portable power bank battery that can sustain your smartphones throughout your outdoor trip, you can check out the AmazonBasics Power Bank 10000 mAh.
EC Technology Power Bank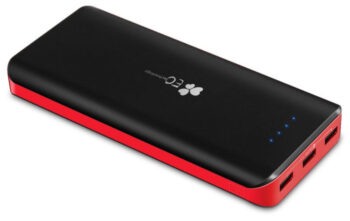 Price: $40 – $60
Weight: 15.4 ounces
Dimensions: 6.3 x 2.9 x 0.8 in.
Specific features: 1.0 a and 2.1a & overcharge, over-voltage, over-current, and short circuit protection, battery charger, 1 micro usb port & cable, 2 usb ports (1-1.0a output & 1-2.1a output), flame-resistant outer shell
Best use: Phone accessories, travel accessories, outdoor accessories
Description: The EC Technology Power Bank has been fairly impressive! One of the coolest features of this device is that it has a Micro-USB and two regular USB ports. You can charge two devices at once and with the power this little battery holds, it can stand up to the challenge and do it with high speed!
One flaw that this battery could have is that it is a little heavy. In comparison to equally powerful batteries out there, it's almost a full pound of weight to carry around. It may be unnoticeable in your pack or book bag, but a purse might be a different story.
PROS:
High power capacity
Convenient inbuilt flashlight
3 USB charge out ports
CONS:
USB charging ports are not properly labeled
No DC adapters
No go-through charging
Related: if you want a more powerful and portable power bank with an upgraded external battery, you can check out EC Technology 26000mAh Power Bank.
Tylt Energi 5k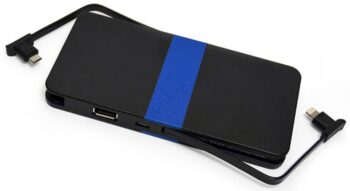 Price: Approx. $35
Weight: 4.48 ounces
Dimensions: 5.5 x 0.5 x 2.75 in.
Specific features: 3 A & regular safety standards, battery charger, 1 micro usb charger cable, apple lightening charger cable
Best use: Phone accessories, travel accessories, outdoor accessories
Description: The Tylt Energi 5k is equipped with a 5200 mAh which can successfully charge your phone number of times. This battery also boasts LED lights that blink and show you exactly how much charge life you have left before needing to recharge the battery itself.
Possibly one of the best features of this portable battery are the embedded cords. Some batteries come with cords and some you have to buy your own, but this battery has cords that are embedded in the device that "tylt" up and out from two of the corners.
This makes is so efficient knowing you don't have to worry about pesky cords being tangled, lost, or bent and broken. You're getting a super-powerful battery and charging cords all, literally, wrapped into one.
One charging cord is a micro-USB and the other is an Apple Lightning cord. This product may be better for Apple users so you can get plenty of use from both of those cables. The battery itself, charges in about 6 hours and from there you have the potential to triple the charge on your phone or have enough charge for a larger device if need be.
PROS:
Compact design
Lightning cable
Very portable
CONS:
Expensive for capacity
Slow charging/output
Related: if you want a 3000 mAh power bank that will not only charge your battery but also double your smart phone battery capacity, you can check out the Tylt ENERGI 3K+ Battery Pack
Maxoak Power Bank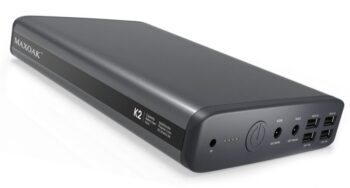 Price: Approx. $140
Weight: 28.8 ounces
Dimensions: 8.1 x 5.3 x 1.3 in.
Specific features: 1 – 3 A port, 1- 2.5a port, 2- 2.1a ports, 2- 1a ports & overload current protection on all ports, battery charger, 6 separate ports, protection on all 6 ports, four LED light indicators, 1 home charger, 1 dc cable, 11 laptop chargers/connectors, 1 multifunctional bag
Best use: Phone accessories, computer accessories, travel accessories
Description: The monster of all battery power banks is here. The MaxOak Power Bank is your powerhouse of needs. With a total of six ports, and each of those ports has different outputs for a wide variety of devices which makes this possibly the most versatile power bank.
Since it has numerous ports, it needs the power behind the punch. This power bank holds up the power end of the deal with 50000 mAh. This is paired with the numerous uses and additional items as well. The MaxOak might not be the power bank to take if you are counting ounces or space.
It's over eight inches long and almost six inches wide and being about two inches thick makes this something to use with numerous devices and for numerous people who need to power a lot of devices. This might be best used for home or travel instances for phones, computers, and other devices.
PROS:
A very high power capacity
Tough build
6 Options for charging gadgets
Related: if you are searching for a perfect power buddy for your tablet, smartphones and laptops, then the MAXOAK 36000mAh USB-C is the ideal battery pack for you.
Anker Powercore 10000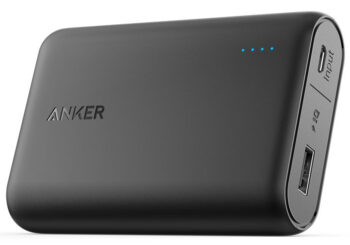 Price: $25 – $50
Weight: 8.32 ounces
Dimensions: 3.78 x 2.4 x 0.91 in.
Specific features: 2.4 A & surge and short circuit protections, battery charger, usb port, micro usb port & cable, travel pouch
Best use: Phone accessories, travel accessories, outdoor accessories
Description: Said to be one of the most powerful and smallest power banks with 10000 mAh, the Anker Powercore 10000 may be just that. With about 15 minutes of charging up the power bank, it can supply almost 8 hours of power to your devices. With two sizes of USB ports, you can choose to charge two devices at once.
This power bank is also highly compatible with various devices of various brands including Galaxy S6 / Edge, Galaxy Note 4 / Edge, LG G4, LG G Flex2, Nexus 6, HTC One M8 / M9, HTC Desire Eye, Droid Turbo, and more. With its small size and colors coming in gray and pink, anyone can find this battery charger highly efficient and useful in many situations.
PROS:
Quick charging
Compact and small
Affordable
CONS:
May not be ideal for traveling
Cases of long time charging after some time
Related: if you want a good and portable power bank that weigh as much as an egg, you can check out the Anker Powercore+ Mini Portable Charger.
Crave Travel Pro Power Bank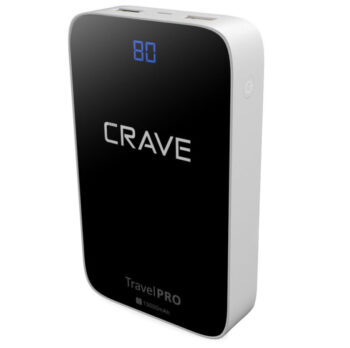 Price: Approx. $25
Weight: 13.6 ounces
Dimensions: 6.9 x 4.2 x 1.9 in.
Specific features: 1 – 2 A port, 1 – 1 a port & protection via warranty, battery charger, 2 usb ports, micro-USB port & cable, travel pouch
Best use: Phone accessories, travel accessories, outdoor accessories
Description: For being quite powerful, Crave Travel Pro Power Bank is very small. It's powerful and fits into any purse, backpack or hiking pack. It is sleek and slips easily into your travel luggage. It's a bit on the heavy side at 13.6 ounces, but the power it brings literally outweighs the effort to carry it.
Highly versatile and compatible with many devices including iPhones, Samsung phones, tablets of various brands, and much more. When the Crave Travel Pro is fully charged, it can charge your smartphone up to four times. It easily charges two devices at once and would be perfect when traveling or camping.
PROS:
Fast charging of devices
18month guarantee
Lightweight, thin design, and exceptionally convenient
CONS:
A bit slow in charging device
Related: if want a compact battery power bank that offers all-inclusive compatibility with all your most loved smartphones and mobile devices, you can check out the Crave Travel 5200mah Power Bank.
Concluding Thoughts
Being prepared for anything is always the best case scenario. Unfortunately, it's nearly impossible to prepare for everything that can happen. Owning one of the most versatile and powerful portable batteries is one way to be prepared for a lot of scenarios and situations you may be confronted with.
Technology has found its way into our everyday lives and it has become something we depend on. Making sure that those important devices are always able to be used and ensuring these are charged, is a huge testament to our safety.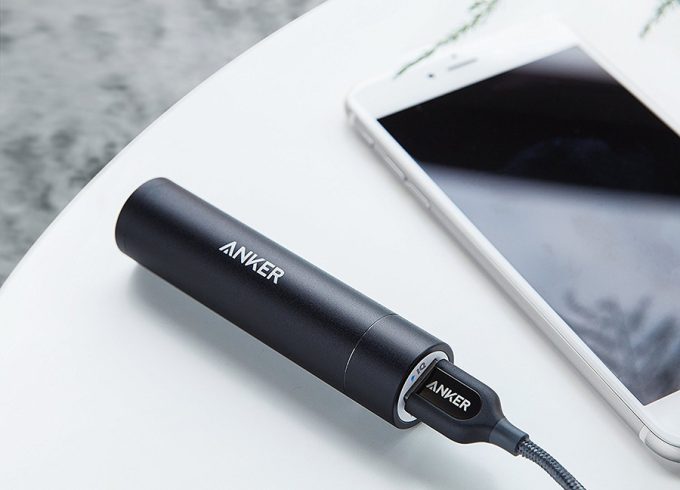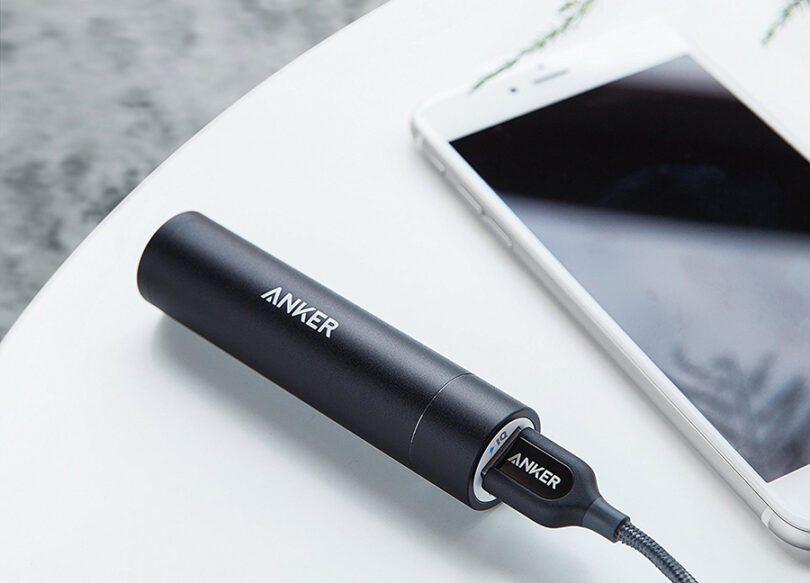 There are a wide variety of battery power banks to consider for your uses. The main question to ask yourself before purchasing is what will this power bank be used for most often? If you only wish to keep your smartphone or camera charged on a camping trip, then a lighter and more compact yet powerful device is best for you.
In contrast, if you are in need of something stronger to charge your laptop or tablet while traveling and making lots of calls for your career, then something larger and still more powerful yet is out there to make sure you don't miss an email or a deadline.
Have you used any of these power banks before? What have your experiences with it been so far? Did you find this valuable as you may be in the decision process currently? If you found value or good information in this article, please share with those you believe would benefit from these options.