A tarpaulin (tarp) might appear to be a simple very basic piece of camping and backpacking equipment, old fashioned almost, however, they can prove to be extremely useful in many situations.  There are certainly some features that distinguish the best tarp from a not so useful piece of fabric.
Likewise the best camping tarp and the best backpacking tarp will have specialized features that are advantageous for each activity possibly suiting one more than the other. Sometimes it is relief to keep life as simple as possible and get back to basics, living close to nature when one can.
Using a tarp for basic shelter against the sun, wind or rain is about as simple as one can use in an open environment. You will still be able to attune all your senses to the sights and sounds yet be protected just enough to enjoy, especially in warmer climates.
Our Top Picks
Features to Consider Before Buying
Check out the important features of a tarp, as well as some disadvantages so you can make an educated choice. A useful tarp can be utilized in many ways, either on its own or in conjunction with other gear.
Weight
Having a light weight tarp can be helpful when you are going uphill, and it will put less stress on the body, just like other light weight gear. A heavy tarp can be harder to set up because the weight can make it droop down. Overall, the light weight makes it easier to carry, use, and set up.
Dimensions
The dimensions of your tarp are going to be dependent on how much space you need covered. For example, if you are hiking or camping with several people, having a larger tarp can mean more protection from the elements for your entire crew, versus just one or two people.
If the weather is bad, you can store your gear under it as well. Really, you should take into account how much space you need to keep dry and how many people will be using the one tarp. Buying two tarps may also be a better option at times.
Portability
Most tarps, especially if they are lighter in weight, are easy to carry. Many come with stuff sacks so you can attach them to your backpack or simply stuff them inside and go. Even if your tarp comes with straps and poles, those are usually very packable and easy to take with you.
Durability
When you find yourself in inclement weather, you are going to want a durable tarp that will stand up to wind, rain and even some snow.
Your tarp should be strong enough to withstand the weather, and keep your items dry. This can be true whether camping or simply covering some equipment.
Insulation
Tarps do not offer much in the way of insulation, so using them for added warmth is not the best idea. You can, however, sleep under a tarp if weather permits. Otherwise, tarps are just used for added protection, not warmth.
Knowledge
Tarps require some extra skill to give the best options for efficient use. Outdoor knowledge is an advantage to know how to read wind and natural drainage and surroundings as the best place and method to set up your tarp. Check out overhanging branches that may fall, which flat areas will remain dry, taking advantage of natural windbreaks, and so on.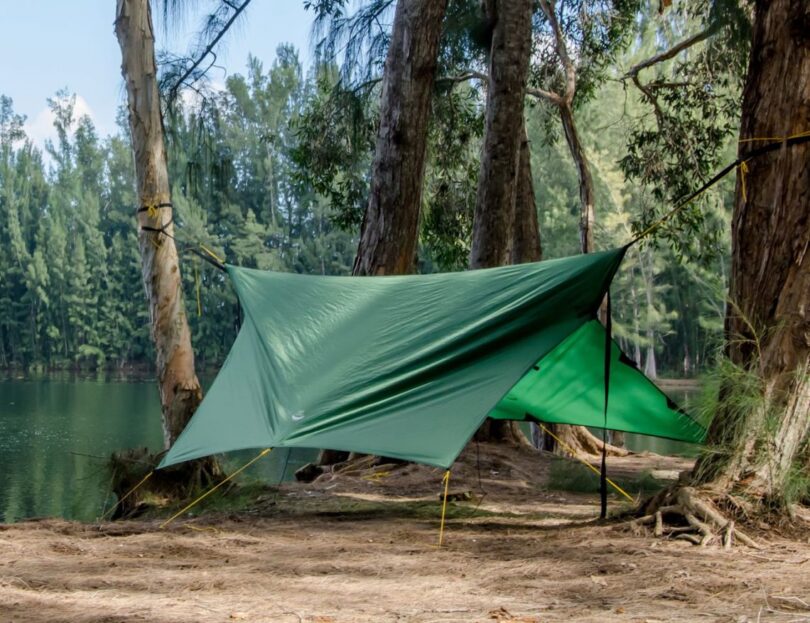 Knowledge of how to tie secure yet easily untied knots is also one skill any tarp user should master. There will be nothing worse than trying to rig up a tarp in rough weather if the tarp is flapping all over the place while you get soaked or a corner coming loose in the middle of the night. It would pay to actually do some practice sessions before leaving home.
Top Product Reviews
So, let's look at some examples of the best tarps available on the market today. Check all the features and make your decision based on how a certain product, or products, fit your needs.
Kelty Noah's Tarp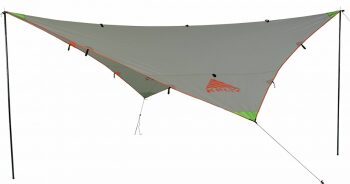 Price: $60 – $180
Sizes: 9 x 9 feet, 12 x 12 feet, 16 x 16 feet
Colors: Light gray
Fabric: Polyester
Weight: 1 lb 8 oz; 2 lbs; 3 lbs 10 oz
Specific features: Lightweight, three sizes, square shape, waterproof, 4 point grommets, extra tab attachments, pegs and ropes included, lightweight carry bag
Best use: Camping, backpacking
Description: This lightweight tarp, available in three sizes, is accordingly suitable for 1, 2 , or 3 plus people. The Kelty Noah's Tarp is lightweight, simple square shape and provides excellent protection from the elements in most situations.
It has lots of attachment options around the tarp edge as well diagonally across the center. Included in the purchase are: aluminum pegs, two ropes and a handy lightweight carry pouch. It is well reinforced along the hems, across the diagonals and around the grommets.
This is the type of tarp one can easily carry in a backpack or leave stowed in a car, for a rainy emergency. The storage bag is also large enough to hold other items, like a well packed hammock so you could have a total bed and shelter in one easy carry bag.
Users like this tarp shelter because it is reinforced, has taped seams so water can't get in, and its water resistant. Not only that, but you can take it anywhere, for camping, backpacking, music festivals and more!
PROS:
Holds up in storms
Can be used as a second roof over a tent
Light in weight
CONS:
Cat-cut is hard to keep even on the ground
Stakes that are included aren't the best
Needs more tie outs
Related: This tent does not come with poles, so you might consider the Kelty Adjustable Pole which are about $35 and are made with aluminum.
Vinqliq Tarp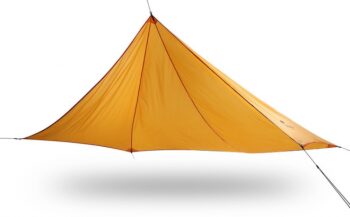 Price: Approx. $45
Size: 167.7 x 100.4 inches
Color: Orange
Fabric: 210T PU-coated waterproof Ripstop Polyester
Weight: 1 ½ lb
Specific features: Pentagonal shape, lightweight, waterproof, stakes and guy lines included, carry bag
Best use: Camping, backpacking
Description: This one size paneled tarp is fabricated in a pentagonal shape which could accommodate up to 4 people as a shelter while out camping.
The Vinqliq Mulitipurpose Tarp is very lightweight for its size and packs away in its own carry sack with dimensions of 4 x 5.5 x 8.5 inches for convenient packing.
The purchase includes 7 stakes and 6 guy lines. The durable polyester fabric is waterproof rated 5000+mm for extra heavy duty protection.
With its pentagonal shape it is quickly erected against trees or awning pole for instant shelter. This tarp can be easily adjusted for high or low ground and highly for use as extra shelter for cooking or communal use while camping.
Users like this tarp because of the large shape, the fact that is is light and waterproof, and that it is easy to install using poles and rods. Plus, the tarp is made with ripstop polyester and its tear proof, and sun proof!
PROS:
Affordable
Waterproof and strong
Easy to set up
Related: Consider the VINQLIQ Outdoor Groundsheet that is good for keeping you and your things off of the dirty ground and a great addition to your tarp.
Eagles Nest Outfitters Tarp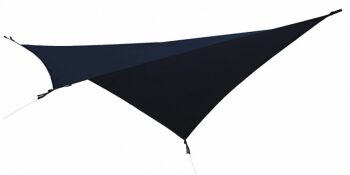 Price: Approx. $55
Size: 141 x 141 in
Color: Navy
Fabric: PU coated Nylon Taffeta
Weight: 1.25 lb
Package size: 3.3 x 4.8 x 10.5 inches
Specific features: Extra large square shape, 4 point connection, durable fabric, sealed seams
Best use: Camping
Description: This Eagles Nest Outfitters Tarp is extra large square shaped tarp fabricated in extra durable fabric for large group shelters. It has sealed seams and is made with 4 reinforced connection points for fast attachment and installation.
This tarp is made of ripstop nylon that is treated with polyurethane, so it can keep water at bay. It is easy to set up and use and has 4 guy points yet still covers a huge area with ease. Not only that, but you can tote this tarp anywhere, as it is light in weight, at only 22 oz and has a stuff sack that is already built inside of it.
You can use it for various reasons, not just for camping. Many users have kept equipment dry like lawn mowers with this tarp. Plus, you can use it to cover your hammock, patio furniture, and use it at festivals, too!
PROS:
Affordable
PU treated nylon
Many uses, easily transported
CONS:
One color
No stakes included
Related: If you want to use this tarp over your hammock, but don't have all the parts you need, consider the ENO Eagles Nest Outfitters – Atlas Hammock Suspension System which is about $30 and easily adjusts with the two straps.
Eastern Ridge Tarp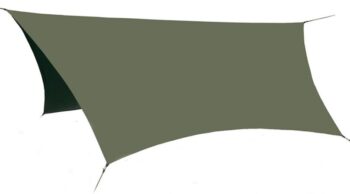 Price: $35 – $45
Size: 96 x 124 inches
Color: Deep green, forest green
Fabric: 190T Polyester
Weight: 1.25 lb
Specific features: Lightweight, reinforced tab connections,  4 pegs, 6 guylines and 2 Dyneema ridgelines, limited edition S-shape gear clip carabiner, carry bag
Best use: Camping, backpacking
Description: This simple square shaped tarp in two green option colors is versatile for most camping or hiking shelters. Eastern Ridge Tarp is suitable for hammock camping, extra shade or shelter with versatile options for erection configurations.
It has tab attachments as opposed to grommets to ensure fabric strength is not compromised. Kit comes with a pegs, guy ropes and ridge lines so no extra purchases needed. Stuff sack is also included for easy packing. Good value for money.
This shelter comes in a Deep Green or Blue color and can be used literally anywhere. The easy set up has 4 guy lines and four stakes to get you all set up. This product has a 100% guarantee, so there is no harm in trying it out!
From the beach to camping, this tarp shelter will definitely come in handy when you need it to, especially in wet weather conditions.
PROS:
Compact
Affordable
Easy set up
CONS:
Thread can come apart, may have to cut
Related: Make sure you have some of the Rated Wiregate Carabiners which come in a 4 pack and cost under $15.
UST BASE Tube Tarp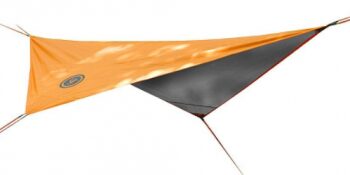 Price: Approx. $32
Size: 84 x 120 inches
Color: Orange
Weight: 1lb 12 oz
Specific features: lightweight, compact, zips to tube tent,  flame retardant, safety orange color, aluminized one side, stuff sack, guy lines, steel stakes
Best use: Backpacking, camping
Description: This tarp has a rectangular shape with tab attachments for reinforced fabric strength and can be pitched with an external ridge line for better waterproofing. The orange color is useful for emergency situation visibility and the reverse side is reflective.
UST BASE Tube Tarp is an excellent tarp to have for deeper expedition situations with its light weight and compact pack. It can also be used as a ground sheet, tent fly or thermal blanket. The edges can also be zipped together to form a tube tent with dimensions 40"per side x 7 feet long, measuring 35 inches high at the apex.
Users like this tube tarp because of the price, the reflective signaling and the fact that it is flame retardant. Plus, it is easy to see with the orange color and includes the stakes and stuff sack. Overall, users would recommend it to friends and those in the market.
PROS:
Flame retardant
Affordable
Has reflective signaling
CONS:
May be too small for some
You may want to seal the seams before use
Related: Consider the TEKTON 6268 Tarp Clips which cost about $8 and will lock down to hold your tarp.
Himal Waterproof Tarp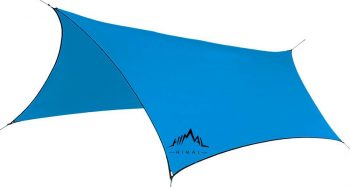 Price: $23 – $40
Size: 118 x 115 inches; 157 x 118 inches
Color: Blue
Fabric:  190T Parachute Nylon
Weight: 1.6 lbs: 2.2 lbs
Specific features: 2 sizes, durable fabric, waterproof, reinforced grommets, 8 tent pegs, 2 x 8m rope,  4 x 3m rope, tarp carry bag, rope carry bag, repair patch and glue,  user manual
Best use: Camping, backpacking
Description:  This versatile tarp has a catenary cut curved shaped edges and six guy points with reinforced grommets for a very streamlined shape which help for stability and strength when secured in rough weather.
The Himal Waterproof Tarp can also be secured with an external ridge line for extra strength and waterproofing. This tarp is suitable for use with most hammock camping or as a versatile camp shelter.
You can take this tarp anywhere with the travel case and included items, as it packs up nicely and is ready for use at any time. It is big enough to keep equipment, hammocks, and other things or people dry during wet weather.
There is a lifetime limited warranty and the tent is great for harsh, wet weather and will shed water with ease. You can find this durable and strong tent in Green and Blue colors that will stand out and are easy to see.
PROS:
Lightweight and can be taken anywhere
AFfordable
Multiple uses
CONS:
Stakes are not strong
Eyelets can be misshapen
Related: If you use this tarp for your hammock, you could look into the Unigear Hammock Bug Net which is made of polyester and no-see-um netting, and you will have no worries about bugs!
W-UpBird Tarp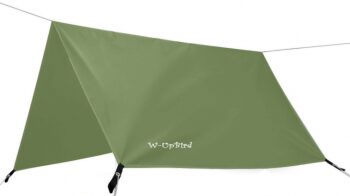 Price: Approx. $31
Size: 10 x 10 feet
Color: Army green, blue
Fabric: 210T Dacron
Weight: 1.86 lb
Specific features: Large size, waterproof,  sealed reinforced center seam, grommets fitted into reinforced corner tabs, durable, 8 nylon ropes with adjusters, 8 aluminum stakes, carry bag
Best use: Camping, backpacking
Description: This larger square shaped tarp is versatile for many uses while camping and backpacking including sleeping in a hammock, cooking area, communal living. This W-UpBird Tarp covers a lot of bases literally and is durable enough for use as a ground cover, picnic rug as well as the normal tent fly or shelters.
This tent is made of 201T Dacron with means that it will shed water and stay strong over a long period of time. It does come with 8 nylon ropes that have adjusters, as well as 8 stakes made of aluminum and a carrying bag to store everything when you take it down.
You can make shelter for virtually anything with this 10 x 10 feet tarp, and if you use it for yourself, you will surely stay dry! Users like this tarp because it sheds water, comes with everything you need, and is listed at an affordable price.
PROS:
Durable
Water shedding
Affordable
CONS:
Not fully waterproof
Smells strange upon arrival
Related: If you want to add new tent stakes, consider the Sportneer 10x Tent Stakes which cost about $11 and are made of aluminum alloy.
Concluding Thoughts
From the above list you can see there are variables between what might be considered best tarps offering different features for each environment. If you have a large group and are more likely to be using a tarp for casual shelter while out picnicking or moving between easily accessible campsites, weight and packing space will not be so important.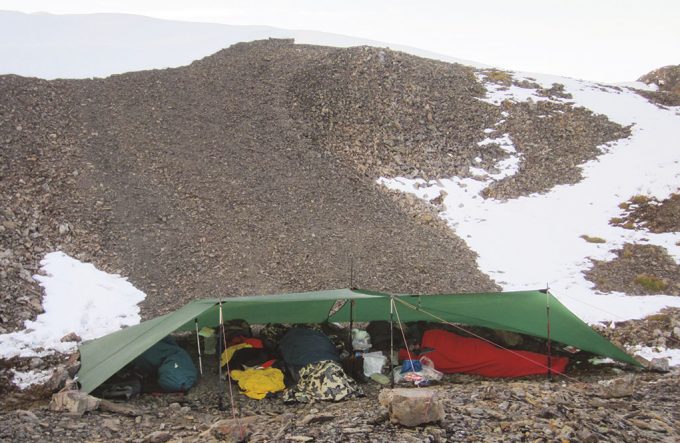 Kelty Noah's Shelter Tarp, Himal Tarp or the 10 x 10 FT Camping, Outdoor Travel tarp may suit your purposes. In situations where the weather is often inclement and you need to consider how quickly the tarp can secured to form good shelter, something like the VINQLIQ Pentagon Outdoor Tarp might be the best choice for a backpacking or camping tarp.
However, should you be purchasing for extra shelter for your snowline tent, then you will need to consider how much extra weight you are prepared to lug on your back. In those situations you should also be considering extra safety measures so emergency shelter like the Ultimate Survival Technologies BASE Tube Tarp 1.0 might be the best backing tarp for you.
Whichever tarp you finally decide to purchase, make sure you check everything when you purchase it to ensure the package is complete and decide if you need to add anything to make the tarp more useful.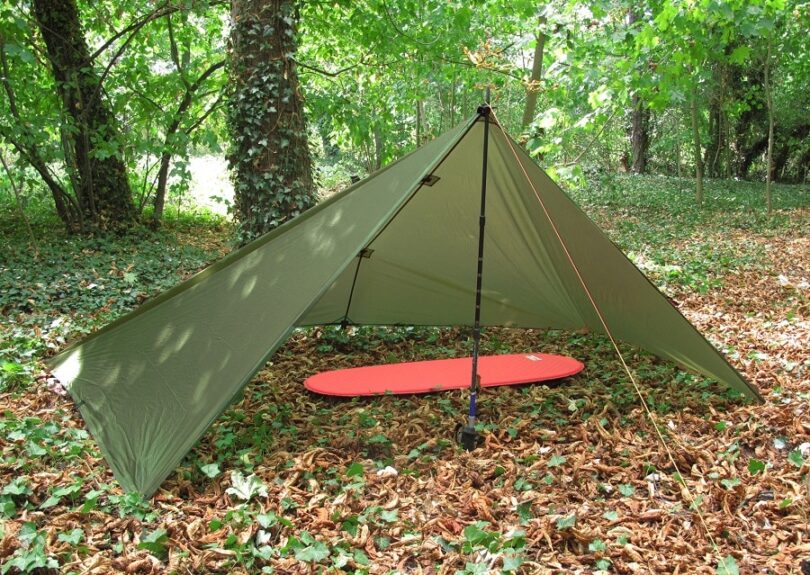 Practice how you want to use it preferably with different options for different situations so that you are not caught out by any sudden cold shower. And whatever you do, get out and enjoy the outdoors – don't let the weather stop you.
If you liked our article, feel free to share it with your friends, and if you have any suggestions how to improve it and add something that we have missed, leave a comment in the comments section below. We are always glad to see what our readers think about our articles.