When you are out on a backpacking tour, a good pillow is essential if you are to enjoy your sleep. There have been numerous instances where we thought we could get away without this item and that never seemed to work out. We would wake up during the night looking for clothes to improvise something that could act as your pillow and help us sleep. It's from these experiences that we appreciate the importance of using the best backpacking pillow during the camping nights.
While it's feasible to carry a hiking pillow from home when going on a camping trip, people usually hesitate to make such decisions as they fear they would increase the weight of their pack. As such, some would opt to leave them behind and use their jackets instead. Fortunately, there are various backpacking pillows available on the market.
With the existence of different models and sizes, it can be problematic to decide which products to select. This guide provides information on all you need to know about the best camping pillow, including the types of products available and how to choose the best. We also include a review of the best products available today.
Our Top Picks
Product Name
Weight
Dimensions
Material
Specific Features
Price
Exped Ultralight
0.11 lb
15 x 10.6 x 4.3 in
Polyester
Single flat valve
Check price on Amazon
Therm-A-Rest Parent
0.5 lb
15 x 9 x 8 in
Polyester
Polyester on the outside, soft urethane fill inside
Check price on Amazon
Sierra Designs DriDown
0.38 lb
2 x 9 x 13 in
Polyester
Synthetic pillow, 600 fill DriDown pillow, 30D polyester ripstop, polyester taffeta fill
Check price on Amazon
Teton Sports Ultralight
0.62 lb
18 x 12 in
Flannel
100% brushed flannel, SuperLoft Elite fill, coordinating patterns, lightweight
Check price on Amazon
Onwego Soft Top
0.25 lb
15 x 12 x 4.5 in
Cotton
Soft-top fabric cover, removable cover, fast inflation, lightweight pillow
Check price on Amazon
Coop Home Goods Premium
2.2 lb
15 x 10 x 4 in
Rayon and polyester
Compressible stuff sack, hypoallergenic and dust mite resistant, CertiPUR-US certified foam
Check price on Amazon
InstantCamp Ultralight
0.15 lb
5.5 x 10.75 x 18 in
Nylon
Ultralight, inflates and deflates, two center baffles
Check price on Amazon
Nemo Fillo
0.55 lb
6 x 7 x 7 in
Polyester
Ultralight, integrated stuff sack, extremely soft
Check price on Amazon
Sea to Summit Aeros
Regular: 0.17 lb; large: 0.23 lb
Regular: 14 x 10 x 5 in;
large: 16.5 x 11.5 x 5.5 in
Polyester
Brushed 50D polyester knit, curved internal baffles, synthetic fill, scalloped bottom edge
Check price on Amazon
Pillow Types
Before buying a pillow, you need to know that there are different types you can choose from and that you should pick the type that best suits your needs. The pillow types are as follows:
Compressible
Hiking pillows that are compressible, such as the Therm-a-Rest Compressible and the TETON Sports are filled with down feathers, synthetic fibers, or a combination of these components. The compressible models are usually the softest and most ideal for use when camping. These are more comfortable as opposed to the inflatable ones.
The down-feather feature makes them more compressible, and lightweight. However, these aspects increase the price of the product significantly. The foam fills and synthetic fiber are heavier, firmer, and cost less compared to the down feathers.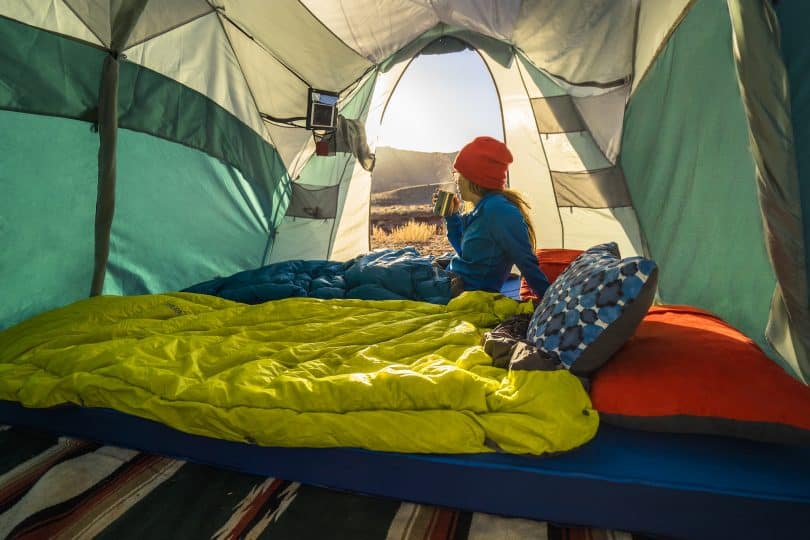 The best camping pillow should be comfortable and compressible, but these features add to the weight as opposed to the inflatable one. Additionally, these types of hiking pillows offer less support since they flatten out under the head's weight. They also occupy more space in your packs.
Even so, they are ideal for car camping and other outdoor adventures that last for a few days. If you are a person who prefers an ultralight and a firm pillow with a small volume, then the compressible one might not be suitable for you.
Inflatable
These kinds of pillows are usually filled with air to make them lighter and firmer than the hybrid and the compressible models. Some good examples include the Exped Air UL and the Sea to Summit Aeros. To use one of these, just take them out of their stuff sack and blow in air through its valve.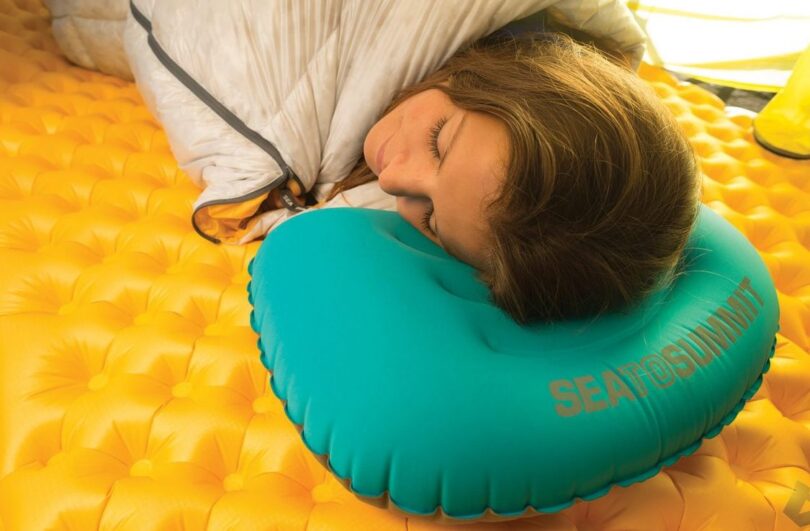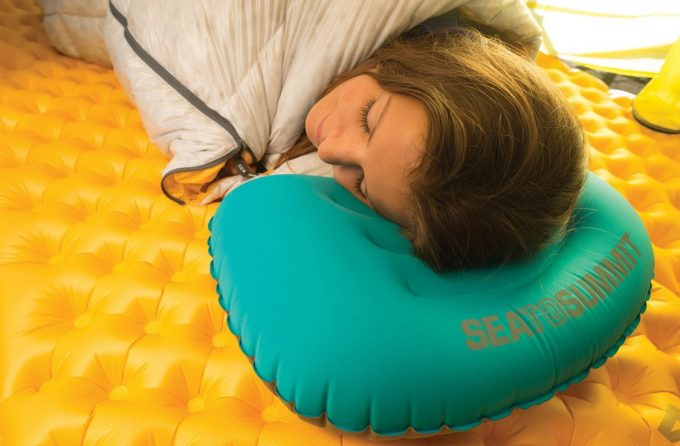 The thickness of the inflatable can be adjusted by allowing the air to get through the valve. When packing the pillows in the bags, they easily deflate to occupy a small space inside the pack. Despite their lightweight and pack ability aspect, some find the inflatables to be uncomfortable.
They are also the noisiest products as they produce so much noise in the ears when you are shifting positions. However, these are the best camping pillows for your multi-day adventures, and also preferable for car camping.
Hybrid
Hybrid pillows such as the NEMO often try to close the gap between the inflatable and compressible pillows. This type of pillow features a compressible top to allow your head to rest comfortably, as well as inflatable bottom to enhance support while minimizing its packed volume.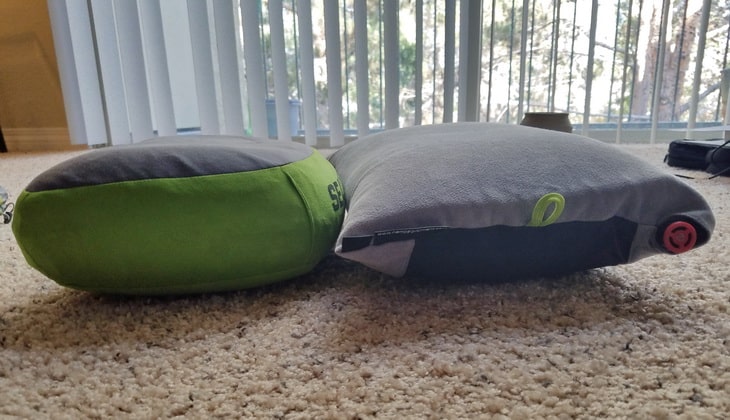 When in the outdoors, you will enjoy the hybrid aspect that these pillows have to provide.
Features to Consider
You are now going to read about the important features you need to consider before you go searching for a backpacking pillow. Knowing these features will help you decide which pillow is best for you during your adventure!
Comfort
When using a pillow, the aspect of comfort is crucial as this determines how you will wake up feeling the following morning. Waking up with a stiff neck will ruin your entire day. Several aspects play into the comfort factor such as the type of pillow, the outer shell fabric, and the size, and the shape and contouring.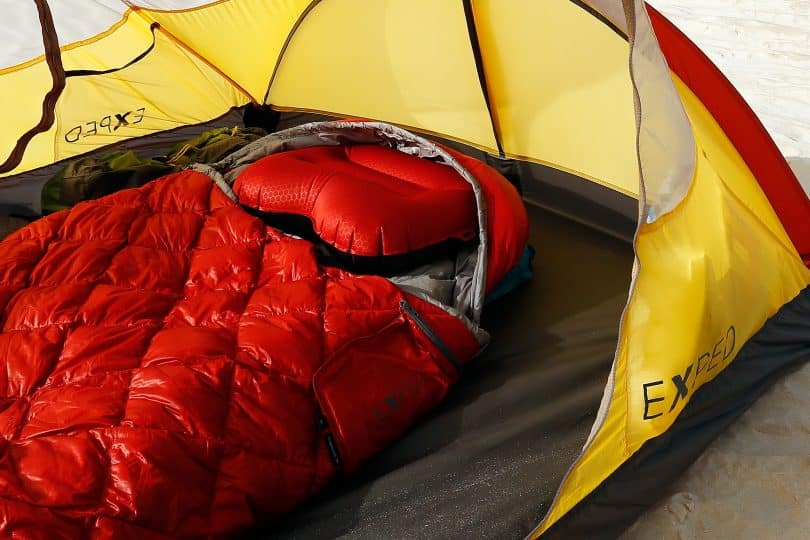 Pillows that are soft, relatively large and feature a polyester outer shell are usually comfortable. Some good examples include the NEMO Fillo and the TETON Sports which are very comfortable. Inflatable pillows are usually less comfortable and will perform poorly compared to compressible models.
Size
Smaller pillows are usually lighter and often squirt out from your head when moving around at night. Larger items are more stable, and will likely stay in place. There's no recommended size for the pillow as this is relative and vary from one individual to another, but it's important to find one that is proportional to your head.
Additionally, how you move around during the night will also determine the size you would choose. Thin pillows are suitable for stomach sleepers.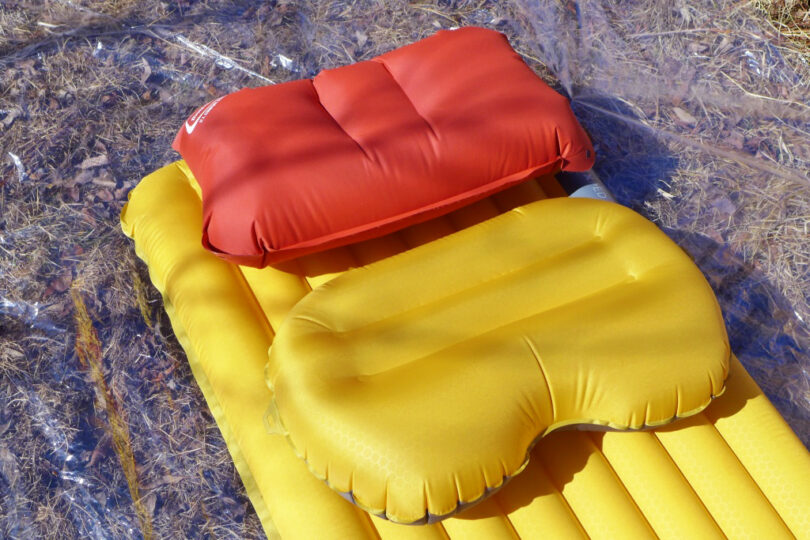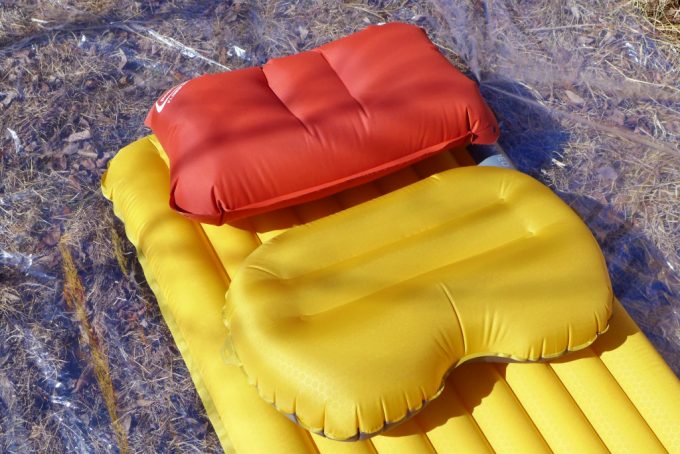 The thick ones are suitable for the side sleepers whole sleep with their arms at the sides, but do not work well for the side sleepers who love sleeping with their head supported by their lower arm. Something between "thick" and "thin" may be ideal for the back sleepers.
Elevation Contouring and Cradling
When you weld two fabric pieces together and inflate it, you will end up with a pillow that has two apexes; one on the bottom and the other on the top. These kinds if pillows are wobbly and uncomfortable. Pillows which feature some contouring which allow the pillow to flatten and your head to cradle on it without sliding are usually the best to use.
Weight
Most hiking pillows are thin, small in size, made using the lightest fabrics, and provide the least contouring. Like any other piece of outdoor equipment, there is always a tradeoff – small pillows aren't always as supportive or stable.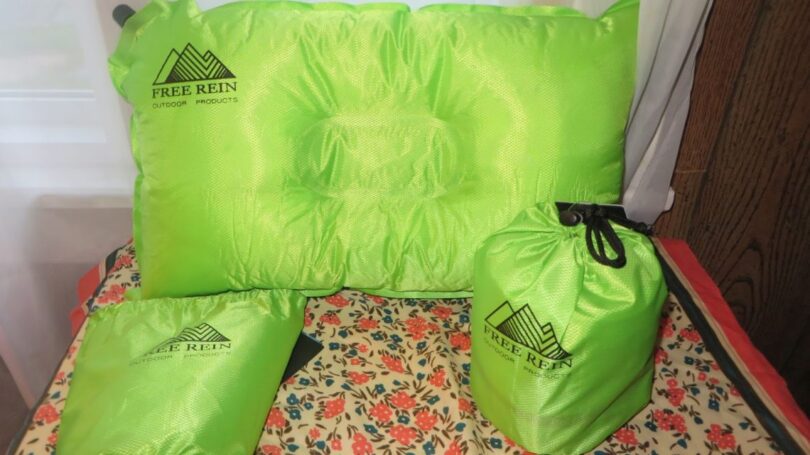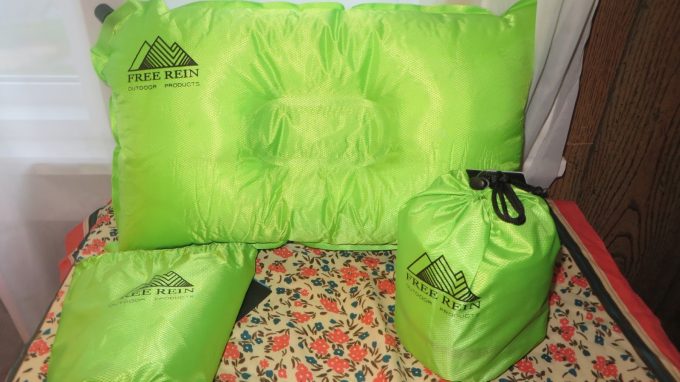 The thin ones aren't the best for stomach or back sleepers and the light fabrics aren't very durable. Pillows without contouring do not provide the desired comfort.
Fill
The inflatable pillows use air as the primary fill for both support and warmth. There are pillows of this kind that feature fiber fill, include fibrous fill components for additional warmth and comfort.
Additionally, the down "pillow cases" or fiber fill are available to slide over the inflatable pillow to offer an excellent and comfortable "pillow top" effect such as Goosefeet Down Pillow, and the Cascade Designs Down Pillow.
Fabrics
The materials used in making hiking pillow cases range from brushed polyesters to sticky nylons, but backpackers counting ounces, there are better options available to minimize weight while on the trail. Instead of taking the pillow case with you, just grab an extra fleece top, a shirt, or a neck gaiter to use as the pillowcase.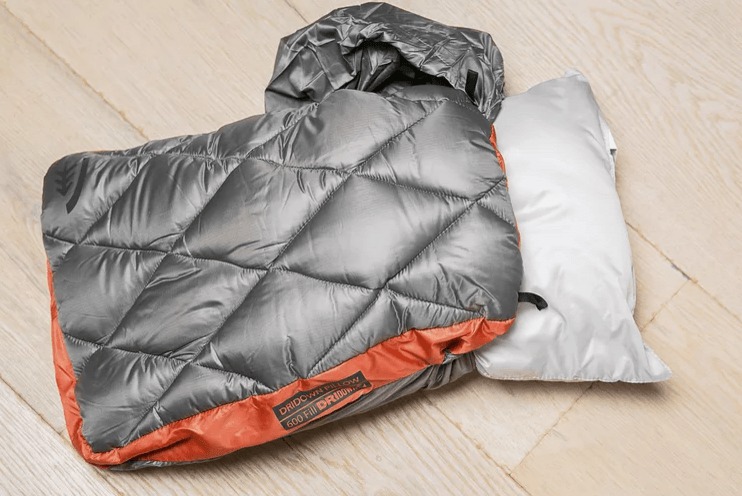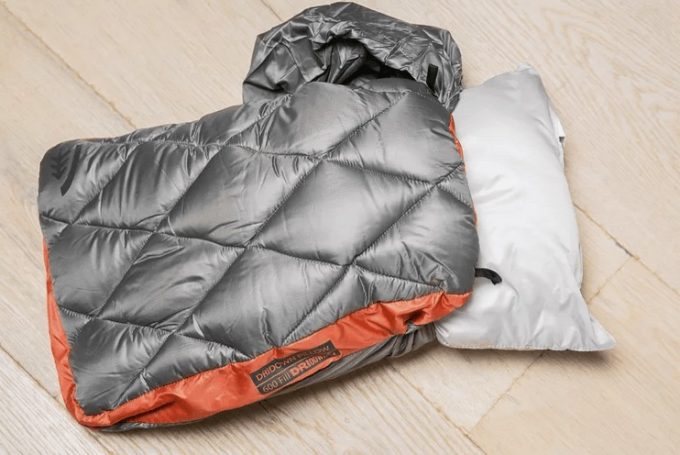 During the cold nights, you would probably put on a balaclava or a hat, so the material utilized for the pillow case may not be important.
Packed Size
When looking to purchase a backpacking pillow, you should be able to measure the volume of each product in the stuff sack. The best item should be able to pack down to the size of a billfold. If a pillow takes up so much space in your pack, it's not suitable for backpacking or hiking ventures.
The greater the packed size, the less-suited the product is for your multi-day expeditions. Nevertheless, packed size becomes of less significance if you are looking for a pillow to use for car camping.
Top Product Reviews
We have now come to the part where you can go over several backpacking pillows so you can figure out what is on the market, what features each pillow has, and what it can do for you so you can find the best pillow for you. Read on for some of the top pillows on the market now!
Exped Ultralight
Price: $43 – 65
Weight: 0.11 lb
Dimensions: 15 x 10.6 x 4.3 in
Specific features: Single flat valve
Best use: Backpacking, camping, traveling, road trips, beach
Description: The Exped Ultralight is the lightest and smallest pillow to take to an excursion. This item offers an excellent night's sleep without adding any weight to your pack. When packed in the stuff sack, it is quite impressive how this product transforms to the size of a wallet.
The Exped is ideal for backpacking trips that last months or weeks where minimizing weight and volume have a great impact on your trip's success. To use this pillow, you simply inflate it with a few breaths until it is full, by using the flat valve. It easily deflates when you open the valve and squeeze out the air.
Users like this pillow because it is small and deflates easily, plus it can be wrapped into a pillow case if you want more comfort. They also state that it is comfortable for their heads and stays in place as you sleep outdoors.
PROS:
Easy to inflate and deflate
Comfortable to use
Comes with stuff sack
CONS:
Needs to be bulkier
Need to use a pillow case or cover over it
Related: Now that you have comfort for your head, what about the rest of your body? If you are sleeping on the ground, you should have a sleeping mat like the Exped Pump Sleeping Mat. This matt costs around $100 and is made of microfiber filling and is ultra light.
Therm-A-Rest Parent
Price: Approx. $20
Weight: 0.5 lb
Dimensions: 15 x 9 x 8 in
Specific features: Polyester on the outside, soft urethane fill inside
Best use: Backpacking, traveling, camping
Description: The Therm-a-Rest Parent is suitable for everyone from car campers to international travelers. It is soft, packs small and expands easily, with the extra-large size measuring 42 x 67 cm (16.5 x 27 in for a homelike comfort everywhere you go.
If you are planning to go on a hiking or camping expedition, do not forget to take the Therm-a-Rest Compressible Pillow with you.
With this pillow, you can choose from several colors and prints that will fit your style. Made in the USA, this pillow is highly comfortable, packs down nicely, but expands to a decent size when you need to use it.
Those who have purchased this pillow love it and say it is perfect for camping and backpacking. It is firm, gives support while you are sleeping and can be easily cleaned.
You just need to be sure you wash and dry it according to the instructions when it arrives. This way, you will get full loft of the pillow.
PROS:
Packs down nicely
Firm with loft
Lots of prints and colors to choose from
CONS:
Must wash and dry first to get the loft
No pillow case included
Feels lumpy to some
Related: Therm-A-Rest also makes mattresses so you can use both the mattress and pillow together for the most comfort. The Therm-A-Rest Trail Pro Mattress has added warmth, is comfortable with loft, and is light weight so it is easy to carry.
Sierra Designs DriDown
Price: Approx. $40
Weight: 0.38 lb
Dimensions: 2 x 9 x 13 in
Specific features: Synthetic pillow, 600 fill DriDown, 30D polyester ripstop, polyester taffeta fill
Best use: Camping, road trips
Description: The groundbreaking Sierra Designs DriDown offers maximum comfort and flexibility. Three aspects mix and match excellently to conform to your needs. Use a DriDown Pillow top with a synthetic insert for an ultimate comfort.
Alternatively, you can save weight by leaving the insert at home and using your spare clothing for the top while on the trail. When this pillow is not in use, you can easily store it in the provided stuff sack.
You can find this pillow in 3 colors; Bossa Nova, Dark Purple and Caribbean. The pillow top itself is made of 30 D Polyester Ripstop and the insert is made with Polyester Taffeta filling, which is 600 Fill Dri-Down. Plus, it is made in the USA.
Users like this pillow because it is made for traveling and it packs down small so it can be taken anywhere. Plus, it comes with a pillowcase for extra comfort!
PROS:
Made in the USA
Strong polyester material
Comes with storage sack
CONS:
Some say it is too small
Material is thin
A little expensive
Related: Use your new pillow inside of a new sleeping bag! The Sierra Designs FrontCountry Sleeping Bag is about $150 and has a sleeve for a sleeping pad as well as a hands free foot vent. It is made to fit with a twin or queen air mattress and has room for a pillow!
Teton Sports Ultralight
Price: Approx. $20
Weight: 0.62 lb
Dimensions: 0 x 18 x 12 in
Specific features: 100% brushed flannel, SuperLoft Elite fill, coordinating patterns, lightweight
Best use: Backpacking, camping, beach
Description: The Teton Sports Ultralight is made with SuperLoft Elite 4-channel fiber fill found in the Teton Sports sleeping bags. This product will not lose its loft, although, it compresses small when packing.
The wide pillow features a brushed p5 poly hi-count surface which will become clammy. This pillow comes with a washable pillowcase which is 100% flannel that is soft owing to its double-brushed finish. The cases match the of the TETON sleeping bags. This product comes with a stuff sack that has a barrel-lock drawstring.
The TETON Sports Camp Pillow is designed for those times you don't feel like carrying a full-size pillow. The soft flannel case feels like your luxury bed sheet, and the envelope design ensures the cover stays on throughout the night.
If you do not feel like carrying the case, the pillow itself features a brushed hi-count fabric that feels soft against your skin.
The SuoerLoft Elite 4-channel fill ensures the pillow does not bunch up in one side. The pillow fits perfectly into a 9.5 x 6.5 x 5 stuff sack or you can pack it flat. For maximum loft, it's recommended to store the pillow out of the stuff sack.
With a construction similar to the TETON Sports sleeping bags, the TETON Sports Camp Pillow will last for an extended period. This product also comes with a Limited Lifetime Warranty.
PROS:
Soft flannel material
Portable, can be taken anywhere
Limited Lifetime warranty
CONS:
Not very fluffy
Small
Not the best for support
Related: Use this pillow in your new tent! The Coleman Pop-Up Tent is not only fire resistant but water resistant and it is made of polyester. It is easy to set up and has taped floor seams to keep water out.
Onwego Soft Top
Price: Approx. $20
Weight: 0.25 lb
Dimensions: 4 x 4 x 3 in/ 15 x 12 x 4.5 in
Specific features: Soft-Top fabric cover, removable cover, fast inflation, lightweight
Best use: Traveling, backpacking, beach, camping
Description: The Onwego Soft Top is one of the lightest camping and backpacking products, weighing in slightly above 4 ounces. This item packs down to 4 x 3 inches into its self-contained sack.
The pillow is 15 x 12 x 4.5 inches when fully inflated. The ONWEGO features a soft and comfortable support. It comprises of a Soft-Top fabric cover; soft cotton fabric with polyester batting for maximum comfort, without the sweaty head you would get from regular camping pillows.
The ONWEGO is suitable for outdoor adventures as it inflates fast. A one-way air valve system makes it possible for you to inflate in two to three breaths. Deflating is also easy; just press the inner flap to adjust or deflate the firmness of the pillow. The removable cover allows you to wash and freshen up the pillow after every travel.
With its amazing features, the Onwego is able to keep up with all the outdoor adventures including weekend camps and backpacking tours.
PROS:
Affordable
Compact and portable
Comfortable, gives support
CONS:
Thin
Hard to get out of the case
Hard to get the air out
Related: This pillow packs down so small that you can fit it in a backpack with ease! The Teton Sports Explorer 4000 is around $60 and has an internal frame, is hydration ready, and has a Limited Lifetime Warranty!
Coop Home Goods Premium
Price: Approx. $30
Weight: 2.2 lb
Dimensions: 15 x 10 x 4 in
Specific features: Compressible stuff sack, hypoallergenic and dust mite resistant, CertiPUR-US certified foam
Best use: Backpacking, camping, road trips
Description: The Coop Home Goods Premium is suitable for all your backpacking ventures. The Premium shredded pillow features the same construction, luxurious fabric, and technology as the full-size adult pillows. Its weight of 36 oz makes it ideal for outdoor events as the pillow can easily be compressible in the stuff sack.
This product is CertiPUR-US certified and is manufactured from components that are readily available in the USA. The pillow is made without ozone depleters, TDCPP, PBDEs, TCEP flame retardant, heavy metals, lead, formaldehyde, phthalates regulated by CFCs, or CPSC.
This product is always perfect as the pillow can be adjusted to its unique design to maintain and optimize sleeping position. The instruction on how to utilize these pillows are included in the products' package. These components are machine washable and are not to be bleached.
As mentioned, the Premium Shredded Pillow comes with the stuff sack that makes it possible for you to compress them so as to save space when traveling. These pillows are ideal for campers, backpackers, business travelers, backpackers, and is compatible with your sleeping bag.
Manufactured with the full-size adult in mind, the Premium Shredded Pillows may be smaller, but they offer the same luxury loft as the full-size pillows.
PROS:
Comes with stuff sack
Made in the USA
Hypoallergenic
CONS:
Stuff sack isn't the best
Very puffy
Related: This pillow does not come with a pillow case so you can buy one like the Premium Pillow Case for Camping. This pillow case is about $12 and is made from Jersey Cotton and has a drawstring.
InstantCamp Ultralight
Price: Approx. $20
Weight: 0.15 lb
Dimensions: 5.5 x 10.75 x 18 in
Specific features: Ultralight, inflates and deflates, two center baffles
Best use: Camping, traveling, backpacking
Description: The InstantCamp Ultralight is designed specifically for those looking for a durable, comfortable, and premium-quality pillow which is large yet ultralight and packs down easily into a tiny footprint. With the Ultralight Compressible Pillow, you don't have to leave your pillow behind.
At a relatively small pack size and only 2.4 ounces (without stuff sack), this pillow will effortlessly fit in your purse, pocket, or bag. With its small size and weight, you will hardly notice you have a pillow in your pack. The Ultralight Compressible can be used for different applications including Traveling, Backpacking, Camping, and more!
If you are a side sleeper, you don't need to worry. At 5.5" high, this product is great for stomach, Back, and high enough for the side sleepers.
If you are a person who appreciates compact and lightweight products with quality that last a lifetime, then this is the pillow for you. When it comes to performance and reliability, the Ultralight Compressible Pillow has you covered.
Let's face it, when you're camping, backpacking, or traveling; you don't have space for unnecessary bulk. However, with this product, you no longer need to leave your home without the support of a pillow. The Ultralight Pillow is also an excellent gift for family members or any outdoor person who loves traveling a lot.
PROS:
Affordable
Folds down to palm size
Comfortable for head, back and stomach
CONS:
Noisy
Hard to get air inside
Related: With your new pillow comes a new sleeping pad! The Klymit Static V Lightweight Sleeping Pad comes in many colors and is very comfortable. It holds in heat and limits the movement of the air for a good night's rest.
Nemo Fillo
Price: Approx. $40
Weight: 0.55 lb
Dimensions: 6 x 7 x 7 in
Specific features: Ultralight, integrated stuff sack, extremely soft
Best use: Backpacking, camping
Description: The Nemo Fillo is a yielding and soft, yet substantial product for the side-sleepers. The Nemo Fillo is outstanding in the back country, but also amazing on the plane as a lumbar support.
This pillow feels big when it's cradling the head, but it's compressible and packs surprisingly small. This product is everything you would expect from a sidekick pillow during an outdoor expedition.
You can find this pillow in one of 5 colors; Moss Green, Horizon Blue, Nimbus Gray, Sunrise Stripe and Stalker Stripe. The pillow includes one inch of foam with a 3 inch bladder, so you get the most comfort. It includes a stuff sack, and the pillow stuffs down easily, so you can put it in your backpack.
Overall, those who have this pillow like it for the comfort, softness and the fact that it packs down so  nicely so they can take it anywhere, including backpacking.
PROS:
Comes in 5 colors
Has foam and bladder for comfort
Comes with stuff sack
CONS:
Stuff sack isn't the best
Too small for some
Related: Use your new Nemo pillow inside of your new Nemo sleeping bag! The Nemo Salsa Sleeping Bag costs around $260 and is spoon shaped. It has stretched stitching, and is made of high quality materials, plus it is water repellent.
Sea to Summit Aeros
Price: Approx. $31
Weight: Regular: 0.17 lb; large: 0.23 lb
Dimensions: Regular: 14 x 10 x 5 in; large: 16.5 x 11.5 x 5.5 in
Specific features: Brushed 50D polyester knit, curved internal baffles, synthetic fill, scalloped bottom edge
Best use: Camping, backpacking, traveling
Description: Whether you are in the back country or transit, the Sea to Summit Aeros will offer you a better and comfortable sleep. This product is a luxurious and high-performing product without the bulk and weight.
The construction of the pillow case makes it possible for the outer shell to retain softness while at the same time being supported by the high strength TPU bladder.
Product details of the Sea to Summit Aeros include brushed 50D polyester knit is durable and soft, available in large and regular sizes, and synthetic fill between TPU bladder and pillow case enhances comfort and wicks out moisture.
Scalloped bottom edge centers the pillow around the shoulders when sleeping on the back, side of upright. Curved internal baffles form contours which cradle your head. The pillow can be inflated in a couple of breaths using the multi-functional valve. Overall, users like this pillow for the comfort and softness of the material.
PROS:
Inflates and deflates quickly
Soft material
Cradles the head and neck
CONS:
Too small for some
Too firm for some
Related: You can put this pillow in a dry sack if you want to keep it from wet weather like rain or snow. The Ultimate Dry Sack comes in a 3 pack and will keep your items dry due to the polyester ripstop fabric that keeps water from coming inside.
Concluding Thoughts
We have reached the end. This article offers meaningful information on the significance of hiking pillows, what aspects to consider when looking to purchase one, and a review of the best products on the market. Deciding on buying a pillow can make a great difference between having that extra cash in your pocket and having a stiff neck.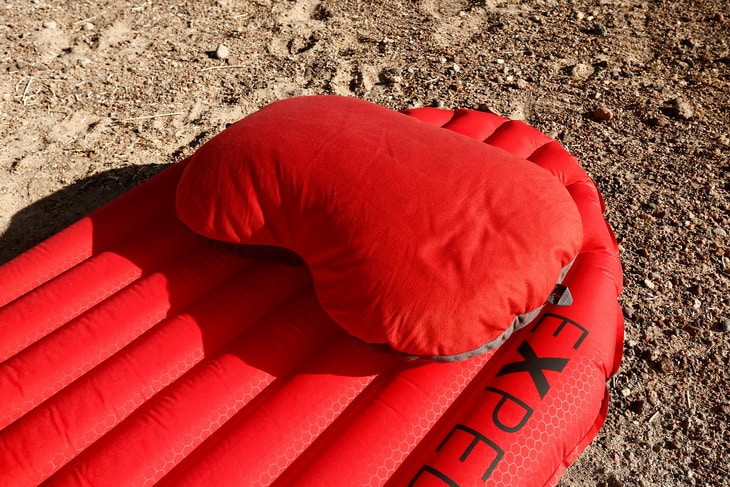 We hope this guide will assist you to determine whether or not having the best camping pillow is necessary for your adventures. And, now that you know how to choose them, and which ones are the best, your final choice will be a good one regardless of the model you opt from our list.
Now, it's your turn to share, do you have any other products you think should be included in the list above? Or do you have any of these pillows? Please let us know by posting in our section below. We want to know your experiences with the pillows or any other pillows you have used for backpacking!