The best rain jackets for women should fit the role they were designed for but ultimately, the best jacket must be effective at keeping the wearer dry and comfortable at all times. Whichever style of rain jacket may be great for one woman may not be so suitable for another, so some relevant aspects are listed below before we take a look at a few of the best women's rain jacket contenders.
Rain jackets, while designed for primarily for one environment or activity, should be able to cover more than one scenario adequately. Consider where and when the jacket is most likely to be worn – perhaps in an urban environment, while traveling on holiday, or in wild nature.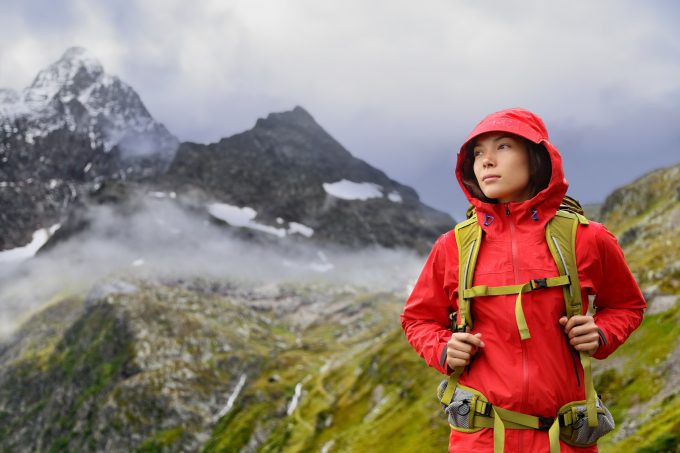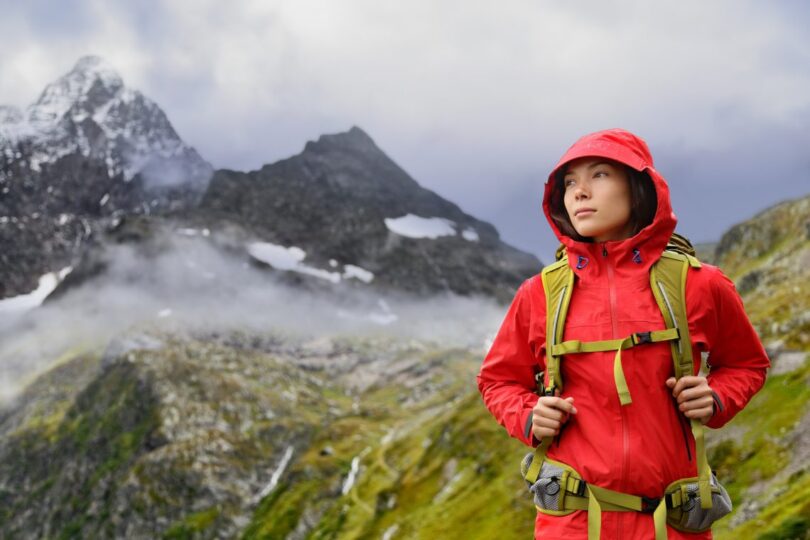 Do your normal activities vary from cycling on a mountain bike trail, hiking a rugged mountain or bustling from one shop to another on a shopping expedition? Rain jackets also double for wind protection so another scenario might be to choose a relaxed fit that has enough room to wear warmer thermal layers underneath and use in colder climates or even occasional skiing trips.
Top rain jackets will also be satisfying on some level of trend, style and attractiveness. With the stunning choice of fabrics, colors, and styles on offer, wearing a fashionable raincoat does not mean form and function are mutually exclusive.
Our Top Picks
| Product Name | Material | Weight | Size | Color | Price |
| --- | --- | --- | --- | --- | --- |
| Endura Xtract | 100% polyester | 6.4 oz | X-Small , Small, Medium, Large, X-Large | High Viz Pink, Ultramarine Blue, Black | Check price on Amazon |
| Castelli Donnina | eVent fabric with a waterproof rating of 70 g | 8 oz | X-Small , Small, Medium, Large, X-Large | Silver Grey, Green Fluo | Check price on Amazon |
| Giro Neo | Polartec Neoshell | 1 lb | X-Small , Small, Medium, Large, X-Large | Wild Lime, Black | Check price on Amazon |
| Sierra Designs Stretch | 100% polyester jersey knit | 7.5 oz | X-Small | Asphalt | Check price on Amazon |
| Outdoor Research Aspire | Gore-Tex, 100% polyester | 1 lb | X-Small, Small, Medium, Large, X-Large | Black, Adobe | Check price on Amazon |
| Patagonia Torrentshell | 2.5-layer H2No Performance Standard 100% recycled nylon Ripstop | 12 oz | X-Small, Small, Medium, Large, X-Large (tends to fit small) | Blue Curacao, Aloe Green, Black | Check price on Amazon |
| The North Face Tomales Bay | Nylon | 2 lb | Small, Medium, Large, X-Large | Black, Roses Gray Tweed, Sedona Sage Gray | Check price on Amazon |
Features To Consider Before Buying
It is highly recommended that occasionally when buying a rain jacket, we don't give much attention to brand, style or the size and disregard the fundamental part of each rain jacket which is comfortability.
It is likewise essential to know that we all have different needs with regards to choosing a rain jacket, that is the reason a person should clearly know their needs and ensure they pick the right rain jacket that can meet those needs. Discussed below are some features you need to consider before buying a rain jacket.
Hoods
These can be attached or detachable by various methods. A woman who wants to use their rain jacket for cycling may not want an integrated hood as they already wear a helmet.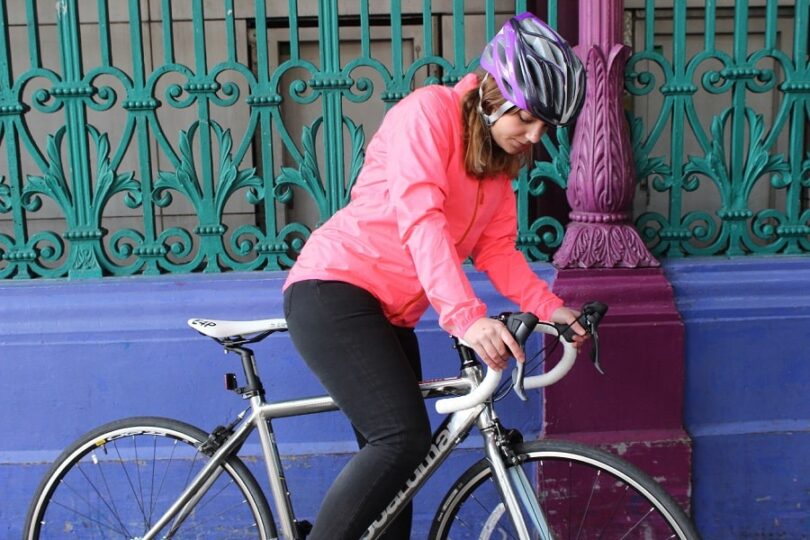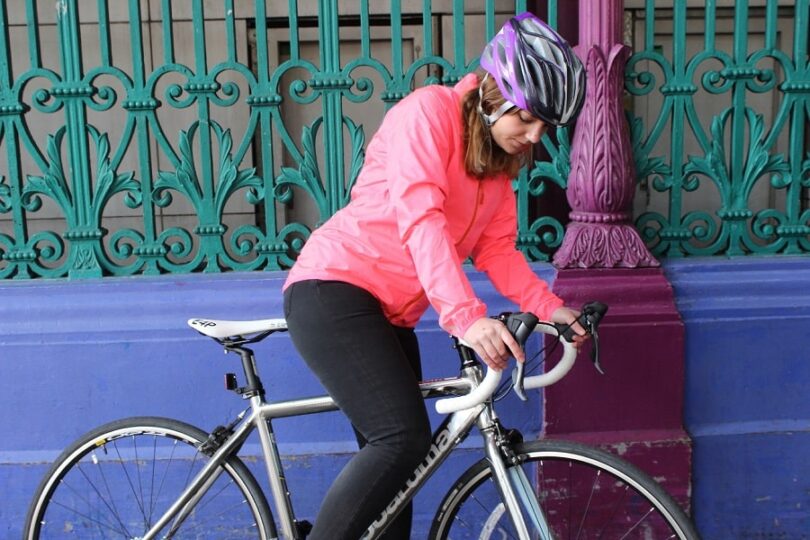 On the other side someone who is trekking in a rainforest will make it a priority.
Closures
Types of zippers, domes, Velcro, buttons. Zippers may be double ended and fully waterproof zips are available. It may be important to have easy access to inner pockets while wearing gloves so openings should be easy with perhaps with hook/loop. On the other hand, hook/loop does collect materials like wool from other clothing so may lose effectiveness.
Pockets
Styles, closures, shapes, placements. Pocket designs are many and varied – hip pockets, breast pockets, upper arm, behind the back and inner access, all with varied closures.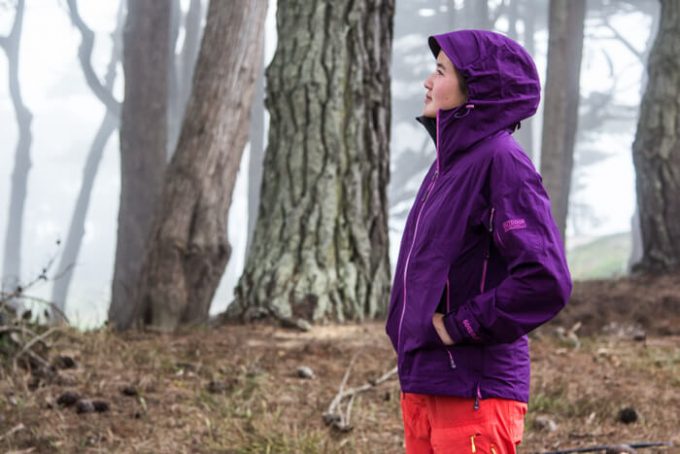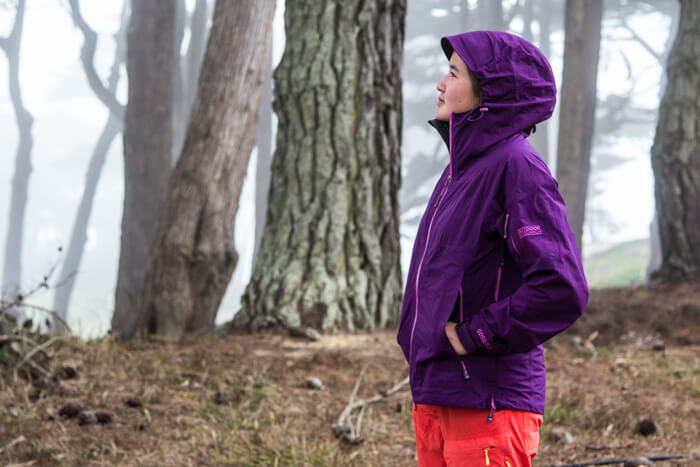 Consider if pockets are needed to keep hands warm or for storage of money or valuables.
Plackets
Covering zippers, pockets. These help to keep wind and water out of zippers or cover pockets, especially important in strong rain or windy conditions.
Sleeve and shoulder patterns
All good raincoats will resist rain over the shoulders either by having a design that has no seam across the shoulders as in the raglan sleeves, or will have a double layer as a yoke to protect any seam underneath from leakage. Seams are usually also sealed for extra surety.
Style and cut
Women's body shapes are usually quite different from men. Jackets that are tailored to fit women well will be more comfortable to wear and keep your body warmer, especially around narrower feminine waists and wider hips.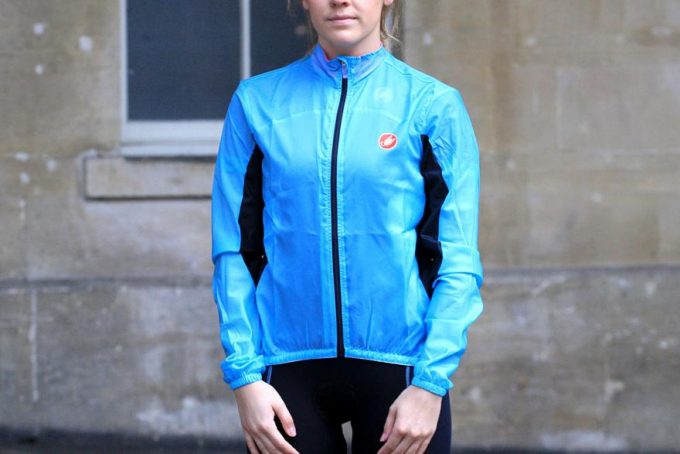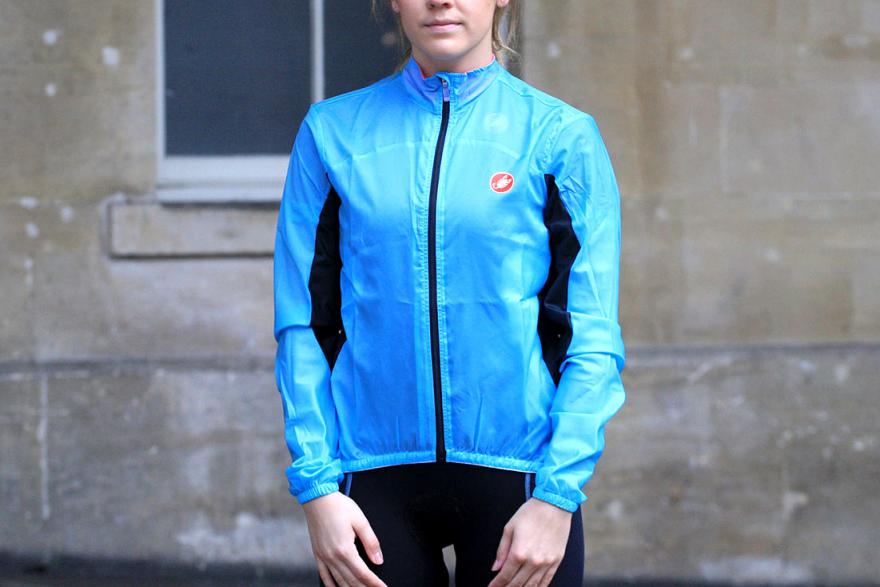 Two places rain can enter are around the neck and wrists so jackets that have well fitted collars or hoods, as well as close fitting wrist adjustments to help keep rain out.
Length
Shorter for use on a bicycle, longer for hiking. Both cycling and hiking may be improved by longer shaped rear panel that covers a body bent forward.
Ventilation
Some rainy climates are also quite warm and tropical so extra ventilation openings may be designed with opening zippers or mesh covered gussets under arms or shoulder blades.
Material
Waterproof, breathable, stretchy and textured. Some well known fabric brands like GORE-TEX, have been used for many years while new fabrics are being developed all the time.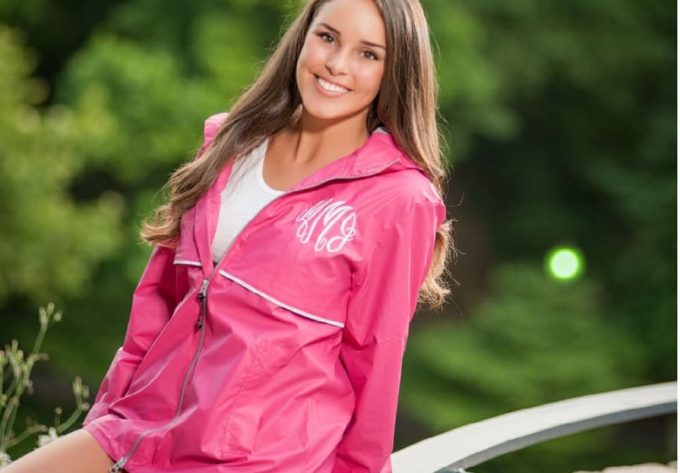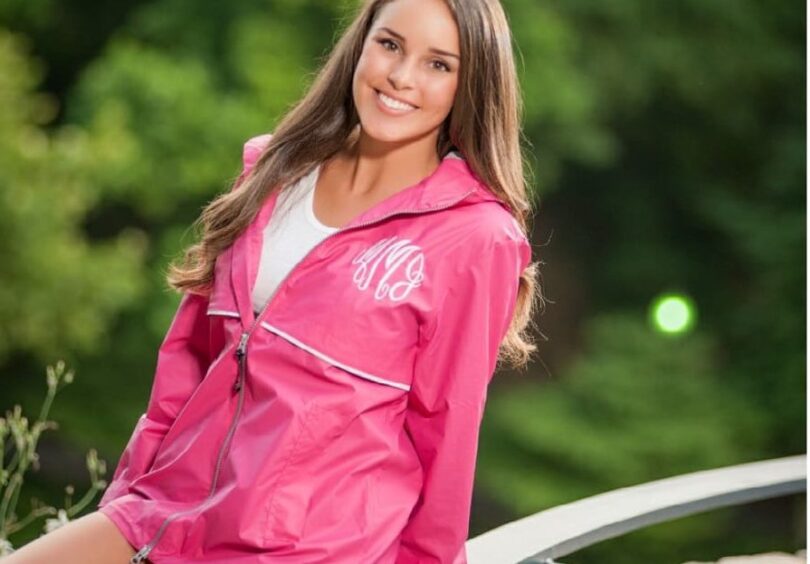 Newer fabrics are now being designed in four-way stretch for ultimate comfort and softer surfaces that don't make scratchy sounds like traditional hard shell fabrics.
Safety
Visibility may also be desired safety feature, especially for active wear raincoats for cycling in heavy traffic or when vision is impaired by inclement weather.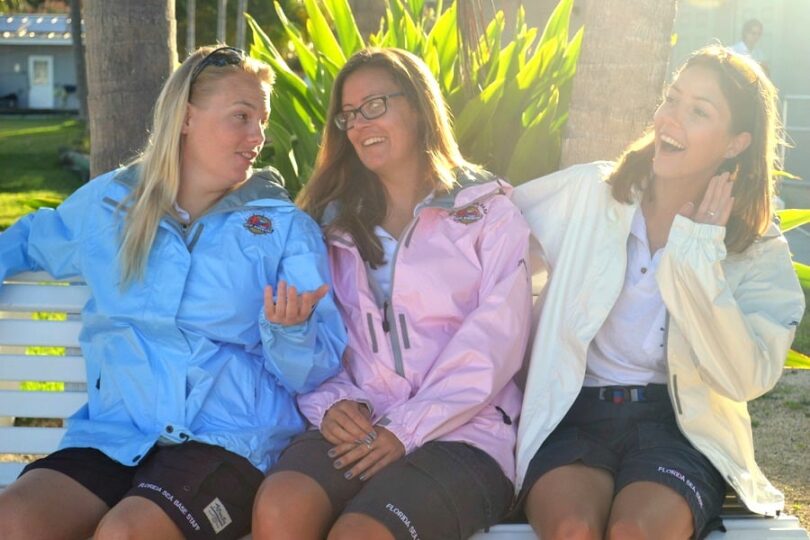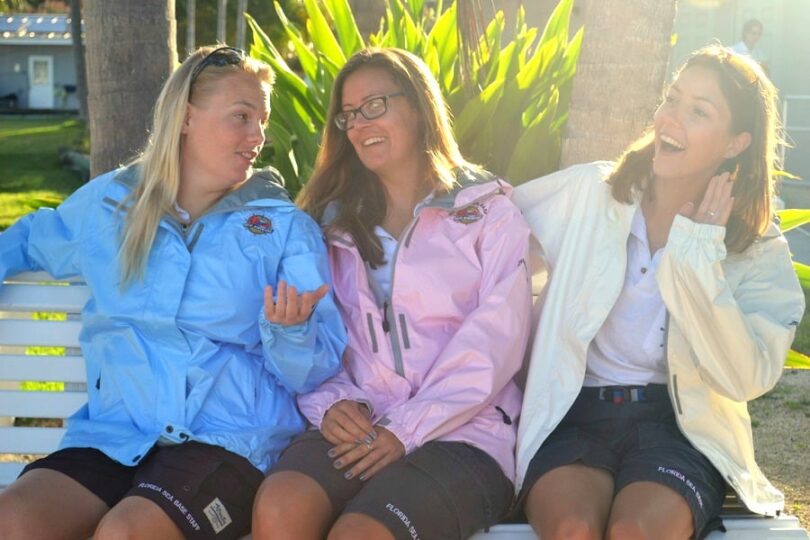 Bright colors may also be a safely feature for hiking in the case of injury or accident while en route.
Storage
Specially integrated pockets, extra package bags or suitability for stuffing in small spaces when not in use.  All of these features are important and you need to keep an eye on them.
The Best Rain Jacket for You
You can see rain jackets offer something different in design and features so make up your own personal list of what your priorities are. Do you want a rain jacket more for cycling or for hiking or maybe backpacking? Do you want to the jacket to cover a number of different activities?
Does it need to stow away for emergency use or is the weather more predictable where you live? The following are a selection of women's rain jackets that fit the bill as "best" in one way another.
Endura Xtract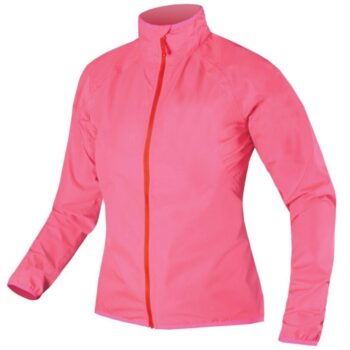 Price: $70 – $90
Weight: 6.4 ounces
Dimension: 10 x 6.5 x 1.7
Specific features: 100% polyester with a waterproof rating of 5000, breathability rating of 5000, hip length, longer rounded hem back panel, high visibility light reflective trims on the sleeves and at the back, fleece lined collar, back mesh vents, underarm gussets of breathable material, raglan fitted sleeves, concealed security pocket, fabric zipper chin guard
Best use: Cycling, casual sportswear
Description: This jacket is primarily designed as a women's cycling rain jacket, however, with its modern urban style, it passes from cycling to fashionable but functional sporty casual wear.
The Endura Xtract reputedly crushes down to a size so small it will fit into a space the size a drink can of Irn Bru, a beverage renowned in Scotland where the jacket is produced. It can literally be stuffed in the corner of a handbag "for a rainy day" however it does come with its own stuff sack to make the storage task easier.
The Endura Xtract Cycling Jacket is a good mix of practical features for cycling, but is the type of rain jacket a woman on the move can easily carry around 24/7 in her handbag or backpack.  It will never matter if any day is a rainy day.
Comfortable and lightweight, this rain jacket has none of the stiffness you find in most heavyweight, seam-secured rain jackets, while still hindering the element from creeping in.
Some women prefer to get the Xtract in ultramarine blue since it is obvious in the element, it has reflective subtle elements, and it is functional and well-fitting, with elastic cuffs and a rear zip-up pocket to keep out the rain. It is likewise a great deal unlike other waterproof rain jackets out there.
PROS:
Lightweight
Breathable
Waterproof
Highly visible
Provided stuff sack
Packs very small
Concealed security pocket
Related: To maintain the performance of your rain jacket and other garment, the Nikwax Hardshell Clean/Waterproof DUO-Pack is all you need. A high-performing waterproofing agent for your outerwear!
Castelli Donnina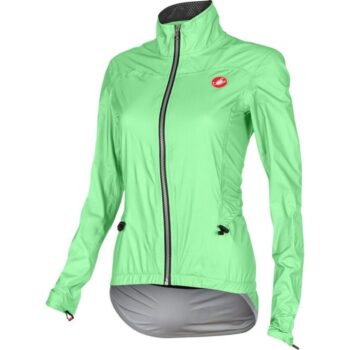 Price: $189 – $300
Weight: 8 ounces
Dimension: 14 x 11 x 1 inches
Specific features: eVent fabric with a waterproof rating of 70 g, hip length, fully waterproof YKK Vislon zipper, all seams are fully-taped, longer back with rounded hem, reflective trim throughout, extra high stand up collar, long length sleeves, quick lock toggles wrist bands, waist elastics and toggles, two large, accessible rear pockets
Best use: Cycling, hiking
Description: This cycling jacket oozes minimalist style and sophistication with its sleek burnished sheen fabric and figure hugging cut. It does more than pass as a casual rain jacket, but its cut, is definitely styled for cycling with its longer back panel and specialized pockets on the back.
The extra high collar and long sleeves will also help to keep cyclists in any weather. The Castelli Donnina  is on the upper price range, but if eye catching sportswear is your style you should try it on for size as it will give you years of pleasure cycling whatever the weather..
Make yourself ready, for every event, from an all-day rain shower to an unexpected exuberant deluge mid-climb with this amazing rain jacket. Little enough to be kept in a pullover pocket, the shell is built with proprietary eVent waterproof textile, with stretch embeds at the sides, arms and shoulders that move along with you as you are riding.
This rain jacket incorporates completely-taped seaming and also a Vislon zipper for complete waterproof construction on the rain jacket, thus giving you the chance to ride in any level of rain without stressing that the rain jacket will in the long run drench through.
PROS:
Good fit
Good budget rain jacket
Waterproof zipper
Reflective detailing
Packs up small
Great quality
Related: Whether your rain jacket requires an additional layer of safeguard, or your porch furniture needs some intense water repellency, Scotchgard Outdoor Water Shield opposes the elements with an enhanced formulation that keeps gear and clothes drier and longer.
Giro Neo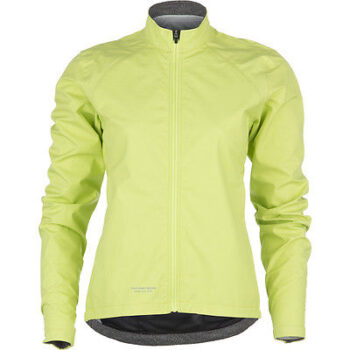 Price: $40 – $80
Weight: 1 pounds
Dimension: 11 x 5 x 1 inches
Specific features: Polartec Neoshell, hip length, four-way stretch fabric, seams taped and sealed, rounded elastic rear hem, stand up collar, 2 pouch pockets at hips, integrated storage system at the back with triple pocket mesh inner
Best use: Cycling, casual sport wear
Description: This light, stylish cycling rain jacket is another that will function well while cycling in the wind and rain, but will also serve as a casual sport and recreation jacket.
The fabric is four-way stretch, unlike most hard shell rain jackets, so the Giro Neo is the ultimate in comfort sportswear. This softer fabric doesn't make that sometimes irritating scratchy sound associated with more traditional stiff fabrics.
This rain jacket combines function and fashion into one completely awesome package. The fit is sufficiently free to layer beneath, while holding a custom fitted look that functions admirably on and off the bicycle.
The marginally lengthy back board makes the rain jacket to be ultra-useful on a short commute or long rides, with a smaller front to make twisting around the bars much easier. This rain jacket has smart zippered pockets at the sides which keep your telephone dry and nice.
This coolly styled rain jacket's lengthy-than-normal sleeves, hold the sleeves down at the wrists while stretched out across the bars, and also the drop-tail sews, guarantees your lower back stays canvassed when it is seated.
PROS:
Super light
Excellent construction
Packs well
Waterproof
Fits great
Beautiful style
Related: if you want a matching pant to go along with your rain jacket, then you can check out the Giro Mobility Pant Classic. This pants adapt easily to the current situation, with a balance of style and functionality.
Sierra Designs Stretch Rain Jacket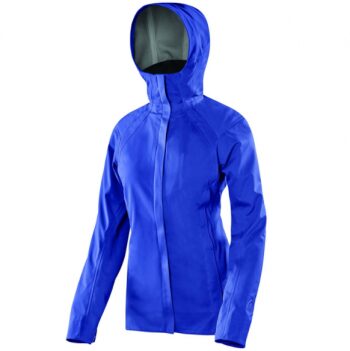 Price: Approx. $90
Weight: 7.5 ounces
Dimension: 10 x 9 x 1 inches
Specific features: 100% polyester jersey knit, thigh length, fitted hood, fully covered center zipper, extra long sleeves, adjustable cuff, zippered vents in the side seams, hem draw cord, underarm vents, 2 waist high hand pockets, 1 chest pocket, storage in either waist pocket
Best use: Backpacking, casual rainwear
Description: The Sierra Designs Stretch Rain Jacket is a full length rain jacket that doesn't feel like a rain jacket because the superbly comfortable four-way stretch fabric that makes it feel more like a lightweight soft shell jacket.
The jersey knit liner incorporates a waterproof membrane to keep the inner dry and even in warmer weather and there is also a special odor reducing layer to keep everything fresh and deodorized.
The inbuilt zippered side vents ensure ventilation and air flow as well as facilitating easy access to inner clothing pockets. Outdoor living holds no fears when you have this well designed, comfortable rain jacket in your wardrobe. The stretchy element, combined with the sleek design and stellar hood, makes it an awesome choice for around town.
On the off chance that you had just a single rain jacket to toss in your vehicle for urban missions, and you needed it to look good, keep you dry always, or add enough warmth in a sudden chilly snap, this is an incredible rain jacket. It is a decent compromise of numerous components.
PROS:
Comfortable
Stretchy
Durable
Very soft
Rugged fabric
Thick
CONS:
Thick fabric obstructs breathability
Reduced waterproofness
Related: if your favorite softshell or rain jacket has lost its waterproofing function, or your rain gear isn't shedding rain any longer, don't throw it away! Splash on Gear Aid ReviveX Durable Waterproofing Spray to make or restore water, stain and oil repellency, on all your most-loved outerwear.
Outdoor Research Aspire Jacket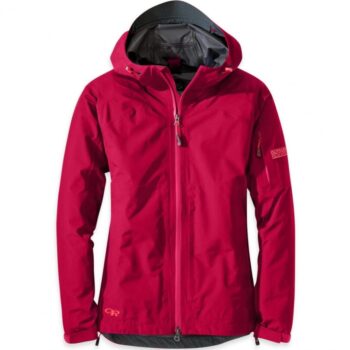 Price: $165 – $215
Weight: 1 pounds
Dimension: 1 x 1 x 1 inches
Specific features: Gore-tex, below hip length, relaxed body fit, front double ended YKK AquaGuard zipper, fitted hood with peak, extra arm length, adjustable wrist tabs, 2 zippered mesh lined hand/hip pockets, left hand pocket doubles as storage with small Carabiner loop, 1 pocket left upper arm, TorsoFlo zippers fitted to side seams
Best use: Backpacking, climbing, cycling, travel
Description: This quality light shell rain jacket is well designed and loaded with features that mean it can cover a lot of bases for outdoor living including cycling and hiking.
The Outdoor Aspire Rain Jacket is as versatile as it is durable, waterproof and lightweight enough to carry around "just in case".  There are plenty of options for ventilation in warm temperatures, yet it has a relaxed enough fit so that it can be layered underneath for colder climates.
When stowed, the jacket can be hung by a carabiner to a backpack or climbing harness. If this is your choice for best rain jacket you should expect years of service wherever your life takes you.
Apart from being exceptionally waterproof, Gore-Tex also offers great breathability, thus making this rain jacket high-performing in such manner. There is a fascinating feature with this rain jacket which you might not have seen in other models.
This rain jacket has two way zipper, which moves from the biceps area to the arms. This makes the rain jacket to be put on as a poncho! A fascinating idea you may not have come across before!
PROS:
Lightweight
Gore-Tex 2.5-layer jacket
Breathable
Waterproof
Durable
Sleek
Comfortable
Great ventilation system
CONS:
A bit expensive
A little bulkier and heavier
Related: Outdoor Research also manufactures matching Aspire Rain Pants to go with this rain jacket.
Patagonia Torrentshell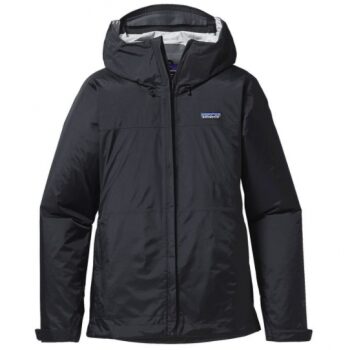 Price: $120 – $140
Weight: 12 ounces
Dimension: 15.3 x 12.1 x 1.2 inches
Specific features: 2.5-layer H2No Performance Standard 100% recycled nylon Ripstop, thigh length, hood with laminated visor and draw cord, hood rolls down when not in use, Microfleece neck lined collar, full length front zipper with interior storm flaps, hook and loop adjustable tabs at wrists, 2 hip height hand warmer pockets, bottom hem has a draw cord, jacket stuffs into either zippered pocket, carabiner clip loop fitted in the pocket
Best use: Backpacking, climbing, cycling, travel
Description: This rain jacket is the type that will cover all the bases when it comes to outdoor adventure, whether you are climbing a sheer rock face, cycling a mountain trail or taking a casual weekend stroll.
Patagonia is a renowned environmentally aware company that makes a lot of effort to ensure its products do as little harm to the environment as possible. For the Patagonia Torrentshell they collaborated with Swiss company bluesign®  Technologies to reduce resource consumption in the whole manufacturing process.
Patagonia also guarantees that all their products carrying the H2No mark have been severely tested for durability in their 24 Killer Wash to be completely windproof, waterproof, yet remain breathable.
If a versatile, attractive rain jacket that is manufactured and distributed by an environmentally responsible company is important to you then you can't go past the Patagonia Torrentshell Women's Rain Jacket. It covers all the bases in that respect as well as being great jacket.
PROS:
Affordable
Good waterproof
Great hood
Climber-specific
Durable
Packable
Breathable standard
Function-driven
CONS:
Not comfort-driven
Zipper pulls
Isn't the most tailored fit
Cord locks are fiddly and small
Related: Patagonia has other clothing that can be worn in combination with this rain jacket for extra warmth, Down Sweater, Re-Tool Snap-T Fleece Pullover.
The North Face Tomales Bay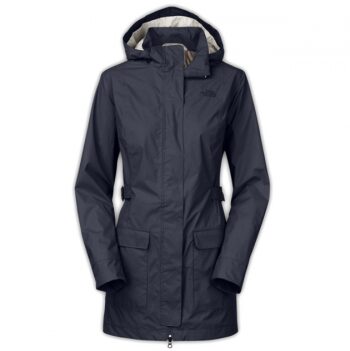 Price: $152 – $190
Weight: 2 pounds
Dimension: 12 x 10 x 2 inches
Specific features: Nylon, thigh length, relaxed fit, full length 2 way zipper, removable lined hood with drawstring, waist tabs with buckle and eyelet adjustment, extra long sleeves with reinforced cuff
Best use: Urban lifestyle, hiking
Description: This longer style rain jacket reaches to an upper thigh level with slightly lower rounded back hem for good coverage in rain showers.
The North Face Tomales Bay has a more urban look than many comparable rain jackets sporting a detachable hood, and "commute-specific pockets"  for holding travel passes and media players. There are also hand warmer pockets behind the hip height patch pockets on the front so this is the ideal rain jacket to take you from weekend wanderings to window shopping on a rainy day.
This rain jacket is, of course, breathable and waterproof and has the additional component of pit zippers to help guarantee great ventilation. These are indeed a must-have gear in wet, yet muggier situation, a simple approach to get some air inside, outside and around the torso area and chest. The hood is completely flexible, but it is not topped or stiff brimmed.
PROS:
Good ventilation
Lightweight
Good price
Tough construction
Comfortable
Practical
CONS:
Hood is basic
Heavier compared to others
Minimal breathability
Related: North Face also makes shorter style jackets that are shower proof Agave Jacket, Flyweight Hoodie.
Concluding Thoughts
I hope that this has helped you narrow down; which women's rain jacket will be best for you. If you are a keen and regular cyclist, then there is no point choosing the longer styles that will restrict movement. Likewise, if backpacking is your favorite recreation then a shorter cyclist's rain jacket will be uncomfortable under a backpack.
Endura Xtract Cycling jacket, Castelli Donnina rain Jacket and the Giro Neo rain jacket are cycling specific, but they are also compact and fashionable enough to wear as casual sporting gear.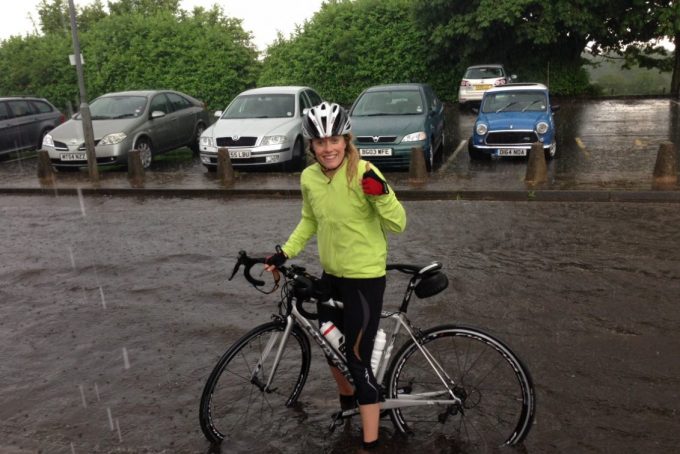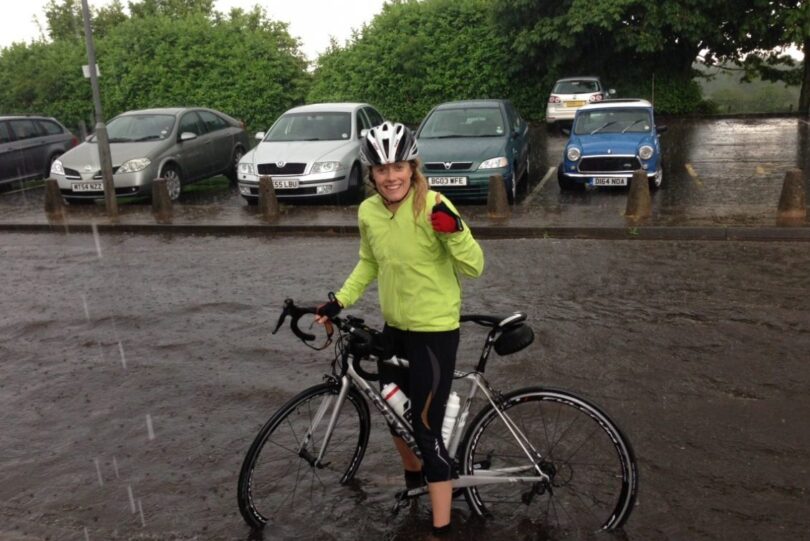 The Outdoor Research Women's Aspire Jacket, Patagonia Torrentshell Women's Jacket and Sierra Designs Stretch Rain Jacket are versatile styles that could be used for occasional cycling but the hood may prove problematic on longer rides. They are more suited to hiking and casual urban wear.
The North Face Tomales Bay women's jacket is more urban style, but would be fine for occasional hiking and backpacking trips. Whatever you are doing and where ever you go, these women's rain jackets will ensure you are dry and happy dancing in the rain. Don't let the weather hold you back.
If you have the feeling that we missed something, or maybe you have some questions, feel free to leave a comment or a question in the comments section below.