Our busy lives in this modern world of technological innovation mean that charging portable devices in transit become a necessity. We tend to use a lot of devices – for music, video, photography, navigation, camp reading, etc. – but they won't be functioning without a power supply. This is where the best external battery pack becomes the smart solution for on-the-go charging and recharging, especially when you are in the middle of nowhere.
Outdoor enthusiasts and travelers will find these battery packs useful for their device-charging needs. Imagine going out to scenic landscapes aiming to capture the precious moments or work on your laptop at the beach, but then realize your power has been depleted. This inconvenience can be prevented by having a reliable and powerful external battery pack.
There are many battery packs available in stores near you. How to choose the best one? This article has the details you'll need, including an overview of what an external battery pack is, how it works, and its significance. We will go through different external packs to provide you full insight into the important aspects. But let's first go through a tabular comparison of these products and then delve into things to consider before buying these external packs.
Our Top Picks
Things to Consider Before Buying
Every buyer's decision must be preceded by a careful understanding of the perks the product delivers. So, before making your decision on which external battery pack to buy, it is imperative to know more about this device.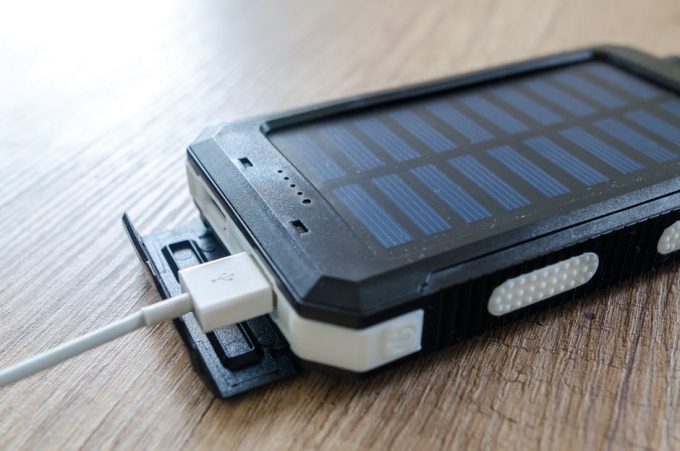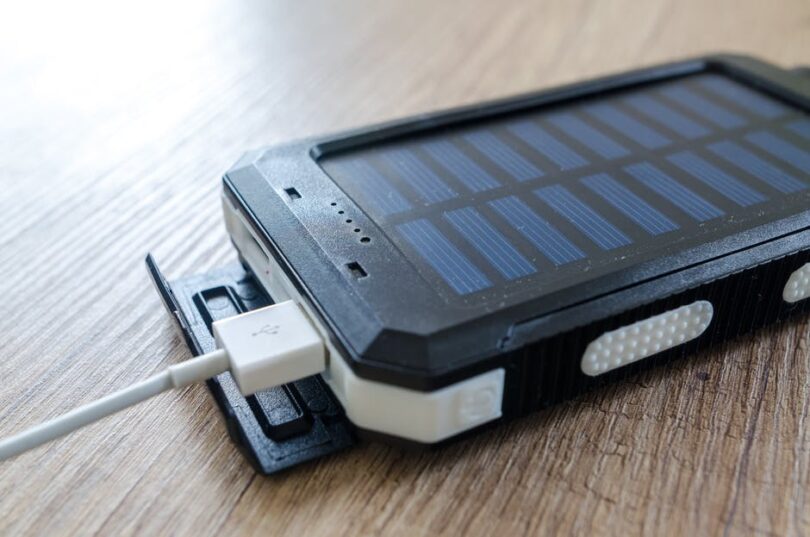 Let's go through some of the important considerations hereunder that you need to handpick the best battery pack among others. Take note of the significant difference of the specifications for each pack. Some details you should know about battery packs include:
Input
It is well and good to have an external battery pack to charge your devices, but the question is how long does it take to fully charge? Some devices may require six hours or less to charge to their full capacity, while some may even take as long as 12 hours.
Combined Output
Most battery packs are equipped with a minimum of two USB ports, which are oftentimes labeled as 1A or 2.1A. These ports can handle as much as 1 amp or 2.1 amps. The only difficulty to overcome is the maximum output of the ports the pack can deal with.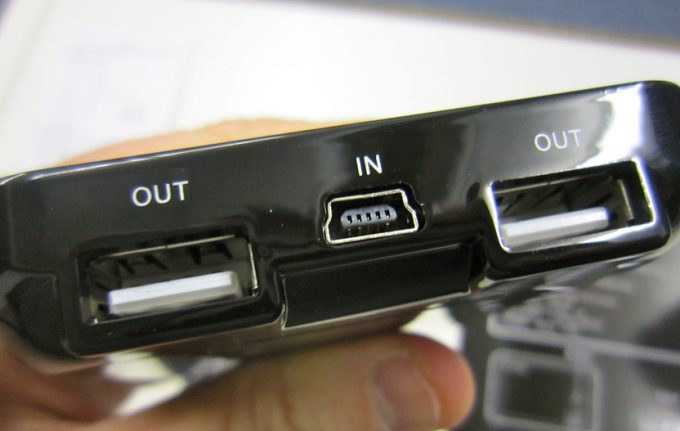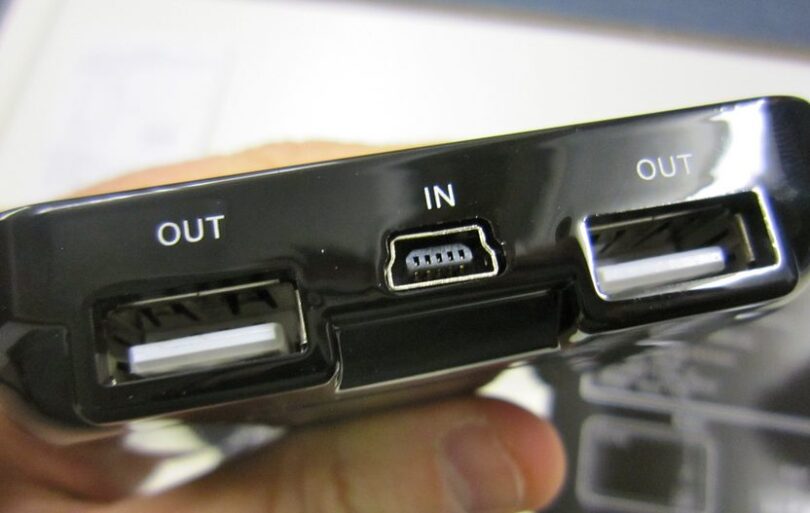 Its maximum output can reach 3 amps, allowing you to have the full capability of both ports when you use them all at once. This will make your charging time faster. However, keep in mind that not all battery packs come with the ability to cope with each simultaneously-used USB port.
Durability
If you are a traveler, adventurer or an outdoor enthusiast, you would probably want to bring a battery pack with you for your mobile devices. The housing material of the battery can have a huge impact on its aesthetics and longevity.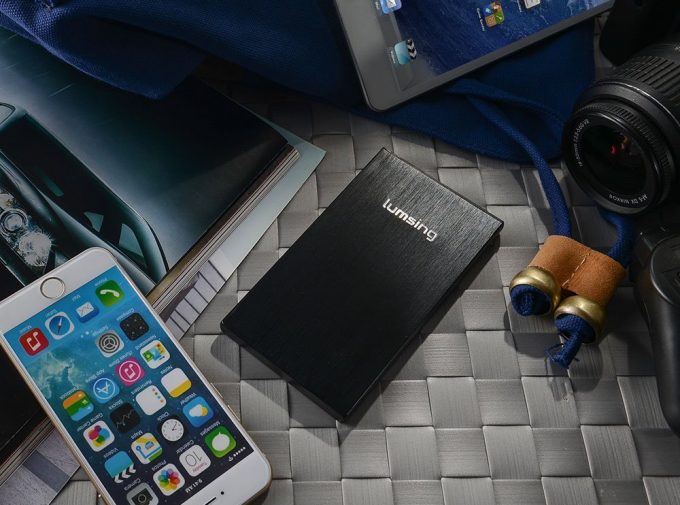 Its metal housing ensures the survivability of your device from normal wear and tear for years. The internal components of the battery should be kept away from heat.
Portability
The large size and weight of a mobile phone battery does not do you any good, especially when you are camping or mountaineering. Always consider the volume, weight, and shape of your external battery packs.
Built-in Extra
An indicator becomes relevant so you will never wonder how much power is left in your external battery. There are battery packs using LED indicators showing the percentage of the remaining charge.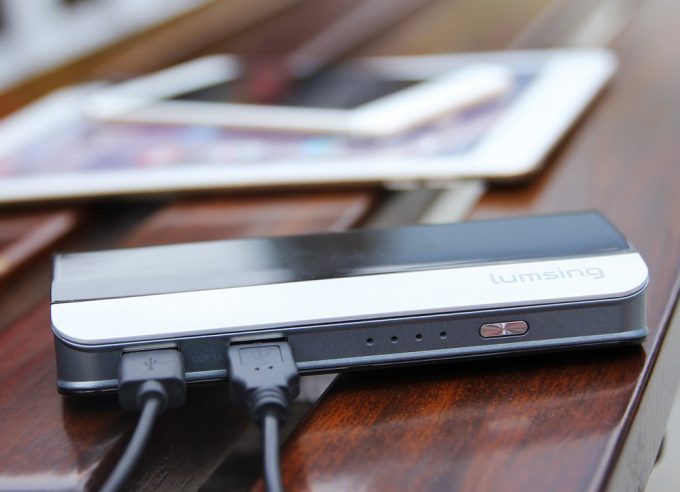 Be mindful of the fact that the best LED indicators are developed with over four LEDs for accurate representation of the charge left. Yes, extras tend to be silly, but can be very useful in certain situations.
Best Products on Today's Market
KMASHI B00JM5 
Price: $14 – $80
Weight: 9.8 ounces
Dimensions: 6.8 x 4.8 x 0.9 inches
Specific features: 10000 mAh of power bank, 4 remaining capacity status LEDs, intelligent power manages IC, short circuit protection and overcharge protection, dual-style USB ports.
Best use: Travel, camping, trekking, long outdoor activities
Description: KMASHI B00JM5 Power Bank is specifically developed to be a portable on-the-go device with its nice black and red external finish. It can actually be carried anywhere you are heading to.
While its power is a little bit on the lower end compared to others, it still has the capability to hold sufficient power for the full charging of electronic devices, though, it may take you a while to fully charge your phone and other devices.
It allows you to charge a phone several times during the battery's life duration. It comes with a super-fast charging output, 2 dual-style USB ports and power indicator that shows the remaining charge in your battery.
By this, it means that the battery pack does not have power adapter, only USB and MicroUSB. KMASHI is still recommendable as it functions flawlessly despite its lower charging power and lack of power adapter. Lastly, you simply cannot go wrong with its affordable price.
PROS:
4 LEDs indicators to show you the battery charging capacity
Dual USB-port charging ability to charge two devices simultaneously. It has the USB and the micro-USB port.
Makes use of the 5v adapter for an expedited charging
Charges a variety of devices for about 6 and half an hour.
Short circuit and overcharge protection
It's affordable
CONS:
Does not come with the power adapter. You have to purchase it separately
Lower charging power
Comes with micro-USB cable that is not compatible with the Galaxy S5 Note 3 and iPhone.
Related: Do you own iPhone 6 or Samsung S6? Consider the KMASHI PK6 Wall Charger for these latest powerful smartphones on the market. They are powerful to an extent of depleting power ridiculously fast.
Ravpower Rp-Pb24 
Price: Approx. $15
Weight: 2.9 ounces
Dimensions: 3.9 x 0.9 x 0.9 inches
Specific features: Portable and compact, powerful battery capacity, full charge of iPhones and other smartphones with additional 90 hours of music playback or 9 hours of talk time, iSMART technology, short circuit and overcharge protection, battery pack made from premium grade A+ battery cells with over 500+ recharge cycles.
Best use: Travel, camping, trekking or hiking, long outdoor activities
Description: RAVPower RP-PB24 Lithium Batteries has already proven its reliability considering the huge number of products they have already sold in the market worldwide. The device is equipped with awesome features including high quality microchips and Grade A battery cells.
Its compact design offers you convenience of use for charging, which is nonnegotiable in front of its compact structure. You will be able to charge devices like cell phones for 7 hours. The outer surface of this device is made from brushed aluminum that offers you an appealing look.
It is compatible with an extensive range of brands such as Samsung, Motorola, Google, HTC, MP3, MP4, DIGITAL CAMERAS, and iPhone without issues on battery discharges or wastage. The three lighting mode of its flash light makes it very useful in camping and riding apart from its regular usages.Grade A battery cells and quality-wise features make the RAVPower battery pack reliable. The only flaw is the absence of its lighting cable option.
PROS:
Short circuit and overcharge protection
Compatible with a wide range of mobile devices, so it makes charging an easy task for modern smartphones
Charges devices in less than 7 hours. Everyone hates having to wait for the entire day before his device has been fully charged
Features iSMART technology for fast charging of your smartphones
Portable and lightweight
CONS:
Product currently unavailable on Amazon
Lower charging power, which may be a problem when charging phones simultaneously
Related: The company also offers the RAVPower US RP-PC005 Solar Charger for more of your charging needs. It is waterproof and has triple USB ports more connections of your smartphones. The solar panel is lightweight and compact, which makes it ideal for outdoor hobbyists. Like the above reviewed product, it features an exclusive iSMART technology for optimal and quick charging of devices.
Intocircuit Power Castle 
Price: $70 – $80
Weight: 1.5 pounds
Dimensions: 7.3 x 0.8 x 4.9 inches
Specific features: 1 USB spring power wire, 12 connectors for laptops, 18.5V 2A AC adapter, 10 connectors for smart phones. charges on average for 5 to 6 hours, AAAA high powered battery, 1000+ recharge cycles, auto shuts down if device fully charged or no digital devices connected
Best use: Travel, camping, trekking or hiking, outdoor activities
Description: Intocircuit Power Castle Portable Charger is among the best charging devices for gadget users with its compatibility with almost all laptops, smartphones and other electronic products. Its power conservation and stylish features are enough in making it suitable for your standing and personality.
It has an automatic energy plug that allows you to do other tasks with its sleep mode capability without any intervention. You will be well protected with its aluminum alloy body, giving you a more fashionable look. It is actually cheaper when compared to your price expectation for this battery pack.
One full charge using this pack will power-up your laptop or an estimated 12 cycles for your smartphone. It is compatible with many devices, but not with Samsung/Surface Tablets. There are some users who complain of its power loss and malfunction. This power castle charger is still ideal for emergencies or any hassle avoidance.
PROS:
Compatible with laptops, smartphones and other electronic devices to charge them with its battery capacity of 26000mAh.
Can charge for an average of 5 to 6 hours
Comes with the components needed to charge such as 12 connectors for the laptops and 10 connectors for the smartphones
The aluminum body is sturdy and lightweight
It automatically shuts down and turns into a sleep mode if the device is fully charged or if no electronic device has been connected, thus saving more power for extended usage in the outdoors.
CONS:
It is relatively expensive compared to other models. But its powerful battery capacity says it all
Compatible with a variety of devices except the popular Samsung tablets
Related: The Threeeggs Pro 4 Charging Cable can be a great add-on product to go along this battery pack. It comes with other components to make your charging an absolute breeze.
ANKER Powercore 
Price: $40 – $80
Weight: 12.5 ounces
Dimensions: 6.6 x 2.3 x 0.9 inches
Specific features: VoltageBoost and PowerIQ for high charging speeds, high capacity battery with 20000 mAh, lightweight battery pack, MultiProtect system
Best use: Travel, camping, trekking or hiking, outdoor activities
Description: Anker PowerCore Portable Charger is equipped with two ports for USB for quick device charging through its 2.4 amps supply port. The 20000mAh is a high capacity to charge even the larger devices such as your MacBook and iPads. The large capacity doesn't compromise the compact design of the battery pack for minimalist hikers.
Keep in mind that you have to use a cable with your iPhone, iPad or any Apple device because it only includes MicroUSB. A USB-C cable is also needed if you need to power a 12-inch MacBook. With its large charging capacity, the battery pack is on the beefy side that won't fit in your back pocket.
Any non-OEM cable delivering stable current can be automatically figured out with its built-in VoltageBoost feature. Its power status will be indicated through the illumination of its 4 LED lights. You can notice that its lights turn off when it is fully charged. So it prevents overcharging of your devices. Another best thing offered for this tool is its capability to charge two devices at the same time.
PROS:
Has a MultiProtect system that protects you and your devices
Has two USB ports for quick simultaneous charging
Has a powerful charging capacity
4 LED light indicators that alert you when the device is fully charged to avoid overcharge
VoltageBoost feature for fast charging of a wide range of devices
CONS:
Doesn't support Qualcomm's Quick charge
Relatively expensive
Related: whenever traveling amid bad weather conditions, you need to protect your battery pack. We recommend getting the Caseling Anker Hard Case that will provide maximum safety for your battery. We also recommend the Anker PB-0040 USB wall charger for more charging options.
Geartist D28 
Price: $40 – $60
Weight: 2.2 pounds
Dimensions: 4.7 x 2 x 3.1 inches
Specific features: Geartist car starter to jump a variety of cars that include SUVs, power adapter to connect your devices easily, auto 12V of emergency car starter, 12v/16v/19v volt options for laptop charging, bright LED flashlight for the SOS.
Best use: Travel, camping, trekking or hiking, outdoor activities
Description: Geartist D28 Car Starter Booster is a great gadget if you are planning to save money on your camping trip. Many customers consider it as a fantastic device when you are using a stronger composite for your clamps. It would be a lot easier and nicer if you make its blue plastic plug in within reach, as you are expected to remove or insert it while clamps are still attached to the battery.
Some of its users, however, encountered an incident where the plastic clamp exploded right away after clamping it to a negative terminal. So it's advisable to pay more attention when operating this battery pack. You should also devote some time on the operator manual.
Many still found it very convenient to use as it gives you a chance to make the most of it once and then it can start your car immediately. So if your car has some battery issues amid your hiking treks, this powerful Geartist battery pack can come to your rescue. It is a complete power source package for your outdoor excursions
PROS:
Powerful battery capacity
It can even jump big cars like the SUVs and other small cars
Compatible with a wide range of electronic devices
Comes with all the components such as cables that you will need to charge your devices
Voltage options to charge your laptops
CONS:
Relatively expensive
No protective pouch that is waterproof for the inclement environments
Related: To jump the car, you will need the Geartist GC02 Clamp Cable for effective boosting of your car with this powerful battery pack.
Zilu Zlbpx-130 
Price: Approx. $20
Weight: 4 ounces
Dimensions: 3.7 x 1.8 x 0.8 inches
Specific features: Comes with micro USB cable, 4400 mAh battery, made from class a 18650 battery cells, energy conversion rate of up to 93%, low heat generation, 9 TI battery management safety mechanisms, compact and easy to fit in a pocket.
Best use: Travel, camping, trekking or hiking, outdoor activities
Description:  ZILU ZLBPX-130 External Battery Pack contains quality Samsung 18650 lithium ion type of battery cells, safety measures, and a great battery management. It charges electronic products quickly with its SmartSwitch technology and 2A output, ensuring a safe and accurate charging to your tablet or phone.
You can use it with ease with its user-friendly design and flashlight. Its 4 LED lights give you information on the power pack's power level, allowing you to immediately check the remaining power after its use.
What is great about Zilu is its pride in being the sole supplier of power banks with 1000 cycle usage and limited warranty for 2 years on Amazon. On the other hand, some of its users complain on the show duration of its battery and its inability to receive power for recharge when plugged into a source. Still, the majority of the surveyed users consider it a recommendable external battery pack.
PROS:
Limited warranty of 2 years
Compatible with a variety of electronic devices
4 LED lights as indicators when your devices are fully charged
SmartSwitch and 2A output to charge devices quickly
Affordable price tag
CONS:
Inability to receive power for recharge when plugged into a source
The battery capacity is not that powerful enough to charge for a long time
Related: To charge many phones at the same time, you may get the Zilu ZU-4 USB Charging Hub for the latest smartphones such as iPhone series and the Galaxy series.
Crave Travel Pro 
Price: Approx. $25
Weight: 13.6 ounces
Dimensions: 6.9 x 1.9 x 4.2 inches
Specific features: fits properly in your pocket, high charging speeds, portable, powerful and compact, compatible with lots of devices that include the famous brands such as iPhone, HTC and Samsung smartphones and tablets
Best use: Travel, camping, trekking or hiking, outdoor activities
Description: The external battery pack helps you to stay on the go and keep your electronic devices fully charged. Crave Travel Pro USB Power Bank is universally compatible with tablets, mobile devices and smartphones, and is also compact, lightweight and portable. So it's easy to travel effortlessly with this battery pack to re-energize your devices.
Its 13000mAh is powerful enough to charge many devices for longer days in the wilderness. It also charges faster to save you more time of having to wait until your battery is full. For the safety-conscious travellers, the battery pack has an overcharge protection. It is furthermore a durable power source that can last you many days without another purchase.
Business travelers regard Crave Travel Pro as the best portable battery pact as it has the capability to charge two devices at a time, though there are those who experience charging problems when two devices are plugged in at the same time.
PROS:
Compatible with the famous brands such as HTC, Samsung, LG and iPhones
It has a powerful battery capacity of 13000mAh to charge devices for a long time or at the same time
Portable and lightweight battery pack to fit in your pockets
Charges phones faster
It is affordable
CONS:
You have to purchase the USB cables separately
Related: We recommend getting the AmazonBasics HL-007368 Lightning to USB Cable to connect your digital devices conveniently. It has an additional layer of protection and it is compatible with a broad range of electronic devices.
XIAOMI MI  
Price: Approx. $20
Dimensions: 4 x 4 x 1 inches
Specific features: OA input current, 5.1V and 5V output and input, respectively, has a powerful battery capacity of 10400mAh to charge a wide range of digital devices, high charging/recharging speeds.
Best use: Travel, camping, trekking or hiking, outdoor activities
Description: Xiaomi MI Charger is quite compact for a 10,400mAh power bank, and comes with it 2A input and 2.1A output for fast charging and recharging. It has the ability to recharge smartphones, iPad Mini tablet and other electronics. Its input and output currents are satisfying based on the experience of the majority of its users.
However, this high-capacity external battery pack is only equipped with a single output, so it's incapable of charging more than one electronic device at a time. Another complaint is its lack of USB power adapter that poses a problem if you do not have a spare battery lying around.
When it comes to its overall performance, Xiaomi 10400mAh battery pack has high regard from its consumers. What excites users more is the higher charging speeds for a wide range of devices. Make your outdoor stay worry-free with a reliable power-source to capture more beautiful moments with a full battery.
PROS:
2A input and 2.1A output for a fast recharging and charging
Powerful battery power of 10400mAh
Compatible with many electronic devices such as the iPad mini tablet and Android-powered smartphones
1V output voltage and 5V input voltage
CONS:
Its single output makes it impossible to charge two electronic devices simultaneously
No USB power adapter
Related: For the adapter, we recommend getting the Xiaomi Red Rice USB Adapter to connect your electronic devices to the battery pack.
Conclusion
With all the hype and marketing around external battery packs, you're better off knowing what the best features you should be keeping an eye out for are. You will find the right battery pack for all your charging needs, whether to charge your phone a number of times during a weekend getaway, when you go outdoors for adventure, at work, or when you just want to top it up before commuting home.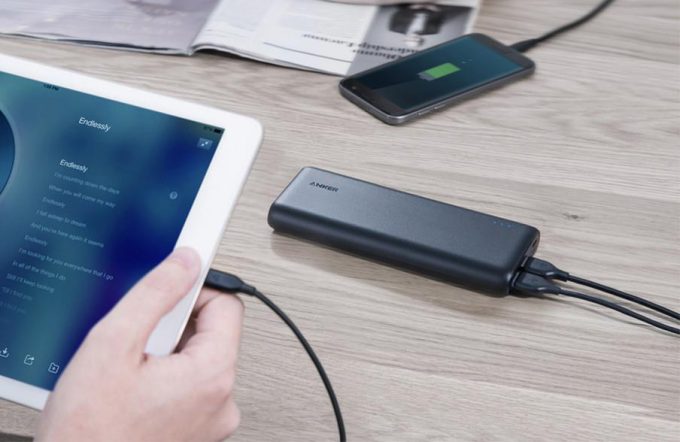 With the battery packs reviewed above, we believe you will be able to pick the best one compatible with your devices. We have also emphasized the important aspects that you need to consider before buying any battery pack. And have further mentioned the related products such as hard cases and adapters because these battery packs seldom come with additional components.
Do you think there is more you need to know? We are here to help you understand these external battery packs. And if you found our information quite helpful, please help others by sharing the article on your twitter or Facebook. If you have other suggestions we are also open for any suggestion regarding other battery packs we may have not encountered yet.