A quickdraw is for climbing what is the wheel for traveling – with it, you move much faster up the rocks or hills, with much more safety and confidence. It relies on a simple principle – the rope you want to hand, will clip with ease and be locked safely until you do not rely on it and reach that point where it is hanging, so you can unclip the rope. You need to know that the best quickdraws, will never betray you and provide you with the highest safety.
Despite this extremely simple principle and construction, not all quickdraws are the same when it comes to safety and convenience. The more you go climbing, the more versed you become aware of all features good quickdraws need to have. And if you're a beginner, you will be able to learn something new that many more experienced climbers did not pay much attention to.
Our Top Picks
Features to Consider Before Buying
Below are the many features you should take into consideration before you buy a quickdraw. Consider what goes into it and what is needed to make it a durable product. Keep reading below for all of the pertinent information.
Carabiners Material
Most modern carabiners are made of aluminum, and that is for a simple reason – its are lightweight and relatively long-lasting. Note that, however, aluminum is still a bit more prone to corrosion than stainless steel is.
Some climbers still go with stainless steel carabiners, which are not only more durable, but are much stronger. However, this is not your main safety concern in these things: all approved climbing quickdraws can hang at least several times the average human weight or even more. That's why we prefer aluminum ones.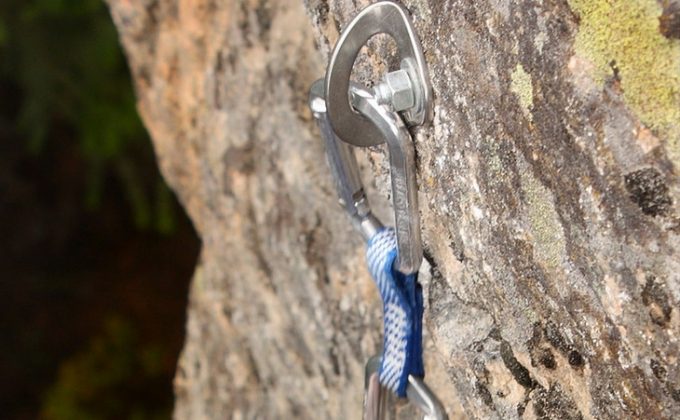 Hot-forged or cold-forged. There is not much difference. It is said that hot-forged carabiners which have shown up recently in the market are really superior. However, now that testing durability in metal stuff, even including quickdraw carabiners, usually takes years.
Up to date, there haven't been any researches that confirm or deny the superiority of hot-forged over cold-forged carabiners, so you shouldn't look at this first. You would rather concentrate on some other things.
Anodized Aluminum. An anodized carabiner is relatively easy to spot. All anodized draws are veneered with a layer of color other than gray. Its are usually some vivid colors such as green or red, though also black – colors that improve the visibility of the gear in the wild by making contrast to the environment.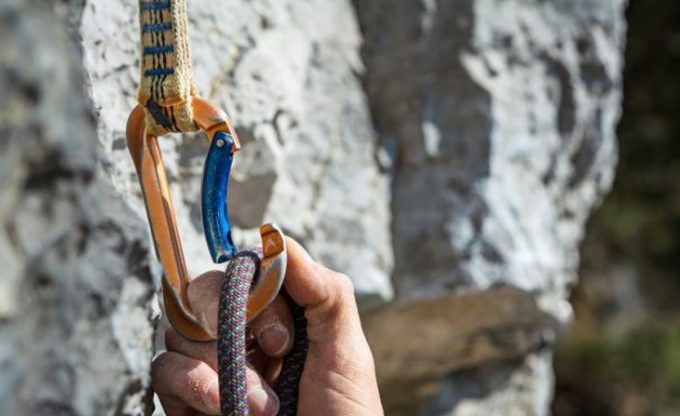 However, anodizing is not just about color and visibility – the coating protects the aluminum beneath it from corrosion. But, to keep the corrosion away the anodized coating needs to be maintained in place – which is often hard to reach out in climbing.
High pressure on carabiners by carabiners of another quickdraw or a heavy rope will sooner or later wear out the veneer, exposing the aluminum to corrosion.
Strength
This is by far the most important consideration of every quickdraw, something that you look for the very first. When you're climbing, the pressure on the quickdraw is not much greater than your actual body weight, but if you slip down and start falling, the gravity will multiply the pressure.
Stopping your falls is actually the main role of a quickdraw. When you fall, your weight is your body weight times distance, times gravity acceleration rate. Not much distance of  falling is needed to multiply the pressure a quickdraw needs to sustain to stop your fall.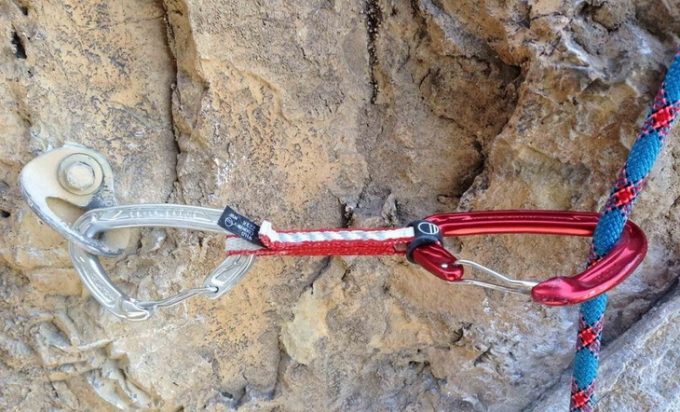 Luckily, all serious manufacturers, consider the seriousness of this issue and have addressed it long ago. It is impossible for a quality quickdraw to go to market without thorough testing. Tests include maximum weight as well as a number of repeat risk scenarios (falls).
Even despite the fact that in the majority of cases the rope, ribbon or any other textile material will break or weaken first – when it happens, you should rather replace the entire quickdraw rather than just the slings.
Manufacturers make really strong slings whose breakage will portend an impending breakage of the carabiner if you dare to keep it in use.
Slings
Slings are the most critical part of your entire climbing gear. Over the years, manufacturers found new ways of tensing and new, highly resistant fabrics and materials, making them way safer than before. But nothing is perfect, same goes for slings.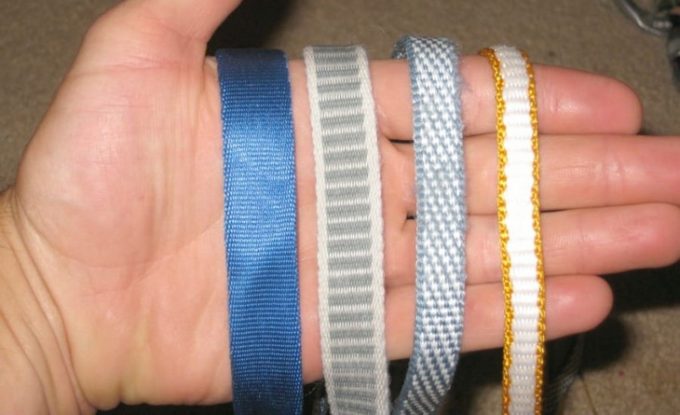 Like anything else, slings do wear over time and various exposure factors make them weaker even if these have not sustained shocks such as keeping a falling climber. In some conditions, quickdraws can become weak even if not in use (e.g. improperly stocked in a store or warehouse for several years).
Sling Material
Sling materials are almost exclusively made of artificial fibers – most notably nylon, polyethylene and polyester. Most serious safety slings have ratings of 22 KN or more which is usually enough to keep you safe for many climbs.
While initial shock resistance may not be the issue, susceptibility of these materials to other environmental factors might be a problem. UV radiation from sunlight for long, may make these fibers brittle and you shouldn't notice any change.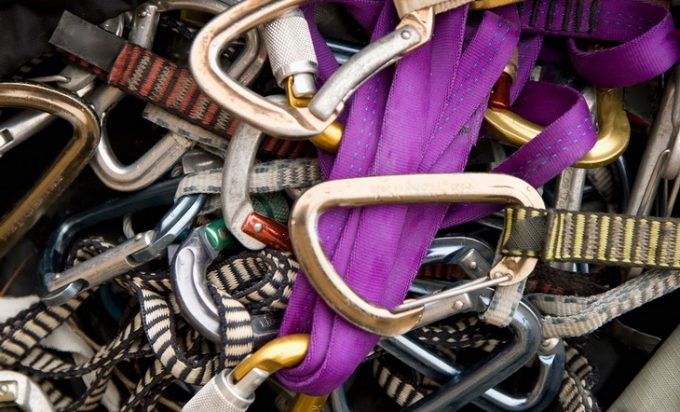 To keep the slings safe, keep your slings away from sunlight. The most common mistake climbers make – especially in artificial rock climbing – is leaving quickdraws hanging from the rock for days. Despite it is more convenient as you do not have to carry your draws home (especially if these draws have steel carabiners, making them heavy).
Purpose
Not all slings (nor the entire quickdraws) have been made to be strong and keep you from a 30 yards fall.  Alpine climbing is normally less risky, hills are less steep, so the main purpose of a quickdraw is to keep your grip.
If it breaks, you will likely roll down the hill a bit and survive without any serious injuries, though from  then on you would have one less link for easy advancement towards the peak. This said, quickdraws made for alpine are lightweight and not particularly sustainable, the main idea is to be not too heavy while worn all day long.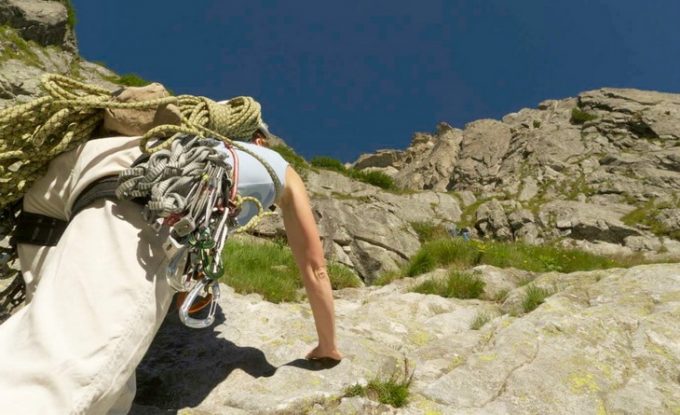 Sport climbing draws have a much more complex duty: keeping the climber alive and safe. These are made of much stronger material, gate-nose closures are much stronger, and much is invested in strength testing before those got approval from the market.
No matter what climbing style you are going for, you will need a whole set of quickdraws, often between five and ten. That is why these are often sold in sets. Sets usually come as 5-pack or 6-pack.
Gates
Gates are another sensitive part of a quickdraw and its only moving parts. Gates catches on the nose of the carabiner, making it a sturdy construction with a continued flow of force. The strength of the gate-nose bond is a crucial safety determinant. This bond suspends the vibration of the carabiner spine – which is the other side of it.
There are two types of gates: solid key locking gate and wire gate. The difference is obvious. Key lock gates are somewhat heavier, but a bit longer lasting than wire gates. Some draws are combos – meaning there's a wire gate on one carabiner and a key lock, one on another.
Top Product Reviews
Below you will find several product reviews of quickdraws that you can look over before you make a purchase. Hopefully, these reviews will help you find the right quickdraw for you!
Petzl Spirit Express  
Price: Approx. $22
Weight: 93 g
Materials: Anodized aluminum carabiners, polyester slings
Strength: 23 kN by major axis, 8 kN minor axis, 9 kN open gate strength, 22kN sling strength
Specific features: 12 or 17 cm length; straight Keylock gates on the upper; bent gates on the lower carabiner. 21mm  upper gates; 25 mm lower gates. CE EN 566, UIAA  certified sling
Best use: Sport climbing
Description: Heavy, but powerful, the Petzl Spirit Express Quickdraw is a great solution for experienced sport climbers. Anodized aluminum carabiners are formed to support extreme falling power, and the lower end of the sling has STRING soft rubber protection which improves grip, lessens friction and makes the lower carabiner last longer.
These draws come in two length options – 12 cm and 17 cm, so you can combine several of both if you're buying more pieces. There is no difference in strength of any part between two options, and the difference in price is minute. Bent lower gate makes clipping the rope remarkably easy, especially when you need to do it as quick as possible.
Users seem to like this specific quickdraw because it is overall light, easy to use, and works great. They say that the straight biner, has nice thumb grips, the bent gate biner is a cinch to clip, and there is a rubber protection in place so nothing bends.
PROS:
Affordable
Light
Easy to use
Related: The Metolius D9EDW4 Anchor System is versatile, strong, and safe to use! You can find them in assorted sizes as well.
Mad Rock Concorde 
Price: Approx. $60
Weight: 87 g
Materials: Anodized aluminum carabiners, Dyneema strengthened polyethylene slings.
Strength: 27 kN by major axis, 10 kN minor axis, 8 kN open gate strength, 22kN sling strength.
Specific features: 10.5 cm length, wire gates, UIAA certified
Best use: Sport climbing
Description: If you are into extreme  climbing, but with tight budget, the Mad Rock Concorde Quickdraw Set six pack will provide you with great strength. These are one of the strongest wiregate carabiners on the market, and in spite of the simplified construction, without much gimmicks, it is still very durable, too.
There is a minor disadvantage, though. There is no grip to keep the carabiner in place with the sling, so it would often sling aside, with a risk to become tensed straight to the gate. If you're experienced with quickdraws, it won't be a big problems, but beginners and irregular climbers need to pay attention to this.
Overall, users who purchased this quickdraw set state that they are light and small, as well as strong and easy to pack up and carry with you. Not only that, but they are easy to clip, the carabiners are highly durable, and the there is a rubber liner on the dog bone of it.
PROS:
Small and light
Strong and easy to use
Affordable
Related: The BLACK DIAMOND Positron Screwgate Carabiner is strong, prevents snagging and has a nice locking gate.
Wild Country Helium  
Price: Approx. $25
Weight: 73 g
Materials: Anodized aluminum carabiners, Dyneema strengthened polyethylene slings.
Strength: 24 kN by major axis, 10 kN minor axis, 7 kN open gate strength.
Specific features: 10 cm length; clean wire no-hook gate; sling fixture; hot forged carabiners
Best use: Sport climbing
Description: The Wild Country Helium Quickdraw is one of the latest releases on the quickdraw market which sports fresh design idea and it is not just about looks, it's about safety, too, since it features advanced no-slip sling grip which keep the carabiners in place. This is one of the lighter draws by weight available, and it is not particularly pricey too.
Despite there are somewhat stronger draws, too, this one is not weak, but its features and price make it among the best choices for beginners. The release is available in two colors: red and green, the color is applied to one carabiner and the sling.
Those who have purchased this quickdraw say that it is great for beginners, works well and is easy to see. They also state that they are not too expensive and they like that the quikdraws are light, have a 2mm wire gate, and has a no hook gate, too.
PROS:
Full sized
Hot forged
No hook gate
CONS:
Not small
Only 2 color options
Related: If you are new to climbing, the Mountaineering: The Freedom of the Hills Paperpack can give you all of the information you need to know about mountaineering and climbing!
Black Diamond Livewire 
Price: Approx. $12
Weight: 108 g
Materials: Anodized aluminum carabiners
Strength: 25 kN by major axis, 8 kN minor axis, 8 kN open gate strength
Specific features: 12 cm length; hot forged Nitron straight gate on the top; livewire wiregate on the bottom carabiner; Snag-Free keylock top carabiner gate for easy clipping; multiple orientation carabiner design
Best use: Sport climbing
Description: If you want a powerful connection to the stone and ropes from a renowned manufacturer, you look no further than a Black Diamond LiveWire Carabiner.
This is primarily because of its advanced carabiner form factor making it able to be used in several different directions. The durable, easy to grab vari-width sling  also features a straitjacket insert to keep the bottom carabiner properly oriented.
Despite made of aluminum and relatively short, it is relatively heavy, making it good primarily for those going to short climbs who don't need a dozen of quickdraws on them. However, some of the features mentioned above are not easy to find on the market and that makes this draw highly competitive.
Users that have purchased and used this product state that it is high quality, affordable and easy to use and clip. Plus, you can find them in nearly every color under the sun, so you can find yours easily when you are out climbing!
PROS:
Hot forged shape
Stainless steel wire hood
Sculpted ribs for smoothness
Related: The Black Diamond Camalot Active Protection is made to be strong and low profile with its Dyneema Core Stem Design, and it has a double axle.
Petzl Djinn Axess 
Price: Approx. $92
Weight: 100 g
Materials: Aluminum carabiners, axess polyester slings
Strength: 27 kN by major axis, 8 kN minor axis, 9 kN open gate strength
Specific features: 12 and 17 cm lengths available; bent keylock bottom carabiner gate (27mm); wire top carabiner gate (24 mm); wide rope bearing surfaces to protect metal from wearing; rubber position protector
Best use: Sport climbing
Description: Having a plenty of features, the Petzl Djinn Axess Quickdraw is a Swiss army knife among quickdraws. It is good for both rookies and pros. These carabiners feature H-shaped profiles, delivering appropriate weight to strength ratio.
This item is made to be durable, despite being one of the least expensive high quality draws available. It is good for both beginners and pros, and has a moderate weight assuming it has got thick key lock gates on both biners.
The key lock system keeps it from snagging while you are climbing and it has a carabiner and axess sling attached. The surface is wider so you can use your rope to glide easier, thus giving the carbiner less wear and tear over time. Users like this set of 6 quickdraws because it is made with high quality materials, the shapes are nicer to grab and overall everything is pretty smooth.
PROS:
Great for beginners and Pros
Grabbing is smooth
Great price for the set
Related: The Black Diamond Dynex Sewn Runners is just over $10 and is stronger than steel but still very light in weight!
Camp USA Nano 23 
Price: Approx. $17
Weight: 53 g
Materials: Anodized aluminum carabiners, Dyneema slings
Strength: 20 kN by major axis, 7 kN minor axis, 7 kN open gate strength
Specific features: 10 cm length; wire gates on both sides;  rubber position protector; 21 mm gate openings
Best use: Alpine climbing
Description: The manufacturer claims that the Camp Nano 23 Quickdraw is the lightest draw in the world. This is very likely true, as it weighs just 53 grams!
Note though that means a bit of sacrifice in the effort to make it as such. It means the strength is not that great, but is still enough for most alpine climbers and some light sport climbing tasks.
Another thing you will like is its price. The color is officially yellow, though the lower biner is actually veneered in the color of gold, and there are no other colors available. However, this makes the draw easy to spot in most environments.
The dog bone for this quickdraw is 11 mm x 11 cm and made of Dyneema material. There is also a Karstop Evo carabiner retainer that is at the end of the rope. Overall, users like this because of the strength and the price.
PROS:
Affordable
Light in weight
Easy to see and use
Related: The Camp Nano 22 Carabiner is strong and light, comes in many colors and is just over $10!
Metolius FS Mini 
Price: Approx. $11
Weight: 56 grams
Materials: Aluminum carabiners, 40% Dyneema, 60% Nylon slings
Strength: 22 kN by major axis, 8 kN minor axis, 7 kN open gate strength.
Specific features: 12.7 cm sling length; both gates are wire; JIG – keeps carabiners locked down; hot forged carabiners.
Best use: Alpine climbing
Description: The Metolius FS Mini Quickdraw is yet another ultra lightweight draw primarily appealing to alpine climbers, though many sport climbers are going with it, too. Very small carabiners, which is the key reason behind its weight, but may make sole tasks more complex.
Another feature which can go as both pro and con is the JIG clipping – it makes clipping easier, but releasing the rope would require more effort. However, this is still one of the best options available when it comes to strength-weight-price overall ratio.
Overall, users like this quickdraw because it is strong yet light in weight. Plus it is a mini size, which can work well for many types of climbing situations. It is easy to use, easy to clip and great to have when you are mountaineering or doing other climbing activities! The only thing is that, while it is affordable, it does only come in the black and silver color option.
PROS:
Jig clipping
Strong
Affordable
Related: The Nite Ize NCJ2-03-01 Cord Tightener with Ropee has 2 methods of attachment, is sturdy and made of plastic.
Black Diamond 1F5XY6JW
Price: Approx. $85
Weight: 103 g
Materials: Aluminum carabiners, 40% Dyneema, 60% Nylon slings
Strength: Positron top carabiner: 25/8/8 kN, HotWire bottom carabiner: 24/9/7 kN (main axis/open gate/minor axis).
Specific features: Ultra wide top keylock gate; wide bottom wire gate; 12 cm and 18 cm lengths available; straitjacket insert for proper biner orientation.
Best use: Sport and alpine climbing
Description: This unique Black Diamond 1F5XY6JW Gloves with Grippers gives you a pack of six combine PosiWire quickdraws and a pair of E-tip gloves with grippers. And all this goes for a remarkably low price – even lower than in much less known manufacturer than Black Diamond is.
The draws sport an elegant black and blue color combination. If you are into replacing your whole climbing gear you should opt for this to save time and money.
If you are a beginner or an intermediate level climber, you will simply need nothing more than this outstanding offer. This goes for both alpine and sport climbers. However, this may not be the best option for advanced climbers, since these aren't among the leading quickdraws regarding weight-to-strength ratio. Users like this set because not only do they look great, but they are very durable and strong, plus easy to use and are light in weight. The wire gate makes the clipping smooth!
PROS:
Comes in a 6 pack
Great deal for the pack
E-Tip gloves with grippers
CONS:
Not really for advanced climbers
Related: The Black Diamond Momentum Harness has a waist belt and buckle, can be adjusted and has 4 pressure molded gear loops.
Concluding Thoughts
A quickdraw is an important part of every climber's gear. You can be a beginner, intermediate or advanced, you can also be sport or alpine climber, but you should get a number of draws most appropriate for your activity.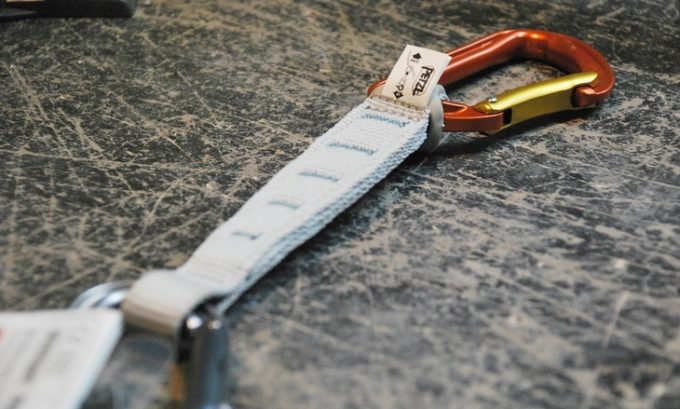 Some climbers will go with a six pack, others who want to delve deeper into the quickdraw issue can combine several different items. However, we showed eight possible options which appeal to all climbing needs, and which is most important, each of those is high quality, coming from renowned makers and tested.
There are many possible combinations of these, and even beyond that, some climbers like to try out different combinations of carabiners on a draw, learning from their climbing experience.
At the end, we would like to hear from you about your climbing experience too, and see which one of the items reviewed fits you the best and why. So, feel free to leave a comment in the comments section below.