Are you aware that heading off into the wilderness these days does not mean we have to leave all technology behind? Also, you have to agree that, when it comes to safety, it is so easy to have instruments that will give accurate measurements for temperature, altitude, barometric pressure, direction and global positioning.
And, while it is not wise to have zero skills regarding how to survive without such instruments, there is no prize for dispensing with them completely. You need to know that hiking thermometers are simple and easy to integrate into small items that can easily be attached to your pack or to carry on you, for instance in a specialized watch or attached to your pack.
Depending on your needs, some are very inexpensive clip-on carabiners through to expensive wrist instruments that are complicated mini computers. In this article we will share with you what you need to know when purchasing one so that you choose the best one for you.
Also you'll learn to compare some simple hiking thermometers to other more expensive options that integrate thermometers with other gauges. Which one suits you, will depend on your budget and when and where you intend to do most of your hiking or outdoor exploration.
When you are hiking and forget to take your devices that read your calories during hiking sessions. No worries back home and just check your total burned calories after hiking. check with 
fitnessvolt.com
Our Top Picks
| Product Name | Material | Specific Features | Weight | Price |
| --- | --- | --- | --- | --- |
| Suunto Core Wrist Computer | Composite, strap elastomer/rubber/silicon | Multiple function watch, altimeter, water resistant 30 m, robust construction, multilingual menu | 2.8 oz | Check price on Amazon |
| Silva Specialty Compass | Plastic | Compass, thermometer, magnifying glass, loud emergency whistle, durable | 0.8 oz | Check price on Amazon |
| Relefree LSD Compass Carabiner | Metal | Thermometer, compass, carabiner clip | 4.8 oz | Check price on Amazon |
| Garmin Quatix 3 GPS Watch | Composite | Multitude of watch functions, LED backlight, waterproof to 10 Atm/100 m, man overboard button, lithium ion battery | 3.04 oz | Check price on Amazon |
| Coghlan's Six-Function Whistle | Plastic | Loud whistle, thermometer, LED light, compass, glow-in-the-dark dial, lanyard and clip | 1 oz | Check price on Amazon |
| REI Zip-O-Gauge | Acrylic | Thermometer in Fahrenheit and Centigrade, wind chill factor chart, attachment ring | 0.3 oz | Check price on REI |
Features to Consider Before Buying
Before making the final decision, like with any other product, you need to know which features are the most important ones and on what to keep an eye on so that you end up with a product that is a perfect fit for your needs. When it comes to hiking thermometers, here is what you need to pay attention to:
Temperature Gauges
These can be anything from a simple fluid filled gauge that may be only indicative of temperature as opposed to a highly accurate gauge with a digital readout. In normal situations, most of us have some idea of what outdoor temperatures we are experiencing so thermometers may not be critical.
When conditions become more extreme and wind chill becomes an influence on comfort and survival it is wise to take notice and prepare for possible difficulties. As wind speeds increase and temperatures drop, wind chill rates rise and any exposed skin will suffer from rapidly increasing heat loss.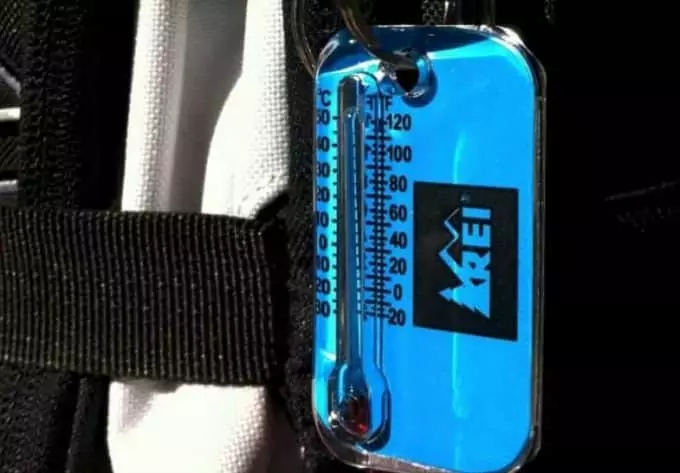 Having wet skin increases the chill even further to the point where hypothermia may become a life threatening danger. Keeping an eye on a thermometer will also give notice of possible impending storms if the temperatures start dropping rapidly even if there are clear skies.
Barometric Pressure
In the more advanced models, usually, you will find the possibility to read out the barometric pressure. The value you get represents the pressure created by the weight of the air in the Earth's atmosphere.
If you are wondering why this is important to you, well, for those of you who were not aware, this is important to know because the barometric pressure affects the weather by influencing the movement of air on our planet.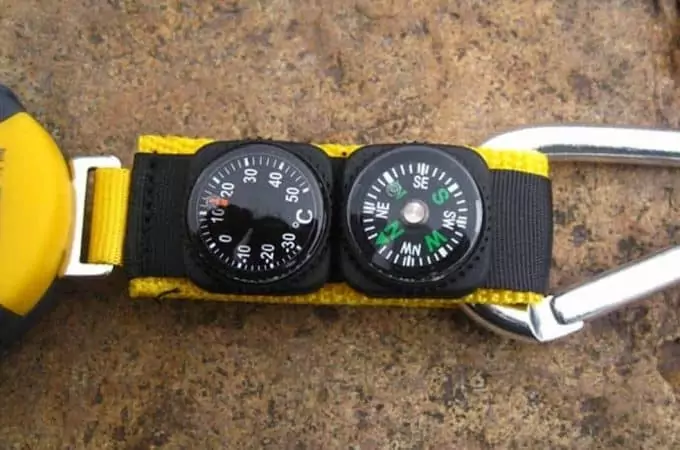 Therefore, areas with high pressure, usually offer sunny skies and nice weather, while the areas that are famous for the low pressure, tend to have clouds, humidity and rain.
So, what does this mean. For example, if you plan on hiking in an area where it's mostly sunny all the time, this feature is not that much important to you. But, if your planned hiking destination is well known for cloudy and rainy weather, then knowing when to expect the rain due to a sudden drop in the pressure, will certainly come in handy.
Temperature Accuracy
This is a feature that doesn't actually need too much explaining. It's simple. If you want to buy a hiking thermometer, it is natural that you want it to show the temperature precisely, right? Otherwise, what's the use of it?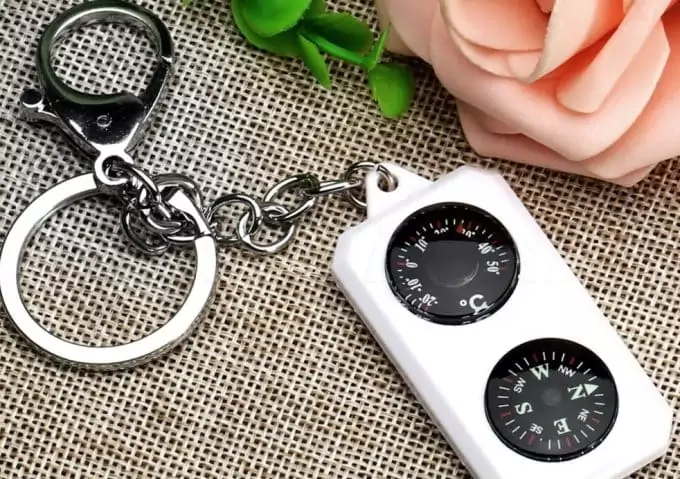 Therefore, before making the final decision and buying a certain model, make sure that it is accurate. Check the user reviews, do your research, see how it measures the temperature, is it electronically measured, or old school Mercury thermometer?  Make sure you end up with a model that you won't regret buying.
Durability
This might be one of the most important features actually. Why? Well, since you are looking for a thermometer for your hiking adventures, not to have it hanged on a wall in your house, you need it to be resistant to weather, falls, scratching, as all of these situations are most likely going to happen during the trip.
Therefore, when looking for a hiking thermometer, make sure that it is made of durable materials that can withstand the rough use, survive the trip and serve you for at least a few seasons.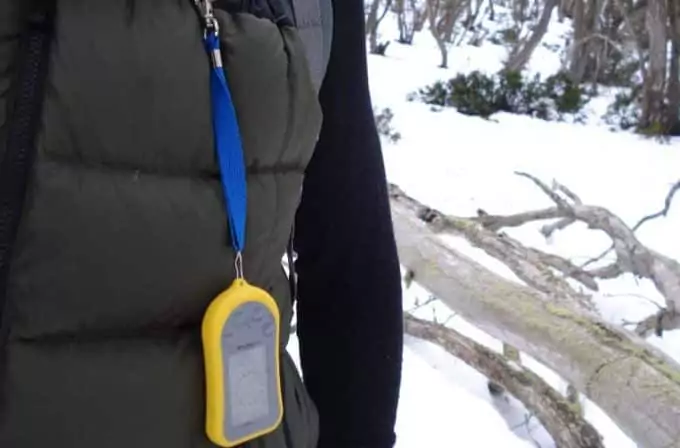 Otherwise, you will just waste your money on something that will get broken the first time you go out with it, and you might have taken your regular house thermometer instead of buying a new one, right?
Where You Plan to Use it and is the Price Justified
Like with any other product research, before making the final decision, you need to be sure that the price is justified by what that certain product offers. The same goes for hiking thermometers. You have to make sure that you are paying for features you actually need and are useful for your outdoor excursions.
For example, if you are hiking in areas where the weather is mostly sunnier, than a thermometer with a barometer and other fancy gizmos that are there to predict the weather, and bump up the price, are not actually what you need. In this case, a regular, lower price range thermometer that only shows the temperature will serve you just fine.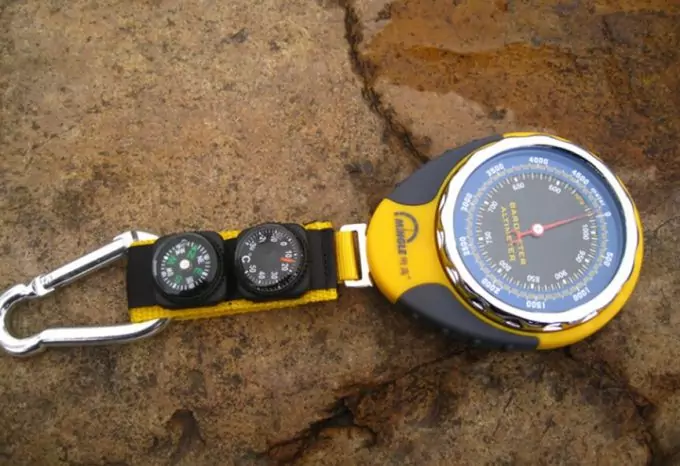 On the other hand, if your hikes are mostly going to be focused on areas with an unpredictable weather, then you will probably make good use of those fancy gizmos we mentioned, as they would alert you on time that it's time to look for shelter or head back.
Best Models Available on the Market
In this section, we will take a look at the reviews of the best models on the market. All the important features and facts have been included, and all you have to do is choose the model that best suits your personal needs.
Suunto Core Wrist Computer
Price: Approx. $173
Colors: Alu deep black, black military, blue crush, brushed steel, coral crush, dusk gray, glacier gray, graphite crush, gray crush, lime crush, pure white, regular black, ultimate black, white crush
Dimensions: 1.93 x 0.57 x 1.93 inches
Weight:  2.8 oz
Material: Composite, strap elastomer/rubber/silicon
Specific features: Multiple function watch, wearable altimeter/barometer/digital compass/storm alarm/sunrise/sunset times/temperature gauge/weather trend graph,  stylish design, water resistant 30m, robust construction, user replaceable battery, depth gauge for snorkeling, multilingual menu
Best use: Hiking, backpacking, climbing, snorkeling
Description: The Suunto Core wrist computer is designed for everyday wear when you are exploring or working in the outdoors. Suunto Core Wrist Computer allows you to explore your surroundings with confidence.
With a combination of barometer, compass and altimeter it gives valuable information about impending weather conditions, especially regarding storm warnings even if there is not a cloud in sight.
Recommended operating temperatures have wide parameters of -5°F – +140°F. For temperature accuracy it is better to remove the instrument from the influences of body temperature. Compass features a digital reading in degree scale with a north indicator needle and bearing lock and an accuracy reading of 5°F.
On the field, this watch has proven to be durable, despite being subject to hard wear, and tear and customer service by Suunto is very honest and reliable, thus making it worth the money. Battery charge can be reduced quickly if all options are used and it is a bonus that new batteries can be replaced by the purchaser.
PROS:
Has multiple functions
High-quality design
Durable Stylish
Great customer service
Related: Suunto offers many other similar items, with accessory for the Core being DFlectorshield Screen Protector and Suunto Replacement Straps plus another similar option for purchase being Suunto Traverse which includes a GPS system.
Silva Specialty Compass
Price: Approx. $11
Color: Black
Dimensions: 3.2 x 1.2 inches
Weight: 0.8 oz
Material: Plastic
Specific features: Compass, thermometer, magnifying glass, loud emergency whistle, durable
Best use: Hiking, climbing, outdoor activities
Description: This inexpensive instrument covers a lot of bases for anyone wanting to head into the wilderness with confidence, yet without outlaying huge amounts of cash. The Silva Specialty Compass offers you a compass-whistle-thermometer-magnifying glass combination, to keep you on your track as to where you should be on your topographical maps.
You will know what the temperature is at any moment, and you can signal for help if something bad or unexpected happens. Also you can use the magnifying glass to have a better look at the map or anything else you might come across, or simply light a fire with it during the day.
The compass is luminous, so, if needed, you can even keep going at night and be aware of your orientation all the time. Also an important thing to mention is that the compass comes with 11.25 degrees of Intercardinal graduation, meaning that between each point on the compass, you have 11.25 degrees difference.
This further means that if the needle moved, for example, one point, it doesn't mean that you are of course by just one degree, but 11.25 degrees. This is very important to remember when using this compass for following a course.
As for the thermometer, it tells you the current temperature in both Celsius and Fahrenheit, and is quite accurate, and above all else, very durable.
PROS:
Versatile
Cheap
Accurate readings
CONS:
The plastic it's made of looks cheap
Related: Now that you found a great thermometer, as well as a compass, you can go old school orientation and rely on a map and a compass to get you where you need to be. However, not all maps are water resistant, and in case of a rain, you could simply forget about it. Therefore, we recommend buying a Transparent Protective Case for a A4 size map, made from the same manufacturer.
Relefree LSD Compass Carabiner
Price: Approx. $6
Color: Black
Dimensions: 0.6 x 1.2 x 2.6 inches
Weight: 4.8 oz
Material: Metal
Specific features: Thermometer, compass, carabiner clip
Best use: Hiking, camping
Description: The Relefree LSD Compass Carabiner is a simple instrument that is suitable to attach to a backpack or harness. These should not be considered as accurate or reliable in remote wilderness situations, but can be used for casual outings where you might refer to them out of curiosity rather than necessity.
The compass is of simple dry magnetic needle style and the thermometer is of circular style measuring both in Celsius and Fahrenheit: from -20°C to +50°C / from -0.5 °F to +125 °F. The carabiner with its spring loaded closure, is relatively well made and quite durable.
The compass, on the other hand, works on a basic level and most people found it fine for indicating direction. However, some people are less than satisfied regarding the thermometer. It appears to gravitate to temperatures around 80°F regardless of heat or cold, even when temperature measurement is very different on other gauges.
PROS:
Useful
Versatile
Durable
Cheap
CONS:
Somewhat bulky
Not quite accurate for temperature readings
Related: This company also provides other useful items for hiking and camping, like the Emergency Firestarters and quick drying Microfiber Towels, which can both come in more than handy when in the outdoors. You could easily start a fire if the temperatures drop, and if the situation is reversed and the temperature is more than you can handle, a high-quality, wicking towel would wick away the sweat and even be used to protect your head and neck from the sun.
Garmin Quatix 3 GPS Watch
Price: Approx. $380
Color: Blue silicon, black leather – both supplied
Dimensions: 0.6 x 2 x2 inches
Weight: 3.04 oz
Material: Composite
Specific features:  Multitude of watch functions, wearable, altimeter, barometer, high sensitivity GPS, GLONASS antenna, high-resolution color chrome display, visible in sunlight, LED backlight, waterproof to 10 Atm/100 m, Man Overboard button,  lithium ion battery, battery life up to 20 hours in GPS mode, 50 hours in UltraTrac battery saver mode, 6 weeks in watch mode
Best use: Water sports, hiking, outdoor sports
Description: The Garmin Quatix 3 GPS Watch is designed for aquatic sports, however, it is also suitable for other sporting activities. For such a small size it is packed with features recording time, altitude, air pressure place possibilities for recording and transferring data.
For use on the water, it features a fish catch counter, competition and race timer, and an anchor watch should your craft start drifting. Transmitters deliver various notifications such as text messages, emails, and other data.
Activity trackers also make this watch suitable for other land based sports like running, hiking, climbing, swimming, etc. It only takes a glance to check speeds, temperature, water depth, wind data among other things.
Quatrix 3 has accurate sensors to provide real time relevant information, including a barometer that can predict impending weather changes from changing trends in air pressure. A triple axis compass records your position, whether stationary or moving, the latter constantly calibrating positioning.
If extremely accurate temperature reading is required it can be connected with a Garmin tempe™ external temperature sensor.
Regarding navigation possibilities this wrist watch has superior functions for comprehensive navigating and tracking providing constant information for elevation, direction and weather changes. BaseCamp™ is a special program that allows you to plan special adventures and exploration.
PROS:
High-quality product
Multitude of watch functions
Small
Can read SMS, emails and other smartphone data
Related: If you want to protect the screen of your new watch and make it scratchproof, we recommend buying the Garmin Quatix 3 Screen Protector. Also, if you want to have a pair of backup bands just in case, you can buy the Garmin Quatix 3 Accessory Band.
Coghlan's Six-Function Whistle
Price: Approx. $4
Color: Silver
Weight: 1 oz
Material: Plastic
Specific features: Loud whistle, thermometer, magnifying lens, signal mirror, LED light, compass, glow-in-the-dark dial, lanyard and clip, 3 x 1.5 V LED batteries included
Best use: Hiking, backpacking
Description: The Coghlan's Six-Function Whistle is an item that has a lot of features for such a small piece of equipment, and for the inexpensive price. It would be worth having even if all the features it comes with, did not have great longevity.
The loud whistle is effective and may provide a safety measure in certain situations and for that reason alone is worth attaching to any hiking pack, perhaps also any urban bag. This whistle comes with a small lanyard and plastic clip for easy attachment.
When it comes to the LED light, there are a few records from the field, where the button was damaged rendering the light useless. However, urban users that don't have to worry about stumbling in the dark and damaging their whistle, will find it useful for reading city maps in dark environments.
Batteries are included so they should last the life of the product. You will find the temperature gauge and compass quite useful for basic indications, but should not be relied on in critical conditions.
PROS:
Loud whistle
Multiple purpose use
Cheap
Durable
CONS:
The light button can get damaged easily
Related: The Coghlan's 4 Function whistle is usually both together with the LifeStraw Personal Water Filter. This is actually a quite good combo as it allows you to find your way, signal for help if needed, keep an eye on the temperature, and drink water from any available source.
REI Zip-O-Gauge Thermometer
Price: Approx. $13
Color: Clear, white, fluorescent yellow, fluorescent blue, fluorescent green
Weight: 0.3 oz
Dimensions: 1.3 x 2 inches
Material: Acrylic
Specific features: Thermometer in Fahrenheit and Centigrade, wind chill factor chart, attachment ring, cushion mounted, made in USA
Best use: Hiking, backpacking, snow sports, urban walking
Description: The REI Zip-O-Gauge Thermometer, with a sealed temperature gauge, has been on the market for more than 20 years and has proved itself as a simple, effective gauge for use while exploring the outdoors proving its durability.
The gauge reads from -20°F – 120°F, however, considering the small size the reading can only be considered indicative and certainly not accurate, as each line measures 5°F.
On the reverse side of the gauge, is a wind chill chart to help calculate how this may affect safety when travelling in wet windy conditions. Wind chill is extremely important for survival aspects when hikers should avoid exposing themselves to the effects of hypothermia. Wet skin loses heat so much faster on chilled wind conditions.
The handy attached ring is extremely  strong, making the Zip-o-Gauge a handy attachment for a zipper pull or as a key ring. Its lightweight makes it perfect to take anywhere without even feeling that you have it on you.
PROS:
On the market more than 20 years
Simple to use
Reliable
Durable
Related: In case the temperature drops, and you need to make a fire to keep you warm fast, we recommend always having on you the Fire Starter Magnesium with a built-in compass and a whistle.
Wrapping It Up
We have looked a wide range of thermometers and instruments that contain thermometers so you have wide choice for which is suitable for your outdoor adventures. If you are just curious to know approximate temperatures then one of the very basic models will be perfectly Ok for quiet hikes or urban exploration.
As for the inexpensive add-ons, they can always be handy as backups. However, like most ventures into the wilderness the more prepared you are, the more likely you are to enjoy the trip and to return without incident. Gauges and instruments will not prevent problems, but they can help you avoid them, if that makes sense.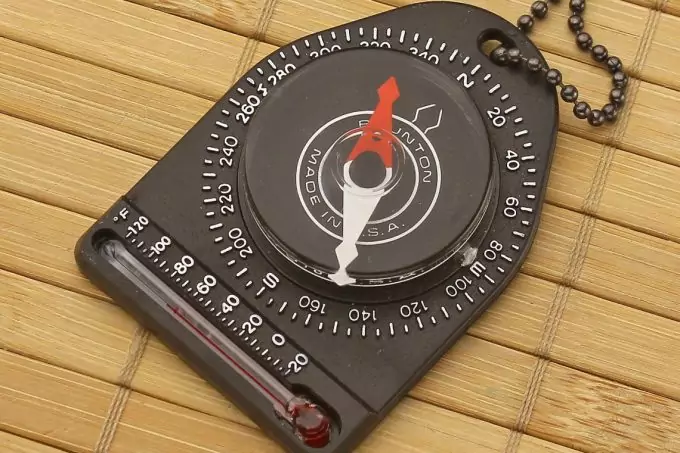 If you wish to keep to a small budget I would recommend the Silva Specialty Compass as it covers orientation, magnification, temperature reading, signaling for help, and it would be a good investment for the price.
If a classy wrist instrument is more your style and within your budget, then, you could choose either the Suunto Core Wrist Computer or the Garmin Quatix 3 GPS Watch, the latter especially if you also have an interest in aquatic sports.
Hopefully, our article was of help to you, and if you have something that you would like to share with us, feel free to leave a comment in the comments section below.