Will you agree with us that, the smaller your camping footprint, the lesser the chances of hampering the wildlife or plants habitant? So, you are probably aware that in order to ensure your backpack is as light as possible, you need to select the best ultralight hammock for your minimum-impact shelter when in the wilderness.
Many people tend to overlook the significance of hammocks when they are out camping or hiking. They tend to focus their attention on cots, sleeping bags, tent pads, and other products they would use and forget to include a hammock in their gear list. A hammock is an excellent tool and probably very crucial when you want to hit the trails.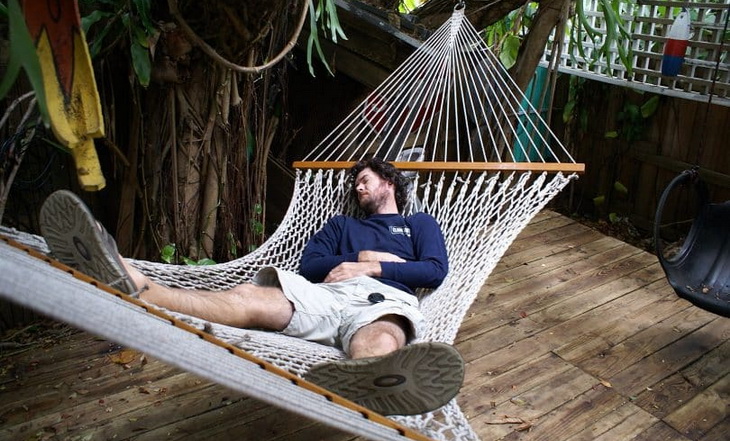 It can offer safety, comfort, and an outstanding sleeping experience. They are excellent examples of the minimum-impact shelter. These products do no need ground leveling or trenching. When used with their eco-friendly suspension systems, they do not hamper the natural environment.
That is why it is always advisable to know a thing or two about hammocks and the benefits this gear offers to outdoor enthusiasts. Therefore, in this post, we will help you get familiar with all the important features you need to keep an eye on before making the actual purchase, as well as offer you reviews of the top models on the market. After you are done reading this, you will know how to choose, and what is even more important, you will know which model is the best for your needs.
Our Top Picks
Features to Consider Before Buying
The two major kinds of hammocks available on the market are the gathered end asymmetric hammocks and the bridge hammocks. Either of these designs come with integrated or removable bug netting. Moreover, the sleeping position on both hammocks is relative compared to the banana-shaped usually seen with backyard hammocks.
You cannot beat the convenience a hammock creates close to nature. This gear has become increasingly popular with campers, backpackers, and scouting individuals because they keep you away from the ground and also provide protection from pest and insects on the ground. Before you can buy a hammock, there are some aspects you need to consider.
Hammock Type
There are two main types of hammocks you can choose from:
Bridge Hammock
These kinds of gear utilize flat, non-gathered ends that are reinforced with the spreader bar. This results in more of a flat rather than a curved banana shape as is the case with the gathered end hammocks.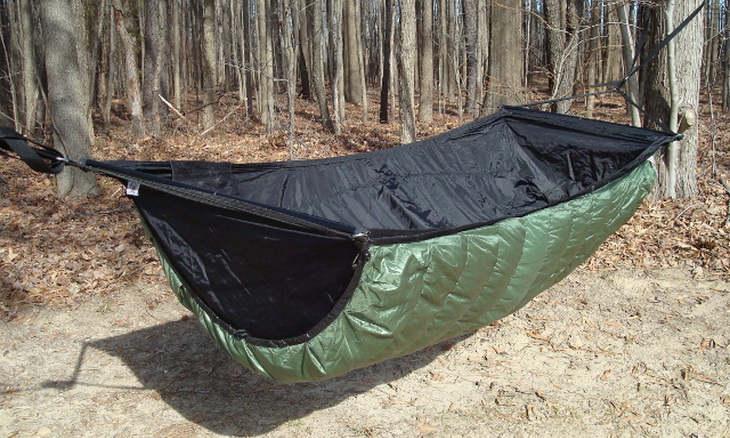 This product has a flatter sleeping position, unlike the gathered end hammocks. One major drawback to this product is that the spreader bars add to the weight and the tubular shape is constrictive to some users.
Gathered End Asymmetric Hammock
This kind of gear is the most common on the market. These types of products obtain their name from the asymmetric shape which seem to be gathered into one bunch.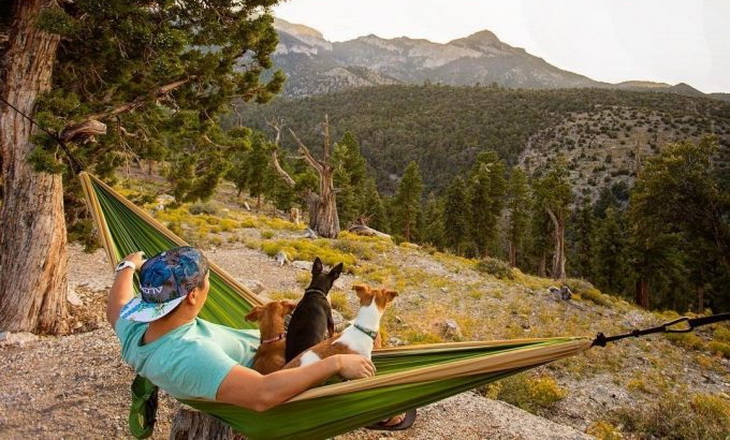 The width of the hammocks along with the asymmetrical shapes are what provide a relatively flat sleeping position. This type of hammocks, are usually lighter and less constrictive compared to bridge hammocks.
Dimensions
The widths of hammocks vary from around four feet to 8.5 feet (48-102 inches), with six to seven feet (72-84 inches), accommodating either a couple or a single user comfortably. Those who sleep solo usually go narrower; this depends on the extra space you would like to stretch out.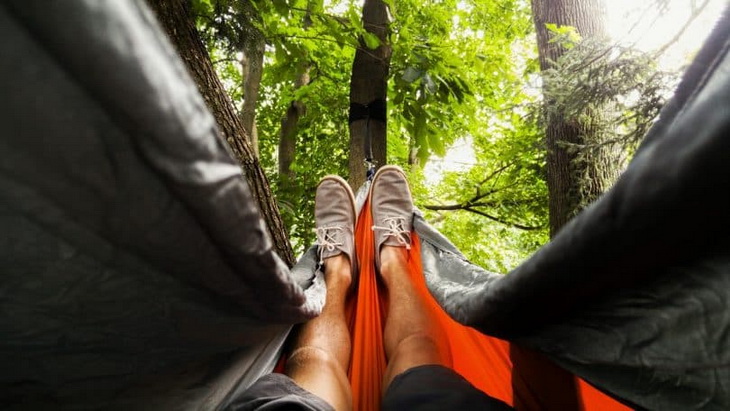 You should remember that a hammock that is too wide will warp further making you feel claustrophobic. The length of the hammocks varies much less compared to width, but people who are taller should look for models that are longer than eight feet. Again, this greatly depends on your preferences.
Suspension System
The setup of hammocks requires a pair of carabiners and a suspension system. In some cases, these are sold along with hammocks, but there are times you will need to buy one or two of these separately. Suspension options include synthetic tree strings, webbing straps (make sure these are wider than 0.75 inches to avoid injuring the tree), and nylon ropes.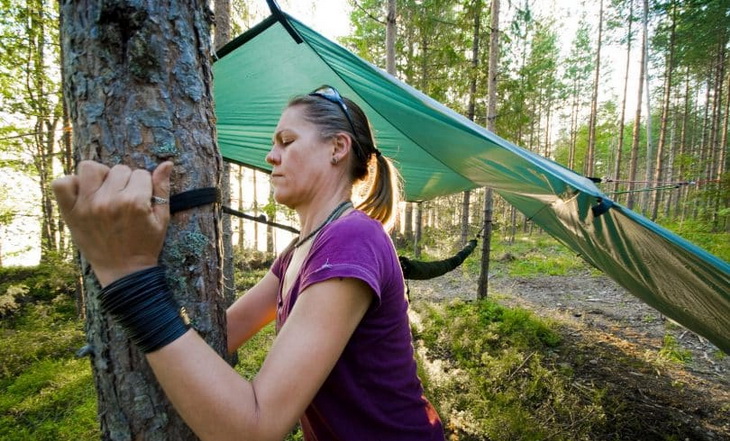 Also, look for a hammock that has different attachment points to allow for setup adjustments to be made. Also, various points of attachment allow for flexibility of use on different kinds of trees.
Weight Capacity
Hammocks usually have their weight limit which often ranges from 150-500 pounds. When buying one, make sure you check the specs so as to be certain the product can withstand your weight. If you expect to frequently relax in your hammock, be sure to find one that fits all the necessary weight criteria. Note that the weight capacity, in this case, refers to a static weight. Any jumping inside the hammock is not recommended as this will reduce its performance and lifespan.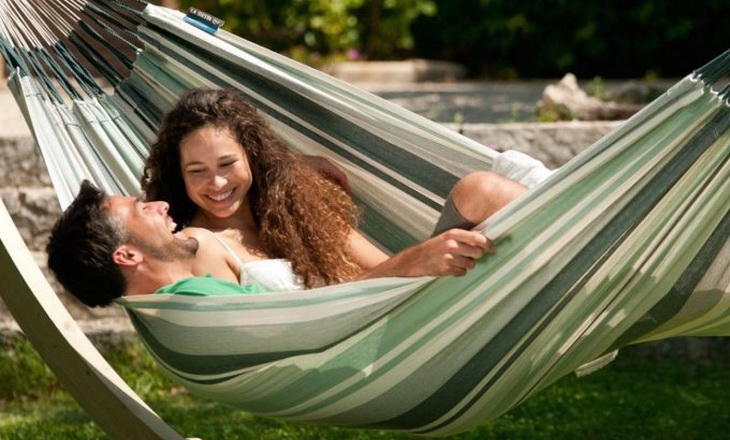 If you intend to get an ultralight backpacking hammock, then the aspect of weight should be top of your priority. These setups can weigh as low as seven ounces or as high as a few pounds. The lighter options will be narrower and shorter compared to the regular models, so choose carefully. Make sure you don't forget the suspension system when adding the weight of your gear as this accessory could add some ten or fifteen inches to your pack.
Insulation
Most hammocks utilize breathable, lightweight nylon to keep you cool during the summer months. There are a few hammocks that are designed from cotton. These are usually meant for casual home use because they are harder to transport due to their weight. Also, cotton models take a long time to dry.
Bug Protection
The insect-thwarting options include the integral 360o screens (suitable for people camping in the perennially buggy regions) to permethrin-treated gear (net-free protection, ideal for people prone to bug-net claustrophobia).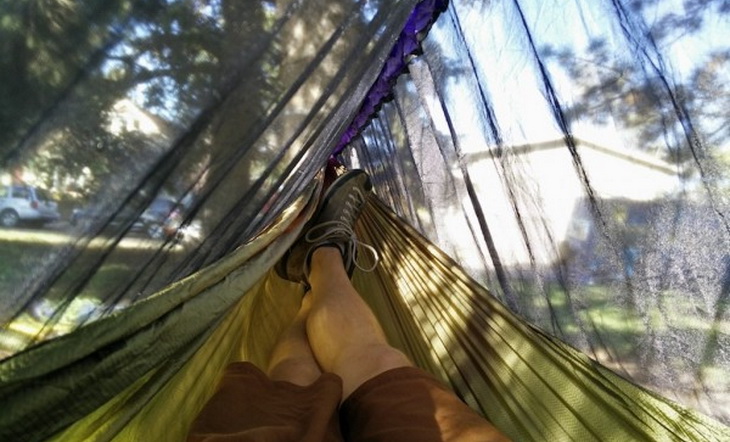 Another option is the add-on bug net that is sold separately to provide maximum flexibility.
Top Product Reviews
Now, we have arrived at the section where you can look through several product reviews on hammocks. Hopefully, you can find one from this list that will work for you! Be sure to look at the dimensions and how the hammock is best used so you can get the most out of it when you are outdoors!
Grand Trunk Double Parachute Hammock 
Price: Approx. $70
Weight: 21.6 oz
Dimensions: 9 x 5 x 5 inches
Specific features: 100% parachute nylon
Best use: Camping, backpacking, hiking, biking, canoeing, kayaking, climbing, traveling
Description: Whether you tie it up in your backyard or between two poles along the beach, the Grand Trunk Double Parachute Hammock will provide the comfort you deserve during your outdoor relaxation. This product is the most spacious and lightweight hammock you've ever encountered.
At over a pound, this product easily packs into its stuff sack when on the move. The included hanging hardware makes it easier for you to set up the Grand Trunk when the time to relax comes. The high-strength fabric and its triple stitching enable the product to take up a load of up to 400 pounds. It is also ideal for use by two people.
For the price, you are getting a lot of durability and comfort. Plus, you can find this hammock in many colors that are stylish and will set your hammock apart from the rest. Users like this hammock because of those reasons and because it is so easy to set up because every piece is easily attached.
PROS:
High quality
Various colors
Made of strong nylon parachute material
CONS:
Some users experienced frays on the rope
Related: You will certainly need a great suspension system for this hammock. The Grand Trunk TRNKSTP Straps cost about $30 and will give you a big sense of safety. Using these two together will give you a strong connection so you can enjoy your hammock anytime!
Hennessey Expedition 
Price: Approx. $150
Weight: 12 oz
Dimensions: 7 x 9 x 4 inches
Specific features: Asymmetrical side zipper closure, mesh pocket on ridgeline, webbing straps, 210D Oxford nylon
Best use: Camping, backpacking, hiking, biking, canoeing, kayaking, climbing, traveling
Description: Kick back and relax, and take a nap on the warmer days when in the outdoors with the Hennessy Expedition Hammock. This product can be anything you want it to be – a tent, a chair, a hammock, or a lounger. The hammock is constructed of windproof and waterproof materials. It features some mesh gear pockets, carabineer loops, and glove hooks.
When using the Hennessy, it is advisable to enter from its center to avoid flipping over the side. This product is ideal for all your outdoor applications including camping, fishing, hiking, traveling, backpacking and more. Every time you think about exploring the wilderness, do not leave your Hennessy behind.
Users like this hammock because the tree straps work well and state that not only is this hammock extremely comfortable, but is very sturdy and stable. The setup is simple and users would highly recommend it to friends and those who are looking for a great new hammock!
PROS:
Easy setup
Windproof and waterproof
Does not sag down
CONS:
Straps can be too small
Not for those over 6 feet
Rainfly seems small
Related: The Hennessy SnakeSkins Sack, is a great way to stuff your hammock when you are done with it. It's made of Silnyon fabric and weighs only 2.2 oz. These two together are light in weight and are easy to take anywhere with you!
Hammock Bliss B072HR 
Price: Approx. $50
Weight: 22 oz
Dimensions: 2.8 x 8.1 x 6.5 inches
Specific features: Compact and lightweight, suspension system included, machine washable & dryable
Best use: Camping, backpacking, hiking, biking, canoeing, kayaking, climbing, traveling
Description: The Hammock Bliss B072HR is so comfortable and spacious that you relax in almost any position without any difficulty. Full twenty-five inches, compared to the single size, this hammock is 80" by 118". You can lie in any position, perpendicularly or diagonally with so much space to spare.
This product is lightweight, compact, and ready to go anywhere. It is an ideal hammock for all your outdoor expeditions. The Hammock Bliss is amazingly large and made of 100% high-quality nylon parachute silk. This material is soft, breathable, and can resist rot and mildew.
The hammock comes complete with a suspension system that is comprised of a hundred inches of super tough nylon climbing rope that are sewn in all ends. The package provides everything you would require to set up the hammock just about anywhere. This product conforms to the shape of your body, so there are no annoying rope marks or pressure points.
The amazing thing about this product, is its ability to fit into a 7.5" by 5" stuff sack, making it possible to use the hammock in all your backpacking ventures. The stuff sack is connected to the hammock, so it's impossible to lose it. When relaxing in the Hammock Bliss, you can use the attached stuff sack as a gear pouch.
The Hammock Bliss weighs 22 ounces, making it ideal for hiking, backpacking, and any other outdoor activity. The material is super easy to clean as the hammock is machine washable and dryable.
This product can also be used for backyards, vacations, and porches. Experience a blissful relaxation, while on the go with the Hammock Bliss Double, the comfortable, extra-large, and ultimate portable solution!
PROS:
Made for two
Extra-large in size
Affordable
CONS:
Feels too stretchy for some
Hard to get the tension right
Related: With the easy setup and light weight, you will love the Hammock Bliss Standard Straps. Using these two items together will make for a great experience outdoors, where you won't have to worry about falling because everything is durable.
ENO DoubleNest 
Price: Approx. $70
Weight:  19 oz
Dimensions: 4.5 x 6.3 x 9.2 inches
Specific features: Quick and easy setup, lightweight, portable, supports up to 400lbs
Best use: Camping, backpacking, hiking, biking, canoeing, kayaking, climbing, traveling
Description: The ENO DoubleNest Hammock reigns supreme. It is the all-access pass to relaxation. The DoubleNest is palatial for one and big enough for two and still, manages to compress easily into a stuff sack. You can take the DoubleNest anywhere and set it up within seconds. Weighing only 19 ounces, the DoubleNest Hammock is ideal for backpacking and hiking escapades.
When buying this product, you also need to purchase the suspension straps as these items are sold separately. The hammock is designed such that it is able to support a load of up to 400 pounds, so you don't have to worry about tearing the fabric as a result of the pressure from your weight.
The versatility of the DoubleNest makes it ideal for camping and hiking trips with your partner. In such a case. You don't have to carry two hammocks since the DoubleNest is designed to accommodate two individual. Therefore, every time you are planning an outdoor expedition, do not hesitate to take the DoubleNest with you.
PROS:
Strong, supports up to 400 lbs
Setup is easy and fast
Built for 1 or 2 people
CONS:
Tree straps not included
Can rip
Related: The ENO Atlas Suspension System is easily adjusted and is long enough for different types of attachments! This system will help your hammock stay up from the ground and give you enough support to enjoy a nap!
Grand Trunk Nano 7 
Price: Approx. $70
Weight: 7 oz
Dimensions: 3 x 3 x 5 inches
Specific features: Ultra-light carabiners, ripstop nylon construction, triple-stitched seams
Best use: Camping, backpacking, hiking, biking, canoeing, kayaking, climbing, traveling
Description: The Grand Trunk is proud to present the new Grand Trunk Nano 7 Hammock, the lightest product on the market. This hammock weighs only seven ounces and is extremely compressible and packable, making it suitable for situations where space and weight are essential.
In many cases, people usually compromise comfort, but with the Nano 7, this aspect is ignored. You can now take a load off and take your nap comfortably, after a long day of traveling or after a long hike.
Other features of the Grand Trunk Hammock include a 300-pound weight capacity and triple stitching on the weight bearing points to eliminate pressure. The hammock also features two lightweight carabiners for easy hanging.
Users state that this hammock is built strong and they love the price. Plus, it can hold up to a little beating now and then. You can sleep with or without a blanket because of the great insulation, too!
PROS:
Comes with ultralight carabiners
Ultralight
Ripstop nylon material
CONS:
Fabric makes noise
Not roomy enough
Related: With the Grand Trunk TreeSlings Hanging Kit is made of nylon comes in one size and costs about $20! This hanging kit works with this hammock to give you the most support and durability you can get while lying between two trees!
Byer of Maine Traveler 
Price: Approx. $25
Weight: 10 oz
Dimensions: 9 x 7 x 2 inches
Specific features: Parachute polyester fabric, traveler Lite
Best use: Camping, backpacking, hiking, biking, canoeing, kayaking, climbing, traveling
Description: The Byer of Maine Traveler Hammock is a full-size, lightweight, and comfortable product available at a suitable entry-level price. Its generous dimensions combined with the strong parachute polyester material make the hammock ideal for camping, hiking, or relaxing at the beach.
This product pairs perfectly with a MicroRope hanging system for an excellent hammock experience. The Byer Traveler Lite is available in different colors including Sassy Grass, Wild Blue Yonder, and Chrome Lemon.
This hammock is great for camping, hiking and other outdoor activities and it is comfortable, light in weight and very strong. You can also lie down, diagonally, and it supports up to 250 pounds, but only weighs 10 oz!
Uses like this hammock because it is affordable, compact and will dry quickly if it gets wet. Those who have owned it for a long time state that they have not had any rips or tears in the hammock and it has remained in great shape and is just as sturdy as it was originally.
PROS:
Made of strong polyester
Affordable
Comfortable and light
CONS:
Some feel uncomfortable inside of it
Not much warm
Some cannot fully relax because they feel off-balance
Related: The Byer of Maine A4016 Rope is strong, easy to use, and is priced under $20! Use this with your new hammock for a sturdy, supportive experience while you enjoy the sights and sounds of nature!
Hammock Bliss Ultralight 
Price: Approx. $30
Weight: 13 oz
Dimensions: 54 x 0.1 x 95 inches
Specific features: Nylon parachute material, soft & breathable, compact & portable
Best use: Camping, backpacking, hiking, biking, canoeing, kayaking, climbing, traveling
Description: The Hammock Bliss Ultralight is one of the lightest and most compact hammocks on the market. Weighing about 13 ounces, this product sets the standards for hammock comfort and portability. So small it can fit in your palm, the Hammock Bliss Ultralight opens into a fully relaxing bed
This product is perfect for your outdoor activities including kayaking, traveling, backpacking, and hiking. It features a soft and breathable nylon parachute and is complete with its suspension system that is made up of eighty inches of six-millimeter climbing rope on either side for easy setup. Take the Hammock Bliss everywhere you go and enjoy its pleasures anywhere you may imagine.
While there are no straps included, users like this hammock because of the triple stitched nylon material, it packs down easily and the travel pouch is sewn into the hammock, so you can store other small gear while you use it!
PROS:
Affordable
80 inch rope
Compact, packs down nicely
CONS:
Feels small
Not made for taller people
No straps included
Related: The Kammok Python Straps has 18 points of connection, is adjustable and reaches far, all for under $30! This is great for when you want to hang your hammock between two points that might be far from each other!
Grand Trunk GT-05 
Price: Approx. $20
Weight: 12 oz
Dimensions: 8 x 7 x 2 inches
Specific features: 100% durable polyester, triple-stitched seams, mildew-resistant
Best use: Camping, backpacking, hiking, biking, canoeing, kayaking, climbing, traveling
Description: About 12 ounces, the Grand Trunk GT-05 Hammock lives up to its reputation. This product is going to weigh you down with its lightweight feature. This model, is mildew resistant, features durable polyester, and is machine washable.
You can use this gear instead of the bulky sleeping bags you would use in warmer months. The product is strength-boosted using the triple stitch seams and the S hooks. It is designed to hold up to two hundred pounds.
When the time comes to travel fast and light, turn to the Grand Trunk Ultralight Hammock. This gear is made of a 100% polyester taffeta, which is both comfortable and suitable for evening snoozes and quick naps. Its ability to pack down easily also made suitable for backpacking and hiking.
It is much easier to carry this product on your long hikes without having to worry about weighing you down. This gear is compatible with a sleeping pad, creating one of a kind off-the-ground sleeping experience. It is equipped with a stuff sack for easy transportation.
PROS:
Affordable
Mildew resistant
Machine washable
CONS:
Can rip over time
Not for taller people
Related: The Rallt Hammock Straps are priced accordingly and has no stretch straps. Plus, it is 20 feet long and has 36 loops included! This works great with this hammock because you will have two sturdy products you can enjoy in conjunction while enjoying the great outdoors.
Concluding Thoughts
We have come to the end of our article. The products reviewed in this guide are some of the best ultralight backpacking hammocks available on the market and you will surely find a model that fits your personal needs. Before you can decide to buy a hammock for your backpacking and hiking expeditions, make sure you follow our instructions given here and do your homework to ensure you get the right one for you.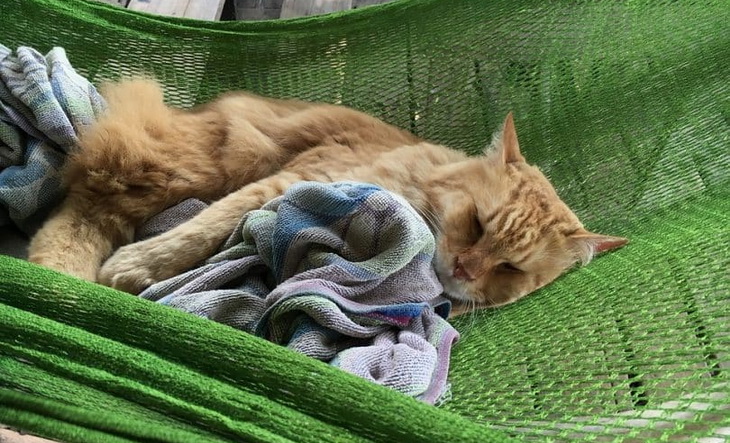 There are numerous models out there, and not all of them offer exactly what you need. So, you need to make sure you know what it is that you are expecting from a hammock, therefore, you can browse through the models we reviewed again and check all the important details.
At the end, we have a question for you – Are there any models you think deserve to be on the list? Please let us know by posting your suggestion in our comment section below. We love hearing from you so don't be shy!