Coffee lovers, we know that for many of you, coffee is equivalent to the elixir of life. Are you one of those people who can't quite wake up before they've had their necessary dosage of caffeine? However, you will probably agree that having a nice, hot cup of your favorite beverage on the camping site can be really challenging without a proper camping coffee pot.
With the best camping pot your mornings will be more enjoyable than ever and your days less exhausting. The pot will give you the required fuel to endure the whole camping adventure, it will enable you to prepare your coffee in the shortest amount of time possible and keep your coffee warm for you until you empty it entirely.
Because all things perfect are hard to find, we used our powers again and we have created this article just to help you in the quest for your next coffee pot. Keep on reading and discover the basic features of a good coffee pot and then delve into our special selection of coffee pots to finalize your decision and finally buy the percolator you deserve.
| Product Name | Material | Volume | Weight | Price |
| --- | --- | --- | --- | --- |
| Stansport Aluminum Percolator Coffee Pot | Durable and rustproof high polished aluminum | Two sizes: 9-cup and 20-cup | 1 pound | Check price on Amazon |
| Farberware Classic Stainless Steel Yosemite Coffee Percolator | Heavy-duty stainless steel polished to a mirror finish | 8-cup | 2.2 pounds | Check price on Amazon |
| Chinook Timberline Stainless Steel Coffee Percolator | 18/8 polished Stainless steel | 6-cup | 1.1 pounds | Check price on Amazon |
| Texsport Stainless Steel Coffee Pot Percolator | Heavy-gauge stainless steel | 28-cup | 2 pounds | Check price on Amazon |
| Coleman Stainless Steel Percolator | Stainless steel | 12-cup | 0.06 pounds | Check price on Amazon |
| Stanley Stan Stainless Steel Coff Press | 18/8 Stainless steel pot with melt-resistant nylon lid | 4-cup | 0.95 pounds | Check price on Amazon |
| Primula TPA-3609 Coffee Percolator | Light weighted aluminum | 9-cup | 0.8 pounds | Check price on Amazon |
| Coletti "Bozeman" Percolator Coffee Pot | 18/8 Stainless steel | 9-cup | 2 pounds | Check price on Amazon |
Things to Consider Before Buying
Even though you will find a detailed review of 8 high-quality coffee pots in this article, first we want to let you sneak a peek into the more general characteristics of a single coffee pot. There are several features that we find important that must be accounted for when making the right choice.
Because there are loads of coffee pots on the market that have similar characteristics and functions, finding the right one for you can be really confusing and tiring. So, here is the part when we step in our superheroes' shoes again, offering useful tips that you weren't even aware you have to pay attention to.
So, let's begin.
Material
Ideally, your coffee pot should be both durable and lightweight. Also, you should focus on how well they will satisfy your needs and you shouldn't put too much emphasis on the eye appeal. Once when you are out on the camping site, or in the wilderness, performance outweighs aesthetics.
In general, most coffee pots are made of aluminum or stainless steel, so they can withstand the heat when exposed to the camping fire. Other materials that can be considered are enamel and titanium.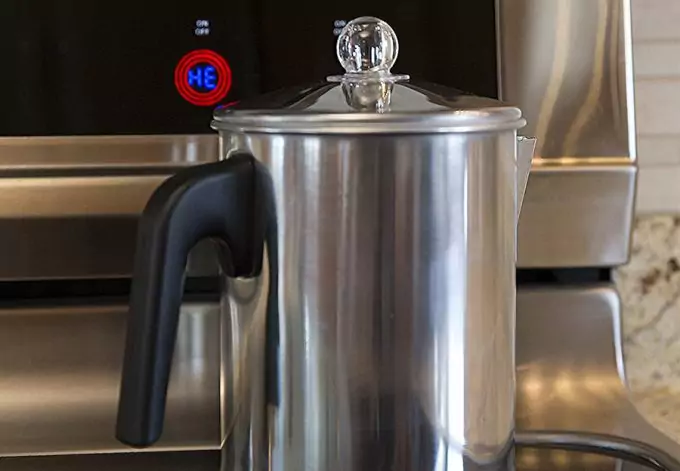 Out of all of the materials we've mentioned, stainless steel might be the best choice in almost every situation. Compared to aluminum, stainless steel is quite affordable, very thick, has fewer toxins and it is more durable. In addition, aluminum is the lightest weighted and thinnest alternative and as a consequence, it might deteriorate very fast.
Enamel-coated percolators look very pleasing to the eye, but they weigh more and their beautiful finish might get easily destroyed because camping conditions are rough. On the other hand, titanium percolators are quite solid and durable and have a good weight to strength ratio. But, these percolators tend to be on the higher end of the price spectrum most of the time.
Size of the Pot
The capacity is another important feature to consider when looking for the right camping coffee pot. It all depends on how many people are going to use it and how much coffee you actually drink on a daily basis.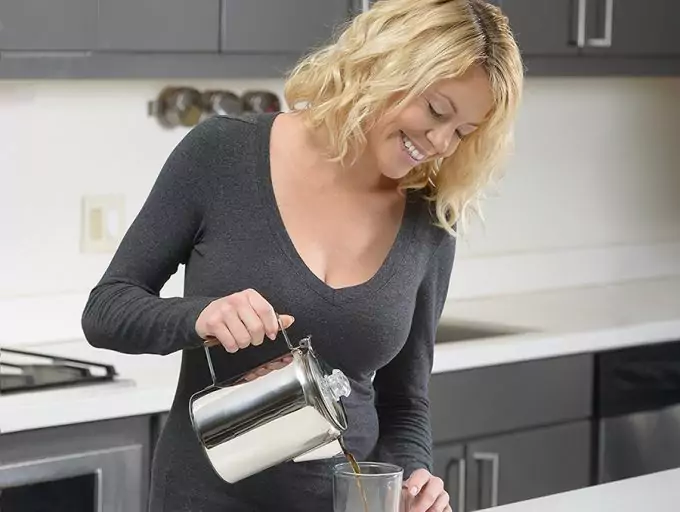 Once you have straightened out your priorities, you can limit your alternatives by only looking at those that are in your realm of possibilities. The capacity is also closely connected to the weight and space issues, so it's in your best interest to plan everything carefully.
The size will also impact the fuel usage throughout the whole duration of the trip. Even though fuel is inevitable, you can save a lot if you need to heat a smaller amount of water, than a larger one.
Weight and Portability
The weight depends on the actual needs and expectations you might have regarding your pot, but the less heavy it is, the better. When you are going camping, you want to make sure that everything is packed compactly, so it can flow smoothly.
Therefore, consider your personal strength in terms of how much you can carry. If you don't mind heavyweights, then take your favorite pot and make the best out of the camping trip. On the other hand, if you find it challenging, try testing the pot at home by filling it with water, do some kneeling and standing with it and see what your limits are.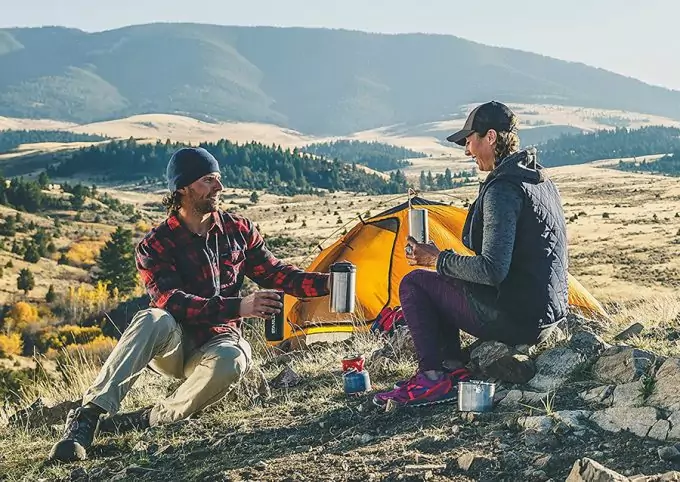 While weight is an important measure, especially for backpackers, portability cannot be neglected. It is a determinant of how easy the pot is to pack and carry around. Pot's features ranging from its handle's shape to its spout and everything in between and they impact the ease of movement and how much space the actual percolator will occupy in your camping gear.
Affordability
One of the major roles when deciding on which percolator to buy has the price itself. Unfortunately, it is a factor that we cannot neglect, but luckily most of the percolators in this article are ranging from $16-$50 so you can choose among several varieties, no matter your price limits.
In addition, every percolator comes with the necessary parts such as the stem, the basket, and the basket cover, so you won't need to make any additional expenses.
Ease of Use
Once you are out there camping, you want the thing to be really practical, efficient in terms of time and as less messy as possible. Therefore, you will need a coffee pot that is easy to clean and doesn't require a lot of time to brew the coffee, especially in the mornings.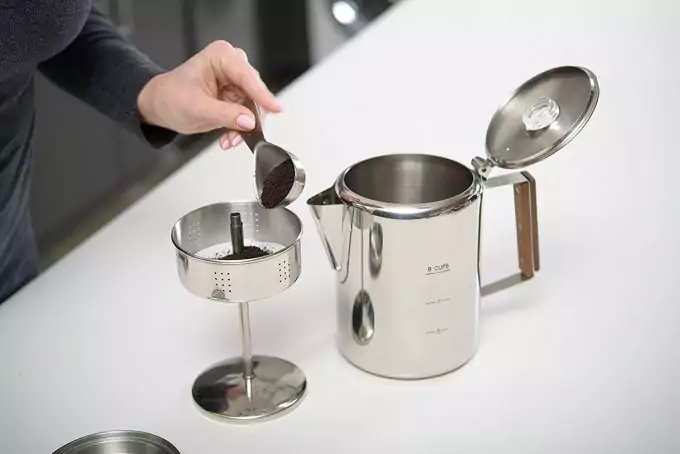 A big role in this feature has the shape and the size of the pot. You might want to choose a pot that has a wider opening so that you can easily reach the bottom to clean it properly. If you opt for a stainless steel pot, cleaning it will be really quick and easy as they can be only rinsed with water.
Best Products in Today's Market
After we have emphasized the most important features of the best camping coffee pot, it is time for us to reveal the list of our carefully chosen products.
So far, you have a general idea of what to look for in a coffee pot and we hope that with our selection of containers you will finalize your decision and you will find the best one for you.
Stansport Aluminum Percolator Coffee Pot
Price: Approx. $17
Weight: 1 pound
Dimensions: 8.5 x 5.5 x 5.5 inches
Specific features: Available in two sizes, durable, rustproof, aluminum construction, functional, heats quickly, top and side handles, easy to clean
Best use: Camping, trips in the wilderness and other outdoor activities
Description: There ain't no better start of our products' list than with this Stansport Aluminum Percolator Coffee Pot. It is a classical looking and very traditional pot that serve its purpose perfectly – making a seriously good cup of coffee.
It is made of high-polished aluminum and as such, the coffee pot is rustproof and durable, suitable for most of the outdoor activities, especially for camping and other trips out in the wilderness. Besides its aluminum construction, the pot also has aluminum top and side handles, an easy pour spout and it has included a percolator stem and a basket.
The classic percolator enables complete control over the whole brewing process. You can easily tailor your cup of coffee by just adjusting the water-coffee ratio, the heat at which you want to brew the coffee and the time needed for percolating.
Long story short, the whole brewing process is really simple. Because percolators tend to brew stronger coffee than drip machines, we recommend using coarser coffee grinds. The coffee that this coffee pot makes should be full of flavor, strong and it just might be your next guilty pleasure.
PROS:
Easy to clean
Heats quickly and stays warm
Durable
Rustproof
CONS:
The handles get really hot
Not suitable for instant coffee
Related: Coffee might be a necessity for all of the campers out there, but we believe that nothing beats the smell of freshly made toast in addition to the delicious cup of coffee. For that purpose, we introduce the simple Stansport Folding Camp Stove Toaster that you just might fall for. It is made of durable, rustproof steel which can be easily folded to a size of 8 x 5/8 inches, for easier storage and it can make 4 slices of toast at a time.
Farberware Classic Yosemite Coffee Percolator
Price: Approx. $20
Weight: 2.2 pounds
Dimensions: 9.2 x 8.7 x 7 inches
Specific features: Heavy-duty stainless steel, sturdy and clear plastic knob, permanent filter basket, dishwasher safe, quality assurance guarantee
Best use: At home, camping trips and other outdoor adventures
Description: If you are looking for a solid and well-polished stainless steel coffee pot, then the Faberware Classic Yosemite Coffee Percolator is for you. The heavy-duty stainless steel from which the pot is made is polished to a mirror finish and it gives the whole product a classic touch.
Because of its stainless steel construction, the pot has a really solid outer look, complemented with a tight-fitting lid that keeps the drink as hot as possible, a see-through plastic knob and a nicely positioned plastic handle.
Most of the time, the knobs of the pots break at some point, we are very pleased that Faberware uses plastic knobs, instead of glass ones. This is important because the glass expands and contracts when the pot is heating and if the knob shreds into pieces, you might end up swallowing glass and cutting yourself.
On the inside, the percolator's stem and basket are also very durable and non-reactive and they keep the water from absorbing any unpleasant odors. In addition, this coffee pot features a permanent basket that will save you the trouble of dealing with dirty paper filters.
Another advantage of this high-quality coffee pot is that it is really easy to clean it, it is fully immersible in water and it is dishwasher safe. This makes it a great addition to your camping equipment, or any other equipment for that matter.
PROS:
Plastic knob
Stainless steel construction
Dishwasher safe
Can be easily polished
Permanent filter basket
CONS:
Unusual design of the spout
Small pot
Related: When you plan a camping trip, you probably aspire to be as much practical and rational as possible. You can achieve that by bringing the Jumbo Set of 110 Paper Coffee Hot Cups with you. They are suitable for any kind of hot or cold beverage coffee, they are mostly available in medium size and they don't take a lot of space in your camping gear. They are also completely reusable and once you are done, you can have them recycled.
Chinook Timberline Coffee Percolator
Price: Approx. $27
Weight: 1.1 pound
Dimensions: 7.1 x 4.8 x 6.7 inches
Specific features: 18/8 polished Stainless steel construction, heat insulating handle, plastic knob, dishwasher safe
Best use: Home use and camping trips
Description: This tiny little fella by the name of Chinook Timberline Coffee Percolator might be the best companion that you have ever had. Whether you are going on a short outdoor trip, or you just simply want to enjoy a good cup of coffee at home within a small circle of your friends, or family, this is the right choice.
It is made of 18/8 polished stainless steel and as such it has quite durable and solid construction. The lid, with a plastic knob on the top, is also made of stainless steel that fits tightly and it keeps the coffee warm for a long time. The spout is really nicely designed and is positioned in such a way that you can get even the last drops of coffee out of the pot. In addition, it has a Permawood handle that insulates heat and allows for the easier carrying of the pot.
While one disadvantage of this coffee pot might be its smaller capacity, surprisingly not a lot of people find it as a drawback. If you are limited with space in your backpacks, or if you are traveling alone, you can be rest assured that this pot might be the least bulky one to take with you, while still getting the warm cup of your favorite, caffeinated drink.
The pot is dishwasher safe and it is very easy to maintain it clean. If you don't have access to a dishwasher, then you can easily clean it by only rinsing it with water. Also, due to its nice and simple construction, you can easily reach the bottom with a cloth and a soap.
PROS:
Portable and easy to store
Sturdy construction
Heat insulating handle
Dishwasher safe
CONS:
Small capacity
May need additional filters
Related: In addition to the Chinook Timberline coffee pot, we recommend buying the Melitta 3.5 Inch Coffee Filters, which are perfect if you want to avoid using coarse grind coffee. These filters fit all coffee percolators, will keep the grounds out of the drink and will reduce the oils. They are made of high-quality chlorine paper and are designed in such way so that lay flat on the bottom of the percolator's basket.
Texsport Stainless Steel Coffee Pot Percolator
Price: Approx. $55
Weight: 2 pounds
Dimensions: 8.8 x 8.8 x 9 inches
Specific features: Big capacity, heavy-gauge seamless stainless steel construction, comes with a stem and a basket, easy pour spout, top and side handles
Best use: Bigger camping trips and other trips in the wilderness
Description: If you and your group of friends are thinking of going on a camping trip, or any kind of an adventure that requires a lot of caffeine, then the Texsport Stainless Steel Coffee Pot Percolator is the one you might want to bring with you. With a size of 28-cup, this extra-large pot makes plenty of fresh coffee that no one can stay indifferent to.
Besides the large size, this pot is made of heavy-gauge seamless stainless steel and it has carefully fitted additional parts, such as the spout and the handles. Even though it is a huge pot, the spout still enables easy pouring, while the side, cool-to-the-touch wooden handle contributes for easy carrying of the pot.
It also has a top handle, but this one is not insulated with wood so it gets heated easily and therefore it might not be very useful. However, the pot has a convenient design in overall and it can be adapted to different circumstances, especially when it comes to satisfying the needs of the whole gang.
One disadvantage of this pot might be the loose fit of the lid, which might allow the water to boil over and might fall into the opening of the pot unless the percolating stem and basket are inside it to support it.
PROS:
Big capacity
Sturdy construction
Heats quickly
Easy pour spout
CONS:
The stem might be weak
No measuring lines inside the pot
Related: As we have already mentioned, the Texport coffee pot is easy to clean, but if you want to take it to the next level, then we got the real deal for you. Meet the Durgol Express Multipurpose Decalcifier, a pack of 2 bottles, each of 16 ounces volume. This decalcifier is a powerful remover of lime and calcium build-ups and it doesn't leave any chemical residuals after rinsing. It will also come in handy when maintaining almost all of your camping equipment and you might not be able to imagine your next trip without it.
Coleman Stainless Steel Percolator
Price: Approx. $34
Weight: 0.06 pounds
Dimensions: 9.5 x 8.6 x 6.4 inches
Specific features: Light weighted, stainless steel construction, corrosion-resistant, flavor-resistant, durable, easy to clean
Best use: Outdoor trips, especially for camping
Description: Another coffee pot that has an enormous capacity is the Coleman Stainless Steel Percolator. With a size of 12-cup, this buddy might be the most loyal companion out there for the entire camp, always brewing warm and delicious cups of coffee.
It is made of stainless steel material and as such, it is really durable and has a firm construction, but it is very lightweight. So, if you hesitate to carry a lot of weight with you on your camping trips, this pot might be the best choice you can ever make. In addition, it is rust-proof, corrosion-resistant, flavor-resistant and it will never fail in fulfilling your expectations.
Besides its pretty and convenient design, this percolator exhibits a well-polished exterior and a brushed interior. It has one side handle that is pretty well welded and a spout that makes pouring so easy. The percolator comes with a stem, a basket, a basket lid and manufacturers also include a replaceable glass knob on the top.
Even though we have mentioned earlier that a plastic knob is better in terms of safety, if you do opt to buy this percolator with a glass knob, then the key to not breaking it is to be careful to not screw on the percolator too tightly. But just in case if you break it, you have your replacement.
PROS:
12-cup capacity
Corrosion resistant
Light weighted
Tough stainless steel construction
CONS:
May need additional filter
Not suitable for induction cooktops
Related: If you manage to break both of the glass tops that the Coleman manufacturers include along with the percolator, then we suggest buying the 2 pack Fitz-all Replacement Percolator Top. These tops are made of heat-resistant glass that has a patented locking ring, made of non-corroding aluminum. They will fit tightly most of the electric and stovetop percolators that have an opening ranging from 13/16 inches to 1-1/2 inches. There ain't no better way to bring back to life your old container, than with these small glass knobs.
Stanley Cook + Brew Set
Price: Approx. $25
Weight: 0.95 pounds
Dimensions: 7.6 x 4.3 x 4.3 inches
Specific features: 18/8 Stainless steel, vented and melt-resistant lid, flat folding handle, dishwasher safe, nesting design
Best use: Camping, outdoor use
Description: If you are one of those people that want to have multi-functional tools around them when going camping, then the Stanley Cook + Brew Set might be your next passion.
This coffee pot has more purposes than just making a delicious morning coffee. In addition to the 'French press' feature, you can use it to boil water and other liquids, or you can even make your favorite noodles! What's better than being able to have your lunch and caffeinated pleasure prepared in one pot?
The Stanley pot is made of 18/8 stainless steel with a melt-resistant lid on the top. The lid is also vented which allows for the air to easily pass out and it contributes to a thermal efficiency. All of this already sounds too good to be true, but believe us when we say that the most appealing feature of this pot it is its folding side handle. You can fold it flat in order to save space when packing and if you need to use it, just extend it and you can easily pour your coffee.
While the handle enables easy pouring, the spout may cause some dribbling down the sides, because the coffee pours out below the spout from between the plastic insert and the outer metal pot.
They could probably solve this problem by redesigning the spout and nesting it in the metal part. However, that should be only a minor drawback compared to what this pot can offer with all of the incorporated features.
PROS:
Nesting design
Melt-resistant lid
Folding handle
Dishwasher friendly
CONS:
The handle might get too warm
The position of the spout might be odd and might contribute to dribbling down the sides
Related: Even though the coffee pot can serve as a cooking device, it might not be big enough for more than one person. That's why you can bring with you an additional cooking set, the Stanley Camp Sook Set. This set has the same Stanley quality as the coffee pot and besides the light-weighted cooking pot, there are two insulated plastic cups too. The cooking pot features the same vented lid that enables you to cook over grill or camp stoves and the folding handle that easily extends back when cooking.
Primula TPA-3609 Coffee Percolator
Price: Approx. $17
Weight: 0.8 pounds
Dimensions: 8.2 x 5.2 x 8.2 inches
Specific features: Minimalistic aesthetics, non-mechanical, light weighted, durable, aluminum construction, plastic handle
Best use: At home, work, vacation and camping trips
Description: If you need a percolator that makes a drip brewed coffee and makes it taste lighter than usual, then the Primula TPA-3609 Coffee Percolator is the one for you. Many coffee lovers prefer the drip brewed coffee because of its simplicity and speed and this pot can give you the pleasure at any time and place.
No matter if you use it at home, at work, or you decide to bring it with you on your vacation or your camping trip, you can rest assured that your drip brewed coffee will taste differently in a good way. That's because during the brewing process the oils and any undesirable odor are removed from the coffee grounds.
When it comes to the construction, this percolator is made of aluminum body, which contributes to its minimalistic aesthetic and lightweight. In addition, it also has a side plastic handle that does not overheat and a plastic knob on the top.
On the inside, the stem and the basket are also made of aluminum and the percolator has a capacity to make 9 cups. In overall, this coffee pot should be highly versatile, really easy to use and even easier to clean it once you are done.
PROS:
Minimalistic aesthetics
Lightweight
Durable
CONS:
It might dribble down the sides
It might discolor quickly
Related: One thing that is a must for a camping trip is having the proper stove with you on the site. For that purpose, we recommend the Coleman Bottle Top Propane Stove. It is a compact stove with a fully adjustable burner that delivers up to 10,000 BTUs of cooking power and which will give you a precise temperature control. The PerfectFlow technology contributes to a steady heat and constant performance, while the PerfectHeat makes the whole cooking process more efficient as you will use less fuel.
Coletti "Bozeman" Percolator Coffee Pot
Price: $35
Weight: 2 pounds
Dimensions: 8 x 4.8 x 7.5 inches
Specific features: 18/8 stainless steel construction, permawood handle, glass cover knob dishwasher safe, 9-cup capacity, pack of 20 filters included, durable and solid
Best use: Camping, everyday use
Description: We reserved the last place on our list for this sophisticated looking percolator known as the Coletti "Bozeman" Percolator Coffee Pot. The inspiration behind this pot is the rugged city of Bozeman, Montana and as such, the pot resembles an analogy to the works of nature found in the city.
The percolator is made of 18/8 stainless steel that contributes to a solid, firm and durable construction in overall. In addition to the stainless steel body, the coffee pot has a permawood handle that insulates heat to reduce the possibility of burns, a glass knob and a nicely positioned spout that enables easy pouring without spilling coffee all over the place.
The coffee making process, using this percolator, is not based on the famous drip method and because of that, the final outcome is a fuller, richer and a way more powerful taste of the coffee. In addition, the convection process will make sure that you always have your warm cup of coffee and the pot will keep it hot until it is entirely empty.
If you are still having doubts about this coffee pot, then maybe the pack of filters that are included with the percolator will change your mind, because not a lot of coffee pots on the market come with filters. These play a huge role in preventing the coffee grounds from falling through and in lowering the cholesterol level by reducing the oil that goes in your delicious cup of coffee.
If you are more of a traditional person and you like things the old-fashioned way, then the Coletti Bozeman might become your partner for life.
PROS:
Permawood handle
Filters included
Sophisticated look
Solid construction
CONS:
It might heat slowly
Not suitable for induction cooktops
Related: Just so your camping trip is perfect, we suggest bringing the Stainless Steel Double Wall Mugs with you as an addition the percolator. These pretty mugs, come in a set of 2 and are perfectly suitable for coffee, tea or any other beverage for that matter. The double wall steel will keep your beverage at the desired temperature for a longer time and it works both for hot and cold drinks. Also, the double wall construction ensures no condensation on the outside or burning of your hand.
Wrap Up!
Now that we have come to the end of this article, we can all agree that a camping trip cannot be successful without the proper coffee pot. There ain't no other way to stay completely energized throughout the whole trip than with a good cup of warm coffee.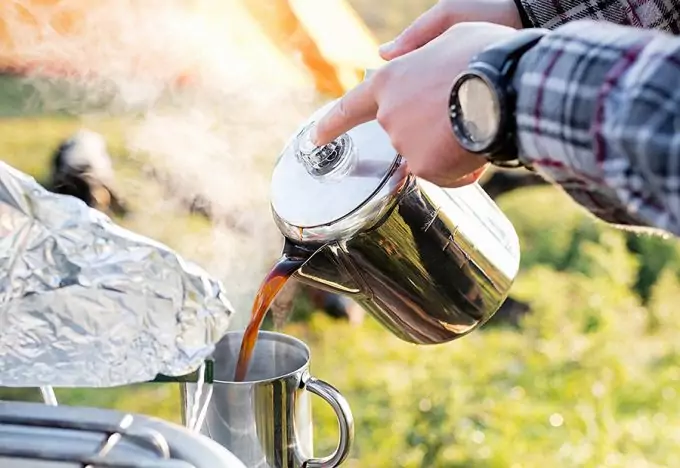 Having read our tips, we leave it to you to make the best choice for your next adventure. Knowing exactly what you want and need might not always be the case and we hope that with our suggestions we have addressed the most important things that you should pay attention to.
If you have any other suggestions or products that we haven't mentioned already, please leave us a comment in the comment section – we'd love to hear back from you!