If you're a beer and nature lover, then you know there's nothing better than opening a can of beer on the top after a long hike. However, carrying a pack of beer isn't always the most practical solution and heavy coolers may slow you down. But this is where the best outdoor beer growler comes in as one of the handiest solutions when it comes to having a beer in nature!
The right beer growler won't only keep your beer cold but it'll also keep it fresh while allowing you to haul less weight on your back. On top of that, you don't have to use them only for beer – you can use them for any cold and hot beverage you can think of!
Since finding the right one for your needs isn't easy, we have compiled a list of some of the renowned brands on the market. Apart from that, we've also included some features you may want to look out for when buying your next growler. Read through to get a glimpse of what may soon become, the next favorite part of your hiking gear.
Our Top Picks
Things to Consider Before Buying
Most of these beer growlers share common features, but still, when looking for the perfect one for your outdoor adventures, a few of them should be kept in mind so that you are sure that you are making the right choice.
Material
Beer growlers are predominantly made of the food grade stainless steel as one of the most hygienic materials on the market. There are no pores or cracks that could jeopardize the purity of your contents. So it's hard to distinguish that which one is the best because most of them comply with the food grade 304 18/8 stainless steel.
Therefore, try to find the ones that are made from such high-quality steel if you want to be on the safe side when it comes to storing your drinks and drinking it after hours of hiking in the sun and high temperature.
Capacity
The capacity is different from one beer growler to the other. Some common sizes available include the 18, 32, 40, and 64 ounces. You have to pick according to the nature of your outdoor adventure. For instance, you should pick the larger size if camping for more than 2 days, although a beer is not indispensable, but recommended for refreshment purposes.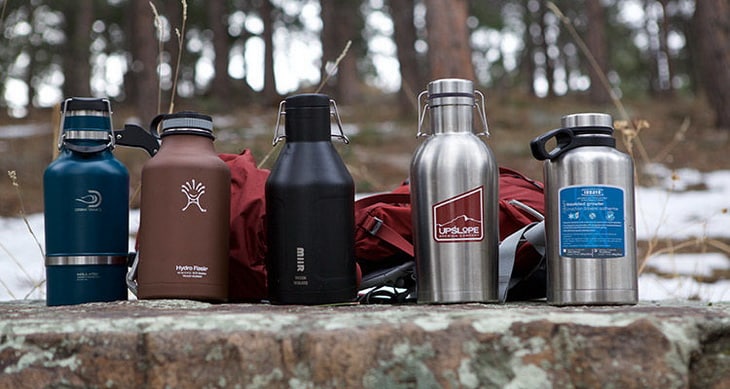 They can be different in size but are common with features, so this is a choice that depends totally on your personal preferences. Keep in mind that a bigger than you need growler will take up valuable free space in your backpack, while the smaller than needed will leave you thirsty.
Weight
The added weight of the growler empty is what many seem to forget when doing the purchase. On top of that, if you add the weight of the liquid – beer or anything else – it's very easy to end up carrying something like 5 pounds or more on your shoulders, which isn't that little of a weight.
The weight depends on the material out of which the growler is made, as well as the capacity of the bottle. Naturally, a larger growler is expected to weigh more both empty and filled; but if you're only going on hikes alone, it kind of beats its purpose of saving you the trouble from carrying the extra load on yourself.
Preservation Period
The other factor to consider is the preservation period. Some beer growlers can preserve the beer up to 72 hours, whereas others can preserve up to 36 hours. The majority goes with the maximum of 24 hours. Most of the time, the cans can preserve up to 3 hours.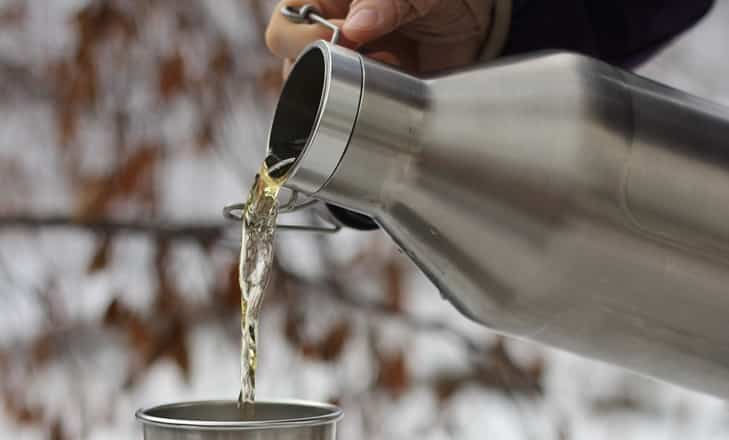 Check such differences as well, especially if your outdoor escapades usually last more than 2 or 3 days. Otherwise, you might end up with a growler full of useless beer that might even make you sick and ruin your trip.
Versatility of Use
A great part about the beer growlers is that many of them double – or even triple their use – as thermoses, water or wine bottles as well. If you're looking to get the most out of your next bottle, then you might want to think about getting an all-in-one product and save a few bucks on the side.
On the other side, if you're the biggest beer lover on the planet, then you want to get as specific as possible – you really wouldn't care as much whether you can use your bottle to carry water to the gym. Instead, focus on things like how long the beer stays fresh and cold.
Top Products on Today's Market
In this section, you will find out more about the top beer growlers today's market has to offer. Read through carefully and see which one suits your personal needs the best.
MiiR Stainless Steel Insulated Growler
Price: Approx. $40
Weight: 2 pounds
Dimensions: 12 x 6 x 5 inches
Specific features: Double wall vacuum insulated, 18/8 medical grade stainless steel, preserves the cold drinks for 24 hours and hot coffee for 12 hours, BPA free
Best use: Preserve beer
Description: The MiiR Stainless Steel Insulated Growler comes at the more-than-generous 64 ounces and can preserve your beer for as long as 24 hours. That is sufficiently long to enjoy the fresh beer no matter how hot the weather is – and if you love hiking or backpacking, in summer you would understand how important it is to have some refreshments.
This beer growler has a double wall vacuum insulated to repel any sweat and keep your beverage in the desired cooled state. It also complies with the 18/8 medical grade of stainless steel to ensure your safety.
If you're considerate of the BPA (bisphenol) – linked health hazards don't worry, because this beer growler is free of BPA chemical. The 18/8 also ensures your safety.
This essentially implies that you will not store your beer for a certain amount of time and then get a funny smell or after-taste. The freshness and the smell will be retained for 24 hours.
So if you're preparing for your next adventure, you may as well consider this portable and compact beer growler for its great retention features. Many customers are also impressed by the performance of this beer growler, although they wish it took more than 24 hours to retain the cold beverages.
PROS:
Sturdy & durable
Made from stainless steel
Can be used both for hot & cold drinks
CONS:
Not 100% sweat-proof
Drinks stay warm only for 12 hours
Related: It is important to keep the bottle clean after use. That said, we recommend the OXO Deep Clean Brush Set to help you accomplish that. These brushes are comfortable in the hand, non-slip grips, and durable bristles for tough spots of cleaning.
Ivation Insulated Beer Growler
Price: Approx. $35
Weight: 1.7 pounds
Specific features: Carrying pouch included, durable and compact design, double wall insulation, cold beverages preserved for 24 hours and hot stuff for 12 hours, leakproof twist-off sports cap, no-sweat design
Best use: Both as a beer growler & water bottle
Description: Looking for the effective beer growler for your beer? The Ivation Insulated Beer Growler, available in black, silver or red might offer you a pretty decent solution. Its size is generous 64 ounces and therefore, it can hold enough beer for a maximum period of 24 hours without losing its freshness and/or taste.
You can safely pack it in your backpack without worrying about possible leakages because it is leak proof. The growler's durable and compact design make it ideal for any caliber of outdoor activities, whether hiking or backpacking or using it around town.
The growler's double wall insulation plays an imperative role in the preservation of your beverages' temperature, which means your drinks will stay the way you want them to stay no matter the weather conditions.
This insulating bottle comes with the PBA 18/8 grade for stainless steels. Moreover, the plastic-lid of this growler is BPA free.
Being able to accommodate your need when it comes to carrying both hot and cold drinks, one great aspect about is it the carrying pouch that's included. On top of that, the growler is sweat-proof, meaning you won't end up with messy drippings on the outside of the bottle.
PROS:
Extra-large filling capacity
Leak-proof twist-off sports cap
Comes with a carrying pouch
CONS:
Keeps beverages cold for 12 hours only
Might be a bit too heavy/large for some
Related: If you're looking to give your new beer growler some love, then think about getting the Amazing Elf Silicone Bottle Cleaning Brush – chances are, you're going to love it as much as your bottle does as well! Apart from coming at a great price and offering you pretty versatile use, the cleaning brush is mildew and bacteria resistant.
Terra Lab B01NG Bottle
Price: Approx. $32
Weight: 1.8 pounds
Dimensions: 4 x 4 x 10 inches
Specific features: 64-ounces capacity, BPA free, double wall vacuum sealed for your cold beer, leak-proof insulated cap, made of quality 304, 18/8 stainless steel
Best use: Preservation of beverages
Description: Terra Lab B01NG stands above the crowd of other beer growlers with its longer preservation period of 36 hours. On average, numerous growlers can only preserve for 24 hours for cold beverages and 12 hours for hot coffee.
On top of that, this growler embraces great features such as the double wall vacuum sealed stainless steel to provide ample insulation. So, hot or cold temperatures are not a match for this insulation.
It's easy to operate this bottle with this two-fingered pour and carry handle. Meanwhile, the leak-proof lid makes sure that your beer doesn't leak in your backpack.
The lid is also insulated to deter any possible temperature loss when pouring the beer. The growler also complies with the 18/8 grade for stainless steels, making it safe and reliable.
With this portable and compact beer growler, you can even ride a bicycle while holding it with your two fingers. It's a great alternative solution for your coolers in preserving the beer.
PROS:
Double wall insulation
Two fingers carry and pour handle
Works well for hot & cold drinks
CONS:
Not 100% sweat-proof
Might be too large for some
Related: For the growler that you do not have space for in your daypack, a smaller carry bag with a sling is a perfect purchase for use on the trail. The Growler Gear Beer Cooler Bag is a bag made with a high-density thermal insulation and removable shoulder strap with padding.
Smoky Mountain Personalized All-in-One Growler
Price: Approx. $26
Weight: 0.66 pounds
Specific features: Preserves cold beverages up to 24 hours and hot up to 12 hours, large wide mouth opening, nonporous and BPA free, 18/8 kitchen grade stainless steel, eco-friendly and 100% recyclable, lifetime warranty
Best use: Keep wine, beer & water fresh
Description: The Smoky Mountain Personalized All-in-One Growler seek to make a mark in beer growlers by providing competitive insulating stainless steels to withstand extreme temperatures.
Coming in a variety of shapes & sizes, it still offers the great features and a sterling performance of preserving your beer for a period of 24 hours and a hot coffee for 12 hours. The bottle is BPA free and conforms to the kitchen grade termed 18/8 stainless steel.
You have the option to purchase either the powder coated black & orange bottle or the polished stainless steel. The growler is equipped with a large, wide-mouth opening which affords you the flexibility to clean, fill-in or to drink your beer.
Smoky Mountain Growlers is a renowned brand known for its quality of products characterized by durability and freshness. As thus, the company offers a lifetime warranty on its beer growler. Make use of this opportunity whenever you bottle gets damaged due to some factory defects.
Note that you can find this beer growler in many options of capacity, such as the 64 ounces, 40 ounces, 32 ounces in addition to this 18 ounces. The choice of capacity basically depends on the amount of beer to fill. For a weekend of your epic adventure, we recommend the largest 64 oz.
These bottles can essentially preserve the beverages up to a maximum of 72 hours. The ice can remain up to 5 days while the hot coffee can remain hot for 24 hours. This is the performance that is seldom in other beer growlers.
PROS:
Lifetime warranty
Available in four different sizes
Drinks are kept cold for up to 5 days
CONS:
Hot drinks stay hot for only 12 hours
Handle might be impractical to some
Related: If you're looking to keep your bottle shiny and spotless at all times, then give the Munchkin Shine Bottle Brush a try – it's a very affordable brush that promises to clean your water bottles or growlers without scratching them. The set includes one extra brush head, though a feature many would be impressed with is the suction cup base, allowing the brush to stand straight.
Levra Double Wall Lightweight Beer Growler
Price: Approx. $45
Weight: 2 pounds
Dimensions: 10.5 x 5 x 5 inches
Specific features: Keeps drinks cold up to 24 hours and hot for up to 12 hours, remains carbonated when sealed for up to 36 hours, BPA free, leak and sweat proof, 100% money back guarantee
Best use: Keep beer fresh
Description: The Levra Double Wall Lightweight Beer Growler comes with a sleek and elegant design that can hold up to 32 ounces. On top of that, it is sweat and leak proof, making it ideal to store the beer in your backpack without leaking drops of the beer to your apparels.
Carbonation is important for any alcoholic drink. For this reason, this beer growler is designed to let the beer remain carbonated for up to 36 hours. Your cold beer will remain fresh for up to 24 hours while the coffee remains hot for up to 12 hours because of the outstanding double wall insulation.
The BPA free ensures that your health stays intact without any possible contraction of illnesses due to BPA chemical.
If the product does not satisfy you in the way it retains the contents' temperatures, the company provides 100% money back guarantee. That is a good indication that the company endeavors, making quality products to meet your outdoor prerequisites.
PROS:
BPA free
Helps keep your beer carbonated for up to 36 hours
Lightweight & sleek-looking
CONS:
Insulation time isn't as long as with other growlers
Size is good only for one person
Related: If you're looking to personalize your outdoor experience furthermore, try giving these Beer Can Sleeves a try – they're a fun way to make sure you won't be mixing your drinks anymore! Made out of thick neoprene material, the beer sleeves come in a set of 12 and help your beer stay cool longer. Each sleeve is machine-washable.
Yukon Growlers Original Water Bottle
Price: Approx. $26
Weight: 2 pounds
Dimensions: 10.5 x 5 x 5 inches
Specific features: Retain your beer cold up to 24 hours, double wall vacuum insulated, high quality 304 stainless steel, eco-friendly and BPA free, leak-proof
Best use: Beer preservation
Description: If you're impressed by sleek and elegant designs, then the Yukon Growlers Original Water Bottle will definitely spike up your interest when the thermometer hits the upper end in summer.
The high quality 304 stainless steel used to engineer this beer growler is almost brought to perfection and offers you with long-lasting durability.
Any possible leakages are minimized with this beer growler and on top of that, the product comes with a reinforced silicone gasket that helps assure you furthermore you won't find the inside of your hiking backpack soaking wet.
On top of that, the manufacturer promises there won't be any condensation happening on the outside, allowing you the luxury of throwing in your bottle with the rest of your gear.
As far as the insulation is concerned, while it's pretty decent, you could be slightly disappointed if you were looking to find a beer growler for longer trips – cold beverages are only kept cold for 24 hours while warm drinks stay warm for mere 12 hours. However, the versatility of use allowed by this growler is a good selling point for many.
PROS:
No condensation on the outside
Very sleek & elegant design
Made of high quality 304 stainless steel
Large capacity
CONS:
Not as great when it comes to versatile use (keeping drinks warm)
Insulation time could be a bit longer
Related: If you'd like to carry your beer growler right where you can see it – on your shoulder – then consider getting the 45 Degree Latitude Protective Beer Growler Tote. The tote is made in several colors and should fit most 64-ounce bottles on the market. On top of that, it comes with a comfortable shoulder strap.
Hydro Flask Double Wall Beer Growler
Price: Approx. $45
Weight: 1.8 pounds
Dimensions: 5 x 5 x 11 inches
Specific features: Premium grade 18/8 stainless steel, lifetime warranty, double wall vacuum insulation, preserves drinks cold up to 24 hours, powder-coated matte finish, sweat-proof and BPA free
Best use: Preserve beer when hiking
Description: The Hydro Flask Double Wall Beer Growler is lightweight, elegant and promises to help you refresh on hot days by allowing you to have some much-needed cold bear up on the trail. It keeps your cold drink at the same temperature for 24 hours while you are busy exploring the outdoor world.
However, while it's definitely worth your time when it comes to cold drinks, it doesn't perform well in preserving the hot drinks as compared to its counterparts. Only a maximum of 6 hours to preserve your hot coffee. On the bright side, that should be plenty of time if short morning hikes or trail runs are your favorite.
Available in two sizes, you'd be able to easily pick whatever size works best for you. Unlike most aluminum bottles, this growler doesn't have a liner though it's BPA-free. On top of that, a nice little feature is the powder coat, allowing you to have a firm grip on your bottle even when wet.
All in all, if you're looking for a product with some decent quality that will allow you to keep your beer fresh and cold for your day's trip, give this one a try. The bottle is available in several color options.
PROS:
Great for day trips
BPA-free
Powder coating makes it slip-free
CONS:
Not ideal for longer trips
Not that good for keeping drinks hot
Related: For the ultimate beer lovers, the Hydro Flask Stainless Steel True Pint is almost a dream come true! The pints are not only lightweight but extremely durable and almost completely unbreakable, or as the manufacturer would say – made to last. Coming in a variety of different colors, they fit well not only in your backpack but in your hand as well, making slips a thing of the past.
Thermos Beverage Can Insulator
Price: Approx. $10
Weight: 0.26 pounds
Dimensions: 3 x 3 x 7.3 inches
Specific features: Durable stainless steel, the technology used preserves cold more than an ordinary one can will do, sweat proof, and has a capacity of holding one 12-ounce can
Best use: Around the house & on the beach
Description: The Thermos vacuum insulation technology enables this specialized Thermos Beverage Can Insulator to preserve your drink for up to 3 hours whether hot or cold.
While it might disappoint you when compared to average-sized beer growlers, this cup keeps drinks cold 10 times longer than they would stay in regular beer cans.
The way you use this can is that you simply pop a beverage can in it – so it's not exactly a beer growler but it does keep drinks cold. We would be unreasonable should we say you can go to your wilderness with this 12 ounce can, unless you have refill means but it is basically suited for small day-trips and beach camping.
Both the interior and the exterior are made of a durable stainless steel. On top of that, the can comes with a rubber grip for ease of hold. Its sweat proof ensures that no water rings occur on the surface on which you leave it, meaning you might as well use it around the house.
PROS:
Preserves beverage temperature for up to 3 hours
Rubber grip for easy handling
Great for use around the house & on the beach
CONS:
A beer can rather than a beer growler
Not ideal for longer hiking trips
Related: With all of these ideas for your drinking buddies and yourself, having something to help you drink from your cool brews from your growlers. These Aoocan Stainless Steel Straws are perfect for you and your party to better handle the ice cool refreshment.
Wrapping Up
Gone are the bulky coolers and ordinary bottles and cans for storing your beer. The coolers can also do well in preserving the beer, but they are not as effective and compact as beer growlers.
The beer growlers are competitive in the preservation of cold and hot beverages. Most of them preserve up to 24 hours for cold beverages, whereas others preserve up to 36 hours. From our reviews, it was only a few products.
We have discussed all the possible features of these products in a bid to help you choose the best. The choice is purely personal. It appears that the capacity of these beer growlers plays a role in the decision-making. It obviously depends on the trip to take as well as the number of days to spend in the outdoors.
Now, it's your turn to share your experience with the rest of our readers. Have you used any of the reviewed beer growlers? If yes, how happy were you with it? Have you any model suggestions? Feel free to visit our comments section below and leave a comment or a question. Thanks for reading!