Even though night adventures may get your adrenaline going, getting caught in the dark unprepared isn't quite enjoyable, is it? It is always wise to be fully prepared when hiking in the night. However, if you'd like to prepare for emergencies without hauling a load with you, this is where the best EDC flashlight might come to save the day.
Ideally, the right EDC flashlight for you should give you enough brightness even in complete darkness. At the same time, it should also be compact and lightweight – making it easy for carrying wherever you go. But a good EDC flashlight is not easy to find as the market is filled with many different models.
We know that picking the right one out of the many is hard, so we created this article with several flashlights that we think might be great. We made a list of things you should consider before buying one, and we added some reviews of products that we think might be interesting for you. Read on to find out about the most popular products on the market!
Our Top Picks
| Product Name | Weight | Size | Luminous Flux | Price |
| --- | --- | --- | --- | --- |
| Zebralight SC52 L2 AA Flashlight Cool White | 1.4 oz | 3.1 x 0.9 x 3.1 in | 280 lm | Check price on Amazon |
| ThruNite Ti3 EDC Cree XP-G2 R5 AAA Torch Max120 Lumens LED Flashlight | 0.3 oz | 2.8 x 0.6 in | 120 lm | Check price on Amazon |
| EagleTac D25C Clicky Cool White XM-L2 LED Flashlight | 1 oz | 2.9 x 0.8 x 0.8 in | 453 lm | Check price on Amazon |
| J5 Tactical V1-PRO 300 Lumen Ultra Bright Flashlight | 2.4 oz | 3.7 x 1 x 1 in | 300 lm | Check price on Amazon |
| ThorFire Super Brigth XPL2 Led Flashlight | 2.6 oz | 4.9 x 0.9 x 0.9 in | 1050 lm | Check price on Amazon |
| Olight S1 Baton 500 Lumen Cree XM-L2 CW Compact EDC LED Flashlight | 2.9 oz | 5.1 x 2.1 x 1 in | 500 lm | Check price on Amazon |
| Streamlight 88061 ProTac 1L-1AA 350 Lumen Professional Tactical Flashlight | 2.5 oz | 4.2 x 0.8 x 0.8 in | 350 lm | Check price on Amazon |
| Olight 90 Lumens i3E EOS PMMA TIR lens AAA Flashlight | 0.2 oz | 0.5 x 2.3 in | 90 lm | Check price on Amazon |
Things to Consider Before Buying
Before buying an EDC flashlight you need to know some basics about what makes a good EDC flashlight. You might think that it's obvious, but a good EDC flashlight is not just a small flashlight. Here's a list of things you need to consider.
Weight
The first thing you think about when you say EDC flashlight is something that produces light and is small and lightweight. EDC means Every Day Carry – so if you want a flashlight that you can carry on all occasions, you do need something that is small and lightweight.
The weight of a standard EDC flashlight is usually not more than 3.5 ounces and that is really not heavy at all. The smallest flashlights can go as far as 0.2 ounces which is something that you will literally forget that you're carrying.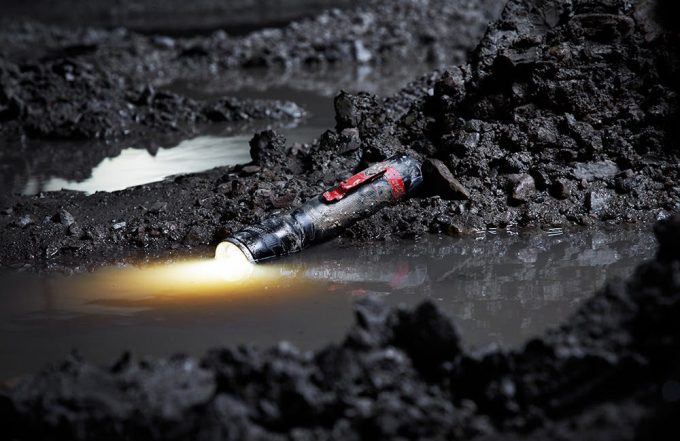 If weight is something you look for in your EDC flashlight, you'll need to accept that your item might not give you too much brightness, but will come in handy in some situations without the trouble of carrying heavy tools.
Size
The size of the EDC flashlight is, of course, one of the most important issues you need to consider. It's not always the most important for the item to be as small as possible. Smaller flashlight means a flashlight that can't provide features the other bigger flashlights on the market can – so you have to think about what exactly you need from your flashlight.
There are four basic sizes that you need to know when you're searching for the best fit for you. The Micro EDC flashlight is under 2 inches in length. The Mini EDC flashlight goes from 2 to 3 inches in length. The so-called Small EDC flashlight varies from 3 to 4 inches in length and the Medium EDC flashlight go from 4 to 6 inches in length.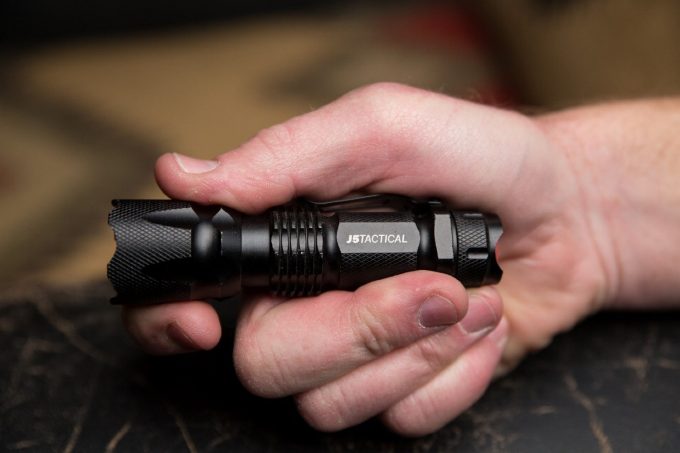 The micro EDC flashlights might be the smallest, and probably the lightest, but with that size, the capacity of power they will offer will probably also be small compared to the competition. So if you're searching for something that you need to fit in your pocket or on your keychain – look for the smallest ones, and if you need more power and you don't matter the size, look for something bigger.
Material
Durability is something you must consider before buying an EDC flashlight. Never buy cheap imitations or flashlights built only from plastic that look like toys. They will break the minute they fall and if you carry it in a pocket, there are bigger chances they scratch, damage, or completely stop working.
That means you'll spend less money on a product you might never use at all. Better spend more money on something you know that will be durable and you'll be able to rely on at all times.
Most good EDC flashlights are made of special aluminum often used in the airplane industry – that is because the airplane industry uses materials that are lightweight but strong enough to handle the tough conditions the airplanes go through.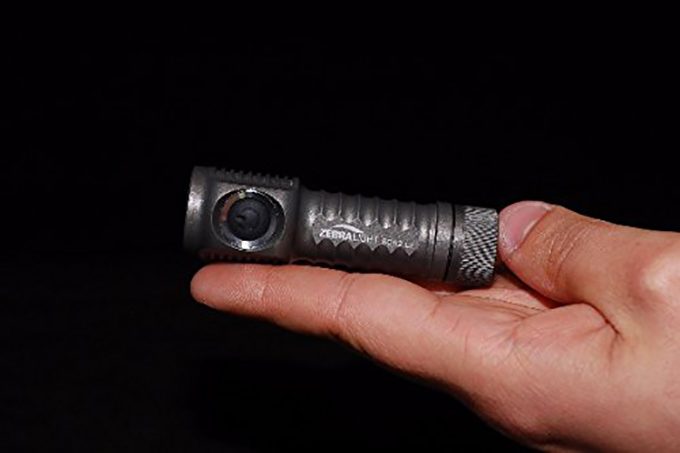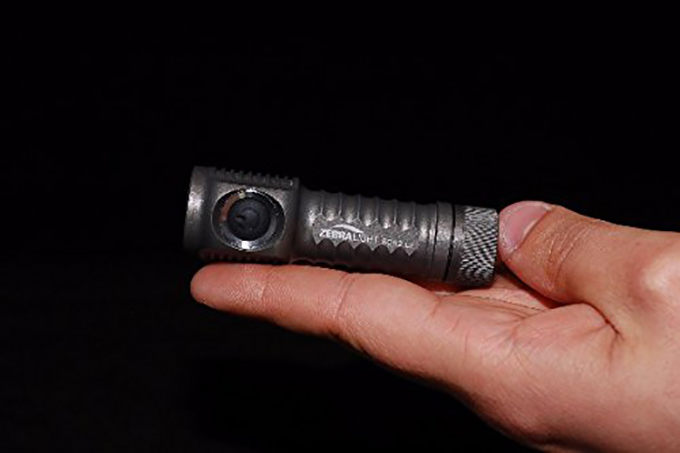 If the flashlight is equipped with an additional pocket clip, it is usually made of solid metal. Some flashlights are made of stainless steel, which is a material that you know won't ever fail you, but the bad side is that the stainless steel is heavier.
Lumen Power
When you decide to buy an EDC flashlight, you know that you want something that is small, lightweight and compact, and you leave the lumen power aside. Still, be sure to make a good research on the market because there are many small flashlights that offer great lumen power.
If you're looking for a nice balance between size and lumen power, you have many possibilities. A lot of brands offer relatively small and lightweight models that are under 6 inches in length and provide more than 500 lumens of power. This kind of size and lumen power ratio is something to consider if you like to buy a balanced EDC flashlight.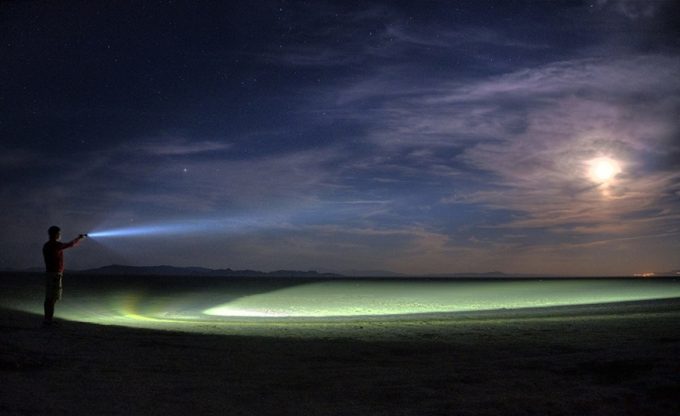 If you need a serious amount of lumens, of course, you'll choose a bigger flashlight, something that offers serious brightness. But, if you need the light just in case, or to protect yourself from attacks, then you should know that even the smallest EDC flashlights with a strobe option will do the job just fine. Small lumen power doesn't mean they are not useful, it just means they will not be useful for some needs.
Working Modes
Usually, EDC flashlights don't offer a wide range of brightness modes. However, a good flashlight of this kind should be able to give you at least two different working modes – low and high brightness mode. Better flashlights have more options available.
A good flashlight offers at least one additional hidden mode. Usually, strobe or SOS mode is a part of the flashlight mode repertoire, and very often a moonlight mode is also available. The strobe mode is made for situations when you need to protect yourself from wild animals or attacks, and the moonlight mode is a light of only 0.5 to 1 lumen that can come in handy in situations when you need the least possible amount of brightness.
Battery
When it comes to batteries, it's just like buying the whole flashlight – batteries are very important. Most EDC flashlights use AA, AAA or CR123 batteries. Sometimes, the battery a flashlight uses is the complete profile you need to choose the right fit for you.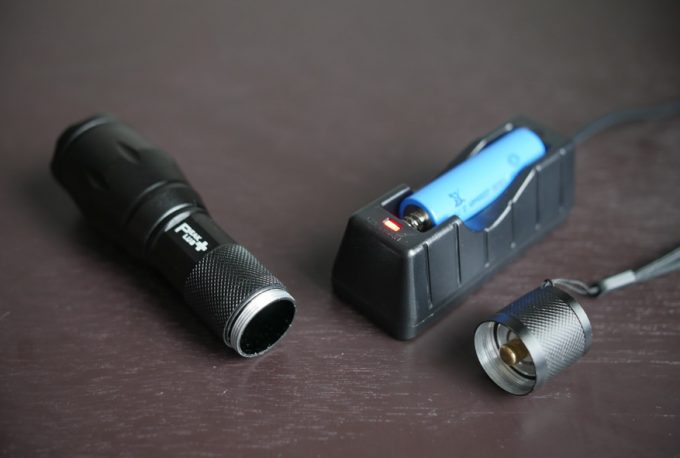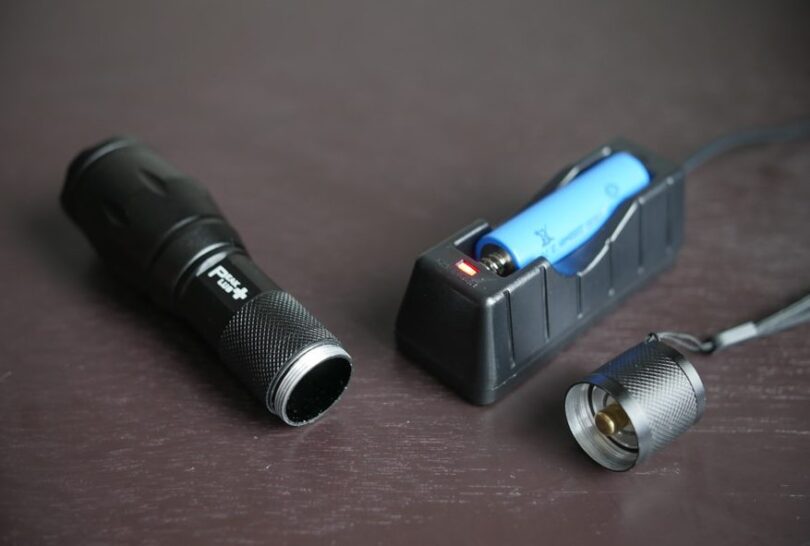 AA batteries are the most common and most widely used batteries for EDC flashlight. Their standard size and proven power is something the user can rely on. They can be found everywhere, they are cheap and you always know what you get from them.
CR123 batteries are relatively new and slightly different than the first ones. They are a little more expensive and not as available as the AAs. The shape of these batteries is also a little different, they are shorter and bigger in diameter which might make the flashlight a little bulkier than others. However, they usually offer more power and greater output.
AAA batteries are used for the smallest and lightest flashlights. They offer the least power but are very small, so the design of the flashlight will be very popular. Also, they are widely available on the market and the cheapest of all.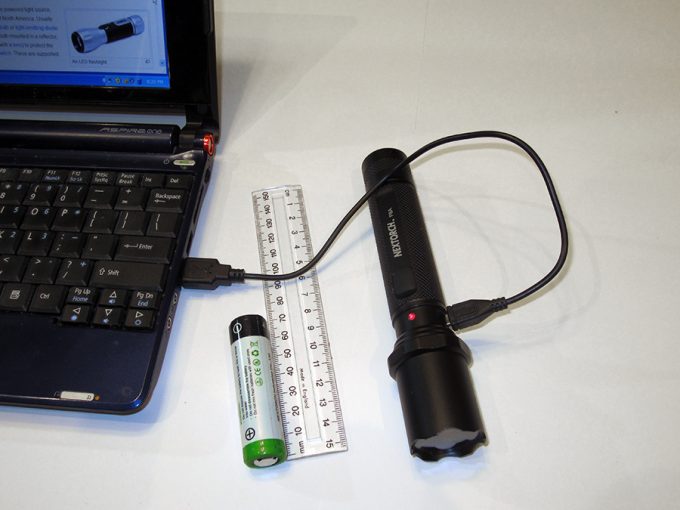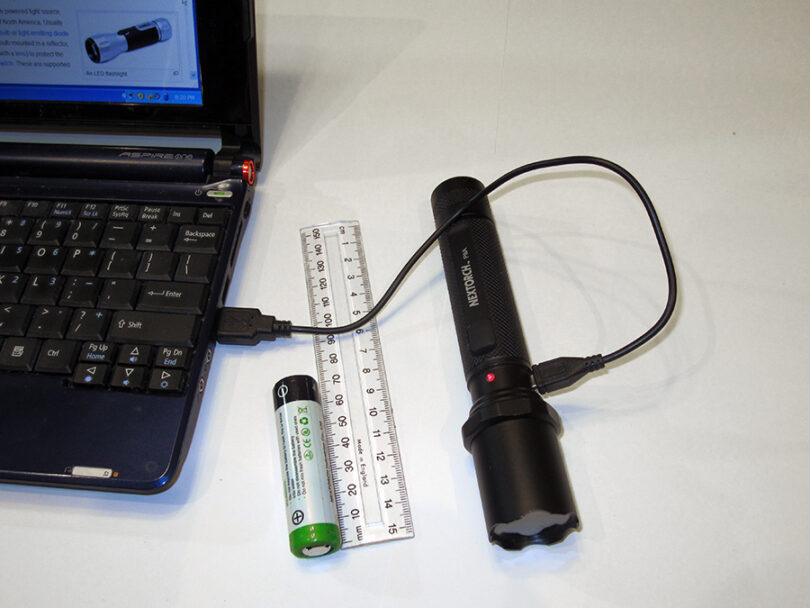 Actually, most EDC flashlights are not much bigger than the size of the batteries they use. Their whole body is used to store the battery, so choosing a good battery often means choosing a good flashlight.
Clipping
In most cases, flashlights have a pocket clip inserted on them. A pocket clip can be very helpful for situations when you need the flashlight in a hand-reach distance. For example, when you go hiking and you wear gloves, or you work around camp, and always need the flashlight near you.
A good pocket clip is usually made of metal. If it is a good one, it can be reversible or detachable, even though these options are not very common. This way, you'll be able to place the flashlight on your hat, or other objects and work hands-free with the light being constantly on.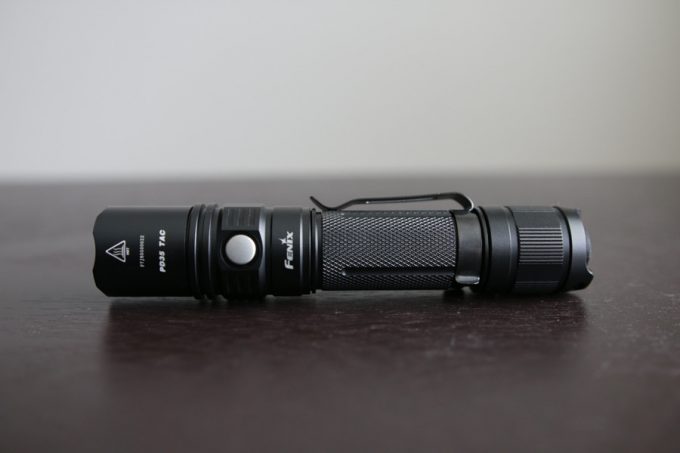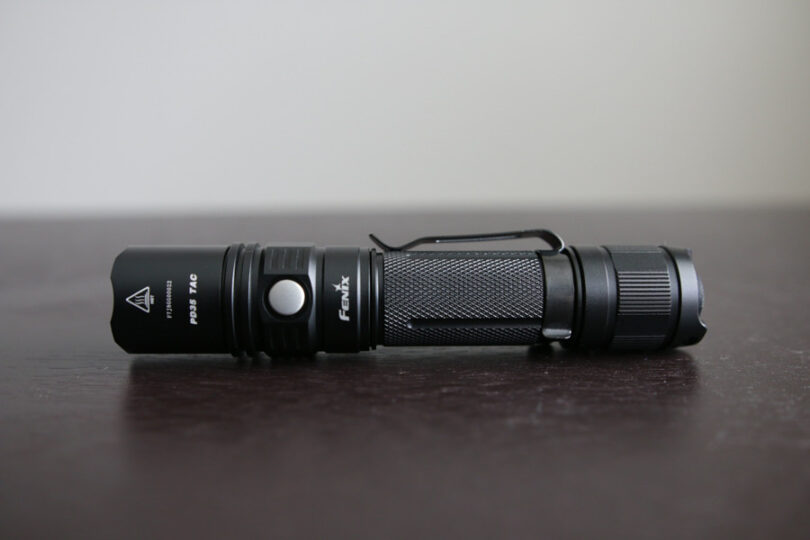 Smaller flashlights sometimes don't have pocket clips – but, they have a keychain attachment that is also very handy. That way you'll be able to carry it always with you and be sure that you won't lose it. A good flashlight always must have some sort of support. If there is only the flashlight and nothing more, don't buy it – consider something better.
Best Products on Today's Market
So based on all this, we set a list of EDC flashlights that are popular on today's market and we think they are worth having a look.
Zebralight SC52 L2 Flashlight
Price: Approx. $130
Weight: 1.4 ounces
Dimensions: 3.1 x 0.9 x 3.1 inches
Specific features: Battery length indicator, automatic battery saver, different brightness levels, different beam modes, AA and 14500 batteries, waterproof
Best use: Hunting, fishing, hiking, running, home use
Description: A little bigger than a standard AA battery, the Zebralight SC52 L2 Flashlight is a perfect choice for a flashlight that you can always carry it no matter where you go. It lasts up to 3 months in its lowest mode, but less than an hour in its brightest mode. The luminous power is not impressive, but considering the size it has, it's not bad at all – 280 lumens in the highest mode.
When the battery is low, the flashlight will automatically lower its brightness to preserve some of the left energy so it can last longer. It uses standard AA or 14500 batteries. There are a few possible work modes that you can use – high, medium and low, but all three have their own sub-modes with the highest one flashing with 280 lumens, and the lowest with just 0.01 lumens.
Maybe the best part of this flashlight is the easily accessed modes that it offers. As we said, the three main modes have their own additional three working modes. They all can be used by pressing the same button, only using different codes like short and long clicks and double clicks to get the mode you need.
The case is made of some fine aluminum that makes it pretty durable. It is also waterproof up to 6.5 feet so you know that this gadget will not let you down in your most important moments even if it rains. You can simply walk into the water during your fishing adventures without worrying that it will get damaged – this flashlight can also work for 30 minutes in the water.
On the case, there is also a metal hanger that you can use if you want this flashlight always in a hand reach. However, being so small, you can put in your pocket, but the pocket clip can come in handy if you go running or hiking when you like to be as light packed as possible.
PROS:
Waterproof up to 6.5 feet
Somewhat durable
Easy to use
Different brightness modes
CONS:
Short battery life
Too expensive
Related: Never run out of batteries again. This set is called Energizer Ultimate Lithium AA Size Batteries and it contains 20 pieces which means you'll never run out of batteries again. They are standard AA size batteries and as the manufacturer claims, they last 3 times more than alkaline batteries when they are used in flashlights. They work on temperatures from -40°F to +140°F so you won't have a problem in almost all conditions.
ThruNite Ti3 EDC Flashlight
Price: Approx. $14
Weight: 0.3 ounces
Dimensions: 2.8 x 0.6 inches
Specific features: Lightweight, durable, modes, functions, easy to use
Best use: Pet walking, backpacking, hiking, indoor use
Description: The ThruNite Ti3 EDC Flashlight is a very small and compact flashlight that you can carry on your keychain, or even be hardcore and put it around your neck as a necklace. It uses one AAA battery that is just enough to power up this little gadget. Weighing impressive 0.3 ounces, this flashlight is one of the smallest and lightest on the market.
With 165 feet as a maximum distance of the beam, and a power of 120 lumens, we can say that this flashlight is for situations when you can't find something in your bag, or you lost your keys in the dark. In its lowest brightness mode – which is 0.04 lumens – the battery can go for 115 hours, which is not impressive at all. In the highest brightness mode – 120 lumens – the battery will hold up to an hour, which is also pretty time limited.
An interesting feature of this flashlight is that it has two options for attaching to other objects. The first one is a standard metal pocket clip, but when you reverse the clip it gives the option to be placed on a hat and wear it hands-free. Bonus part – it is turned on and off by simply moving the head to the side.
It is built by high-quality aluminum and tests has shown that it is unbreakable under heavy pressure. That adds another quality to this little handle-the-dark helper – durability. You don't have to worry if it gets rolled over by a car of your dog tries to bite it – it will only get scratched.
PROS:
Light and compact
Durable
Two-way clipping
Good value for money
CONS:
Short battery life
Low lumen power
Related: Never lose your flashlight or anything that you wear on your keychain with this Cable Key Ring. It is made of stainless steel and it looks really professional. It comes in a pack of 5 and each is 6 inches long. Perfect for hanging anything from your keys to pliers. 
EagleTac D25C LED Flashlight
Price: Approx. $60
Weight: 1 ounce
Dimensions: 2.9 x 0.8 x 0.8 inches
Specific features: Durable, lots of lumens, different working modes, long beam distance
Best use: Hiking, indoor use, backpacking, camping, fishing, hunting
Description: Here's a flashlight that gives a lot of lumens for the size it has. The EagleTac D25C LED Flashlight is a one-ounce lightweight flashlight that provides more than 450 lumens in its highest mode – and when it comes to modes, it's worth to mention that it has four different modes of brightness and several modes of SOS lights.
The highest mode provides 453 lumens and the lowest is about 0.5 lumens. The other modes give you 296 lumens in moderate, and 33 lumens in lower mode. It uses CR123A batteries that provide power for 150 hours if the flashlight is used in its lowest mode. If it runs in the brightest mode than the battery will be live for almost an hour.
A feature that is important to be mentioned here is the waterproof option. Your flashlight won't get damaged in over 3 feet deep water. It is also made of stainless steel with a metal pocket clip, so we can say that this flashlight is really durable.
The bulb is led and produces excellent light. The beam reaches up to 345 feet, which is great but to get the distance you must press the highest and brightest mode. All the modes are being accessed from one button on the back of the item making it really easy to use.
PROS:
Durable
Good lumen power
Distance of beam
Four modes of brightness
Small and compact
CONS:
A bit pricey
Short battery life when used in highest mode
Related: For those flashlights that use the more specific than usual batteries – CR123, here's a set of 12 that will help you have a good stash of them at all times. Streamlight CR123A Lithium Batteries are offered at a reasonable price and you'll save a lot with this pack of a dozen batteries. They have a storage life of ten years and are specially made for flashlights that use CR123 batteries. 
J5 Tactical V1-PRO Flashlight
Price: Approx. $12
Weight: 2.4 ounces
Dimensions: 3.7 x 1 x 1 inches
Specific features: Waterproof, durable, design, beam distance, modes, zoom
Best use: Hunting, camping, cycling, hiking, indoor, fishing, hunting
Description: One of the bestselling flashlights on the market is the J5 Tactical V1-PRO Flashlight, and there's a good reason why it is like that. It provides clear 300 lumens in its brightest mode which is excellent for this type of flashlight. The beam it creates can reach up to 600 feet, which is really great considering the small size it has.
It has three different brightness modes that will give you the light you need and accordingly, save you some battery if you don't use it in highest mode. The battery is a standard AA or 14500 battery, but the time that will be provided using the highest brightness mode is not impressive. It can go for hours in moderate mode though.
This flashlight is made from special aluminum that is used for aircraft needs so you know it is durable. It is also waterproof and that means that you can rely on it no matter the weather conditions you are in. It has a metal pocket clip, but you can also carry it in your pants pocket because it's really small.
The design is specially made to be ergonomic and for the user to feel it in their hand without the chance of dropping it because of special conditions. It also has a zoom in function that will help you get the best experience from your flashlight no matter the use you need it.
PROS:
Great value for money
Zoom in function
Very durable
Waterproof to some point
Great beam distance
CONS:
A bit bulky
Short battery life
Impractical design
Related: If you want your flashlight to be protected at all times than you should consider this Hermitshell Hard EVA Travel Case. It is made from EVA material that protects your flashlight from scratches, bumps, and other unwanted collisions. The case is strong, hard yet pretty stylish. It is very easily accessible – one button opens and closes the case so you know it does the job you need it for. 
ThorFire XPL2 Flashlight
Price: Approx. $23
Weight: 2.6 ounces
Dimensions: 4.9 x 0.9 x 0.9 inches
Specific features: Great lumen power, six different modes, lightweight, compact, water resistant
Best use: Camping, hiking, hunting, fishing, backpacking, indoor
Description: When it comes to EDC flashlights with great lumen power, the ThorFire XPL2 Flashlight is among the best there is. It provides a maximum of 1050 lumens, which is amazing for this type of gadgets and ultimately, it should cover a distance of almost 400 feet.
This flashlight has six different modes of brightness and two more options for special situations. The modes of brightness are 50 lumens low mode, 200 lumens medium, 600 lumens high and a turbo mode that provides all 1050 lumens. It also has a strobe option that can be helpful if you get attacked, and a 0.5 lumens option for extreme darkness.
It is made of some special airplane aluminum that makes it very durable. The clip hanger from the side is an additional feature that can be of use if you have no room for it in your pocket. The flashlight is slightly bigger than the competition, but it is still pretty small and compact. Not to forget, it is also water resistant – just to add some perfection to it.
A standard 18650 provides the power for this item and that means 22 hours in the low (50 lumens) mode and about 45 minutes in the brightest mode. These are not excellent numbers, but considering the high lumen output that is powered by only one battery, it is actually pretty impressive. If we add that it can go for 360 hours in the 0.5 lumens mode, then we have to be satisfied.
Everything is controlled by a single button that makes it very easy to work with once you learn the technique. By pressing the button, the user switches from mode to mode and when they turn the flashlight off and then back on, it remembers its previous mode.
PROS:
Great lumen power
Six modes
Water resistant
Distance of beam
CONS:
No focus option
Short battery life
Related: Buying new batteries all the time is annoying and having full batteries at all times is a dream come true for many, so this Eastshine S2 Universal Battery Charger is something you totally deserve. It charges different types of batteries and has a big LCD display to keep track of the recharge. The battery holder is flexible and different battery types should fit perfectly – one charger for all types!
Olight S1 Baton EDC LED Flashlight
Price: Approx. $45
Weight: 2.9 ounces
Dimensions: 5.1 x 2.1 x 1 inches
Specific features: Lots of lumens, PMMA TIR lens, five modes, appealing design
Best use: Hiking, camping, backpacking, hunting, indoor
Description: This flashlight offers some interesting design that is backed up with great lumen power. The Olight S1 Baton EDC LED Flashlight is a flashlight that gives the user 500 lumens in its best mode which is enough for most needs that an amateur camper, for example, needs.
The most interesting part of this item is the design. It has a specific style and appearance that we find very appealing. The bad part is that it is a little oversized for an EDC flashlight – it is over 5 inches long and 2 inches wide. That is still a good size to fit in your pocket, but considering the competition, it's not something that the manufacturer should be proud of.
However, the size is compensated by the excellent amount of light it provides. In its highest mode, the user gets 500 lumens. The other three main modes are moderate, offering 80 lumens, and low giving 8 lumens.
The total of six modes that this flashlight has, makes the two hidden modes, the strobe mode and the moonlight mode that is a light of 0.5 lumens for special occasions. All the modes are controlled from one button, but when you turn it off, it has a side switch that will protect it from accidental turning on when it's in your pocket.
This flashlight is made from aluminum alloy and a metal clip that is also a magnet so you can use it hands-free. The fact that it is built solid and the fact that it is also water resistant up to a certain depth makes this little powerful flashlight a true durable gadget that you can rely on in all situations.
The battery used is a standard CR123A. Using them, you'll get about an hour in the brightest mode and up to 63 hours in the moonlight mode. These numbers are not spectacular but are in-line with the competition.
PROS:
Good lumen power
Waterproof option
Very durable
Special lens
Six different working modes
CONS:
A little bulky and sturdy
Low battery capacity
Related: If you think you're going to lose your flashlight because it's pretty small, here's a solution for that problem. This Quickdraw Suspension Clip will make sure your flashlight is always in its place. It is made of stainless steel and it's useful for more than just you EDC flashlight. It's easy to carry and you can clip it on your bag, or your pants, or wherever you feel it is best.
Streamlight ProTac Flashlight
Price: Approx. $30
Weight: 2.5 ounces
Dimensions: 4.2 x 0.8 x 0.8 inches
Specific features: Good battery life, shockproof, compact, three modes, lightweight
Best use: Hiking, camping, hunting, indoor, backpacking
Description: The Streamlight ProTac Flashlight is a nice piece of equipment for your everyday activities or your adventures in the outdoors. This flashlight has a nice look and can be used both by holding it in your hand or hands-free because the metal clip has the option to be reversed and placed on your hat, for example.
It offers a respectable amount of light – 350 lumens in its brightest mode. The lowest mode will give you a power of 40 lumens. It also has a strobe mode for special occasions.
The light is powered by different kinds of batteries – 3 volt CR123A battery, AA alkaline or AA lithium battery. The best results in the high mode you get by using the AA lithium batteries – 4.5 hours. But, if you use the low mode, then the CR123A battery will give you the best results – about 14 hours.
The case material is made of aircraft aluminum and the clip is metal. It has a special shockproof design that will keep your flashlight safe from falling on the ground. Being pretty lightweight also means you'll have no problem in using this item for a long period of time.
PROS:
Lightweight for size
Shockproof and almost unbreakable
Good battery life
Flexible and compact
Works with different battery types
CONS:
Only two main modes
Not suitable for water activities
Related: Batteries tend to get lost, right? They are small and we often forget where we placed them. With this Powertron Battery Holder Case, you'll never have a problem with it again. Black and elegant, the holder will keep your batteries ready to be used at all times. It is made of plastic, and the 3 holders can hold up to 4 batteries.
Olight i3E EOS PMMA TIR Lens Flashlight
Price: Approx. $10
Weight: 0.2 ounces
Dimensions: 0.5 x 2.3 inches
Specific features: 60.000 hours lifespan, waterproof, compact, lightweight, small
Best use: Fishing, hunting, camping, hiking, trekking, backpacking, running
Description: One of the smallest and the most lightweight flashlights on the market is the Olight i3E EOS PMMA TIR Lens Flashlight. With the weight of only 0.2 ounces, it is extremely lightweight and you won't even notice that you're carrying it in your pocket. It is just a little bigger than a standard AAA battery – which is what it uses for powering up.
With these batteries, you'll get around an hour of light. The light that it produces is classic homogenous light with 90 lumens which is enough for most activities but is far from impressive. All this is the reason why this flashlight is relatively cheap, but considering it is cheaper than most on the market, we can say it's a good bargain.
The very good part is that it is waterproof, so you can attach it to your keychain and forget about it it's there even when you're going through rough terrain, or you simply go swimming. If you don't want it to be seen, then you can just place it in your pocket – being only 2.3 inches long, it's just like you're carrying a battery there.
The beam distance that it covers with its 90 lumens is about 145 feet. That is an excellent distance if you're hiking, running, or you need the light for activities that include working around camp. Indoor activities and DIY jobs can also be handled without a problem with this little and compact flashlight.
It uses great PMMA TIR lens that provides excellent homogenous light. This flashlight might not be powerful on lumens, but with this feature, it gives great lightning.
PROS:
Relatively cheap
Waterproof feature
Small and compact
Very lightweight
CONS:
Only one working mode
Not too many lumens
Battery too weak for the size
Related: If you feel like you're always missing an extra place on your flashlight holder for something else, thеn the GenericABC Keychain Clip is the solution. Made of stainless steel, it is practically unbreakable and you can use it for all the things you need on your keychain. Keys, flashlights, tools, everything you need will fit in one of the eight mini clips.
Wrap Up
With all this being said, we think it will be easier for you to pick the right flashlight. Remember that a good flashlight is not the one with the most lumens, or the smallest one – the best is the one that you find most fit for your needs.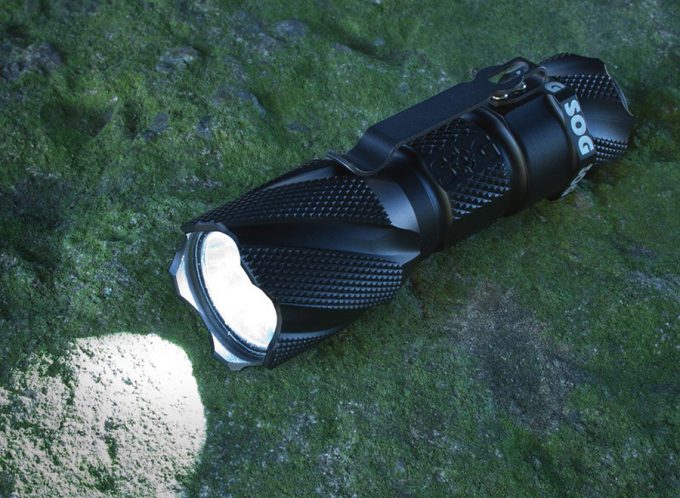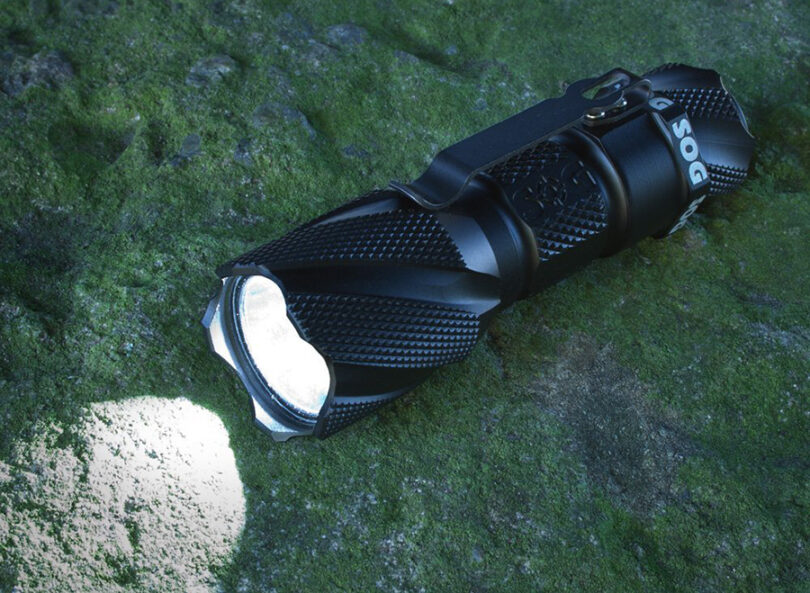 If you need to take it outdoors and rely on it while you build your camp, you'll look the one with the most lumens. If you don't really go in nature too much, look for the one that is most compact. Whatever you choose, be sure that when the time comes to use it, you won't feel like you needed some other feature more than the ones you chose.
At the end, don't forget to comment and tell us your opinion – do you have a favorite when it comes to EDC flashlights?