Your backpacking experience is determined by your backpacking gear. It is essential that you are equipped with the best backpacking gear. When we say best, we don't necessarily mean the most expensive one, but it has to be high quality. You have to make sure that it won't leave you hanging when the journey gets tough.
For example, you don't want to start your adventure in the great outdoors with a pair of poor-quality hiking boots. They need to support your most important tools for hiking, your feet. You might not feel uncomfortable in the beginning, but believe us, after a few hours of walking, you are going to take more frequent breaks, as your feet will start to be sore and the worst case scenario is that you will not be able to go back to the safety of your home or your base camp.
The same goes with the rest of your backpacking gear. It needs to be durable and appropriate for the occasion. In order to help you out, we decided to create a guide that will help you choose the best hiking gear for backpackers. But before we go there, let's take a few steps back and start from the beginning.
Our Top Picks
| Product Name | Weight | Dimensions/Size | Best Use | Price |
| --- | --- | --- | --- | --- |
| Osprey Xenith 75 Backpack | 5.8 lb | 14 x 35 x 15 inches | Backpacking large on extended trips | Check price on Amazon |
| Kammock Roo Camping Hammock | 1.48 lb | 5 x 6 x 8 inches | Light backpacking & overnight trips | Check price on Amazon |
| Kelty Cosmic Sleeping Bag | 2.8 lb | 8 x 13 x 8 inches | 3 season camping | Check price on Amazon |
| LifeStraw Personal Water Filter | 0.1 lb | 8.9 x 1 x 8.9 inches | Backpacking, hiking, camping & emergencies | Check price on Amazon |
| Hydro Flask | 0.9 lb | 10 x 8 x 3 inches | Day hikes & everyday use | Check price on Amazon |
| Cree Tactical Flashlight | 0.4 lb | 1.6 x 5.5 x 1.6 inches | Backpacking, camping, hiking & emergencies | Check price on Amazon |
| TAC Force Tactical Knife | 0.43 lb | 4.5 inches folded with a 3.25 inch blade | Every day carry | Check price on Amazon |
| Paracord Planet Type III 550 | 0.5 lb | 120 in; 240 int, 300 in, 600 in, 1200 in, 3000 in & 12000 in | Survival & Paracord projects | Check price on Amazon |
| Mylar Emergency Blankets | 0.1 lb | 84 x 52 inches | Survival & emergencies | Check price on Amazon |
Things to Consider Before Buying
The best backpacking gear is one that will make your trip enjoyable. Therefore, it does not have to be useful, but also reliable and durable. Here are the features you need to consider before buying your backpacking gear.
Lightweight
When searching for the perfect product for your trip it is imperative to consider the total weight of your backpack. An extra 10 pounds in a backpack can become a huge deal over a 15 mile hike up a mountain.  Companies have developed their products with this in mind, so make sure and invest extra money to have the lightest, best quality product that you can find.
Compact
There is extremely limited room in a backpack. Each product must maximize the space by being reduced in the most compact size possible. Again, companies that specialize in camping and backpacking are experts in this area.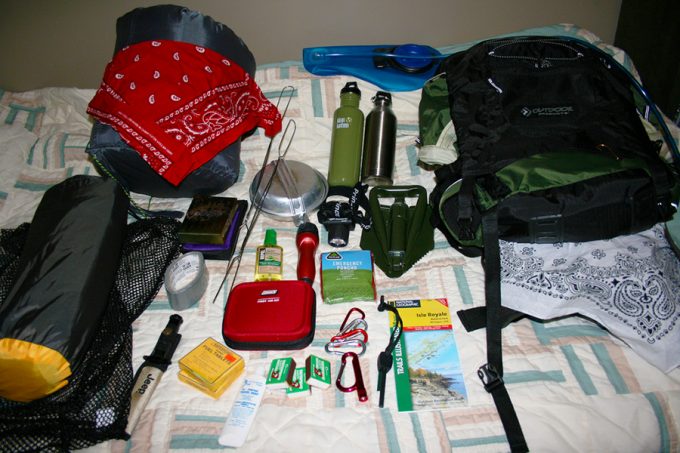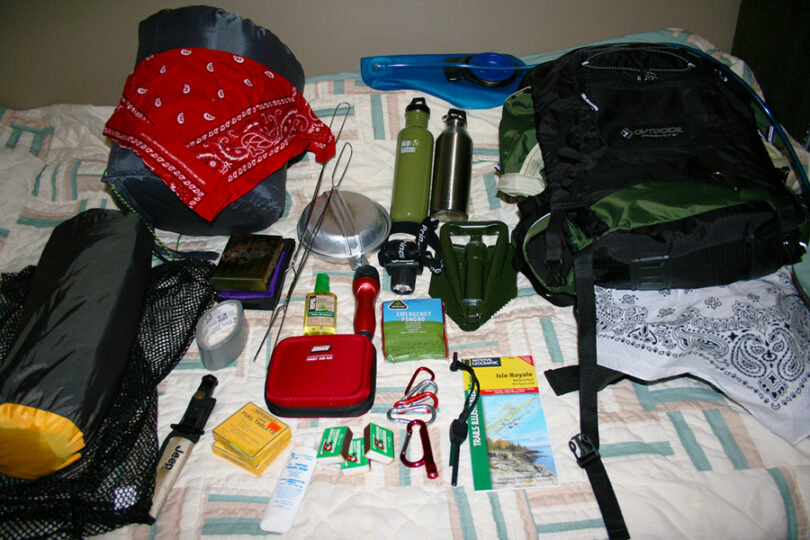 The hammock that we will be reviewing will reduce to a size of only a 5" square. This is an incredibly helpful feature when you only have a few inches of space to pack all of your essentials.
Water-Resistance
Inevitably there will be elements that you must contend with on the trip. Rain, dew and wind on occasion are all things that will be encountered while on your trip.
It is important to consider the effect that those elements will have on you and your gear. Being able to stay dry and warm, are life-saving skills that you must prioritize. Double and triple seams, along with fast-drying material, are all things to examine before buying a product
Best Products on Today's Market
The key to a successful out-of-doors expedition is effective backpacking. This simply means backpacking items that are essential to your trip regardless of whether it is a day hike or a long distance expedition. The following is a list of the most recommended backpacking gear reviews for camping, hiking, and emergencies among other occasions.
Osprey Xenith 75 Backpack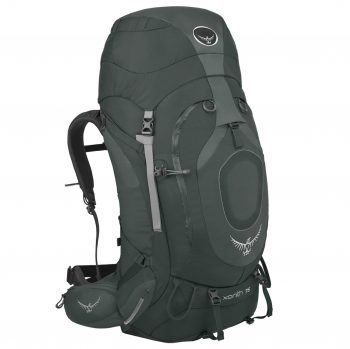 Price: Approx. $250
Weight: 5.8 lb
Dimensions: 14 x 35 x 15 inches
Specific features: One size, stretchable mesh pockets, moldable hip-belt, side pockets and removable storage.
Best use: Backpacking large on extended trips
Description: A backpack will be the first thing that needs to be bought. Make sure and consider how long the trip will be, and what items will need to fit inside. The Osprey has designed Osprey Xenith 75 Backpack with a long trip in mind, and has several features to make sure all your gear is able to fit.
The Osprey has made this backpack to be easy to use, comfortable and large enough for everything. It is available in one size. There are removable side pockets for easy access, external water pouch that is easy to refill and prevent spills, expandable pockets to add any last minute gear that you may need, and these are just the basics.
Lumbar support is especially important when carrying gear on your back and the moldable hip-belt provides a custom fit. Still, if that is not enough support, there is a top pouch that can be moved to add extra support for those really long days.
Hikers and backpackers love the room that this pack offers and the options for the organization that it has. There are a lot of attachments and accessories, such as a dry bag, that are available, but must be purchased separately.
All of those extras are useful and sometimes necessary, but be ready to shell out extra money to pay for it. While comfort and multi-use was a priority, cost effectiveness was not. These backpacks can run several hundred dollars.
PROS:
It has a rugged construction made of high tenacity nylon (420D) for reliability and durability.
The pack offers remarkable load capacity that allows you to backpack more than enough gear and accessories for your lengthy excursions.
The harness and hip-belt are moldable for comfort when backpacking heavy loads for long distance trips.
It offers easy organization and access allowing you to easily manage heavy loads.
CONS:
Side pockets are made of stretching material that can easily fray after a few expeditions.
Related: You should also buy the Osprey Adult Airporter Backpack Cover. The pack cover is recommended for shielding your backpack from damage.
Kammock Roo Camping Hammock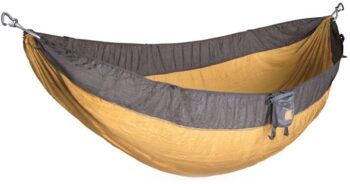 Price: Approx. $100
Weight: 1.48 lb
Dimensions: 5 x 6 x 8 inches
Specific features: Sleeping size of 5'7' x 10', triple seams, reinforced, ultralight components, and multiple anchor points
Best use: Light Backpacking & Overnight Trips
Description: The Kammock brand is a relatively new brand, but they have hit it out of the park with this hammock. Kammock Roo Camping Hammock has been reviewed as "super easy" to set up and can be used by the most novice backpackers on the fly.
All that is needed is 2 rocks, trees or any other anchor points, approximately 20 feet apart. When the hammock is bought, the straps are included; however, there are other accessories that the company offers that are sold separately.
The Roo folds up into a 5" diameter in a water resistant pouch, and opens big enough to sleep 2 people comfortably in a queen size opening. The material is tear-resistant, breathable and has triple seams.
Through the products sold by Kammock, the company has donated treated mosquito nets and malaria treatments, made contributions in Kenya for educational programs, and are currently B-Corp and 1% for the Planet certified, which contributes 1% of annual revenue to community and environmental causes.
Other than being slightly less than easy to pack up, there is nothing negative to be said about the product or the company. This is absolutely one of the best choices for an overnight sleeping arrangement.
PROS:
It is made of heavy-duty fabric (ripstop nylon) that is not only comfortable, but also lighter, softer and stronger.
It offers adequate sleeping/relaxing space and comfort by opening up to a queen bed size for two people.
Weighing in at 1.48 pounds, the hammock is lightweight and highly portable for light backpacking and long-distance expeditions.
Lifetime warranty means that the product is well-built for complete satisfaction.
CONS:
It is slightly less than easy to pack up.
Related: This product is usually bought together with Kammok Python Straps and Kammock Dragonfly Insect Net. The python strapping system is useful for adjusting the hammock, and the dragonfly insect net will keep biting mosquitoes at bay.
Kelty Cosmic Sleeping Bag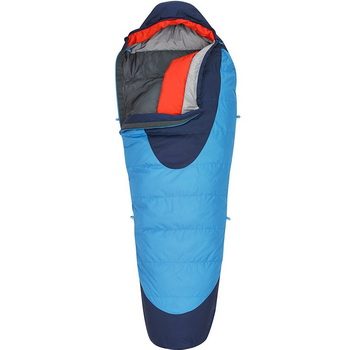 Price: $120 – $180
Weight: 2.8 lb
Dimensions: 8 x 13 x 8 inches
Specific features:  Size (short-5'6", regular- 6', and Long- 6'6"), temperature rating (20 degrees F or -7 degrees C), 50D Taffeta liner, draft collar, sack included, and 60" dual zipper
Best use: 3 season camping
Description: A good sleeping bag will suit any need for 3 season camping weather. With the draft collar and hood this sleeping bag will be great to use in any tent or hammock.
These are not recommended for use for 2 people, so make sure and invest in two sleeping bags for multiple campers. Kelty Cosmic Sleeping Bag also features FatMan and Ribbon draw cords. This enables it to be as custom fit as possible to help keep the effects of wind to a minimum.
While this is one item that adds a little weight to the pack, it is well worth being able to sleep comfortably. When hiking up mountains, the temperature can often vary several degrees. The Kelty Cosmic sleeping bag will keep you nice and toasty. Consumers rate it as a great bag at a great price.
If you are allergic to down feathers, keep this in mind when ordering a sleeping bag. The Kelty Cosmic uses DriDown to insulate their sleeping bags, this could cause allergic reactions.
PROS:
The bag is made 50D down proof polyester shell and 50D polyester taffeta liner, a combination that offers high performance and durability.
Its 600 Fill Power DriDown insulation, which lofts and traps heat effectively, keeping you warm and dry.
Ergonomic locking zipper is made up of 60-inch dual-slider for easy access and closure of the bag.
The bag is remarkably easy to pack since it collapses into a stuffed size of 8 by 14 inches that fits in the available stuff sack.
CONS:
Limited movement when sleeping.
Related: You should also buy The Friendly Swede Travel Sleeping Bag Liner. This product will keep both you and your Kelty sleeping bag clean.
LifeStraw Personal Water Filter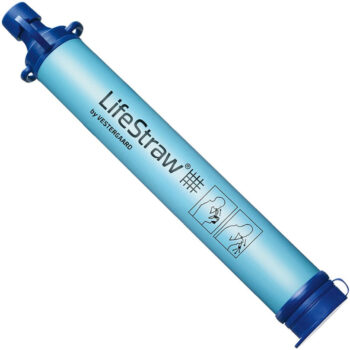 Price: Approx. $10
Weight: 1.6 oz.
Dimensions: 8.9 x 1 x 8.9 inches
Specific features: Award-winning gear; no shelf life and very durable; filters up to 264 gallons; gets rid of 99.9999% waterborne bacteria & 99.9% protozoan parasites; ultralight minimizes turbidity; BPA-free; and easy to clean.
Best use: Hiking, backpacking, emergencies, camping
Description: One of our favorite products on the market is the LifeStraw Personal Water Filter. These companies have made it possible to have clean drinking water no matter where you are.
Clean drinking water is life sustaining and, in some areas, almost impossible to find. LifeStraw has stepped up the game with an entire line of personal filtration systems.
Unbelievably, this personal water filter is able to filter 1,000 liters of water WITHOUT the use of chemicals. LifeStraw has designed this filter to be able to remove 99.999% of bacteria, including E-Coli, and protozoan parasites out of any water source to make it safe to drink.
This company does not just claim to be safe, it is EPA approved for clean drinking water.
LifeStraw is also a company with a mission. For each LifeStraw product sold, a child in underdeveloped countries is provided with clean drinking water for their whole school year. In order to truly make your money count, join them and buy LifeStraw products.
With every good thing, there is a negative side. While there are LifeStraw products that do, the personal water filter does not filter out viruses, bad taste or chemicals in the water. This is a base level product, and while it will make the water consumable, there are higher level products that do offer extra filtration.
PROS:
It is an award-winning gear that is used by millions of people across the world since 2005.
It is engineered to get rid of 99.9% protozoan parasites and 99.9999% bacteria from your drinking water.
It is capable of filtering a thousand liters of dirty water without using any chemicals.
It is an ultralight water filter that is very convenient for all types of outdoor adventures.
CONS:
Its level of water filtration is not as effective as that of more advanced models.
Related: The LifeStraw is normally bought together with the Survival Spark Magnesium Fire Starter and Portable Aqua Water Tablets. The fire starter is useful when creating a camp fire or lighting a wood burning stove and you can use the aqua tablets to purify water if you are unable to use the LifeStraw.
Hydro Flask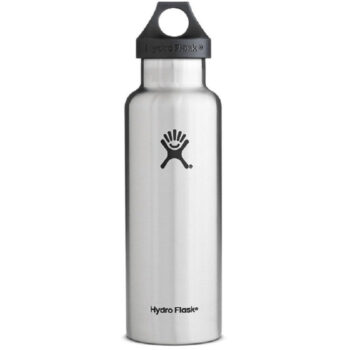 Price: $20 – $90
Weight: 0.9 lb
Dimensions: 10 x 8 x 3 inches
Specific features: Wide-mouth opening, 18/8 food grade stainless steel, BPA free, double wall vacuum insulated.
Best use: Day hikes & everyday use
Description: The Hydro Flask is the next generation water bottle. This stainless steel bottle is rated to keep beverages hot for 6 hours and cold for 24 hours with its vacuum seal technology.
The company has made every effort to ensure that bacteria are not a problem and have used the best materials available to make this water bottle last a lifetime.
These features make it an ideal tool to have for any day trip. However, this bottle has to be refilled in order to continue to be useful.
Unless there is clean drinking water available, there may be no place for it in the backpack after it is empty. I will mention that there are filters that will fit the 32 and 40 ounce option, but they have to be purchased separately.
Overall, customers are extremely satisfied with the abilities of their Hydro Flask water bottle. The hot/cold ratings are on point and for any day-to-day activity this is a perfect solution to keeping hydrated.
PROS:
It is made of quality materials for better performance and durability.
The bottle has a double wall vacuum design that keeps drinks hot for around 6 hours and cold for around 24 hours.
It has a powder-coated matter finish that is sweat free for a strong grip.
Its lifetime warranty is a surety that the bottle is resourceful and versatile.
CONS:
Need regular cleaning or remains can stain the interior.
Related: You should also buy the Hydro Flask Standard Mouth BPA-Free Insulated Bottle Cap. The cap ensures that your drink stays cold or hot for as long as possible.
Cree Tactical Flashlight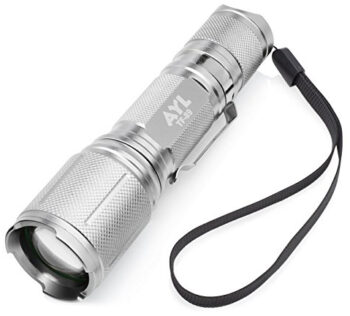 Price: Approx. $10
Weight: 0.4 lb
Dimensions: 1.6 x 5.5 x 1.6 inches
Specific features: 900-lumens, 5 mode settings, Industrial strength, & LED
Best use: Hiking, camping, emergencies
Description: While backpacking and going on adventures, you will need a heavy-duty flashlight to be able to see where you are going. You don't want to run up on any dangerous surprises, after all.
Why not choose a high-quality, durable, tactical flashlight? How about an affordable, compact, tactical flashlight? Cree Tactical Flashlight is the one for you!
Flashlights are amazing. These words cannot be said too many times. Whether you are backpacking through the mountains or the power is out, there are thousands of uses for flashlights, and this one is top notch. The Cree Tactical flashlight has a 900 lumen LED bulb and each bulb is rated to withstand 100,000 hours of use before conking out. This is enough light to see even in the darkest night.
There is no need to worry about packing and huge, bulky, heavy flashlight with this tool. It is only 5.5" long and takes 3 AAA batteries OR a rechargeable battery pack.
Cree has made it so simple and easy. This flashlight offers 5 different modes: Low, medium, high, SOS and strobe, so you are prepared for any emergency. There are two slightly less than perfect conditions to buying this flashlight.
Cree offers the rechargeable battery pack with the purchase of the flashlight, but it does not come with AAA batteries.
PROS:
It is a well-engineered tactical light that is weather resistant and convenient to use in rainy or humid conditions.
It has an ergonomic design that is installed with three separate light modes that can come in handy in different occasions.
As far as performance is concerned, the flashlight is far much better than conventional model, not to mention that the bulbs have a lifespan of 100,000+ hours.
CONS:
It has limited lifetime warranty.
Related: This product is frequently bought together with the LE Headlamp LED light. You can use the LE Headlamp along with the flashlight for better illumination during blackouts, emergencies, camping or hiking.
TAC Force Tactical Knife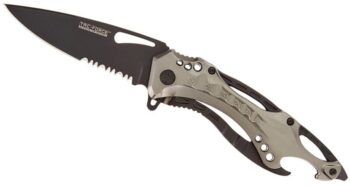 Price: Approx. $10
Weight: 0.43 lb
Size: 4½-inch folded with a 3¼-inch blade
Specific features: 3 mm blade thickness, bottle opener, glass breaker, serrated blade, & clip for easy carry
Best use: Every day carry
Description: When it comes to knives the expectations and needs are pretty simple: A sharp blade, something that won't close on your hand while using it, durable. TAC Force gets that. While the TAC Force Tactical Knife is small and compact, they have made sure and include everything that is needed, along with a couple extras.
The blade is assisted opening and can be opened with one hand, which makes it incredibly handy. Once it is opened it locks into place. No worrying that it will close before you want it to.
TAC Force gives us a partially serrated blade, great for an emergency saw, a bottle opener and a glass breaker. Definitely a great tool to have around every day. For the price, you could even buy one for the home and the trail!
This EDC knife compares well with its competitor, including the Kershaw. Regardless of the fact that the Kershaw is a better model, the TAC Force has a more ergonomic and user-friendly design.
PROS:
Has an ergonomic design that uses spring assist mechanism for rapid and safe one-handed deployment.
It is highly versatile with a glass breaker and bottle opener, making it ideal for emergencies.
Liner lock system ensures that the knife locks securely, and it will not unlock when placed in the sheath
The TAC Force is partially serrated, making it an ideal knife for bushcraft activities.
CONS:
May fail to center properly when locking the blade.
Related: This product is frequently bought together with J5 Tactical V1-PRO 300 Lumen Ultra Bright Flashlight. A combination of the TAC Force and the flashlight form a reliable survival kit.
Paracord Planet Type III 550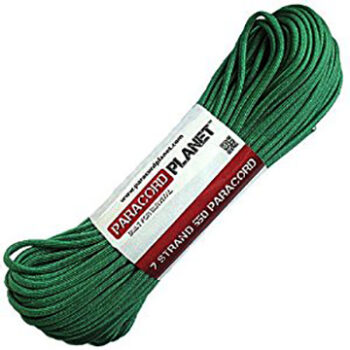 Price: Approx. $30
Weight: 0.5 lb
Sizes: 10-feet, 20-feet, 25-feet, 50-feet, 100-feet, 250-feet & 1000-feet
Specific features: 7 strand core, 100% nylon, 550 pound test strength, & anti-mildew
Best use: Survival & Paracord projects
Description: The Paracord Planet Type III 550 rope is priceless. I cannot tell you the number of times I have needed rope for some project and Paracord did the trick. I must say that this rope is NOT recommended for any climbing purposes. The test strength is NOT the same as what the weight limit will be when trying to climb up or down on a rock face.
However, if you need to lower an item, raise an item, build a shelter, hang a clothes line and basically ANY other idea you can think of, this is your product. Survivalists also say that the inner strands can be used as an emergency fishing line.
Fishing nets, shoe laces, and improvised gun slings are just a few more ways to use Paracord. It is unbelievable how many ways this item can be used, and every single one could happen at any given time. We recommend getting at least one 100' hank to take with you on any backpacking trip, short or long.
PROS:
The Paracord Planet is available in multiple sizes ranging from 10 feet to 1,000 feet, and multiple colors.
It can be used for numerous survival and Paracord projects, including crafting, key chains, lanyards, and survival bracelets.
It is UV resistant; therefore, it doesn't mildew or rot, making it ideal for survival situations and humid conditions.
550 Type III Paracord is strong for tough activities, such as rock climbing.
CONS:
Only four strands instead of seven.
Related: You should also buy the Paracord Planet Buckle, Aketek Stiching Needles and D-FantiX Alloy Paracord Buckles. The buckles are effective for survival bracelet project and the needles are useful for lacing and stitching.
Mylar Emergency Blankets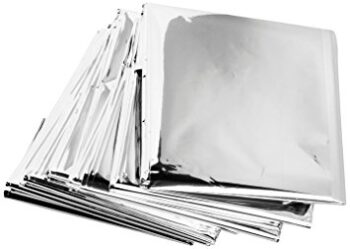 Price: $10 – $30
Weight: A pack of 10 weigh 1 lb.
Dimensions: 84 x 52 inches
Specific features: Size (unfolds to 54" x 84"), Mylar material, waterproof and weatherproof, & retains 90% of body heat
Best use: Emergencies
Description: Emergency blankets are included in general use, because for a pack of 10 for a little over $6, you can afford to have one in each car, the home and in your backpack. The Mylar Emergency Blankets are designed to warm the dead air space around your body. When used correctly, these crinkly blankets can save your life.
These blankets are perfect for any emergency situation. The uses and benefits are very straightforward and sensible. Mylar blankets can be used by themselves or in combination with multiple Mylar blankets or with a regular sleeping bag.
Many survivalists and backpackers recommend using them to keep the heat off during the summer and using them to bring the heat in during the colder trips.
They are designed to heat up the dead air space around you and not to actually warm up your body itself.
Remember this when using the product. Many consumers report that it does not keep them warm; however, they may not have been using it properly. Simply keep a little space in between your body and the blanket. It should give you no problem.
There is no worry about space or weight with this product. The blankets fold up nice and neat and weigh almost nothing. They will slip right into the limited space of your backpack.
PROS:
They are your first line of defense when faced with extreme cold temperatures since they safeguard you from losing vital body heat.
They are highly versatile and you can use them in all weather conditions for emergency protection.
They are designed to last; therefore, they will not shrink or mildew or crack not unless you damage them intentionally.
Large size does effectively reflect about 90% of the heat you produce back to your body.
CONS:
The supplier doesn't state if the price range is for a single blanket or a pack of 10
Related: Mylar also sells the Emergency Survival Mylar Thermal Reflective Tent. You can use the tent along with the Mylar blanket for compact emergency protection.
The Wrap Up
Grab your new backpack and fill it to the brim with every tool you can to ensure that no surprise on the trail will catch you off guard. With your new Osprey and Cree flashlight you will be able to see every obstacle that the hike throws at you.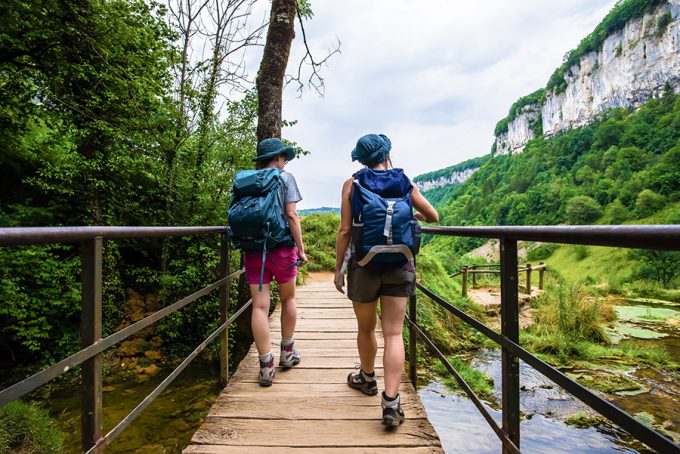 You will get a great night's rest in your Kelty all nestled in your Roo hammock, and don't forget to enjoy fresh water no matter where you are with your nifty LifeStraw.
Enjoy the world as it should be, pure, simple and natural. Keep your eyes open and stay alert. You never know what you will see or find.  It truly is a wonderful experience and you will create memories that will last a lifetime.
Did you find this guide to be helpful? Did we inspire you to buy the best backpacking gear? If so, we would appreciate if you shared your thoughts with us in the comments below.