Outdoor inclement weather conditions often send us packing to run for warmth because our hands catch are numb due to the freezing temperatures. With the best winter gloves, you will enjoy throughout the year because of the flexible and well-insulated gloves covering your sensitive hands.
They are the best way to outsmart the fluctuating weather conditions. A good pair of warm winter gloves is a necessary part of your wardrobe and gear during the colder months. But, there are so many options, models, and even different types of winter gloves that it can be difficult to choose the optimal one.
In this post, we offer some tips to help you discover the best winter gloves for women. First, we go over some of the features you will want to consider when purchasing a new pair of winter gloves, depending on what you intend to use them for.
Then, we offer a list of seven great women's winter gloves, together with links to where you can find them online. But, before we go into the important features to consider when buying these gloves, we will highlight key differences in a tabular form below to help you make quick decisions.
Our Top Picks
Things to Consider Before Buying
Winter gloves differ in a number of significant ways. Some of the different types include simple liner gloves, which are lighter; heavier weight shell gloves; and combination options. Shell gloves, which offer greater protection against the elements, can generally fit over liner gloves.
Because of this variety, you have to be careful with hand picking the preferred pair of gloves for women. Other noteworthy features include the insulation types (natural or synthetic), the fingerprint compatibility, flexibility and many more. Let's unfold some that will help you know the best product at a first sight.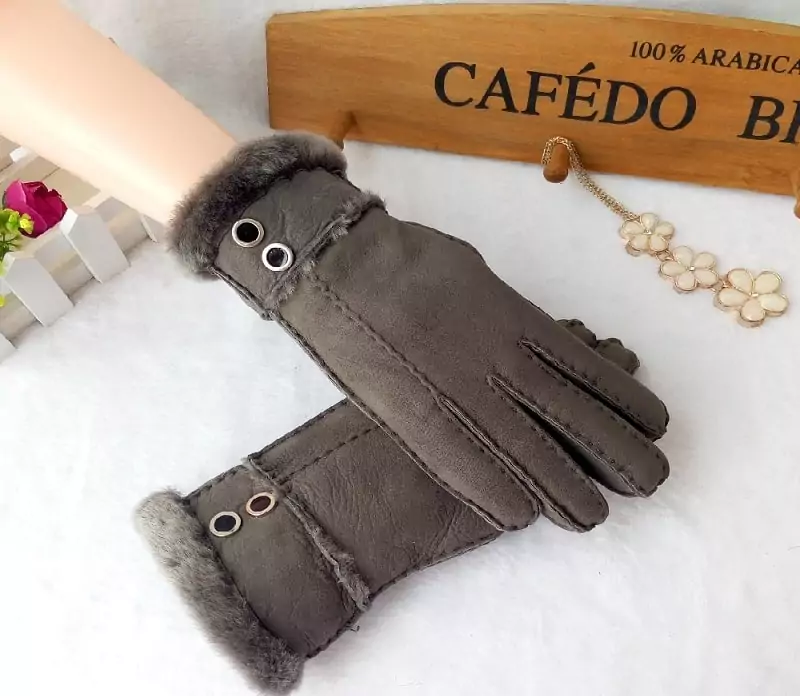 Some models, such as the Burton Women's Gore-Tex Under Glove (option seven in the list below), combine both a liner and a shell, and can therefore easily be adapted depending on the weather conditions at hand. This is particularly useful if you want a pair of gloves that can provide the right coverage in multiple scenarios and weather conditions.
Other model-specific features to keep in mind include flexibility, level of protection, type of insulation, the amount of fabric stretch, and waterproofing. Again, this will largely be related to the intended use. Some glove types may have more or less of a certain feature (e.g. Waterproofing versus insulation), which is something to keep in mind.
Insulation materials of the winter gloves
You will also want to think about the materials used. For example, fleece is a very common material for insulation, and certain lighter glove models are made principally of fleece. Although it is very soft and allows easy movement, it might not be as wind or waterproof as other materials.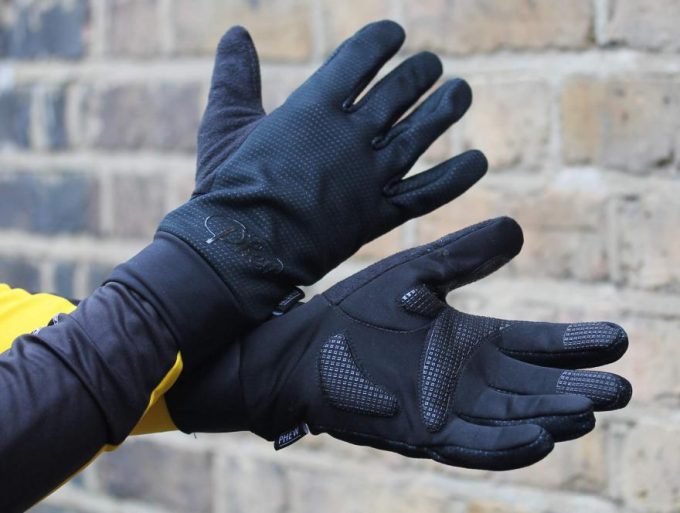 Another option is Down, a common material used as insulation, is a great option if you are looking for a high degree of warmth, but do not want something too heavy (down is extremely light and packable). However, note that Down has its drawbacks if it gets wet because it will take time to dry out compared to the synthetic insulation material.
Design of the gloves
Overall coverage, including the shape and length of the gloves, is another consideration. Longer gloves will of course cover more of your skin, but can be unwieldy. If you want to reduce bulk, you may want to go for a model that has shorter cuffs, such as the Propeller GTX gloves made by Salomon.
Some gloves feature a fitted cuff in a material such as fleece, which helps ensure warmth and adequate coverage. Other design features you may want to consider include optional design elements such as touchscreen compatibility and fingertip grip.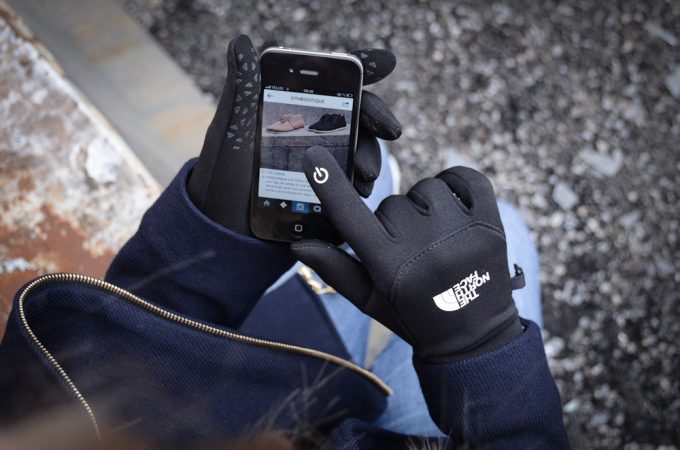 Fingertip grip can be useful for such activities as gripping a steering wheel or any other tasks that require precision and dexterity. Gloves that are touchscreen compatible have conductive fingertips (often with some degree of grip as well) that allow you to use your smartphone or tablet without having to remove your gloves.
Touchscreen compatibility is a nice feature, but may not be necessary if you intend to use your gloves primarily for active outdoor activities, such as downhill skiing, particularly out in the elements where a smart device could run the risk of being damaged in the cold, especially if it is raining or snowing.
In those cases, you would want to emphasize features such as waterproofing and level of insulation.
Durability
Durability is yet another important consideration before picking the best glove. Check the rugged outer shell if it can withstand all the outdoor abuse. Some gloves are made of soft leathers whereas others are merely a fleece.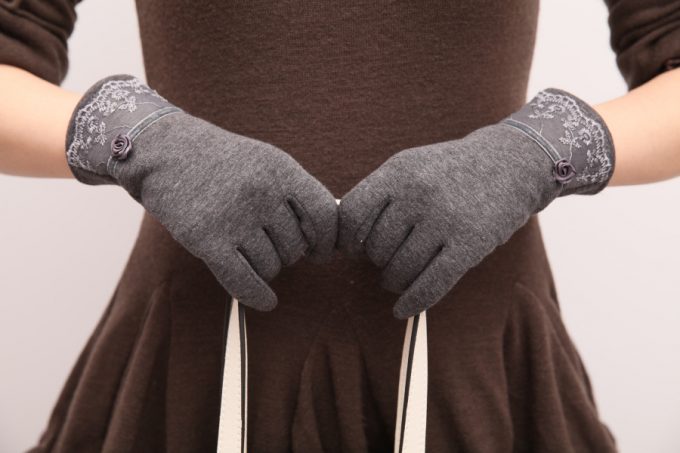 Assess the durability of each material in line with the functional features such as warmth and waterproofness/water resistance.
Best Products on Today's Market
In this section, we review seven different women's winter gloves, for a range of budgets that are suitable for numerous different outdoor winter activities.
From the Black Diamond Midweight Glove, a high-performing liner glove, to the multi-purpose Burton Women's Gore-Tex Under Glove, there are choices on this list covering all types of situation and outdoor conditions.
We further explore the cons and the pros of each product to help you weigh your options when given the good and the drawbacks. Moreover, we take a step further in highlighting the related products that can be alternatives or best combination with the reviewed product.
Columbia Thermarator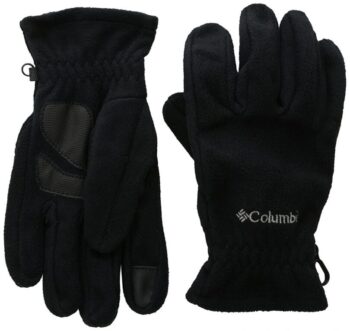 Price: $4 – $50
Weight: 3 pounds
Size: 6 7/8 – 7 1/4 (small), 7 1/4 – 7 5/8 (medium), 7 5/8 – 8 (large), 8 – 8 3/8 (extra-large)
Specific features: Available in four sizes (small, medium, large, and extra-large) and six different colors (black, sea salt, quill, deep blush, and two shades of "blue macaw"), 100% polyester Omni-Heat 280g Thermarator fleece, Omni-Heat™ thermal reflective lining, conductive fingertips, abrasion-resistant palm patch, elasticized wrists, security clip
Description: The Columbia Thermarator is a sleek style from Columbia's Thermarator™ that features soft fleece and technical elements designed to increase warmth and functionality. These gloves are available in six colors, including black, purple, and blue. They have a convenient conductive fingertip, so you can use your electronic touchscreens without having to expose your fingers to the elements.
In addition, they have a special Omni-Heat™ thermal reflective lining that maximizes warmth. Other design elements include a palm patch for added grip, elasticized wrists, and a security clip. Some users have noted that they tend to run a little on the large side.
These are a lightweight style, making them easy to use; but, on the flip side, they may need to be reinforced with glove liners in especially cold winter conditions. In overall, they are the best in winter performance thanks to the Omni Heat trademark that puts them above the crowd. The variety of sizes, colors, and dimensions, make the gloves accommodative to a range of women sizes.
PROS:
The variety of sizes and colors make it convenient for women to have broad options.
Features Omni heat trademark that provides an unbeatable insulation in winter.
Touchscreen compatibility.
Affordable pair of gloves with superior features
Abrasion-resistant palm patch.
CONS:
No information about the gloves being water resistant. You may decide to install the DWR coating at extra costs.
Related: Columbia's Thermarator™ line has numerous other products for staying warm on a cold day. These include the Men's Version of These Gloves, a Headring, and a Hat.
Black Diamond Midweight Glove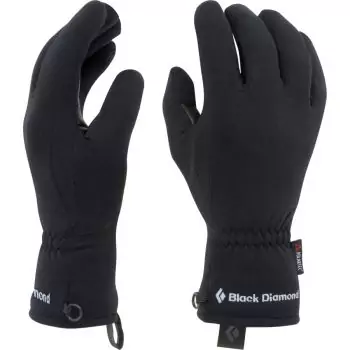 Price: $30 – $38
Weight: 1.6 ounces
Dimensions: n/a
Specific features: Shell: 64% polyester, 24% nylon, 12% spandex; palm patch: 100% goat skin leather and Kevlar stitching, Polarity Power Stretch fleece, goat leather palm
Description: The Black Diamond Midweight Gloves are a versatile, midweight pair of women's liner gloves. On cool days, these soft, comfortable fleece gloves can be worn alone, or they can comfortably be layered under shell gloves for additional warmth and performance in challenging conditions.
Featuring 240-gram Polarity Power Stretch fleece, they are great multipurpose gloves that also have a durable goat leather palm for added grip and functionality. Several users have noted that they tend to run a little on the small side, but these are stretchy and meant to fit snugly for easy layering. At an affordable price point, they come in stylish, multi-purpose black.
The composition of the shell encompasses a variety of quality materials which ensures a great insulation. The goat skin assures that the gloves are made of natural materials to guarantee durability. So if you are planning to visit areas notorious of inclement climatic conditions, you should invest in these gloves with the 100% goat skin leather.
PROS:
A versatile pair of gloves to be used in cool and freezing temperatures
Features the polarity power stretch fleece
Comfortable grip with the goat skin leather
Great insulation provided by a composition of quality materials
Affordable pair of gloves
CONS:
There is no information about the gloves being water resistant.
Goat leather is not easy to clean. Follow the manufacturer's recommendations
Related: Similar products by Black Diamond include the Black Diamond Heavyweight Glove Liners, the Black Diamond Power Weight Glove Liners, and the Black Diamond Mid Weight Digital Glove Liners, which come with digital thumb and index fingers.
Canada Goose Down Glove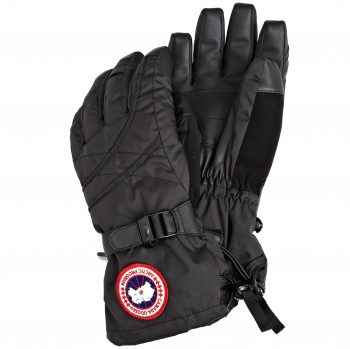 Price: Approx. $180
Weight: 6.4 ounces
Dimensions: 13 x 6 x 3 inches
Specific features: Shell: 100% polyester; fill: 525-fill white goose down, fleece lining, features: glove clips, waterproof/breathable inset, palm grip, Velcro® wrist cinch, cord lock on the cuff opening
Description: The Canada Goose Down Gloves are down-insulated, water-resistant winter gloves that will not let you down when the temperature drops. They feature the iconic red, white, and blue Canada Goose logo; convenient glove clips; soft fleece cuffs; palm grip; and an elegant quilted design detail for the ladies.
The exterior of these black gloves is made of Polyester, which in most cases provides great protection against the elements. Also worth mentioning is that they have a waterproof glove inset and an exterior Velcro wrist cinch as well, for making quick and easy fit adjustments.
All products made by Canada Goose, and purchased from authorized retailers, are covered by a limited manufacturer's warranty, meaning you need to check first what this warranty covers and see if it suits your expectations before making the purchase. Unlike other options on this list, it's worth noting that these gloves are dry clean only.
PROS:
The shell is made of the waterproof polyester to survive the outdoors precipitations.
Velcro enclosure to enhance the warmth of the gloves so you can use it comfortably in winter times
Insulation material is the goose down.
Glove glips and palm grips for comfortable handling without any slippery
CONS:
Goose down insulation takes time to dry out should it get rained on.
The gloves are fairly expensive
Related: Winter needs proper preparation in terms of warm clothes. This Company offers a range of products that can be paired with these gloves to have a great combo for the winter months. The Canada Goose Women's Shelburne Parka Coat is a great coat, but fairly expensive. It is, however, a great investment for the avid outdoor camper. It even negates the need for the sleeping bag.
The North Face Etip Gloves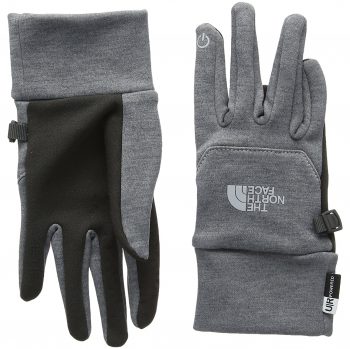 Price: $30 – $121
Weight: 2.9 ounces
Dimensions: 13 x 6 x 2 inches
Specific features: 93% polyester, 7% elastane double-knit piqué fleece, available in four sizes and twenty colors, features: four-way stretch fleece, Etip and palm conductivity, Radiametric Articulation, silicone gripper palm pattern
Description: The North Face Etip Gloves are touchscreen-compatible fleece gloves designed for active outdoor cool weather activities. Available in four different sizes and twenty different colors, they feature Etip functionality; 5 Dimensional Fit; Radiametric Articulation; and a silicone palm for a high-performance grip, fit, and agility of movement.
Because they are breathable and designed to move with the body, the North Face Etip Gloves, which also have four-way stretch fleece, are ideal for sports such as running. They are not, however, lined or waterproof, so they might not be the best choice for wearing alone in very wet or windy outside conditions.
The variety of these gloves in colors and sizes makes it possible for women a wide range of options of the same model. The composition as well makes it convenient to use these gloves because of their sophisticated warmth and insulation. Your winter camping days will surely be worth living in the outdoors without your fingers being exposed to extreme coldness.
Moreover, the gloves are lightweight and enclosed well at the wrist to enhance the warmth. No excuse in keeping your hands warm because the price tag is also affordable and a great investment for enthusiastic winter campers.
PROS:
Sophisticated warmth and insulation
Durable outer shell made of high quality insulation materials
Palm conductivity
Touchscreen compatibility.
Affordable pair of gloves with quality specific features
CONS:
The pair is not waterproof.
Related: The Company has a broad range of women's winter apparels. These gloves can be paired with The North Face Women's Cable Minna Beanie to keep your head warm as well. The product is available in many favorite colors and fits almost all heads. However, wool may perform poorly in rainy days. So you have to get the raincoat to protect it against the downpours.
REI Tech-Compatible Thermo Gloves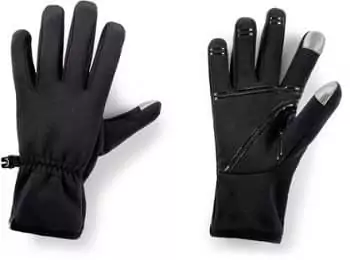 Price: $50 – $100
Specific features: Touchscreen compatible conductive leather fingertips, water repellent Polartec Wind Pro polyester fleece
Description: The women's REI Tech-Compatible Thermo Gloves are another great choice for lightweight, touchscreen-compatible winter gloves. Meaning, you will not have frozen hands every time you have to take out your hone to check the messages or answer a call. With these gloves, your smartphone's display will work just as it works when you use it without the gloves.
They feature conductive leather palm patches and a close fit so you can easily use your smartphone or tablet without having to be afraid of dropping your phone thanks to gripp-enhanced leather material palms.
The polyester Polartec Wind Pro fleece material blocks light wind and is water repellent, meaning that you shouldn't worry about the cold wind as long as it is not too strong, but when it comes to rain showers, they will not stay fully dry for a long time. But, since they are winter gloves, and there aren't rains in the winter, you will do just fine with these gloves.
PROS:
Touchscreen compatible
Water repellent
Lightweight
Related: Now that you found great gloves for the winter, you can think about skiing, and if you need a pair of good ski goggles, we can recommend the YAKAON Y Series Ski Goggles.
Salomon Propeller GTX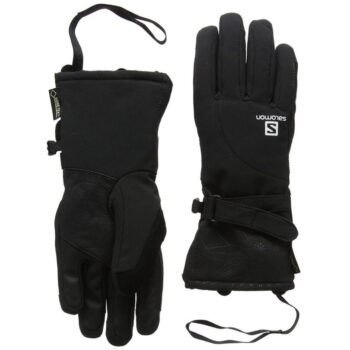 Price: $60 – $100
Weight: 2 pounds
Dimensions: n/a
Specific features: Gore-Tex membrane, soft shell, and high-quality leather, features: Velcro wrist closure, elastic safety leash, nose wipe, short cuff, touchscreen compatible
Description: The Salomon Propeller GTX Gloves are a long cut women's style ideal for winter sports, particularly skiing. Featuring a waterproof Gore-Tex membrane, these part leather gloves are designed for performance, comfort, and a full range of motion.
They are available in two colors (black and black/white) and have a soft, breathable shell made of stretch fabric; they also feature short cuffs that reduce bulk. The breathability feature reduces the accumulation of moisture, especially during the hotter days so you can combat the smelly sweat.
Furthermore, you don't have to take off the gloves whenever you feel hot on your hands. On the thumbs, these gloves have a nose wipe feature, which is ideal for comfortably brushing away the elements from your face or neck. In addition, the fingers have touchscreen-compatible pads, so that you can use your smartphone or tablet without exposing your hands to the cold and snow.
The Velcro wrist enclosure helps in optimizing insulation and blocking the entry of cold elements into the gloves. With the soft shell, you are able to maneuver lots of activities without the need to remove the gloves.
PROS:
Velcro wrist enclosure helps enhance warmth
Gore-Tex membrane provides the best insulation on the market.
Available in a variety of colors and sizes for your convenience.
Soft shell helps provide flexibility when using these gloves.
Touchscreen compatibility so that you can use your phone without taking off your gloves
CONS:
There is no information about the water resistance coating features of these gloves.
Related: Salomon also makes a men's version of the Propeller GTX Winter Gloves.
Burton Gore-Tex Under Glove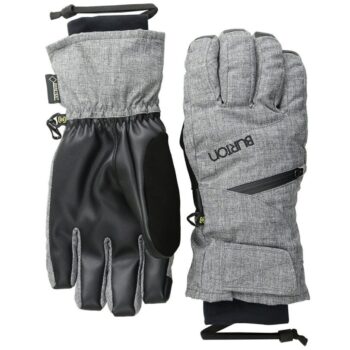 Price: $50 – $130
Weight: 8 ounces
Dimensions: n/a
Specific features: Available in five sizes (extra small to extra-large) and seven colors, features: removable four-way stretch Dryride Thermex fleece liner, waterproof Gore-Tex insert membrane, touchscreen compatibility, soft microfiber lining, Thermacore insulation, removable wrist leash
Description: The Burton GORE-TEX Under Glove is a versatile, high-performing – and waterproof – option that can withstand very cold, wet conditions. You can wear just the removable liner, just the shell, or, for maximum protection, you can wear both together. The fast-drying liner, which has a grip palm, is made of four-way stretch Thermex.
A waterproof, breathable Gore-Tex membrane ensures a high degree of gear performance. Other features include easy-to-use Velcro adjustment, a removable wrist leash, and a discrete heater/vent pocket that can be used to insert hand warmers.
These gloves are available in several color options (including black and multicolor), and are also particularly well-suited for active outdoor winter sports. Note that Burton provides a detailed sizing chart, which may help in determining which of the five different sizes to purchase.
These gloves provide you a great investment in colder weather conditions. The pair is feature-rich with the waterproof and breathable Gore-Tex membrane with which you can survive the cold weather on top of Mountain Kilimanjaro or any other place notorious of inclement temperatures
PROS:
Gore-Tex membrane is breathable and waterproof. Consider your hands safe with this pair of gloves
Velcro adjustment helps fit everyone using the gloves and also enhance the insulation
Available in a variety of colors for your convenience
A durable outer shell to last you many years of wearing these gloves
Thermacore insulation is a trademark that assures you an unbeatable insulation
CONS:
Fairly expensive
No information about water resistant coating, so do not expose the gloves to the downpour for a long time.
Related: Burton also manufactures a men's version of the Gore-Tex Under Glove.
Wrapping It Up
In this post, we provided a list of some of the best women's winter gloves, and also explained the main features to keep in mind when shopping for different options. Investing in a quality pair of winter gloves will make a huge difference, whether you plan on hitting the slopes or simply using them to go out for a walk on a chilly day.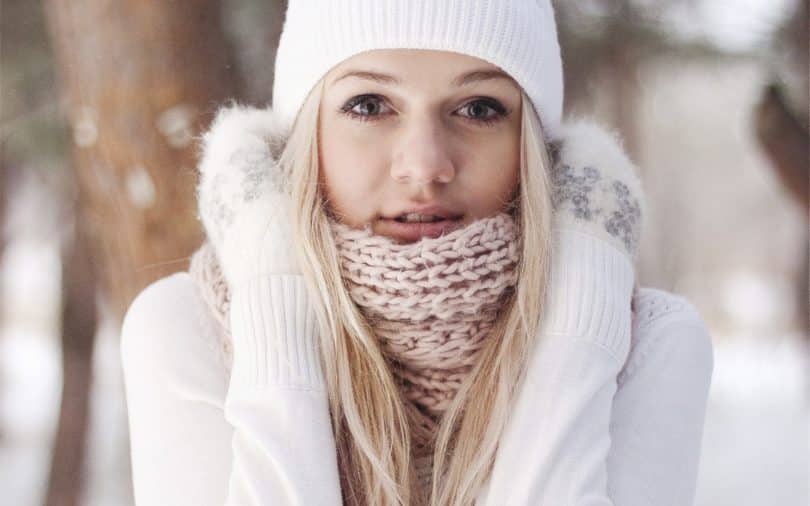 It's especially important to consider what activities you will primarily use the gloves for, as this will help determine the design elements – such as insulation and level of waterproofing – that are most important. Now it's your turn to tell us what you think about our article, and you can do so by leaving a comment in the comments section below.
There, you can also ask questions if you have any and we will do our best to give you an answer as soon as possible. Think we missed some of the great women's winter gloves that are out there and should be included on this list? If so, please let us know – leave us a comment!