Do you love listening to good music as much as you love the great outdoors? We know how frustrating is when you want a lazy day by the pool, to hang out with friends at the beach or go for hikes, and you cannot even get to enjoy good music. Well, we are here to tell you that the best waterproof Bluetooth speaker is just what you need to get that music experience you have been yearning for.
These speakers are ideal because they are ultralight, hence you can carry them around easily. They are also waterproof, meaning you can use them even when you are showering or swimming. You can easily pair your mobile device or laptop with your speaker, if you want to enjoy music from a more diverse source.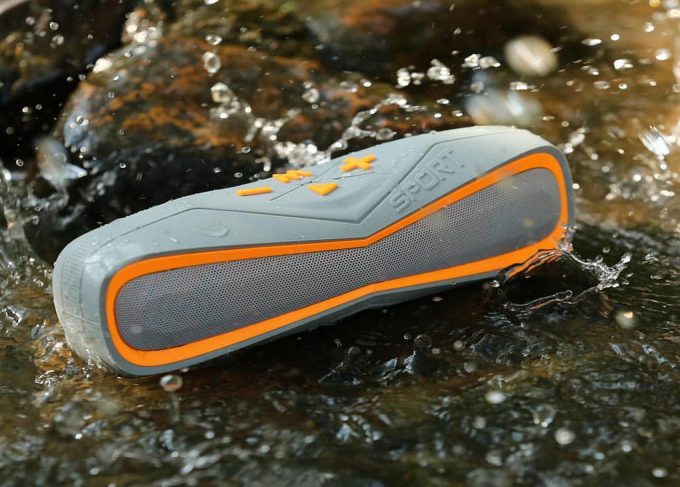 In our article, we will take you through all you need to know about this type of speakers, why you should definitely get one, and offer you reviews of some of the most popular models on the market today. We also get to recommend similar products that are worth buying alongside the speaker. Read on for a more detailed discussion.
Our Top Picks
Features to Consider Before Buying
Waterproof Bluetooth speakers are ideal, not only for outdoor use, when showering or swimming, but are a great option for indoor entertainment as well. Here are some of the features worth looking out for as you make your purchase.
Waterproof Capabilities
Most speakers may have the 'waterproof' label plastered on them, but can they really keep working even after water exposure? Before purchasing, look for the ingress protection (IPX) rating on each speaker. This indicates the extent at which it can withstand being subjected to water.
For your Bluetooth speaker, an IPX4 rating is sufficient, as it indicates that your speaker is protected against water splashes, like a rainstorm. However, it's not ideal to be submerged in water.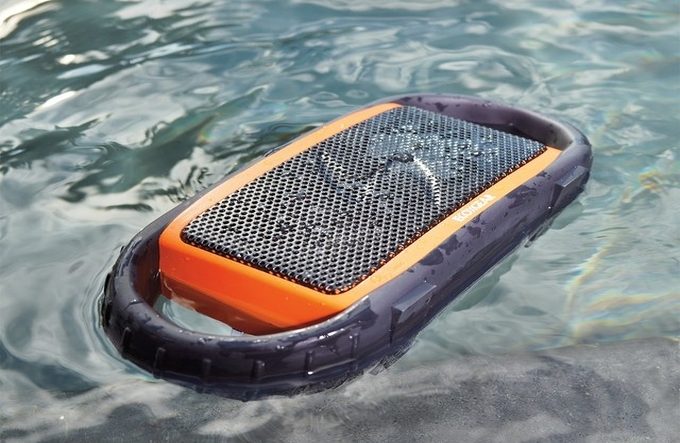 A higher IPX7 rating establishes that your speaker can withstand water submersion for about 30 minutes. Another factor you can consider is the speaker's ability to float when submerged in water.
This is especially important if you have kids and there is the risk of the speaker being thrown in the water. Sure, the sound quality may be suppressed, but most waterproof speakers will keep playing.
Battery Power
Having a powerful battery is what translates to having a good speaker to give you the desired sound quality and functionality. Battery power determines the length of time your speaker will work without a power supply.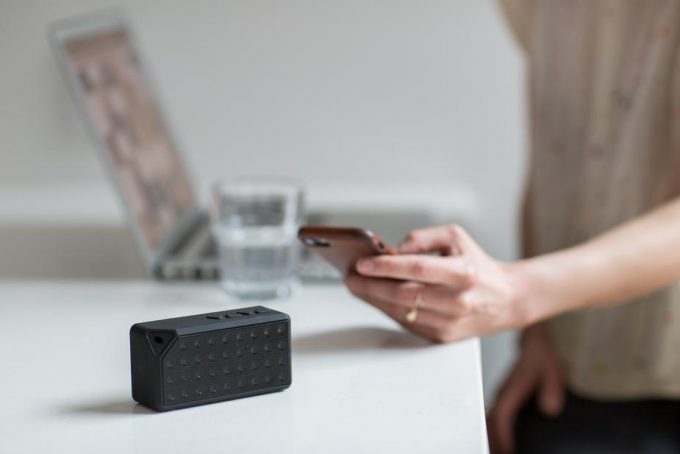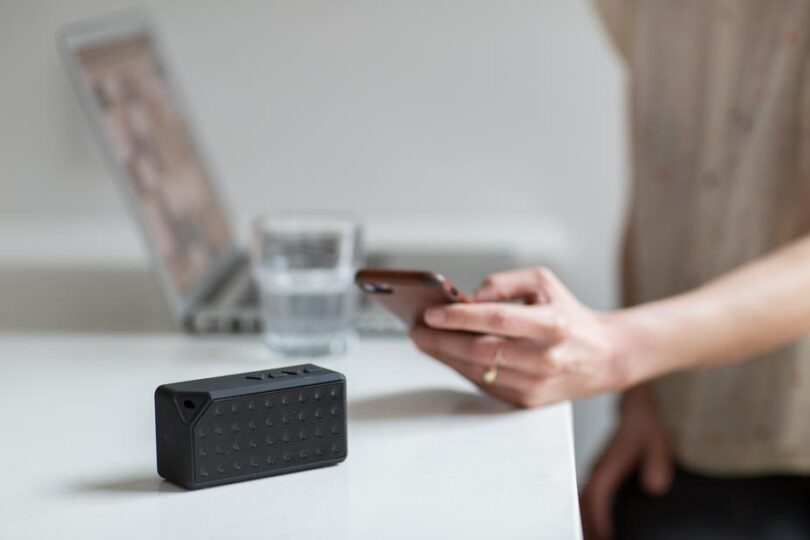 This is vital, especially when you are outdoors and may not have a constant power supply to fire up your speakers. Batteries with higher power, around 400-500 mAh will run for 8-9 hours. You can also try out solar charges if your speakers are for outdoor use.
Wireless Connection
Considering the strength of your Bluetooth signal is vital for you to be able to connect your speaker efficiently to music devices that stream music. Typical wireless Bluetooth speakers are designed with a range of about 30 meters. This is sufficient to access other music device placed indoors, even if you are out in your pool or patio.
Ease of Use
You should choose a Bluetooth speaker that you can easily control and that you are comfortable with. The controls should also be in plain sight, such that you don't have a hard time trying to reach out to any of them.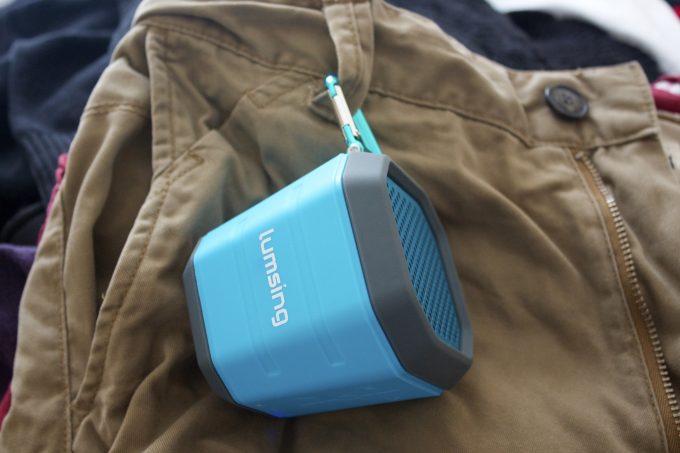 This is mostly set in the design. There are speakers with buttons or remote control. Keep in mind that buttons may stop working or get damaged after prolonged use. The downside to using a remote is that it can easily get misplaced, especially when outdoors.
Speaker Size and Weight
Purchasing a bulky speaker may not be convenient for you, when it comes to outdoors and indoors use. Portability is key because you will want to move around with your speaker as you enjoy your outdoors.
We recommend going for ultralight and small sized speakers that are easily carried around, when you are outdoors, and that can be moved from room to room when indoors.
Play Time
The number of hours a speaker can play should be of utmost importance. Most speakers are capable of running for about 8-10 hours after fully charging, which is sufficient time. However, the playback time will vary, depending on the volume at which you are playing the music.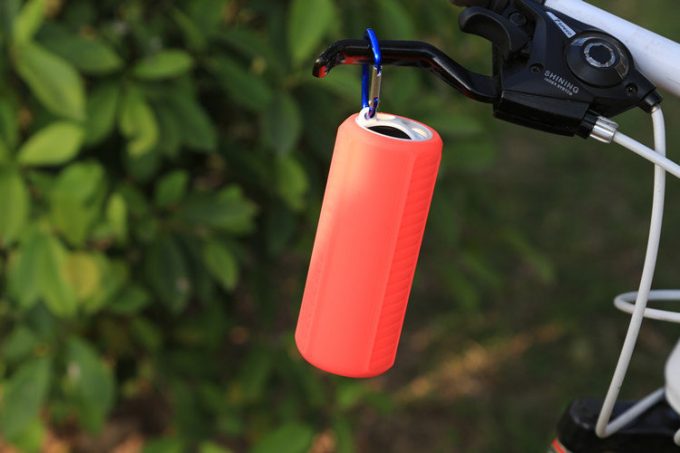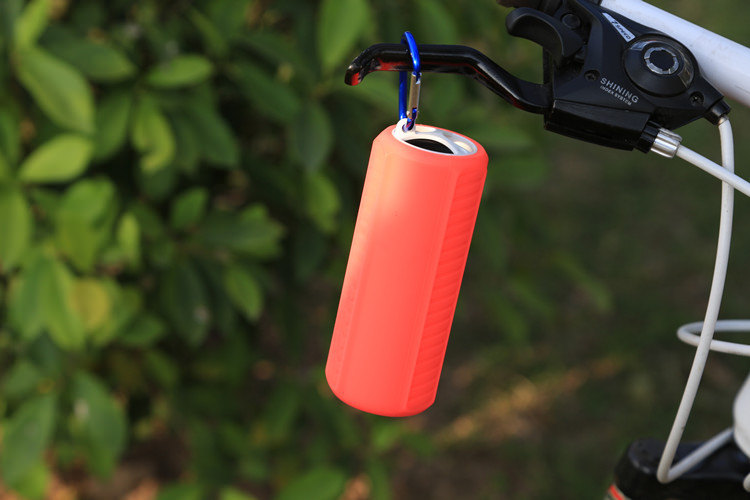 For instance, your play time will double up if your volume is at 2/3. Always read the manufacturers description of the speakers before making any purchase, to ascertain that you only get one that can serve you for longer periods of time.
Top Products on Today's Market
When looking for the best Bluetooth speaker, it's best to compare a few models in the market to get a glimpse of what exactly is out there. Below is a rundown on a few speakers that are worth looking into, their key features and other related products you may be interested in.
Apie ​​Portable Bluetooth ​Speaker 
Price: Approx. $40
Weight: 11.5 oz.
Dimension: 5.89 x 1.85 x 2.70 in
Battery: 2200 mAh
Play time: 8 – 10 hours
Charging time: 4 hours
Color: Green
Specific features: Two 5 W speakers, built in mic, hands free speakerphone, high capacity rechargeable 2200 mAh battery, up to 10 hours of playtime, full High-Definition sound, 80 Hz-18 KHz frequency response, DC 5V charging voltage, 500 mAh charging current, up to 4 hours charging time
Best use: Hiking, camping, lounging, working out, partying, biking
Description: The Apie Portable Bluetooth Speaker allows you to enjoy a High-Definition stereo sound, coupled with quite an impressive volume. You can enjoy your music when going about your activities, whether indoors or outdoors.
Moreover, you can now pick calls more conveniently, through it's built in hands free speakerphone, if you have connected the mini speaker to your smartphone.
This Bluetooth speaker has two 5 W speakers, that streams clear sound with full range output, which is crisp, powerful and rich in bass. This is made possible through the dual high performance drivers and passive subwoofer. It comes with a 2200 mAh rechargeable battery that allows you to use the speaker for up to 10 hours if fully charged.
What's more? This speaker comes with an aux cord that enables you to connect to a non-wireless mp3 player. The speaker also pairs well with a PC.
Despite being a little on the heavy side, it floats really well, and it's designed with a hook so that you can easily clip it to your backpack or other objects when outdoors. The buttons are also very easy to operate. Because of its waterproof capabilities, it still works perfectly well, even when submerged in the water.
The sound quality of the Apie speakers is quite impressive, and the enhanced bass is a huge advantage. The waterproof rubber strap attaches nicely with the rubber trim, giving the additional grip or traction.
The manufacturer used quality materials for the design which enhances the durability of the speaker; dropping causes little to no physical damage.
You may want to look out for the smartphone call feature. It may not be as loud as the media playback. Additionally, sound does not come out from both sides of the speaker, and it does not have its own independent volume, which may affect the volume at times. Overall, this is a small, easily portable speaker with superior features.
PROS:
Enhanced sound quality
Water resistant
Easy to operate
Good price
Floats easily
CONS:
May not hold as much charge after a couple of months use.
Sound quality when using smart phone not as superior
Lacks its own independent volume
Related: The Senso Bluetooth Headphones go perfectly with your Apie Bluetooth speaker since you can easily listen to your favorite music or receive calls while you are driving, working out or swimming. They cost about $33, are fully IPX7 waterproof certified, can run for about 8 hours and cancel all the noise around you.
Photive ​M90 ​Bluetooth ​Speaker 
Price: Approx. $50
Weight: 32 oz.
Dimension: 3.5 x 11 x 6 in
Battery: 5000 mAh
Play time: 8 – 10 hours
Color: Black
Specific features: Powerful 20 W stereo output, passive subwoofer, IPX5 certified, up to 10 hours extended battery life, minimalist rubberized finish, water resistant, shock absorbing design, dual 10 W drivers, 5000 mAh Li-ion battery, enhanced bass matching technology
Best use: Hiking, gym, partying, beaches, camping, driving
Description: The Photive M90 Bluetooth Speaker will let you experience bass like never before. It has a rugged design, with an inbuilt subwoofer perfect for all your outdoor escapades.
The powerful stereo sound and passive subwoofer combo allow the speakers to amplify both higher and lower bass frequencies without losing the quality of the sound. The extended battery life of about 10 hours keeps the beats going.
This speaker has an aluminum grill that seamlessly complements the minimalist finish. Its rugged design, makes the speaker, perfect for your active outdoor lifestyle. With the water resistant properties, you can now even enjoy the pool or beach with your music, and not have to worry about damaging the speakers.
There is an on-board control built in just for your convenience of use. The passive bass radiator allows for a robust, rich and bold sound. Additionally, there is an inbuilt screw mount that will let you attach the speaker to a tripod.
This speaker is also highly durable; you can get it wet, drag it around and it will still come out just as good as new. Pairing with other devices is also very easy, won't drop the connection, and you can still use it while charging. It may be a small speaker, yet it has an unmatched sound quality.
However, the downside is that this speaker lacks a battery level indicator to alert you when the charge runs out. You might also discover that when the volume is turned all the way up, the speakers can damage easily.
PROS:
Water resistant
Has a Shock absorbent design
Lightweight and portable
Good sound quality
CONS:
May stop working after a while
Speakers may get damaged if used on very high volumes
Constantly shuts off on its own
Related: For a more diverse source of music, why not purchase this Dansrue Bluetooth MP3 Music Player that goes for approx. $38. You can play your favorite music from this player, and listen to the perfect bass and clarity from your Photive Bluetooth speaker, which gives you a great outdoor experience.
Hydro Beat Illumination​ ​​Bluetooth ​Speaker 
Price: Approx. $35
Weight: 12 oz.
Dimension: 3.9 x 2.8 x 3.9 in
Battery: 650 mAh
Play time: 8 hours
Color: Black
Specific features: IPX7 waterproof certification, 4Ω 5W Output Speaker, built in FM radio, Bluetooth 4.0 with a 30 ft. range, integrated microphone, intelligence interface, 10 multicolored LED mood lights, up to 8 hours playback time, 650 mAh Li-ion built in battery, fast charging
Best use: Showers, poolside, beaches, hot tub
Description: The Hydro Beat Illumination Bluetooth Speaker is a new model in the market, that is fully certified as an IPX7 speaker, meaning it can withstand being submerged in water without being susceptible to damage.
It has an integrated FM radio and is designed to run for up to 8 hours after full charging. Shower radios also have a strong suction cup that easily sticks to smooth surfaces, making it a perfect speaker to use in the shower.
You will get clarity of sound with the 4Ω 5W output speaker, that also has incorporated a microphone that allows you to receive calls during playback.
The sleek, compact and ultra-light design is what makes this speaker great to take for all your outdoor activities. Moreover, it has an impact resistant shell and outer casing that enhances the durability levels. The Bluetooth connection signal is pretty strong; you can use your speaker with devices that are up to 30 feet away.
There are 10 multi-colored LED mood lights complete with a fixed color or scrolling option that allow you to create that perfect ambience great for the hot tub or a bath. The intelligence interface is a great addition to the speaker as it enables you to have ultimate control over your radio.
This speaker has some flaws though. One is that it lacks an indicator to show the battery levels. It doesn't have a SD card slot, which would come in handy if you want to play music from the memory card, and the mood lights drain away the battery if not switched off.
PROS:
Fully IPX7 waterproof
Dust proof and shock resistant
Small, compact and ultralight for easy portability
Provides good quality of music
Strong Bluetooth connection signal
CONS:
Mood lights drain away the battery if not switched off
Lacks a battery level indicator
Lacks SD card slot
Battery drains off fast after charging
Related: Since you will mostly be using your speaker in water, you can consider purchasing this Mpow Universal Waterproof Case ideal for your iPhone, and other smartphones. It goes for around $8, is IPX8 certified, and allows you to easily operate your phone even in extreme conditions.
Aomais​ ​Sport​ ​II​ ​Bluetooth​ ​Speakers 
Price: Approx. $50
Weight: 21.76 oz.
Dimension: 2.36 x 9.35 x 4.63 in
Battery: 1800 mAh
Play time: 5 hours
Color: Green, orange
Specific features: Fully IPX7 waterproof certified, 4.0 Bluetooth speakers, 20 W speaker output, rugged construction, hands-free function, rechargeable lithium polymer, near-field communication technology, shock proof, dust proof, mud proof
Best use: Partying, poolside, beach, indoors, gifting, hiking, kayaking, boating, camping
Description: The AOMAIS Sport II Bluetooth Speakers are completely waterproof, being IPX7 certified and ideal for all your outdoors and indoors use.
They can withstand submersion in water for about 30 minutes, and are also dust proof, mud proof, snow proof, and can easily float. These speakers are perfect when awarded as a gift to your loved ones.
With a 20W stereo pairing and output, you can be assured of getting an advanced digital sound, with clarity and noise or wind reduction. What's more? You can even connect two AOMAIS Sport II speakers to get 40 W surround with bass.
The rugged construction enhances the durability of your speaker, with the rubber exterior protecting your unit from scratches and any impact that can cause damage.
There is also a built-in high capacity rechargeable battery with a hands free function, which allows you to receive phone calls. You can also charge your battery via the micro USB port on the speaker. You get about 5 hours of playback on maximum volume, and about 10 hours at 60% of the volume.
AOMAIS pairs perfectly with mobile phones, laptops, iPads and iPods through a simple wireless connectivity that allows for a one-touch pairing with all your devices.
You may be disappointed that it lacks a headphone output jack, power adapter, SD card slot or FM radio. Moreover, you cannot charge an external device using your speaker and neither can you control the volume from your phone if you have paired up with the speaker, which limits the playback options you might have.
PROS:
Waterproof, IPX7 certified
Shock proof and dust proof
Can be paired easily with other devices
Floats easily when submerged in water
CONS:
Lacks a power adapter
Does not have FM radio or an USB card slot
Has limited playback options
You can only control the music from the speaker even when paired with other devices
Related: You do not have to worry about protecting your AOMAIS speakers anymore. With these AOMAIS Bluetooth Speakers Sling Cover, allows you to carry your speakers with ease, hang on objects if desired and protects the exterior from scratches and scrapes. This cover also has a customized design that enables you to fully access all the speakers' controls.
JBL​ ​Flip​ ​4 Bluetooth ​Speaker 
Price: Approx. $87
Weight: 28.48 oz.
Dimensions: 3.6 x 3.64 x 8.5 in
Battery: 3000 mAh
Play time: 12 hours
Color: Blue, black, teal, red, gray, white
Specific features: Wireless Bluetooth streaming, built in 3000 mAh Li-ion battery, up to 12 hours of playtime, fully IPX7 certified, JBL connect+, speakerphone, integrated voice assistant, JBL bass radiator, lifestyle material
Best use: Beach, poolside, partying, hiking
Description: If you are looking for a portable and sleek Bluetooth speaker with vibrant colors, the JBL Flip 4 Bluetooth Speaker might be the perfect unit for you.
Powered by a 3000 mAh rechargeable Li-ion battery, the JBL will offer you up to 12 hours continuous playback time, of high sound quality with bass and clarity. It's also designed with a built in noise and echo cancelling speakerphone that allows you to receive calls in a clear environment.
This speaker is IPX7 waterproof certified, therefore, you do not have to worry about causing any damage, whether you're caught up in the rain or it's submerged in water.
The JBL Connect+ technology can seamlessly link over 100 JBL connect+ enabled speakers that truly revolutionize your listening experience. The controls are easy to use, and you can talk to Siri or use Google just from the touch of a button.
There are dual external passive radiators integrated into the speaker system, that not only enhance the durability and the bass, but also prove just how powerful this speaker it.The wireless Bluetooth streaming feature allows you to connect up to 2 smartphones or tablets to the speaker and you can take turns playing your music from the devices.
You might want to look out for the volume range, which is not well balanced, especially if you have connected your mobile phone to the speaker.
Additionally, this speaker does not come with a plug, an Aux cable to connect non Bluetooth devices or a USB port, meaning you cannot use it as a power bank to charge your phone. The JBL Flip 4 might be a little pricy, but the sound and functionality you will get is like no other.
PROS:
Fully IPX7 waterproof certified and splash resistant
Hand straps for maximum support
Audible cues when switched on and off
Vibrant colors
CONS:
Does not come with a plug or Aux cord
Lacks USB port
Bass levels not at the maximum
Hard to control Bluetooth volume range from other paired devices
Related: This LTGEM Case for JBL Flip Speaker is specifically designed to store your JBL Flip 4 and comfortably fit your USB cable and other accessories. The case goes for about $10, and is designed with shockproof material, that is also dustproof and waterproof. It's super convenient, and has a smooth but strong zipper that keeps all your contents inside the pouch.
​Leeron​ ​Marine ​Bluetooth ​ ​Speaker 
Price: Approx. $28
Weight: 12.2 oz.
Dimensions: 2.52 x 7.32 x 2.6 in
Battery: 1800 mAh
Play time: 16- 18 hours
Color: Black, green, blue, pink, yellow
Specific features: Multiple input modes, 100% IPX7 waterproof certified, built in rechargeable battery, smart LED indicators, rugged construction design, up to 16-18 hours playback time, hands free speaker function, built-in microphone and TF card,
Best use: Swimming, cycling, travelling, indoors, shower, beach, pool side
Description: The Leeron Marine Bluetooth Speaker is a high performance unit that strikes a balance between adventure and relaxation. With a crystal clear stereo sound, this speaker produces high quality sound with the perfect bass levels.
Furthermore, the hands free function allows you to receive calls through the built-in microphone. You get multiple benefits with the rugged construction, the sturdy design and superior material quality, all of which, make this speaker ideal for use in the outdoors even when partying hard.
It's very easy to connect the speaker to other Bluetooth devices. We recommend using the Aux cable if you want to preserve the battery power. The speaker controls are easily accessible, and allow you to switch between different functions or songs, control the volume and the calls.
There is a built-in rechargeable battery that gives the Leeron Marine a playback time of around 16-18 hours. The smart LED indicators will let you know when you are running low on battery, or when your speaker is fully charged.
For your outdoor use, the speaker is designed with a carabiner that makes it so easy to hang it anywhere. The only downside of this model is that its sporty design, is triangular at the bottom, which affects the speaker's balance and it may keep tipping over especially in the shower.
PROS:
Multiple input modes; Aux cable, Bluetooth, TF card reader
100% IPX7 waterproof certified
Good sound quality
Stylish and sporty design with vibrant colors
Highly durable; rugged construction
CONS:
Triangular design at the bottom affects its balance
Related: For easier transportation of your speaker, you can try out this Marchway Floating Waterproof Dry Bag that goes for about $13. It will protect your speaker and related accessories from physical damage through its sturdy fabric, designed to withstand rips, tears and punctures.
Cambridge ​SoundWorks​ ​OontZ ​Angle​ 
Price: Approx. $24
Weight: 8.96 oz.
Dimension: 2.76 x 5.24 x 2.52 in
Battery: 2200 mAh
Play time: 12 hours
Color: Black
Specific features: IPX5 waterproof certified, rainproof, sand proof, 2200 mAh rechargeable battery, up to 12 hours of playback time, 3.5 mm audio cable, built-in mic, hands-free speakerphone, passive bass radiator
Best use: Partying, driving, poolside, beach, shower, golfing
Description: The Cambridge Soundworks OontZ Angle has the ability to distinct the mids and highs via its two precision acoustic drivers, which deliver high quality and clear music right from the passive bass radiators. You will experience distortion free music and more bass, even at the maximum volume.
Also, the OontZ is fully IPX5 waterproof certified. The speaker is also dust proof, and sand proof.
It's also ultra-portable, being just under 10 ounces, and is designed with a 2200 mAh rechargeable battery, that gives you about 12 hours of playtime at 2/3 volume when fully charged.
It will only take you 10 seconds to pair up your speaker to your mobile phone, laptop or a tablet, but it can only play music via Bluetooth on windows 10. For other systems, including windows 7&8, TVs and non-Bluetooth devices, we recommend using the 3.5 mm audio cable included with your purchase.
If you need to receive calls, there is a built in mic that gives you a hands free speakerphone function. Unlike the AOMAIS Bluetooth speaker, this one cannot be paired together with a similar one to give you better sound, and higher volume.
If you have to, consider buying a dual channel Bluetooth adapter to stream to the two speakers simultaneously, although the signal is very weak which distorts the music.
You may also have problems discovering the on/off button, which is rather small and is placed in an obscure location. The rubberized caps may be good when it comes to offering exterior protection, but they attract all kinds of dirt fast.
Another downside to the Oontz Angle 3 is that it's designed to switch off after 15 minutes if not used, to preserve battery, which may be a little annoying.
PROS:
Stylish and sturdy design
Easy access and use of control functions
Gives great clarity of sound and bass
CONS:
The on/off button not easy to find
Automatically switches off after 15 minutes of inactivity
Rubber ends collect too much dust
Related: The OontZ Angle 3 Bluetooth Speaker Carry Case is designed with neoprene material, a reinforced zipper and aluminum carabiner to enable you carry your speaker with ease. It has a stylish design and you can attach it easily to any clippable item during transportation.
Vtin ​Bluetooth ​​Speaker​ 
Price: Approx. $37
Weight: 22.4 oz.
Dimension: 2.8 x 7.09 x 2.76 in
Battery: 4400 mAh
Play time: 6-8 hours
Color: Black, pure black
Specific features: IPX4 waterproof certified, crashproof, dual 10 W drivers, built in 4400 mAh lithium battery, up to 8 hours playback time at maximum volume, hands free function with noise cancelling microphone, portable design with a 'D' ring
Best use: Golfing, poolside, camping, partying, picnic
Description: The Vtin Bluetooth Speaker is a high power outdoor unit that offers you impressively clear sound.
Equipped with a built in 4400 mAh rechargeable battery, the Vtin can run for about 8 hours at maximum volume, and a whole 25 hours at 70% volume. This is what makes it ideal for those long trips where you will not be able to charge it for a while.
Its fully IPX4 certified, meaning you can use your speaker at the poolside or around the beach without worrying about the water splashes. However, it's easily damaged when submerged in water. The crash proof feature ensures that your speaker is not easily damaged even after a few bangs.
You can easily connect other Bluetooth devices including your smart phones, laptops and iPads, as long as it's around a 33 foot range. The Aux cable included with your purchase allows you to connect your speaker with non-Bluetooth devices.
Also, the robust construction enhances the longevity of the speaker, ensuring that it's not easily damaged. You will love the hand sized design that eases portability, and the 'D' ring, which you can use to attach your speaker to any clippable item while outdoors.
The Vtin is specifically designed for loud music, hence you will probably discover that it may not give you clear sound at the lowest setting. When set at maximum volume, the music may also sound a bit distorted. If you like listening to music at the lowest volume, this may not be the speaker for you, since even at minimum setting, it's still loud.
PROS:
Gives very clear and loud sound
Good battery life and playback time
Easily portable and can be attached to items
Splash proof and crash proof
Small size; comfortably fits in your hand
CONS:
Sound may distort at maximum volume
Poor low end tones
Lowest volume setting when paired with an iPhone still gives loud music
Related: Vtin comes with its own carrying case, which goes for around $11, and has a customized fit and design for your speaker. The LTGEM EVA Hard Case has a steady hand strap for portability and a mesh pocket design that you can use to store other extra accessories.
Wrap Up
We have come to the end of our review and we hope that you enjoyed going through this post. Listed above are the key features you may want to consider before making your waterproof Bluetooth speaker purchase, and some of the best ones in the market today with their advantages and flaws.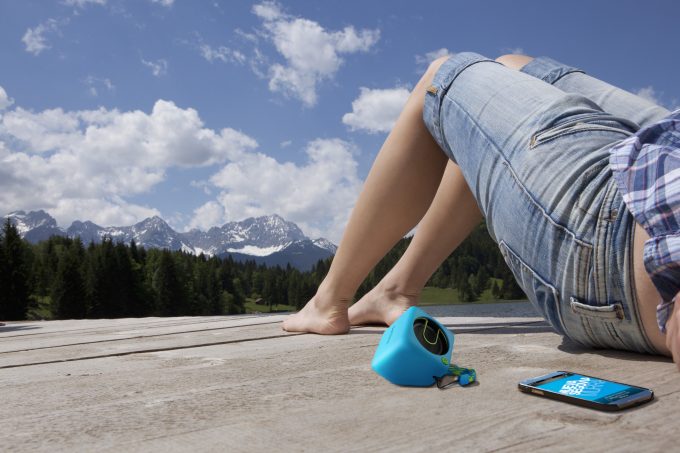 Having a waterproof Bluetooth speaker will come in handy during those days you need to listen to music without necessarily plugging your device to any charging outlet.
The speakers are perfect for parties, picnics, a day at the beach or for all your camping expeditions. You will definitely be impressed with the sound clarity and bass levels, coupled with the stylish designs and durability.
Do you feel like we missed any relevant product or information from our post? Please feel free to leave a comment, thought or suggestion in the section below and let us know.