Fleece jackets are a nice addition to your wardrobe for when the cold weather comes. And why can't it be practical and stylish? This way it can be a part of any daily style depending on the weather conditions.  When it comes to stylish, there is no further advice here; every woman has her own taste. But when it comes to the practical side, there are many things to know in order to choose the best women's fleece jacket possible.
To save you the hours of research, we have reviewed some of the best fleece jacket models available on the market. Here, you are going to learn about the important factors in a fleece jacket, and check out a few reviews to see what is out there right now. Let's begin!
Our Top Picks
Features to Consider Before Buying
Here are the important features you should consider when you are in the market for a new fleece jacket to keep you warm.
Material
Obviously material is the most important part of choosing a fleece jacket. Nowadays, many brands are producing fleece jacket with the same material but different manufacturing technologies. This makes them suitable for different temperatures and activities.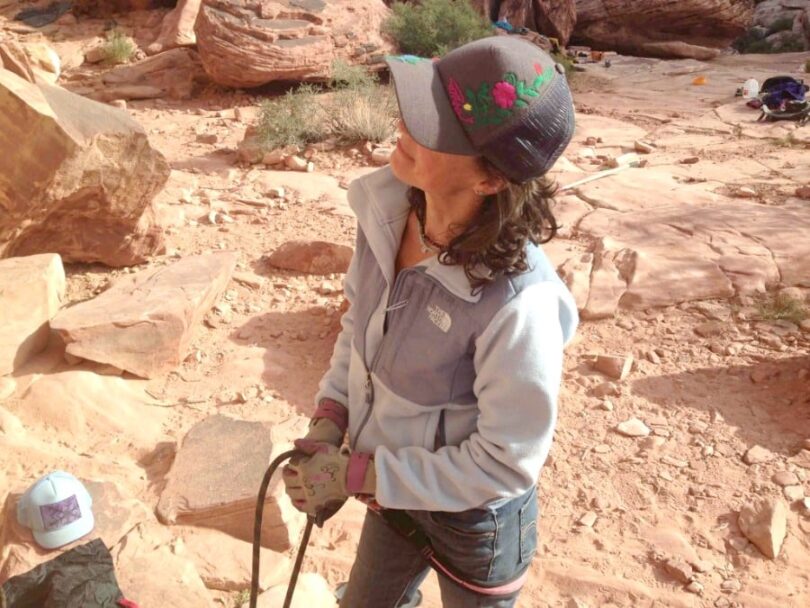 Fleece is a synthetic material that is extremely soft and fluffy; it feels like wearing a fur, only without the animal part. Polartec is the company many brands are taking their materials from. The difference between them is the design and the additions (zippers, color, pockets, thumb holes)… There are several kinds of fleece such as shiny, fur, bear-like.
Fleece material is very popular because its structure is keeping you warm by trapping the air in small holes in the fabric. It is a kind of a material that is derived from petroleum, so it does not absorb water, which is why all fleece materials have the same feature, they dry very quickly.
Breathibility
The lighter the fleece material, the more breathable it is. However, there are some manufacturing processes that succeeded in making a heavy fleece jacket with breathable properties. This is done by adding other kinds of materials on the critical areas where sweating occurs. This way, the jacket is allowing the moisture to escape from the most critical areas, but it still keeps you warm and cozy.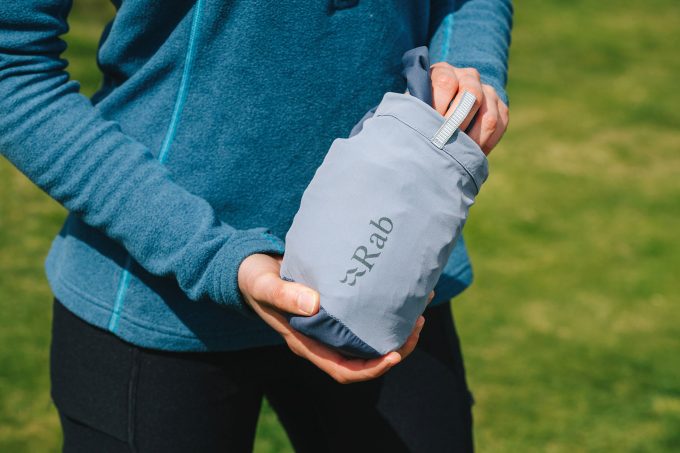 Warmth
Fleece jacket looks warm and feels warm. As mentioned before, it has extremely warming properties, so make sure you know exactly on which kind of weather you would be using it. If you are planning to go on a small hike trip, then it might be a better idea to get a thinner fleece jacket and put more layers on clothes on you. If you wear only one very warm fleece jacket you won't be able to balance the temperature properly.
Weight
The weight suggests the warmth of the fleece jacket. If it is lighter, it would be less warm, and the opposite applies too. Also, fluffy fleece jackets trap more heat than other ones, so they consequently offer more warmth. On the other hand, if you are planning the jacket for some activity, you might want to choose a lighter one because those are also more breathable.
Wind Resistance
The problem with wind resistance and fleece jacket is that it will either be breathable or wind resistant, it cannot be both. Although there are some technologies that are still trying to prevent this paradox, they hardly succeed.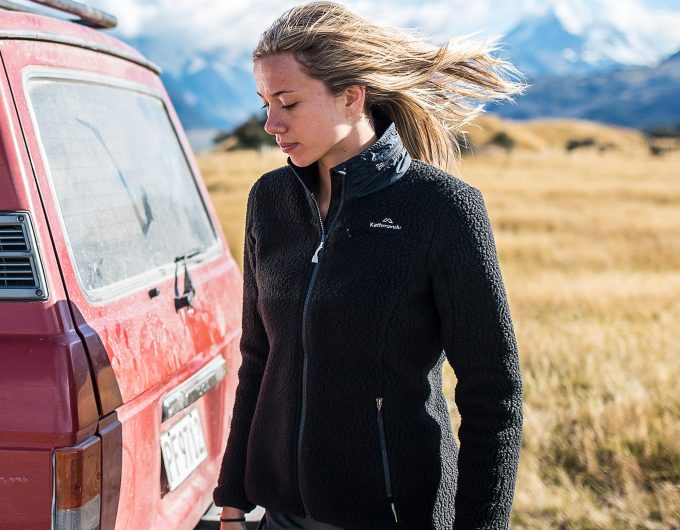 The hard-shell method of manufacturing is adding another layer of a different material on the outside of the fleece, thus protecting it from the wind and light rain. This acts as a membrane that is trying to keep both features – breathability and wind resistance.
Collars and Cuffs
This is not only from a designer's point of view; it is also practical for a fleece jacket to have a collar and elastic cuffs for instance. When you are feeling cold, a collar can warm your neck. Or when you are feeling hot or maybe anxious, you would want to ride up the cuffs and not having them come back right again.
Zippers and Pockets
The arm zippered pocket is a really practical thing. It allows you to keep small and important stuff in there while you are running for instance, or only keeping your hands warm. Whereas, the side pockets besides keeping your hands warm, they are also a great place for storage. Zippers and pockets also have the ability to make a jacket from classic and simple to very stylish and modern.
Top Product Reviews
Now we are to the part where you can review several types of fleece jackets and maybe choose one from this set! Happy shopping!
Patagonia R3 Fleece Hoody
Weight: 1 lb
Dimensions: 18 x 13 x 4 in
Specific features: Extremely warm, high-loft directional knit Polartec Thermal Pro, two high hand warmer pockets have Slim Zip installs, clean finished zipper garages
Best use: Hiking, camping, skiing
Description: This is an extremely comfortable and warm hoody, and it is definitely intended for extremely cold weather conditions. Patagonia R3 Fleece Hoody is engineered for maximum thermal value and it is super light. In addition to this, it dries very fast and it wicks moisture.
The Polartec design implemented underarms and in the sides, adds up to its comfortableness. You can zip it up fully and feel warm as you are wearing a scarf.
The main downside to it is that the hood is reversible and when you wear it on the other side; there are no pockets to keep your hands warm. Although its reversible features are a bit shaky, it still is so soft that you are going to want to use it as a pillow.
Made of polyester fleece, this comfortable hoody is warm and has high loft. There is a reduced underarm lift and it has a center front zipper with strong construction.
PROS:
Comfortable
Strong
Stylish
CONS
:
Pull strings tighten the whole jacket
Materials did not feel strong to some
Related: If you are considering a vest, the Patagonia Down Sweater Vest is made with DWR and recycle polyester, plus it has hand warmer pockets!
Patagonia  Better Sweater Jacket
Weight: 1 lb
Dimensions: 17 x 13 x 3 in
Specific features: Made of warm, midweight polyester fleece, Raglan sleeves, princess seams in back, and forward seams on front for contoured shape and fit
Best use: Camping, hiking
Description: This Patagonia Better Sweater Jacket has a zipper closure in order to reduce the bulk look and improve suppleness. It is made from polyester, which is the warmest synthetic material. It is interesting to mention that this sweater's dying process is specific.
While dying, they are reducing water and energy consumption compared to the conventional dyeing methods. It also has a pocket on the arm, which is very useful if you use it for running, it is always good to have a pocket for some cash.
Speaking of pockets it also has side pockets that will keep your hands warm if you have a low circulation and your hands are always cold. The main downside is that for some people it might be too long, so if you are thinking between two sizes, pick the smaller one. Other than that, it is an extremely cozy sweater made for cold weather conditions.
PROS:
Comfort and warmth
Made of strong materials
Side pockets act as hand warmers
Related: If it gets colder outside, consider the Patagonia K's Beanie Cap which is about $20 and is very cute!
Kuhl Flight Jacket 
Approx. price: $170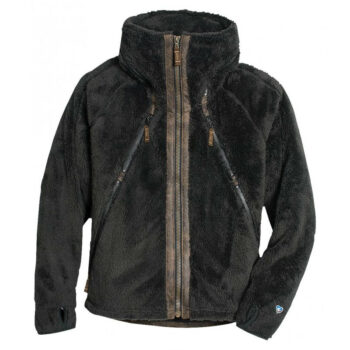 Weight: Unlisted
Dimensions: X-Small
Specific features: Polyester fleece, fleece
Best use: Camping, hiking
Description: The Kuhl Flight Jacket has a furry look on the outside and it sure feels like a fur. Nevertheless, it is made from 100% polyester material with vintage micro suede accents. Its design is truly unique as it has zippers on the side of the neck for detaching the hood.
It is made from Italian fleece, and you will notice the difference when you touch it, it is extremely soft and with deep fibers. It is definitely recommended for all season long, it is so versatile. The main downside to this jacket are the colors, they are not just like on the website, they are actually softer colors, mot so dark.
If you are planning on using this jacket for a sweater, make sure to get a bigger size since it is a bit tight. Otherwise, it feels as it looks luxurious, cozy and warm. Users like the comfort and warmth that comes with this jacket, and say it is worth every penny!
PROS:
Polyester fleece
Mid weight for warmth
Related: If you are considering a vest, check out the Kuhl Flight Vest Stone which is true to size and stylish!
Arcteryx Covert Cardigan 
Approx. price: $180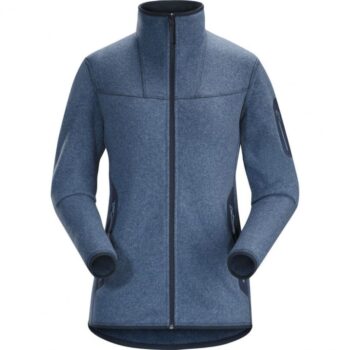 Weight: 1.3 lb
Dimensions: 13 x 11 x 3 in
Specific features: Breathable, quick-drying fabric boosts thermal performance, two laminated hand pockets and one sleeve pocket with glued-in zippers, durable, color-contrasted binding on hem, cuffs, and hood
Best use: Hiking, running, camping
Description: As soon as you get it, you will feel that the fabric looks and feels expensive. Arcteryx Covert Cardigan looks as though it is a wool material, although it isn't. As many other women's jackets this one too is a bit long, so if you are a short person, be aware, so that you don't get disappointed, although it is not too long.
It is warm enough to wear it as a jacket in cold weather, but it is not waterproof, so it goes perfectly with a rain jacket. You won't need anything else. The fabric is breathable, so it is perfect for sports activities in cold weather and its thermal features are incomparable. It also has two hand pockets which I value very much and one sleeve pocket with glued-in zippers.
It has a great selection of unique colors which combined with its simple design are just perfect for minimalist style women.
PROS:
Many colors to choose from
Breaths well
Quick drying
CONS
:
Some say it is too expensive
Related: Consider getting the Arcteryx Gamma LT Pants which are a comfortable pant that has a laminated hem and have a cord adjuster.
The North Face Denali 2 Jacket 
Weight: 2 lb
Dimensions: Unlisted
Specific features: Exposed, secure, reverse-coil-zip hand pockets and covered chest pocket, abrasion-reinforced shoulders, chest, and forearms
Best use: Camping, outdoor activities
Description: To start with its most amusing feature, The North Face Denali 2 Jacket is made from recycled fleece and yet its quality is unreachable. At least 50% of its weight comes from recycled materials which are refreshing. It is a stretchable material that allows a greater range of mobility while providing warmth and comfort.
It is very durable which you can notice once you get it; it has abrasion reinforced shoulders, chest, and forearms. It has a double set of pockets; hand pockets and chest pocket. This jacket has stretchy cuffs for improved mobility and comfort.
And the best thing is that the North Face products have a lifetime guarantee against defects in materials. The possibility of this happening is very low since they are made with Polartec material which is specifically designed to enhance performance in a variety of environs.
PROS:
Recycled fleece
Relaxed fit
Zip pockets
CONS
:
Some say not very warm
Overpriced
Related: You may want to get a hat on those extra cold days. The North Face Wicked Beanie is about $25 and is very warm.
The North Face Tech Osito Jacket 
Weight: 1.2 lb
Dimensions: Unlisted
Specific features: Durable, classic look
Best use: Hiking, walking, camping
Description: This classic design The North Face Tech Osito Jacket will keep you warm in cold weather. It has two hand zip pockets that will keep your hands warm and you might say it is a multi-purpose jacket. You can wear it when it is really cold outside or in the spring and autumn too.
It is soft and comfortable and it feels like a fur around you. Some fleece jackets have an issue with the torso length and sleeve length, this one is quite proportional and you wouldn't have that problem is you are average size.
Even though it is lightweight, it still proves itself in cold weather. It is perfect for outdoor sports activities and it is suitable to use only the jacket in mildly cold weather and layering under a jacket when in extremely cold weather. If you are planning on ordering one, keep in mind that the colors are a bit darker that pictured and the sizes bit small.
PROS:
Many colors to choose from
Active fit
CONS
:
Some say to order a size smaller
Loose in the waist
Related: Think about getting some pants that will be comfortable like The North Face Motivation Light Capri Pant which are upwards of $60.
Patagonia R2 Jacket 
Approx. price: $167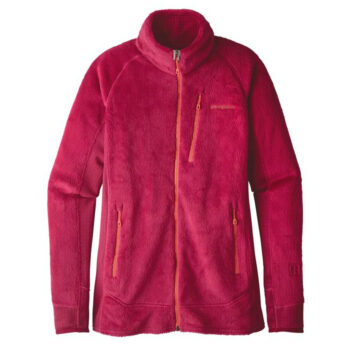 Weight: 0.7 lb
Dimensions: Unlisted
Specific features: Thermal Pro fabric, R1 Polartec Power Grid, Sonic/Stitch zippers, technical fit
Best use: Backpacking, camping, hiking
Description: This Patagonia jacket is made with Thermal Pro fabric that is breathable, compressible and dries quickly. This technology makes it exceptionally warm and able to wick moisture completely.
Its Polartec Grid is included on side panels, sleeves and cuffs in order to get better quality, more breathable parts, freedom of movement and increased under outwear comfort. The Sonic/ Stitch zipper means that they reduce the bulky look and improve suppleness.
Because of Patagonia R2 Jacket's thermal feature, you would want to push up the sleeves on occasion; this is predicted and allowed with its spiral seam construction at cuff. There are two pockets for hands and one chest pocket.
There are also two interior drop-in pockets. Its main downside is that it doesn't have thumb holes, but you are probably not going to need them since it doesn't ride up. If you plan on ordering one for you, go a size up, you will not make a mistake, especially if you are not a small person.
CONS
:
One color
May want to order a size larger
Related: You might want some gloves if the weather gets too cold. The Smartwool Liner Gloves are comfortable and stylish and are under $30.
Rei Alpenfire Fleece Jacket 
Approx. price: $90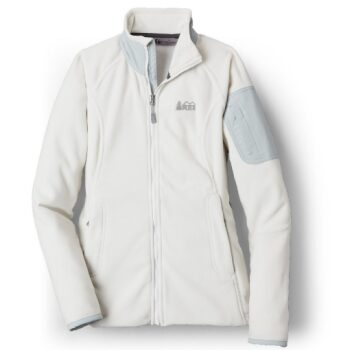 Weight: Unlisted
Dimensions: Unlisted
Specific features: Breathable Polartec material, seam-free shoulders, elastic cuffs, arm zippered pocket and two side pockets
Best use: Camping, backpacking
Description: This REI Alpine Fleece Jacket is made from Polartec material which is breathable, warm and extremely comfortable on your skin. It is designed for hiking so it has seam-free shoulders in order to feel more comfortable when wearing a backpack.
The elastic cuffs are allowing you to lose some heat when you are too warm and the pockets are just in the right places. There are not too many or too little. It is lightweight but it does ride up, so its main downside would be not having a thumb hole. Its fabric is extremely soft and its color is just as shown on the site.
Users like this jacket because of the warm fabric and the fact that it will breathe well, and not hold in any moisture. They like the pockets, style, zippers and everything that makes this fleece jacket unique against other jackets. Overall, this fleece is definitely well received.
CONS
:
Some people can feel too warm in it
Related: If you are going to hike, consider the Palisade Gear Hiking Poles which are made of carbon fiber and are light in weight!
Concluding Thoughts
Hopefully, this guide thought you what to look for when you are in search for the best women's fleece jacket. These suggestions are one of the most suitable price-quality ratio products on the market. With a bit of luck, one of these suggestions will also make a nice fit for your cold weather clothes collection.
Let us know in the comments bellow how you like your new fleece jacket? Is there something more you are looking for in a fleece jacket?