From road trips to hikes, and everything in between, a durable backpack is a basic necessity. Especially if your adventure includes you being outdoors for an extended period of time, such as going on a backpacking trip.
But how do you find the best backpacking backpacks and what features should you look for? There are a number of options out there and your best plan of action when looking for the right fit is to assess your needs first. Ask yourself questions such as where will you be backpacking?
How many supplies will you need to take with you? How long is your trip? Shopping for a backpack with the details of your trip in mind will help you determine which features to look for. You should also have an idea of what you want to pack.
Our Top Picks
| Product Name | Weight (ounces) | Capacity (Liters) | Pockets | Price |
| --- | --- | --- | --- | --- |
| Kelty Redwing | 59.2 | 50 | 1 interior slip pocket and 7 interior zip pockets | Check price on Amazon |
| High Sierra Appalachian | 92.8 | 75 | Roomy dual zippered side pockets | Check price on Amazon |
| Osprey Kestrel | 58.9 | 48 | Extensive pockets, two zippered hip belt pockets, front and side stretch mesh pockets, under-lid and top-lid zippered pockets | Check price on Amazon |
| Gregory Baltoro | 81.6 | 75 (Medium) | Hip belt, pocket & Twin side-mounted zippered gear pockets | Check price on Amazon |
| Granite Gear VC | 35.2 | 60 | Large stretch side and front pockets | Check price on Amazon |
| Deuter Futura Pro | 62.4 | 42 | Bellow pocket, two hip belt zippered pockets, SOS label lid pocket, stretch outer pocket, double waist belt pockets | Check price on Amazon |
| Gregory Deva | 88 (Medium) | 71 (Medium) | Dual waist belt pockets, 2 side pockets, large front pocket | Check price on Amazon |
| Mountainsmith Apex | 96 | 100 | Right side angled water bottle pocket | Check price on Amazon |
Things to Consider Before Buying
A backpacking backpack is the most important gear for any out-of-doors adventure. It provides you with a means of carrying all the necessary gear and weaponry you will need. However, you need to choose wisely to buy the most useful model. Here are the major considerations you have to make:
Weight and Capacity
The pack you select should not be too heavy to the extent that your back cannot support the weight. Therefore, settle for a pack that has a reasonable weight and capacity for your body size.
Frame Choice
You have to choose between an external and internal frame. External frames are mostly useful for hunting.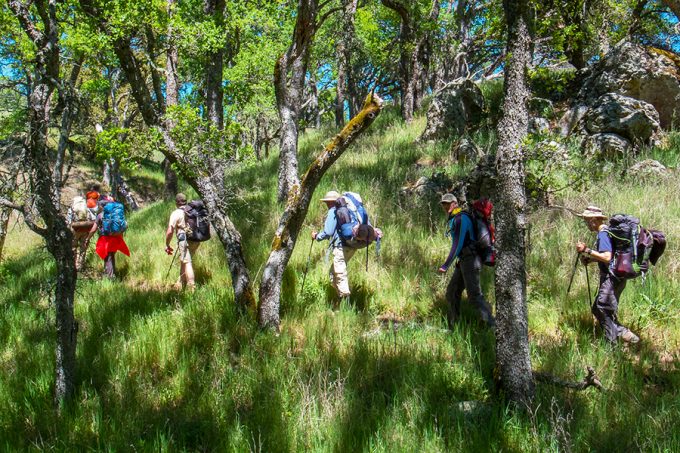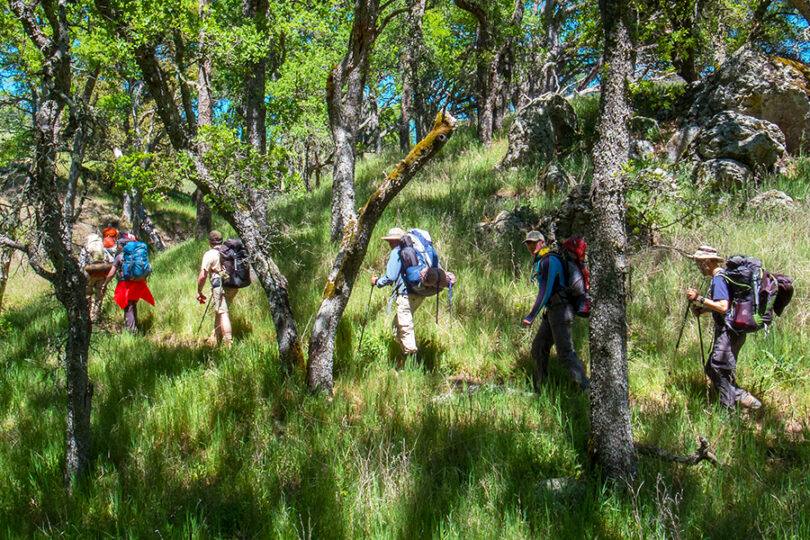 Settle for an internal frame if you are going hiking or camping. Make sure the frame is made of lightweight material such as aluminum.
Material & Construction
You need a pack made of quality materials for it to last long enough for you to see the worth of your investment. Backpacking backpacks have dissimilar constructions. There are some that have more compartments and pockets than others.
Reliable Strapping System
A backpack can have numerous great features, but it will do you no good if it has a poor strapping system. This is so since comfort and stability depends on the straps. Check for quality hip belts and shoulder straps.
Best Products on Today's Market
As you're researching which backpack is best for you, make sure you read reviews of the ones you're interested in. Look for what people say about durability, weight, size, materials and special specifications. Here's some information on a few great choices:
Kelty Redwing Backpack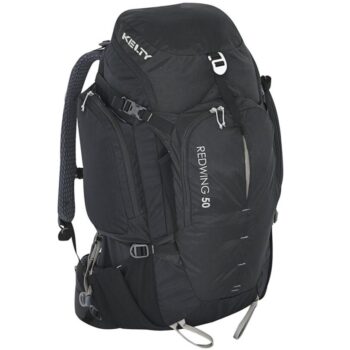 Price: approx. $100
Weight: 3 lb
Dimensions: 26 x 16 x 12 in, fits torsos that are 15.5 – 21 in.
Specific features: Polyester fabric, imported, top loading backpack with convertible top lid, side pockets with zip closure, a front pouch, zippered front pockets, Perfect Fit suspension, HEX Mesh back panel, and the HDPE frame sheet.
Best use: All day hikes.
Description: The Kelty Redwing Backpack is by Kelty brand, which is a very popular choice. These backpacks are great for all day hikes and even easy-going overnight adventures. The multipurpose Redwing 50 Hiking Backpack is the newest edition of the Redwing line of Kelty backpacks.
It's a great option for international travel as well. Some people even use it as a carry-on bag, in addition to outdoor adventures. It includes features such as the perfect fit suspension, providing customized comfort and accurate body adjustments, with just 3 easy steps for a great fit.
It also Features a load lifter strap and has an interior pocket and seven interior zippered pockets. The convertible top lid can also be used as a sling pack. You don't have to do an extensive search for a resourceful backpack; Kelty Redwing offers you more than enough capacity for your backpacking items.
PROS:
Well-organized backpack
Lightweight for light packing
Made of durable materials
It is an affordable pack with numerous features
Hybrid loading and top loading
It has ergonomic straps that are easy to adjust
Pass-through pockets that are easy to use
CONS:
No lockable zippers
Few travel features
The aluminum stay is difficult to remove
Related: Kelty also sells the Kelty Rain Cover. This cover will safeguard your pack and its content from light rains and humid conditions. The cover is lightweight, waterproof, and easy to stow. It is the ideal choice because it is compatible with large fits packs and medium fits packs.
High Sierra Appalachian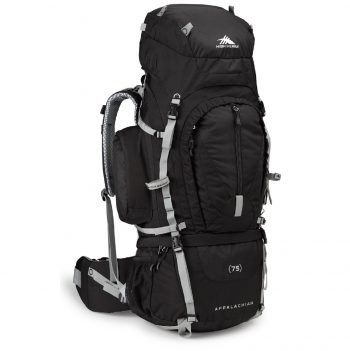 Price: approx. $90
Weight: 5.8 lb
Dimensions: 10.3 x 34 x 14.3 in.
Specific features: One size, expedition-sized backpack, tuck away rain cover, top load main compartment, internal hydration reservoir, drop bottom sleeping bag compartment, soft lashing hardware, ERGO-FIT shoulder harness, side and back compression straps, adjustable sternum strap, molded foam back panel, and adjustable contoured aluminum frame bars.
Best use: Extended trips and skiing trips.
Description: The High Sierra Appalachian expedition sized backpack has room to accommodate everything you need. No matter what type of adventure you have ahead of you, this backpack's versatility guarantees you'll be prepared for it. The pack is made of quality materials and design, making it durable, ergonomic and user-friendly.
With a lot of positive feedback, some of the things people love best about this backpack are its durability, the roomy sleeping bag compartment, and the two separate compartments on the very top of the bag. Some people have even used this backpack for road trips and international; travel.
A cost efficient option, this backpack is perfect for an array of extended trips, including expeditions. Generally, the pack is well-built, resourceful and versatile when you consider the price. It is the ideal backpack to buy if you have a limited budget and you are in need of a high performing pack.
PROS:
It is made of quality and durable materials
The design is ergonomic and user-friendly
It is fitted with molded foam back panel that ensures your back stays dry and cool
The single contoured frame bar made of aluminum is easy to adjust
Multiple colors, including black, brick, mercury, and true navy
CONS:
If not packed correctly, the room separator may rupture
Related: The High Sierra Appalachian Pack is frequently bought together with LE Headlamp. The lamp is a good addition to your backpacking gear, especially when you are engaged in an overnight outdoor expedition.
Osprey Kestrel Backpack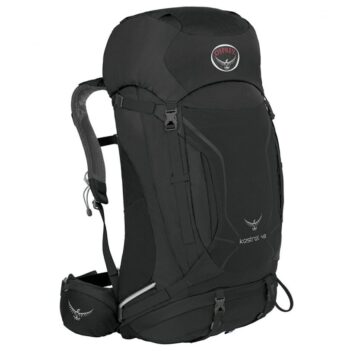 Price: $130 – $180
Weight: 4 lb
Dimensions: 15 x 28 x 16 in.
Specific features: 210D nylon ripstop (double diamond), an integrated & removable rain cover, trekking pole attachment, zippered sleeping bag compartment, and an external reservoir sleeve.
Best use: 3 day trip.
Description: The Osprey Kestrel Backpack is a pack that you could say does it all. It features a separate sleeping bag compartment that zips shut and includes exterior sleeping straps, making it a great, practical overnight backpack.
The straightjacket compression straps on the sides allow you to cinch everything down for a great day out hiking in the high country. The frame of the backpack is light and allows you to transfer your load to the hip belt.
Between the transfer of weight and the air scape panel pack, you're ensured to have all day carrying comfort. When it's time to pack or unpack, the backpack's main pack compartment features zippered side or top load access. Typically, you find a lot of backpacks feature just a top loading area. This versatility allows you to access several ways to get to your things, without struggling.
There are additional storage features as well. There's a vertical side pocket, under lid zippered pocket and top lid zippered pocket. There are also front and side stretch pockets along with two hip belt pockets that zip.
In addition to the extensive number of pockets, there are double daisy chains located on the front and the top lid have web attachment points. This allows you to anchor some of your gear to the exterior. There are even more useful features than that.
The exterior hydration sleeve, ice tool hoops and Osprey's innovative trekking pole storage area to ensure you'll have everything you need. On top of that, you can protect your entire backpack from rough weather by using the included rain cover.
PROS:
It is made of high quality 210D nylon ripstop double diamond material
Fitted with side zipped access that allows easy entry into the main compartment
You can easily get hold of your sleeping through the backpack's bottom
Comes with a removable rain cover that keeps your gear dry
Loading and unloading of the hydration reservoir is made easy by the external reservoir sleeve
CONS:
The floating fabric situated on the shoulder strap tends to migrate
Related: Along with the backpack you can buy the Osprey Hydraulics Reservoir and Osprey Ultralight Roll Organizer. The reservoir is one of the best models for external sleeves, especially in loaded packs. The organizer has multiple pockets that provided you with enough room for specific gear.
Gregory Baltoro Backpack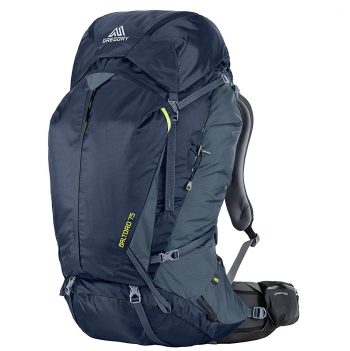 Price: $240 – $560
Weight: 5.1 lb
Dimensions: 22 x 17 x 12 in.
Specific features: Hydration compatible; compression straps & trekking pole loops; hideaway, hip belt, side, front, and lid water bottle pockets; removable lumbar pack lid; auto-flit hip belt & auto-cant harness; 3D pre-curved harness; response A3 suspension; and hip belt w/ LifeSpan EVA foam.
Best use: Extended trips (3+ days).
Description: The Gregory Baltoro Backpack's previous version won multiple awards, so you know this line of packs has some great features. The Baltoro 75 now has even better functionality within its specifications such as more internal space, and the suspension was updated.
The A3 suspension adapts to your surrounding terrain and your body automatically. That makes this roomy, multi-purpose pack feel light, even when it's loaded to full capacity. The pack features lumbar tune, for supporting your lower back and a color coordinated rain cover for keeping your gear dry.
The careful placement of features and organization will help you keep your hikes or camping trips simple. Great for extended trips, as well as short ones, this backpack is a top choice. It also features SideKick that can be used as a daypack or hydration sleeve, and a WeatherShield to protect your supplies that can be easily damaged.
PROS:
Made of quality and durable material
Ease of access makes packing and unpacking easy
Zippered compartment are easy to access
Sufficient lower back support for comfort and stability
Very comfortable shoulder straps
The weight of the pack is distributed evenly on the hip area
CONS:
No warranty info
Heavier than expected
Related: Even though the pack comes with an integrated rain cover, you can still buy the Gregory Accessories Raincover as a backup in case the pre-installed one is damaged. This particular rain cover is recommended because it is compatible, inexpensive and spacious to fit all the required gear.
Granite Gear VC Backpack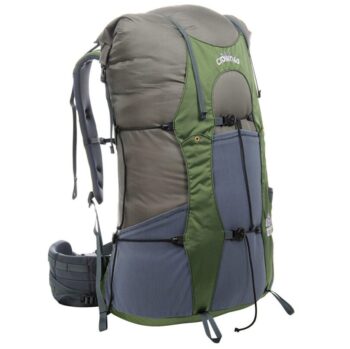 Price: $20 – $40
Weight: 2.2 lb
Dimensions: 22 x 17 x 12 in.
Specific features: COORDUURA fabrics, vapor current suspension, padding rolling, stay, extended overflow crossover straps, large stretch side & front pockets, internal hydration sleeve && hydration ports, tool loops, Lineloc compression, and interchangeable belts.
Best use: Multiple day excursions, long hikes.
Description: The Granite Gear VC Backpack is the follow-up to the popular Granite Gear Vapor Trail, but with a lot of great upgrades. The Crown 60 has the vapor current suspension and at 2lbs it weighs even less than its predecessor, the Vapor Trail. The Crown 60 is a top loading backpack.
It features a roll-top closure for security as well as providing quick access. The Lineloc lid (optional) upgrades the simple lidless design. Vapor Current is Granite Gear's latest suspension technology. It has ventilation channels built into the comfortable back pad.
These channels provide evaporative cooling by allowing air to circulate from the bottom of the pack to the top, by means of convection. The purpose of this is to facilitate circulation, without causing the backpack's center of gravity to shift from your back. The Vapor Current's full length frame extends up to the load lifters and supports up to 35 lb. loads.
Additionally, the backpack can be used for very light loads, when the frame is removed. The shoulder straps and belt straps have dual density lining, with slender, updated webbing straps. The shoulder strap also features an elastic mesh pocket that's built in.
Additionally, the belt can accommodate Granite Gear's hip belt pockets (optional). The Vapor Current backpacks are non-adjustable (which might be a con to some) torso backpacks.
PROS:
The high quality Cordura and ripstop fabrics make the pack durable and easy to maintain
The pack's swappable hip belt allows you to adjust the pack to the correct size
You can attach additional gear to the top and outside of the backpack because of ample side compression
Multiple pockets provide enough storage space
CONS:
The torso length of the backpack is too short
Related: Granite also sells Granite Gear One Size Lineloc Lid and Granite Gear Park Harness Pockets. These two accessories will provide you with more storage space and convenience. You can actually stash your phone and other frequently used gear in the shoulder strap pocket.
Deuter Futura Pro Backpack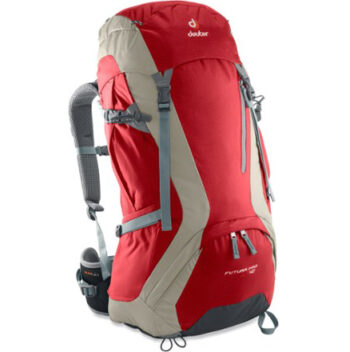 Price: approx. $130
Weight: 3.13 lb
Dimensions: 28 x 13 x 11 in.
Specific features: 600 den Polyester thread, fabric and 420D & 210D nylon for hard wearing parts; comfort combination carry system; side compression straps for stability; ultra-flat shoulder strap; load adjustment strap; and lightweight and flexible frame.
Best use: Shorter trips, 1 or 2 days.
Description: The Deuter Futura Pro Backpack has an Aircomfort Pro System made up of three main elements. This pack is a spacious, versatile, resourceful, and reliable companion for day trips as well as extended multi-day hikes. There's the Aircomfort technology ventilation on top, excellent load transferring capability and the pivoting hip belt.
This backpack features a compressed, structurally formed VariFlex belt for the hips, with an extensive air mesh cover. You can easily tighten the hip belt with the pull closure and it includes side compression hip belt straps.
Additional features include the structurally cut widespread shoulder straps for load adjustment, the bellows pockets on the sides, top lid pocket and zippered pocket on the front. It also has an inner pocket for valuables, stretch pockets on the exterior, and a pocket for wet laundry. With so many useful features, this backpack is bound to make travelling on your adventure easy.
PROS:
The flexible, durable and lightweight steel frame is a perfect fit that offers great maneuverability and carry comfort.
You can adjust the pack to a specific position by using the load adjustment straps, and stabilize it with the side compression straps.
The ergonomically back design is floating and offers superb ventilation.
CONS:
The pack volume is not sufficient for someone who is backpacking large
Related: The pack is frequently bought together with the Deuter Streamer Hydration Reservoir. This hydration kit is recommended because it is leakproof, has a taste-free tube and taste-free bladder. The kit also allows you to drink repeatedly during your hike, thus keeping you hydrated.
Gregory Deva Backpack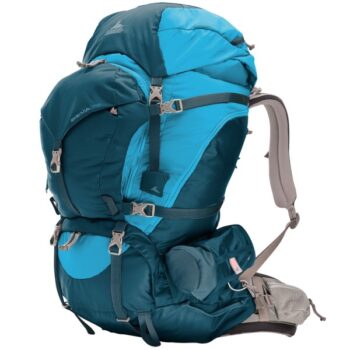 Price: $240 – $350
Weight: 3.6 lb
Dimensions: 22 x 15 x 7 in.
Specific features: Nylon fabric; response AFS suspension system; multiple sizes (large (74L), medium (71L), and small (69L)); dual waist belt pockets, 2 side pockets, and large front pocket; and feminine colors.
Best use: Multi-day camping trips.
Description: The durable and quality Gregory Deva Backpack is great for the high performance hikers out there. Because of features such as its 70 liter capacity and dynamic suspension (Response A3 for Women), WeatherShield hip belt pocket and U-zip main compartment access, this backpack has great functionality.
It's highly regarded for its great back support, making it easier and more comfortable to carry heavy loads. It also includes shoulder harness and hip belt for comfortable fit. From extended winter trips to day adventures and more, this high volume backpack, specifically for women, out performs a lot of its competitors.
It has multiple pockets, including dual waist belt pockets, 2 side pockets, and large front pocket for stowing additional gear. In addition, the pack's design is highly ergonomic as well as user-friendly because it is easy to use and maintain. The feminine color and design are perfect for women going camping or hiking.
PROS:
The design, response AFS suspension system and feminine color make it the ideal pack for women.
Available in large (74L), medium (71L), and small (69L). So you can conveniently choose the right capacity for your gear.
It is available in different colors, including bodega blue, Seneca rock and sepia gray.
The pack will fit your hip angle by design because of the rotating waist-belt mechanism.
CONS:
The waist strap buckle may crumble
Related: To keep yourself hydrated during your outdoor adventures, we recommend checking out the Gregory Hydration Bladder.
Mountainsmith Apex Backpack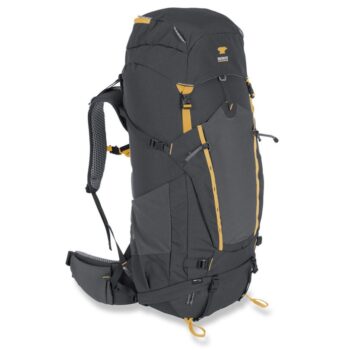 Price: approx. $200
Weight: 6 lb
Dimensions: 11.75 x 9 x 31 in.
Specific features: Quality materials; top compression gear strap; horizontal stabilizer bar and PE frame sheet with X configuration; front panel stretch mesh pocket; forward pull waist belt; Anvil Airway ridge EVA back panel padding; TuningFork waistbelt framesheet; and U-shaped zip access to the main compartment.
Best use: Extended trips.
Description: The Apex Backpack is the Mountainsmith largest backpack. It's great for any adventure, including full-on expeditions, to day trips, or family backpacking trips. To ensure you can carry loads as heavy as 70 pounds if need be, there's an aluminum stay with a horizontal bar.
The EVA padding by Anvil Airway, gives you cushion, in addition to nice ventilated airflow. The Tuning Fork waist belt provides a secure and comfortable hold. Additionally, it is adjustable so you can be sure to have a proper fit, without risking pain or injuries.
The backpack is top loading and even has an extra front panel, providing additional access to get to your gear. There's also a bottom compartment for sleeping bags. The Apex 100 also features an inner sleeve and pockets on the side for water bottles. It even comes with pockets on the waist belt that can be used to hold your phone.
PROS:
Made of durable 305D multi-rip HP Cordura and other quality materials for extended durability.
The pack's capacity is enough for long-distance backpacking, including long trails, thru-hikes, and extended journeys.
Filled with intuitive features, making the pack convenient and a smart solution for backpacking large.
The pack comes with a lifetime warranty, meaning that its durability is unrivaled.
CONS:
It is fitted with limited compartments.
Related: Mountainsmith also sells the Mountainsmith Backpack Rain Cover. This kit is recommended for safeguarding the contents of your pack from light rains and humid conditions. The rain cover is specifically made for the pack; so, you will not have any compatibility issues.
The Wrap Up
It is that you choose the appropriate backpacking backpack that meets your entire requirement. Failure to, you may end up with a poor-fitting pack that is uncomfortable to backpack or carry. The advice and list of product review we have provided should help you with your purchase.
Did we inspire you to buy one of the reviewed backpacks? If so, let us know how the pack performed and if you had any difficulties using it, in the comments below?