Looking for a durable pair of boots to join you on all your adventures? Whether you're planning a trek through the snow-capped mountains of South America or a simple hike nearby, this article will help you find the perfect fit. In addition to cost, we'll be having a look at the features that make each of these the best hiking boots for men.
Qualities like traction and ankle support, weather resistance, breathability, and comfort are what you want. Fortunately, hiking is nearly as old as the practice of making shoes, and in that time, some smart and innovative people have discovered how to create the best mountain footwear.
Our Top Picks
Here's What You'll Want to Consider
Whether you found this article while searching for a great gift or to find tips for a future purchase, rest assured that by the time you're done reading you'll be equipped with all the info you need to make the right choice.
With a quality pair of shoes, you can spend less time agonizing over wet or aching feet and more time exploring new and beautiful places. Take into account that because each of these boots are designed with durability in mind, they will outlast inferior brands, so it's likely that by investing in them you will actually save money in the long run.
So what qualities go into making the best hiking shoes for men? The following are some features you'll want to consider before making a purchase as well as the criteria we'll be using to help judge which is the right fit for you.
Protection
Any avid hiker will agree that there's a big difference between walking on a paved, predictable sidewalk and walking in nature, where you'll often traverse rough terrain. When you're outdoors you want to wear shoes that not only provide adequate ankle support, but will also protect you from sharp and blunt objects, such as rocks and branches.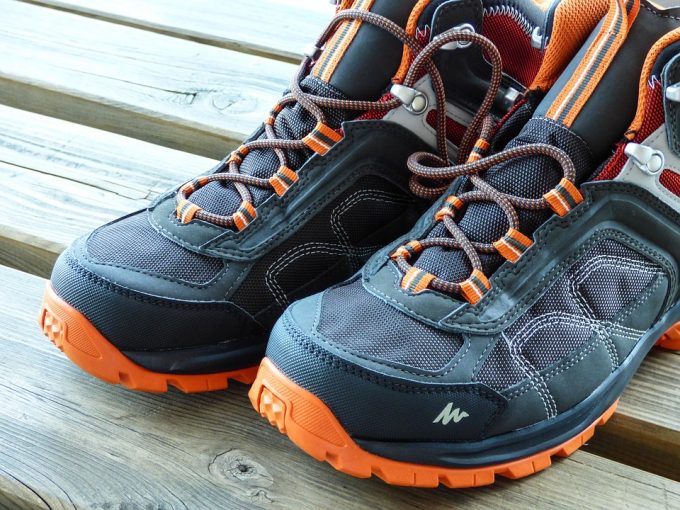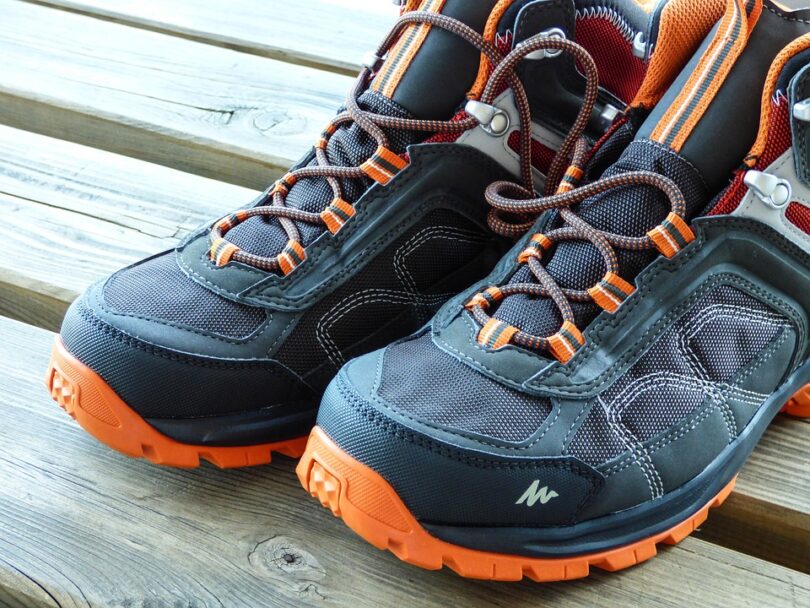 Most hiking boots use tough materials to make the sole because this is your first line of defense against injury. Of course, the added benefit of having a tough sole is that they'll last longer. Another important consideration is traction, which comes in handy on loose dirt and slippery surfaces.
With each of these factors in mind, the boots you buy will easily protect you from ankle sprains, thorns, abrasions, and other minor injuries that can complicate any excursion. Just remember that it's easier to immerse yourself in your surroundings when you don't have such matters on your mind, or on your feet!
And if you're serious about hiking you should want to be prepared for such circumstances, not to mention that in doing so you also inspire others to do the same.
Comfort
When you're trekking up steep hills or hiking for extended periods of time, you want to be comfortable, and there are several factors to consider. For one, padding and shock absorption are important.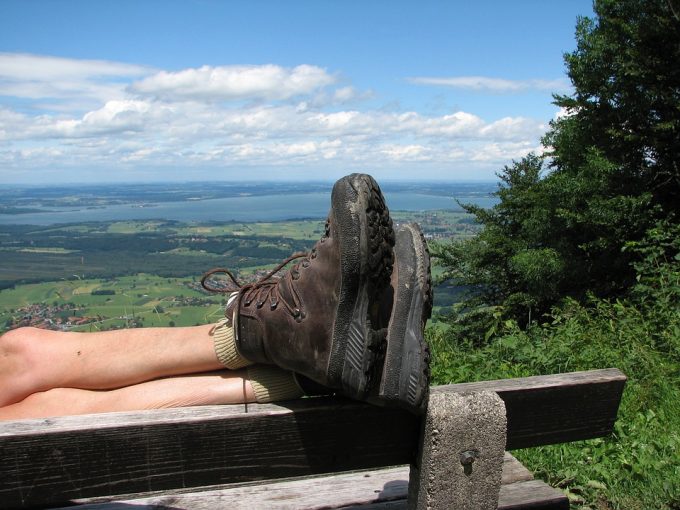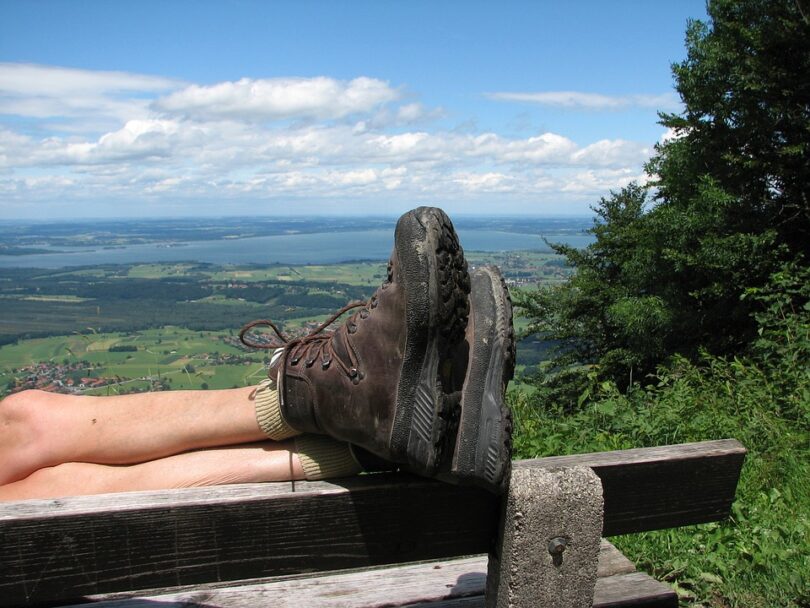 The insole of the shoe should be soft but slightly firm to the touch, and boots that feature a padded tongue and collar will typically be more comfortable than those that don't. Your boots also need to be breathable in order to let air flow in and out, and preferably waterproof as well, so that your feet stay dry if you encounter rain or shallow water.
You'll find that some boots favor protection and durability—such as those that come above the ankle and are made with year-round hiking and backpacking in mind—while others are made for hiking but are also intended to be used for running or leisure.
These boots may not come above the ankle but will offer more comfort when it comes to doing other things, so it's best to contemplate this.
Versatility
Much of what makes a great pair of boots comfortable and durable, are also the same qualities that make them versatile, such as having a tough sole to protect you from injuries and some degree of ankle support.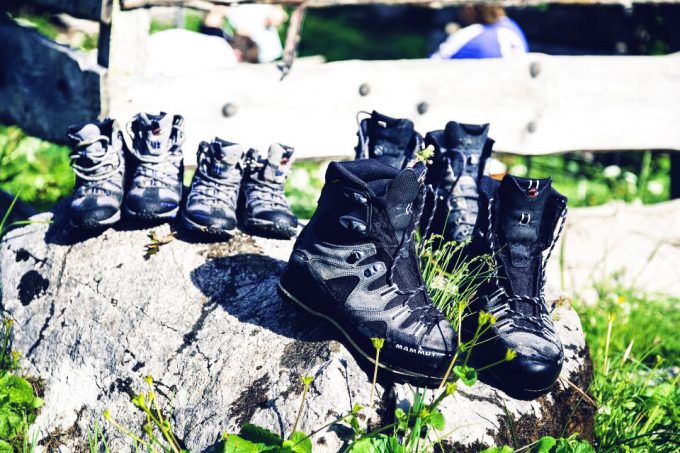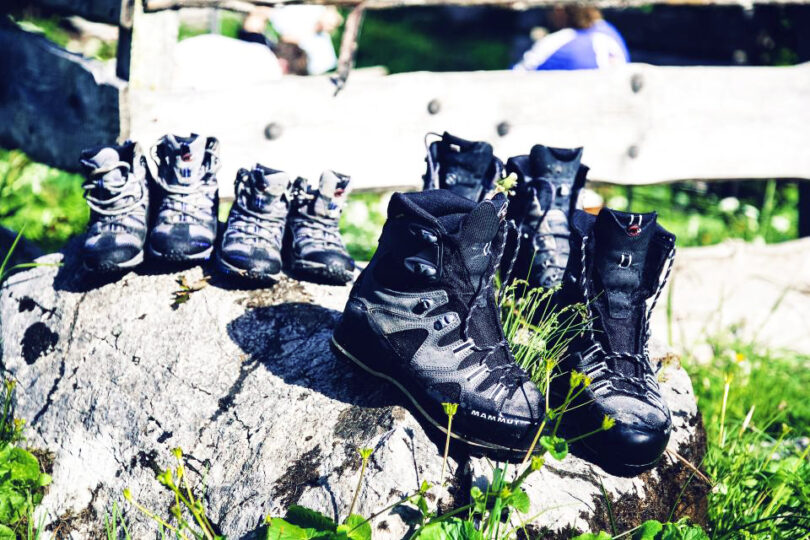 These are helpful characteristics that prove useful no matter where you are and what you're doing, and the hallmark of any boots that are good for traveling since flexibility paves the way for options. If versatility happens to be your number one priority, then weight, is something you may also want to keep in mind because every ounce counts when you're on the move.
Try to imagine how you'll use them and what qualities you'll need to depend on the most given where you live and how active you are. Does it rain a lot in your area? Are you surrounded by thorny bushes, fallen trees, and sharp rocks you need to be mindful of? Taking a minute to think this through will give you a better idea of which boots are right for you.
Durability
At their core, the shoes you wear are only as durable as the materials they're made of. What you want to avoid is having your shoes fail you when you're a 10 mile hike from your car, and the best way to remedy this situation is to not let it happen in the first place.
High quality boots, such as the ones you're about to see, will retain their tread much longer while also giving you the advantage of being able to spend more time in nature.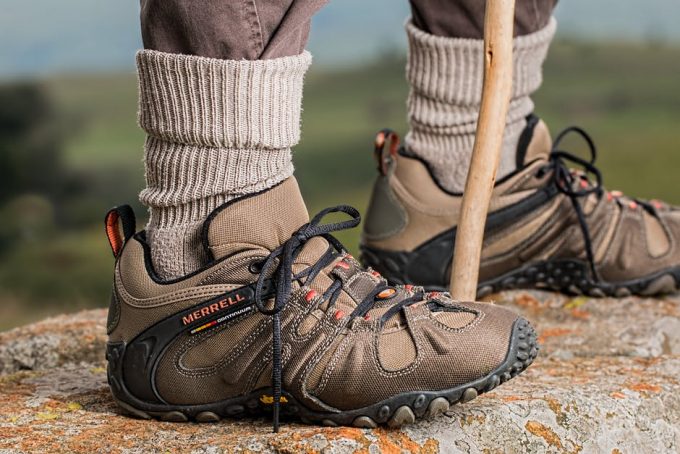 You're likely to come across steep, worn, and slippery trails as well as various weather conditions, and a good pair of boots will provide you with better control while also reducing the amount of energy required to walk, run, and climb outdoors.
This is true for all hikers, but those of you who are new and inexperienced, will particularly benefit from having at least one durable pair of hiking boots. As a beginner, your muscles have yet to adjust to the sudden increase in activity so you're more susceptible to getting injured. This can be avoided by paying attention to the feedback your body is giving you and by investing in a good pair of boots.
The last two things you'll want to consider are whether or not you also plan to use them off the trails or indoors and what it will take to maintain and clean them over time. Some materials are easier to clean than others, such as rubber and leather, whereas others are notorious for catching twigs and thorns.
In the latter case, you'll spend a considerable amount of time picking stuff out of your shoes so you may wish to avoid mesh materials, however they're also the most breathable.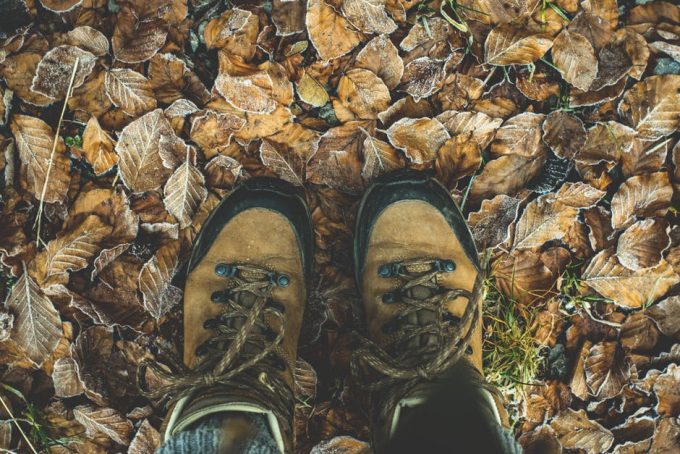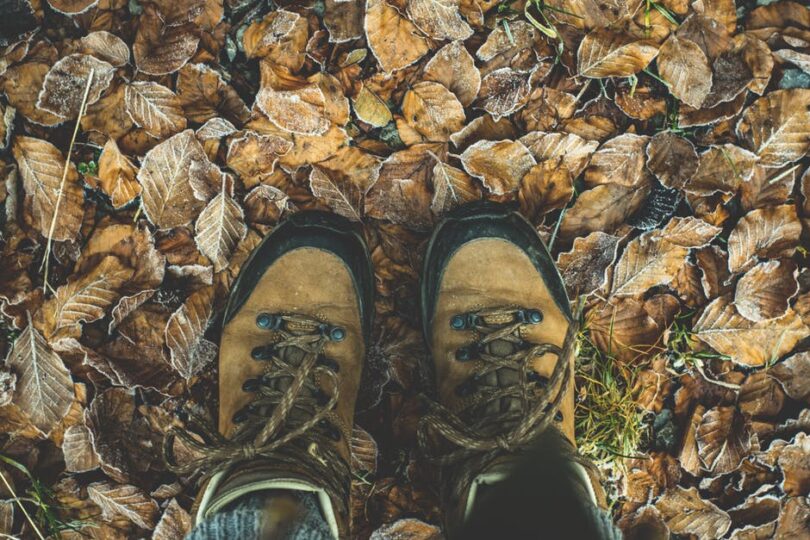 If you also plan to use your boots indoors, at the gym, or for certain recreational activities you're going to want to go with something that's as light as a sneaker but also durable enough to handle day hikes. What you use them for and how often you wear them will also help you determine what it's going to take to keep them clean.
Generally, if you live in a wet climate you'll have rain and mud to contend with, and if you live in a dry climate or mostly use them on well-maintained trails then you shouldn't have too much trouble keeping them clean.
Top Products on the Market
Price doesn't have to be a barrier. For as little as $65 you could have a new pair of hiking boots that have all of the features we just covered while also being light and stylish enough to wear around the house or at work.
Neither does a lack of knowledge or experience. If you've read everything up until this point, then you already know more about the basic features of hiking boots than most people ever will. And in a moment, you'll be familiar with some of the top pairs available on the market.
Timberland Chocorua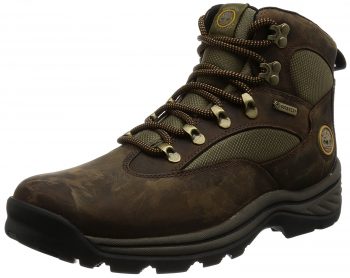 Price: Approx. $100
Weight: 5 pounds
Dimensions: 12 x 9 x 6 inches
Specific features: Leather and textile, premium full-grain waterproof leather for durability and abrasion resistance, seam-sealed waterproof construction plus a gore-tex membrane which provides breathable waterproof protection
Best use: Hiking, backpacking
Description: For around $100 Timberland Chocorua bad boys will be your best friends going up and coming down the mountain. They have a solid rubber outsole that grips the ground beneath you while on the inside, the removable contoured sock liners hug your feet for added comfort.
When you're wearing these, you could step into cactus patch and walk away unharmed. These boots also feature a GORE-TEX membrane that keeps water out without constricting airflow.
Another notable feature is their EVA foot bed which contributes to their light yet comfortable and shock absorbent properties. The result? An all-around balanced pair of boots that will stick with you for years.
If you are in need of durable, stable, warm and waterproof boots, then this model might be a good choice for you. It protects the feet even if you decide to trek through the roughest terrains.
PROS:
It is waterproof and durable;
It is abrasive resistant;
Vasque Breeze 2.0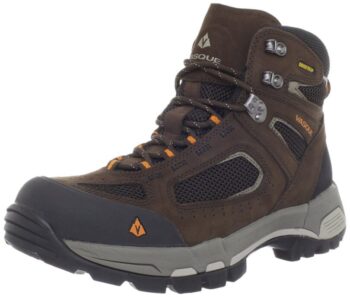 Price:  Approx. $170
Weight: 1.4 pounds
Dimensions: 13 x 10 x 5 inches
Specific features: Most breathable hiking boot with abrasion-resistant air mesh panels, molded rubber toe cap, comes in three colors.
Best use: Hiking, backpacking
Description: At around $170 Vasque Breeze 2.0 provide a more modern look while still delivering all the features you need and will and grow to love. As with many of the products in this review, they also feature a GORE-TEX lining that makes them waterproof while the mesh material adds to the shoe's breathability.
But what you'll really love is that these boots were made to be comfortable out of the box, meaning it won't take you two weeks to break them in.
The Vibram outsole also serves as a further testament to the durability of their construction. For decades, this type of rubber has been known to provide some of the best traction on all manner of surfaces and is also highly resistant to wear and tear.
And with three color options to choose from, you're likely to find at least one that fits your style. More importantly, however, is that you keep your feet safe.
PROS:
Waterproofness;
Durability;
Related: Make sure to take a look at Mirmaru Socks which are consideredvery soft and warm.
Hi-Tec Altitude IV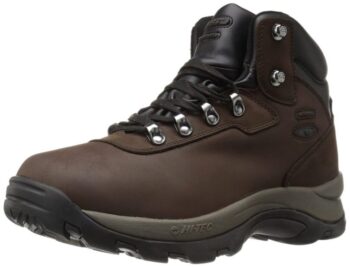 Price: Approx. $50
Weight: 3.7 pounds
Dimensions: 12 x 9 x 5 inches
Specific features: Leather and synthetic, lightweight, injection-molded EVA midsole, comes in two colors.
Best use: Hiking, backpacking
Description: Depending on your size and where you purchase the Hi-Tec Altitude IV, will set you back $70. But you're getting a lot for that price.
For one, unless you're doing burpees in a river their seam-sealed Nubuck leather and textile construction will keep your feet dry and your boots looking good. The carbon rubber outsole also provides superior traction on rugged and slippery trails, supporting every step you take.
In addition, their soft padded, leather collar, rises rises above the ankles to prevent sprains, and yet they're sleek and stylish enough to be worn off trails. Take that and factor in their EVA midsole and what you get is a comfortable pair of boots that do just as well on concrete, gravel, and ceramic floors as they do on dirt.
These boots are considered a good choice for a short hiking trip, but since they are not waterproof, they are not recommended for extreme mountaineering.
PROS:
Stable and warm;
Durable;
Related: The Quick Dry Convertible Cargo Pants can be a great addition to your hiking gear.
Lowa Renegade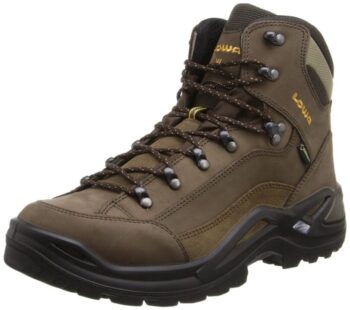 Price: $160 – $230
Weight: 4 pounds
Dimensions: 12 x 14 x 5 inches
Specific features: Climate control footbed, leather and synthetic, full length nylon shank, vibram evo outside.
Best use: Hiking, backpacking
Description: Here's a boot that combines comfort and versatility to give you an unparalleled hiking experience. Starting at  around $160 and selling for as much $230 depending on your size and color preference, Lowa Renegade pack some powerful features.
From the rugged Vibram outsole to the water-repellent leather upper, and everything in between, not a single detail in its design was overlooked.
Unique to many of Lowa's boots are their Monowrap midsole and climate-control technology, which serve their own respective purposes. The Monowrap frame reduces the overall weight of the boots and adds some extra support, cushioning, and impact absorption.
This helps to eliminate common issues such as slippage, strain on the foot and toes when going downhill, and fatigue. The climate-control system is what does a remarkable job of keeping your feet cool and dry by allowing moisture to escape as air passes through the boot lining. They're a great all terrain, all weather options that are ideal for light backpacking and hikes.
PROS:
Lightweight and durable;
No slipping;
CONS:
The price;
No waterproofness.
Related: Superfeet Green Heritage Insoles are a great addition to these boots.
Salomon X Ultra Prime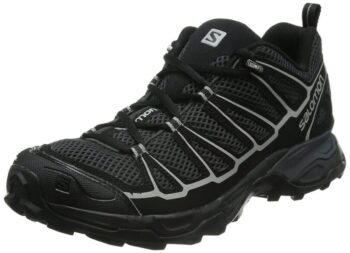 Price: Approx. $70
Weight: 4 pounds
Dimensions: 10 x 9 x 9 inches
Specific features: Low-top hiker featuring breathable mesh with strategically places overlay reinforcements, ortholite cushioned insole
Best use: Hiking, backpacking
Description: The Salomon X Ultra Prime go for about $70 on Amazon and are a great lightweight, low-cut option that offers some protection against sharp rocks and blunt objects without restricting movement. Of course, the tradeoff here is that they offer little ankle support in favor of a more responsive fit and feel.
The rubber toe caps and outsoles are what protect you from scuffs, mud, and debris, while the abrasion resistant textile allows your feet to breath and makes it possible for the shoes to dry quickly.
The X Ultra Prime hiking shoe also has plenty of cushioning in the heel and sole for rugged terrain, but not too much so you can still get an excellent hold on the rocks. They also feature Salomon's Contagrip outsole which is engineered to provide traction regardless of the circumstances. They're perfect for trail runners who like to move fast without sacrificing control and durability.
PROS:
Lightweight and stable;
Durability and good price;
Related: Check out Darn Tough Hiker Micro Crew Cushion Socks as a recommended product that goes well with these boots.
KEEN Voyageur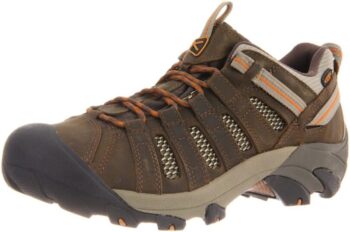 Price: Approx. $115
Weight: 3 pounds
Dimensions: 14.3 x 11.1 x 5.6 inches
Specific features: Man-made, rubber sole, removable insole
Best use: Hiking, backpacking
Description: KEEN has been making quality footwear for more than a decade and have won the hearts of many hikers. KEEN Voyageur in particular sell for $115 and while they may not be waterproof, the mesh lining is actually meant to provide continuous airflow for comfort and breathability.
The wide, solid toe caps prevent you from accidentally injuring your toes and the aggressive multi directional lugs give you excellent traction over loose dirt and rugged trails.
They also include an EVA midsole that delivers the impact absorption you need for rough terrain, and the water resistant leather uppers remain durable even after immeasurable use.
Then again, if you're wearing them daily, they won't always be scuff-free, but this is true for all shoes. The solution lies in using a leather cleaner and conditioner that can be found at most footwear stores or simply purchased online.
These shoes are also popular with hikers because they include an ESS shank that is crucial to reducing the burden your feet and calves experience when on an incline. You can wear them outdoors, in the city, or at home and enjoy the same high level of comfort each step of the way.
PROS:
They are solid and durable;
Affordable;
Related: Darn Tough Vermont Socks are a great product to keep your feet even warmer.
The North Face Ultra 109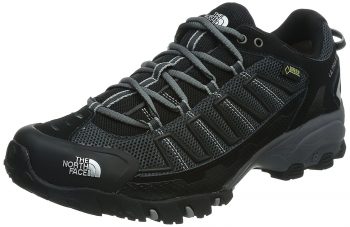 Price: Approx. $120
Weight: 3 pounds
Dimensions: 13 x 8 x 5 inches
Specific features: Gore-Tex waterproof stability trail-running shoe delivers subtle pronation correction, Gore-Tex Extended comfort range waterproof, breathable membrane
Best use: Hiking, backpacking
Description: The North Face Ultra 109 retail for approximately $120 and are made of breathable, lightweight fabrics. Thanks to the lovely addition of GORE-TEX in its construction it's also waterproof, so you won't have to worry about shallow water or the weather taking a turn for the worst.
The rubber soles give you traction on wet and dry surfaces and the toe caps are there to protect you from the unexpected. It also makes good use of a full-length EVA midsole for added stability and comfort as well as a midfoot shank that relieves some of the tension from climbing.
Those of you looking for a pair of hiking shoes that are as comfortable as sneakers, but give you the support and versatility you need to glide up and down trails, or boulders, with ease, will feel right at home wearing these. They're available in five different colors, each of which boast a distinct color accent.
PROS:
Water proof;
Stable and durable;
Warm;
Related: Take a look at Coast HL7 Focusing LED Headlamp because it will make your hiking easier!
Merrell Chameleon Prime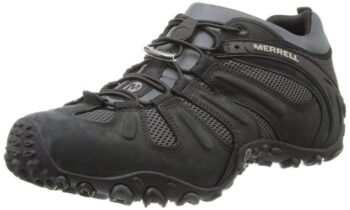 Price: Approx. $110
Weight: 4 pounds
Dimensions: 12 x 8 x 4 inches
Specific features: Durable hiking shoe featuring stretchy topline and bungee laces for ideal fit, rubber sole.
Best use: Hiking, backpacking
Description: For over three decades, Merrell has been one of the leading companies making high performance hiking boots. Merrell Chameleon Prime sell for about $110 and are worth every penny.
It starts with their excellent craftsmanship and the care they put into deciding which features to include. They're great for everyday use, but where they really perform is on the trail or in rugged conditions.
The outsoles have an aggressive design that's highly slip-resistant and pleasing to the eye, whereas the upper portion of the boot is made of leather and mesh materials that have moisture-wicking properties.
A lot of people love the stretchy topline and bungee laces that make it easy to get a nice and snug fit. The added benefit of this is that it also gives you the ability to tighten your shoes without having to deal with tying them.
Inside the shoe is a removable EVA footbed for extra support as well as an air cushion in the heel that absorbs impact. Be sure to recall that the quality of each of these shoes, justifies their cost because they tend to last a lot longer than inferior brands. It's not uncommon for people to own and use the same pair year after year.
PROS:
Great for everyday use;
Durable and warm;
Related: Lock Laces will make your boots easier to put on and pull off.
Columbia North Plains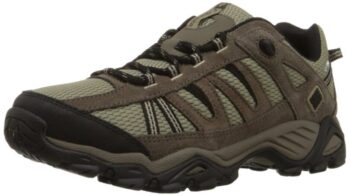 Price: Approx. $70
Weight: 2.9 pounds
Dimensions: 12 x 8 x 4 inches
Specific features: Rubber sole, imported, for weather from summer to winter
Best use: Hiking, backpacking
Description: Available in gray and two different shades of brown, you can scoop these for just under $70. Columbia North Plains are made with suede, leather, and a mesh material that keep your feet cool and allows air to flow freely. The aggressive tread provides traction across a variety of terrains and works just as well when the ground is wet as when it's dry.
They're designed for dry weather and should ideally be worn during the warmer months, but shallow water is no concern. Columbia's Techlite midsole technology also offers the cushioning you need for long hikes and the impact absorption you'd hope to find in a pair of quality hiking shoes.
All in all, they take the most important features into consideration and make protective footwear comfortably affordable for everyone. They are not waterproof but they are a great choice for light trekking, backpacking and everyday use.
PROS:
They are comfy and durable;
They are affordable;
CONS:
No waterproofness;
Only for dry ground.
Related: Columbia Silver Ridge Convertible Pants go amazingly well with these boots and they are comfy.
Wrapping It Up
Now that you understand what features add up to make a great hiking boot and have also had the chance to familiarize yourself with some of the most versatile, comfortable, and protective ones on the market, it's time to give one a try!
Perhaps by now you already know which is the perfect pair for you, but for those of you that are still uncertain, taking a couple minutes to reflect on which qualities are best suited for you will help you narrow it in.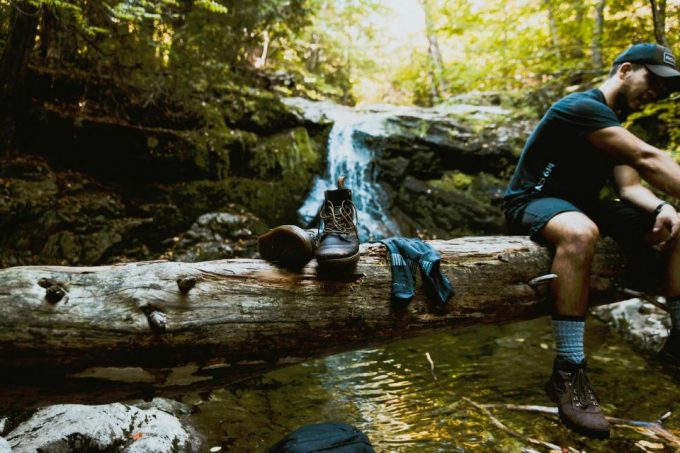 Start with a general question like whether or not you plan to wear them every day or just when you go hiking, then consider whether you're going to want want ankle support or if low-cut boots are right for you. Finally, determine whether or not you want them to be waterproof, breathable, or some combination of the two.
Remember that these are just guidelines and you're free to identify your own priorities before making a purchase.
Each of us has unique interests and corresponding needs, and by digging a little deeper you will discover which features are merely nice to have, and which ones you can't live without. Therein lies the answer to the question, "Which of these amazing hiking boots are best for me?"
Also, if you found our article interesting and useful, feel free to share it on social media so that your friends can read it as well. Furthermore, if you have some questions, you can leave them in the comments section below, where you can also share your thought on this topic.