Fellow adventurers and nocturnal creatures, we know how important it is to have your way illuminated once you are on the trail, while still having both of your hands free. Especially if you are moving through dark, slippery and unknown areas where you need a complete flexibility of your body. However, staying safe and comfortable throughout your trip might be impossible without having the best LED headlamp with you.
There are numerous types of lamps on the market, but what to choose for your needs? Having the advantage of keeping your hands free, we would certainly opt for the best LED headlamp out there. With the proper LED headlamp, your trip will be more enjoyable and easier than it has ever been and it will give you perfect support, especially during the nights when you will need an extra light on your way. Also, the perfect headlamp is quite affordable, waterproof and always there when you need it.
Because we know how hard it is to find the perfect one, we decided to step in our superheroes' shoes again in order to help you with the decision. Following in this article, you will find out the most important features of your perfect headlamp and you will have the chance to read about eight headlamps that we find convenient which might change your life.
Our Top Picks
Things to Consider Before Buying
There are a lot of headlamps on the today's market that vary in the materials they are made of, their color, or in the technology incorporated in them. Therefore, before we dive into the specifics of each of the headlamps that we have chosen for you, we want you to take a look at the separate features that every good headlamp should possess.
Brightness and Beam Distance
A good headlamp, especially the one intended for outdoor activities, should have good brightness intensity and a proper beam distance that will satisfy your needs. It is an important feature to be taken into consideration because you will want your lamp to have the capacity to light up even the darkest of places of at least 70 meters in distance.
The selected lamps in this article have a brightness of at least 160 lumens which should illuminate up to 80 meters and can be safely used during night time. However, have in mind that the brightest lamps do not necessarily have longer beam distance because the beam distance also depends on the optical lenses which concentrate the light into a beam.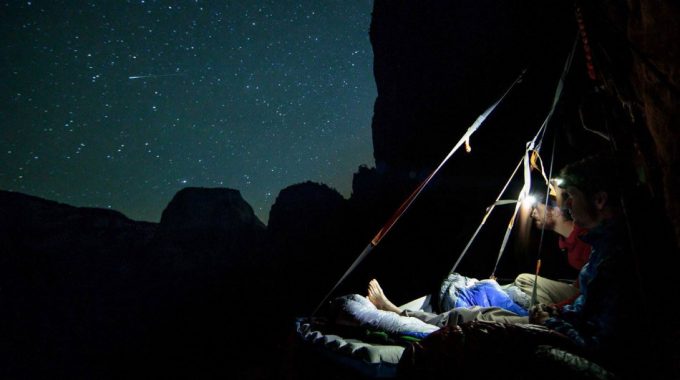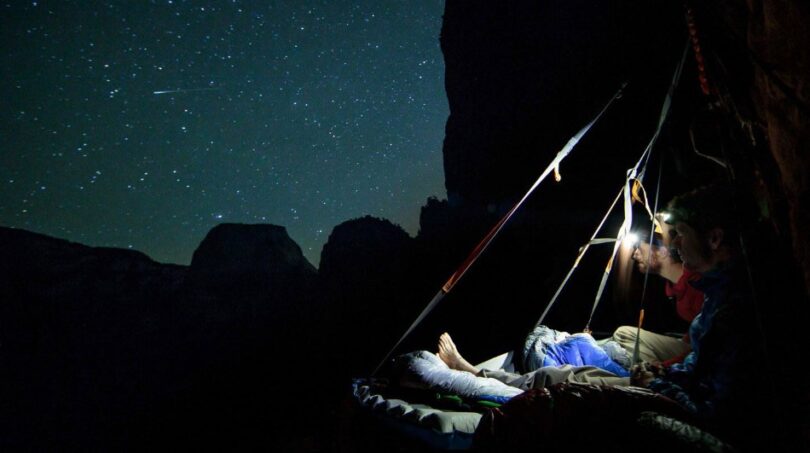 Consequently, if you want your headlamp to have a longer beam distance, despite the lower number of lumens, you should pay attention to the optical lenses' system. Also, choose a lamp with a beam that is not too narrow because as such it will illuminate the whole surrounding and not just some specific points.
Battery Life
How long-lasting is the battery of the headlamp is one of the crucial features when choosing the perfect lamp. Usually, the lamps are equipped with disposable 2 x AA or 3 x AAA batteries or a rechargeable one. Both of them are good alternatives and some lamps that have the rechargeable one can also work with disposable ones.
The good thing with disposable batteries is that you can always bring a lot with you everywhere you go. On the other hand, rechargeable batteries require a solar charger or a power bank, so you have to bring extra weight with you. But, if you always remember to charge it at home, this can be quite a cheaper alternative since you won't have to spend additional money on removable batteries.
Type of the Light Mode
Despite the high brightness intensity and the decent beam distance, the good quality and the proper functioning of the lamp depends on the light modes too. You can choose among different settings, such as floodlight, spotlight, or a flashing strobe light.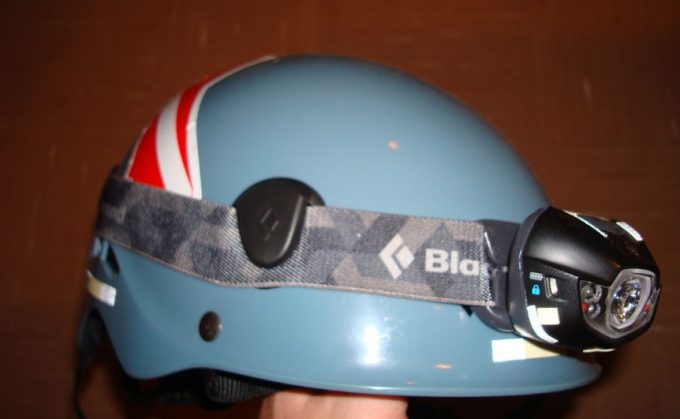 Floodlight mode is the one you can use when some activity requires proximity. This setting casts a wide beam around you, but not necessarily at a far distance. On the other hand, spotlight mode is ideal for marking and finding trails and can illuminate lightning very far.
Contrary to the previous two settings, the flashing strobe light is integrated into the headlamp just in case of an emergency. It is an important feature to have because in a case of an accident, the light will flash and it will make you visible from afar. Also, when you don't need that much light, it will extend your battery life.
Weight and Comfort
Another feature that you might want to pay attention to is the weight of the headlamp. The lamp is usually attached to a headband and since you are supposed to wear it on your head, you should make sure that it is light enough so that you won't get tired of wearing it.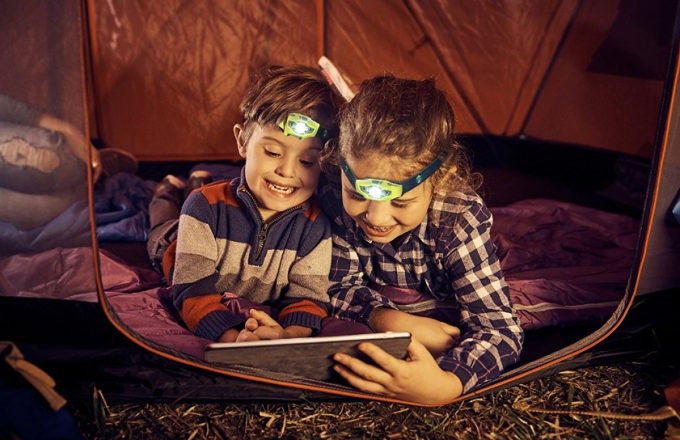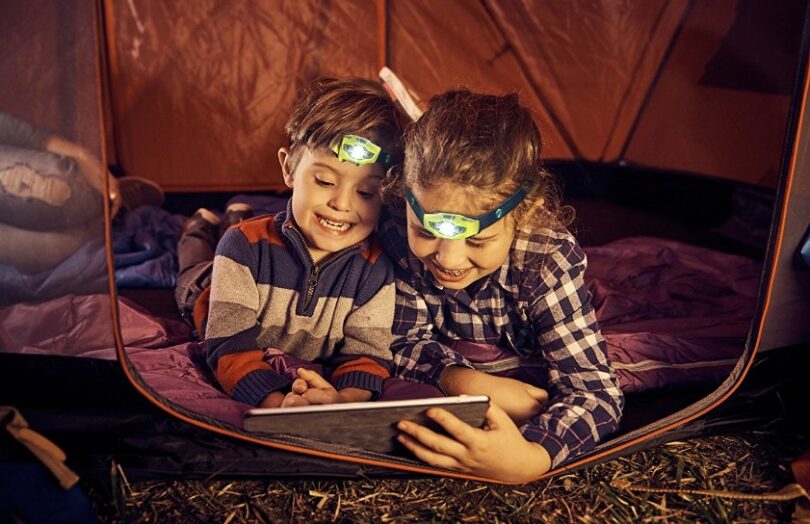 Also, the head strap itself should fit you properly and should be adjustable with a strong fastening system in order to stay exactly where you want it to be. Therefore, the ideal weight of the lamp should range from 0.2 to 0.3 pounds so that you can feel comfortable all the time and have an unforgettable journey.
Affordability
The last feature, but probably the most important one, is the price of your ideal headlamp. It all depends on the materials that it is made of, the special features that it has, or the type of the activity it is made for. Therefore, you need to straighten out your priorities and decide how much you are willing to spend.
If you are a passionate enthusiast and you are often out on the field, then go for it and invest your money in a high-quality headlamp. This way, spending a few more bucks will save you the pain of frequently looking for replacements and your way will always be illuminated.
Best Products on Today's Market
Now that you have found out what are the general features of the best headlamp, it's time that we delve into the specifics of each product that is on our special list.
Energizer Vision HD+ LED Headlamp 
Price: Approx. $20
Weight:
Dimensions: 5 x 2.5 x 1.5 inches
Specific features: White spotlight, red night vision mode, dimmable, powerful beam, comfortable head strap, push button switch, impact resistant construction
Best use: Hiking, walking, running, household chores and different kinds of outdoor activities
Description: After choosing all of the LED headlamps on our list, we decided to kick it off with the Energizer Vision HD+ LED Headlamp. With a brightness intensity of 200 lumens and a beam distance of 70 meters, this headlamp might be the best solution for any kind of outdoor or indoor activity that requires the use of both of your hands.
On the outside, this lamp has a convenient design, made of a plastic body and an adjustable head strap that will allow for a comfortable fit on your head or on a hard hat. The lamp will stay secured once you put it on and you won't have to worry whether it will fall off. Also, due to its versatility, it can pivot to direct the light wherever you may need it while you still have both of your arms free.
However, the best feature of this lamp is that it has six light modes that are dimmable to control the brightness. The bright white light can be accessed in the form of high, low, spot, flood and spot and flood together and you can alternately turn on the red light for night vision by just pushing the button switch. This button is quite easy to operate with which is especially important during tough conditions.
If you still haven't fallen for it, this lamp has additional aces up its sleeve to win your heart. It is impact resistant up to one meter, waterproof and it has shatterproof lenses to withstand any harsh condition. Also, it comes with 3 x AAA Energizer Max Alkaline Batteries and the battery compartment itself has an easy-open access, making the changing of batteries really convenient.
The lamp has a minimum run time of 6 hours when in high mode and 50 hours when in low setting. Because of this, the lamp is great for hiking, cycling, working, hunting, or any other activity that you are up for.
PROS:
Red night vision mode
Waterproof
Impact resistant construction
Powerful beam
CONS:
Tremendous amount of downcast light
It might not hold the same light level
Related: Once you need to replace the batteries in the lamp, we suggest buying the Energizer AAA Batteries Max Alkaline. They come in a pack of 24 pieces and can be a source of power for all of your devices, not only your headlamp. They have a leak-resistance construction that will protect your devices from leakage of fully used batteries up to 2 years and up to 10 years if held in storage.
Foxelli Bright CREE LED Headlamp 
Price: Approx. $13
Weight: 0.2 pounds
Dimensions: 1.6 x 2 x 1.6 inches
Specific Features: Super bright LED technology, white and red light modes, waterproof, durable, SOS and strobe mode, lightweight, ergonomically designed elastic headband.
Best use: Long distance run, camping, hiking, night activities, household chores, dog walking, crafting and repairs.
Description: If you are looking for a super bright headlamp that has a variety of white and red light modes, then the Foxelli Bright CREE LED Headlamp is the one for you. It is also lightweight, easy to use and when used in high mode, it offers a brightness intensity of 165 lumens and a wide beam with a distance of 60 meters for proximity lighting.
This headlamp has a beautiful and convenient design, made of tough and high-quality materials, with an adjustable and comfortable head strap that can fit everybody. It has quite a reliable construction that is waterproof and resistant to cold and to any other external damage, but the best part is that you can purchase it at an affordable price.
As we have already mentioned, it has a variety of light modes and depending on the activity you are performing, you can set it at a minimum, average, or maximum white light. In addition, you have a red light mode for night vision and an SOS and strobe mode that will keep you safe in any situation.
Weighing only 0.2 pounds, this lamp might be the best buddy for your long-distance, night runs, or for your hiking and camping trips. The super long battery life will also enhance your adventure and will enable you to enjoy it better. It has a run time of maximum 45 hours with a CREE-3W technology that provides more light with less power used.
PROS:
High-quality construction
Affordable
SOS mode
Wide range of light modes
CONS:
It might produce yellow tint to the white beam
The headband might use some improvements
Related: If you don't feel that you will be visible enough by just wearing the Foxelli Headlamp once you are out on the trail, then we have the real deal for you – the Reflective Vest with Hi Vis Bands. This vest provides 360 degrees' reflectivity at night and it will drastically increase your visibility. It is adjustable to any kind of clothing and it is designed to fit everybody no matter the weather conditions or the activity type.
STCT Red Light Headlamp 
Price: Approx. $10
Weight: 0.11 pounds
Dimensions: 3 x 2.1 x 2 inches
Specific Features: Crystal bright white light, red light mode, 5 light modes, stretchy and adjustable head strap, easy to carry, waterproof, lightweight
Best use: Working, camping, jogging, fishing, bicycling, crafting and repairing, various outdoor activities
Description: Next on our list is the STCT Red Light Headlamp . If you need a headlamp that is on the low end of the price spectrum, but still good as any other, more expensive lamp, you might wanna stop your search and opt for this one. Whether you are working or engaging in any kind of outdoor activity such as camping, jogging, cycling, or hiking, this lamp will provide you the support you need.
The CREE LED features a crystal, bright white light with an intensity of 160 lumens and beam distance of 150 meters. Due to its convenient design, you can easily switch between the 5 lighting modes with the use of 2 separate buttons – one for the red light and the other one for white light. Out of the 5 light modes, 3 are white and can be adjusted to high light, low light and a flashlight, while the red light mode can be steady on, or in SOS mode and both of them work as warning signs.
With its nice and adjustable design, the headlamp fits both adults and kids. It has a super comfortable, stretchy and ergonomic head strap that will ease any kind of an activity that requires both of your hands and it is ideal if you have to wear it for longer periods of time. It also has a 45 degrees adjustment which makes it suitable for all kind of machine and circuit repairs.
Its waterproofing feature is just another advantage to its versatile design and function and you can rest assured that your lamp will always be protected from splashing water. In overall, this lamp is really flexible and easy to carry, while still exhibiting high performance and good quality.
PROS:
Easy to carry
Lightweight
Crystal white light
SOS mode
CONS:
The red light might be dim
Not suitable for really wet environment
Related: If you plan to take the CREE LED lamp on a camping trip or any activity that lasts longer than one day, then we recommend taking the Protectm Revolution Cool Pad 2.0 for Smartphones too. This pad is suitable for all cell phones and not only it will lower the temperature of the battery surface, but it will also save the battery usage and it will extend its life. This is the perfect gadget to have in your camping gear when every unit of watt counts.
GRDE Zoomable Super Bright LED Headlamp 
Price: Approx. $26
Weight: 0.8 pounds
Dimensions: 6 x 4.8 x 3 inches
Specific Features: Multifunctional, 3 light modes, adjustable, durable, bright white light, single button control switch, 3 switch modes
Best use: Hiking, camping and any kind of night and outdoor activities
Description: They say quality comes at a price and they couldn't be more right when it comes to this headlamp. The GRDE Zoomable Super Bright LED Headlamp is the most expensive one on our list, but please bear with us. Sometimes, paying a higher price will save you the trouble of constant replacements and this lamp just might be your savior.
One of the reasons why this might be your 'chosen one' is because of its multi-functionality. Apart from its primary purpose of being a headlamp, it can also be adjusted as a waist lamp and a desk lamp – a feature that very few of the headlamps have in general. When used as a headlamp, or a waist lamp, it is perfect for hiking, camping, jogging, riding, hunting, fishing and everything else in between!
The GRDE Led is a super bright headlamp, with an outstanding brightness intensity of 1800 lumens, reaching up to a lifespan of 100.000 hours in total. Because of the two 18650 lithium-ion cells that are rechargeable and provided in the package, the lamp will last longer and you won't have to worry whether you will have a constant source of light. Also, it has an adjustable zoom that can go from pinpoint to broad scope very quickly and an adjustable angle that will enable you to direct the light straight forward or 90 degrees down.
The three light modes: high output, low output, and strobe can be controlled with a single button switch, while the lamp will comfortably stay on your head due to its stretchy headband. It also comes with a wall charger, car charger and a special USB cable that extends from the rear to the front so it is never hanging loose.
PROS:
Multifunctional
3 switch modes
Bright white light
Durable
CONS:
The battery might not last long
It might get really hot in extended use
Related: Because this lamp is highly durable and resistant you might need a booster on your own so that you can withstand the same conditions that this lamp can. And what is the best way to do that if not by staying hydrated all the time? For that purpose, meet the CamelBak Unisex Crux Hydration Reservoir. It has a convenient design and it is easy to use, powered by a leak-proof cap and an on/off lever. It also has an incorporated hydro guard technology that inhibits the growth of bacteria in the reservoir and the tube.
Diateklity Super Bright LED Headlamp 
Price: Approx. $50
Weight: 1.05 pounds
Dimensions: 4.7 x 3.9 x 3.9 inches
Specific Features: Durable aluminum alloy crust, waterproof, heatproof, zoomable and rotatable, adjustable head strap, red light indicator
Best use: Trekking, horse riding, camping, fishing, hunting and various outdoor activities
Description: With similar features as our previous 'specimen' is the Diateklity Super Bright LED Headlamp. This durable lamp that is also heatproof and waterproof, might become your best companion on various outdoor activities, such as trekking, horse riding, camping, hunting, fishing. It can be really helpful at home too, especially when you need to do tough household chores.
It is a very bright lamp, with an intensity up to 1000 lumens and a beam angle of 90 degrees. It is also 90 degrees rotatable and it has the zoom feature for a broader scope. The light tilts well, stays in place and it can be adjusted into three modes: low, high and strobe and it has a run time of 4-8 hours if fully charged, while in total it can have a lifespan of 1 000 000 hours. Also, it has a safety feature – a red indicator light on the battery holder that has a great warning role in a case of an emergency.
Its construction is of high-quality and on the outside, it exhibits a body made of a durable aluminum alloy crust that it is attached to a comfortable and adjustable headband. Designed as such, it allows for a complete movement of both of your hands.
In addition, the lamp comes with two rechargeable 18650, 3.7 Volt Lithium-ion batteries that are readily available, a USB cable, a wall charger and a car charger. Also, the charging port has a rubber plug and the battery compartment has a rubber cover that fits great.
PROS:
Super bright
3 light modes
Adjustable head strap
Durable aluminum alloy crust
CONS:
It might be too bulky
It might not always be as bright as it should
Related: As we have mentioned, this headlamp is suitable for hunting purposes and therefore we suggest pairing it with the Boosteady 2 Point Traditional Rifle Sling Gun Strap. This rifle sling has fitted metal clips on its nylon strap and it is quite easily adjusted in length without having to disconnect the sling. It also has a removable shoulder pad that enables better grips and reduces slippage on one hand, while preventing shoulder strain on the other.
LuminoLite Ultra Bright LED Headlamp 
Price: Approx. $11
Weight: 0.1 pounds
Dimensions: 2.3 x 1.4 x 1.7 inches
Specific Features: 5 light modes, full brightness, dim and strobe modes, adjustable beam angle, lightweight design, night vision mode, SOS mode, water resistant
Best use: Overnight hiking, camping, trail running and various outdoor activities
Description: Following next on our modest list is the LuminoLite Ultra Bright LED Headlamp. It is another reliable headlamp that you can depend on whether you decide to go hiking, camping, running or anything else that comes to your mind. Because the battery life lasts for days without needing to change the batteries, you can rest assured that your trip will be illuminated all along.
As like most of the headlamps in this article, this one is a really bright one too, with an intensity of 160 lumens. The white Cree LED offers dim and strobe modes, while the two red LEDs are in a constant mode, perfect for saving your night vision. It also features an SOS mode for any kind of an emergency situation and both of the lights can be quickly and easily controlled by the two buttons.
You can easily adjust the angle of the beam up to 45 degrees with a simple up or down move. It is also suitable for night activities because it can light up your way up to 79 meters in distance.
This lamp also has the waterproof feature and it is rated IPX6 which means that it can easily be exposed to wet environments and heavy rain. It is also lightweight, durable and you will never have to wear heavy and bulky headlights again. In addition, it has an elastic, comfortable and secure headband with adjustable straps to fit both the adults and the kids.
Its stylish design is constructed of high-quality and durable materials, it screams with sophistication and it is anything but cheaply and poorly made. The lamp also comes at a quite affordable price and it might be the most valuable one that you can obtain in that price range, if not even in any price range.
PROS:
Dim and strobe modes
Lightweight construction
Versatile
Adjustable beam angle
CONS:
Cannot be fully submerged in water
The red light might not be bright enough
Related: Whether you decide to go on a camping trip, hiking, or if you simply end up running at some place you are unfamiliar with, we recommend the UST Deluxe Map Compass. Sure, we live in the technology era when all of us have Google Maps on our smartphones, but trust us, you might want to go old-school on this one. It is super light and compact map compass with a clear base plate for easy map reading and for precise route planning.
QPAU SUPERBRIGHT LED Headlamp 
Price: Approx. $13
Weight: 0.15 pounds
Dimensions: 2.5 x 1.5 x 1.5 inches
Specific Features: Separated press buttons, USB rechargeable, infrared sensor controls (turned on/off by hand's wave), water resistant, super bright, durable, lightweight
Best use: Walking, running, cycling, fishing, hunting, hiking, repairments and other household and outdoor activities
Description: A slightly different lamp on our list is the QPAU SUPERBRIGHT LED Headlamp. If you thought that the ones we have already reviewed are quite easy to use, then let us change your mind.
With this goodie here, you will never have to bother looking for the button that turns on or turns off your lamp. Due to its integrated Infrared Motion Sensor, all you will ever have to do is wave your hand in front of the headlamp in order to switch it off or on. Yep, it is simple as that.
Another great perk of having this lamp is that it is USB rechargeable, coming with a micro USB cable and you will never have to struggle with replacing the batteries again. Once it's charged, it can last up to 30 hours of constant light with only 3-4 hours of charging.
It is a highly powerful and bright lamp that can light up the dark at 180 lumens at a distance of 100 meters. You can do that in three light modes: low setting, high setting, and white strobe. The angle is also adjustable at 45 degrees and you can choose whether you want it to shine upright and if not, you can downcast it towards the ground.
Don't let its sleek design fool you because this headlamp is highly durable, easy to use and waterproof. It is really lightweight too and with its adjustable strap, it is suitable for every age, for any kind of weather condition and for range of different activities, both indoor and outdoor ones.
PROS:
USB rechargeable
On/Off switched by hand's wave
Super bright spotlight
Adjustable beam angle
Affordable
CONS:
The optics might not be as smooth as they should be
The red light might be very dim
Related: The QPAU Headlamp is sufficient on its own, but since it's rechargeable, we thought you might need a backup in case if you don't have an immediate power source to recharge your super bright LED lamp. Therefore, we recommend that you always have the BYB Super Bright 9 LED Mini Aluminum Flashlight. It has an Aluminum construction, a simple on/off button and requires one AAA battery in order to light up your way, no matter the occasion.
Outback River BrightSpark Compact LED Headlamp 
Price: Approx. $19
Weight: 0.1375 pounds
Dimensions: 2.5 x 1.2 x 1.2 inches
Specific Features: Lightweight construction, versatile, long-lasting, super bright spotlight, requires only one AA battery, two red LED lights, ABS plastic body, waterproof
Best use: Camping, hiking, running, cycling and various emergency situations. Also, suitable for contractors, electricians, plumbers, and mechanics
Description: Last, but not least, we represent the BrightSpark Compact LED Headlamp. This CREE lamp is highly adjustable and it is a great addition to every kind of an activity you will engage into. Whether you enjoy running, camping, or hiking, you can be sure that this lamp will stay on your head and it won't just bounce or slip while you're in the middle of your favorite night run.
It has a single CREE R3 LED with bright intensity of 100 lumens, making it far brighter than other LED lamps. Also, it has two red LEDs that are perfect for night vision as they will not interfere with your natural night sight and will protect you from getting blinded. It also has an adjustable beam and you can always set it according to your preferences.
The lamp is durable and lightweight at the same time, with plastic ABS body that contributes to its reduced weight. It is also very compact, easy to use and easy to store in your pocket, backpack or where ever you might need it to be. Its waterproof feature won't leave you hanging during harsh weather conditions and you can always count on it.
Because of its simplicity, it is suitable even for the kids and it can easily fit everybody because of its adjustable strap. Also, it runs on only one AA battery and you can easily change it even in the dark without any hassle.
PROS:
ABS plastic body
Requires only one AA battery
Two red LED lights
Super bright spotlight
CONS:
The battery might not last long
The lights are weakly attached to the base and it might break easily
Related: If you decide to go on a camping trip, or hiking adventure, then you can take the HikerXing Lightweight Sleeping Pad in addition to the headlamp. It is inflatable, ultralight and compact, perfect for your outdoor adventure. It is a 2-inch thick pad that provides perfect comfort and stability throughout the whole night and you will sleep better than you have ever slept. As an addition, the bag has an exclusive feature – you can attach it with mini-carabiner to the sleeping pad to use it as pocket bag and to protect your valuables.
Wrapping up!
LED Headlamps are one of the most practical gadgets that you can possess in your camping, hiking, hunting, fishing, or any other equipment that you might have. They will always come in handy once you are out on the trail, or if you need to do some kind of a household chore.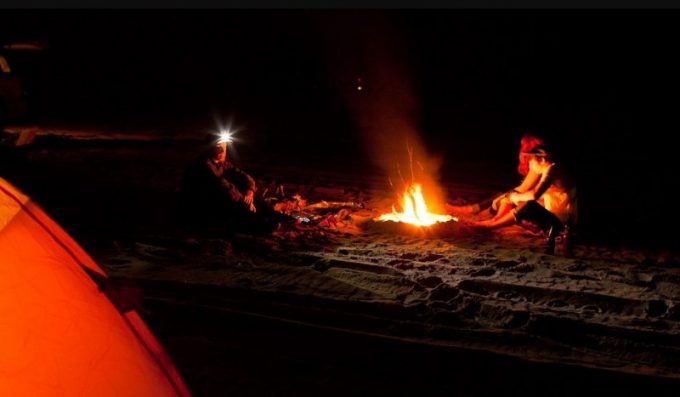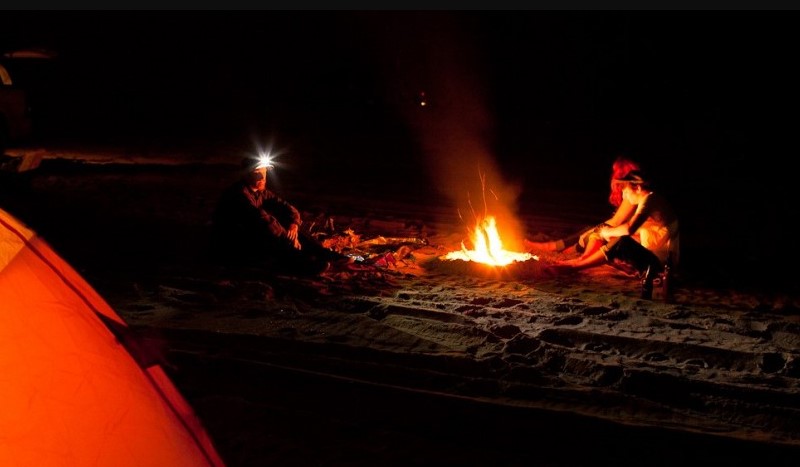 There are so many headlamps on the market that we can choose from, which can often be confusing and a tough thing to do. Therefore, always be sure to consider the specific features that we have outlined in the article while following your basic needs and preferences.
We hope you will find our list convenient and if you have any other suggestions, don't hesitate to leave us a comment in our comment section!