If you love spending time outdoors, you know that nature can be both a friend and a foe. Some situations can be very serious, so having a tool that can save your life is very important. However, carrying multiple tools can get heavy and is not practical, right? That's why a survival hatchet multi tool might be the best option for these moments.
Ideally, your survival hatchet will be on your hand's reach at all times. It must be lightweight enough so you can use it fast and precise, but it should also be strong enough to get the job done. On top of that, it should help you tackle different tasks at a different time. But finding the right multi-tool hatchet is not an easy task, after all.
That's why we created this survival multi-tool hatchet guide to ease the search for the best tool on the market. We've marked the most important features for a multi-tool hatchet, and we have included some useful reviews for some items we think are worth seeing. Feel free to continue your reading if you want to learn more about this.
Our Top Picks
| Product Name | Weight | Dimensions | Material | Price |
| --- | --- | --- | --- | --- |
| Rose Kuli 7" Portable Multipurpose Axe | 0.8 lbs. | 7.1 x 3.5 x 1 in. | Stainless steel and wood handle | Check price on Amazon |
| SE 3-in-1 Multi-Function Hatchet | 0.9 lbs. | 4.1 x 0.9 x 11.8 in. | Steel | Check price on Amazon |
| Ontario Knife World War II Axe | 1.6 lbs. | 13 x 8 in. | Carbon steel | Check price on Amazon |
| Zippo 4-In-1 Woodsman | 2.6 lbs. | 9 x 21 x 2 in. | Stainless steel and polymer handle | Check price on Amazon |
| Yes4All Multi Functional Camping Axe | 2.2 lbs. | 13.9 x 5.6 x 1 in. | Stainless steel and plastic | Check price on Amazon |
| Great Neck Saw Sheffield Camper Multi Tool | 0.68 lbs. | 1.5 x 6 x 9.75 in. | Stainless steel and wooden handle | Check price on Amazon |
Things to Consider Before Buying
One of the first tools the human ever made is the hatchet. We as humans have made this tool the best possible over the ages, so today it is not a question if a good hatchet can cut trees, but what else can it do? A multifunctional hatchet is what a simple axe evolved in. This is the most important things you need to consider before purchasing a multifunctional survival hatchet:
Weight
If a simple axe means a handle and a sharp head, a multifunctional hatchet means that along this option, a manufacturer must find a way how to implement all the other tools that you like. That means your standard axe will gain in weight. The heavier it gets, the less useful it becomes.
So, when you choose a multifunctional hatchet, make sure that it doesn't weight like Thor's hammer that no one can pick up. Lightweight means better, especially if you plan to put your axe in the backpack and carry it like that on your trip.
Durability
A survival hatchet is a tool that you might need it, like the words tell you, in surviving situations, so it must not fail you at any moment. It will be a disaster if you buy a multifunctional hatchet, but it breaks apart when you need it the most.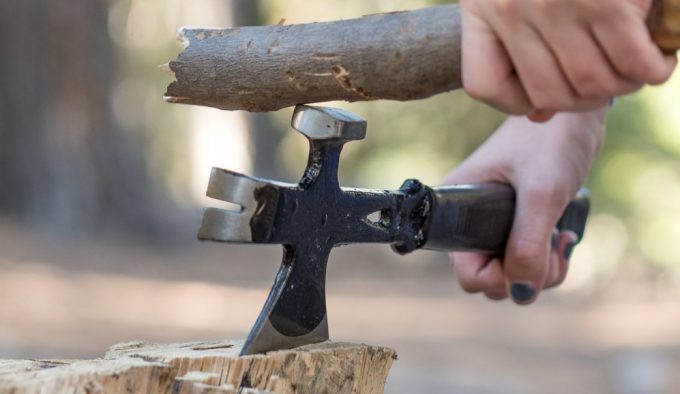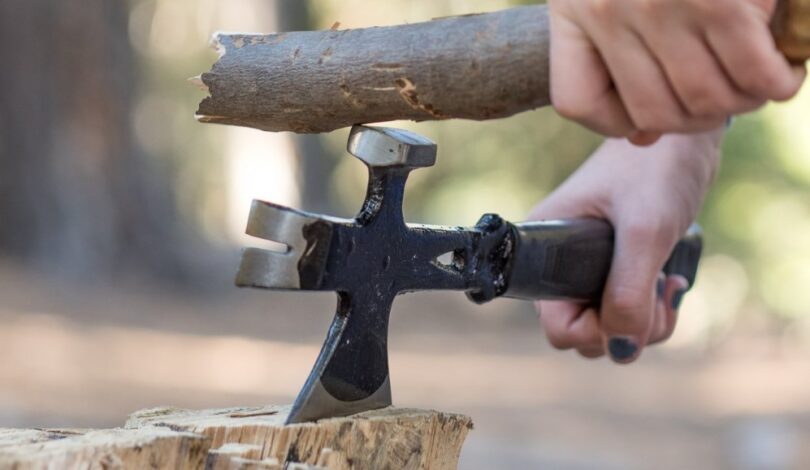 That's why you must check for the quality of the item. User experience is the best option in this case, as well as the brand that is offering you its products. Another thing that is important to know that your ax will be durable, is the material that is made of. About that see subtitle material below.
The best option to get a hatchet that is most durable is the whole body to be made of one strong material. This way, however, there will be little chance to get more functions with it. You will have to decide if you need your hatchet to be more equipped or be the most durable.
If the head is implemented on the body and the handle, then you must check how it is done and is there a possibility to get loose in time. If yes, is there an option for changing heads and handles. If there is, you'll need to know if you like doing such switches and updates of your hatchet or not.
Material
The material of the multifunctional hatchet is most important for two things: for a better grip on your hand while you carry the item and you work with it, and for the durability of the whole hatchet.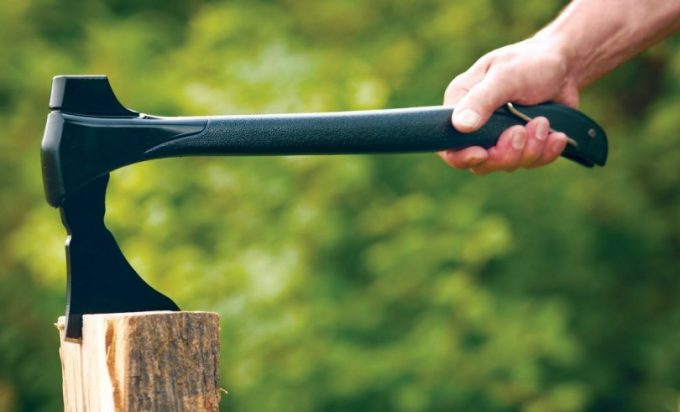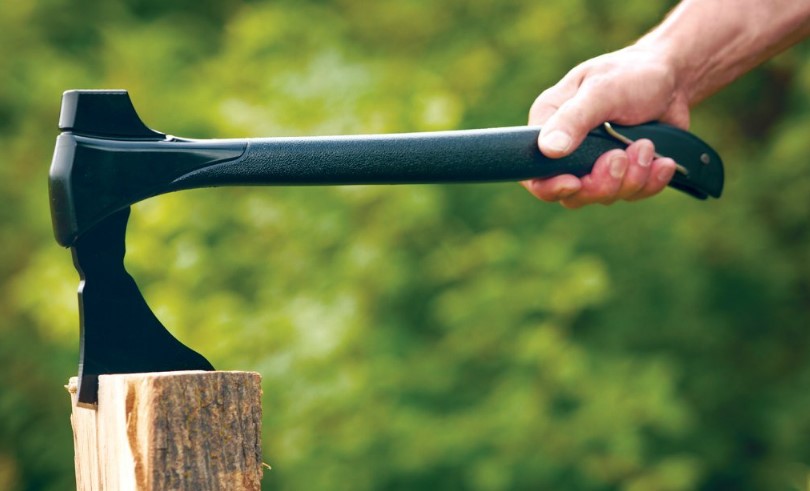 Having a good grip on your hand is essential. Smooth plastic may look nice, but when your hands get sweaty, the hatchet will slip and might even hurt you. That's why you need materials that are proven good for having a good hold of the handle.
Some materials are not as strong as others, but most of the good axes are made of stainless steel which is practically indestructible. But, the steel is almost always combined with other materials. The combination of materials and the construction of them are very important.
Another side of the importance of materials is the maintenance. While leather, for example, might get damaged over time, and other materials might get dirty. Plastic and other materials are easy to maintain and use.
Functions
If you're buying a multi functional hatchet, you need it to have more functions, right? Of course, but remember that every new tool the manufacturer added, makes your hatchet more complicated, heavier and harder to use it for its primary function – cutting wood. There are hatchets with more than 10 additional functions, but they all make your axe less important.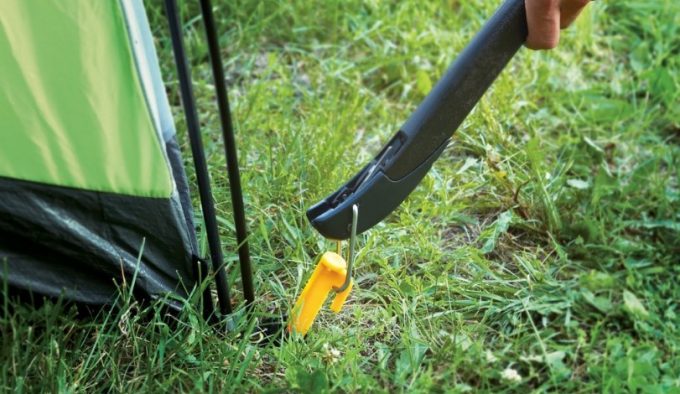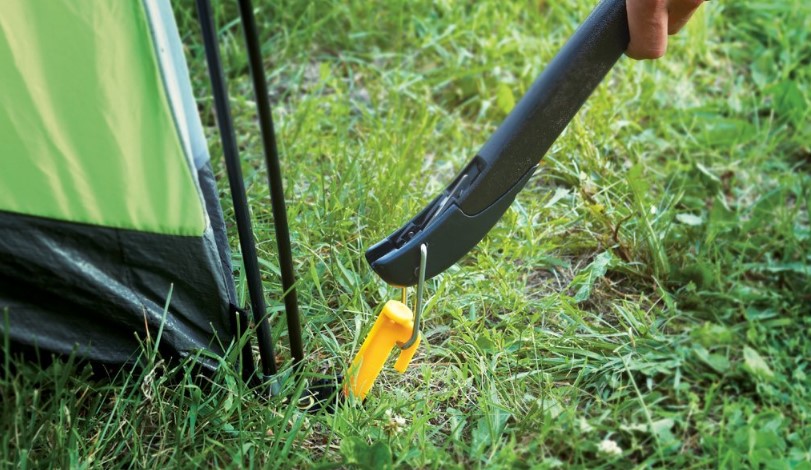 Yes, it's cool to have a bottle opener with your hatchet and the knife, but do you really need a bottle opener in a forest on a rainy day or on top of a windy mountain where you need to set a camp? If the answer is yes, we have nothing against your wish, but we strongly recommend you think about what exactly you need your multifunctional hatchet for. Not useful tools might even cost your life if you depend on your hatchet in the wild.
So, when you decide what exactly is needed from your axe, look for a multifunctional hatchet that gives you those options. If there are tools you simply don't feel like you'll ever need them, don't buy that item. In this case, more is less, so go by that motto.
Handle Material
The type of handle is very important and we can say even as important as the blade of the axe itself. A good handle will give you a good grip and will make the job done.
A wooden handle is good because it feels good in your hand, and it won't transmit too many vibrations from the blade to your arm making your work more precise and safer. It is, however, heavier than other materials and less durable.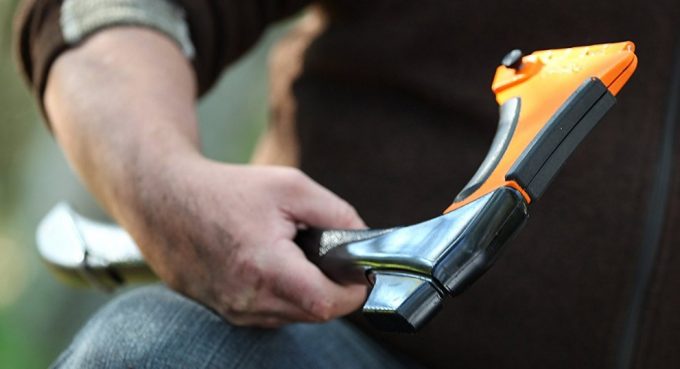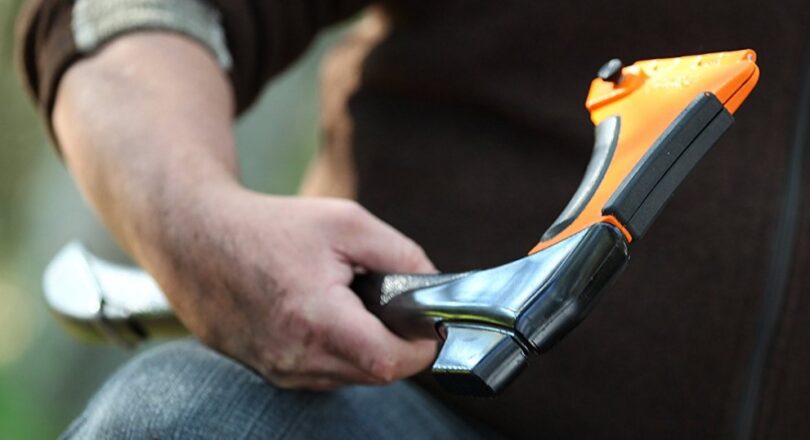 Durable materials for the handle are plastic or fiberglass and those are usually lighter. However, it is also important how these materials are made and is there a good grip or not.
Best Products on Today's Market
Based on all this being said, and based on our experience, we have created a list of multi-tool survival hatchets that are among the best on today's market. They differ one from other so you can find the right fit for you.
Rose Kuli 7″ Portable Multipurpose Axe 
Price: Approx. $12
Weight: 0.8 pounds
Size: 7.1 x 3.5 x 1 inches
Specific features: Integrating design, space saver, portable, durable, lots of functions
Best use: Climbing, mountaineering, hunting, fishing, DIY jobs, indoor, camping
Description: The Rose Kuli 7″ Portable Multipurpose Axe might be perfect for going on an adventure and not giving a single care if you carry enough tools that will protect you in nature – you most certainly are. This lightweight hatchet is much more than just an axe. It contains a total of 12 tools for indoor and outdoor purposes.
The hatchet, of course, is the primary function. It is made of stainless steel and is practically unbreakable. The other tools that will surely come handy in some occasions are a hammer, two types of screwdrivers, two types of knives, saw, bottle opener, pliers, wrench, a knife sharpener, and a bung puller.
With all this, your camping moments will be easy and fun and the time spent in nature will be without problems. Simply use the knives or the hatchet if you need to make a way through rough terrain, and use the more subtle tools for camp duties or for your home and DIY jobs.
The hatchet and the hammer are made of stainless steel, but the handle is made of wood that will make a more comfortable feeling and your hands will be more protected. The product comes with a caring bag, and considering the size, it is something you must consider before going on a trip.
PROS:
Very lightweight
Great functions
Flexible and portable
Pretty durable
CONS:
Too small
Too many unneeded options for outdoor use
Related: For your adventures in the wild, always have some rope with you. The Meili Glow in the Dark Cord is a 0.2-inch thick rope that is easily seen in the dark. You need to expose it to sunlight or any other kind of light for 10 to 15 minutes and it will glow for 6 to 8 hours in the dark.
SE 881MA 3-in-1 Multi-Function Hatchet 
Price: Approx. $10
Weight: 0.9 pounds
Size: 4.1 x 0.9 x 11.8 inches
Specific features: Made of steel, simple, easy to use, multifunctional, lightweight
Best use: Hiking, camping, climbing, mountaineering, hunting, fishing
Description: If you want something a little more "hardcore", then the SE 881MA 3-in-1 Multi-Function Hatchet is the one you need. It is completely made of strong steel and it has three basic functions, the ones you most need when going outdoors – a hatchet, a hammer, and a crowbar that can be used in many needs.
The length of 12 inches is just enough to give you a good hold of it and cut some wood without a problem. That length is also ideal for getting the best out of your hatchet because you will have a good feeling while using it. The handle is also steel but stylized so you can have a good grip and use it with ease.
It is also very lightweight even though it is made completely of steel. You can place it anywhere, in your backpack, on your belt, or wherever you feel most comfortable. Even if you just go hiking in the woods, without the need for more serious actions, you can still carry it with you because you won't carry too much weight.
The blade, however, might not be sharp enough when you get it first in your hands, but that is something you can easily handle with a simple blade sharpener. Also, be careful when you're putting it to a test for durability because it might not handle too much pressure. Still, though, it is a good piece of equipment for your trips.
PROS:
Cheaper than most
Simple functions
Easy to use
Completely made of steel
Lightweight for size
CONS:
Durability not great
Sharpness when bought
Not have too many functions
Related: A2S Paracord Bracelet might be the perfect addition to your outdoor adventures. It has several tools in it, a compass, knife, whistle, fire starter, and it comes in a pack of two. Sold in 5 different sizes depending on your needs, the bracelet is made very strong. Aside from the mentioned options, you can use it to tie and hold things as it can hold up to 550 pounds of weight.
Ontario ONSP16-BRK World War II Axe 
Price: Approx. $83
Weight: 1.6 pounds
Size: 13 x 8 inches
Specific features: Carbon steel, durable, American valve and hydrant opener, polymer handle
Best use: Hiking, climbing, mountaineering, camping, indoor, hunting, fishing
Description: If you like a real American tool, then the Ontario ONSP16-BRK Knife World War II Axe is just for you. Used by the American soldiers in World War 2, this hatchet will be something you know you can rely on when going on your outdoor quests.
The blade and the body are made of carbon steel, and for better grip, the handle is made from a grooved polymer that will make you hold it without problems in all weather conditions. It comes with a leather cover and a leather belt sheath.
One of the most interesting features this axe has is the American hydrant opener, so you can have it home for special situations that will require such thing. It also opens gas and water valves. The axe blade is very sharp, but as an addition to it, if you need it for other purposes than just cutting, there is a sharp pick that you can use in situations where the axe blade is not suitable.
Even though this hatchet has a great history and you know that its durability is beyond perfect, it doesn't offer too many other options than the ones mentioned above. However, it is an excellent tool that also looks very stylish, so if you don't like to drag some cheap multi-functional axes, this one will do the job perfectly. It is simple to use and looks great and professional.
PROS:
Strong and durable
Made of carbon steel
Stylish and cool
Have special functions
CONS:
A little overpriced
Not too many functions
Related: For the best grip of your hatchet, you can try the Ironclad EXOT-SVEN-03-M Tactical Gloves. The palms are made of some excellent goatskin leather that provides a great experience. They have specially designed ventilation and a reinforced thumb for better pressure. The knuckle has a foam reinforcement for impact protection and it should be very easy to put them on and take them off.
Zippo 4-In-1 Woodsman 
Price: Approx. $63
Weight: 2.6 pounds
Size: 9 x 21 x 2 inches
Specific features: Multi-functional, saw, hammer, hatchet, tent stake puller, durable, well designed
Best use: Camping, mountaineering, sawing, indoor, DIY jobs
Description: For those that are looking something else and not just a simple hatchet, there's the Zippo 4-in-1 Woodsman multifunctional hatchet. The most important part of it is the pull out saw that is a feature that the competition manufacturers rarely provide.
The other functions include a hammer and a tent stake puller that are perfect for those that are about to go camping and don't like dragging to much gear for getting up a big and comfortable tent. The hammer can be used, of course, when the saw is placed in the special compartment inside the body of the tool.
The saw was perfectly designed by the people from Zippo. It is placed in a special compartment, and when you want to use it, there is a special tension compensator that will allow you to use it like it is a normal saw. It will cut through anything that a normal saw can. There are two different saws for rugged wood that you can use one at a time.
The blade is covered by a special compartment too, that you can use as a handle for the saw. When you want to use the blade, the saw is placed inside the body and makes no problem whatsoever. You can use the saw handle as a standard hatchet blade storage compartment at all times.
The length is 21 inches, which makes it a serious axe that can be used in many situations. It will be a little hard to place it in a backpack if you want to go lightweight, but the multi-functionality will compensate for it.
PROS:
Multi-use functions
Very durable
Special saw option
Design and looks
Great functions
Related: The saw on this multi-functional hatchet is completely normal to get exhausted over time. Don't worry though, you can always get a new saw – the Zippo AxeSaw is specially designed to replace the old saw on your multi-tool hatchet. It has a 15-inch saw blade that is made from a rust resistant and corrosion protected stainless steel. It can cut up to 4 inches in diameter.
Yes4All Multi Functional Camping Axe 
Price: Approx. $30
Weight: 2.2 pounds
Size: 13.9 x 5.6 x 1 inches
Specific features: Knife, two functions in one, fire starter, well designed, durable, well packed
Best use: Hiking, camping, mountaineering, hunting, sawing
Description: The Yes4All Multi Functional Camping Axe is an excellent piece of equipment for your adventures in the wild. Although the handle is made of plastic, it is still pretty durable. The blade is made of stainless steel so you know it will give you great results when you need to chop some trees or other types of wood materials.
The other functions of the hatchet include a knife that can also be used as a small saw and a fire starter. The knife is carefully placed inside the handle and won't make you any problems while using the axe. It is also made of stainless steel and although it is pretty small for a saw, it can do the job of a saw without a problem. It is 3 inches long and rust resistant.
The fire starter is another important part of this tool. During your adventures, you will always have an emergency light, and you'll know that this gadget will not fail you if you get in trouble. As far as the overall experience with this hatchet, we can say that is a great choice for those that know what they need of their outdoor tools. If your primary need is something that can make your way in the forests, then this is a great choice.
PROS:
Strong and durable
The design of the hatchet
Saw-knife function
Firestarter option
CONS:
Plastic handle
Knife too small
Related: Never let your blade get dull with this Kershaw Ultra-Tek Blade Sharpener. It is made of sharpening steel and is 4 inches long, just as much as you need if you need to take it with you in nature. The weight is 1.6 ounces and will not take too much space in your backpack. It has a 600 grit diamond coated stick.
Sheffield Camper 12-in-1 Multi Tool 
Price: Approx. $17
Weight: 0.6 pounds
Size: 1.5 x 6 x 9.75 inches
Specific features: Axe, hammer, knife, ruler, saw, bottle opener, wrench, hook remover, fish scaler, compact, lightweight
Best use: Fishing, camping, hiking, mountaineering, hunting, indoor
Description: If we're talking about a really powerful multifunctional hatchet, then we're talking about the Sheffield Camper 12-in-1 Multi Tool. It has 12 functions included and the axe is the primary one. It actually looks like a Swiss knife with an attached axe on top of it.
It is excellent for most of your outdoor needs and you can also use it indoors. All the 12 functions include Hatchet, hammer, two kinds of screwdrivers, ruler, knife, wood saw, bottle opener, hex-key wrench, fish hook remover and scaler, and an extra belt leather bag with it.
Most of the set of tools are placed in the body, under the wooden handle. The dimensions give you a freedom to place it in your backpack and being very lightweight, it is very suitable for those that like to go lightweight, yet well equipped. The weight of this baby is only 0.6 pounds which is among the lightest on the market.
All the features also make it one of the hatchets with most options on the multi-tool hatchet market. You can use it for home DIY needs, but it is also great for the most challenging outdoor activities, such as mountain climbing or hiking through deep forests. The stainless steel blade will cut through almost anything, and it is great equipped with a wooden handle so you have a great grip on the hands while using it.
PROS:
Lightweight and easy to carry
Dimensions are excellent
Lots of functions
Value for money
Very durable
CONS:
Too small for some needs
Other tools are a little hard to open
Related: For your home DIY ideas, or if you need some wood worked a little more delicately in nature, the Sheffield 1/4 Inch SuperPro Chisel is an excellent idea. It is very lightweight and you can take it everywhere with you – only 0.6 pounds. The length is 11 inches and it is made of some fine carbon and chrome vanadium steel for better strength.
Wrapping Up
The thing you need to ask yourself before you purchase a new multifunctional hatchet is – what will I use this tool for? Never buy something you don't really need just because it looks cool. Yes, it looks and feels cool to have a battery lamp attached to your hatchet, but do you really need it if you already have one on your head?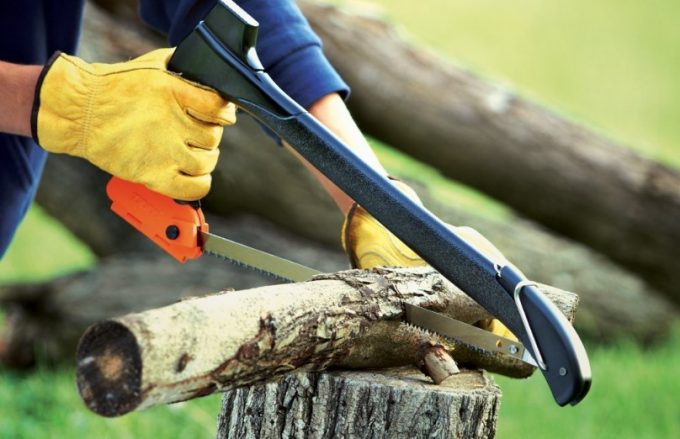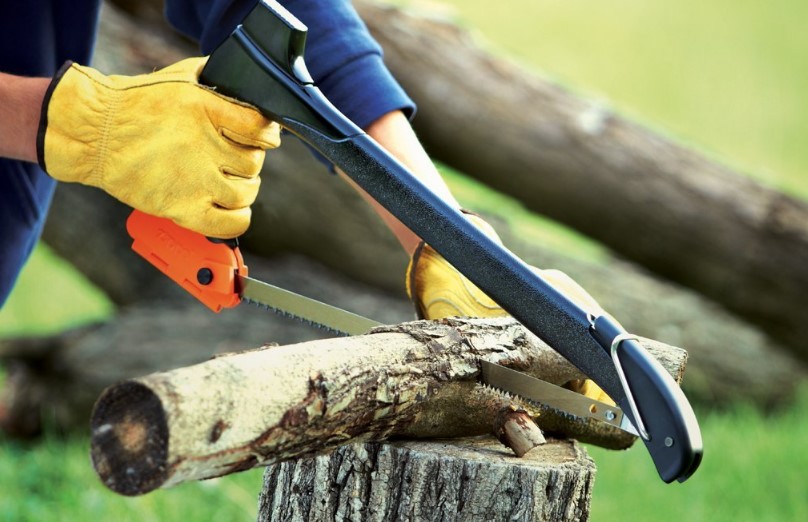 Do you need all the functions a hatchet can possibly implement in itself? Or do you need some of them? So, make a list what you need the most and look for a hatchet that will offer that. Make a comparison between the price, the size, and the weight, and make your best choice.
At the end, remember that the best hatchet is lightweight, solid, have all the tools you need, and it won't fail you in survival situations. Do you have any multi-tool you'd like to tell us about? If that's so, share with us in the comments!