The advancement in headlamp technology is nothing short of remarkable, and represents the perfect pairing of ultra bright, reliable, and compact bulbs, with extremely lightweight power sources.
The ability to wear a piece of equipment which provides little more discomfort than wearing a cap, has enabled athletes and cyclists to take their sport beyond sunset and particularly into wilderness areas. This is an environment that is especially tough on all sporting equipment, and it is now possible to provide near perfect night time vision.
The perfect headlamp strikes the balance between brightness, beam distance and flood, life between battery charges or replacement, weight and comfort. As users of headlamps, we want to have the ability to toggle between a sharp long-distance focus area and a wide angled flood light, and it safe to say that all premium headlamps feature this ability to a greater or lesser degree.
While reading this article, you will see the various headlamps that are on the market now, and we will give you all of the information you need in order to pick the best headlamp for your adventures. Armed with the knowledge you find here, you can successfully find a great headlamp that suits you.
Features to Consider
In this section, we are going to show you the characteristics that are important when it comes to headlamps. Knowing these items is important when choosing a good headlamp, so you won't find yourself in the dark.
Lumens
Generally associated with LED lighting, it is the measure of light visible to the human eye. Many people mistake this for the number of watts, which is not entirely accurate.
It is really just the measure of its power requirement. Most LED lights display the relation between their rated output and their conventional (fast becoming unconventional) incandescent counterparts.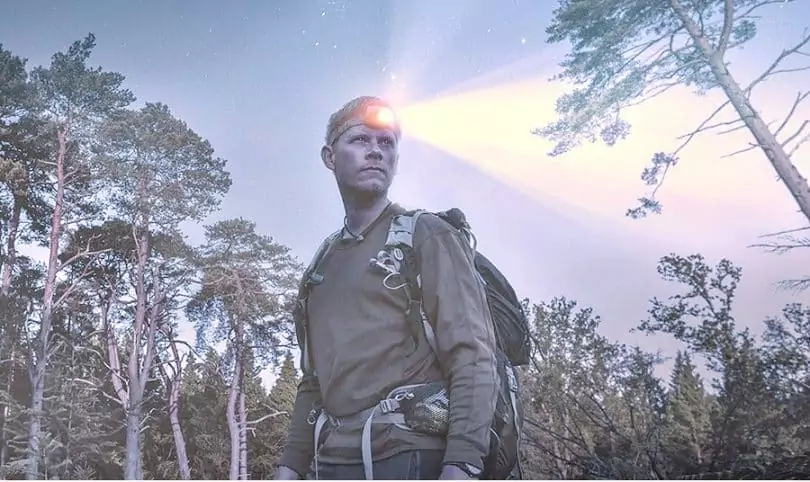 Lumens and useful Lumens: with non-directional lights such as a globe, the Lumen output is calculated for all directions. With a directional globe such as a spotlight, light output is in many directions, some of which may not be useful, but has nonetheless been counted in the total Lumen rating.
Recently the EU introduced a 'useful Lumens' rating, which is a measure of light produced in a 90-degree angle. Useful Lumens, are, therefore, a more relevant measure of the light produced in a spotlight bulb, for example.
LEDS
Also known as a light emitting diodes, they became a revolutionary alternative to the incandescent bulb, and achieves a similar Lumen output with significantly less energy. This made it possible to dispense with heavy battery packs which were worn on waist belts, and replaced them with small and compact triple A cells.
Spot and Flood
Whilst headlamps at the bottom end of the price range make provision for bright and dim, this about as far as they go.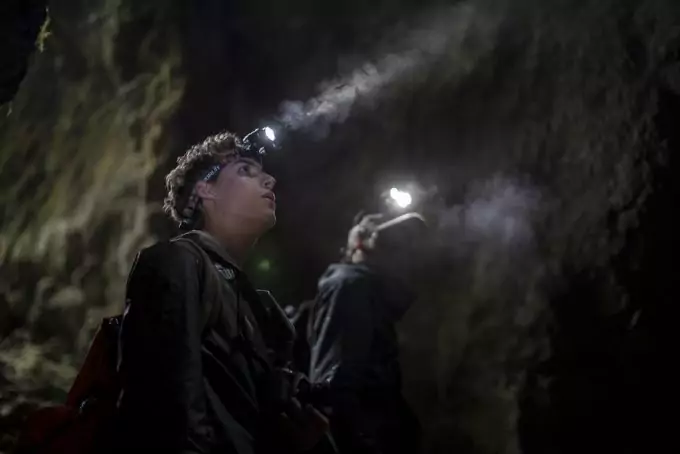 Most premium headlamps include the ability to regulate the brightness of the light, and the ability to produce a spot or flood effect.
Power Supply
The effect that the batteries have on the lamp falls into one of two categories: the conventional and the solid state. The conventional supply will cause the lamp to dim as the battery charge diminishes, whilst the solid state system maintains the desired level of brightness for the entire duration of the battery life.
There are indeed pros and cons for both, the conventional supply enables you to see exactly what state of charge your batteries have, but your lamp will become gradually ineffective.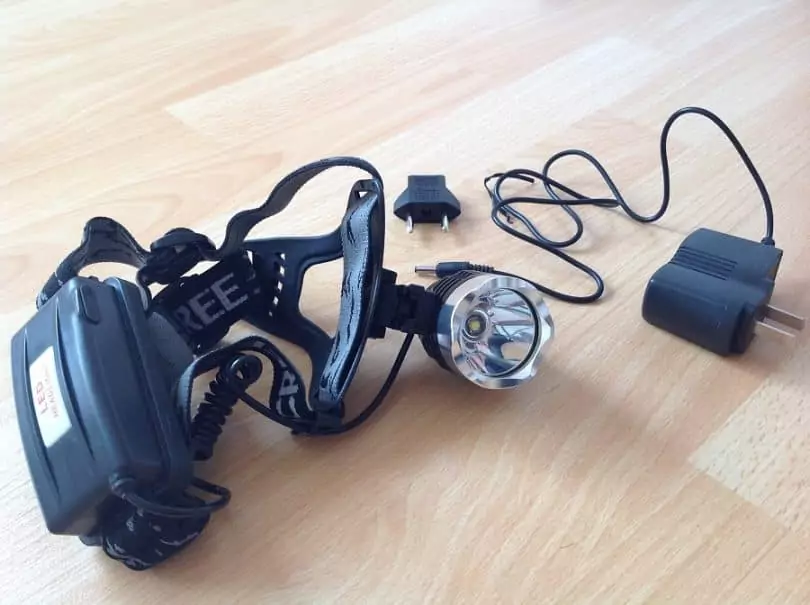 The solid state version provides little warning of the impending complete discharge of the batteries, and therefore one should always have spare batteries with you. The upside is that you get optimal light for the duration of the battery life.
Battery types: Whilst there are some exceptions, which include lithium ion batteries, most headlamps use triple A cells, either the standard or rechargeable option.
Weight and Balance
This is of particular interest to athletes, who require a comfortable, light-weight, and well balanced headlamp. An over-head strap is often added to the headlamp in order to achieve this, but the biggest contributor to balance was achieved by shifting the battery pack to the rear of the headlamp.
Weatherproof Construction
Another requirement which manufacturers needed to consider for adventurers and athletes was an element of water resistance, and whilst it is not likely that you are about immerse your headlamp in a pail of water for an hour, you are likely to encounter rain or the occasional splash.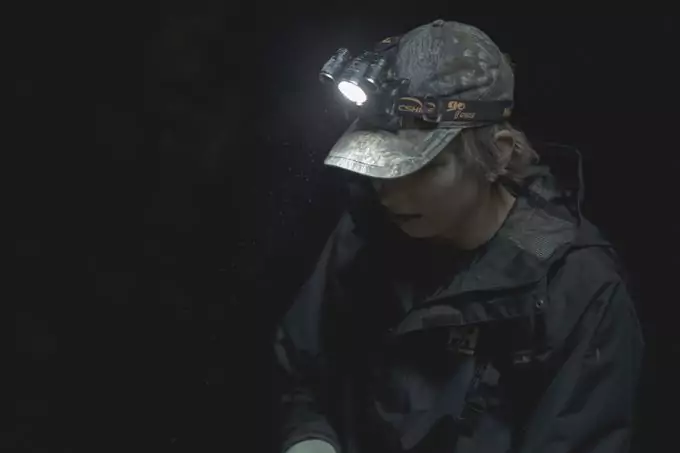 Many headlamp models have achieved impressive levels of water resistance, and with the use of polycarbonate materials, several are almost break proof.
Red Light
Many of the premium headlamps feature a red and / or green light. The red light can be particularly useful, not only does it use less energy than the regular white LED, it is also useful in emergencies and is ideal for wildlife viewing, as it has a remarkably unobtrusive effect on animals.
Top Product Reviews
Now we have come to the section where we will review 7 of the top headlamps on the market. This is where you will find specifications on items on the market, as well as Pros and Cons on each item.
Black Diamond Sprinter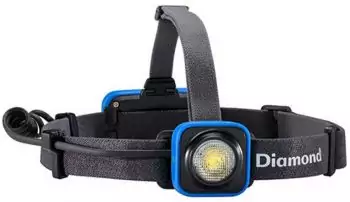 Price: Approx. $60
Weight: 2 oz
Dimensions: 2.5 x 4.2 x 4.6 in
Lumens: 130
Specific features: Rechargeable battery, flood light.
Best use: Running, due to short distance beam-throw.
Description: As far as applications go, the Black Diamond Sprinter Headlamp is restricted to short use periods (about 5 hours between charges) and provides a flood effect. The light settings include full, dimming, strobe and lamp lock.
The battery is rechargeable via a USB connection. The center head strap keeps what is already a light weight headlamp firmly in place for its intended use. As a runner you're going to get a beam-throw of approximately 30m, which is ample for urban or trail running.
Naturally, one could use this light for a variety of applications, except where you need a spot. This model is superbly balanced with the weight spread between front and rear equally distributed. It also features a rear strobe red light for urban running.
As with most rechargeable lights, the battery life will diminish over time, and this is a generally one of the biggest challenges facing manufacturers of rechargeable batteries. Other than this, the single triple power in its storm resistant casing is going to provide you with miles of service.
PROS:
Comes in two colors; Ultra Blue and Smoke Blue
Max setting is 130 lumens
Has strobe and dimming settings
Can get wet
CONS:
Some users had trouble with charging
Leaves mark on your head after use
Made from plastic
Pricey for some
Related: A comparable, but less expensive headlamp is one such as the Energizer Vision LED Headlamp. It has 3 light modes, is shatterproof and water resistant. It's less costly but still a great product for those on a budget.
Princeton Tec Remix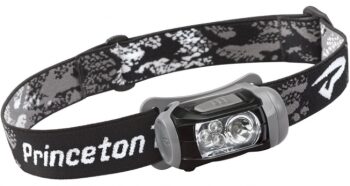 Price: Approx. $30
Weight: 2 oz
Dimensions: 2.3 x 4.5 x 8.5 in
Lumens: 70
Specific features: Compact design.
Best use: General purpose use.
Description: The Princeton Tec Remix is good for approximately 70m on high beam and is neither a flood nor a particularly focused spot, but it does achieve an acceptable balance between the two. You are likely to get a little over 6 hours of full high beam use.
The Tec Remix features two different LED bulbs, and four modes of intensity. The second LED emits a wide angle beam for general use. There is also an additional option, which you are able to select upon ordering, and that this is a further option of a red or green beam.
The red beam is often used for wildlife viewing, whilst the green option is slightly more power efficient, and is typically used when you are scratching around in your tent whilst your fellow campers are trying to sleep.
The 3 triple AAA batteries, make the light easy to recharge, and assists in reducing the weight of this model. There appears to be a latent fault with the battery door, and some care is required when replacing the batteries, and if you are the careful type, this should not pose a problem.
PROS:
Made in the USA
Long run time
Headband is removable
CONS:
No strobe light
May flicker after prolonged use
Related: If you want a storage case for your headlamp, Princeton Tec makes their own that will fit this headlamp. You can look at the Princeton Tech Stash Headlamp Case and see if its right for you.
Petzl E91 Tikkina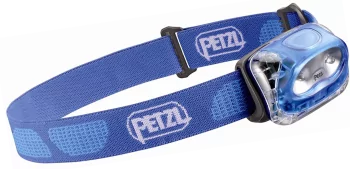 Price: Approx. $20
Weight: 3 oz
Dimensions: 1.2 x 2.5 x 6.8 in
Lumens: 80
Specific features: A simple to use, two mode light.
Best use: General purpose flood beam.
Description: A better value headlamp you are not likely to find anywhere, Petzl E91 Tikkina is an awesome headlight for the price. Not often, if ever, does the performance of a headlamp exceed the manufacturers stated performance claims.
Expect a 30m beam that's going to last for about 16 hours on full high mode, which is brilliant by any measure, in fact the claim is 180 hours on low output mode (20 Lumens), which is quite believable.
An extremely simple, robust and easy to use headlamp, and at the price have a couple of these along the trail with you, would be ideal. Power is provided by 3 triple AAA batteries, and after the beam strength will diminish in a linear shape as the batteries discharge.
Overall, this headlamp is well liked by users because it is energy efficient and easy to use. Plus, you can take it anywhere and the LED lights are a nice touch.
PROS:
Energy efficient
Simple to use
Comfortable to wear
CONS:
Only comes in blue
Some say it is not bright enough
Related: Some adventurers need more Lumens, so if that is the case, the Petzl – TIKKA + Headlamp has 160 Lumens, which is double the Lumens of this headlamp!
Streamlight Enduro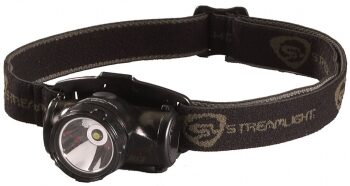 Price: Approx. $17
Weight: 2 oz
Dimensions: 7.9 5 x 2.7 in
Lumens: 5
Specific features: Integral cap clip.
Best use: General purpose, 2 mode light.
Description: The Streamlight Enduro features a solid state power regulation system, which maintains the desired set lighting mode for the duration of the battery life.
Using only 2 triple AAA batteries, contributing to its very light weight design, the light is still able to illuminate for approximately 6 hours on high and longer than 12 hours on low mode. Low mode is really only suitable for reading.
The lens cover is made from polycarbonate, which the manufacturer claims is unbreakable, and is waterproof up to 1m. An additional. The high beam will cover approximately 30m, which is suitable for most general purpose applications.
Easy to use, this headlamp is durable, and comes with an impact resistant ABS case. The LED lights have a 100,000 hour watt life and the low beam on this headlamp can run for 24 hours. While some users did have a negative experience with this headband, many say it is comfortable, affordable, and worth taking along with them during their hikes.
PROS:
Comes in 2 colors; black and camo
Affordable
Impact resistant
Unbreakable lens
CONS:
Tab in battery area can break easily
The battery cover is not strong
Light angle is hard to maintain
Related: If you want to also keep a small flashlight with you, such as a pen light, you can bring one along with you like the Streamlight Stylus Pro LED Pen Light. It can help if you need just a little extra light, or maybe if you do not want to put on a headlamp just yet.
Black Diamond Revolt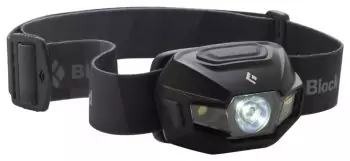 Price: Approx. $50
Weight: 4 oz
Dimensions: 2.25 x 2 x 15 in
Lumens: 130
Specific features: 10 hours run time at 56 m.
Best use: Trail running and general purpose.
Description: Whilst a beam distance of 56m may not be the best, when you consider that the Black Diamond ReVolt casts a beam in excess of 50m for longer than 10 hours, that is when one stands up and takes notice.
This with rechargeable batteries, and naturally the option to slot in a few regular AAA, if you are not able to top-up the charge during the day from just about any power source, makes the ReVolt about the best you are going to find. It is not the brightest beam, but it does produce a good focus area over its maximum distance.
It stands out at close proximity use and spreads a great and gentle flood. The ReVolt gives you one triple power LED, two single LED, and a further two single power red LED.
The settings include; full beam near and far, dimmer, strobe, red light and a lock mode. Sure, it comes at a price, and fairly hefty one at that, but stack that up against the cost of AAAs and it quickly becomes a valuable acquisition.
PROS:
Comes in Black, Titanium, and Orange colors
Affordable
3 level power meter
Comfortable
CONS:
Does not reach more than 35 feet ahead of you.
Beam is soft
May have to adjust often
Related: Black Diamond actually makes their own rechargeable batteries, which will work for this headlamp and other Black Diamond products. If you need a 4 pack of AAA batteries, check out the Black Diamond AAA Rechargeable Battery 4-Pack.
Coast FL75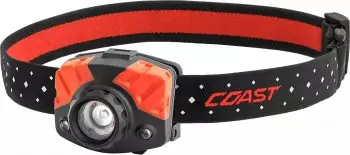 Price: Approx. $50
Weight: 6 oz
Dimensions: 2.3 x 1.5 x 2 in
Lumens: 405
Specific features: 140 m, but for only 2 hours. You can get 20 hours at 50 m.
Best use: Trail running and general purpose.
Description: The Coast FL 75 is an extremely powerful light, and casts its beam a staggering 140m, but all that light and distance comes at a price, given that this awesome beam will only be on for about 2 hours.
But let's compare apples to apples here; the low beam produces an equally staggering 50m, more than most others produce on their high mode, and at the power setting you will get about 20 hours. On the middle setting, you have a really good lamp on your head.
The Coast FL75 Headlamp combines many of the popular Coast features into one headlamp. The first button on the headlamp gives you the ability to shine a really wide flood beam, and then twist the bezel beam adjuster to achieve a long reaching spot with a transition halo.
The second enables switching to a fixed red LED light. Three triple A's, provide the power for this solid state performer, add the cap clip, and a reflective headband, and even at the price, this is an awesome all round headlamps.
PROS:
Dual colors; white and red
Comes in 5 colors including red, black and blue
140 meter beam distance
CONS:
Not comfortable to wear
Pricey
No padding for forehead
Related: Price may be an issue for some, so if you want something similar to this headlamp but less costly, please look into the Black Diamond Spot Headlamp.
Black Diamond Storm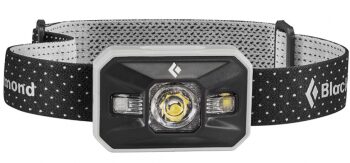 Price: Approx. $40
Weight: 4 oz
Dimensions: 5 x 5 x 2 in
Lumens: 250
Specific features: 8 hours in high mode.
Best use: Trail running and general purpose.
Description: Simply an awesome headlight, is really the only way to start considering the Black Diamond Storm. Despite carrying four triple A's, its robust, weatherproof casing, it is still respectably light in weight.
This, the latest model adds an additional 90 Lumens over the previous generation and casts a good length beam at 70m, whilst also having the ability to throw an even wide angle flood (compared to the previous version the beam length has not changed, but the overall diameter is about twice the size of the old model.
On high beam setting, the run time is an impressive 8 hours, and for hunters, you have the choice of either red or green LED's as well. The solid state power supply keeps the light at peak performance for the duration of the battery life.
Whilst an overall improvement over the previous version, it does have one flaw, and that would be the strap buckle which is on the inside of the headband, really only noticeable after a while if you enjoy a tight fitting head band.
PROS:
Red and Green Lights for night mode
5 colors including Aluminum, Dark Olive, Matte Black
CONS:
More pricey than others
No carrying case
Related: If you are in an emergency, it is also good to have a signal light that will flash yellow, such as the eGear Guardian Dual Function Signal Light.
Concluding Thoughts
Naturally, there are users for which their headlamps are required to perform a very specific function, but any kind of headlamp will do in any given situation. After all, having one is better than nothing at all, especially during those emergency situations.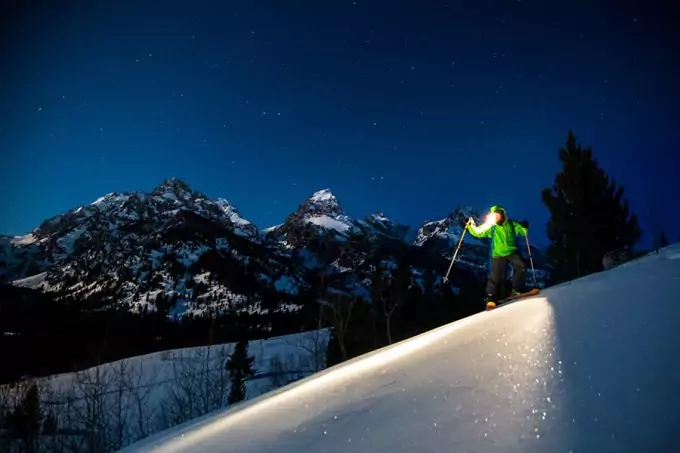 It is when you least expect it that a headlamp becomes worth more than its weight in gold. The advent of hands free lighting is a marvelous invention, and the list of applications is almost infinite.
The number of model options is equally impressive, and when one considers the value that these lighting systems present, every household should have at least one in the kitchen drawer. Are there any great products you have that we failed to mention in this list?
Leave your suggestions below. We'd love to hear your stories, and your experiences could provide a more complete list of fantastic products that could help other readers out in their search for the best headlamp on the market.