Every outdoor enthusiast will agree that having the right gear with you up in the mountains is of utmost importance to have a successful trip. But spending time in nature shouldn't cost you a fortune as that might often be the case – which is why you may want to learn a thing or two about cheap backpacking gear to help you along the way.
If shopping on a budget, you'd be happy to know that buying cheap items doesn't mean that they'll be unreliable. Ideally, you won't pay hundreds of dollars for a good-quality item that won't fail you down when you most need it. But knowing which budget-friendly options work slightly better than others might give you a headache or two.
To help you out in your quest to find exactly what you need for your next trip, we've made this article. Apart from giving you reviews of some of the most popular backpacking gear items, we've also included the things you might want to pay attention to before buying anything. Keep reading on to learn more!
Our Top Picks
Things to Consider Before Buying
Before buying any cheap hiking gear we recommend taking the following features into account.
Weight
Weight is one of the most important factors when it comes to hiking no matter the item you're looking to buy. For example, you certainly don't want to carry a backpack that's too heavy, as that might slow you down. You want to fit all the necessary gear, but you also want to make sure it allows you to have a comfortable hike.
Therefore, the weight of each item is fundamental. You will need to take with you the right clothing as well as food, so the lighter your cookware, tent and additional gear, the better. Fortunately, you can get practical cookware made of aluminum, a very resistant and lightweight material, or for that matter acquire a polyester tent with a coating, also lightweight and water resistant.
Size
Size is another key feature that you should not overlook when it comes to picking your next camping trip favorites. Most of the time, campers tend to go for the smallest and lightest of objects.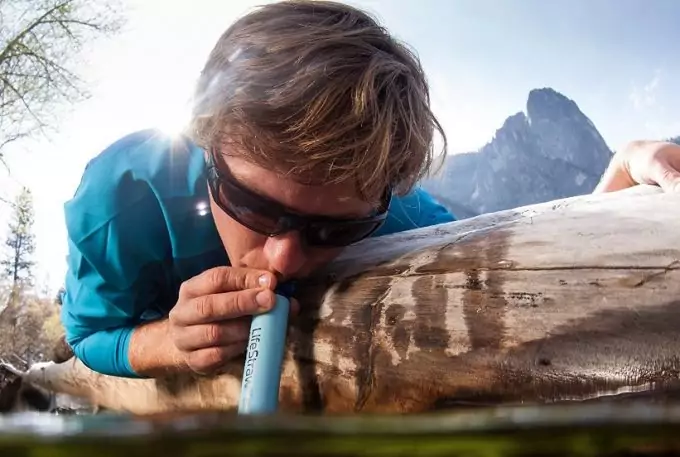 Again, let's take the average backpack as an example. If you decide to go with the traditional, 35-liter backpack, you'll need to make sure everything fits in it while the backpack itself doesn't weigh too much. We'd like to emphasize the importance of additional compartments – that way the poles, the filter, the bottle and even the mug could potentially be on the outside of the bag.
On the other side, if we're talking about hiking poles, they need to be sturdy and durable enough to support you in your quest to the top. However, if they're too heavy, even the additional compartments on your backpack – the ones where you can attach your poles – won't be of too much use.
Material
The material of each item should not be underestimated. The fact that you are buying cheap hiking gear does not mean that it shouldn't be durable, reliable or practical.
Aim for materials such as titanium and aluminum when it comes to cookware or bottles. They're lightweight, easy to wash and dry, and are resistant to almost anything.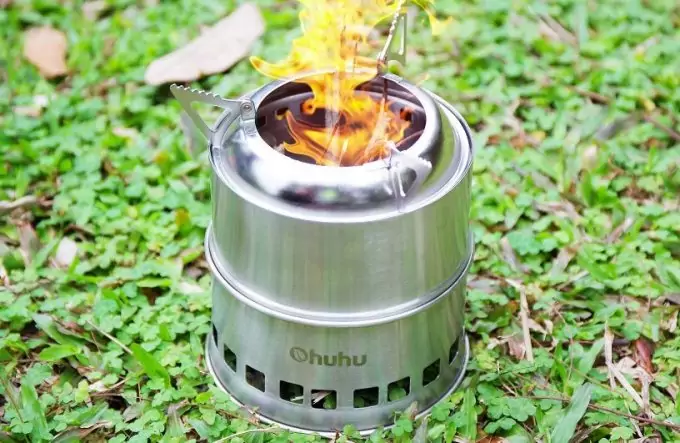 As for footwear, bags, and tents, aim for water-resistant fabrics, PU materials and polyester. Once again, these are not heavy, they will be water resistant in case of any undesired rain or river crossings, and are very resistant to tears, giving you years of use.
Durability
No matter how tight your budget is, that doesn't mean you should buy something that you'll only get to use only once or twice on the trail. Remember, good-quality items don't always come at a ridiculous price and finding a decent buy is completely doable.
As far as durability is concerned, we'd recommend you look at the material out of which each item is made. Check whether it's water-resistant, tear-resistant, etc. as to be able to get the most out of it. We'd also recommend checking out what reviews have to say about each item as well.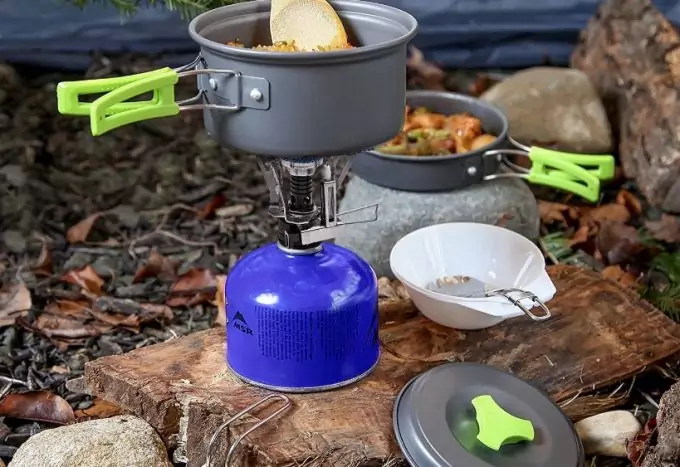 Another thing that you should pay attention to is the way you need to maintain the item and prolong its durability that way. For example, tumble-drying your tent after you've washed it in the machine is a very bad idea when it comes to making your gear last longer.
Planned Use
If you're shopping for cheap gear, then you're probably concerned about saving money. However, in order to save even more without buying the wrong product for yourself, you need to think about where and when you'll be using your gear.
We recommend thinking about the weather conditions, the time of year you'll be using your gear, how often you'll be using it and when it comes to clothing, whether it feels comfortable or not. Remember, sometimes, paying a bit more for comfort might prove to be wise once you're on the trail.
For example, if you know you'll be camping throughout the whole year, then it'd be better to pay a bit more and get an all-weather tent, rather than buying two separate tents for colder and warmer months.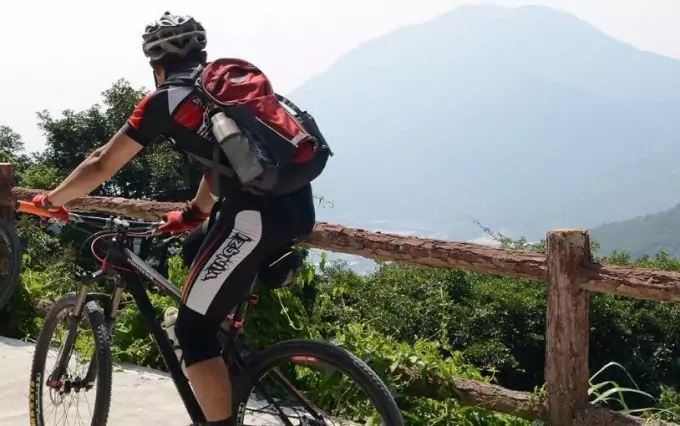 On the other side, if you're looking to buy, let's say, shoes, then chances are, you're probably going to use different shoes for summer and winter trips, so feel free to save a few extra dollars there and opt for the cheaper pair.
Best Products on Today's Market
Here are some of the best products on today's market!
Venture Pal Hiking Backpack 
Price: Approx. $20
Weight: 0.7 lbs.
Dimensions: 8.5 x 2.2 x 9 in.
Specific features: Lightweight but spacious, made with high-quality tear and water materials, a double layer bottom, breathable mesh shoulder straps, with sponge padding, two side pockets, two zipped front pockets, and two separators in the main compartment
Best use: 1-4 day hiking, camping or backpacking experience
Description: The Venture Pal Packable Hiking Backpack might as well be ideal for any purpose, from hiking and camping to traveling. Coming at 35 liters with multiple compartments, including an internal divisible main one, it allows you to carry all the necessary gear for your adventure.
On top of that, a backpack like that makes sure that more delicate items are kept dry and safe, organized, and separated from liquids or rougher materials. The outside pockets could help you separate other accessories to make them easy to reach, for example, cameras, chargers, or even better, snacks. Again, if you're concerned about certain things such as electronics, you could keep them inside the divisible main compartment.
Being so light and with a comfortable sponge and breathable shoulder straps, you might not feel as much stress on your shoulders, and the airflow will keep both your back and shoulders considerably dry.
Apart from its great price and availability in several designs and colors, you can fold it into a pocket carry-on size, for easier storage at home, or in a bigger travel bag. All in all, regarding every aspect in mind, you might be getting premium quality for a very low price.
PROS:
Cheap & pretty durable
Lightweight
Roomy & comfortable
Lifetime warranty
CONS:
Not 100% waterproof
Might not be big enough for long vacations
Related: This Venture Pal backpack fits very well with hydration packs. You can just put the hydration pack inside one of the inner pockets of the backpack and fill it up to stay hydrated whilst doing a hike. The Freemove Hydration Bladder is a recommended fit, as it's durable, simple to clean, and the ideal size to fit any backpack. 
Tesla Trail Running Shoe 
Price: Approx. $27
Weight: 0.6 lbs.
Dimensions: 13.5 x 6 x 3.5 in.
Specific Features: Made of mesh, nylon webbing, synthetic leather and high-quality PU materials, a reinforced heel cup, a shock absorbent synthetic midsole and a mesh upper
Best Use: Anytime, any condition and can be worn even while jogging
Description: The Tesla Trail Running Shoe might come for a low price but don't let that fool you – regarding the quality and the versatile use it offers, it could easily be described as great! These shoes can be used for both longer and shorter hikes and trips.
The shoes feature a shock absorbent midsole that allows you to run on harder surfaces, or hike on rocky paths, and still feel comfortable and steady. The sole has a dynamic grip, which allows you to walk on any surface and still have a good enough grip; from mud to watery surfaces the sole will still have traction.
Furthermore, being made of nylon webbing, mesh, and synthetic leather, they keep your feet warm, helping you during colder conditions in hikes, and they also dry up pretty quickly in case there's rain or water along the way.
Being extremely light and comfortable, they can also be used for jogging or running. Since their midsole absorbs most of the shocks and the sole grips to almost every surface, and they're comfortable for long-distance running or cross-country jogging.
PROS:
Cheap price
Durable and resistant
Lightweight and comfortable
Wide range of sizes
Suitable for various outdoor activities
CONS:
They don't come in a box, but in a bag
The midsole could wear off after a short while
Hard sole
Related: For even better comfort, we'd recommend getting the Sof Sole Shoe Insole for your next pair of hiking shoes – it'll make your trips even more comfortable by reducing the shock applied on the heel. Being able to pick from a variety of sizes, you can add them to any pair of shoes, as they fit both athletic and casual shoes.  
BAFX Hiking Poles 
Price: Approx. $20
Weight: 0.7 lbs. each
Dimensions: 26.5 x 4.02 x 1.5 inches, each extends to approx. 52 inches
Specific features: Ergonomic handgrips, a wrist strap, carbide tips and 4 rubber tips included, a mud basket, 1-year warranty, an instructional video
Best Use: Any hike or camping trip of any duration
Description: If you're looking for great support at a low cost for your next trip, then the BAFX Hiking Poles might be ideal for any hike that you have planned. Not only are they incredibly affordable, but they are also very light and easy to carry around while at the same time, taking off some of the extra weight from your back and shoulders.
The carbide and rubber tips allow you to use them on different surfaces, from mud to snow or even rocky paths. The handles should allow you for a great grip even when hiking in rain or dealing with sweaty hands.
One of the best parts of these hiking poles is that they can be extended. If you don't need to use them, just shorten them to their original size – 26.5 inches – and tie them to your backpack. Otherwise, put the strap on your wrist, and go conquer those mountaintops.
A thing many would enjoy is the 1-year long warranty – regarding the price, you'll be getting a pretty neat deal over here. The poles are suitable both for beginners and more advanced outdoor lovers and enthusiasts.
PROS:
Lightweight & cheap
Adjustable size
Sturdy & durable materials
CONS:
When adjusting the length of the poles, sometimes they get stuck
Pro-hikers could prefer something a bit more specific for rain/snow
Related: If you know you'd be hiking in rainy or snowy conditions, then you could be interested in getting OUTAD Waterproof Legging Gaiters – you'd be able to attach them to almost any pair of shoes! As the name suggests, they're waterproof and should keep you dry even when moving through heavy snow. The gaiters are available in a variety of colors and designs. 
LifeStraw Personal Water Filter 
Price: Approx. $20
Weight: 0.1 pounds
Dimensions: 9 x 1 x 1 inches
Specific features: Capacity of purifying 1,000 liters or 264 gallons of water, lightweight, removes 99.9999% of waterborne bacteria and 99.9% of waterborne protozoa
Best use: Any outdoor trip, travel use
Description: The LifeStraw Personal Water Filter might prove to be your new best friend on any travel – it's a filtration straw that gives you quick and easy access to clean drinking water. The filtration straw has no batteries to replace and no moving parts to wear out – your only job is to simply carry it around and have it ready to use in any stream or lake.
An advantage of this filter is that you actually don't need water bottles, although for longer trips they are always recommended. The filter comes in a sealed bag; if there is a stream, you can drink straight from the filter as it cleans the water. Simply open the caps, insert one end into the water source and sip the filtered water from the mouthpiece.
After each drinking session, blow back onto the mouthpiece so that the dirty unfiltered water gets expelled and the filter membranes are flushed. You might have some trouble getting used to sipping and blowing out, as it's not exactly easy and it requires some practice but you should get used to it pretty fast.
The filter type is a hollow fiber membrane. It removes minimum 99.9999% of waterborne bacteria and surpasses the EPA standards for water filters. It also removes 99.9% of waterborne protozoan parasites, and filters to 02 microns. Furthermore, it filters 1000 liters of contaminated water without iodine, chlorine and other chemicals.
PROS:
Very portable
Filters up to 1000 liters, lasting very long
Handy & cheap
Extremely reliable
CONS:
Could be hard to sip through the mouthpiece
Blowing out the dirty water requires some practice
Related: If survival and bushcraft are your thing, then you need to be ready at all times – and the Survival Spark Magnesium Fire Starter allows you exactly that! Coming with a compass and a whistle as well, the fire starter is small enough to fit even in your pocket. One of the best parts about it is that it can strike up to 15,000 times, allowing you to use it for years on end. 
MalloMe 10-Piece Camping Cookware Mess Kit 
Price: Approx. $25
Weight: 0.07 lbs.
Dimensions: 3.8 x 6.3 x 6.6 inches
Specific features: Made of non-toxic anodized aluminum, FDA approved, lightweight, built to last, includes a nylon travel pouch, and a recipe e-book
Best use: Any hiking or camping trip
Description: If you're sick and tired of eating bland food on your trips, then the MalloMe 10 Piece Camping Cookware Mess Kit might be the solution to your problem. This is a very reliable cookware set for solo hikers or couples, providing you with everything you might need on your trip.
Made of aluminum, this cooking set is not only lightweight but also pretty durable, making it a reliable companion on your next trip and almost ideal for longer hikes. The fact that it comes in a pouch, makes it very easy to pack and to carry around – or you can simply attach it to the outer part of your backpack (aluminum doesn't get damaged by water).
But don't let its size fool you – it comes in a 10-piece kit, consisting of one pot of a 1 liter capacity, a pot cover, a nonstick pan, 2 bowls, a folding stainless steel spork, a free soup spoon, a wooden spoon spatula, and if that's not enough, you also get a cleaning sponge for easy cleaning!
The wash-up of the kit should be fairly easy, as you'll only need to use the cleaning sponge that comes with it. Chances are, the entire cookware should be clean in five minutes or less, saving you plenty of time and energy.
The pots are small, one-liter maximum, hence why they're recommended for only one hiker or maximum two persons. It's not ideal for large groups unless each person has their own cookware. This is built as a practical camping item, not as professional cookware.
PROS:
Durable
Lightweight & easy to carry
Ideal for backpacking & hiking trips
CONS:
Not built to be used on a campfire, but with a controlled flame
Only for 1-2 persons
The wooden spoon can wear out after a few times of being washed
Related: If you enjoy creating full-course meals while out in nature, then give Wealers Camping Board Travel Set a try – it should be the ideal addition to your cookware! Probably the best part about it is the fact that the cutting board is fully foldable, while at the same time, allowing you to take with you a large kitchen knife and a few other kitchen necessities even when on the go! 
Yodo Lightweight 2 Person Camping Tent 
Price: Approx. $30
Weight: 2.6 lbs.
Dimensions: 5.5 x 2.1 x 23.5 in. when closed
Specific features: Made with durable polyester and PU coating, comes with a rain fly-vented roof, a front door entry with a two-way zippered mesh window, large mesh sidewall vents at the top for ventilation and stargazing
Best use: Camping trips
Description: The Yodo Lightweight 2 Person Camping Tent might easily become your next favorite part of your camping gear. It is easy to set up or take down, as both tasks can be completed in only five minutes. Also, being so lightweight, it's ideal to carry on long hiking trips, either inside its own bag or inside your backpack.
The two-way zippers will allow you to easily come in or out of the tent, as they allow it to open both from the inside and outside. The mesh sidewalls are ideal for stargazing or simply admiring the nature, keeping mosquitoes, or any other type of bugs out. It's spacious enough to fit a twin air mattress for additional comfort.
Since it's not waterproof, this can be described as a two-season tent. In case of rain, a tarp underneath and above would be needed or spraying a waterproofing agent on the exterior. However, for the affordable price, this might be an ideal tent for summer hikes and camping trips.
PROS:
Cheap
Easy to set up and take down
Lightweight
CONS:
Not waterproof
Two tall people might have some trouble fitting comfortably inside of it
Related: The Intex Inflatable Camping Mattress might be the perfect add-on for the Yodo tent. It's cheap, easy to carry around and even easier to set up. The mattress should fit inside the tent without a problem and allow you to sleep even more comfortably. The mattress comes with a built-in pillow. 
Ohuhu Wood Burning Camping Stove 
Price: Approx. $20
Weight: 0.06 pounds
Dimensions: 0.79 x 0.79 x 0.39 inches
Specific features: Crafted stainless steel for better quality, portable, geared with a 3-arm base support, it comes with its own mesh carry bag for easy portability, comes with no fuel canisters and needs no alcohol
Best use: Any hiking or camping trip, for max. 1-2 people
Description: The Ohuhu Wood Burning Camping Stove does exactly what its name suggests – it uses twigs, leaves, wood and other natural products as fuel. This also makes it ideal for carrying around, as it's small, lightweight and has no added weight from the fuels. You can easily fold the support system and put it in its carrying case, saving space in your backpack.
Alternatively, this portable stove can use solidified alcohol tablets as fuel. With the 3-arm support system, it creates a really stable cooking platform, ideal or placing any pot or pan. Such design also helps distribute the heat evenly.
Being a solo stove, or for a maximum of two persons, you have to keep in mind that if you're in a group, you'll need to wait a bit longer to cook. Also, keep in mind that if you don't have the alcohol tablets, you'll need twigs, leaves or wood; so calculate the time searching for them to the cooking time.
PROS:
Cheap & easy to carry
Lightweight but sturdy
No fuels needed 
CONS:
It uses no fuels, which might be unpractical for some
Larger groups might need something bigger to cook faster
Related: The Esbit Solid Fuel Tablets are ideal to partner with your new Ohuhu Camping Stove. If you can't find any dry wood or twigs, just use one or two in order to light up the stove and start cooking. The tablets work well regardless of your altitude and should prove to be almost smoke-less. 
Topoko Stainless Steel Water Bottle 
Price: Approx. $14
Weight: 0.8 lbs.
Dimensions: 10.8 x 3 x 3 inches
Specific features: Built-in stainless steel interior and exterior with a 25-ounce capacity, insulated to keep beverages hot or cold up to 12 hours, comes with a loop cap and carabineer, 100% BPA free
Best use: Any hiking or camping trip, everyday use
Description: The Topoko Stainless Steel Water Bottle is an ideal water container for any hiking or camping trip you have in mind. It's lightweight and very resistant, as well as keeping both cold and hot beverages insulated for a long time. It's built with stainless steel, making it both resistant and lightweight.
One handy feature is the handle bottle tap, which allows you to carry it by putting your finger through it, or simply attaching a string, rope or strap through it so that it takes no space in your backpack. It has a wide mouth too, a feature many buyers might appreciate.
The insulation might prove to be surprisingly good, as the bottle keeps the liquids warm or cold for up to 12 hours. If you're on a long hiking trip and want to drink a hot or cold beverage on breaks that you take along the way, the Topoko bottle might be a good companion.
On top of that, you could easily use this bottle on your everyday commute to work or around town. The bottle features a leak-proof system, making it safe to carry it around even in your everyday purse or backpack.
PROS:
Light & easy to carry
Keeps liquids hot and cold for quite a long time
Durable & resistant
Leak-proof system
CONS:
Mouth opening might be too big for some
Some might prefer bottles with larger capacity
Related: The OXO Steel Bottle Brush is exactly what you need to clean your water bottles. Apart from coming at a great price, the brush features bristles that can easily clean hard-to-reach places while at the same time, not scratching the surface. The brush can be used for a variety of bottles and containers. 
GSI Outdoors Infinity Backpacker Mug 
Price: Approx. $10
Weight: 0.2 lbs.
Dimensions: 4 x 5.2 x 5.4 in.
Specific features: Made of clear polypropylene, comes with a sealable sip-it lid, insulating sleeve with a handle to keep beverages warm
Best use: Any camping or hiking trip, as well as an everyday use
Description: The GSI Outdoors Infinity Backpacker Mug is a cheap but cute little portable mug for taking on the go with you to make sure your beverages stay warm – even though it doesn't have an actual insulator. However, the sleeve does work as an insulator, keeping liquids cozy and warm whilst you take your time to relax and drink them during breakfast, or during a hiking break.
It is small and extremely lightweight, making it really easy to carry around. This is quite useful because sometimes you just need a glass or a cup for sharing a drink, and you might not have one, as it was extra weight. But with this mug, you don't have to worry about the weight or even the size – in fact, the handle of the mug is fully collapsible helping you pack it more easily.
The lid also makes it very easy to sip any drink whilst walking, so you don't' go spilling everything on you. The mug comes in a variety of designs and colors, suitable for everyone's taste.
PROS:
Easy to carry around
Handle is collapsible
Stylish and practical
CONS:
The insulating sleeve might not keep liquids warm as long as a regular insulating bottle
It doesn't fit the standard car-cup holder
Related: The GSI Outdoors Collapsible Java Drip Coffee Maker is an ideal match for your mug – it lets you enjoy fresh coffee right there and then! For coffee lovers, this is a good add-on that can be incorporated into the mug that's worthy of your time. The best part about it is that the coffee maker is fully collapsible, making storing and carrying very easy! 
TOAKS Titanium Cup 
Price: Approx. $20
Weight: 0.1 lbs.
Dimensions: 4 x 4.7 x 4.7 inches
Specific features: Titanium cup, extremely lightweight and corrosion resistant against corrosion, additional mesh sack to carry it around
Best use: Any hiking or camping trip, everyday use
Description: The TOAKS Titanium Cup might become your new favorite part of your camping gear – it's a titanium cup that's very sleek and elegant looking while being extremely practical at the same time. The cup is extremely lightweight but don't let that fool you – it can hold up a more-than-decent amount of 450 ml or 15 fluid ounces!
Its best feature is probably the fact that is made of titanium, which makes it very resistant to any bumps, but also making it corrosion-resistant. Furthermore, titanium leaves no metallic smell or taste on the beverages, a feature many campers are going to appreciate.
Also, it can be heated and reheated as many times as needed and it won't be damaged at all. Instead, if the beverage you're drinking cools a bit, you can just reheat it and in two minutes your beverage is warm again. Nevertheless, it shouldn't be used to boil anything, as it conducts heat pretty well, but it might get too hot to the point of burning you, so handle with care.
PROS:
Extremely lightweight
Durable & corrosion-resistant
Can be heated/reheated
CONS:
If bought with the lid, careful when heating the cup, as the lid might melt
Can't boil anything in it 
Related: If you're looking to step up your camping game, then consider getting the TOAKS Titanium Long Handle Spoon – it's a great addition to your camping cup! Being lightweight, you'd be able to easily carry it around while at the same time, the length of the handle should allow you to reach even the bottom of various bottles and thermoses. 
Wrapping Up
As we said at the beginning, we are aware that finding reliable but cheap hiking gear isn't always easy, however, we believe this list covers up most of the necessary items to take on a hiking or camping trip, aren't pricey at all, and are all easy to carry around.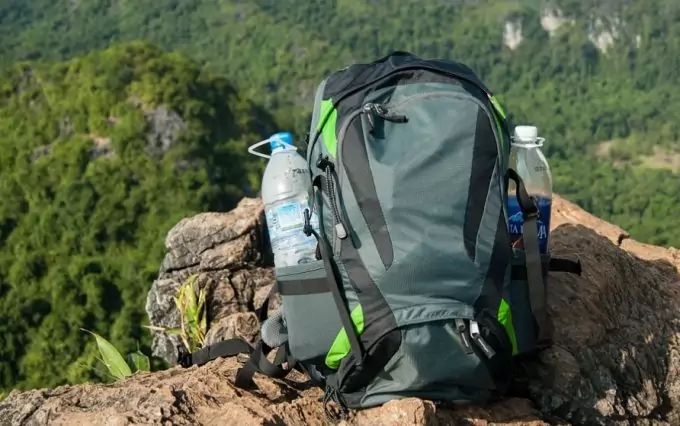 Remember, buying on a budget doesn't mean you'll be buying products that will fail you down – actually, you could be surprised by just how durable some of our products are!
Do you think there is any other item we missed? Have you tried any of these products before and would recommend them to anyone? Please leave your comments below and let us know – we'd love to hear back!