Have you ever tried a kilt? It can be a comfortable alternative to wearing pants or shorts. However, we know it can be tough to find the best one for hiking! Outstanding freedom of movement, excellent ventilation, and loads of storage pockets are some of the benefits hiking in kilt offers. This attire has been making slow but steady inroads into the world of male fashion.
Now, kilts are finding their way into the outdoor arena, with some of them designed specifically for hikers. If you are a die-hard outdoor enthusiast, you need to own the best hiking kilt to make your backpacking experiences unforgettable.
These attires are a practical garment for males, and it is amazing that more backpackers and hikers don't use them. The kilts are an excellent way to prevent the buildup of moisture and chafing in the sensitive sections of your anatomy.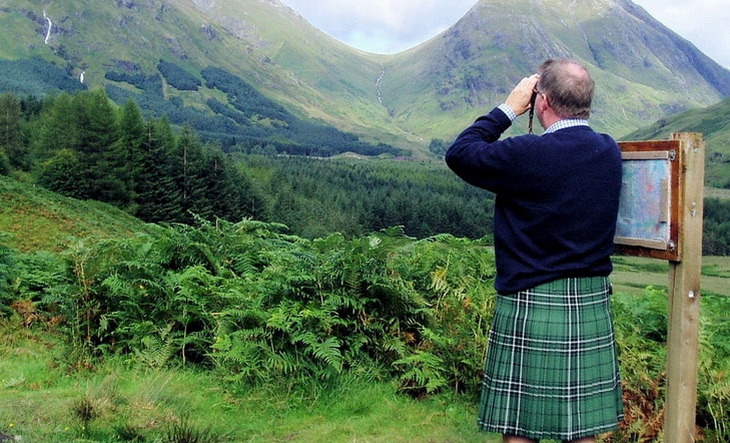 When buying a kilt, look for designs with pockets which close with a button or zipper, so you don't lose the items you stash in them. Products made of nylon are preferable as these dry fast. Kilts that come with built-in belts are also suitable especially since you will likely shed some weight as you hike.
Needless to say, when wearing a kilt, it's imperative to put on some underwear, even when you are tempted to go all natural. Short leg compression shorts or bikini briefs are suitable as these protect your package. This is also important for modesty purposes when you happen to find yourself in a company of other hikers.
In this article, we are going to show you the best hiking kilts that you can find, and we hope you can find one from the reviews at the end! Let's dive into the world of kilts!
Our Top Picks
Features to Consider Before Buying
Once a traditional garment, the kilt fell into disuse. People wore the attire for many years during holidays or other special occasions. However, today the kilt has become quite popular, especially with backpackers and hikers.
While the subject of tartans and kilts have filled volumes, the basic guidelines for those wishing to buy a kilt can be summed up in simple do's and don'ts. If you familiarize yourself with these pointers, you will find the selection of kilt to be an easy process.
Versatility
In most cases, the convertible pant or the hiking pants are not very versatile when it comes to adventuring outdoors. With the kilt, you can design to put on some compression shorts or other loose pants for additional warmth.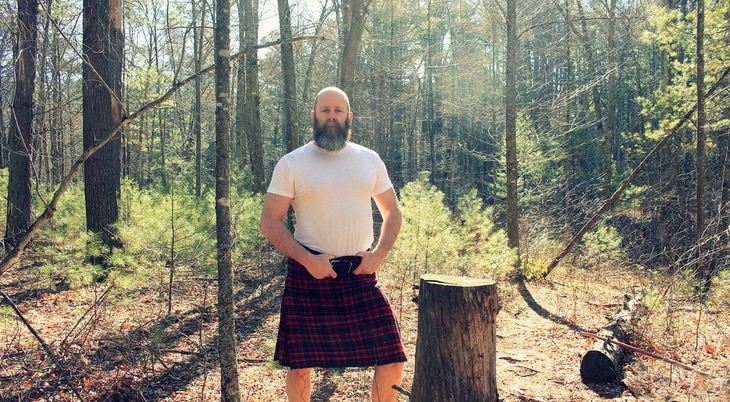 This combination is much better as opposed to dealing with zippered trousers or wet pants during the rains. Even when it rains, the kilt dries very quickly, and you can continue with your hike without contemplating what to wear for replacement.
Modesty
For most people, modesty is discarded when on the trail, but if this bothers you, a kilt is an excellent option. If you've ever gone to an overnight camp, you probably have an idea of how to dress without exposing yourself using a towel.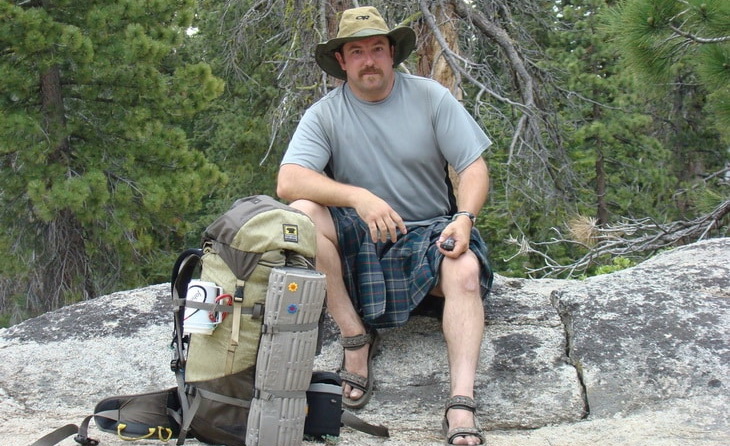 The same concept applies when it comes to a kilt. You can quickly change your underwear or remove shorts without having to go naked. This is particularly useful when you are around other hikers.
Measurements
As a hiking enthusiast, you need to realize that the right attire is not the tossed-on garment but one that careful fits you. A kilt that is ready to wear should be tailored to suit your measurements.
The waist needs to be measured further up your torso as opposed to where the waistbands of modern pants lie. The hip measurement (usually rare for men's garments) should also be taken to ensure a perfect fit.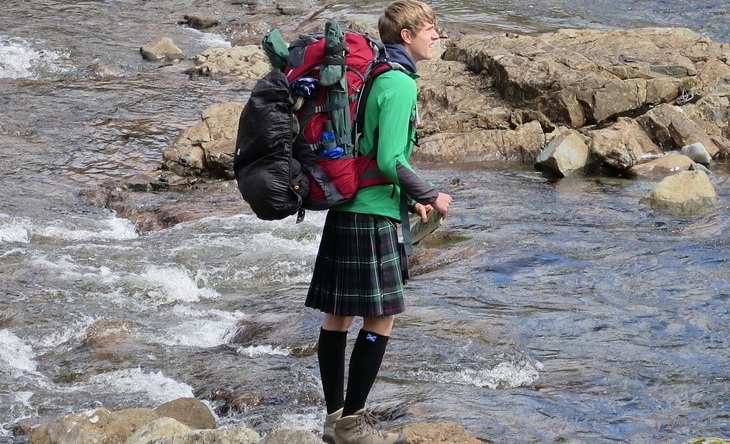 Apart from that, the kilt's length is also important, since a well-fitting garment should reach the middle of your kneecap. The distance from waist to the crotch (the rise) is also worth taking into consideration.
Before you can pick a kilt, you need to take the time to consider these measurements. That way, you will find it easier to select the correct size. Once noted, some dealers can make the necessary adjustments before shipping the final product.
Durability and Quality
When it comes to selecting a hiking kilt, it's essential to choose the best quality tartan fabric out there. A cheap-looking product is a fashion faux pas. Since this garment is viewed a treasured piece of attire, much like the interview suit or a wedding gown, you need to ensure you have a kilt of the best quality.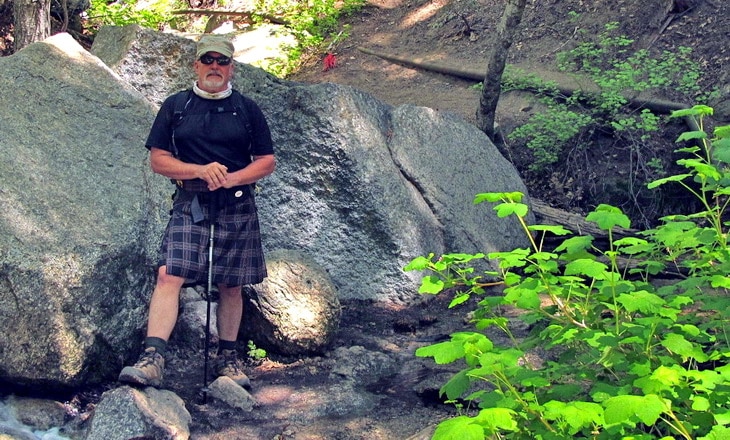 The good thing about choosing a kilt that is quality is the durability aspect. You can save a lot by going for the right material as the product will stay for a long time without getting destroyed.
Undergarments
When buying a hiking kilt, you should consider the kind of underpants that will go along with the garment. In the modern world, it's only sensible to be hygienic and warm by putting on boxers or briefs beneath the kilt.
For the sake of modesty, especially when trekking with a group of friends, it's important to ensure you wear underwear beneath the kilt.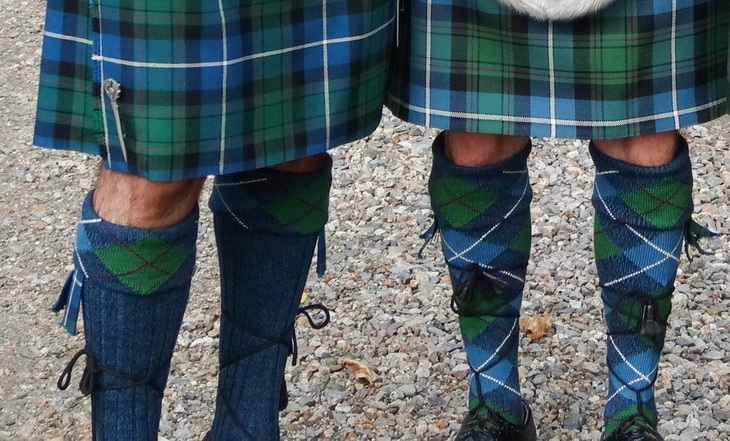 Standing outdoors, marching and dancing on a windy day lead to offended onlookers, especially in a crowd that is mixed. Some of these risks can be reduced by using the kilt pins.Therefore, if you are looking to purchase a kilt, you should never forget the undergarments as these are critical accessories.
Top Product Reviews
This is the section of the article where we will show you the top product reviews on hiking kilts, and give you some information about the items so you can make an informed choice when you decide to make a purchase. Happy shopping
Damn Near Kilt 'Em Greenhorn

Price: Approx. $65
Weight: 3.1 lb shipped
Dimensions: 12.4 x 11.4 x 2 in
Specific features: 100% cotton drill, traditional style pleats, ample front coverage, multi-functional side pockets
Best use: Trekking, shooting sports, backpacking, hiking
Description: The Damn Near Kilt 'Em Greenhorn is built to last and can put up with any manly task it's subjected to. This kilt has a traditional style, although it incorporated added functionality to serve you better in the outdoor environment.
The Greenhorn features a classic style with two cargo pockets and a back pocket that ensure your items don't get lost while in the wilderness.
This kilt is made from all Cotton drill and has a snap enclosure so you feel secure. It is light in weight, breathes well and is highly durable, so you can wear it for years to come. There is also a lot of coverage in the front, with an apron that overlaps to keep you modest.
Users like that the material feels nice against their body, and the style of pleats is traditional. The side pockets are a bonus, they state, and the kilt feels comfortable overall.
PROS:
Traditional style
Lots of coverage
Lightweight
CONS:
Too small for some, may need to order a size up
Needs ironing after washing
Thin stitching
Related: You will need a new belt to go with your new kilt! The Scottish Kilt Belt runs from 20 to 28 and comes in brown and black. It fits comfortably and is under $25.
Mountain Hardwear Elkommando Kilt

Price: Approx. $75
Weight: 0.91 lb
Dimensions: 12.5 x 11.6 x 2.1 in
Specific features: Internal snap closure, DWR finish, fully pleated across back panel, internal snap closure
Best use: Trekking, shooting sports
Description: The Mountain Hardwear Elkommando Kilt is designed for increased mobility on the trail. It features a soft, seamless conical waist which comes with an integrated belt to give you that excellent fit.
The Elkommando is probably one of the most incredible kilts you can wear, and once you are used to it, you will realize that you miss something of value the day you happen to leave it behind.
This kilt offers technical excellence to the comfort and convenience of hiking or backpacking in a kilt. It features side pockets as a bonus, an aspect that most traditional garments of this nature lack.
This product has the comfort factor of a kilt. On the downside, the Elkommando leaves so little to be desired. Most garments of this kind are approximately six inches wider at the hips than the waist, and this fits most men. However, for the Elkommando, this seems not to be the case.
The kilt appears to be slightly different, implying that a kilt which fits across your waist is slightly tight on the hips. However, due to the many benefits this product presents, the aspect of tightness is not a deal breaker as long as you can make it slightly lose using the snaps on the hips.
PROS:
Made of durable nylon
Treated to repel water
Fully pleated
CONS:
More costly than others
Only 2 color choices
Not waterproof
Related: If you are looking for kilt accessories, the Szco Supplies Sporran can attach to your kilt for under $20. It comes with a D loop and is made of leather.
American Highlander Camo Kilt

Price: Approx. $130
Weight: 1.8 lb
Dimensions: 22 x 12.2 x 0.3 in
Specific features: 3 adjustable straps closing, lightweight
Best use: Trekking, shooting sports, backpacking, hiking
Description: The American Highlander Camo Kilt make a great hiking kilt. This product is made in a traditional wool kilt style and contains three adjustable strap closing to offer maximum size adjustment. When purchasing this kilt, it's advisable to order 1-2 sizes bigger that the size of your jeans waist.
This provides the provision to ensure you get a garment that isn't tight. The American Highlander can be worn when hiking, camping, backpacking, or taking part in any other outdoor activities.
While this kilt is on the expensive side, it is made in the USA and has a camo print that will keep you blended into the scenery while hiking.
This kilt is made of wool and is very durable, along with being light and comfortable against the skin. Users like this quilt because of the high quality, the print, and the fact that it fits well if you follow the size chart.
PROS:
Made in the USA
Durable and strong
Made of wool
CONS:
Very expensive
Only comes in a camo color
Related: If you need a matching hat to go with your kilt, the Glengarry Wool Kilt Hat is a nice Scottish hat that comes in various sizes for under $30.
Highlander Combat Kilt

Price: Approx. $50
Weight: 1.5 lb
Dimensions: 21 x 12 x 0.2 in
Specific features: Double snap opening, adjustable side buckles, single deep rear pocket, two side cargo pockets
Best use: Trekking, shooting sports, backpacking, hiking
Description: Made of lightweight and durable Poly-cotton Rip-stop, the Highlander Combat Kilt offers comfort and functionality throughout the day. This product comes with a double snap opening and side buckles that can be adjusted for custom fit.
Other features of this kilt include a single deep rear pocket that has a reinforced edge, belt loops to accommodate accessories, belts, snaps and flaps, as well as side cargo pockets with snaps, flaps, and external pockets.
The Highlander HTMC is perfect for trekking, hiking, shooting, as well as everyday wear. This camo colored quilt comes in one color but is very comfortable due to the materials used and the fact that it is adjustable.
It may be a little pricey for some at about $50 but users who purchased this kilt enjoyed the pocket space and the modesty included. Overall, users enjoyed wearing this kilt and would recommend it to others who enjoy wearing kilts as well.
PROS:
Soft poly cotton fabric
Double snap opening
Pockets galore!
CONS:
Expensive to some
Only one color scheme
Related: Some Scottish Kilt Hose  will round off you outfit nicely. You can choose from many colors for about $13, and they fit comfortably with the ribbed design.
Sport Kilt Borealis Hiking

Price: Approx. $80
Weight: 1.1 lb
Dimensions: 21.5 x 11.5 x 0.3 in
Specific features: Sewn-down-pleats, velcro closure, lightweight and breathable, machine washable
Best use: Trekking, hiking
Description: The Sport Kilt Borealis Hiking is an excellent backpacking and hiking gear. This product is lightweight and breathable making it suitable for hiking and other outdoor expeditions such as camping.
The Borealis Black's features include sewn-down pleats, 22 inches long, and a Velcro closure with an elastic touch on the waistband to provide adjust-ability and comfort. This product is designed by hikers, for hikers!
The kilt does not hold onto water and it will dry fairly quickly. Users feel more free while wearing it and its overall comfortable, stylish and feels very light.
PROS:
Comfortable and light
Durable but thin
Won't hold onto water
CONS:
Pricey
May stand out too much for some
Looks thin
Related: To complete your outfit while wearing a kilt, the Jacobite Ghillie Shirt will make your look more authentic. You can choose from 3 colors and the shirt is under $40.
UT Kilts Standard Kilt

Price: Approx. $65
Weight: 0.95 lb
Dimensions: 22.5 x 12 x 0.2 in
Specific features: Poly-cotton material, side cargo pockets, brass studs, two snap closures
Best use: Backpacking, hiking
Description: The UT Kilts Standard Kilt is an excellent hiking garment for men who love hiking in style and comfort. This product is not just designed for those new to kilting, but also the veterans and experts of the outdoor activities.
This kilt has good-sized cargo pockets which can fit the common commodities a man always carries including cell phones and lighters. The pleats are excellently sewn down to ensure you get the perfect look despite your activity.
The Olive Green 36 has two snaps which ensure you get a solid, comfortable fit. Do not allow anyone to tell you that you can't get a quality product at a low price since the UT Kilts Standard Utility Kilt offers amazing quality at a low price.
You'll probably not find anything similar to this elsewhere. Additionally, with the lifetime warranty on the metal parts of the kilt, you are assured your kilt is built to last.
PROS:
Many colors to choose from
Made of poly cotton material
Large cargo pockets
CONS:
Expensive for some
Snaps can come off
Related: Consider the Scottish Kilt Belt Buckle to make you look more authentic. You can find it for under $20 and in 3 colors to match your outfit!
Concluding Thoughts
You should consider getting yourself one of these kilts when planning to go on a hiking escapade. You should also remember that a kilt is not a skirt. Do not be embarrassed to put on one as these garments will make your hiking easier and comfortable.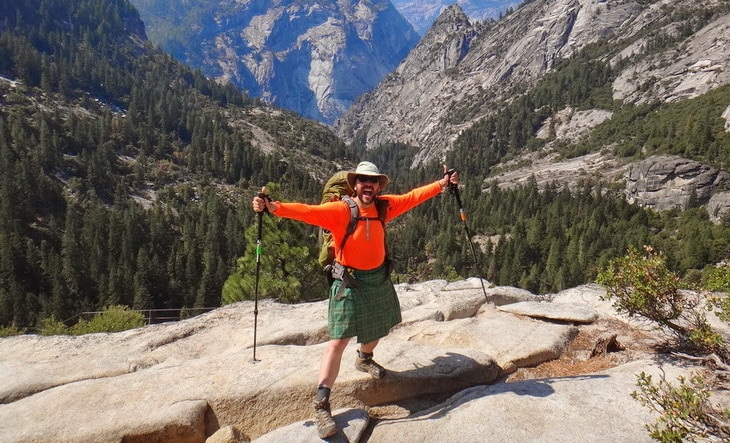 Additionally, before you can make a purchase, you need to know about the aspects that matter to you. Comfort, size, and quality are paramount when you are considering a kilt. As long as you know what you are looking for, getting the right garment should not be a problem.
So, there you have it! Did you enjoy this article? If you are still uncertain about what to buy, some of the best kilts are highlighted in this guide. If you think of any other options, please let us know.
In case you have questions or suggestions, feel free to post them below. Otherwise, happy buying and enjoy your hike.