A deep forest with heavy vegetation is fun ground for every survivalist, but going through one unprepared is simply madness. You might think that preparing for this occasion means getting a whole set of tools, but actually, you only need to find the best machete on the market and you'll be ready to go. But how to find the right one for you?
The right machete will ease your trips into the woods and the wilderness. A good machete will easily cut through trees, branches, and bushes, and on top of that, it will be lightweight enough to carry it with you for hours. You'll feel safe and you'll know that no obstacle is big enough.
Since we're pretty much experienced when it comes to survival and dealing with machetes of all kinds, we've created a list of some of the most popular machetes on the market today. Additionally, we highlighted the most important things you need to consider before getting one and the most important features of the products mentioned. Read on and make your pick!
Things to Consider Before Buying
Before you start searching for the best machete there is, you need to know some basic things about these tools. It might look you can't go wrong with a simple handle and a big blade, but it's not as simple as it looks.
Blade Material
The blade material is among the most important things you need to look at the new machete. The machete is used to cut trees and branches so you need something that will do the job without a problem. The main two materials that are being used in today's machetes are stainless steel and carbon steel. The stainless steel is better than the carbon steel when it comes to maintenance.
It is rust proof and it's easier to clean. You won't need to care about stains, water, or damages of such kind. But, when it comes to sharpness and durability, the carbon steel is much better. Yes, it becomes dull too after some time, but it's easier to get it sharp again and keep it that way. Also, the carbon steel is cheaper and more affordable.
Handle Material and Style
The style of the handle is simply a matter of taste and the user should choose it based on what they like more. The handle material, on the other hand, is something that can be more or less useful when using the machete. The machete handles can be made of wood, molded plastic, rubber, leather or stainless steel.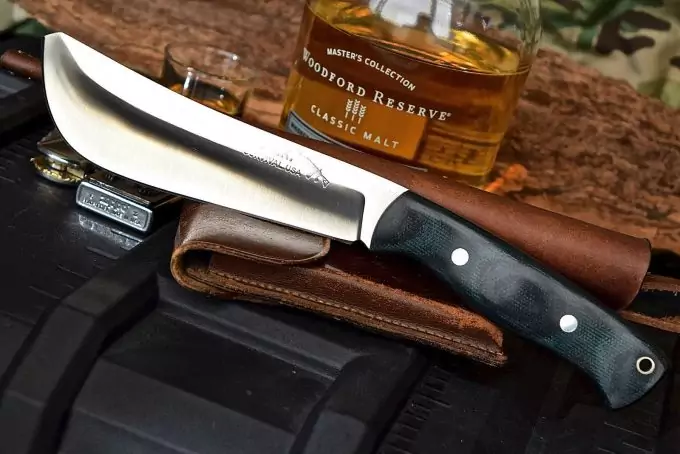 The wooden handles look nice, are pretty lightweight, but are not as durable as other materials, plus they cost more. The molded plastic usually is pretty cheap and is very easy to maintain, but it doesn't offer a very good grip. The rubber handle gives you a great grip, but it can be worn out after some time or tear apart in same places, so it's not very durable.
The leather material looks very elegant and gives style to the machete, but is very hard to maintain and keep it clean. However, it gives you a great grip and you can really rely on it. The stainless steel handles also look amazing and are very easy to maintain. But, they add to the overall weight and price – also, they can get pretty slippery.
Blade Length
Machete blades usually range from 11 to 28 inches. The most common size is around 18 inches because this is the length that is known as the most useful. However, it's completely okay to look for something that suits you more, whether it be smaller or larger in size.
Smaller blades are easier to carry and can be placed in a backpacked without a problem. Bigger blades, on the other hand, are more useful in situations when you need to handle a tough situation, like large trees or deep forests.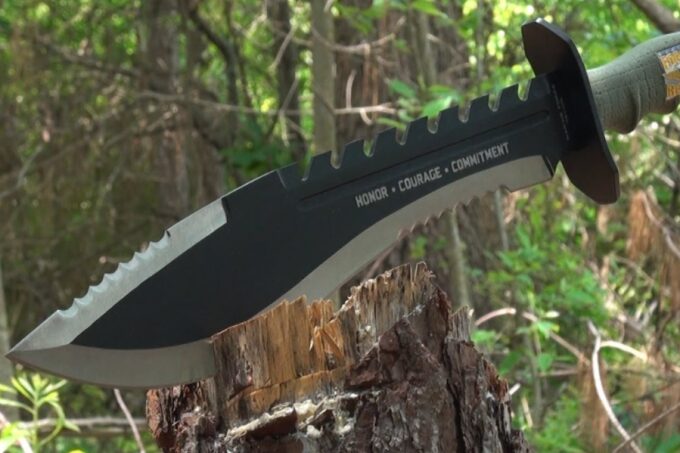 It is pretty much a preference – also, the user of the machete is supposed to know what they will use the machete for, and then get the size that fits the most of them.
Design
Over the years, machetes changed their looks and styles. This was happening mainly because of the needs of the people. Some people in the past were using machetes for other purposes than others and needed types of blades and handles that fit their needs.
The classic or the Latin style is one of the most common styles out there. It doesn't mean it's the best because there is no best or less good – it's simply a matter of preference and personal style.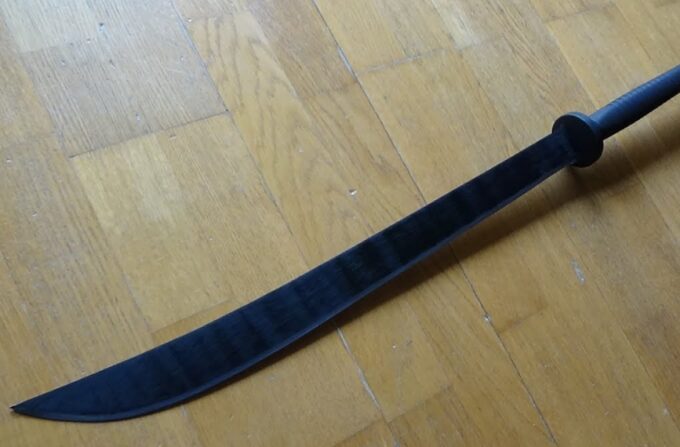 Other popular styles are the kukri, the golok, the parang, the bolo, the panga, and others. They are all styles used in different parts of the world by different natives that needed to adjust the basic machete to their needs.
Sheath
It's very important, especially if you choose a bigger blade, to have a sheath for the machete that you plan to use. After you leave your home and until you get in the wild, you need to transport your tool from point A to point B. You can't just walk around the streets with a 20-inch blade looking like you're going to kill someone, right?
Another reason you need a sheath is the personal safety. For instance, If you strap it to your backpack, it will wave left and right and it might touch your legs for a moment.
Not having a sheath will simply cut you and hurt you. You need a sheath to protect the blade too. The corrosion will harder get to your machete if it's covered with a nice sheath.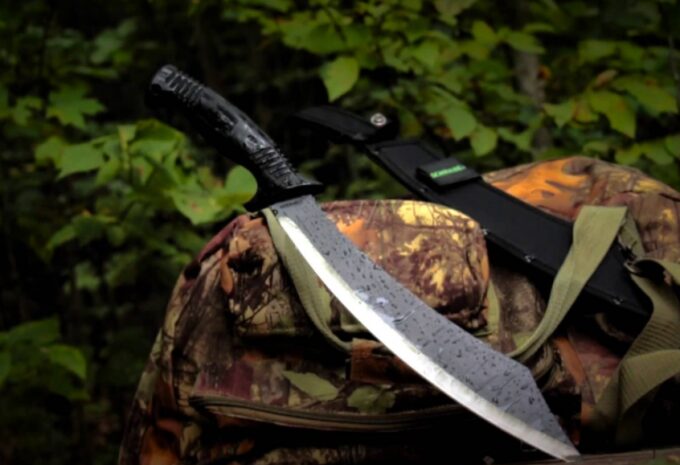 Usually, the machete comes with its own sheath, but sometimes you'll need to make an extra purchase. Look for sheaths that are made sturdy – synthetic and leather are the best materials for a sheath, but be sure they're made solid and give you good protection in all conditions.
Additional Features
Machetes are tools that usually don't offer more than one feature – cutting trees and branches. However, some of them come with additional features that might be handy on many occasions. One of the most common is the saw that is placed on the other side of the blade and can give you real help in situations when you need to cut bigger trees or trunks.
Another usual feature that comes with many machetes is the lanyard hole on the end of the handle that gives you the opportunity to tie the machete to your backpack when you're not using it. If you find all these additional features in one machete, be sure that you found almost everything and if you like the main features, then you're making the right pick.
Best Products on Today's Market
Considering the things mentioned above, we made a list of products that are most popular on today's market. Have a look and choose what you like most.
Tramontina TT1018 Machete
Price: Approx. $15
Weight: 1.1 pounds
Dimensions: 23 x 5 inches
Specific features: Classic look, lightweight, wooden handle, 18-inch blade
Best use: Hiking, self-defense, home usage, deep woods adventures
Description: The Tramontina TT1018 Machete looks pretty much like an old kitchen knife than like a machete, but it's not necessarily something we can call a flaw. It simply has a look that some might like, and some won't. The design overall is classic Latin, machete blade with a wooden handle, nothing more, nothing less.
When it comes to the features this knife offers, we can say that it proudly offers an 18-inch blade with a 5-inch handle.
The blade, however, will need some sharpening before using it, so make sure you find a good sharpener for this carbon steel blade that is made in Brazil. After you once sharpen it, it will be useful for quite a time before it gets dull again.
The weight is 1.1 pounds which is excellent for the size of it. It doesn't come with a sheath so be careful if you want to travel with it. To be fair, there's no lanyard hole or any other option if you want to carry it hands-free, so if you want to go in the wild with it, you'll have to never let it out of your hands.
PROS:
18-inch blade
Lightweight and easy to use
Classic wood handle look
CONS:
Not very sharp
No sheath included
No hands-free carrying option
Related: Absolutely never go out with your machete unprotected. If your tool doesn't come with a sheath included, make sure you get one – like this black Ontario Machete Sheath that fits blades with a length of 18 inches. It is made of nylon material which means it will give you the best protection possible. It fits all classic blades smaller than 2.5 inches width, so be sure that your blade is suitable with sheath before purchasing.
Gerber Gator Machete
Price: Approx. $15
Weight: 1.1 pounds
Dimensions: 25.7 inches
Specific features: 18-inch blade, saw included, rubber handle, nylon sheath, lightweight
Best use: Camping, hiking, hunting
Description: It looks like this machete has it all. It's an amazing combination of a sharp blade and a saw on the other side, with a classic look – it's the Gerber Gator Machete. This knife has an excellent combination of everything you need and as users, we assure you that what you see is what you'll get with this machete.
The overall length is almost 26 inches and it has a blade that is 18 inches long. That is a great length for people that like to carry something serious on their trips in the wild. On the other side of the blade, there's the 15-inch saw for situations that require sawing.
Both are made of a great carbon steel material that looks great, but will probably become dull after some time, so make sure you make regular maintenance of it to get perfect results when using it.
The handle is made of rubber and is made ergonomically to give the user a great grip and perfect control over the tool. At the end of the rubber, there's a lanyard hole to give you a better experience when you're not using it.
Having in mind that it has a great sharp blade and a saw, it's absolutely unsafe to carry it naked. That's why there's a nylon sheath specially designed for it, so you can cover it and enjoy the trip without worrying.
PROS:
18-inch blade
Lightweight and easy to use
Saw feature included
Special nylon sheath included
Excellent handle grip
CONS:
Blade will become dull after a while
Not very durable
Related: Carry your hatchet with ease with this CLC Custom Lanyard, a cord with a great green colored part that will help you locate it at all times. It can be used for many different tools because of its great design. It is made of leather and can hold more than 5 pounds of weight. It's made of two parts that help you tie your tools to other objects or use it as a belt.
Ontario Military Machete
Price: Approx. $18
Weight: 1 pound
Dimensions: 24.2 x 2.5 x 1.8 inches
Specific features: Very lightweight, molded plastic handle, 18-inch blade, classic design, lanyard hole
Best use: Self defense, hiking, hunting, camping, mountaineering, home use
Description: The OKC that makes these machetes is a long time trusted brand from the USA that provided the army in the World War 2. Ever since it makes excellent knives, and the Ontario Military Machete is one of them. The US military used to use these for getting through jungles, so you know it's great.
The 18-inch blade doesn't come really sharp, but it's not something that makes this machete useless. After all, sharpening is really easy, just be sure to have a sharpener with you if it is not sharp enough or it gets dull after some time. Another bad thing is that it doesn't have its own sheath, but it's not something that can't be found on the market.
The handle is made of polymer and offers a great grip on hand. However, make sure you check the overall condition of it after some time because the rivets on the handle might get loose after using it more. You need to have your machete ready and firm all the time because your life might depend on it in some situations.
A great feature for this machete is the weight. Considering the size of 24 inches overall, it is only 1 pound which is amazing.
The lanyard hole on the back of the handle gives you the opportunity to tie it to your backpack and go lightweight on your camping trips. Just, make sure you get a sheath first because you might get some serious injuries while walking.
PROS:
Very cheap
Lanyard hole
Very lightweight
Lanyard hole for easy carrying
CONS:
Blade needs some sharpening
Handle rivets get loose after some time
No sheath included
Related: You simply can't carry your machete without a sheath. The Rothco 18-inch 835 Sheath looks excellent and will keep both you and your blade safe on the adventures in the wilderness. It is made of polyester with plastic reinforcements inside to keep it safe from water and other weather conditions. It also has four straps on one side and two mini pockets on the other. The color is army green and it looks really amazing.
Cold Steel Latin Machete
Price: Approx. $23
Weight: 1.1 pounds
Dimensions: 22.8 x 2 x 0.6 inches
Specific features: Blade length, lightweight, rubber handle, anti-rust blade
Best use: Home self-defense, hiking, fishing, hunting, camping
Description: The Cold Steel Latin Machete is a classic style machete, the one that is literally what you see is what you get. It has a classic design, the one that first comes to mind when someone mentions the word machete. So if you're into traditional looks, this is the tool you're looking for.
The blade is made of a 1055 carbon steel that is anti-rust. It is not very sharp based on the experience, so make sure you order a sharpener because if it is okay on arrival, be sure that it will become dull very soon.
It is however pretty long and powerful with its size so you won't have trouble chopping those branches in the deep forests you plan to get through.
The handle is made of rubber and although it is supposed to be a good choice – it's not really what we would expect. The overall size of almost 23 inches needs a handle that will provide a good grip, and this material seems to be somewhat challenging. It can be solved with some fine gloves, but be careful when you're using it without them.
At the back of the handle, there is a lanyard hole for those that like to place a cord there. However, this machete is pretty big and we recommend carrying by hand at all times – especially because it doesn't have a sheath with it. There is a possibility for it, but you'll need to make an extra purchase for it.
PROS:
Great blade length
Classic design
Pretty lightweight for size
Cheap and affordable
CONS:
Looks kinda cheap
Becomes dull very soon
Handle not very comfortable
Sheath not included
Related: A perfect sheath for 18-inched Latin blades is the Cold Steel Sheath for 18 Inch Latin Machete specially made for this company machetes, but can be also used for others, of course. It's made of cor-ex Cordura nylon to provide your machete with the best protection there is. It has an excellent clean design – black color and perfect look.
Ontario SP8 Machete
Price: Approx. $60
Weight: 1.4 pounds
Dimensions: 15.1 x 2.2 inches
Specific features: Very sharp, very strong, saw feature, compact
Best use: Camping, hiking, home use, hunting, backpacking,
Description: For those that like to use an original American product, here's the Ontario SP8 Machete. Designed and made in New York City, it is one of the many products that this company makes for the US Army.
With a weight of about 1.4 pounds and a size of just 15 inches, we would say that the manufacturer could've done a better job.
It is hardly considered a machete since the blade is only 10 inches long, but it's still a good tactical weapon that can be used in many situations. The saw on the other side of the blade can also be very useful for your survival adventures.
The blade is made of 1095 carbon steel that makes it very strong and durable. It also comes very sharp right out of the box and can be used right away. The handle is made from Kraton polymer with some finger grooves that will allow you a great grip – so it means that it is made practically perfect.
Being pretty small compared to other machetes on the market gives you the opportunity to feel like you're holding a bigger knife in your hand.
But, knowing that it is also pretty heavy, it gives you the ideal swing and the ability to chop wood without any problem. Brunches, trees, nothing is a problem for this sharp and strong durable knife and saw at the same time.
PROS:
Both a knife and a saw
Great modern design
Very sharp
Very durable
Compact and easy to use
CONS:
Kind of small for a machete
Not suitable for bigger challenges
A little too heavy for the size
Related: The Smith's PP1 Pocket Pal Multifunction Sharpener is an all-around sharpener for everything you own and you need to be in perfect condition at all times. There are several options for sharpening different kinds of blades with the best being the rod that is diamond coated and suitable for making even the toughest materials razor sharp. The dimensions are 3.5 x 1 inches that make it perfect for carrying in the pocket – or using the lanyard hole, place it on your belt.
Condor Golok Machete
Price: Approx. $66
Weight: 1.75 pounds
Dimensions: 19 inches
Specific features: Great design, 14-inch blade, leather sheath, Walnut handle, carbon steel blade, lanyard hole
Best use: Camping, hiking, mountaineering, hunting
Description: If you want a blade that is proven to be useful and respected by users, then you should try the Condor Golok Machete. The company making this machete has a history of more than 230 years of making knives and tools in Germany and Europe, so you know the knives made there are state of the art.
This machete is 19 inches long overall with a 14-inch blade made of 1075 high carbon steel. It is very sharp and can cut through almost everything that can come your way in nature. Wood, brunches, nothing will be a problem for this knife that has an excellent design and looks like a royal German sword that was used by dukes.
The handle is made from a fine strong walnut wood and adds to the vintage look. At the end of it, there is a lanyard hole for those that would like to keep it hanging at something. The blade is protected by a great 100% leather sheath that looks excellent and protects both you and the blade.
The size compared to the other machetes on the market is among the smaller ones. That means that you can use this machete as a regular knife for your camping trips and adventures in the wild. It is specifically made for you to have a good swing and a good grip, so just tie it to the backpack and enjoy your trip.
PROS:
Interesting design
Handle made of walnut
Compact and firm
Blade is made of carbon steel
CONS:
A little more expensive than others
Bad size/weight ratio
Related: The Lansky Puck Dual Grit Sharpener is among the most popular blade sharpeners on the market at this moment. The simple design and easy use earned it this title. Looking like a hockey puck, and with a size as one, this sharpener can be put in the pocket and you can carry it everywhere. It's made of dual grit, one size has a 120 and the other 280, which means you can use it for all kinds of blades.
Imacasa Colima Machete
Price: Approx. $24
Weight: 1.3 pounds
Dimensions: 32 inches
Specific features: Very long blade, overall length, lightweight, polypropylene handle, carbon steel blade
Best use: Outdoor adventures, mountaineering, hiking, camping
Description: When you say machete, the first image that comes to mind is a weapon that antagonists from the Indiana Jones movies fight with somewhere in Middle America.
Well, the Imacasa Colima Machete is a product from El Salvador, a country with flourishing nature that locals had to put in control, and what's better than a machete for cutting wild brunches of trees? This product is not only famous in El Salvador, but it provides the whole North and South America.
It is unusually longer than the competition, both with overall length and with the blade length. The blade has astonishing 27 inches, and together with the handle, you get 32 inches of a great weapon in your hands.
The handle is made of hard plastic and polypropylene. It is not something that is the best choice for a weapon of this size, but considering the weight, it's still okay.
The weight, when taken the length into consideration, is surprisingly small. It weighs only 1.3 pounds, which is almost nothing for the almost 30-inch 1075 carbon steel. Carbon is usually lightweight, but it's not weightless, so this is a great feature.
To talk about the blade, it's worth to mention that it is not the sharpest there is upon opening. If you purchase this machete, make sure you have a carbon steel sharpener by your side because you'll need one to actually use this tool. After you sharpen it, it will last and you'll be able to really rely on it.
PROS:
Very lightweight for size
A 27-inch blade
Carbon steel blade that looks amazing
Durable after sharpening
CONS:
Dull blade after opening the package
Too big for some
Plastic handle
Related: Fur dull blades you need a sharpener and in this case, the Smith's Axe and Machete Sharpener is a tool that will fix your problem in no time – only a few pulls are needed to get a sharp blade. It's made of a plastic head and an oversized handle so you can use it either with or without gloves. It's made for sharpening carbon steel and for all kinds of blades – axes, knives, machetes etc.
Ka-Bar Kukri
Price: Approx. $50
Weight: 1.7 pounds
Dimensions: 17 inches
Specific features: 20 degrees edge angle, synthetic made, carbon steel blade, ergonomic, great looking sheath
Best use: Camping, hiking, backpacking, mountaineering, chopping
Description: A little bit like an axe, but still performing like an excellent machete is the Ka-Bar Kukri. Weighing about 1.7 pounds, some would say it's a little heavy but when you take it in your hand you'll see that most of the weight is in the handle and you don't really feel the pounds.
That's because of the ergonomically made design that makes the using of this machete a great experience. The overall length is 17 inches with an 11.5 blade that has a 20-degree angle.
It is pretty unique when it comes to the look and style. The curved blade allows it to get deep in the material you try to cut and knowing that you use a carbon steel blade, you can be sure that it will not let you down in any moment.
The handle is specially made with more materials to give the user a perfect grip. It is made of thermoplastic elastomer material which is really some of the best options on the market right now.
It is 6 inches long which is enough for the people with largest hands. With the machete, you get a beautifully made sheath that will keep both you and the blade protected.
The blade is made of a fine 1085 Carbon steel that is covered with a layer of special epoxy powder. The tang goes from the handle and goes all the way to the other side of the blade which gives this tool the real power. You can take it both ways, whichever you feel is best at the moment.
PROS:
Excellent design
Beautiful sheath
Amazing handle grip
Carbon steel blade
CONS:
A little bit small for a machete
A little bit heavy
Related: A very nice cord to be placed in the lanyard hole of the machete is the Ergodyne Elastic Loop Tool Tails. It can pick up to 15 pounds of weight, so you can also use it for other needs. The color is lime green that is very popular and the length of the cord is 11 inches. It's made of tubular nylon and it comes in a package of three.
Wrapping up
A few words before you make you make your final decision. When you're choosing the best machete for you, have in mind what you're going to use it for. Make a plan – how often, where and how are you going to use it, and based on that, make the best pick for you.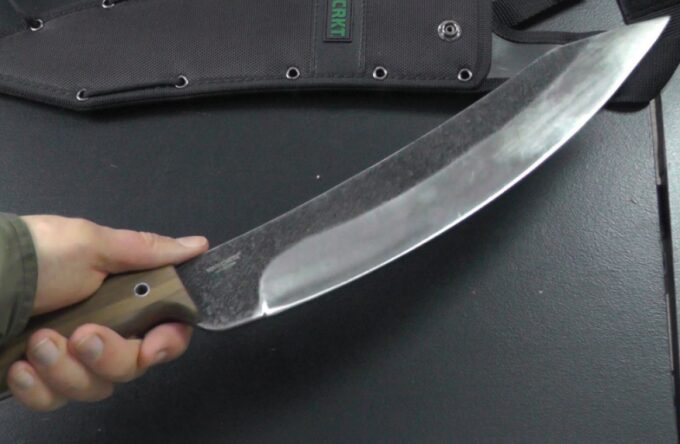 If you already live in the woods, you don't need something compact that is easy to transport, right? But if you live in an urban area and you go on outdoor adventures frequently, then look for something that is smaller and easier to be carried on you or placed in your backpack. Whatever choice you make, be sure that you have made it based on your needs.
Do you have a favorite yourself when it comes to machetes? If so, let us know in the comment section below – we'd love to hear back from you!