If nature is your favorite place to be, then you're probably aware that having a good backpack is a must. However, more often than not, it may seem impossible to find a durable backpack that won't fail you down but also, that won't cost a fortune. This is where it might be handy to read a thing or two about cheap hiking backpacks!
You'd be pleased to know that the right hiking backpack for you doesn't have to be the most expensive one out there but it should be pretty comfortable and durable. On top of that, no matter the lower price, it should still offer a decent protection to all of your camping valuables. But how do you find exactly what you're looking for?
That is why were are here! In this article, you will find out which features are the most important ones to pay attention to before making the final decision. Furthermore, the backpacks we have reviewed also cover different trip lengths and weather scenarios. So keep on reading to choose the best backpack for your next adventure!
Our Top Picks
Things to Consider Before Buying
These are the most important features one should inspect in selecting quality backpacks. Other factors are based on personal preferences. We already placed the price of the bag into consideration; here are the other factors that you should take into consideration:
Size
It's crucial to talk about size first because not all backpacks are made the same. Also, getting a bigger or a smaller backpack from what you need is very likely going to cause disappointment.
In order to get just the right size, we'll say that depends mostly on the length of your trip and the bulk that you would have to carry. Also, depending on the activity that you would be undertaking, the size of your backpack can affect when you traverse during your trip.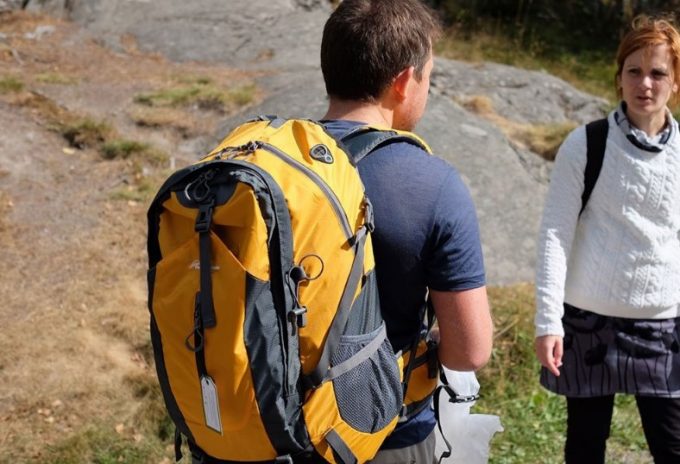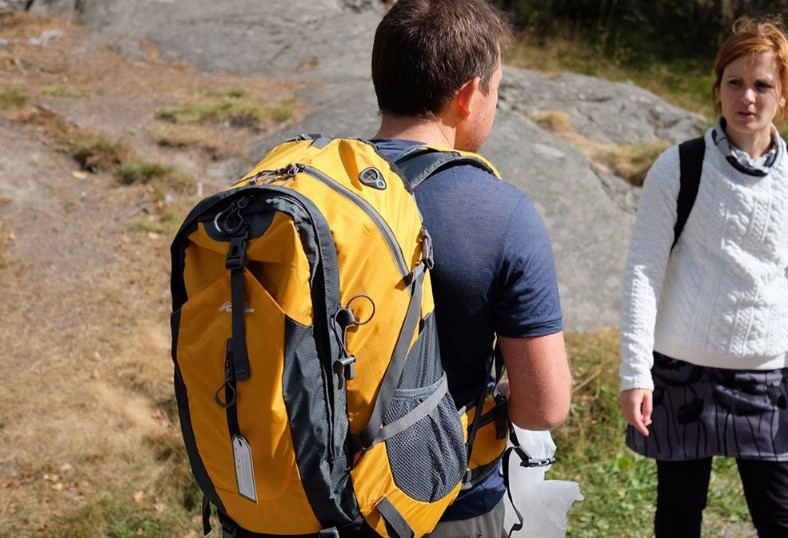 Self-awareness about the things that you'll bring along with you will play a vital role on this. There are various backpack sizes that are suitable for one to three-night trek, or for trips that would take five or more days. If you'd like to use your backpack for flying trips as well, make sure it fits the onboard luggage dimensions.
Weight
Weight, on the other hand, is also essential when considering your choice of hiking backpacks. You would want a bag that is made of light materials but is sturdy and durable that does not compromise the overall weight that you'll be carrying.
Most materials are made of water-resistant nylon fabric that provides long-lasting performance with minimal weight added. Just remember the longevity and the materials that are used in making the bag should be put into consideration.
Design
Aside from the weight and the size of your hiking backpack, the features that are present in each backpack is definitely the difference maker on which backpack to choose from. Whether it is the maximization of the space for your main amenities for your trip, or the presence of different compartments, zipper pockets, ventilated shoulder-straps, or mesh pouches, the multitude of choices is also an important aspect to look at.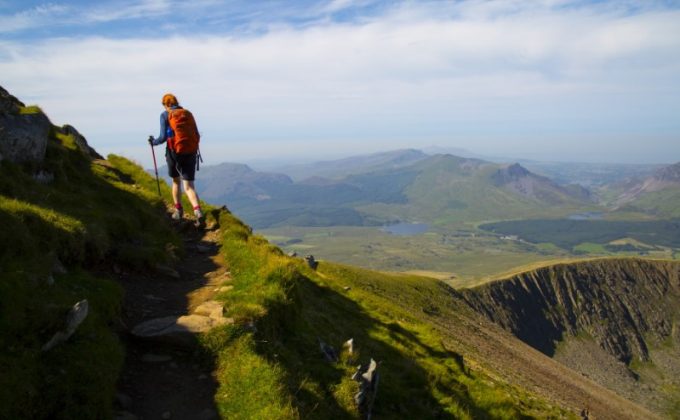 These different features have their own advantages and disadvantages. For example, an external-frame pack may be suitable if you are carrying a heavy load while frameless backpacks can help you cover ground faster because it's lighter.
Ventilation features are also helpful in order to fight the sweat you accumulate while carrying your backpack. Study carefully these aspects and see what works for you.
Capacity
The capacity of your backpack is usually directly related to the size and the weight – if you'd want to get a larger backpack (that is, with a larger capacity), then you might need to compromise and get a bit of a heavier backpack that will allow you to store more things inside.
To determine the ideal capacity for you, think about where and when you'll be using your backpack – the right one for you will have all important equipment and accessories that you will need for your trip.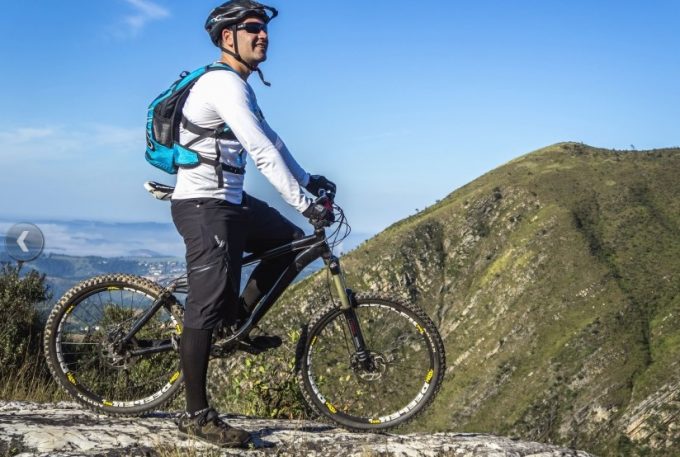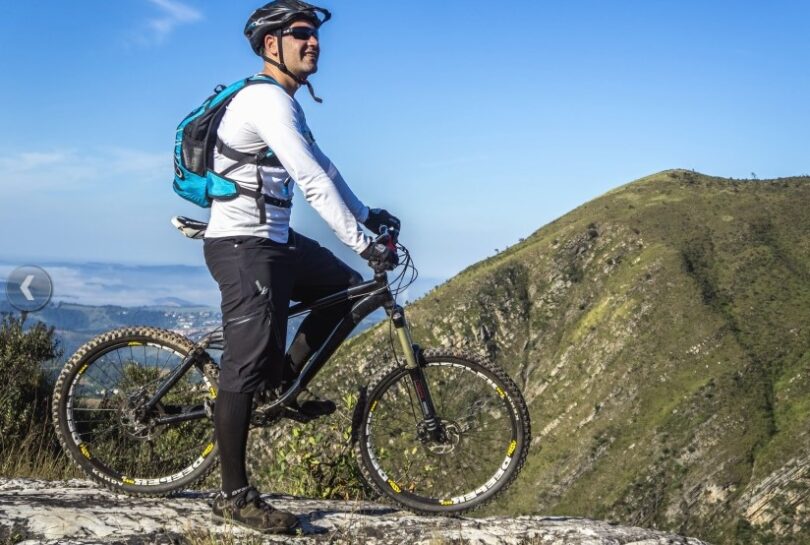 For example, if you know you'd be flying with your backpack and carry some electronic devices with you, check whether your pick has compartments for your iPad, camera, laptops and other devices that should be safely stored in your backpack.
On the other side, if you know you'd in nature most of the time and carrying plenty of small things that are easy to lose around, check for multiple inner compartments and added pockets. That way, you'll have much easier access to whatever you might need at all times.
Durability
Well, everyone would love to have a backpack that will last forever, right? However, most of the time, it's the durability itself that's disappointing mountaineers and hikers alike – it's definitely not fun when your backpack strap gives up on you in the middle of nowhere!
Often, the durability is related to the materials of the backpack, so you might want to check what the backpack is made from. Also, pay attention to the capacity of the back – overloading the backpack is one way to shorten its lifespan.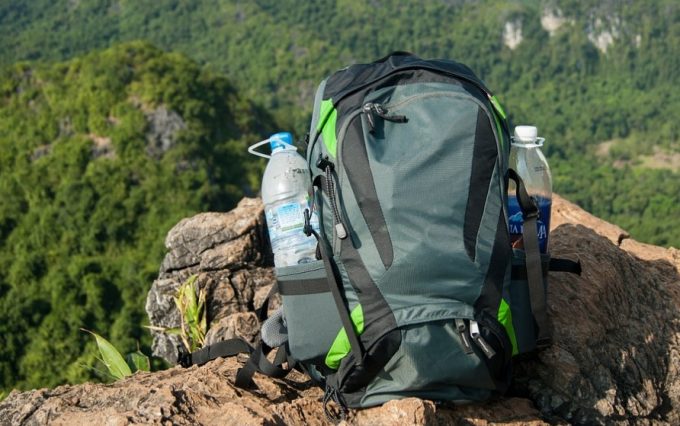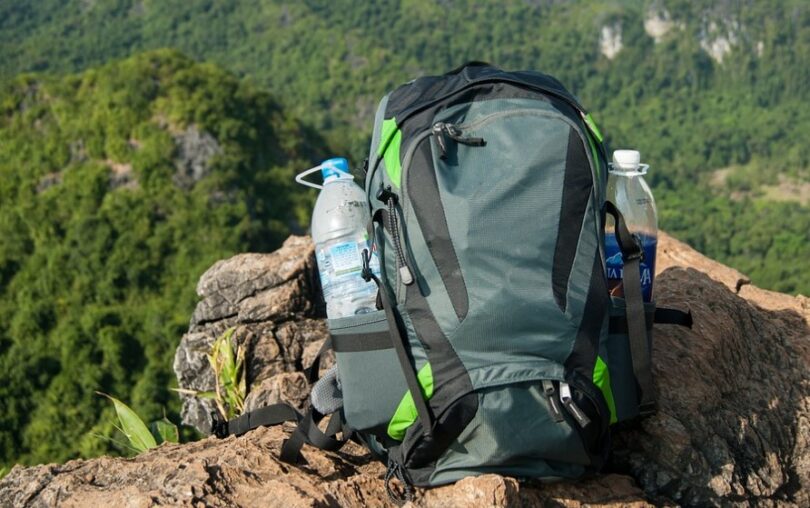 Most of the time, there's the opinion that a good, durable bag will come at a higher price. However, we'd beg to differ, as there are some awesome finds that might end up serving you for years to come.
Bearing all of that in mind, it's time to move on to some of the products on our list.
Best Products on Today's Market
We have listed some of the best and cheapest hiking backpacks that are available on the market right now. We have reviewed their features and weighed out the pros and cons so that you can choose which backpack is the best choice for you.
G4Free Travel Backpack 
Price: Approx. $20
Weight: 0.8 lbs.
Dimensions: 13.4 x 7.8 x 22.8 in.
Specific features: Ultra-compact couch, high-quality water, and tear resistant nylon fabric, adjustable and breathable padded shoulder, added strap to meet the requirements for both men and women
Best use: Shorter hikes, day trips
Description: This ultra-compact, lightweight, storage-friendly backpack is surely a great deal of your money. The G4Free Travel Backpack is designed to be the perfect carry-on bag. It has the almost ideal balance between, comfort and functionality without compromising your wallet. It has a self-containing pouch that you can use to place it in your suitcase or luggage.
In order to keep things organized and safe, there are straps that are built into the bag for added security. The strap and chest clips are padded for comfortability. Additionally, the chest clips also serve as a whistle in case of unprecedented danger. The top double-sided pouch can also store small items and accessories for easy access.
It also has a drawstring lock that enables you to fit more things in your bag which gives less of a hassle when you try to pack your stuff. Also, there are sports bottle pockets with each of their individual straps to secure the bottles.
The storage space of the bag allows you to compartmentalize your items due to the fabric divider. The main compartment also has a top double pouch that gives you additional storage if needed. There are also strings in the middle and the bottom part that allows you to add bags, tents, and more.
PROS:
Multiple straps for added security & comfort
Compact & light
Waist strap has a built in whistle for emergency purposes
CONS:
Not built for long trips
No extra padding on the back
Related: During your overnight trips, the Ohuhu Sleeping Bag has your back! It comes with a carrying bag that makes moving it around much more convenient for you and it can easily fit your backpack without taking too much space in it. Apart from being budget-friendly, the bag is available in two different options, coming with a left or a right side zip.
OutdoorMaster Hiking Backpack 
Price: Approx. $37
Weight: 2.6 lbs.
Dimensions: 23 x 14 x 9 in.
Specific features: Highly tear resistant nylon, water-resistant, external attachment points for your hiking and travel essentials, a padded laptop compartment
Best use: Both shorter and longer hikes, day trips and hikes
Description: Just getting from the name itself, the OutdoorMaster Hiking Backpack is certainly built for all kinds of your outdoor travels. It has a capacity of 50 liters, which is pretty much enough for all the essential gear, plus, it also has pockets for the waterproof rain cover.
Coming in a variety of different colors and models, you wouldn't need to worry about your laptop because of the padded compartment that is situated inside the bag. It is truly roomy for all your equipment, regardless of whether you'll be heading in nature or on a short trip.
The different attachment points can hold different hiking materials, such as your hydration reservoir, tent, trekking poles, sleeping bag, and more, can always be put to good use during your hiking trips.
The additional pockets on the bag are certainly helpful in order to store away your small-sized equipment and accessories. For the price that you will be paying, the quality of the bag shouldn't be compromised, and it could easily be the case that this bag is worth your time and money as well.
PROS:
Roomy & pretty durable
Multiple pockets and external attachment points
Padded laptop compartment
CONS:
Not suitable for tall people because of the waist strap fit
The straps could be uncomfortable at times
Related: Quench your thirst on your trip no matter where you are with the Lifestraw Go Water Bottle – a practical addition to any gear! The bottle filters 99.9999% of waterborne bacteria and 99.9% of waterborne protozoa, giving you fresh drinking water. On top of that, it's so light, you won't even feel carrying it and your backpack will not lose much of the valuable free space.
Sunhiker Hiking Lightweight Backpack 
Price: Approx. $28
Weight: 0.8 lbs.
Dimensions: 13.4 x 7.8 x 22.8 in.
Specific features: Highly tear resistant nylon, water-resistant, adjustable and breathable padded shoulder
Best use: Day trips, shorter hikes
Description: The lightweight Sunhiker Hiking Lightweight Backpack is great for fast-paced outdoor activities, both in the wild and in the city. It has breathable mesh shoulder straps for comfortability and a handy bottle holder on both sides. Its nylon material is water-repellent and tear-resistant that can withstand the wear and tear during a hiking trip. The pouch and inner pocket, allows you to separate your items conveniently.
Do not let the small frame fool you! It looks small outside but is deceptively spacious inside where It can hold a lot of items. Because of its size and weight, it is suitable for kids and women with smaller body frames.
Considering its relatively cheap price, the quality of the bag and the uncompromising weight and durability of it is certainly a great find for a perfect outdoor backpack. Furthermore, it has a nice mesh backing that creates a great ventilation so that it doesn't get too hot on your back during your trip.
PROS:
Compact & light
Tear and water resistant
Convenient for everyday use & nature trips
CONS:
Not suitable for a person with a bigger frame
No strap to go across the hips for support
Related: If you're looking for a way to organize your equipment during travels, then the Dot&Dot Slim Packing Cubes might come in handy. Apart from being very reasonably priced, they're available in a variety of colors and styles, so you can easily find something up to your preference. The cubes come in a set of four but can also be used as storage organizers around the house. 
Venture Pal Packable Backpack 
Price: Approx. $20
Weight: 0.7 lbs.
Dimensions: 9 x 8.5 x 2.2 in.
Specific features: Extra strength provided by the double-layer bottom piece, bar-tacks at major stress points, breathable padded shoulder with sponge padding, chest strap with whistle
Best use: Everyday use, day trips, hikes
Description: The lightweight, roomy and notably stylish outdoor Venture Pal Packable Backpack is great for day-to-day use. It is greatly suitable for your leisure activities and for your occasional travel. The best part about it is very likely the packable trait, which allows you to fold the backpack into its own pocket so that it could serve as a carry on for your baggage.
The extra strength provided by the double-layer bottom piece makes it comfortable both for longer and shorter trips. Furthermore, the bar-tacks that are situated at the major stress points further enhances the longevity of the backpack. Also, the sponge padding on the shoulder straps gives you bigger comfort when wearing the backpack for longer periods of time.
There are three zipped compartments that are large enough to provide room for your trip. The two separators in the main compartment help you to compartmentalize and organize your things. Furthermore, the chest strap adds security to the backpack.
The backpack is available in a variety of different models and colors. All in all, this might prove like a decent budget-friendly option both for everyday use and for hikes.
PROS:
Lightweight & compact
Comfortable
Bar-tacks for added durability
CONS:
Not suitable for tall people
Thin material
No laptop compartment
Related: The BAFX Trekking Trail Poles are made of durable lightweight aluminum with anti-shock springs, making your trekking trip much more pleasant. Since they're so light, you can easily attach them to your backpack, without feeling overloaded. The handles should allow you for an efficient grip and greater comfort. 
Mengar Water Resistant Hiking Backpack 
Price: Approx. $20
Weight: 0.45 lbs.
Dimensions: 2 x 5.6 x 10 in.
Specific features: Highly tear resistant nylon fabric, bar-tacking on the major stress points for increased longevity, sturdy loop and carrying handle
Best use: Day hikes and day-to-day use
Description: The Mengar Water Resistant Hiking Backpack is great for your no-nonsense, day-to-day use. Whether going to the mall or going on a trip, the backpack is not only handy but sleek-looking and elegant as well. Apart from using it on outdoor trips, you can also use it as a carry on during flights.
Even though you're very likely going to get the most out the backpack when it comes to shorter or day-long trips, don't forget that this might not be the best option when it comes to longer trips.
However, the backpack should prove to be a great asset when it comes to storing and organizing your things. It has a large front pocket with a see-through mesh and pressure strap with an inner secure zip pocket for your smaller items and it features side pockets for your water bottles. The backpack can't fit a laptop but it should be able to fit an iPad without a problem.
Additionally, the waterproof material of the bag protects you from accidental splashes though you may want to pay attention when it's pouring outside. Overall, it's should prove to be a good enough choice if comfort and weight are your priorities.
PROS:
Light & compact
Bar-tacking on major stress points
Water-resistant material
CONS:
No laptop compartment
Thin material
Related: The A2S Paracord Bracelet is a great 5-in-1 survival tool for your outdoor activities – and it's so light and comfortable, you won't even notice you wear it with you! The bracelet provides you with the tools necessary to survive if lost in the wild, such as a fire starter or an emergency whistle. On top of that, it's suitable both for kids and adults. 
Mountaintop Hiking Backpack 
Price: Approx. $35
Weight: 0.45 lbs.
Dimensions: 2 x 5.6 x 10 in.
Specific features: Highly tear resistant nylon fabric, bar-tacking on the major stress points for increased longevity, sturdy loop and carrying handle
Best use: Day hikes, short backpacking trips, travel, and day-to-day use
Description: This camping backpack could be seen as slightly bigger than your average lightweight backpack but don't let that fool you regarding comfort – the Mountaintop Hiking Backpack has great padded straps for added comfortability!
The backpack also comes with a sleek, elegant look, making it suitable both for outdoor and city use. If you're worried about making it match your outfit, then you should know there are more than enough options available, so everyone should be able to easily make up their mind.
On the front of the bag, there's a large pocket with an internal mesh pouch, which is added for easy access to your equipment. As far as the bearing system is concerned, this backpack comes with 6 adjustable straps, allowing you to fit it to your frame almost ideally. You will also find convenient hooks on both sides of the shoulder straps that serve as attachment points for your items.
Another plus is the phone pocket in the front area, which provides an easy access to your phone, along with a couple of pen holders. This adds the versatility and overall range of the usage of the bag. It serves as a large carry-on that lets you pack more than just the essentials for a hassle-free trip.
PROS:
Elegant looking
Spacious with multiple compartments
Versatile use
CONS:
Stiff zippers
Small waist straps
Related: Every traveler or a hiker knows that lightweight towels are a must, both for sanitary and weight saving reasons. The Three Happy Turtles Travel Towel features a quick dry technology that allows to rapidly dry again when you use it in your next adventure, plus, they are light and don't take up too much of your backpack's space. 
Bags Shop Hiking Backpack 
Price: Approx. $35
Weight: 2 lbs.
Dimensions: 23.62 x 11.81 x 7.87 in.
Specific features: Water-resistant nylon material, waterproof rain cover, large storing capacity
Best use: Hiking, travel, camping, climbing, mountaineering, longer trips
Description: If you're looking for a large capacity bag, then the Bags Shop Hiking Backpack should be your choice! It has a 50-liter capacity that can hold up plenty of equipment or clothing for your long travels.
On top of that, it also has a divider for your iPad or Laptop if you wish to bring it in your travels without compromising the space. With its fashionable design, the bag comes in orange, black, and navy blue colors for you to choose from. Aside from that, the nylon water-resistant nylon material used in the bag assures you that your valuables will stay safe and dry.
Additionally, the high-quality buckle provides you with great support that does not compromise your back, in which the back panel is padded for added comfort. Every inch of the bag is well-thought of. It is truly a versatile bag where every section of the bag is functional and purposive.
The side pockets come in handy for your water bottle during your hike or for your other accessories. Furthermore, there are also attachment straps for your hiking items such as tents and trekking poles.
PROS:
Spacious & durable
Robust design
Versatile use allowed
CONS:
Cannot pass as a carry-on baggage if the bag is too full
Could be too large for one-day trips
Related: The backpack will take care of your gear, but in order for you to have a good night's rest during your camp out, the Outdoorsman Lab Sleeping Pad helps you eliminate the sore back or annoying discomfort you get after wearing the heavy gear. The pad has been ranked as an ultralight, making it easy for you to carry it around.
TETON Sports Oasis 1100 Backpack 
Price: Approx. $40
Weight: 2 lbs.
Dimensions: 10 x 7 x 18.5 in.
Specific features: Large pocket with hidden-teeth zipper and weather guard, bungee cord system for bike helmet, butterfly opening for jackets and picnic blanket
Best use: Both shorter and longer trips to nature, general outdoor use
Description: The TETON Sports Oasis 1100 Backpack might be the perfect companion for your next adventure! It is light, adjustable, and comfortable, and comes with a reasonable price for all the included features.
The 2-liter, FDA-compliant food grade hydration bladder comes with a durable, kink-free sip tube and push-lock cushioned bite valve with a large opening for ice that makes cleaning easier. It also has a twist lock to prevent leaks. Just make sure to rinse out the bladder with mild soap and warm water before your first use.
The pack is a great fit for both men and women with its comfortable adjustable frames. The straps also taped with high-density notched foam stabilizer and mesh covering so that you can wear this backpack with maximum ease.
Also, it includes three zipper pockets, storage space, and two mesh pouches that make it roomy enough for your overnight trips. For emergencies, the emergency whistle is also one of the features of the bag.
PROS:
Light & comfortable
Multiple pockets for better organization
Quality stitching
Hydration bladder
CONS:
Tough reservoir mouthpiece
Bottle pockets are too small
Related: To clean the hydration bladder from your backpack effectively, the JungleArrow Tube Cleaner includes different brushes for different types of hydration bladders. The set comes with four different brushes, each made to clean a different part of the bladder, as well as a collapsible frame for bladder drying. The set should work well no matter the brand though make sure to check the sizes before ordering.
Clever Bees Outdoor Hiking Backpack 
Price: Approx. $11
Weight: 2 lbs.
Dimensions: 4.1 x 5.8 x 6.8 inches
Specific features: Multiple compartments, reflective stripes, rip and water resistant nylon fabric
Best use: Daypack for hiking, cycling, camping, or traveling
Description: This compact Clever Bees Outdoor Hiking Backpack, is an ultra-lightweight, foldable backpack, and you can also fit it into the inner zipper pocket for you to bring anywhere. It contains an inter-layer compartment for your laptop or books.
Additionally, the inter-bag zipper is a great place for your valuables such as your cash, credit cards, and passport. The side mesh of the bag is great for your water bottles and small umbrellas.
The backpack is made from robust fabric that is both water and rip resistant, to give you long-lasting assurance in performance with minimal weight. There are also reinforced bar-tacking on the stress points for providing further protection.
The sturdy and lightweight nature of the bag is surely a key standard for most buyers. Overall, this is a good choice if you are looking for an ultra-lightweight backpack for your occasional outdoor trips, without breaking the bank.
PROS:
Light
Added valuables pocket on the inside
Robust & water-resistant fabric
CONS:
Side pockets are too small
Thin shoulder pads
Not suitable for very heavy items
Related: If your backpack isn't fully waterproof, check out the FITFORT Waterproof Case – it gives you the much-needed security for your smartphone. The case looks like a pouch and works well with different phone models – as long as it can fit in it – and might be an ideal asset whenever you're going to have fun outdoors. 
Coreal Foldable Hiking Daypack 
Price: Approx. $20
Weight: 0.7 lbs.
Dimensions: 1.5 x 9 x 13 in.
Specific features: Rip and water-resistant nylon fabric, sturdy carrying handle, fully foldable backpack
Best use: Daypack for hiking, occasional travel, day-to-day use, camping
Description: The Coreal Foldable Hiking Daypack is a foldable backpack that might as well be the answer to both your traveling luggage and hiking problems. Its design is greatly balanced between durability, weight, and size.
This bag gives a fashionable, stylish look that makes it a great for day-to-day use of your occasional hike or camp out. Also, this backpack can be folded neatly into the inside pocket. Just stash it in your luggage or carry-on bag. It is truly a space saver and you'll just need to unfold it anytime when you want to use it.
For its capacity, this backpack comes with multiple compartments, and also a drawstring at the top to increase the main compartment capacity. It has one outer pocket, one inner compartment, two zippered pockets, and two nylon mesh pockets on both sides.
The dynamic nature of the bag is something to reckon whenever you are looking for a space-saving, durable, and versatile backpack, without the need to spend an entire fortune. The bag is available in more than dozen different color options and styles.
PROS:
Light & compact
Completely foldable
Great aesthetic design
CONS:
No chest strap
If not packed full, it looks flimsy
Related: If you're looking for something that will help you store and organize more easily, then give the Hopsooken Packing Cubes a try – they come in a set of seven different cubes and pouches! Apart from being easily washable, the material of the cubes is so lightweight, they can be folded when not used, so they practically take zero space in your backpack. 
Wrapping Up
At this point, you should already know what you're looking to get and hopefully, we've helped you in knowing how to choose the right backpack. With all that being said, we gave you some cheap backpacks that are also top in quality. These are especially recommended for people who plan on doing outdoor activities across the US and abroad.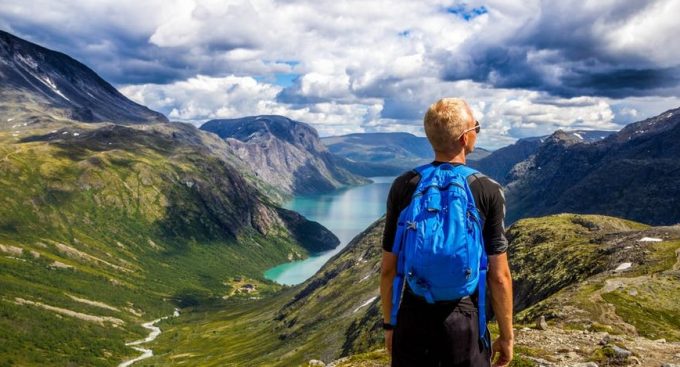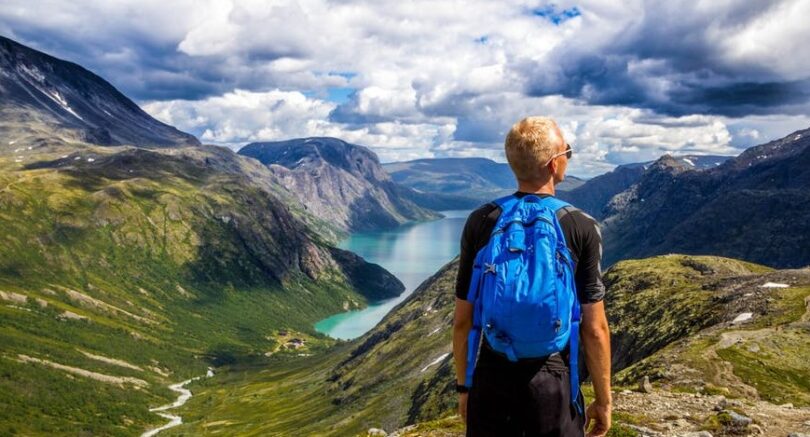 However, don't forget to always closely inspect your needs and determine what might be the best fit for you. As long as you do that, the backpack you choose shouldn't let you down.
How about you? What hiking backpacks caught your attention and why? Have you tried some of these bags before? What would your recommendations be? Feel free to leave your comments below.