Camping without a knife is like kayaking without a paddle. Not fun, and it can hurt more than just your self-esteem if you find yourself needing it. Most camping trips don't require the sort of meticulous planning and coordination needed for an expedition into the Congo. But, without the best camping knife, you can get your hands on; you run the risk of not having a fire for warmth or a sharp edge to prepare your food.
So before you even consider packing your bag and grabbing the toilet paper you wish you'd brought with you last time, we're going to teach you what distinguishes dull knives from one's worth being called a high-quality camping knife. Then you'll understand why you're much better off owning one (or several!) of the knives in this review rather than the inferior products you'll find at most retailers.
You're looking for a durable tool that can adapt to your situation. What you don't need, is a weapon that stands little chance of saving your life in the unlikely event of a predator, showing up, which is why this review will focus on small to medium sized knives.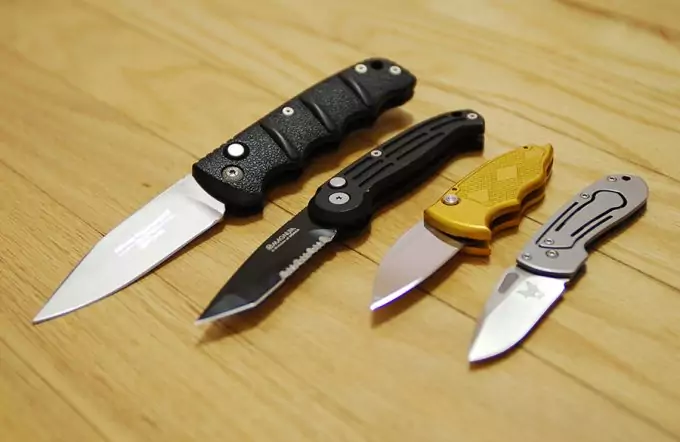 They're easier to carry and will perform admirably for all the tasks you'll be doing while camping, such as:
Making Kindle wood
Cutting rope, etc.
Skinning fish
Preparing food
Cooking
The list is short but vital to enjoying your time in nature, so it's worth taking a moment to learn what qualities make a knife perfect for camping. The following are features you should take into consideration before making your next purchase or trying to impress your friends.
Features to Consider Before Buying
There's a knife out there for just about every situation, but our goals are relatively simple: cut and cook. Once you've set up your campsite and have gathered wood, you may need to trim it down to size. Have you ever tried to light a fire without a Kindle? It's tough.
With the right knife, you'll make short work of the task and be able to sit back and enjoy the brilliant glow of your campfire. The type of steel, the material the handle is made of, and whether the blade has a serrated or straight edge is among the most important details. There's no need to dip into your savings account either, since there are plenty of affordable knives for under $100 that fit the bill.
Steel Type
The first thing many people want to know is, "What is the best type of steel?" And the simple answer is: There isn't. All that's required to make basic steel is a combination of iron and carbon, but over time it was discovered that by adding other elements to this mix, one could alter the properties of the steel. For instance, chromium is the main ingredient found in all stainless steel.
However, there are benefits and drawbacks to each added ingredient, so what's important is to find a blade that offers the right balance of hardness and toughness. The harder a blade is, the longer it will hold its edge, which equates to less sharpening.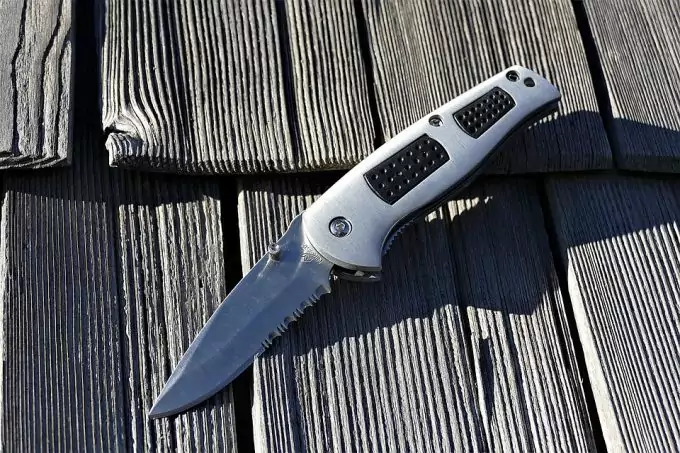 Of course, the tradeoff is that harder steel is also more brittle, which increases the likelihood that it'll chip on impact. There are thousands of types of steel, but 440C is the best stainless steel available to date, making it great for camping.
There's also 1095 steel and SK-5 steel, which is famous for holding a great edge and being easy to sharpen—the only major disadvantage being that they rust easily. To combat this issue, many manufacturers add a corrosion resistant coating on their blades.
Material of the handles
This is nearly as significant as the type of steel your camping knife is made of, because what's less fun than starting a fire with no Kindle? Splitting wood without a knife handle is not good. To avoid getting injured, and to altogether eliminate the potential of having to create your handle, always take the durability of your knife's handle into consideration.
Everything from wood to composite materials has been used to create handles, many of which are extremely tough, but you also need it to be light, as every ounce ultimately adds to the weight you have to carry. Aluminum, carbon fiber, G-10, Micarta, and titanium are all great options.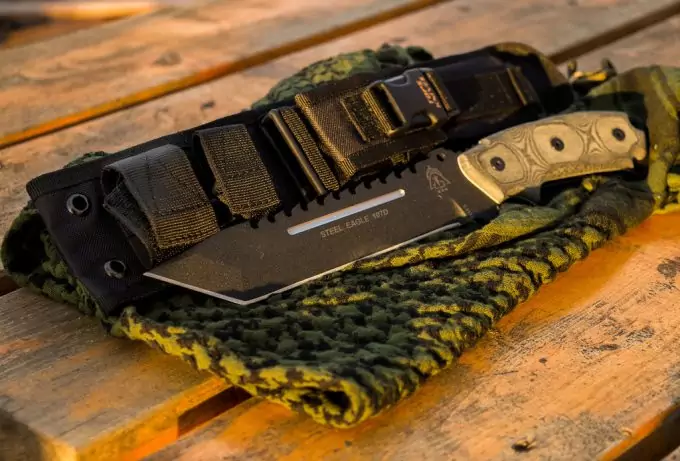 To give you an idea how these materials compare to one another, titanium has the highest strength-to-density ratio of any metallic element. It weighs half as much as steel and can be as strong as low-grade steel alloys. On the other hand, aluminum is one-third the density of steel but can only withstand about half as much psi (pounds per square inch).
The bottom line is: they're both lighter than steel and highly resistant to corrosion, making them comfortable and reliable for camping. Carbon fiber, Micarta, and G-10 have their differences, but are all great materials for knife handles because they're lightweight, durable, and can withstand a great deal of abuse. They have a different look and feel than their metal counterparts, but are equally as reliable.
Blade design
You've probably noticed that the knives come in all different shapes and sizes, and you'd be right to think that the design of the blade has a lot to do with its intended purpose. Folding knives make for great everyday carry knives, and some of them are excellent for camping. Fixed blades are much better for splitting wood, and you may find that you prefer the amount of leverage they give you. Either of them can easily be worn on the belt.
It's also common for camping knives to feature a drop point design that improves the overall strength and durability of the blade. This is when the spine of the blade, where it's thickest, slopes forward from the handle to the tip of the knife. Again, the idea here is that there is no one design that everyone agrees is the best. Some styles of knives are better suited for self-defense.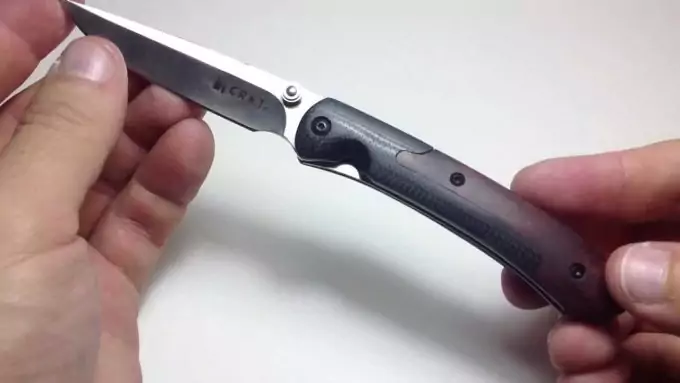 For instance, a blade that's razor sharp on both sides won't serve as much practical value of a camping a trip with your buddies, but a serrated knife will be incredibly helpful for cutting fibrous material such as rope. With all this in mind, you can begin to see how high-quality camping knives, such as the ones we're about to recommend, will give you an extra measure of relief when you're enjoying an extended stay in the Great Outdoors. Are you ready for the adventure?
Best Products on the Market
Some knives sell for several hundred dollars, but you simply don't have to spend that much money to acquire a quality tool that will last you a long time.
All but one of the knives in this review can be had for less than $100! And now that you know exactly how you'll be using your knives—as it's always a better idea to carry more than one when you're camping—you should have an easier time deciding which to purchase, and which of them should go on your wish list!
Gerber Bear Grylls 
Price: Approx. $47
Weight:  11.2 oz
Dimensions: 0.4 x 0.4 x 0.4 inches
Design: Fixed, half serrated, drop point
Material of handle: Textured rubber
Best use: Camping, hiking, fishing, survival situations
Description: This fine specimen of a Gerber Bear Grylls Ultimate Knife , which in this case is much more than just a knife, is a great bargain for just under $50 approx. on Amazon. It's a half serrated drop point blade made of steel comparable to 440A, meaning it's highly resistant to corrosion and rust. Oh, and did we mention it's far more than just a knife?
Sure, it can cut through whatever you want, but it also has a steel pommel and an emergency whistle in case you find yourself needing them. What's more is that the sheath includes a diamond sharpener and fire starter. Being prepared is the name of the game.
This heavy-duty knife is the perfect workhorse, and is great for anything from a short hike through rugged terrain to a week long camping or hunting trip, and can be used to build traps, skin game, or even a bit of carving, just for fun.  Though a bit large for lightweight travelers, and not exactly suited for self-defense because of its larger size, it is an excellent knife for multiple outdoor uses.
PROS:
Durable
Sharp blade
Perfect for edge retention and cutting ropes
The rubber grip makes the knife comfortable to hold and reduces slippage
Lightweight
Versatile
Limited lifetime warranty
CONS:
The pommel detaches from the handle easily
Related: You can purchase this Sentry TUF-GLIDE Lubricant if this is the knife you prefer as it will protect the blade from rust, friction and wear.
Ka-Bar Becker 
Price: Approx. $80
Weight: 16 oz
Dimensions: 18 x 5 x 5 inches
Design: Fixed, straight edge, drop point
Material of handle: Grivory
Best use: Camping, fire, industrial use, any outdoor situations.
Description: For just over $80, this magnificent KA-BAR Becker Knife  is nothing short of ideal for camping. It's a full tang blade, meaning one solid piece of metal extends completely through the handle.
The benefit in this is that it makes the entire knife more durable, especially when it comes to splitting wood for the Kindle. The blade measures five and a half inches in length and is a 1095 crop-van alloy, which makes it extremely wear resistant and easy to sharpen, but also susceptible to rust.
The Grivory handle, which is a type of durable plastic, provides a comfortable grip when held. To protect and maintain the sharpness of the knife, a nylon sheath is included.
The sheath is heavy-duty polyester, has Velcro closures, and can be hung from a belt or strapped to a pack for easy access.  Though a great knife for a variety of outdoor adventures, it is a bit heavier, so it is not suitable for someone looking to travel light.
PROS:
Lightweight
Durable
Ideal for camping chores
Comes with a hard nylon sheath
Comfortable to hold
Good design
Limited lifetime warranty
CONS:
The blade coating is nothing to write home about
Related: This Spyderco Triangle Sharpmaker is ideal to make the blade of your knife sharp again.
Ka-Bar 1216 
Price: Approx. $13
Weight: 11.2 oz
Dimensions: 18 x 5 x 5 inches
Design: Fixed, straight edge, drop point
Material of handle: Kraton
Best use: Camping, hiking, fishing, survival situations
Description: What do you get when you cross a seven inch 1095 steel blade with a Kraton handle for only $13? Well, an unbeatable deal for one!
But for those of you who aren't familiar Kraton and its amazing properties, it shares many of the same qualities that rubber possesses, such as its texture and traction, but it's many times more resistant to weathering.
The Ka-Bar 1216 Blade Knife is coated with a special epoxy to prevent corrosion, so you get all of the advantages of 1095 steel, like a knife that holds a sharp edge, without having to worry about it rusting if you forget to sheathe it. And for added comfort and safety, the Kydex holster includes a locking mechanism and a nylon belt loop for convenience.
Keep in mind that KA-BAR is known for making knives with solid handles, and this product is no exception. So if you're looking for a properly weighted blade that cuts through wood like butter, you've just made a new friend.
PROS:
Durable
Lightweight
The sheath that comes with it is resistant to impact
Good grip
Great design
Sharp blade
Limited lifetime warranty
CONS:
The strap around the handle is too short
Related: Consider getting this Smith's Arkansas Sharpening Stones System to keep the blade of your knife sharp as a razor.
Buck Knives 0119 
Price: Approx. $48
Weight: 7.5 oz
Dimensions: 12 × 8 × 2 inches
Design: Fixed, straight edge, drop point
Material of handle: Cocobolo wood/brass or black phenolic/aluminum
Best use: Camping, hiking, fishing
Description: Even if you've never owned a personal knife, chances are you've heard of Buck, and their best-selling model is the Buck Knives 0119 Blade Knife. The version with the Cocobolo wood handle and brass pommel can be had for about $68 on Amazon, while the one with the black phenolic handle and aluminum pommel sells for around $47.
The blade is 6 inches long, and the knife measures ten and a half inches from the tip to the pommel, giving you plenty of room for a solid grip. As with many of the most durable camping knives on the market, the 0119 has a tang that runs completely through the handle which gives it extra strength.
You may also appreciate that the steel itself is 420HC (Buck's standard) which is known to be both easy to sharpen and highly resistant to corrosion. This knife is also backed by Buck's Forever Warranty, which guarantees that your knife will be free of defects for the life of the knife, and if your knife does have a defect in the material or artistry, they'll either repair or replace it free of charge.
PROS:
Lightweight
Durable
Excellent blade quality
Good design
Comfortable to use
Comes with a leather sheath
Limited lifetime warranty
Related: If your knife does not come with a sheath, you should consider buying this Sheath Fixed Knife Sheath to protect yourself from getting injured.
Cold Steel Recon 
Price: Approx. $80
Weight: 5.3 oz
Dimensions: 9.5 x 1.5 x 1 inches
Design: Folding, straight edge, spear point
Material of handle: G-10
Best use: Camping, hiking, survival situations
Description: For less than $90, this Cold Steel Recon Blade Knife is both affordable and jaw-dropping in its design. It's a spear point blade, so you're sacrificing some cutting edge in exchange for piercing power, but it's not to be underestimated.
It's also the first knife in this review to feature a G-10 handle which is known to be durable, lightweight, and comfortable to hold. The blade is made of Carpenter CTS XHP Alloy which is comparable to 440C steel.
You may have also noticed that it's the first folding knife to find its way into this review, and it's not because they're less viable than fixed blades when it comes to camping; they each have their strengths and weaknesses.
Because you're not limited to carrying one blade, you can and probably should take at least two knives with you when camping. That way, you can reap the benefits of having a fixed blade and a folding knife at your disposal while also being prepared if you happen to lose one.
Finally, what's great about the Recon 1 is that since it's a medium sized folding knife, you'll have no trouble putting it to good use in between your wild adventures. It has a 4-way pocket clip that allows you to carry it however which way you like, and the locking mechanism that holds the blade open during use is nothing short of spectacular.
PROS:
Lightweight
Comfortable to use
Made from the best material
Foldable
Dependable
Durable and effective
Sharp and sturdy blade
Limited lifetime warranty
Related: We recommend the ROYI Premium Sharpening Stone Kit  if you want to keep your blade as sharp as a sword.
Ontario 499 
Price: Approx. $40
Weight: 9.9 oz
Dimensions: 12 x 4 x 3 inches
Design: Fixed, straight edge, drop point
Material of handle: Natural leather
Best use: Camping, fishing, survival situations
Description: Here's a quality knife unlike any other you'll find in this review. The Ontario 499 Survival Knife sells for $40 on Amazon and gets its name from its rich history, as it was originally issued to the U.S. Army and Air Force pilots during the Vietnam War. But in addition to being iconic, it's also downright reliable.
Cut leather washers come together to encase the full tang blade, giving the handle a unique and comfortable feel. While it's not necessary, it can be a good idea to slather neatsfoot on the leather, which not only helps to protect it from water but also gives it a rich burgundy look.
The blade is five inches long and packetized to prevent corrosion, but what's also nice about this knife is that the back of the blade is notched. In the field, this is useful for making traps and shelters, and thankfully, it also doesn't get in the way of batoning. A leather sheath and sharpening stone are included as well, making the Ontario 499 an excellent bargain.
PROS:
Durable
Sturdy and sharp blade
Leather handle and sheath
Lightweight
Comes with a sharpening stone
Comfortable to use
Limited lifetime warranty
Related: This Old Timer SSOTCP Sharpening Stone Ki is perfect for keeping your knife sharp like a razor.
Columbia River 
Price: Approx. $86
Weight: 10.8 oz
Dimensions: 6.8 x 2 x 1.2 inches
Design: Fixed, dual straight edge, spear point
Material of handle: Textured glass reinforced nylon
Best use: Camping, hiking, fishing, survival situations
Description: CRKT has made expertly crafted blades since 1994, and this Columbia River Blade lives up to the same high-quality standards that thousands of their customers have grown to trust.
It sells for just under $90 on Amazon and features a razor sharp plain edge on either side of the knife. While it may not be suitable for batoning, it can certainly handle tough chopping tasks.
The blade has a full tang and is made of SK-5 steel, which is the Japanese equivalent of American 1095, so it's going to hold a very sharp and durable edge. One look at it and you can tell that the blade is black powder coated to protect it from corrosion.
The handle is also black and textured to give you a better grip. At the end of the day, which knife you decide to carry will be a matter of personal choice but the Elishewitz F.T.W.S. offers a balance of all the features you'd hope to find a good camping knife.
PROS:
Lightweight
Durable
Has a good penetrating strength
Good grip
Thick and sharp blade
Great design
Limited lifetime warranty
Related: If you want to keep your blade sharp and polished, we recommend checking out the Garos Goods Leather Sharpening Polishing.
Schrade Schf52M Frontier 
Price: Approx. $45
Weight: 17.4 oz
Dimensions:  13 x 1.5 x 0.2 inches
Design: Fixed, straight edge, drop point
Material of handle: Micarta
Best use: Camping, hiking, fishing, survival situations
Description: The Schrade Frontier Blade Knife offers outstanding value at an affordable $45 and change.
The blade is made of 1095 steel and is an impressive 7 inches long, giving you plenty of cutting edge for the kind of tough jobs you're likely to encounter while camping.
When you're wearing this knife on your hip or in your backpack, there's not a chore in all of Mother Nature that warrants you panic. The handle is made of a durable combination of linens and resin that is referred to as Micarta.
In fact, the material is so strong that it's used in the construction of spacecraft too. The polyester sheath comes with a knife sharpener and a fire starter as well, and you're guaranteed to find a use for them. All in all, it's a great camping knife for the price.
PROS:
Durable
Lightweight
Strong and sharp blade
Comes with a sharpening stone
Reliable
Limited lifetime warranty
Related: To prevent corrosion for your knife, consider getting this Liquid Bearings SUPERIOR Lubricant. It prevents the blade from rust.
Cold Steel American 
Price: Approx. $84
Weight: 4.5 oz
Dimensions: 8.2 x 1 x 1 inches
Design: Folding, straight edge, drop point
Material of handle: G-10
Best use: Camping, hiking, survival situations
Description: Those of you that you prefer a folding knife that is equally tough and inconspicuous will love the American Lawman. Sure, at about $84 Cold Steel American Folder is one of the more expensive knives on our list, but you're about to understand why it's a wise investment.
From the quality of the steel and materials used to create the handle, to the ultra-safe tri-ad locking mechanism that prevents mechanical failures, it exceeds all expectations. The handle is made of textured G-10 and designed to be completely ambidextrous and user-friendly, providing you with incredible leverage in the rain, frost or sunshine.
The blade is made from American CTS XHP alloy and given a hand-polished edge, making it as sharp as a scalpel. And if the blade wasn't durable enough, Cold Steel made it even more formidable by giving it a DLC coating. Remarkable in every way, it might be the best knife you've ever purchased.
PROS:
Lightweight
Durable
Comfortable to use
Made with the best material
Strong and sharp blade
Limited lifetime warranty
Related: This Yoshihiro Tsubaki Knife Maintenance Oil is ideal to prevent your knife blade from rust, consider getting it.
Victorinox Army 
Price: Approx. $15
Weight: 0.8 oz
Dimensions:  2.25 inches
Design: Multi-tool
Material of handle: Cellidor
Best use: Camping, hiking, fishing, survival situations
Description: A multi-tool such as this shouldn't be your primary knife when you go camping, simply because it's not suitable for certain tasks such as batoning, but it's obvious how helpful Victorinox Army Pocket Knife  can be if you find yourself needing it. Victorinox makes the best compact and sturdy Swiss Army knives for an affordable price.
Alone they sell for about $15 on Amazon and include an arsenal of six helpful tools; a small blade, a nail file with a screwdriver tip, a pair of scissors, tweezers, and a toothpick.
Another benefit to buying a Swiss Army knife made by Victorinox is that it comes with a lifetime warranty against material defects and errors in artistry, so should it ever fail you, you can get it repaired or replaced for free.
This camping knife is perfect for all types of outdoor adventures, from easy hikes to fishing trips, and the majority of its users feels that if you only want to purchase one knife of this type, the Victorinox classic is the best one to choose.
PROS:
Lightweight
Durable
Multiple functions
Great design
Fits comfortably in a pocket
Sharp blade
Limited lifetime warranty
CONS:
The scissors spring pops out easily
Related: This Steelex D1091 Sharpening Stone Holder can help you to hold your sharpening stone firmly in place when you need to sharpen your knife's blade.
Wrapping it up
Fortunately, there are no wrong choices if you decide to purchase any of the knives in this review, and that's because each of them is perfect for camping! As we mentioned before, some of them are better suited for batoning while the others are great all-around, and which one you choose is entirely up to you and your style.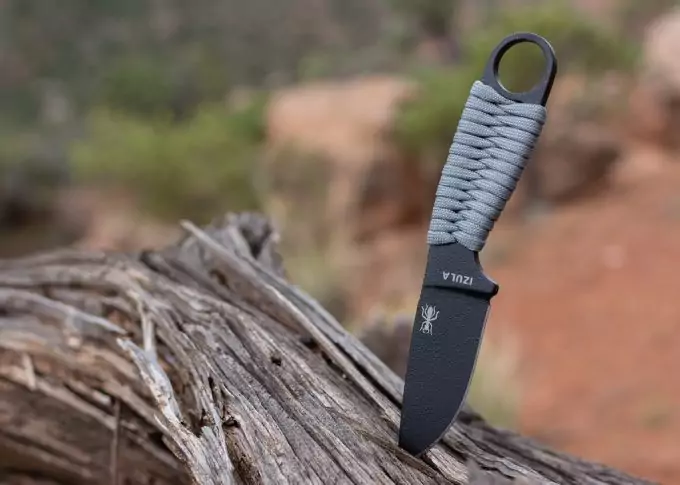 If you already own a serrated knife, then get a plain edge blade, or vice versa, because having both options will make your life easier. If you know you enjoy the versatility and convenience of folding knives, then you'll want to get the Recon 1 or the American Lawmen, but if you're looking for the stability and strength of a fixed blade, then the Schrade Frontier might be right up your alley.
Once you've tried a few different knives, you'll get a feel for what you like. From that point of shopping for new steel becomes a cinch, and the more you use them, the more self-sufficient you become.
We hope that you found our article useful and interesting to read, and if so, feel free to share it on social media so that your friends can read it as well. If you have some questions, leave them in the comments section below, and we will be more than happy to give you an answer as soon as possible. Thanks for reading!