Would you agree with us that backpacking is a fun activity on its own, but when you throw in fishing as well, it becomes an adventure to be remembered? However, when you are starting a new sport that you haven't tried before, it is always important to inform yourself about the proper gear you should take with you.
Otherwise, you might end up without an important piece of equipment and your whole plan would be thrown away. Regardless if you are a beginner or have many years of experience in whether backpacking or fishing, you need to have a close look at the items you will buy for your next trip. Luckily, we are here to help.
For this reason, we have put together this basic guide on backpacking fishing gear. We plan to help you choose the adequate gear, based on your level of expertise, your needs and your expectations. We promise to guide you, then from there it's all in your hands to choose and enjoy.
Our Top Picks
| Product Name | Weight | Best Use | Specific Features | Price |
| --- | --- | --- | --- | --- |
| Eagle Claw Trailmaster | 0.78 lb | Fishing actions | Lifetime warranty, excellent quality. | Check price on Amazon |
| Redington Classic | 0.25 lb - 0.56 lb (depending on the selected length of the rod) | Fishermen travel, backpacking | Lightweight and smooth. | Check price on Amazon |
| Emmrod Packrod | 1.1 lb | Sitting down fishing, backpacking, hiking | Short handle, lightweight. | Check price on Amazon |
| Sak Gear Premium | 0.78 lb | Any trip that involves water | Keeps you safe because of the night light, sizes from 10L to 20L. | Check price on Amazon |
| Okuma Voyager | 1.6 lb | Casual fishing actions when camping or backpacking | Easy to carry around. Has everything needed for fishing. | Check price on Amazon |
| Penn Battle II | 2.2 lb | Fishing activities | Durable Design, Easy to handle. | Check price on Amazon |
| Berkley MFNG2H | 0.23 lb | Designed for anglers | High quality materials, durable. | Check price on Amazon |
| MadBite FB0U1C | 1 lb | Fishing activities | Long lasting e-glass, wide variety of dimensions. | Check price on Amazon |
| Eagle Claw 05010H-001 | 0.1 lb | Fishing | Comes with a Selector Case, portable. | Check price on Amazon |
| Kastking Superpower | 0.25 lb | Fishing | High-sensitivity, smaller diameter when compared with others. | Check price on Amazon |
Features to Consider Before Buying
The most important and the most complicated thing in choosing your fishing gear is picking out your rod. It is the one thing, which determines whether you will love this sport or you will forever stick to the backpacking.
For this reason, you should do a thorough research before investing in a rod. Or at least, read the one we have made for you to teach you how to choose the perfect fishing gear for your hiking trips.
Numbers Of Parts Included
Even though this is often an underestimated feature, it is quite an important one to consider. Having this in mind, you should know that, if backpacking is your main activity, the greater the number of parts in a rod, the better.
Fly rods usually go with a specific tube or a sock material designed for carrying its parts. Without it, there is a great possibility that instead of your rod catching a fish, it will catch a tree along the way and stick to it without you even noticing it.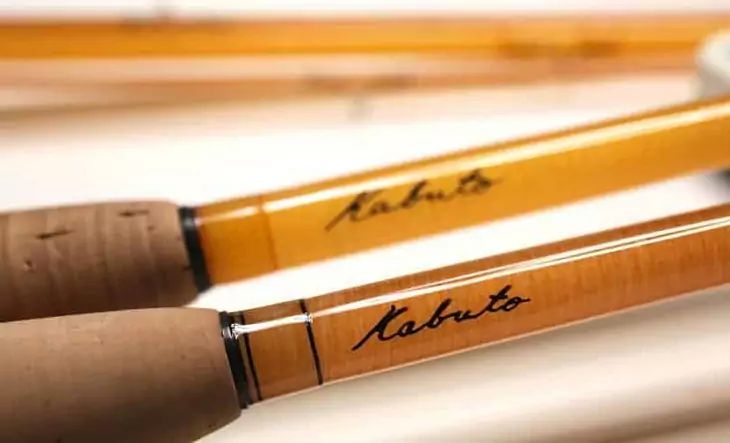 Even though this seems as a joke, it has happened to many before. There are rods which contain 2, 4 or even more pieces. A rod with only one piece is more suitable for short hikes since you will have to carry your rod around for the whole trip. Those with two pieces, are a more viable option, but still, you would have to choose a smaller rod length.
However, the rods that contain four pieces, are the most convenient ones. Usually, when a rod is made for backpacking, the manufacturer makes it in four or more parts. Most of the suggestions below, contain four pieces, and are ideal for backpacking.
This is the most suitable carrying method of a rod; however, you should be prepared that they also come at a higher price. However, this feature is worth every penny, and you will realize that on your very first backpacking fishing trip.
The Material
The material is the core of the rod. It is the most important part of it and it suggests the quality of the entire rod. When it comes to material, you have two options at your disposal. The graphite ones and fiberglass fly rods. Fiberglass rods are known as stronger and they are recommended if you are planning on catching bigger fish.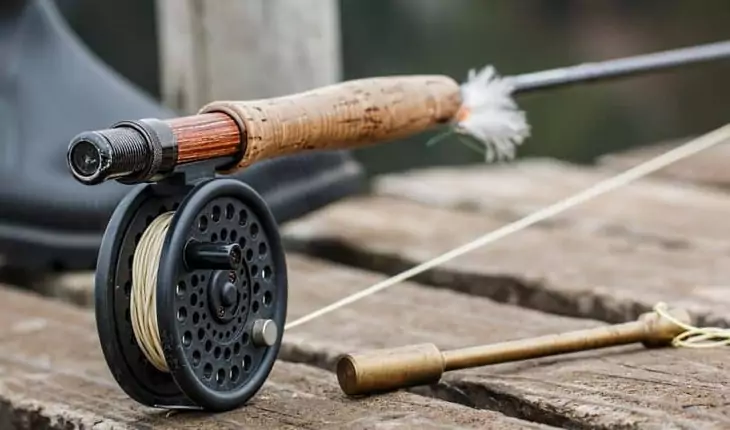 Graphite ones are more fragile, but they are perfectly good for smaller fish, combined with long backpacking hikes. Most beginners usually decide on the graphite ones. Keep in mind that graphite ones are also more expensive than fiberglass. The rod is usually made from stainless steel, which is also corrosion resistant.
This is also important because your rod is in constant touch with water, so the corrosion resistant property is kind of a must. A nice addition to the whole rod is if it has a cork. The cork provides a better balance and a better grip. There are some cork materials which will fall apart on their first touch with water.
Others will last you for months, but they will need to be exchanged every few months. And finally, there are those which are made from high-quality cork grip which could endure being in constant contact with water without it influencing its quality.
Length Of Rod
The length of the rod is important because of the casting possibility it provides. Longer rods, are intended for casting, and the longer the rod is, the further you will be able to cast your hook. This is usually important if you are planning on fishing from the shore. If you are fishing in a boat, you won't need a casting rod.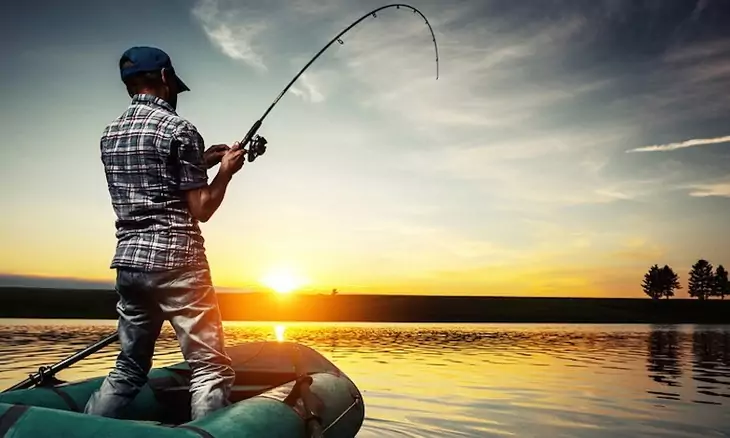 However, you, as a backpacker, won't have another option but to cast from the shore, so this feature would be more than welcome. It will probably triple your dinner. It is good that rods which are made from four or more pieces are usually long, but their packaging is compact, so they are the perfect choice for backpacking.
Casting For Spinning
The reel is also important when it comes to choosing your rod's features. There are casting reel rods and spinning reel rods. If you are looking for a backpacking, fishing rod, your only logical choice is a spinning rod.
The reel is only important because of the weight and type of lure you are planning on using. If you are a beginner, you would probably cast light lures such as spoons and spinners. For this reason, again, your safe choice is the spinning reel.
Additional Equipment
Even though the lures and reels could be found separately from the rod, it is recommended that you choose a whole fishing kit that would get the job done. Make sure you carry several hooks, which are correctly secured with a pin.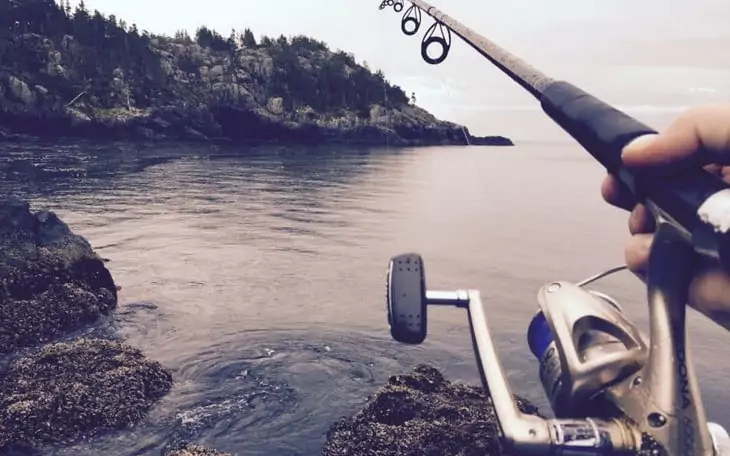 There are some people who prefer to include the baits in their fishing equipment and carry it from home, so, consider that option as well.
Worms are fish's best food. And, if you decide not to take them from home, the only thing you need to do is find a wet rock and check it. This is the easy part. For some people, attaching the worm on the hook is the hard part, since it is alive. If this is the case for you, then consider including split shot sinkers, a monofilament line, and bobbers.
Top Gear Reviews
We came up with the best gear for fishing on any camping or backpacking trip. From bags to rods and more, below you will find what you need to make sure you are prepared for an enjoyable and positive fishing trip. Then it will be your decision what to choose.
Eagle Claw TrailMaster 
Price: $70 – $80
Dimensions: 19.7 x 6.3 x 6.3 inches
Weight: 0.78 lb
Specific features: Lifetime warranty, excellent quality
Best use: For fishing actions
Description: This amazing Eagle Claw Trailmaster  product is one amazing tool that was built to last you a lifetime. It is very light and easy to carry and can be easily packed into a backpack as well, since it is a 4-piece rod, specifically designed to be portable. You just take it apart, the 4 different parts, and then store them in the carrying case and put that in your bag, and you're set to go.
It is a four-piece rod, with an interesting design. It has a cork handle which follows the ergonomic contours. The product features a cork fore grip, and a durable rubber. The long-handled item uses the six-bearing system, just to provide a smooth performance.
This rugged rod also has a reliable drag type system. Remember that this is a strong fishing tool that is designed with special accents.  You don't have to worry about buying an additional travel case because it is included in the kit.
PROS:
4-piece rod easy to carry around
Very light weight
Lasts very long
CONS:
For beginners, be careful when pulling the prey, as it can break depending on the angle
Related: If you like the products that this manufacturer has to offer, then you will also find the Eagle Claw Snap-On Floats Assortment quite interesting and useful.
Redington Classic  
Price: $120 – $170
Weight: From 0.25 lb to 0.56 lb depending on the selected length of the rod
Specific features: Lightweight and smooth
Best use: Ideal for travelers and hikers
Description: The Redington Classic  gives fishermen a responsive and medium-action rod that is good for their everyday activities. This product is simply designed for a trout angler. It is good to know that the manufacturer has made some changes over the previous model, more exactly, he made a redesign of the overall look and the new one is fantastic.
The moderate action that provides a delicacy, which allows you to drop the flies on the surface of the clear water, without upsetting the fish.
This type of lightweight product allows a fatigue-free and all-day fishing activity, no matter if you are a beginner or advanced angler. You could easily use this fishing tool and make an interesting memory with your friends or relatives.
Also, consider the fact that this rod has a lifetime warranty. This is a very good quality 4-piece rod, for the price you pay, you get great value. It works very well, it's easy to handle and made with very good materials. Some argue it's a bargain.
PROS:
Specifically designed for trout fishing
High quality
Portable
CONS:
Reel tends to come loose.
Related: The Redington Zero Reel might be a good add-on to this rod. It is a very good reel, better than most, as well as being lightweight, ideal for hikes.
Emmrod Packrod  
Price: Approx. $100
Dimensions: 24 x 4 x 5.5 inches
Weight: 1.1 lb
Specific features: Short handle
Best use: For fishing action from a sitting posture, backpacking, hiking
Description: The Emmord Packroad  is an excellent fishing gear.  The best thing about this tool is that you can use it in a sitting position. No matter if you are on the beach or in the canoe, or in a small boat, you can simply relax and enjoy the fishing process and catch fish that are up to 15 lbs of weight
This item has a short handle and a coil spinning pole, and is the love of the fishermen because it is effective and also compact.  Because of this feature, the angler knows exactly when to initiate a strike. There is no lag period of time, which is extremely important if your dinner depends on you catching the fish.
Take into account that this is a small product, we are not talking of a big rod for universal use. It was designed to preferably be used in a sitting position, it is a short rod and not as adaptable to other scenarios. Ideal for hiking and for fishing in small streams.
PROS:
Designed for sitting position fishing
Very light weight
Extremely durable
CONS:
It is a very short rod, so it needs practice to be mastered.
Related: The Eagle Claw Kahle Fishing Hook is always a good add-on to any other fishing gear. You need the claws for attaching the bait, you can sue them with any rod.
Sak Gear Premium 
Price: $20 – $30
Weight: 0.78 lb
Size: 10 L and 20 L
Specific features: Keeps you safe because of the night – light
Best use: For all season trips
Description: The Såk Gear Premium waterproof dry bag is a must-have tool when packing your outdoor gear. The bag is great because you can use it in every season. It is created of 500 D polyester and it is coated with vinyl. Remember that this sack keeps your equipment dry.
You can find the zip pocket located on the outer side of the bag, and you can store your ID or your keys, or other essential tools in it. The outer pocket is a good feature so you don't have to tumble everything else in your sack.
Another important feature is that this product keeps you safe and visible at night. It has a reflective trim that reflects and allows you to be seen.
This fabrication has a shoulder strap that is adjustable and also removable. You can easily adjust it on your shoulder, or you could attach it to your kayak or a boat.  Keep in mind that both sizes are great. The only thing you should think about is your equipment and if the selected size would match your needs.
PROS:
Keeps anything dry
Affordable price
Comes in different sizes
Related: The Mpow IPX8 Waterproof Case for phones might be a good add-on to this wet bag if you like to go fishing. It keeps your phone dry, but it's easier to have it hanging to your neck, rather than looking for it inside a bag with a bunch of other items.
Okuma Voyager 
Price: $40 – $60
Dimensions: 72 x 5 x 5 inches
Weight: 1.6 lb
Specific features: Easy to carry around, has everything needed for fishin
Best use: For casual fishing actions when camping or backpacking
Description: The Okuma Voyager spinning travel kit is a good choice if you plan to have fun with your friends. The set has all the needed tools for a perfect fishing time. You could find a rod and twenty sizes of a spinning reel, stainless steel seats, a machine that cuts brass, and a pinion gear.
When having this product, you not only obtain your fishing equipment, but you feel motivated to hit the clear water. The tools included in the set are made of advanced materials, have ideal design and they are long lasting, they are basically all you might need for this and future fishing trips.
It is good to know that no matter what type of fish you want to look for, always know that you would be motivated and you would want to catch every opportunity to go fishing.  If you have a set like this, your fishing excitement experience will only improve.
PROS:
Travel kit which includes everything a basic fisher needs
The ceramic inserts, make it very durable
Incredibly practical
CONS:
This it not the most advanced package
Related: This travel package might only be missing a good set of Snap-on floats. The Eagle Claw 07030-001-p Snap-On Floats are by default your solution to the problem.
Penn Battle II 
Price: $90 – $100
Weight: 2.2 lb
Specific features: Durable design
Best use: For fishing activities
Description: The Pen Battle II spinning reel is a product from the Penn Fishing Trackle company. It is a world known producer that is number one when it comes to a modern design and a great product list.
The spinning reel made by this manufacturer is attractive and it has a long lasting design. It also offers a smooth, carbon fiber, HT-100 drag washers. The tool has a body made of metal and rotor type constructed to allow precise maintenance of the gear.
Keep in mind that the reel comes in four types and you can choose according to your line weight needs. It is built with heavy-duty aluminum, which means it's strong and durable. Either salt water or fresh water, this reel will make it through and lost as long as you might need it for.
Plus, the rugged full metal design is designed on purpose for those tough fights in open waters. You can make sure this reel will put on a tough one without disappointing you.
PROS:
Ambidextrous reel
Very durable and excellent materials
Can put up any fight
Related: The Ugly Stik Elite Spinning Rod is a good rod to use with this reel. It's a rod that can put on a fight on open water.
Berkeley MFNG2H 
Price: $5 – $8
Dimensions: 6 x 5.5 x 1 inches
Weight: 0.23 lb
Specific features: Made of high-quality materials
Best use: Designed for anglers
Description: The Berkley MFNG2H fishing gloves are perfectly designed and have a matching color print. They are made of the best materials with advanced techniques, and are created to help the anglers for catching more fish.
The Berkley product is the most trusted brand when it comes to the popularity of the fishing companies. The gloves are washable and will still not lose it's coated texture and the other important features they come with.
It is good to know that the gloves are coated with a textured grip that protects you from the fish wiggling its way out of your hands, but also from the rod from slipping away. The gloves are excellent for handling small to medium fish.
You must take into consideration that these gloves are not waterproof, they will not keep your hands dry if you put them inside the water. However, the coated texture grip will still be as useful and effective when wet as when it is dry, that does not change.
PROS:
Very cheap
Long-lasting
Coated grip to handle fish without them slipping
CONS:
The fitting might be a bit tight, small gloves. Buying a larger size is recommended
Related: The Booms Fishing H1 Fishing Pliers are a good tool to buy alongside these gloves. If you catch a fish, then just use the pliers to cut it, open it, handle it.
Madbite FB0U1C 
Price: $20 – $30
Weight: 1 lb
Dimensions: A: 16 inches hoop size (fixed handle). B: 20 inches hoop size. C: 24 inches hoop size
Specific features: Made of long lasting e-glass,
Best use: For fishing activities
Description: The MadBite FB0U1C Fishing Net is a great tool for your fishing gear. It is a supple, foldable and tangle-free coated net that could capture the smallest or the biggest fish. The most important thing about this product is that the fish net is coated with a non-absorbent material that won't allow getting the net heavy with more water.
The MadBite fabrication is created of long lasting e-glass which withstands outer impact.  The tool has a push button and it is made of nylon material.  The end of the hand-hold is made of PVC material. All the materials are stronger that could resist cracking and bending.
This landing net has a belt clip that allows easy transport. Scoop up the fish with this amazing product. It also comes in very different dimensions or sizes, this way it can adapt to whatever need you might have, from long distances to shorter ones. As said, the dimensions make it very adaptable, as well as easy to carry.
PROS:
Changeable lengths for different needs
Very durable and strong
CONS:
Fish over 10 pounds, might need a stronger or bigger net
Related: The Dr.Meter ES-PS01 Electronic Balance with Hook is a good tool whenever you go fishing. Hang the fish from the Balance and weigh them.
Eagle Claw 05010H-001  
Price: $3 – $6
Dimensions: 1 x 1 x 1 inches
Weight: 0.1 lb
Specific features: Has a selector case
Best use: For fishing times
Description: The Eagle Claw 05010H-001 sinker asst kit is ideal for your fishing time. We recommend purchasing such a product because it would facilitate your actions.
The tool is great for bait sinking. The set includes seventy-five pieces, which are a lot and will last many different fishing trips, as well as serving for different bait types.
The interesting point of this fabrication is that it comes with a special selector case. This way you could easily manage your little items like swivels, sinkers, and hooks. They come in many different sizes and you could use them for the proper conditions.
The kit is great for beginners because it has a good assortment of important tools. As a matter of fact, it is one of those things that you must have if you want to successfully go fishing. The other positive thing is that it can be used with any rod, on any trip. Basically, these are universal items.
PROS:
Very strong hooks that almost never bend
Great mix for different needs
CONS:
The container is not of the greatest quality and might break
Related:  If you prefer the products that this manufacturer has to offer, then you should also take a look at the Eagle Claw Trailmaster spinning combo, which is a rather great deal.
KastKing SuperPower  
Price: $14 – $70
Length: From 327 yards to 1094 yards
Color: Low-vis gray, moss green, multi-color, ocean blue, white, and yellow
Specific features: High-sensitivity, smaller diameter when compared with others
Best use: For fishing
Description: The Kast King SuperPower fishing line is a strong knot that allows you to tie a solid knot on an easy and fast way. This product is very good because it makes you achieve casts that are farther and better. It is made of durable fiber.
The product has an ultra-high level of sensitivity and also a smaller diameter when compared to other producers. The braided lines were created for long lasting and increased distance of the casting.
The diameter of this line is less than most of the other brands, which allows you to put in more line into the reel. That way it will last longer and it's not a headache to continually change it everyday or on every trip.
No matter if you are fishing in a fresh or saltwater, surf fishing, bass fishing or ice fishing, you could always count on this braid from the KastKing not to disappoint you when it's most needed.
PROS:
Smaller diameter, more of the line fits in the reel
Durability is phenomenal
Smooth casting
Incredibly strong
CONS:
Line gives out a strange black residue
Related: This Line can be bought alongside the KastKing Sharky II Reel. Both the same brand, both very reliable and long lasting products.
Wrapping Up
There is nothing as great as fishing and keeping calm and relaxed after a long hike. If on top of that, you add the perfect fish lunch or dinner, there is nothing comparable to that.
However, in order to have a dinner, you must first catch your prey. As for the more experienced fishermen, they don't even need a rod. They could do just fine with a hook and a line.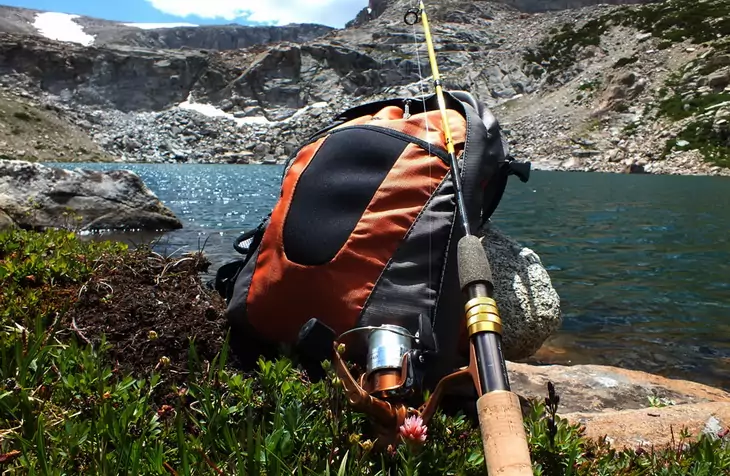 However, for those of you, who aren't that experienced, carrying a decent fishing kit will ensure that you have a dinner on your table. With this, we are not implying that you should count only on a fish for dinner, especially if it is your first time fishing.
No rod or fishing gear will catch a fish for you on its own, no matter how high quality it is. It is a sport, which takes practice, patience, and suitable fishing gear. By reading this article, you got the main picture about what your essential backpacking fishing gear kit should include. Keep this in mind when choosing the right fit for you.
In case you have some questions for us about anything related to this subject, we are always happy to hear from you and at your disposal. Do you think we missed something out? Leave us a comment how was your backpacking trip!