Many people only think of mosquitoes as pesky little insects that put a damper on a party or a warm summer night.  However, according to the Center for Disease Control, (CDC) mosquito bites can have serious residual effects on man and animals alike.
That's why it's important to have the protection you need to safeguard the health and livelihood of you and your loved ones while you're camping.
After reading this article not only will you have a new found respect to just how deadly these insect bites can be, but we will offer the best solutions in response to these potential issues which can be reduced or eliminated using these modern day mosquito repellent technologies.
Features to Consider
You may think that all repellents are the same, but they're not. They use a variety of different features and functions that are designed to keep mosquitoes away. However, it doesn't mean that everything that is used is safe for your health.
The repellents that are going to be discussed in this article, however, are all insecticides-free, and employ a variety of other methods to keep insects away, such as sonic, scented lures, and the use of ultraviolet light to attract them.
Replacing the Lure
When it comes to using certain mosquito repellent systems, you might get one with a lure, that will attract the bugs. Depending on which system you get, you will have to replace the lure every so often.

Some say that you can replace once per month, but you can find this information in the instructions on the specific one that you purchase.
Power Source
Each mosquito repellent system has its own type of power source. For example, some are solar powered, while others are electric. You can also find ones that use UV or LED lights and those have their own long life spans.
Cleaning Out Dead Bugs
If you do not clean your bug zapper, let's say, then it could stop working. You will need to clean it out when you think it is time, without it getting too full. Occasionally check on it and see how many dead bugs are inside.
Be sure to unplug the product before you begin cleaning or you could risk getting zapped yourself. You can clean the inside out by using a soft brush and clean out the debris in the trash. You can use a small vacuum or canned air to clean out the rest of the zapper.

Mosquitoes can carry all sorts of diseases that can cause harm to your body, or your pets. You should be aware of some of the things that can happen to your health. This is why cleaning the unit is important.
Just one mosquito bite can cause hypertension, heart failure, rash, vomiting and more. For dogs, heart worm can occur. Using a repellent system is definitely one way to avoid being a victim to the blood sucking bugs.
Indoor and Outdoor Use
Most of the repellent systems you see are for outdoor use. But you can find them for indoor use, and these ones are generally good for one room, and can work up to a certain amount of square footage in your house. If you purchase a solar powered one that works indoors, you will need to leave it by a window so it can get sunlight.
Top Product Reviews
We will now get to the top product reviews of mosquito repellent systems. These are all safe for humans and free of insecticides. Read on for some safe repellents that you can use when the bugs come your way.
Flowtron BK-15 D Electronic Insect Killer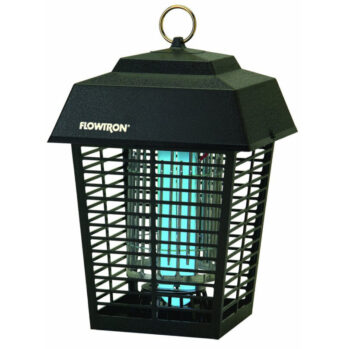 Price: Approx. $30
Weight: 4.2 lb
Dimensions: 13 x 9.25 x 9.25 in
Best use: This item is best used as an outdoor mosquito repellent to repel insects in a ½ acre radius.
Coverage: 1/2 acre
Specific features: No-clog grid to capture and eliminate flying insects.
Description: The Flowtron BK-15 D Electronic Insect Killer comes in 3 levels of coverage.  This unit is available in sizes ranging from one-half acre to a huge 1 ½ acre area of coverage.
You can also find this in 1 acre coverage, as well as 1.5 acre coverage. There is a cartridge inside that does need to replaced every month in order to stay in good working condition. Overall, it is an attractive piece that has a blue ultra violet light that does not hurt the eyes, and is easy to use.
The Flowtron BK–15 D features advanced electronic insect control using powerful 15 watt ultra violet light technology. This makes this unit safer than using chemicals and it has a large non-clogging killing grid to prevent issues of short-circuiting.  This mosquito killer is constructed of high impact material which prevents humans and animals from coming in contact with the active grid.
PROS:
Comes in 3 versions for a variety of acreage
Affordable and stylish
You can purchase this with a hook to hang or an attractant
CONS:
Transformers may burn out before the warranty is up
May only last a couple of years
Related: You can separately purchase some attractant cartridges that are made by Flowtron, and they come in packs of six like these, Flowtron MA-1000-6 Octenol Mosquito Attractant Cartridges.
Inadays Ina Trap Electronic Insect Killer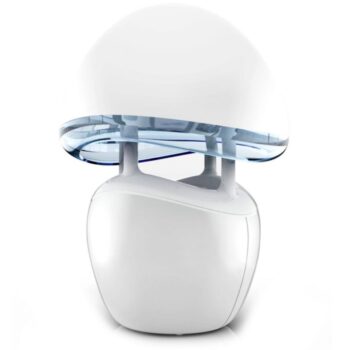 Price: Approx. $80
Weight: 2.9 pounds
Dimensions: 12.3 x 8.6 x 8.5 inches
Best use: Indoor mosquito repellent to protect your home.
Coverage: One room
Specific features: Excellence award winner of 2012, life span of led light bulb/fan is 20,000/50,000 hours, 3 stage on/off functions, completely silent operation, 1-year limited manufacturer warranty
Description: The INADAYS InaTrap Electronic Insect Killer is a popular award-winning unit featuring advanced LED technology and is for indoor use only.
The INADAYS electronic insect killer could be just the best mosquito repellent for keeping infected mosquitoes at bay. This unit features 3 stages of operation.  One-touch will activate a brilliant, but gentle, long-lasting LED light and fan providing you with unceasing service and safety.
The 2nd setting puts the unit into a 12-hour sequence.  The final position turns the unit off.  With this unit, you are in complete control.
While this unit is a little on the pricey end, it is very stylish, with LED lights that are easy on the eyes. It also does not use a lot of power and it can make a huge difference if you are experiencing bugs in your home! All you have to do is plug it in, power it on, and let it work.
PROS:
Award winning
Low power usage
CONS:
Pricey
Must use power outlet
Related: We know this unit is pricey, so if you want something that is just as effective, but about half of the cost, you can look into the stylish Dynatrap Ultralight Insect and Mosquito Trap.
Lentek Electronic Flying Insect Killer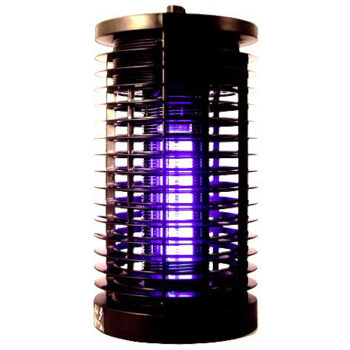 Price: Approx. $10
Weight: 5 pounds
Dimensions: 4.5 x 4.5 x 12.5 inches
Best use: Outdoor mosquito repellent with octanol attractant for outdoor use only.
Coverage: about 1/2 acre
Specific features: Ultra-violet light, octenol lure, powered by US standard household current, removable insect collection tray at the base of the unit for easy disposal.
Description: The Lentek Electronic Flying Insect Killer is for outdoor use only.  This unit features an ultraviolet light to attract flying insects, plus an Octenol lure for increased attractiveness.
Octanol is a byproduct of human respiration and creates an irresistible attraction for mosquitoes and other biting insects.  Some call Octenol a pheromone that drives biting insects to their demise.
This unit is clean, lightweight and unassuming yet powerful.  It is convenient to use and leaves no bug gunk to clean up.  The repellent system is safe to use around people or pets around residential and commercial areas.  This unit will give you 24-hour protection.
The removable collection tray is helpful when cleaning the unit out. It is affordable, sleek, and has a purple UV light. Some users say you should buy extra bulbs for this unit since they do seem to burn out fast. Other than that, the bug killer works well and does its job.
PROS:
Affordable
Easy to use
Removable collection tray
CONS:
Bulbs burn out fast
May shut off and restart back up on its own
Related: There is a unit that is a little more expensive, but is similar to this one with better quality that runs better. You can check out the Stinger Cordless Rechargable Insect Zapper for something that is reliable.
Dynatrap Ultra Light Insect and Mosquito Trap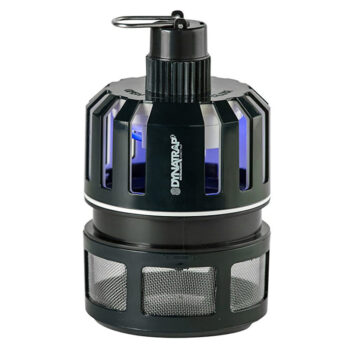 Price: Approx. $33
Weight: 2.85 pounds
Dimensions: 10 x 10 x 12 inches
Best use: Lightweight portable mosquito repellent for a small area.
Coverage: 300 sq ft
Specific features: Protect an area up to 300 sq. ft., pesticide and odor free, operates silently.
Description: The Dynatrap Ultralight Insect and Mosquito Trap, is exactly what the name implies.  It is a lightweight mosquito repellent system that protects small areas up to 300 square feet. It is pesticide and odor free and provides whisper-quiet protection without any zapping or buzzing noise.
No expensive chemical attractants or lures are used to keep the operating costs low. Like many of the other units we are featuring, this unit is for outdoor use only in a covered or protected area such as a garage, a screened-in porch or an all season patio room.
Don't be misled by its small size.  The dining trap features an ultraviolet fluorescent bulb that emits a warm light used to attract insects.  It also has an unobtrusive Ti02 titanium dioxide coated service which produces CO2 that is irresistible to attracting flying insects such as the disease carrying mosquito.
Another unique feature is a whisper-quiet vacuum that sucks insects into the inescapable retaining cage in ensuring that no bugs will leave alive even after the unit is turned off.
PROS:
No pesticides
No odor
Designed for a garage, covered porch, or an all season room
CONS:
Does not kill all mosquitoes
Not for Asian beetles
Related: Eventually, you will have to replace the bulb, and you can affordable ones to use. Dynatrap makes their own replacement bulbs just like the Dynatrap Insect Trap 7 Watt Replacement Bulb.
Stinger Cordless Rechargeable Insect Zapper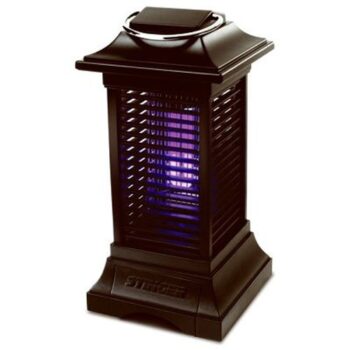 Price: Approx. $30
Weight: 3.1 pounds
Dimensions: 7.4 x 7.4 x 15.4 inches
Best use: Portable outdoor mosquito repellent for small areas
Coverage: 625 sq ft
Specific features: Black UV light technology, 3.5-hour run time with lantern-only feature
Description: The Stinger Cordless Rechargeable Insect Zapper offers a big punch in a small package.  This small mosquito repellent system will attract and kill flying, biting, insects within a 625 square foot radius.
It uses the black ultraviolet light technology with an Ocentol lure that will attract up to 40 percent more insects than a standard white ultraviolet light.  For best use position this mosquito repellent system no more than 14 feet from you and the insect source such as the yard or the woods.
The Stinger is perfect for using while camping, backpacking, fishing, or hunting.  There are no messy cords for you to tangle or fall on.  What could be more convenient than this handy mosquito killer?
When you set up the zapper, it will cover an area of 25 x 25 feet, which is great for a patio area. You can hang this with the hook, sold separately, and hang it no more than 14 feet away from you.
PROS:
LED lights are great for the perfect amount of light
The battery is rechargeable
Includes removable tray
CONS:
Some users had a short lived battery
Cannot use it all night long
Related: You can purchase a hook, like a shepherd hook, that will hold the bug zapper perfectly. Look into one like the Panacea 89034 Single Shepherd Hook.
Sunforce 80050 Solar Mosquito Eliminator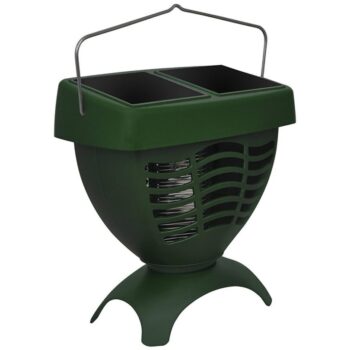 Price: Approx. $20
Weight: 1.4 pounds
Dimensions: 7.3 x 8.1 x 4.3 inches
Best use: Near a porch or window where there is a lot of sun
Coverage: 10 sq ft
Specific features: High-voltage electricity, operated by the sun, maintenance-free
Description:  Sun worshippers, will love using the Sunforce 80050 Solar Mosquito Eliminator.  It runs totally on solar power, so there are no cords to tangle and no batteries to replace.
The Sunforce 80050 is simple to use and is maintenance free.  Easy installation makes using this unit as simple as set it where you need it and you're done.
This mosquito repellent is small and lightweight, making it perfect for using in off-the-grid situations like camping, hiking, fishing, hunting and picnic areas.  This unit uses a high-voltage zap to efficiently kill annoying, flying insects.
While it does take a couple of days for these zappers to charge, and they must be in direct sunlight, once they are ready to work, they will work great. The high voltage will zap bugs gone. Some users have taken this indoors as well, and it will work, as long as it sits near the window for the sun to reach it.
PROS:
No maintenance
Solar powered
Easy to use
CONS:
Takes days to charge
Has to be where the sun can get to it
Related: If you desire some bug zappers for your garden area, you can take a look at some solar bug zappers for gardens, like the Pure Garden Solar Bug Zapper LED and UV Light.
Mosquito Magnet MM 4200 Patriot Plus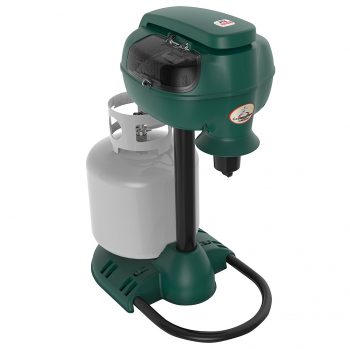 Price: Approx. $325
Weight: 22.15 pounds
Dimensions: 17.2 x 22.55 x 16 inches
Best use: Heavy duty propane powered outdoor mosquito repellent protection of large areas up to a 1-acre radius.
Coverage: 1 acre
Specific features: Runs silently, emits carbon dioxide, heat and moisture for attraction, rigid net for easy clean up.
Description: The Patriot Plus Mosquito Magnet technology is proven to effectively disrupt the reproduction cycles of mosquitoes. It operates on a 50 ft power cord, covers 1 acre and has a 1 Year manufacturer's warranty.
If you like power and cost-effectiveness, then the Mosquito Magnet MM4200 may just be the outdoor mosquito repellent you are looking for.  This unit will cover up to a one-acre tract of land and its technology is proven to stop the mosquitoes from breeding.
Once the breeding cycle had been broken, you have taken back control of your property and succeeded in creating a mosquito free zone.
Overall, this machine is silent, and releases carbon dioxide which attracts mosquitoes. It comes with a big bug bag, and a hefty price tag. It comes in bundles, of which you can choose the normal Patriot, or a choice between the Northern and Southern Region seasons, for maximum effectiveness.
PROS:
Silent
Comes in a bundle set
Covers 1 acre
Related: With this, you may want to purchase some insect attractant to increase the effectiveness. You can check out the ones that come in 3 packs or more, such as this 3 pack; Mosquito Magnet Octenol Biting Insect Attractant.
Dynatrap Insect Trap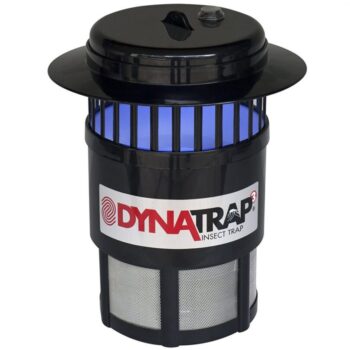 Price: Approx. $100
Weight: 2.85 pounds
Dimensions: 10 x 10 x 12 inches
Best use: Offers outdoor mosquito repellent protection over a large area
Coverage: 1/2 acre
Specific features: This unit covers a large 1/2 acre space.  It's made of a no maintenance, all-weather material.  It works silently and there are no pesticides, so there are no chemical odors.
Description: This is the original 1/2 acre Dynatrap Insect Trap.  It offers durable all weather construction that lasts for years without maintenance. This means your unit will be ready to use whenever those pesky insects come calling.
The Dynatrap original will a one half acre of your property free from annoying biting insects without pesticides and completely odor free.
This unit is a workhorse that will around the clock while giving you quiet service, without any expensive attractants or propane to replace.  You'll be amazed how efficiently the Dynatrap ½ acre original operates.
This unit also offers 3 way protection from insects with a UV bulb first, that attracts the bugs. Secondly, the bulb has a coating of titanium dioxide that really lures them in. Then the vacuum sucks the bugs into the cage, where they die from dehydration. It is really no wonder that this insect trap is award winning.
PROS:
3 step process to kill bugs
Kills more than just mosquitoes
Quiet vacuum
CONS:
Costly to purchase
Only covers a half acre
Related: Dynatrap makes replacement bulbs for this unit, which come in a set of two; like the Dynatrap Insect Trap 4 Watt Replacement Bulbs.
Eonfine Outdoor Mosquito Killer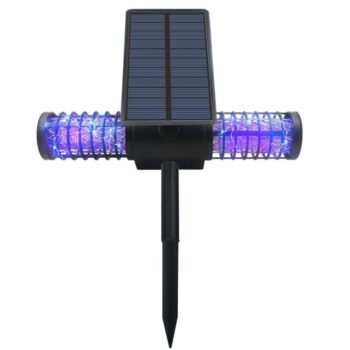 Price: $30 – $40
Weight: 14.9 ounces
Dimensions: 11.8 x 4.4 x 3.6 inches
Best use: Solar powered outdoor mosquito repellent for large off-grid areas such as camping or picnics.
Coverage: 1/2 acre
Specific features: uses solar power, no insecticide required, no chemical smells, silent operation, harmless to humans and pets.
Description:  This is an upgraded version of the original Eonfine Solar Powered Outdoor Mosquito Killer.  It is designed to operate smoothly and quietly while efficiently killing disease-carrying insects.
The unit has a tough, break resistant plastic shield protects humans and pets from touching the active parts thus eliminating ant accidental injuries.  Installation is as easy as using the included ground stake or by mounting to a wall using expansion bolts.
This unit, when fully charged, will operate throughout the night. On dreary days you can recharge the unit using a USB cable, allowing you to maintain protection against these horrible insects. And because it's waterproof, you won't have to worry about the rain ruining your device either.
Users liked this product because it can last 10 hours at a time, which is great for camping, sleeping outdoors in a hammock, and more. Simple to use, and quite affordable, this unit, is one to check out!
PROS:
Powerful
Affordable
Works for 10 hours
CONS:
Does not lure all bugs in
Must be near you to be more effective
Related: Having an electric fly swatter for the stray mosquito will not hurt! You can find affordable ones that take batteries, such as the Elucto Electric Bug Zapper Fly Swatter.
Concluding Thoughts
In this article, we have covered 9 of the best indoor and outdoor mosquito repellent technologies in use today.  From this list, you'll find top quality, name brand mosquito repellent devices for use in protecting your yard and home from dangerous, disease-carrying, flying insects.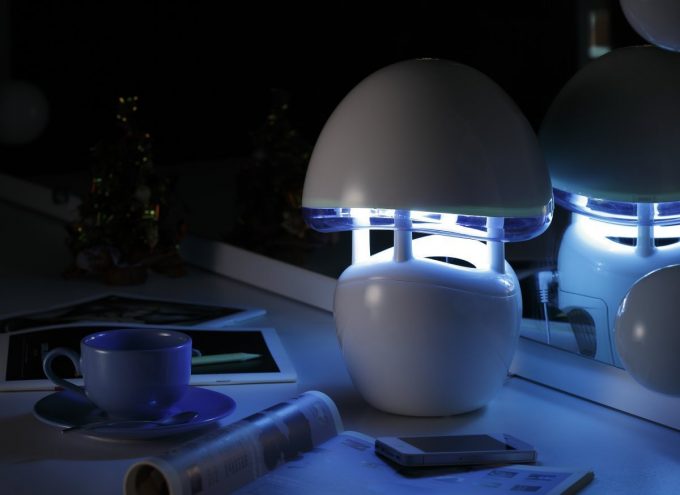 Please, use this as a buying guide to help you choose the right model for your specific situation to help you enjoy and experience the great outdoors.
Do you have a product we haven't reviewed on this list? Please leave a comment below and share your stories with us. We'd be happy to hear your experiences with other, similar products that have proven to be successful for you in keeping away mosquitoes.