If you are an enthusiastic hiker, it is imperative to keep yourself updated on the types of technologies that are available to help you during your backpacking adventure. The best hiking watch needs to have all the necessary features that can help you navigate in the wilderness with the least of worries.
Before deciding to buy one, take a minute to go through this guide. The primary function of a wristwatch is to let you know about the time, but hiking watches can do more than that. A good wrist gadget needs to feature an altimeter that will let you know your altitude during a hike.
Apart from that, it needs to have a barometer for predicting the weather and a thermometer for measuring the temperatures while you are on the go. A good number of these watches also have complex GPS to help you navigate around the wilderness.
While numerous benefits come with utilizing a hiking watch when on the go, there are also negative aspects you need to know. First, a watch of this kind operates on satellite. When there is a hurdle on the way, its accuracy could easily be affected. In general, it is imperative to remember that the GPS inside the watch is not always accurate.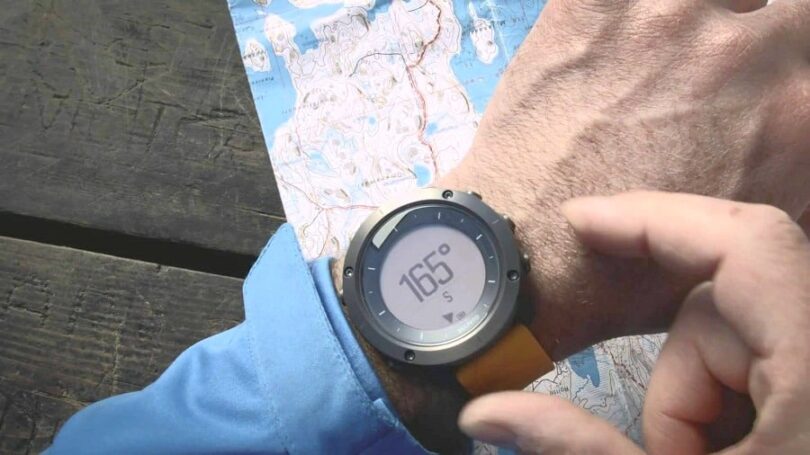 This aspect can be frustrating if you are trying to figure your way out, or attempting to determine the duration to a particular destination. While there are some that are better suited for your everyday use, others are meant for mountaineering or long term treks.
It is imperative that you ascertain these credentials before buying a watch and determine the one that is better for the kind of outdoor activities you are planning to engage in. This may sound obvious, but you will be astonished how often people overlook of strength. A watch you would use for hiking needs to be sturdy and durable.
After all, you will be climbing mountains that have all sorts or external conditions, so you will need to ascertain it can hold up. Not every watch fits these criteria; therefore, make sure you purchase one of the watches reviewed in this article.
Our Top Picks
Features to Consider Before Buying
When you are on your hiking escapades, you want to own the best wrist gadget for the occasion. This implies that you will need to leave the Rolex or Omega back in your house and strap on the right watch. You do need a hiking watch to impress others with its striking design.
A watch of this kind only needs to accomplish missions and get things done. Of course, there are other aspects that you will need your watch to have such as comfort, strength, and durability. Below are some of the features you should look out for when you want to buy a hiking watch.
Get a rubber strap
This is a comfort aspect. If you often wear a watch with a metal strap, then you should understand that there are possibilities of your wrist swelling during hot weathers. When you are hiking, you will get hot and sweaty.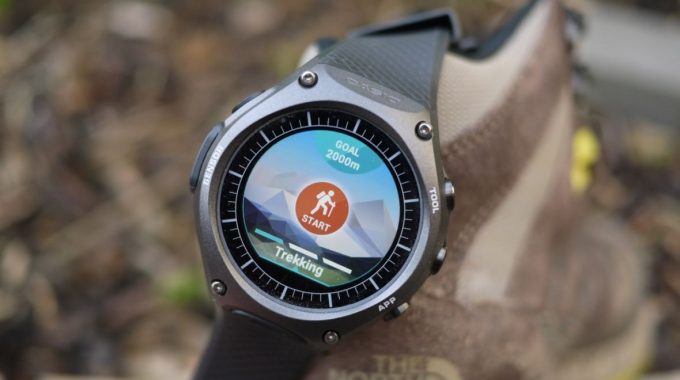 When that happens, your metal watch will feel tight on your wrist. It is not an excellent idea to have a leather strap either as this will break down owing to the high amount of perspiration. Also, leather's hard to clean. Having a nice rubber watch, will enable its strap to expand when the weather gets hot, and it is also easy to clean under running water.
Barometer
You will not need a barometer if you are going for short hikes. However, if you are planning to go on an extended backpacking tour, then a watch with a barometer is a must. This is important as the watch will let you know about any changes in temperatures.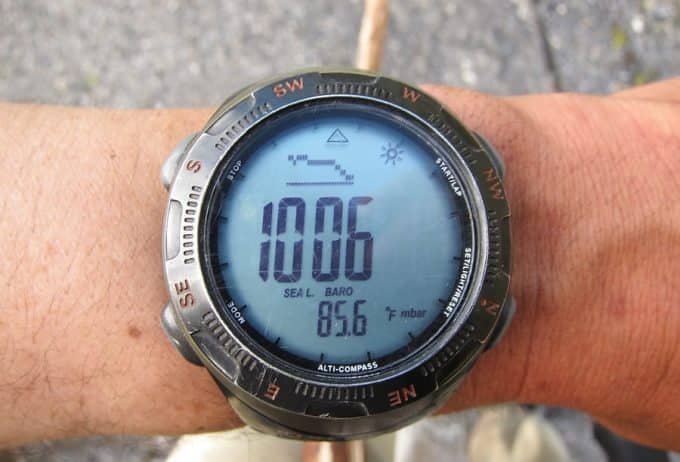 Also, a barometer can alert you if the storm is just about to begin so you can grab all your Goretex waterproof gear, including your rain jacket and waterproof boots. You do not want to be on the trail's top, climbing ahead if there is a massive storm rolling towards you. A barometer will alert you about these weather changes so you can know when to turn around or seek shelter.
Inbuilt compass
With the advances in technology, it makes no sense to carry around a compass. If you take a look at the hiking gadgets on sale, you will realize that some watches come with inbuilt compasses. This is a must for the backpacker. When hiking, and you happen to go off-trail, then the compass can help you find your way back to your destination.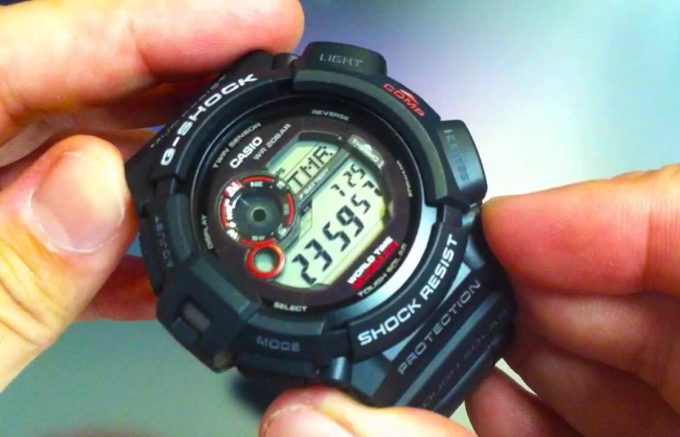 Especially in huge forests and parks, you do not want to lose track of your bearing. A compass is an excellent way to get you back on track. Do not forget to fix your start position. This will make it easier for you to know your bearings.
The GPS
The GPS is a super compass. Most hiking watches have this feature installed. When considering a GPS, think brands such as Garmin. These are suitable since you can identify your point of entry and locate it using the GPS. This feature is easier to use compared to the compass and is a must have when you are hiking deep in the wood.
Accurate timekeeping
A watch that loses its accuracy is of no use for an everyday hiker. When you are out in the wilderness and trying to complete your outdoor missions, it is always easier to forget about timing. However, you need to understand that in a bug out situation, accurate timekeeping is crucial to your survival.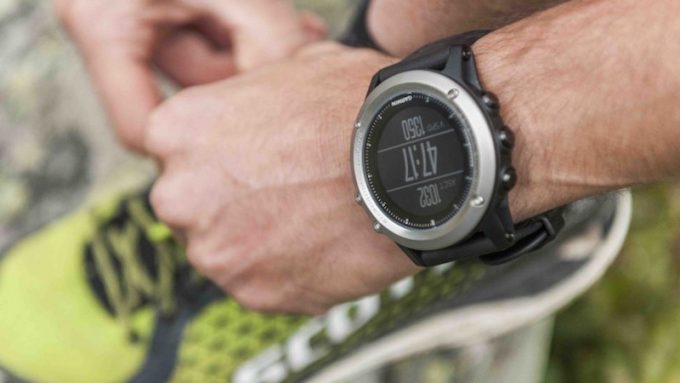 For instance, in a situation where you want to grab your food before it's dark, or you need to wake up very early in the morning to begin your journey, being able to get accurate timing makes a huge difference. When thinking about the best outdoor watches, you should consider the quartz or digital ones.
Portability
After assessing all your needs and wants, briefly, consider the weight and size of the gadget you want to have. By far, the above aspects are the most crucial to consider. However, in the end, weight and size could be the tie breaker.
For example, you may find two watches that have features which are similar and the only thing separating the two is their bulkiness. In such a case, a watch with a slimmer profile would be ideal. Remember, when hiking, you will want to eliminate anything that could add weight to your load, and even the slightest feature that can reduce weight would be ideal for the hike.
Top Product Reviews
This section is to show you various kinds of hiking watches and the features they include. From here, you can make an educated decision on which hiking watch you will purchase. Happy shopping!
Casio Pro Trek Prw 3000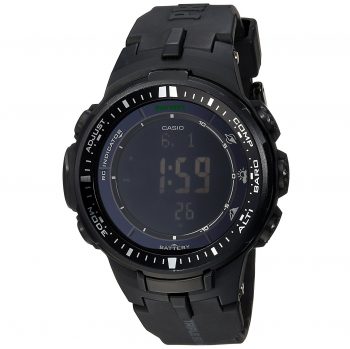 Price: Approx. $170
Color: Black
Weight: 6.4 ounces
Dimensions: 5.9 x 5.9 x 5.9 inches
Special features: Multi-band 6 atomic timekeeping, low-temperature resistant, tough solar power
Best use: Hiking, outdoor adventures, personal use, sea kayaking
Description: Stay ahead of Mother Nature with Casio Pro Trek PRW 3000 that incorporates the Casio's Triple Sensor Version three engine. With the advances from the Casio original technology, the gadget allows for ninety-five percent smaller direction sensor as well as ninety percent reduction in power consumption of the sensor compared to the previous models.
Regardless of their small size, the sensor in PRW 3000 1A delivers energy efficiency and better accuracy, aspect your will need in your hiking tours. The good thing about this gadget is that it is able to measure Altitude increments and displays compass readings with sixty seconds of continuous measurements.
Apart from the digital compass and the altimeter, the Barometer incorporates an exclusive Barometric Pressure Tendency Alarm which alerts you to sudden alteration in pressure readings. The design features include a sleek case, soft urethane and compact band for an excellent fit to your wrist.
Its one-touch access to the digital barometric altitude compass and temperature readings, places vital information at your fingertips. This model also contains other vital features such as 100-m water resistance and Multi-Band 6 Atomic Timekeeping.
PROS:
Stainless steel
Long battery life
CONS:
Small face
Highly reflective
Some think it is unattractive
Related: If you need a new charger cable, the iClever Charger Cable will work for you. It is 3.3 feet and braided with metal.
Suunto Core Crush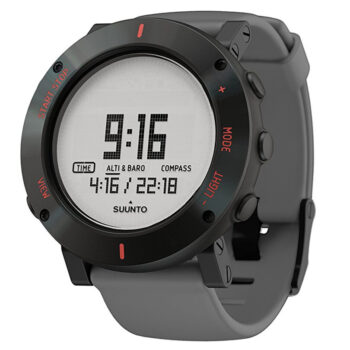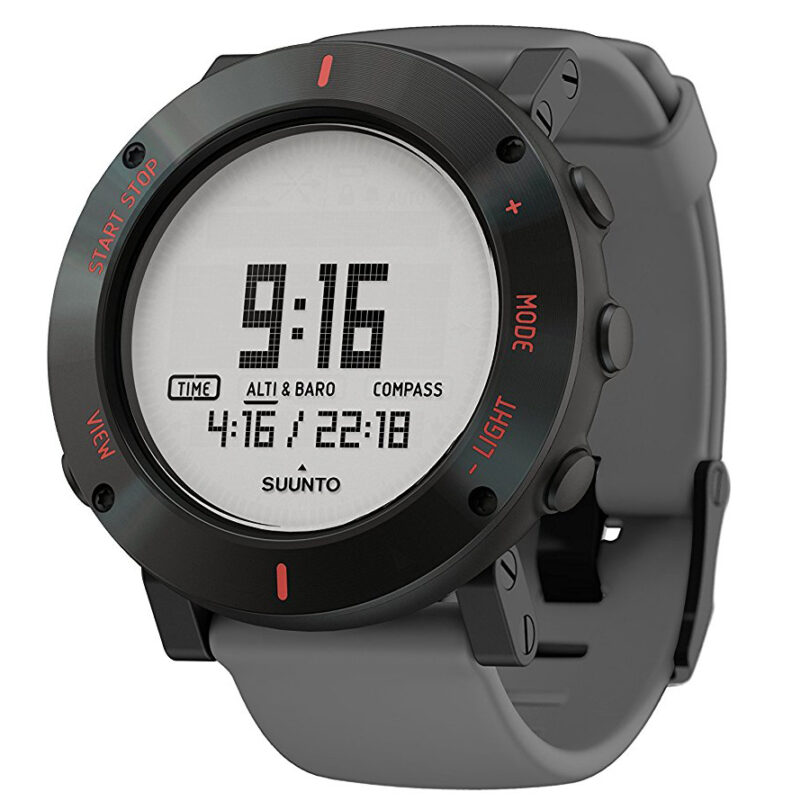 Price: Approx. $210
Color: Gray crush, various
Weight: 9.6 ounces
Dimensions: 6 x 4 x 4 inches
Special features: A weather Trend graph and storm alarm, an altimeter tracks your vertical movement, weather and sun tracker
Best use: Hiking, outdoor adventures, personal use, sea kayaking
Description: The Suunto Core Crush is an award-winning model that comes in different stylish designs as well as easy-to-use aspects with a sturdy construction. Combining a barometer, an altimeter, and a compass, the Suunto Core offers the right features for the expeditions in the great outdoors.
This watch does come in various colors and includes many functions like a Weather Trend graph, as well as a storm alarm. It also comes with a Sunrise and Sunset feature. With a digital display, this hiking watch is water resistant up to 30 meters. It is small and light weight so you it will feel almost weightless on your wrist.
While there is no GPS with this watch, the barometer and altimeter work great. The strap to this watch is thin and it feels comfortable and will fit well. The design is stylish and users state that they really get a bang for their buck!
PROS:
Comes in various face colors
Stylish
Award winning
CONS:
Temperature sensor can be wrong
Not for harsh usage
Related: Surely you will need to replace the battery after a period of time. The Energizer CR2032 Replacement Batteries come in a pack of 5, but they can also come in other various pack sizes, plus they are affordable.
Garmin Fenix 3 GPS Watch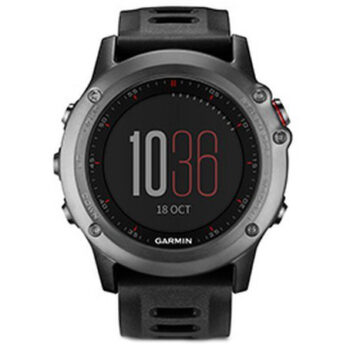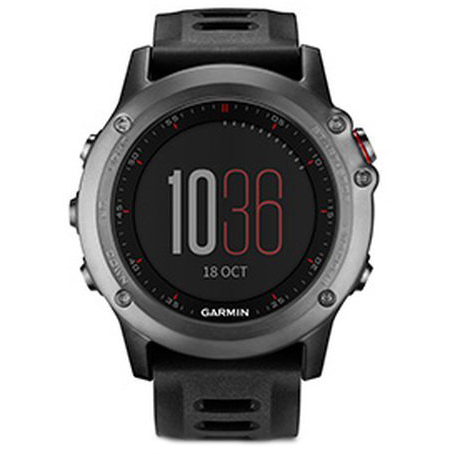 Price: Approx. $500
Color: Black
Weight: 2.9 ounces
Dimensions: 0.6 x 2 x 2 inches
Special features: Chroma display, water rating, wireless connectivity, exo antenna
Best use: Hiking, outdoor adventures, personal use, sea kayaking
Description: The Garmin Fenix 3 GPS Watch is a rugged, smart and capable multisport GPS watch. With most of its features, set for fitness, the Fenix 3 also contains features that can help you navigate during your outdoor expedition.
This model has a thin, light multisport GPS that will not slow you down despite the conditions you are exposed to. The Garmin Fenix 3 GPS Watch is available in three bold models: silver with red band; gray with high-strength, black and crystal band, and a premium sapphire design with sapphire lens and stainless steel bands.
Each model features a sturdy stainless steel bezel and a reinforced casing for added strength and durability. Its sunlight-visible color Chroma display that has LED backlights allows you to access data in any lighting conditions.
Its water resistance capability is 100 meters and has a battery life that reaches fifty hours in UltraTrac mode, sixteen hours in GPS mode and three months in a watch mode.
PROS:
Great for various activities
Has functions for swimming and skiing
GPS included
CONS:
Notifications may not always work
Speed is not tracked
Related: If you are worried about your screen getting cracked on your new watch, consider the Garmin Fenix 3 Screen Protector, which will protect your screen and it comes with a squeegee and cloth.
Suunto Ambit 3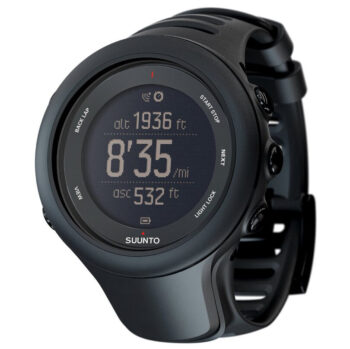 Price: Approx. $270
Color: Black
Weight: 3 ounces
Special features: Suunto Movescount App
Best use: Hiking, outdoor adventures, personal use, sea kayaking
Description: Some call it an obsession, I call it a commitment. Owing a Suunto Ambit3 model is making a long-term commitment with your wrist as this model is designed with features that make it as durable as any hiking watch should be.
The Ambit3 is more than a multi sport GPS watch. With this model, you can follow the altitude profile while trekking up the mountains.
Additionally, the Suunto Ambit3 allows you to keep track of the vertical gains from the yearly total to your daily ascents. The Suunto Movescount App makes it possible for you to plan your training while the vibration alerts guide you when working out.
Not only does this hiking watch have the app with it, but you can check your heart rate, distance and speed, and a lot of other features to keep yourself on track with your goals. Plus, you can use the Suunto Movie function and make videos and take photos!
PROS:
Suunto Movescount app
Suunto Movie
Sleek and stylish
CONS:
Band can get damaged
Using the firmware is strange
Related: You want to be active with your hiking watch, so when you bike, consider the Suunto Bike Mount as it can attach to your bike. Plus, it is adjustable and made of Neoprene.
Casio Smart Outdoor Watch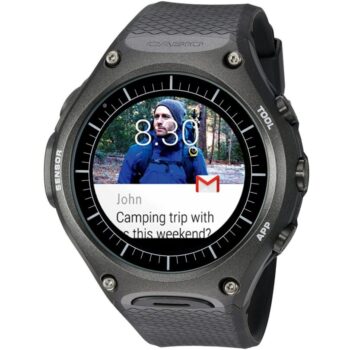 Price: Approx. $400
Color: Black, red, green, blue
Weight: 3.36 ounces
Dimensions: 9.1 x 6.8 x 4.3 inches
Special features: Military standard compliant, 50-meter water resistance,
Best use: Hiking, outdoor adventures, personal use, sea kayaking
Description: The Casio Smart Outdoor Watch is equipped with features that are meant to help you navigate during your outdoor expeditions. The features can handle a wide range of conditions, along with various functions that add breadth and depth to your outdoor life when linked to a smart phone.
When on Timepiece Mode, its monochrome LCD transforms into a dedicated timekeeping display. The communication functions and LCD color can be turned OFF to minimize energy consumption when you are on an extended tour such as a mountain hut trek. This smart outdoor watch can also function as a regular timepiece.
The use of Casio Smart Outdoor Watch requires a smart phone with these specifications:
Android wear
Android 4.3 or iOS
A model with iOS 8.2 and above
You can find this watch in 4 colors; Black, Blue, Green and Red. While it is a little expensive, this watch works great, and it has a built in sensor for notifications.
PROS:
Works with Apple and Android
Various colors
Gets notifications of activity
CONS:
Expensive
Battery life is short
Related: If you are using only Microsoft, you can consider the Microsoft Band 2, which tracks calories, heart rate and more!
Garmin Quatix 3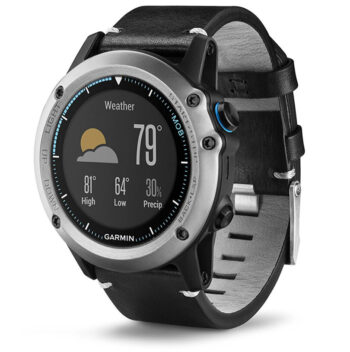 Price: Approx. $410
Color: Black
Weight: 0.6 x 2 x 2 inches
Dimensions: 3 ounces
Special features: Boat data streaming, water rating, competition timer and fish catch log, up to date tide data
Best use: Hiking, outdoor adventures, personal use, sea kayaking
Description: The Garmin Quatix 3 model belongs on waters. Fitted with essential fishing, cruising, and sailing capabilities, the appearance of this gadget commands attention whenever it's worn, even when on land. Aside from its timekeeping features, the Quatix3 is a wearable gadget that streams data from Garmin electronics.
Moreover, this is an anchor watch that warns you when you drift. It is a fish catch counter and a competition timer. It also features start line and tack assist for the sailors. It delivers notifications for text messages, emails, and more.
Additionally, Quatix3 can also control the FUSION stereo system. It incorporates activity tracking and other multi sport functions for hiking, swimming, running, and more.
While this hiking watch is over $400, the features that you get more than make up for the price. It has a rechargeable battery, can go under water up to 100 meters, and the battery lasts a long time!
PROS:
Long battery life
Waterproof rated to 100 meters
Works with other Garmin products
CONS:
Expensive
Compass can go wrong
Temperature can be off
Related: If you need a new bracelet for your Garmin, consider the Garmin Fenix 3 Black Bracelet as it is adjustable, made of urethane and is easy to use.
Suunto Traverse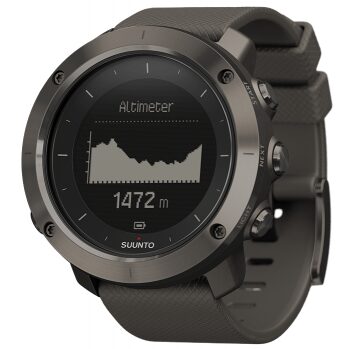 Price: Approx. $320
Color: Black, various
Weight: 2.82 ounces
Special features: GPS Tracking and navigation, barometer and altimeter, compass
Best use: Hiking, outdoor adventures, personal use, sea kayaking
Description: In addition to its elegant appearance, the Suunto Traverse features a sturdy design which can withstand severe environmental conditions. Its case is designed using composite materials and has a stainless steel bezel that can withstand scratches.
Its lens is fitted with mineral crystals which help offer some protection against scratches. However, this would top the list of the best durable and attractive watches if it were fitted with Sapphire glass model to reinforce its protection.
The watch uses a GPS antenna that makes it look elegant compared to the Suunto Ambit that utilizes an external antenna. For the functionality it provides, the Traverse watch is quite light as it weighs only eighty grams.
This model is amazing and will most likely satisfy your outdoor needs. Apart from the superb design, this gadget offers advanced features which will be instrumental both in nature and in everyday applications.
I regard this model as a great compromise between elegant Suunto Essential that lacks a GPS receiver and the Suunto Ambit3 with GPS which is somewhat bulky.
PROS:
Various color choices
Looks stylish
Upload routes
CONS:
Costly
Short battery life
Related: If you need a new power cable, the Suunto Ambit Power Cable is made by Suunto and has a 1 year warranty, at only $25 approx.
Concluding Thoughts
When it comes to picking the right hiking watch for your outdoor needs, you can only select the one that is the most versatile and resourceful if you are sure of what you are looking for. This guide has outlined the most significant features and offered a list of products you would want to consider when looking for the best outdoor watches.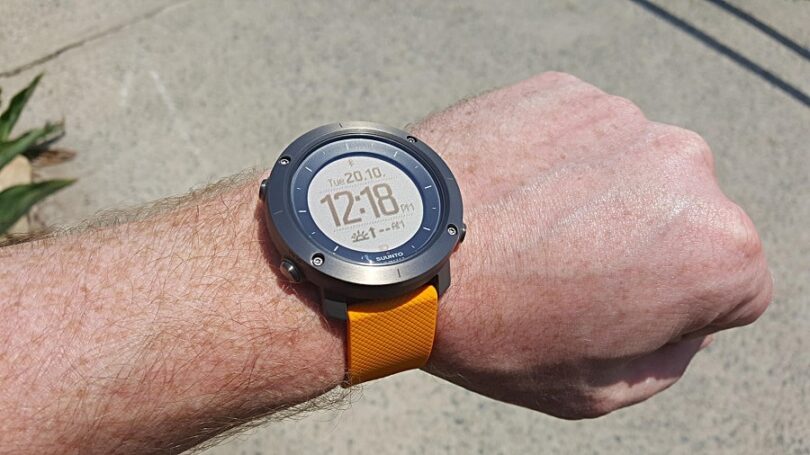 You should remember that a full-functioning gadget is one that will continuously keep you updated about the time as well as the weather conditions. You should be interested in models that can offer extra features such as a thermometer, barometer, compass, altimeter, among others.
So, do you think there are other best outdoor watches we missed? Please let us know by posting in our comment section.