When hiking and backpacking on the road less traveled, it can be very easy to lose your way. Even if for only a moment, it can make it seem impossible to find your way again. Compasses have been around for centuries, helping people find true North, but in order to jump into the 21st century, you will need to take a peek at some of the market's best compass watches. No matter where you are, you will always have a compass ready and waiting with these handy tools.
In this article, we are going to show you what the different types of compass watches are, and give you some reviews so you know what to look out for when you finally go shopping for such a watch. Read on below to find out detailed information about the best compass watches on the market!
Our Top Picks
Features to Consider Before Buying
There are three major types of compass watches on the market. There are digital compasses, analog compasses and multi function watches. Each of these have their own benefits, but in case you are not familiar with them, let's take a quick look at what each one offers.
Digital
Digital watches offer an easy to read product. They have a digital reading for their compasses and are fairly accurate with a 10 degree discrepancy. This means that these compasses are best for those that need a general direction.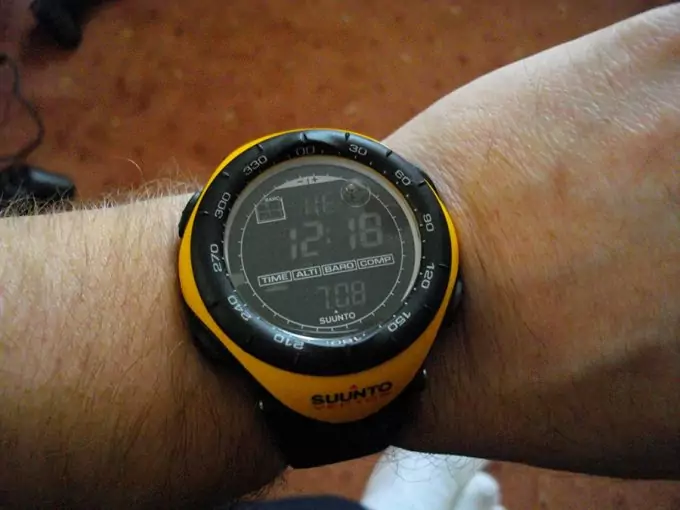 *Note: Digital compass and digital GPS are not the same thing. GPS watches are exactly that, a GPS system on your watch.
Analog
Analog compass watches offer a more specific direction. They claim accuracy down to a 1-2 degree variance, making them ideal for pinpoint directions. These may not be as quick to read, but are statistically more accurate.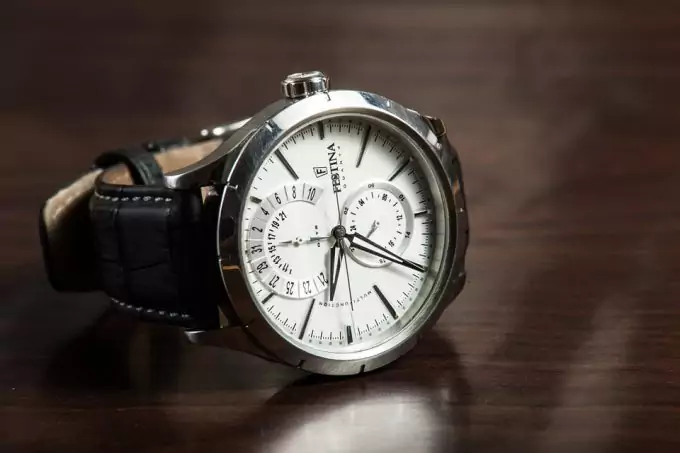 Do not assume that a digital watch offers a digital compass. Read the fine print to see exactly what type of compass it has.
Multifunction
Multifunctional watches, offer a combination of several things. These watches have GPS capability, measure barometric pressure, altitude and many other things. Some of these products also offer memory and tracking programs as well, to keep all of your information handy for the trip. Many compass watches are also multifunction, making them extremely useful in many ways.
Now that we have a general comparison between the three major products that companies have created, let's get down to business. These watches are made by the most reputable companies. After all, getting lost is not something to take lightly, and while some of the most beautiful places are off the beaten path, in order to enjoy those places, we must be able to find our way to and from the location with ease.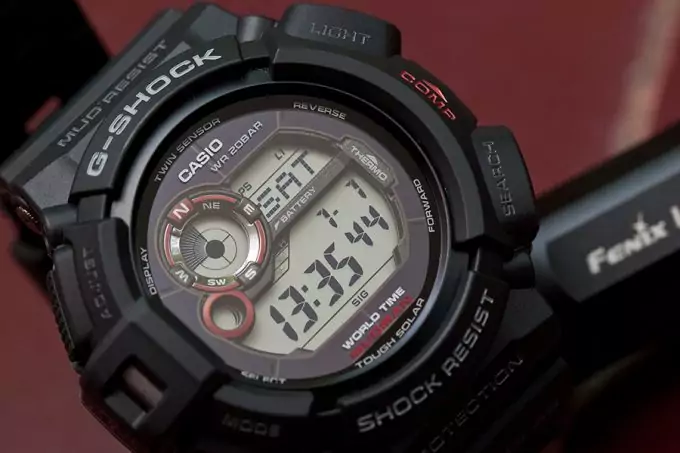 Compass and multifunction watches are not just for hiking and backpacking. These watches can prove useful for all types of outdoor adventures. Kayaking, hiking, canoeing, backpacking, fishing, camping, running all have their uses for these wonderful products. Keep that in mind when choosing the best fit for you. Where will your compass lead you?
Top Product Reviews
Now, we are going to review several of the top compass watches that are on the market currently. From these reviews, you can get a feel of different things each watch has and get a better sense of which one is right for you. Let us begin the reviews!
Garmin Fenix 3 
Price: Approx. $500
Battery life: 20 – 50 hours
Type: Digital GPS
Best use: Running, swimming, cycling
Specific features: Water proof to 100 m, compass, barometer, altimeter, tracback, sight'n Go
Description: Garmin has a complete line of GPS watches. These are great and offer multiple uses with the barometer, altimeter and compass. This gives a way for you to keep track of exactly where you are and the conditions you are in.
Garmin fenix 3 GPS Watch has taken "keeping track" to a whole new level with this watch. The TracBack system allows you to pinpoint places as well as leave a trail of where you have already been. If you lose your way, you can simply use the GPS to keep on your trail to work your way back. It is amazing that all of this can be on your watch!
All of the extra accessories are wonderful, but you must have a sturdy watch that can withstand all the activity. Garmin has added scratch resistance, stainless steel bezels and reinforced housing for each of their watches. You will have no problem keeping this watch together.
There is no question that they have thrown everything possible into the mix to make it as tough as possible. This watch is Bluetooth capable and can connect to Wi-Fi on your smartphone. When connected, your messages and notifications will pop up on the screen of your watch as well, making it easy to stay-connected on your trip.
The list of extra accessories on this watch go on and on. It definitely has everything that you could ever want in a watch. Keep in mind that these bells and whistles may not be for you. If you are not a tech savvy hiker, you may want to keep it simple, and while this watch is very impressive, it is not simple.
PROS:
Comes in an array of colors
Includes Exo Antenna
2 inch display
CONS:
Expensive
Battery does not last as long as others
Related: If you are especially active with this watch, you could consider investing in a screen protector, such as the Garmin IQ19359 Screen Protector.
Suunto Ambit 3 
Price: Approx. $300
Battery life: 100 hours
Type: Digital GPS
Best use: Running
Specific features: Heart rate monitor, barometer, altimeter, and compass
Description: Suunto has designed a wonderful GPS watch that keeps track of altitude and air pressure changes as you hike. It also keeps track of your yearly vertical gain and allows you to take pictures from your adventures to make them into a movie later.
Suunto Ambit3 GPS Watch also has Bluetooth and Wi-Fi capabilities to receive notifications, see incoming calls, and syncing your activities. This watch is rated to take the abuse of the trail and keep you informed on what your activity level is.
The built in heart rate monitor allows you to keep track of just how much you are moving, as well as letting you know when your body is fully recovered. Health is at the top of every list, so it is nice to know that you are no overexerting. Suunto is a great product with a great customer base. It is definitely worth a shot to try out their Ambit3 Vertical series of watches.  Especially for those who love to keep track of their activities.
PROS:
Many features like the heart rate, distance, etc.
Long battery life
Can create movies
Related: Since you can do various activities with this watch, consider using the Suunto B00BZ0Y Bike Mount to mount it to your bike for more fun outdoors!
Suunto Traverse  
Price: Approx. $310
Battery life: Up to 100 hours
Type: Multifunction watch
Best use: Hiking
Specific features: Barometric trend, altitude statistics, gps timekeeping, and sunrise and sunset times
Description: The Suunto Traverse is much different from the Suunto Ambit. While the Ambit has a heart rate monitor, the Traverse does not, but don't let that turn you away from this amazing product.
The Suunto Traverse GPS Watch is the ultimate hiking watch, complete with GPS and the ability to upload your preplanned routes. This watch also allows you to keep track of where you have been, so finding your way back is a breeze.
Not only does this watch help keep you on track, it also keeps up with barometric trends. Why is this important? It allows you to predict storms and even has storm alerts to let you know when to find shelter. We all like to make sure we stay dry on those beautiful cool days.
It also comes complete with GPS timekeeping and the ability to receive incoming calls, push notifications, texts and available daylight hours. If you want a watch that comes with it all and have hiking on the road less travelled in mind, this is the perfect product for you. Suunto has designed this to be able to help you get out of any sticky situation.
PROS:
Can get texts, notifications and calls
Has the ability to re-trace your steps
Upload routes to it
CONS:
Expensive
Small variety of colors
Related: Suunto makes their own screen protectors, for this very model, the Suunto bw-863-14146-0 Screen Protector.
Casio Prw-2500 
Price: Approx. $200
Battery life: 5 months
Type: Digital sport watch
Best use: Any sport activity
Specific features: Solar power, titanium, stainless steel, world time, 200 meter water proof, tide graph, moon data, digital compass, altimeter and altimeter memory, barometer, thermometer
Description: This is a great watch for a great price. The battery life alone is impressive with a rating of 5-24 months of continued use without any exposure to sunlight. Not to mention it is made of stainless steel and titanium, it is ready for ANY abuse that you can throw at it.
The Casio PRW-2500 GPS Watch also comes with the standard Casio meters to measure altitude, air pressure and temperature. These keep you informed of your environment to prevent any surprises. I have not even mentioned the digital compass that keeps you pointed in the right direction. Casio has not forgotten anything and has made the Pro Trek ready for any information you may need. If you will be fishing, kayaking, swimming or walking on the beach, it has you covered with a daily tide graph.
That way you are never caught off-guard with the rising tide. If you would like to walk by moonlight, don't worry. They have moon phase data so that you know when the moon will shine bright. If you are a go anywhere, do anything kind of adventurer then this is a wonderful watch for you! Perfect for any occasion in water or on land, walking, running or exploring. It is up for the challenge.
PROS:
Solar rechargeable battery
Atomic time keeping
Great backlight with afterglow
CONS:
Somewhat pricey
Only comes in black
Not waterproof
Related: Since you will be outdoors with this compass watch, you are going to need some good socks as you hike! The Darn Tough Vermont Hiking Socks are great socks that will provide cushion and comfort as you trek your way through the trails!
Casio Prw-3500 
Price: Approx. $210
Battery life: 11 months
Type: Digital sport watch
Best use: Any sport activity
Specific features: Solar power, titanium and stainless steel, altimeter, barometer, thermometer, sunrise and sunset data, stopwatch, countdown timer
Description: Casio has designed the Casio PRW-3500 GPS Watch much the same as they designed the PRW-2500. Many of the same amazing features appear in both watches.
The solar power technology allows the battery to last for several months and even years before replacing, the titanium and stainless steel combination make it almost indestructible and the sunrise and sunset data allow you to know how much hiking time you will get each day.
Both watches are also waterproof up to 200 meters, making it a great watch for almost any watersport. While these two watches are very similar, they are not an exact replica of each other. The PRW-3500 has added a few more extras if you can believe that.
This watch offers Barometric Pressure Tendency alarms to help keep track of possible weather events while you are out. It is able to give you time to set up camp or find shelter before a storm comes.
Casio has also made the PRW-3500 smaller than previous models. They were able to get the technology into a 95% smaller area, making the watch very compact for the technology that it offers. This watch is also a great buy. For your money you are able to get a watch that will be great in any outdoor situation that you can throw at it.
PROS:
Not as pricey as others
Solar powered
Altimeter and barometer included
CONS:
Some users said the thermometer does not work well
Users also said that manual mode is not pleasant.
Bulky
Related: If you want something that is a little cheaper, but has a lot of the great features you want, the Casio GWM5610-1 Sport Watch is something to look into. It is solar powered and is shock resistant.
Garmin Epix 
Price: Approx. $320
Battery life: 40 – 50 hours
Type: Touchscreen GPS
Best use: Hiking, backpacking, cycling, running
Specific features: 8 GB memory, barometer, altimeter, compass, and receive emails, texts, notifications, preload mapping
Description: Garmin is definitely in a league all alone with GPS watches. Garmin Epix GPS Watch comes with TOPO U.S. 100K. This is Garmin's high quality topographic GPS system. Not only does it take you, on the correct path, it shows rivers, lakes, national, state, local parks, forest areas and so much more.
The TOPO US 100k also has the ability to display an elevation profile of your surrounding area, making it simple to estimate how strenuous the trail will be. Having all of this information on a touchscreen watch on your wrist is truly impressive.
With the 8 GB of memory, you are able to upload several maps from Garmin as well. The sunlight visible color screen allows you to view all of the maps and trails with ease at any time of day. With all great technology comes great responsibility. Some consumers complain that the technology is simply too much to set up and get going. If you are not very tech savvy, you may want to explore other options in a watch for the trail.
PROS:
4 in touchscreen display
Can still get E-mails, texts and other alerts
Variety of maps
CONS:
Can be expensive
Touchscreen does not work well under the water
Some batteries do not last that long
Related: If you are concerned about your heart rate, you can hook up the Garmin Premium Heart Rate Monitor and it will transmit your heart rate to your watch wirelessly!
Casio Paw2000 
Price: Approx. $400
Battery life: 5 months
Type: Digital compass sport watch
Best use: Any sport activity
Specific features: Solar power, digital compass, altimeter, barometer, world clock, sunrise and sunset data, calendar
Description: Casio has a new generation of slim digital watches. The Casio PAW2000 GPS Watch offers so many easy to use features; you will have no problem finding something to do with this watch.
The barometer offers an Atmospheric pressure tendency graph and Atmospheric pressure tendency differential graphic. Much like the barometer alerts system, this allows you to keep an eye on any incoming weather. After all, a rain shower on a cool day can ruin your hike in a hurry.
Casio boasts on the Multi-band 6 Atomic Timekeeping feature. According to their website, this means that the correct time is always displayed without recalibrating the watch. After you set your home town, the watch automatically updates when you change location, so there is no need to worry about what time zone you are in. The watch automatically senses the change and updates accordingly.
The PAW2000 Pathfinder also comes with all the standard Casio features: date and time, sunset and sunrise data, alarms and solar powered rechargeable battery. This is a great everyday watch without all the extra technology.
PROS:
Battery is solar powered
Atomic time keeping
Durable and strong
CONS:
Buttons may lose function over time
Screen can be scratched easily
Related: If you need a replacement band for this watch, the Casio Genuine Replacement Strap for pathfinder  is made specifically for this model and is very comfortable!
Casio Pag240 
Price: Approx. $150
Battery life: 6 months
Type: Digital compass sport watch
Best use: Hiking, swimming, fishing, camping
Specific features: Solar power, waterproof to 100 meters, altimeter, barometer, digital compass, thermometer, stopwatch, world time
Description: Casio designed the perfect, budge friendly, simple sport watch. The Casio PAG240 Sport Watch is everything that you need in a compass watch, because of its style, function and more!
It does not have a built in memory or a GPS system, but it will help you know what altitude you are at as well as the barometric pressure and temperature of your surroundings. With a little knowledge of how to read this information, it is all you will need out on the trail.
This watch has been designed to be tough and waterproof, so it will be a great addition to any water sport, other than scuba diving. Canoeing and kayaking are no problem for this watch and it will continue to perform well after getting wet. Again, there is no need to break the bank for a useful watch. The PAG240 will fit into any budget and help you stay on track.
PROS:
Multiple features like barometer and altimeter
Affordable
Window to screen is stainless steel with mineral dial
CONS:
Not waterproof
Dial can get dirt in it
Related: Casio makes their own replacement bands if you ever find yourself in need of a new one, or just want a variety. The Casio PAG-40 Replacement Band is made specifically for this Casio model.
Concluding Thoughts
These are the top companies currently making compass watches. From the simple and useful Casio PAG240 to the technologically advanced Garmin Epix touchscreen, they have designed something for every adventurer out there.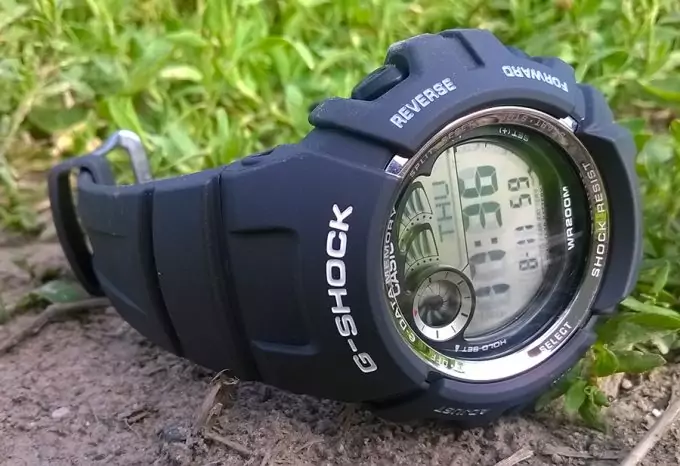 It is important to remember the kind of compass and technology that appeals to you. Make sure and get a watch that will serve you well and that you will enjoy using. Any one of these watches will keep you on track and pointed in the right direction.
If you enjoyed this article, or have any questions, please leave in the comment section. We will be glad to help any way that we can! Happy hiking!