Thermal underwear could be a shirt or shirt combined with leggings that keep you warm by wearing it as a base layer of clothes. The structure of these clothes allows the warmth from your body to be trapped near your skin, among the tissue of the fabric.
Moisture, however, should be able to easily escape. Therefore, the fabric will keep you warm, without sweating your skin. In this buying guide, we have reviewed the best thermal underwear in order to save you the time and worries of doing it yourself.
Thermal underwear is usually made from natural materials, for instance cotton or wool, although sometimes synthetic materials are also added or used. If this is your first thermal underwear, and you are wondering whether you need one, here are some suggestions:
Thermal underwear allows you to spend time in nature without minding the weather conditions
If you are into outdoor sports, thermal underwear will provide you warmth and comfort.
If you are a person with slow blood circulation that is often feeling cold, this is the ideal choice for you
Nowadays, thermal underwear is becoming more popular and the number of its manufacturers is constantly growing. In order to choose the best thermal underwear, you need to know the features to consider. 
Features to Consider
Of course, everyone knows how to choose his own underwear. But thermal underwear is a different class of clothes. The most important thing you should start with is knowing the material of the fabric it is made of. Polypropylene is good for water sports, but they don't keep you warm.
Natural materials, however, suck the moisture out of your body, keep you warm, and their only disadvantage is their price, they are usually the priciest. The good news is that there are synthetic materials that have the same function as the natural ones, with the exception of the price.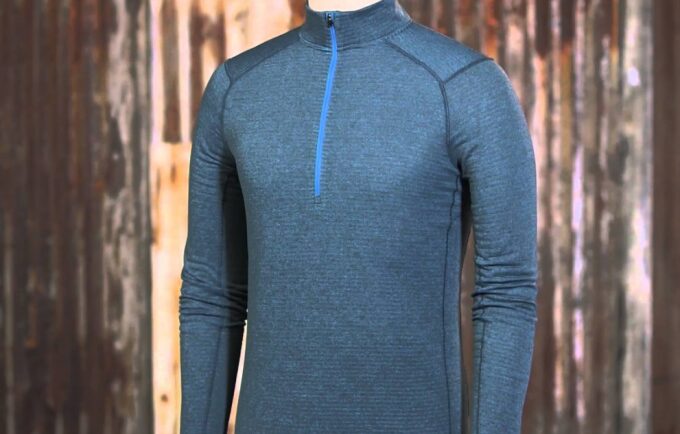 If you are used to an active lifestyle in any time of the year, you are probably aware of the fact that sometimes bad weather can make it impossible to continue the outdoor activities.
Still, there is a way to keep you warm, comfortable and stylish, meanwhile avoiding the "bear" look from wearing too much clothes. If you manage to get yourself a thermal piece of clothes you won't have any issue with the weather conditions during cold winter months.
They are all Unisex
There are men's and women's underwear. The difference is that the sewing technologies as well as the structure a bit different. This doesn't mean that if you are a woman you should be obligated to wear women's underwear.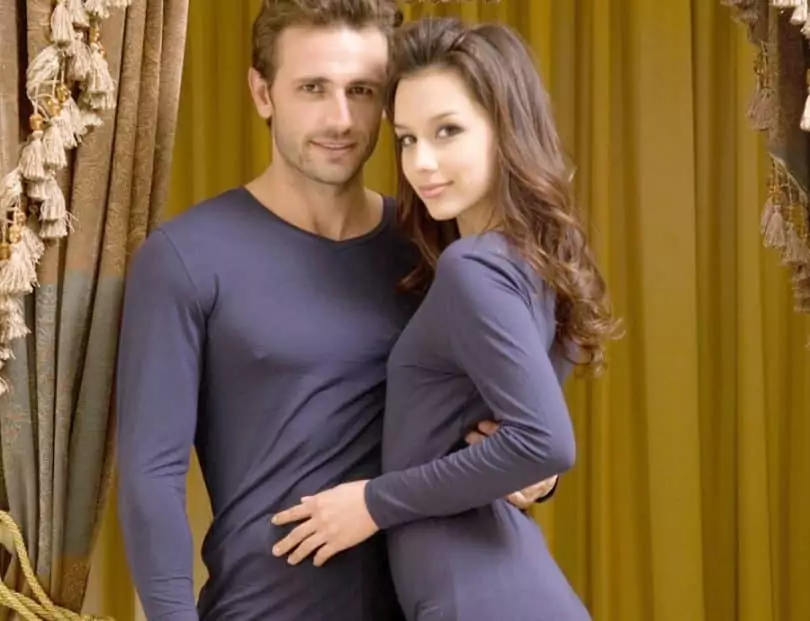 The structure of the body is also different, so if you have wider shoulders you would probably be more comfortable in men's underwear. There is also thermal underwear for kids.
When and Where
It is necessary to know when and where you are going to use your underwear. For this reason there are three times of clothes. The first type only keeps you warm and it is not allowing your body to freeze. This would be the right choice for people that are involved in short hikes and more sightseeing as well as for those spending little time out in the open.
The second type is for sports only. It is most suitable for sweating, because it is extremely breathable; it is also not so warm. And the third type is the products reviewed below. It is underwear that has two layers; one for maintaining the body temperature and the other for moisture regulation.
Size
The size of your underwear is also very important, even though it is worn under clothes. Thermal underwear must be in constant touch with your skin, but at the same time, allow freedom of movement, otherwise they would be uncomfortable.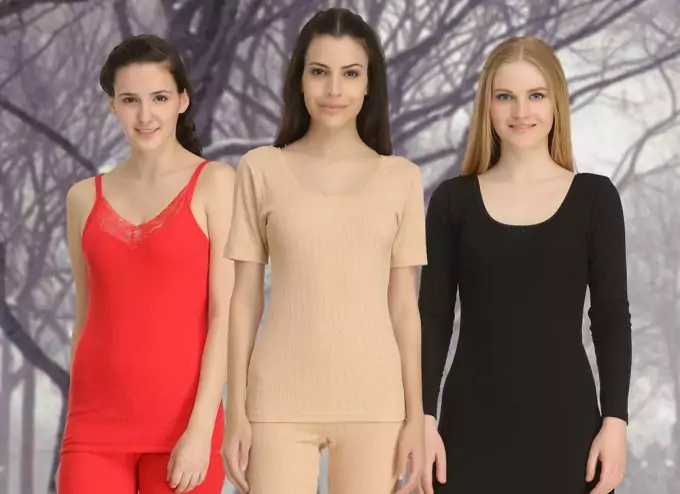 Many manufacturers have different size charts than the regular USA sizes; make sure you check with your supplier before ordering.
Materials
If you are allergic to something take this into account. Some manufacturers offer hypoallergenic underwear, which doesn't cause skin irritation. Also, natural materials are usually not irritants, and synthetic ones should be examined on a piece of the skin before trying them on, especially if you have already had this kind of problems in the past.
Stitching
Stitching is also one of the features you should consider when shopping for thermal underwear. If the underwear is thick, there is a great chance it will be uncomfortable. To avoid this, make sure the material allows freedom of movement and it sticks to your skin.
Style
The underwear style and model is also important. There are several models available on the market. Underwear can be sold separately or shirt and leggings combined.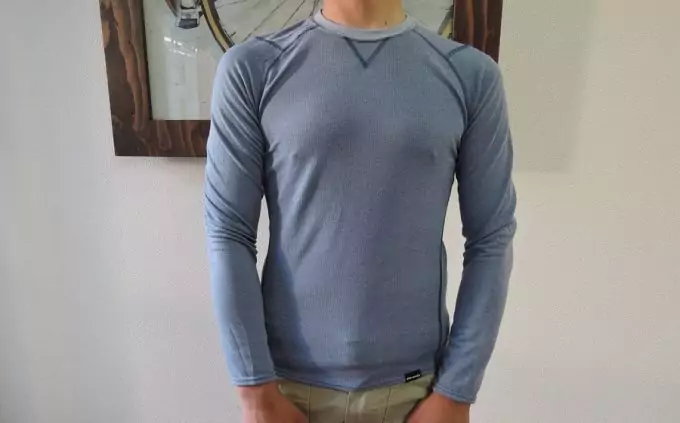 Combined underwear is usually suitable for skiing and snowboarding.
Level of Maintenance
Maintaining the underwear is also important. Every piece of clothing has instructions on how to do so. Make sure you keep to these instructions in order to increase the life of the underwear. Every active person should have thermal underwear for the simple reason of staying dry while hiking for instance and feel comfortable while perspiring.
Sweating is one of the body's natural mechanisms that cool down the body if overheating occurs. Thermal underwear provides a special technology that allows you to sweat without staying wet and its drying properties.
Top Product Reviews
Below are the top product reviews for the best thermal underwear that you can find right now. Take a look below and see what product works best for you!
Smartwool NTS Mid 250 Crew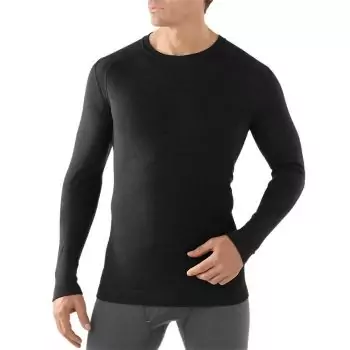 Weight: 11.2 oz
Dimensions: 11 x 11 x 2 in
Specific features: 100% Merino wool, form fit, interlock knit; UPF 50+, crew neck with set-in sleeves, shoulder panels eliminate top shoulder seams, flatlock seam construction designed to eliminate chafing.
Price: $66 – $110
Best use: Snowboarding, skiing
Description: This is a men's underwear for cold winter months. Since it is a natural material, it creates a great amount of heat that would keep you warm in the coldest weather conditions. It is perfect for outdoor activities for men who tend to have cold extremities and slightly lower temperature.
This piece of clothing will solve that issue. Smartwool NTS Mid 250 Crew design follows the contour of the body, so it is not noticeable underneath your clothes. It is a two layer fabric, for thermal protection and interlock knit fabrication.
Wool is known as a material that causes itching when in direct touch with the skin. However, this fabric is designed with a base layer that eliminates chafing, thus prevents itching. It is perfect for outdoor sports activities since its properties for absorbing sweat are much lower than cotton fabric shirts; it also dries very quickly.
It is interesting to mention that it has 50+ SPF, while providing you comfortableness and coziness. It is also very durable, although after a while the wool forms pills. Nevertheless, this is normal for every wool material, and it is avoidable; there are methods for treating this condition. Its main downside is that it is a little bit pricey because it is not made of synthetic materials.
PROS:
Come in various colors
Form fitting
Shoulder panels
Related: Get the matching bottoms and stay warm all over! The Smartwool NTS Mid 250 Bottom are also made of merino wool and has the same construction as the top.
Duofold Midweight Crew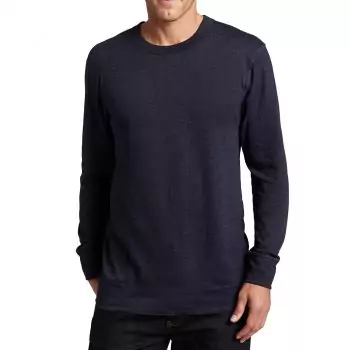 Weight: 1 lb
Dimensions: 9 x 7 x 1 in
Specific features: Cotton-blend, imported, base-layer-underwear closure, 60% cotton, 40% polyester texture, cold weather, low-impact activities, moisture control, machine wash cold with like color
Price: Approx. $20
Best use: Winter sports
Description: To start with this Duofold Midweight Crew advantages; it has a double layer fabric. This means that it is suitable for outdoor activities that promote sweating and require eliminating excess moisture.
The base layer is not a moisture absorbing material which leaves your body feeling dry and comfortable while the outer layer is slowly eliminating the sweat from your body. This is how the process goes; it doesn't mean that it will keep you dry no matter how much sweat you release.
It has insulating and warm properties which most sports clothes don't have. However, it also has breathable properties, and the two layer technology makes it especially suitable for hiking. It is meant to be worn underneath your clothes, but you can also wear it as a t-shirt, depending on the weather conditions.
It is a cotton based material, provided from India. Keep in mind, however, if you are willing to buy, that the colors are slightly different from the pictures, they are darker than pictured. This product is in the low price range and is especially recommended for cold winter days combined with sport activities.
PROS:
Moisture control
No tags
Warm and comfortable
CONS:
Not a thick material
Shrinks after drying
Related: For some warm layer pants, the Duofold Layering Pants are made of cotton and polyester, and are under $20.
Ekouaer Long Thermal Underwear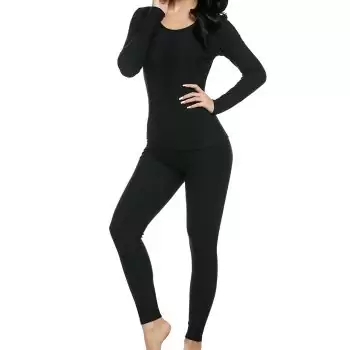 Weight: 1.8 lb shipped
Dimensions: Unlisted
Specific features: 95% Cotton and 5% elastane, standard US size, cold weather base layer underwear
Price: Approx. $36
Best use: Snowboarding, outdoor recreation
Description: Ekouaer Long Thermal Underwear is thermal underwear for women that is made of mostly natural material that keeps you warm in cold weather conditions.
It contains Midweight long sleeve and comfortable fleece lined leggings. For more comfortableness, the leggings have elastic waist.
It perfectly covers underneath outer layers, so you could stay warm while staying in style. The most important thing is that the top stretches enough so that it doesn't get uncomfortable around the neck area. If you have small ankles this is the right choice for you since the arms and legs fit perfectly.
This Ekouaer product is ideal for camping and other outdoor activities; it will keep you warm even in negative temperatures, although this usually goes for every product that is made from natural instead of synthetic materials. The main downside or for some people may be an advantage is that the sleeves are a bit short.
PROS:
Double layered
Tagless
Made of cotton and elastane
CONS:
Thick
Sizes fit strangely
Related: The Kamik Momentum Snow Boots are warm boots that come in a variety of colors and are highly affordable!
Under Armor UA Base 2.0 Crew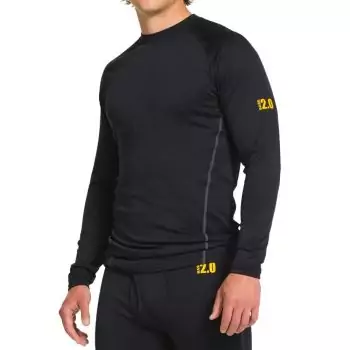 Weight: 2 lb
Dimensions: Unlisted
Specific features: 4-way stretch 93% polyester, 7% elastane (4.7oz), UA Base 2.0 is highly versatile mid-weight protection for colder conditions & a variety of activity levels, soft, brushed negative grid interior traps hot air, providing superior warmth, 4-way stretch fabrication allows greater mobility in any direction, moisture transport system wicks sweat away from the body, the anti-odor technology prevents the growth of odor causing microbes
Price: $20 – $66
Best use: Skiing, camping, outdoor recreation
Description: The good thing about the synthetic made thermal underwear is that they are stretching, meaning they perfectly fit your skin and they are less expensive. It is also suitable for outdoor sport activities because with its fabric of 93% polyester, it doesn't absorb moisture and it dries very quickly.
This Under Armour UA Base 2.0 Crew is made for cold weather conditions because it contains grid interior that traps hot air, thus providing warmth.
The stretching provides great mobility and comfortable feeling. The moisture transport system is particularly important if you are using it for sports activities like hiking for instance, because it wicks sweat away from your body, thus maintaining your actual body temperature and lets the moisture escape your body.
The anti odor technology, however, would come useful if you are planning on using the underwear around people, it will prevent the growth of odor causing microbes and make you comfortable in your own body. If you are planning on ordering this product keep in mind that the company makes smaller sizes than the usual ones. So make sure you get a size up so that you are content with it.
PROS:
Anti odor
Soft and comfortable
Warm without being bulky
CONS:
Lint can form while drying, that sticks to the shirt
Fits small, so order a size up
Related: The Under Armour Base 3.0 Leggings are the leggings that can go with the shirt. Made of polyester, it has a waistband and flat lock stitching.
The North Face Expedition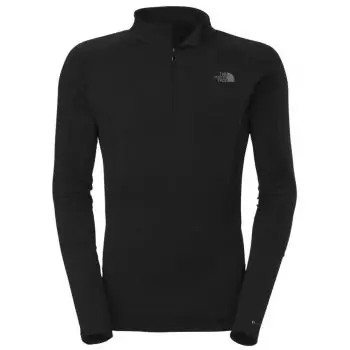 Weight: 9.2 oz
Dimensions: Unlisted
Specific features: Next to skin fit, mock neck, half zip front, flat locked seams, moisture wicking
Price: Approx. $80
Best use: Skiing, snowboarding, outdoor use
Description: The North Face Expedition is made from stretch fleece fabric that helps in regulating your body temperature while being extremely comfortable and lightweight. Its main difference is its zip neck, which is perfect for hiking, skiing or other activities on cold weather.
It is usually used as a base layer piece of clothes for frigid days. It fits perfectly on the sleeves and on the whole body. Its main downside is that the sleeves are too tight and if you want to get some steam off and roll up your sleeves, this is hardly possible.
It is also the multi layer technology fabric that keeps you from warm and comfortable with freedom of movement while performing your outdoor activity. It also has a very nice design.
Users like that this layered shirt is warm and comfortable, it is designed just right and includes the zip neck fleece top. Not only that, but it wicks away moisture so that you stay dry, and it really works well.
PROS:
Comfortable
Moisture wicking
Zip neck fleece top
Related: The North Face Expedition Tight Base Layer are a comfortable base layer that will run you about $70, and they come in black.
Patagonia Capilene Mid-Weight Crew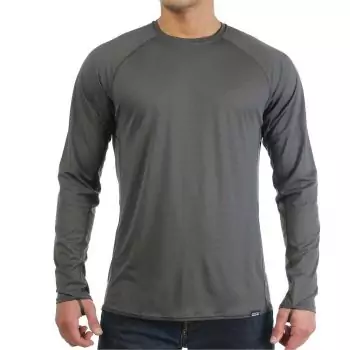 Weight: 7.8 oz
Dimensions: 11 x 5 x 4 in
Specific features: Polartec power grid (100% polyester), midweight, slim fit, crew style, no hood.
Price: Approx. $37
Best use: Snowboarding, camping, high energy sports
Description: This Patagonia Capilene Mid-Weight Crew is made from polyester and it is perfect whether you decide to wear it alone or as a base layer. It has high versatility and comfort. It is made from recycled polyester material from plastic soda bottles. Patagonia is the first clothes manufacturer to do so.
Other than that, it is very durable and quality material. It is extremely warm, and suitable for negative temperature weather conditions. It is also ideal for sports activities because of its manufacturing properties that allow the skin to breathe and eliminate excess moisture, yet keeping you warm in cold weather.
This property comes thanks to its double layer manufacturing system that also protects you from wind. It can be worn under clothes or alone.
Users like that this crew shirt fits just right and that is is made of 93 percent recycled polyester, and it is also treated with Polygiene, which gives it the anti odor technology. They like that it breathes well and will wick away moisture easily.
PROS:
Moisture wicking
Odor control
Made with recycled polyester
CONS:
Only comes in a couple of colors
Related: Be sure to stay warm with the Wigwam Snow Sirocco Ski Socks that are under $20 and come in a variety of colors.
Icebreaker Oasis Long Sleeve Crew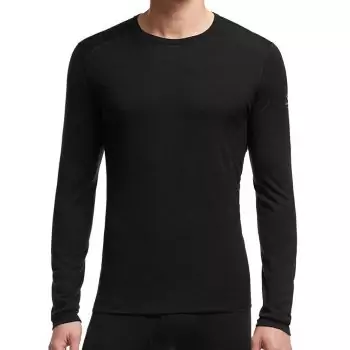 Weight: 10.2 oz
Dimensions: 11 x 6 x 2 in
Specific features: Bodyfit (200 g/m2 merino wool), imported, lightweight, 100% merino wool, slim fit
Price: $41 – $100
Best use: Camping, hiking
Description:  The main advantage to this Icebreaker Oasis Long Sleeve Crew is that it is suitable for cold weather as well as for cold weather conditions. Merino wool is the warmest natural material and it has excellent odor resistance.
It is meant to be worn as an underwear shirt, but you can wear it as a hiking shirt as well, especially when the weather is warmer. There are several thermal underwear manufacturers that are making synthetic merino fabric.
Although this is a less expensive alternative, it has less quality as well. Although the fabric is thin, it keeps you very warm, and it allows you to move comfortably in every direction, making it ideal for sports activities.
It is also suitable for long backpacking journeys because you could manage to go through the entire journey with few or no washings; its antimicrobial technology is very good. The main downside is that it is a bit pricey, but if you could afford it, it would be the only underwear you would want to wear.
Sometimes wool could cause itching when in touch with the skin, however, this is not the case. It is soft to the touch and it is very lightweight. It is a bit shorter, which for some people might be an issue, so make sure you check the size chart before ordering.
If you are a big guy, I would recommend getting a size up, since it is a bit small in the middle. The lengths of the sleeves fit perfectly though.
PROS:
Thermo-regulation
Moisture management
CONS:
Short torso
May order a size up
Related: The Icebreaker Oasis Leggings are the bottoms to the shirt. They are warm and made of merino wool, plus they come in many colors.
Concluding Thoughts
Now that the cold is knocking on our doors, it is time to update your closet for the new hiking season with some warm clothes. The simpler the clothes are, the less complicated things are. And what would be simpler than thermal underwear.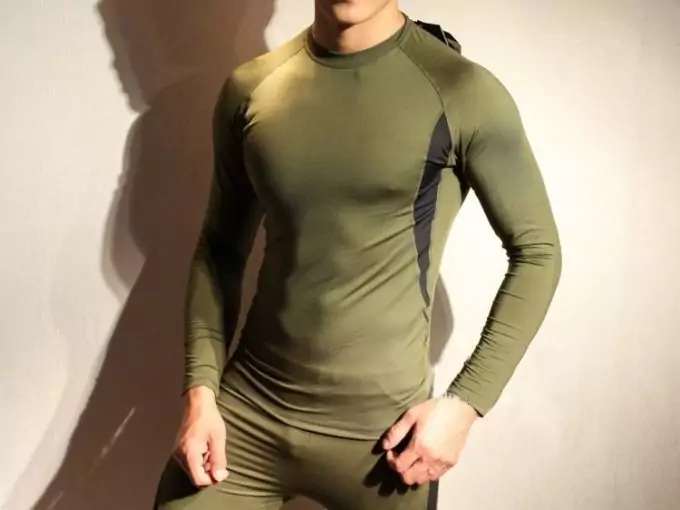 Not everyone knows how to choose the best thermal underwear; in this article we thought you about the features of it, and as a bonus, we tested some of the products for you. The styling and design tastes are up to you.
The reviewed thermal underwear suggestions are recommended for active people who prefer outdoor sports activities (hiking, backpacking, skiing, and snowboarding)… The underwear should earn its thermal status and have multiple features: keep you warm and allow you to do your activities uncontained in any way. With that said, the rest is up to you.
Now you know everything there is to know about choosing thermal long underwear and never make a wrong choice again. Take a look at our suggestions, and choose wisely! Don't forget to share with us your experiences with some of the suggested products or maybe even some that did not make it to our list of best thermal underwear.