We go on camping trips for the thrill and excitement of leaving the familiar to take a breather, go on an adventure and experience life away from the mundane instances of everyday living, right? But you have to agree with us that no matter how far we go and much we indulge ourselves in a natural setting, we still crave for the feeling of never actually leaving the comforts of home.
The good news is that there are a number portable power sources for camping widely available in the market today, making it extremely convenient for campers and adventure seekers to go in even the most remote areas and not lose power.
But how exactly do portable power sources work, and how will they properly work for you? Familiarize yourself with all the factors you should consider before buying your portable power source device, in this easy to follow product review.
Our Top Picks
| Product Name | Weight | Power | Specific Features | Price |
| --- | --- | --- | --- | --- |
| Chargetech AC-27k | 2.35 lb | 27,000 mAh 95 W/110 V | Approved by the TSAL, fully charged in two hours | Check price on Amazon |
| Bestek MR14 011I0 | 25 lb | 400 W; MDM pwr 500 W; PEAK pwr 1000 W | USB charging ports, peak power hits at 1000 W | Check price on Amazon |
| Suaoki VVI5IJ | 5.5 lb | 20,000 mAh 200 W | Solar panel atop of the piece, comfortable handle | Check price on Amazon |
| Energizer EN500 | 1.98 lb | 500 W; PEAK pwr 1000 W | RoHS compliant, three separate USB ports available | Check price on Amazon |
| Celestron 18774 | 7.5 lb | 110 V/220 V | Cigarette lighter, power tank v12 power supply manual | Check price on Amazon |
| Schumacher XP2260 | 24 lb | 120 V Ac/12 V | USB port available, sure-grip clamps attachments | Check price on Amazon |
| Antigravity AG-XP-5 | 2.6 lb | 300 A PEAK pwr | The smallest lithium jump start battery available on the market | Check price on Amazon |
| Goal Zero Yeti 400 | 29 lb | 400 W 33Ah | Built in AC converter, no noise and no fumes unlike traditional generators | Check price on Amazon |
Features to Consider Before Buying
Like with any other product, before you pick one to buy, you definitely need to know more about it and which features it offers. The same goes for a portable power supply, there are certain features you have to keep in mind before making the final decision.
Surface Area of the Solar Panel
The size of a solar panel determines how much sunlight it could collect over a specific period, which is also a determinant of how much power it could generate.
The larger the solar panel, the higher the amount of solar energy collected, hence, the faster it gets converted into a battery-stored power. A large-type solar panel is also of great benefit during those cloudy, low-light days in winter.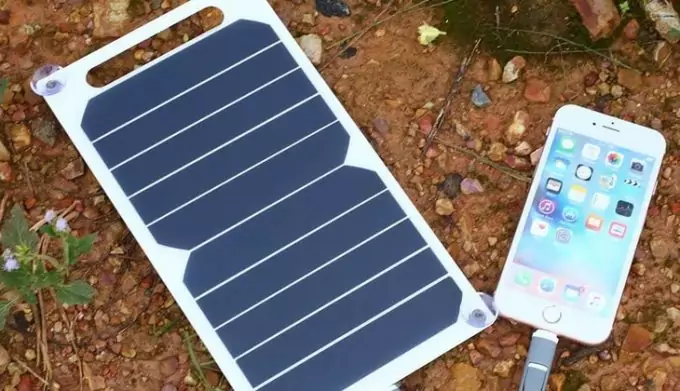 On the other hand, a smaller solar panel might take it longer to charge up a battery since it only collects a limited amount of solar energy over a given period.
Although this is the case, a smaller solar panel is at an advantage for people on the go since it is lighter, easier to pack, and more convenient to bring than that of the larger ones. Charging time differ depending on light conditions and surface area, usually takes up from 4 to 6 hours.
Semi-Flexible or Rigid Panels
These kinds of solar panels can be rolled up or folded for convenience and ease of transport. When it is going to be used, it could open up, providing a wide surface to get a maximum amount of solar energy.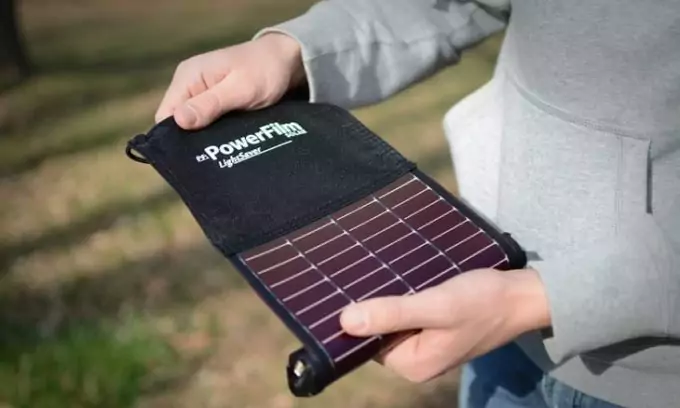 Sometimes they provide a larger surface area than their rigid counterparts. You should also consider the solar panel's attachment style so you can easily have it secured on your bike, tent, or backpack.
Storage Capacity
The battery pack's storage capacity determines the maximum amount of power it can hold for later use before it needs to get recharged again. Storage capacity is usually measured in Amp hours (Ah) or Milliamp hours (mAh). Another measurement is through Watt hours (Wh).
The formula in converting watt-hours to mAh is (Wh /Volts) x 1000 = mAh. You can get an idea of how many times you can recharge your device by comparing the storage capacity of your portable power source to that of your electronic device.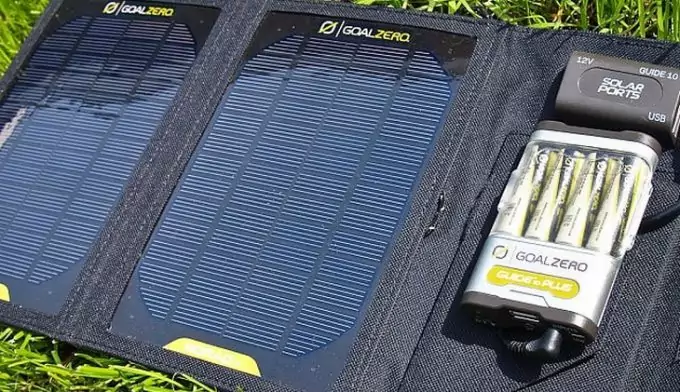 Although power measurements could be converted, the transfer of energy from one battery to another is not 100% equal. For example, a battery pack having 1000 mAh won't be able to fully recharge an electronic device with the same power capacity.
You will need a battery pack with sufficient storage capacity as well as an adequate output voltage to transfer energy into your electronic device. But how can you determine how much is enough?
You can figure this out by checking the storage size of your electronic devices' batteries, add them up and choose a portable power source that has enough storage capacity in charging all your gadgets.
Power Output
One important thing to keep in mind in using a charger and an electronic device is that the charger's power output should be equivalent to the battery voltage input requirement of your device. When the charger output is lower than the input requirement, may drain the device's batteries instead of loading it.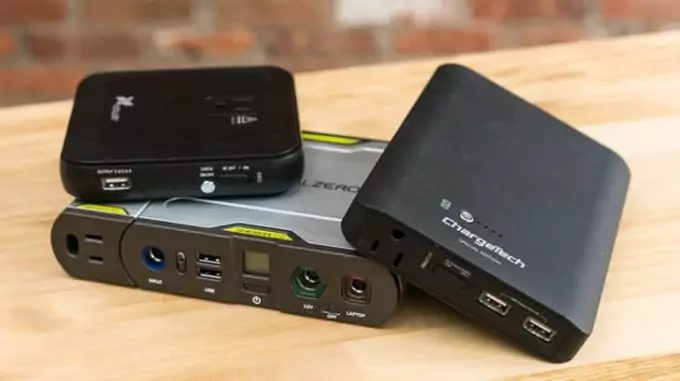 Small electronic devices such as phones, tablets, portable speakers chargeable through a USB cable usually need a 5 V output rating. The bigger electronic devices, on the other hand, may require a larger output rating usually ranging from 12 V to 24 V.
Battery Technology
There are diverse variations of portable battery packs. They differ in technology, output, capacity, size, and weight. Below are some examples:
Lithium-ion and Lithium Polymers
These battery packs are similar to that of the built-in batteries in personal electronics when it comes to technology. These are also the most prevalent type of battery packs available.
NiMH (Nickel Metal Hydride) Batteries
These batteries come in the form of rechargeable AAA or AA batteries where instead of charging, you can simply swap or replace batteries on your device.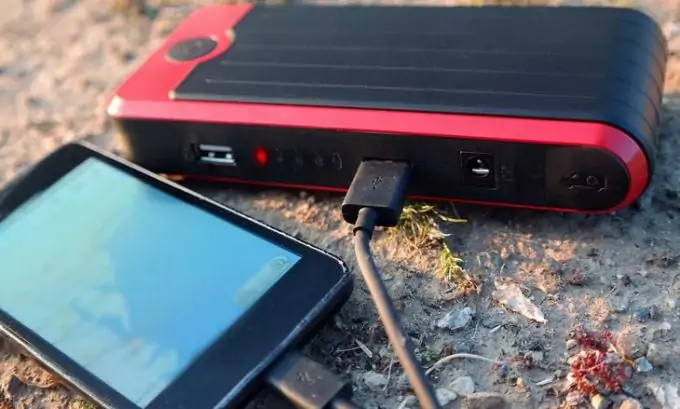 This is a convenient alternative which is mostly used in small devices and gadgets such as a camera, a portable speaker, GPS devices and the like.
Lead Acid Batteries
Among the types of portable battery packs, lead acid batteries supply an enormous amount of output and power capacity. They are also one of the largest and heaviest.
Top Models on the Market
We've rounded up the best portable power supply available in the market and individually listed their power capacity, specifications and Best use.
Chargetech AC-27K Battery Pack 
Price: Approx. $250
Dimensions: 7.5 x 5.25 x 1 inches
Weight: 2.35 lb
Power: 27000 mAh 95 W / 110 V
Specific features: Intelligent fast charging, has a jazzed-up cable that charges the unit itself within 2 hours, safety certified – approved on airlines and TSA, award-winning innovative product, small, compact and lightweight
What's included: ChargeTech battery pack (comes in retail or gift packaging), international outlet adapter, charging adapter, felt travel pouch, user manual, and warranty information
Best use: Laptops, MacBooks, camping, cameras, CPAP machines
Description: Dubbed as the world's smallest and all-powerful battery pack that comes with an AC wall outlet and an award-winning innovation, which triumphed in Amazon's The Maker Challenge, the ChargeTech AC-27K Battery Pack features a built-in AC outlet that could power any standard electric device up to 95 W.
It is small, compact and lightweight. Weighing only 1.56 lbs, you could easily slip it on your purse – handy and convenient to carry with you as you go.
The device is remarkably functional and adaptable. Boasting of its 27,000 mAh capacity, it could power almost all types of devices – phones, tablets, laptops, compact lighting, speakers, even radio, and televisions in one go. It is compatible with all devices having USB ports as well as devices that involve 90 W or less via a standard wall plug.
It operates with the use of Premium Panasonic Batteries, the high-powered batteries identical with that of the lithium-ion batteries used in Tesla motor vehicles. These batteries have a high-power storage capacity that could stock a huge amount of power in small formats, all the while maintaining their charge over long periods.
Getting your hands on the ChargeTech Portable AC Outlet Battery Pack is like having a wall socket in your pocket. Now you can go on adventures and take on the day without having to worry about losing power and drained batteries.
PROS:
27,000 mAh capacity
A fast charging time
CONS:
In need of more USB ports on this device
Related: In an effort to keep all of your devices all charged up whilst you are on the go, using this Anker 14 Port will have all of your USB charged devices working beautifully at 100% battery. A dock of seven 3.0 USB ports and three Power IQ USB ports.
BESTEK 400W Power Inverter 
Price: Approx. $42
Dimensions: 11.73 x 6.93 x 3.07 inches
Weight: 2.5 lb
Power: 400 W, maximum power: 500 W, peak power: 1000 W
Specific features: Converts 400 W continuous DC to AC power; dual 110 V household electrical outlets; 1000 W of peak power, 5 A/ 4-Port USB charging ports; has a built-in replaceable 30 A/32 V*2 fuse and cooling fan; has under-voltage, over-voltage, over current, overheating, overload, and short circuit protection
What's included: 400 W power inverter, cigarette lighter plug, 2 battery clips, user manual
Best use: Power conversion from DC power sources into AC power used in all electronics, tools, and home appliances; power conversion of DC power in 12 V batteries of trucks, cars, boats and other vehicles, for DC12V and vehicle use only, not valid for DC24V and airplane use
Description: The BESTEK 400W Power Inverter is labeled as America's number one power inverter brand that delivers 400 W of continuous DC to AC conversion. It has the capacity to convert DC power in trucks, boats, vehicles and other DC power points of supply to AC power that could be used in all electronics and home appliances.
It has dual 110 V electrical outlets that could sustain power in your devices – laptops, phones, tablets, digital cameras, printer, television, refrigerator, air/con and in almost all household appliances. Aside from replaceable, built-in 30 A/32 V*2 fuses, it also has a cooling fan to avoid overheating, which ensures safety and maintenance.
With its 110 V AC Outlets and 4 USB Ports, you can power up several devices at once. Whether you are on the road, in the mountains, in any remote location, or just lounging at home, you can turn to the Bestek 400W Power Inverter and Car Adapter for all your power needs.
The Bestek 400W power inverter and car adapter gained the maximum review rating among all other power inverter brands. This ultra versatile and compact device is of an extreme advantage for all your power needs in even the most inconvenient, electricity-deprived locations – the perfect go-to device for travelers on the go.
PROS:
Built in cigarette lighter port
Ease of D.C. to AC conversion
CONS:
Not enough AC outlets, though it boasts 4USB ports
Related: In need of power generator that allows for renewable energy and is compact enough to store in any daypack? Then you need this Renogy 100 Watts Solar Starter Kit – a charger controller that can expand your wattage setup to a max of 400 W.
Suaoki Portable Generator 
Price: Approx. $216
Dimensions: 9.8 x 6.3 x 3.4 inches
Weight: 5.5 lb
Specific features: 20,000 mAh high-capacity; comes with 200 W Pure Sine power inverter (2*100 V/110 V AC outlets); high-density lithium-ion battery; fast charging from any compatible solar panel and home outlets; produces clearer television receptions, noise reductions, inhibits computer crashes with Pure Sine Wave; comfortable handle.
Best use: Could be widely used outdoors; stand-by emergency kit; disaster and emergency areas such as typhoon-stricken locations, earthquake zones; power outage locations; outdoor picnics and parties
Description: The Suaoki Portable Generator could charge up all your devices and home appliances at once. Featuring a 200 W running power and a 240 W starting of power, this portable generator and power source from Suaoki does its job without the noise and zero-emissions.
Thanks to its gas-free generator that boasts of a pure sine wave output that powers every appliance and gadget without overloading.
It is relatively easy to use, requiring zero technical know-how where even the non-techie individuals could use the device with ease. It could be charged by simply plugging the device on an AC wall adaptor or 15 V above solar panels.
The device also guarantees the safety of usage with the help of the BMS (Battery Management System) that improves battery utilization as well as prevents over-current, over-temperature and over-voltage.
The Suaoki Powerhouse 220Wh/20,000 mAh portable generator power source provides power and inversion in the most effective and efficient way possible. It is that one device you can trust during emergency situations, power-restricted places, or in all your road trips and outdoor adventures.
PROS:
Solar panel fixture
240 W starting power
CONS:
Double the size and weight of other generators previously shown.
Related: If you are looking for a smaller solution, the X-Dneng 20W Solar Charger that is much smaller and lighter, and takes two USB cables. Just lay the pad out and you are ready to charge.
Energizer EN500 Wat Power Inverter
Price: Approx. $40
Power: 500 W continuous power; 1,000 W peak power
Dimensions: 2.64 x 5.39 x 9.06 inches
Weight: 1.98 lb
Specific features: AC output waveform – modified sine wave; ultra silent thermal fan; tablet charging compatible from USB ports; RoHS compliant; two shared USB charging ports 2.1 A; two standard North American AC outlets; includes battery clip cables; compatible with iPad, iPhone and more
What's included: Energizer 500 W power inverter, battery clips, 120 V AC with two USB, 12 V DC cigarette lighter
Best use: Road trips, traveling, outdoors
Description: Get power on the go with the Energizer EN00 Watt Power Inverter. Now you won't have to worry about losing power while on a hike or during a camping trip.
The Energizer EN500 could be connected directly to your car's battery or plug into your car's cigarette lighter to store the power that could later be used on your gadgets and other electronic devices. In addition, the inverter's USB charging port could transfer power to any USB devices.
It boasts of a rather quiet, thermal fan, and offers 500W continuous power and as high as 1000W of peak power, since, you have to agree, having the ability to charge even those devices that require a high amount of power.
With the Energizer 12V 500 Watt power inverter, you won't have to worry about running out of power whenever and where ever you need it.
PROS:
Internal thermal fan
12 V DC cigarette lighter
CONS:
Would be better with more than two USB ports available
Related: As well as a power converter to keep all of your devices charged and on the go, if you are on your travels owning a DuaFire Travel Adapter. Works with all power sockets; at home and abroad. It's always a good idea to keep one with you as you are travelling.
Celestron 18774 Power Tank 
Price: Approx. $60
Dimensions: 12 x 10 x 6 inches
Weight: 7.5 lb
Specific features: Two 12 V output cigarette lighter ports; energy efficient LED spotlight, safety assurance with its built-in circuit breaker, built-in flashlight, 7-amp hour, red filter cap, booster terminal on its posterior side
What's included: Celestron power tank, 110 V/220 V switchable universal AC adapter, cigarette lighter adapter, power tank v12 power supply manual
Best use: For any Celestron computerized telescope, emergency roadside accessory; nooster terminals could help power up faint car batteries
Description: Good news for those budding astronomers and outer space aficionados, now you can bring your telescope in mountain peaks and in the most remote areas without having to worry about losing battery power.
Celestron, an optics industry luminary over the years, known for their game-changing, revolutionary technologies, has developed the Celestron 18774 Power Tankwith the newbie astronomer in mind. The model is made with special features that specifically cater to computerized telescopes as well as those that use motors.
Aside from its specialization with computerized and motor-powered telescopes, the Celestron Power Tank could instantly start up a dying car battery with the help of its Booster Terminals. This Power Tank also comes with a built-in emergency light that could act up as an Emergency Roadside Accessory.
The device could be recharged in the car since it comes with a cigarette adapter, as well as a universal AC adapter that you can switch between 110 V and 220 V.
Built with two 12 V output cigarette lighter ports, built-in flash flashlight circuit breaker for safety purposes, an energy efficient LED spotlight and a booster terminal, The Celestron Power Tank is one useful, convenient and specialized device you can take with you as you chase your astronomical curiosities.
PROS:
Built-in emergency light inside the PowerTank
LED spotlight
CONS:
A specialized device. If you are not into astronomy of any variety, this is not the portable power supply for you.
Related: Those of you who are after this power supply unit for the specific reason that it is made for the budding astronomers, you should look into this Celestron Telescope Accessory Kit. A kit that contains six eyepieces and six planetary filters.
Schumacher XP2260 Power Source 
Price: Approx. $135
Weight: 24 lb
Dimensions: 12.2 x 12.5 x 12.1 inches
Specific features: Automatic charging with built-in charger; jump starting mode is activated via on/off switch; LED lights indicative of battery status; maintenance-free, sealed lead acid battery; holds both side and top-mounted batteries with Sure-Grip clamps; compatible with 3 outputs: USB Port, 120 V AC, 12 V
What's included: Schumacher XP2260 1200 peak Amp instant portable power source, jump starter, swivel AC plug energy-efficient eco charger for the device's internal battery (extension cord not included); user manual
Best use: Vehicle jump starter; charging up most devices powered or charged by USB, AC, or 12 V power ports; works as an air compressor
Description: Long-lasting battery and loads of power, that's the Schumacher XP2260 Power Source's promise. The Schumacher XP2260 1200 peak amp instant portable power source and jump starter doesn't only do its job seamlessly as a vehicle jump starter, it also works as an air compressor since the device is equipped with a high-pressure air compressor.
In addition, it has a reliable power capacity that could charge up electronic devices, portables, and accessories, thanks to its 1200 peak amps and 185 cold crank amps.
The Schumacher XP2260 is engineered and tailored to provide power via three outputs: 12 V, USB Port, and 120 V AC making it convenient for you to power up devices without having to use converters or change cords.
It also boasts of a brilliant work light that is especially beneficial for night camping. The device also features a sealed lead acid battery and sure grip clamps that allow you to roll up the unit in whatever way without having to worry about spilling the battery's fluid.
Manufactured with a 150 PSI built-in air compressor, the Schumacher XP2260 allows for inflating bicycle and even vehicle tires. It also lets you inflate tires with ease even at night since the analog pressure gauge is illuminated by a LED light. It is so versatile, you can switch functions from USB mode to a jump start mode by simply turning a knob.
PROS:
Low battery LED notification lights
Manufactured with a built-in high power air compressor
Related: May of these portable power supply units are used by people in need of a quick and handy device for jump starting their car… and you cannot jump your car without jumper cables. We recommend pair of Xincol Heavy Duty Wire Jumper. They are durable and capable.
Antigravity AG-XP-5 Power Supply 
Price: Approx. $100
Weight: 0.46 lb
Dimensions: 5.25 x 3 in x 0.5 inches
Specific features: The smallest lithium jump-starter and/or portable power supply; about the size of a smartphone; charge & power any USB 5 V device; ultra high-quality design, convenient and handy: jump-starts gas engines up to 4 L V6. 300 A peak; built-in LED flashlight having two flash patterns and a brilliant and steady beam mode; J. 6000 mAh capacity
What's included: Antigravity batteries AG-XP-5; multi-tip USB cable; mobile charger; wall charger; jumper clamps; user manual
Best use: Charging all USB devices; tablets, smartphones, GPS, cameras, Bluetooth speakers, and more
Description: The Antigravity AG-XP-5 Power Supply is unrivaled. It has a starting current of 150 A, and a peak of 300 A. It could jump start vehicles, motorboats, motorcycles, ATVs, snowmobiles and other engines having a gas engine size of up to 4 liter V6.
It also has the capacity to charge and power smartphones, cameras, MP3 music players, PSP and handheld games, and other 5 V USB devices. The AG-XP-5 has a backup power capacity of 6000 mAh and has the capacity to charge a cell phone up to three times.
With the Antigravity Batteries AG-XP-5's super lightweight and compact form, incredible power and versatility, you can easily keep it in your purse, your vehicle, or your pocket!
Now you can travel far, hike in electricity deprived locations and travel in remote places without having to worry about losing power. The Antigravity Batteries AG-XP-5 is truly a power source you can take with you anywhere you go.
PROS:
Super lightweight and compact device
Starting current of 150 A, and a peak of 300 A
CONS:
Too many outlets to choose from; can prove rather confusing
Related: The appeal of a solar powered power supply has become very appealing in the past decade or so, as we are never short on a little sunlight. The StarVast Solar Charger is just that. A compact and portable device charger with three USB ports.
Goal Zero Yeti Power Station 
Price: Approx. $30
Weight: 29 lb
Dimensions: 8 x 10.2 x 8 inches
Capacity: 400 Wh, 33 Ah
Specific features: 1.5 A USB outlet, 12 V outlets and 300 W pure sine AC inverter included in the package; longer runtime; chainable with other Goal Zero Yeti 400; with built-in AC inverters; refuel from wall; safe for indoor use; no noise and fumes of traditional back-up generators
Best use: Power outages; camping; 12 V, USB and AC inverter charging
Description: Camp in luxury with the Goal Zero Yeti Power Station where worries about power outage is thrown out of the window.
It boasts of a 400 Wh that has the capacity to charge devices in three ways: through 12 V port that best powers 12 V power devices, through USB that charges up your USB powered devices, and through AC inverters, that lets you plug in your device as you would in a wall.
The length of time it takes to charge devices on the Goal Zero 23000 Yeti 400 Solar generator is equivalent to the amount of time of wall charging.
The Goal Zero 23000 Yeti 400 Solar Generator uses a 12 V, 33 Ah sealed lead-acid battery (AGM), very much alike to the batteries being used in vehicles. These kind of batteries must be kept full at all times to be able to maximize its power.
It lasts for longer periods if not completely drained. You can refer to the LCD Battery display to have an idea about how much battery is left or its charge level.
It reveals a battery outline consisting of 5 segments, indicative of the amount of charge it accumulated. It is safe to use the Goal Zero 23000 Yeti 400 even when the battery is not fully charged.
Live off the grid with the luxury having a convenient power source you can use at any time and can recharge at daylight. It runs quietly and efficiently, you wouldn't need to worry about noise and fumes you would normally get from using those outdated back-up generators.
PROS:
396Wh lead acid battery portable power station can power up to 7 devices at once

Charge phones, tablets, laptops, cameras, and most small devices.

Recharges from AC, 12V or solar panels
CONS:
Only AC charging in this option (other option sold separately)
Wrapping it Up
Choosing the best portable power source is like choosing a best friend. Sure, there are a lot of good friends out there, but your best buddy is someone you can actually trust and will never let you down.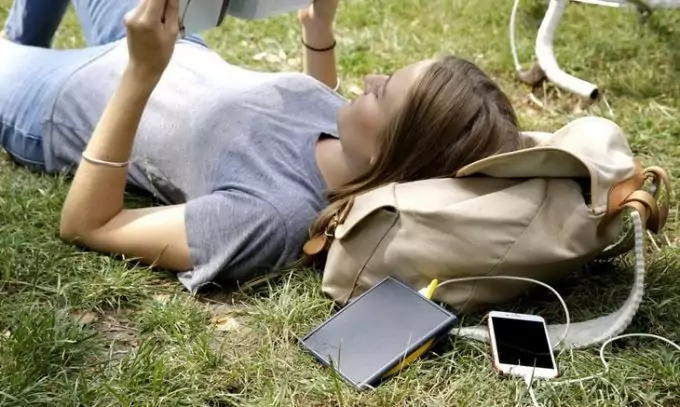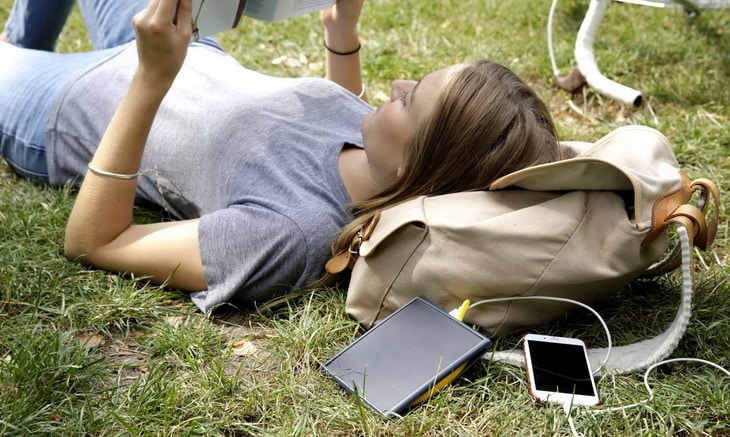 Go ahead and weigh your options, envision your trip with that specific power source you've chosen and decide which one is perfect according to your needs and preferences, a power source you can actually trust to make your trip the most convenient and memorable ones.
Need people to accompany you on your trip? Feel free to share this on Facebook! Who knows, you might stumble across a friend who share the same excitement for adventures as you do. Share us your thoughts and suggestions in the comments below.