When planning a trip in the wild it is very important to have a good place for rest. If you want to go with a group of people you need to see which one is the best 4-person tent for your needs. Why 4 persons? Because this size offers the best comfort and an optimal carrying weight, thus making it better than dividing your group in smaller or larger tents.
These are lightweight, durable, and affordable and you can choose among setup, door and vestibule styles which best appeal to your outdoor habits and needs. If you are going with your family, sleeping under one smooth roof is the best way to share the love and warmth within it. If you go camping or backpacking for more than a single day, you will need a quality sleeping environment.
A good tent will be useful for a rest, nap or night's sleep, provide additional support for your sleeping bag or inflatable bed, and will be easy to assemble and disassemble, and, it will offer good moisture/precipitation as well as sunlight protection.
Even if you are willing to go on backpacking with less than 4 people, a tent made for 4 persons would be a good option, as you will get much more comfortable, for a little more money as well as little more weight and space it would take in your backpack.
| Name | Weight | Tent Materials | Special Features | Price |
| --- | --- | --- | --- | --- |
| ALPS Mountaineering Taurus | 7.43 lb | Polyester, Fiberglass | Factory Sealed Fly, Floor Seam | Check price on Amazon |
| Eureka Canyon | 18.6 lb | Polyester, Fiberglass/Steel | Full Mesh Roof, Large D-Style Door | Check price on Amazon |
| Suisse Sport Yosemite | 13.65 lb | Polyester, 1000D polyethylene | Double D Door, Removable Divider | Check price on Amazon |
| Weanas Professional | 6.5 lb | Polyester, Aluminum | Brace Type Window, Storage Room | Check price on Amazon |
| Mountain Trails South | 6 lb | Polyester, Fiberglass | Large Mesh Windows, Stow and Go Duffel System | Check price on Amazon |
| Coleman Instant | 9.8 lb | 150D Polyester, Steel | WeatherTec Inverted Seam & Floor, Pre-attached Poles | Check price on Amazon |
| Coleman Sundome | 9 lb | Polyester, Polyethylene, Fiberglass | Ceiling Flashlight Loop, Internal Pockets | Check price on Amazon |
| Kelty Yellowstone | 8.62 lb | Polyester | Continuous Pole Sleeve, Mesh Surfaces | Check price on Amazon |
Things to Consider Before Buying
As said above, there are certain considerations when it comes to choosing the right tent. Some of these are more important, some aren't. Those most important need to be considered even before you start looking for certain models.
Remember that not every tent is the same and if you make a wrong choice you may not get appropriate sleep and rest while in the wild, even if you bought an expensive tent from a renowned manufacturer. So, before you see these exceptional tent models we want to share with you, you should learn these things first.
Setup Style and Form Factor
The form of your tent defines its internal space and volume. There are two main form factor types which define setup and the whole purpose of most tents of this size:
Dome tents are lighter and have a smaller volume, so you may feel tighter. On the other hand, it can be warmed up by the bodies of occupants better, and thanks to that fact, are easier to carry and set up. Dome tents are developed from classic pyramid ones, which were very tight and did not provide sufficient space for comfortable sleep.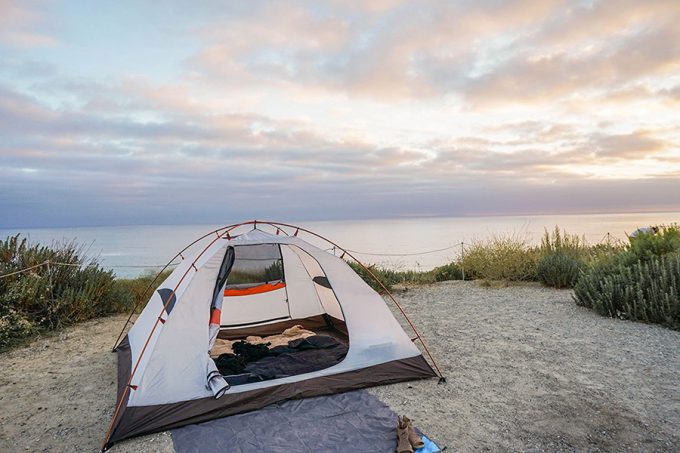 Cabin tents are taller, heavier and often require more setup work, requiring you to find an appropriate surface to provide for its stability. But, cabins are more comfortable and are useful for much more than just sleeping or resting. Think about meals you need to take when it's hot or rainy.
Vestibules are tent extensions added on the outer perimeter of a tent. These provide room for your supplies and almost always come as an option.
Floor Space
The floor space defines the internal organization of any tent: its base can be square, but it may also be hexagonal and octagonal, with less or more regular shape. However, you may need regular and less rounded tent bases. These will let you have more possibilities of internal organization.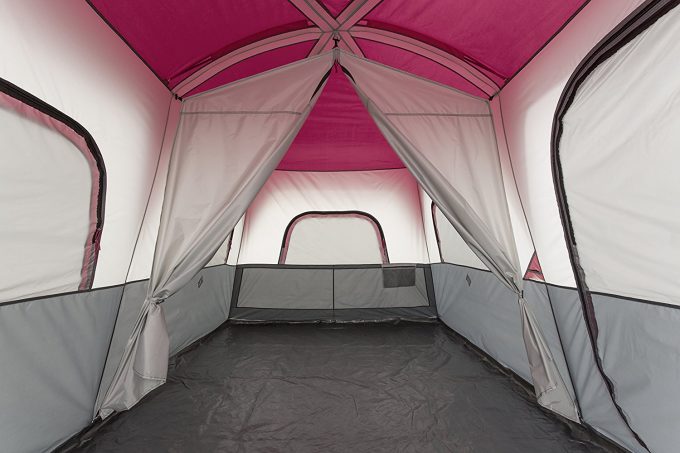 Living space is a different thing from the floor space. It depends on the central and peripheral height of the tent, wall angle and the form, which all together determines how much space, would be used.
The Ideal Material
Cotton and Poly-cotton canvas tents are now less common, but there are still people who like their good thermal insulation properties and longevity. However, they still lack water resistance, even though some improvements towards it have been made in modern canvas tents
The best solution is called Poly-cotton – a blend material made from bounding cotton canvas with a polyester sheet, certainly providing you with the better of two worlds.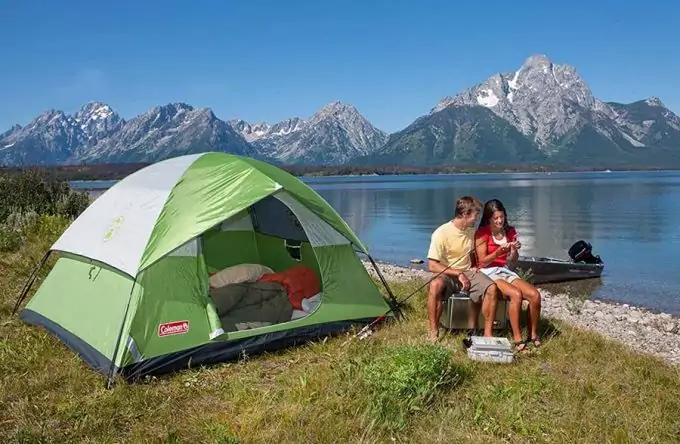 Polyester is a lightweight, durable and heat-resistant synthetic fabric. Despite being a bit thick, it can be made to withstand rain and still have good ventilation abilities thanks to breathable coatings applied to them.
Nylon is an alternative to polyester which is smoother, lighter, more affordable, though it is also relatively short-lasting and can't hold up in very hot weather. Still, many hiking and camping tents are made of nylon thanks to its convenience for use.
Season Ratings
Hiking tents are commonly rated as 3-season and 4-seasons
3-seasons pertain to spring, Fall, Summer and can be used in hot, relatively cold, dry or wet conditions. Most people go with this option as in most cases it will provide sufficient weather protection.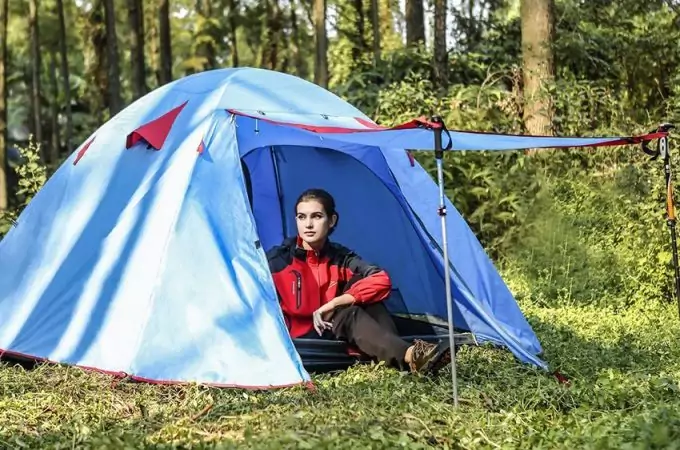 4-seasons can be used year round. The highlight is however on their winter use. These are significantly heavier due to insulation materials, thicker and durable, and of course, much more expensive.
What about the Weight?
Tent weight is determined by all other considerations and features: material, size, design and amount of framework and add-ons. Developers of hiking tents pay special attention to weight, choosing light and shock resistant materials for tent frameworks. Most 4-person hiking tents weight between 5 and 10 lbs.
Pole Material
Providing stability and firmness, the poles are a crucial element of every tent. There are three types of materials commonly used for poles, as well as two connection types.
Fiberglass is a relatively inexpensive yet heavy material for this use. Poles made of it are found in entry level, budget tents not meant to be used in extreme conditions.
Aluminum gives a great value for its price – in particular durability and low weight. Currently, this is the most common material in quality tents.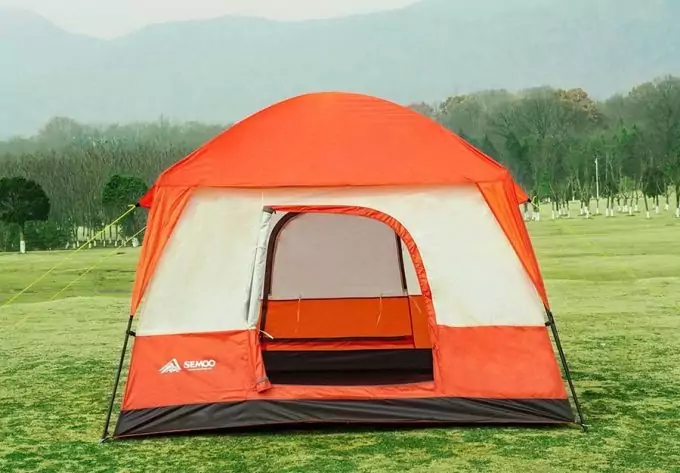 Carbon Fiber is very light, long lasting, thick and shock resistant, but high price limits its application to the highest end of the market.
Steel is sometimes used in certain elements of the construction because of its low price, but its weight makes it less or more uncommon.
Doors and Windows
4-person tents can have one or two doors. The reason behind one door design is low weight, but requires occupants to crawl over each other to reach the door. Two-doors are a commonly found solution, though it builds up to the tent's weight and price.
Windows can be made of mesh or transparent plastics (PVC or vinyl in most cases). These are commonly found in cabin tent styles, though some domes can get smaller windows and transparent vents too.
Wall Construction
Classic tents are single-wall; there is just one fly, which serves all protective purposes. It needs to be both waterproof and breathable, significantly reducing weight.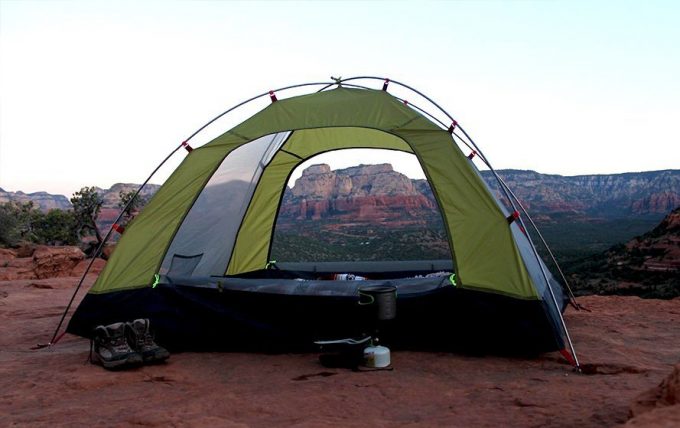 Double-wall tents consist of a sleep canopy and a removable rain fly. These are a bit heavier, but allow for a better ventilation and often have lower prices than single-wall ones.
With these things in mind, you are now ready to make a smarter choice. Among many great tents, we have selected eight outstanding options covering basically all needs of an average hiker.
Top Products on Today's Market
Outdoor adventures are not fun without proper sleeping gear. In actual fact, you will need a heavy-duty tent in order to stay warm and sleep soundly throughout a chilly night. Here are the best models we have selected for you.
Alps Mountaineering Taurus 
Price: Approx. $110
Weight: 7.43 lb
Material: Polyester fly, fiberglass poles
Specific features: Mesh windows, 2-door double wall tent, factory sealed seams, vents.
Best use: Camping, hiking, fishing, mountaineering.
Description: If you're preparing to go camp in the wild, but the rainstorm is approaching, with an ALPS Mountaineering Taurus Tent  you would still be fine. This free standing tent is designed to offer you the best night's sleep.
The roomy dome is built upon a 64 square feet floor, with two doors for the better interior arrangement of occupants. These release sports two vestibules – one over each door improving both protection and storage capacity, and poles are remarkably easy to assemble with clips.
UV coating and weatherproof sealing will keep you dry in most conditions. Even fly buckles are weatherproof and allow you to adjust the amount of protection. When it is crucial to sustaining severe conditions, this is one of the best solutions.
It has proven to be reliable under light showers; in fact, you will not even realize that it is raining outside. It is one of the best sleeping gears when camping in National Parks and deep in the wild.
PROS
The fiberglass, free standing tent structure is easy to assemble and disassemble
The tent comes with a number of accessories for storage and easy setup
The vestibules and two sizeable doors offer easy entry into the tent
The tent is incorporated with a mesh roof for better ventilation
The tent is also well-weatherproofed, thanks to the floor seam and factory sealed fly
CONS
The fiberglass poles are not as resilient as aluminum poles
Related: This tent is normally bought together with the Coleman B01M4I Tent Kit. The kit is necessary for tent installation and cleaning, since it contains installation and cleaning tools.
Eureka Canyon 
Price: $200 – $1400
Weight: 18.6 lb
Material: Steel/fiberglass poles, polyester fly.
Specific features: Large D-style door, large mesh windows,
Best use: Cycling, angling, activities which require much gear or take several days
Description: If comfort is greater concern for you, than the weight of your backpack, EUREKA Canyon Tent is the one for you. Large, firm and freestanding, this is one of the tallest tents in the category.
Almost straight walls allow plenty of sunlight and fresh air through huge mesh windows with Quick Stash covers. Doors provide very convenient access inside and outside.
This may not be the easiest shelter to assemble, but the combination of clips and sleeves will reward your family or friends with outstanding firmness and wind resistance.  Maybe is among the heaviest shelters we've seen, but is among the tallest, too.
The tent comes with a guy-guided rainfly and a zippered power cord flap. This is the best choice for demanding trips when it comes to time and comfort. You will realize after the first installation how easy the setup is, and you will complete it in the least time possible.
PROS
The tent features a family-size design with a floor surface area of 8×8, which is enough for accommodating up to four people
The Eureka tent stands up tall at 7 feet, meaning that a 6-feet tall individual can stand in the tent
The tent comes with a collection of installation gears for easy setup, including pin & ring, pole sleeves, and fiberglass/steel frame with clips
Spacious windows improves the tent's ventilation as well as visibility
CONS
You will need to incur additional costs of 12-inch T-shaped stakes for better weatherproofing
Related: We recommend you also buy Pinnacle Mercantile Galvanized Stakes for reinforcing your tent's stability during stormy weather.
Suisse Sport Yosemite 
Price: $80 – $230
Weight: 13.65 lb
Material: Polyethylene.
Specific features: 2 rooms, 2-doors pole, three mesh zippered windows + zippered ceiling, removable door divider.
Best use: Hiking, camping/backpacking.
Description: This is one of few 2-room shelters available, but the Suisse Sport Yosemite Tent is also one of the most spacious. It can accommodate a family of five or four grown persons on its 80 sq. ft. (10 x 8) floor. It is one of the easiest tents to set up and collapse.
When the rain starts you will be served by a four-point elevated rainfly which will not affect interior illumination. When the divider is up, this tent appears as a single-door. What you get is more privacy and moderate weight at a fair price.
The tent has reliable stability; you only need four stakes to keep it sturdy during normal weather, and eight stakes to reinforce the stability during windy conditions. You will have to properly install the stakes, though.
You will definitely admire the front door design, which is double-opening. This allows you to enter and exit the tent effortlessly. The zipper quality is also amazing; they will rarely snag even in extreme conditions.
PROS
Weighing approximately 14 pounds and measuring 10 by 6 by 8 feet, the tent is spacious enough to accommodate a family of 5
The tent comes with a divider that splits it into two sizeable rooms for privacy and convenience
The double D door opens on both sides for easy entry and exit
The tent is equipped with a mesh ceiling and three mesh zipped windows for improved visibility and circulation
CONS
The tent may require additional stakes for reinforcement during windy weather
Related: We recommend you buy additional RamPro Garden Tent Stakes and a Coleman B01M4I Cleaning Kit. The stakes are for reinforcing the tent during windy conditions, and the kit is for cleaning and setup.
Weanas Professional 
Price: $80 – $110
Weight: 6.5 lb
Material: Finest waterproof transparent nylon mesh, polyester rain fly, aluminum poles.
Specific features: 1 door, removable rain fly with roll-up door curtain, anti-tear Oxford cloth groundsheet.
Best use: Hiking, cycling, mountaineering.
Description: One of the most distinctive shelters is this fully transparent Weanas Professional Tent which is made to impress and attract with minimal design flaws. It is a very colorful tent, convenient for camping in National Parks.
For example, the door can't be closed nor you can have any privacy unless the rain fly is on. And the only additional storage, is available with it fully enclosing the tent. This design flaw improves circulation when the door is open.
However, all else in this tent is great, the high quality of all elements, careful selection of materials and convenient, sleek design make this shelter particularly long lasting.
The tent has over 4000mm waterproof index, UV protection, 48 sq. ft. floor area. This dome comes in two smaller versions, too. Remarkably easy to set up and disassemble.  Great for intense activities which involve speed and as little pounds as possible on the back.
PROS
A three-season tent with ample floor area for accommodating up to three people without the hassle
The door opens wide upwards and it provides an endless supply of air for as long as it is open and supported by two stakes
The tent comes with a stash bag for stowing away the tent when not in use, so you do not have to incur costs for a separate bag
The fabric is not only waterproof, but also stub adhesive with a 4000mm waterproof index, making it ideal for humid conditions
CONS
The door is not user-friendly, you have to hold it in place for it to stay open
Related: You should consider buying the Coleman B01M4I Tent Kit along with the tent. The kit will help with setup and cleaning.
Mountain Trails South 
Price: Approx. $50
Weight: 6 lb
Material: Polyester fiberglass frame.
Specific features: Welded polyethylene floor, 1-door, large mesh windows, Stow 'n' Go duffel system, utility pocket, gear loft.
Best use: Hiking, cycling, camping.
Description: Ultra-light, durable, yet very affordable, the Mountain Trails South Tent is one of the best options for backpackers available now. The dome-shaped design is very impressive, especially in extreme weather conditions.
The mesh of which it is made allows light in but is not transparent. There are 63 square feet of floor area (9 x 7) with 52in center height – pretty high for a dome. The adequate surface area offers enough room for four people and easy maneuverability inside the tent.
The rain fly included is roll-up but requires careful deployment should it cover the entire floor and keep it dry. This tent is generally good for all conditions, including light rains. It is also one of the easiest shelters to set up and maintain.
The tent does not have a separate stash bag, but the duffle is incorporated into the tent. So you have to find your way around the design to collapse and transform it into a duffle with the tent pre-stowed.
PROS
The tent fabric is made of polyester material, which is remarkably lightweight, thus practical and convenient for backpacking
The dome-shaped provides a larger surface area that does effectively accommodate up to four individuals
The tent's design is incorporated with spacious windows and mesh roof vents for better circulation and visibility
The tent is well-equipped with storage space, including a gear loft and utility pocket; you can stow away gear and other small items
CONS
The fiberglass frame is not as strong as aluminum frame
Related: The tent is frequently bought together with the Coleman B01M4I Tent Kit tent kit and Intex Classic Set with 2 Pillows. The kit is recommended for setup and cleaning; while the airbed is for added comfort when sleeping.
Coleman Instant 
Price: Approx. $130
Weight: 9.8 lb
Material: 150D Polyester, steel poles.
Specific features: 1-door cabin, pre-attached poles, WeatherTec inverted seams and floor, four large mesh windows.
Best use: Cycling, camping, hiking
Description: With its 55 square feet of area and 4'10" height, the Coleman Instant Tent is one of the most compact cabin hiking tents. It is also one of the easiest cabin shelters to set up, it is achieved with the one-piece design which also adds to its firmness and longevity.
Unfortunately, this tent is sold without a rain fly, despite the fact that a specially designed rain fly is available. However, this should not prevent you from buying this amazing tent. You may need the rainfly for extreme conditions, but it surely offers shelter and comfort.
We strongly recommend you to buy that rainfly too and don't go out with other solutions to remain dry. With it, this might be among the pricier options, but this is a premium shelter with high thunderstorm and other severe weather ratings. This is a really rugged camping shelter that can take on harsh environments.
PROS
The tent is engineered from 150D polyester material, which is lightweight and convenient for backpacking
The tent's pre-attached poles make setup easy and less time-consuming; all you have to do is extend and secure them on the ground
It uses WeatherTec system, which involves inverted seams and patented welded floors to help prevent water from entering the tent
The tent's windows are spacious enough for effective circulation and increased visibility.
CONS
You have to buy a separate rainfly to reinforce the tent's defenses against heavy downpour
Related: We recommend you buy the Coleman 2000010331 Tent Rainfly. This product will reinforce the waterproofing abilities of the tent, especially during heavy downpour.
Coleman Sundome 
Price: Approx. $60
Weight: 9 lb
Material: Polyester walls and fly, polyethylene floor, fiberglass frame.
Specific features: 2 windows, 1 door, extension cord slot, internal pocket, mesh vents to the floor, ceiling flashlight loop.
Best use: Hiking, camping.
Description: Another rugged option is the Coleman Sundome Tent pole. This is an affordable, yet very resilient shelter with removable rain fly included. The floor area is 63 sq. ft. (9 x 7) while the tallest point stands 4'11" above the ground.
The special, strengthened 1000D polyethylene floor wraps up the sides and has welded seams even in the corners, keeping you dry in almost all weather conditions. The rain fly is coated for additional prolonged rain protection.
The flashlight loop on the ceiling, along with the Electrical Access Port makes this a "smartened" rugged hiking tent. The polyester fabric is also very durable and weighs less, making the tent lightweight and convenient for backpacking.
This is a well-built tent with minimal design flaws, which you will rarely notice not unless you expose it to extreme weather conditions. However, you can choose to add a heavy-duty tarp that will add more strength to the floor.
PROS
The tent's fabric is made of quality polyester material that is lightweight and practical for out-of-doors activities.
The floor is made of 1000D polyethylene material, which is highly water-resistant; so no need of reinforcement
It comes with a heavy-duty and highly waterproof removable rainfly, which will come in handy during light rains and heavy pour
The dome-shaped tent design provides a larger floor surface area that can conveniently accommodate up to 4 people
CONS
The design is integrated with fiberglass poles, which are not as strong as aluminum poles
Related: This product is frequently bought together with the Coleman B01M4I Tent Kit and the Etekcity Outdoor Camping Lantern. The kit is recommended for cleaning and set up; while the lantern will effectively illuminate the tent at night.
Kelty Yellowstone 
Price: Approx. $110
Weight: 8.62 lb
Material: Polyester fabric
Specific features: Freestanding, mesh surfaces, continuous pole sleeve,
Best use: Hiking, camping, cycling.
Description: With plenty of vents and fully seam taped construction, the Kelty Yellowstone Tent is another good option for families or groups planning to go on camping regardless of the weather. Its shape makes it more spacious than its dimensions (59 in wide, 81 in tall) would tell you.
Speaking of actual volume, this dome is much closer to cabin shelters than other dome tents. This tent is proving to be almost ideal for those who went camping, but are unsure about the weather. It may not be the most mechanically resistant item, but is among those more resilient.
There aren't many shiny features, simplicity and doing the core job properly is its main idea. One of the features that make this tent unique and convenient for out-of-doors expeditions is the 40D polyester material. This material is super lightweight compared to most tent fabrics. The dome-shaped tent design creates enough room to accommodate four people. In actual fact, a family of three or four can use this tent.
PROS
The Kelty Yellowstone is consists of 40D polyester fabric material, which is super lightweight and suitable for backpacking
The tent's dome-shaped and fully seam taped build provide a larger floor surface area that can house up to four people
The tent has a reliable air circulation system that makes it convenient for camping during summer
It has one of the easiest setups when compared to competing shelters, it won't take you long to install it
CONS
The rainfly and windows position collide, making it harder to use the windows without undoing the rainfly
Related: This product is usually bought together with the MSR Ground Hog Stake Kit. The kit is recommended for reinforcing the tent's stability.
The Wrap Up
If you would like to be at a campsite right now, you will certainly find the use of these eight tent options we recommend. Each model shown above is carefully selected to get you the most value for your budget. If the tent of your choice is not included in our list we would like to hear from you with any useful insight pertaining to your choice.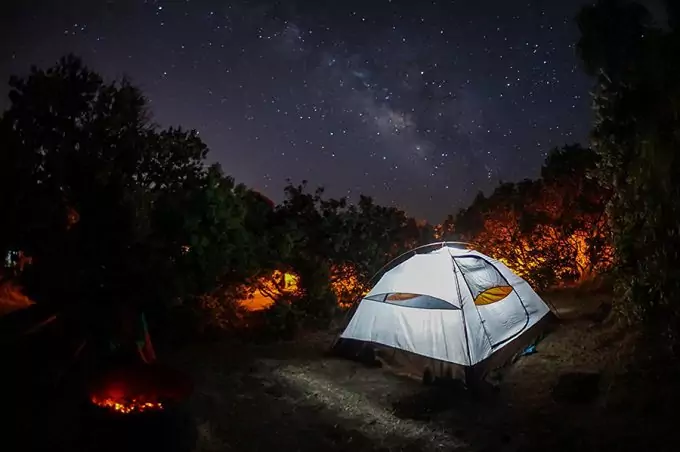 Did you find what you were looking for? If yes, please share with us your thoughts and experiences in the comments below.