Imagine having a speaker you could carry around for all your outdoor expeditions, listen to unlimited music and never have to worry about cables and an external charger. Sounds like a thrill, doesn't it? The best portable waterproof speaker is designed to give you full music clarity, and a booming bass, ideal if you are looking for the most convenient way to listen to your favorite jams.
So why do you want a portable Bluetooth speaker? Apart from the fact that these speakers are making waves in the stereo market, having such speaker is the perfect way to enjoy your music. You can take it wherever you want and even use it in the shower or the beach because of the waterproof capabilities, which ensure it doesn't get damaged.
In today's article, we are bringing you only the best models on the market, and giving you a few factors that you should consider before making a purchase. With every model, we will take you through the list of specifications, and pros and cons that will help you make the most informed decision. Keep reading on for a more detailed guide.
Our Top Picks
Features to Consider Before Buying
When it's time to shop around for your Bluetooth speaker, you can easily get overwhelmed from the variety of models in the market. Below are a few factors you need to look at before making any buying decision. Ensure that the speaker you finally pick, can at least meet the threshold, if you want to have the best experience.
Dimensions
It is vital that you consider the physical form of your portable speaker before purchasing. The last thing you want is buying a speaker too big and hectic during transportation, or one that is too small that it does not have the space to cater for physical speakers to give you your desired sound effect.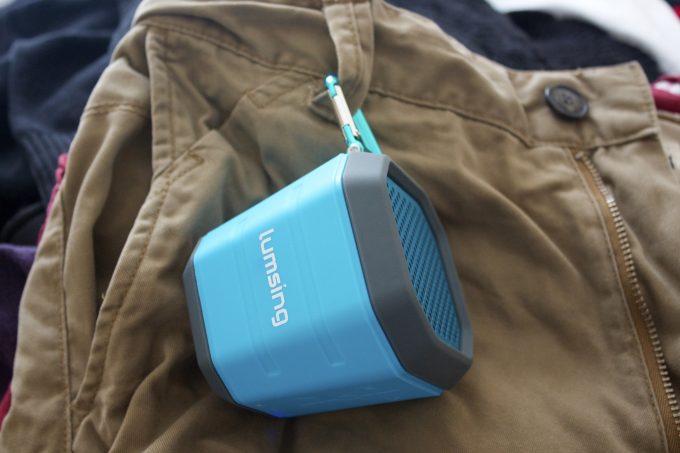 Bluetooth speakers are either ultra-portable or semi-portable. Ultra-portable speakers can be carried around easily, because of their small size and ultralight properties, with the latter ones being much larger and heavier, but offering better sound.
Battery Size
When it comes to comparing the battery size between different Bluetooth speakers, you don't just look at the total mAh of the battery. Look at the battery size and compare it to the power demands of your speaker.
Units with less mAh require much less power to run, hence have less demanding speakers, and can run for longer hours, as compared to their counterparts with higher mAh.
Play Time
This is a vital element since you should be able to purchase a speaker that can run for longer periods after charging. If you will be using your units in the outdoors for an extended amount of time, it's best you spend a few more bucks to obtain speakers that go for over 10 hours.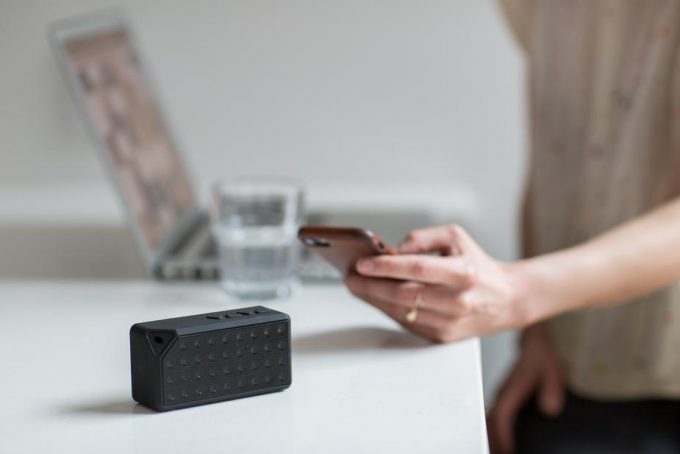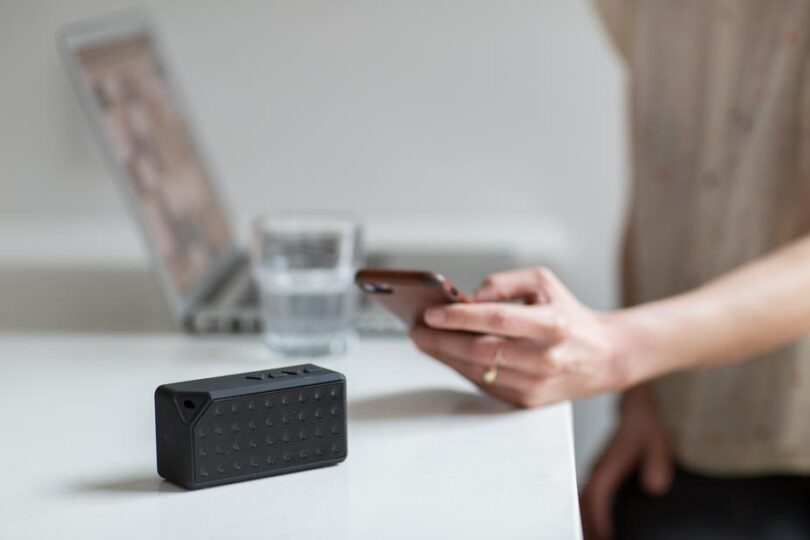 We recommend looking at the manufacturers estimated play time, as opposed to trying using the speaker's battery capacity to make your estimates. However, you can use the battery capacity estimate if you wish to share the speaker's battery with other devices, like mobile phones and tablets.
Rugged Construction
Having a rugged construction is crucial because it's what enhances the durability of a portable speaker. For instance, speakers that have rubberized edges, will survive falls without getting damaged.
Most manufacturers may not include this feature on their speakers, hence it's imperative that you are able to read the fine print. This is specifically in a case where you are looking to buy a speaker to carry with you to the beach or for hikes.
Speaker Size and Arrangement
The number of speakers concealed in each unit determines the sound quality of your Bluetooth speakers. Most models in the market are designed with stereo speakers with two channels, with a typical speaker-forward and subwoofer-down arrangement.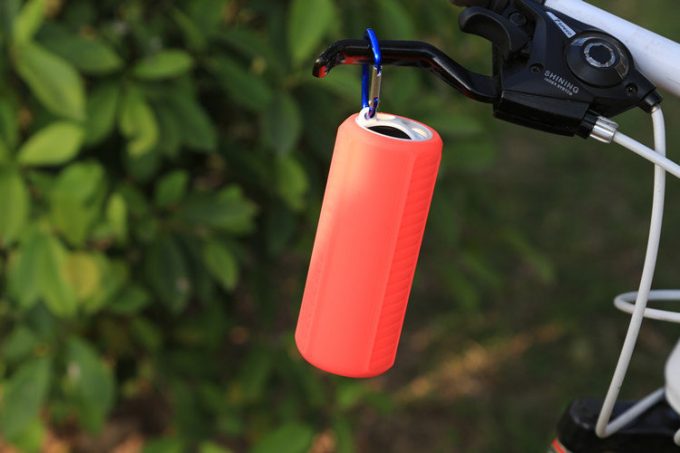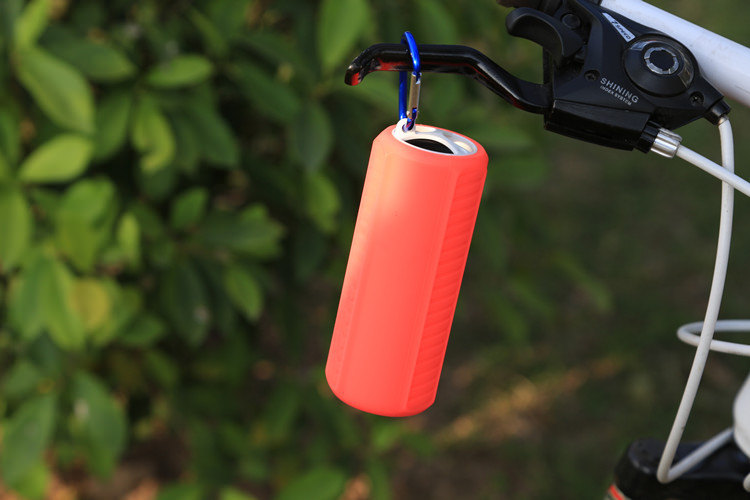 You should go for one with 2.1 channel sound, and a passive subwoofer; the sound is spread between the two active speakers and the subwoofer. Low-end Bluetooth units only have a single speaker, which usually delivers low-watt and lackluster sound.
Overall, units with larger speakers and a higher wattage, will always give you better sound quality and more volume.
Top Products on Today's Market
We have rounded up some of the best portable models on the market, with detailed information on everything you need to know about each stereo unit.
AOMAIS​ ​Ball ​Bluetooth ​​Speaker
Price: Approx. $37
Weight: 8.8 oz.
Dimensions: 5.5 x 1.6 x 5.5 in
Color: Black, red, blue, gray, turquoise
Play time: 7 hours
Battery power: 2500 mAh
Specific features: Waterproof IPX7 certified, true wireless stereo mode, AUX-in sound mode, 3.7 V, 2500 mAh battery capacity, 15 Watts output power, frequency effects 80 – 20 KHz
Best use: Travel, sports, the beach, partying, shower
Description: If you want to enjoy an exceptional sound experience, on an ultra-portable speaker, the AOMAIS Ball Bluetooth Speaker sure does come in handy. The IPX7 waterproof rating ensures that you can submerge your speaker in 1m water for about 30 minutes without causing any damage.
Furthermore, it's designed with a 10 W high frequency driver, and another 5 W full range speaker driver that will give you smooth music with clarity. The TWS function allows you to connect two AOMAIS Ball speakers if you want a better musical experience, with True 360 sound.
You can easily pair up your speaker with other Bluetooth devices, iPhone, iPad, iPod, tablets and smart phones. The 3.5MM audio cable you get with your purchase enables you to connect to non-Bluetooth devices.
The climbing carabiner is perfect when you need to use your speaker in the outdoors. AOMAIS Ball is also small and compact to fit in your backpack. Another great feature is the built in microphone that allows you to receive calls hands-free.
The downside to using this speaker is that it does not have bass, despite the great sound quality. You may also want to keep it away from water regularly, since the Bluetooth connection starts fading out. After using it for a few times, the sound quality and charging capacity may start depreciating, which says a lot about the durability of this speaker.
PROS:
Great sound quality
Comes with a carabiner for hanging when outdoors
You can pair two speakers for better sound
Has an auto-off feature
CONS:
May not work as well after coming in contact with water constantly
Lacks bass
Charging capacity depreciates after short term use
Related: To fully protect your speaker from external damage, you can check out this AOMAIS Eva Shockproof Carrying Case that will only cost you about $10. It's stylish, durable and ultra-portable. It's also designed with semi-hard EVA to provide maximum cushioning for your speaker.
​AYL ​SoundFit​ ​Bluetooth ​ ​Speaker
Price: Approx. $27
Weight: 4.8 oz.
Dimensions: 3.6 x 2 x 3.9 in
Color: Forest green, orange, ocean blue
Play time: 12 hours
Battery: 2000 mAh
Specific features: 5 W audio speaker driver, IPX5 water resistant, Bluetooth 4.1 technology, 33 feet wireless range, up to 12 hours of playtime, 3 hours fast charging
Best use: Hiking, camping, running, cycling, travel, climbing, fishing
Description: For a portable shower speaker that works just as great in the outdoors, the AYL SoundFit Bluetooth Speaker is a perfect choice. It utilizes the Bluetooth 4.1 technology, which allows extremely fast pairing of the speaker to other Bluetooth devices.
The wireless speaker range is set to go up to 33 feet, which is quite a good distance if you want to listen to music without having to move your device. Another great feature is the high capacity rechargeable battery that gives you up to 12 hours of playback even with your volume set at 80%.
There is a fast charging, Micro USB cable included with your purchase, that you can use to charge your speaker, and it will only take you about 3 hours to attain a full charge. The battery life is pretty impressive, especially when the speaker is paired with a mobile device; it can last a whole day.
The AYL is IPX5 waterproof certified, hence its fully protected from low pressure water streaming from any angle. We advise against submerging it in the water, as this could distort the sound. There are pre-attached straps that you can utilize when you want to hang your speaker on objects.
Functionality of this speaker is top notch. However, it lacks a forward or rewind button and the lights at the controls are quite dim, which makes it hard to use in the darkness.
PROS:
Great sound quality and bass
Small and compact for easy portability
Water resistant
Great price
CONS:
Hard to use the controls in the dark
Lacks a forward and rewind button for your music
May not be as loud as expected
Related: At just about $4, this JOTO Universal Waterproof Case is precisely what you need for all your mobile devices. It's designed to fit any smart phone, that's up to 6 inches diagonal size, and you can also fit your credit cards in as well. It's clear so you can still use your phone, and comes with a neck strap for easy portability.
JBL Charge 3 Bluetooth Speaker
Price: Approx. $125
Weight: 28.8 oz.
Dimensions: 9.1 x 3.4 x 3.5 in
Color: Blue, black, red, turquoise, gray
Play time: 20 hours
Battery: 6000 mAh
Specific features: IPX7 waterproof certified, up to 20 hours playback time, rechargeable Li-ion battery
Best use: Beach, shower, poolside, camping, partying, hiking
Description: One feature you will enjoy most with the JBL Charge 3 Bluetooth Speaker is the pairing with external devices; it easily connects to 3 smartphones or tablets simultaneously, which take turns playing the music.
The built-in rechargeable Li-ion battery gives you about 20 hours of playback time when fully charged. This speaker is IPX7 waterproof certified, making it ideal to use when swimming, in showers and all your other favorite outdoor activities. You can submerge it in water and the music will still sound great, with zero distortions.
There is a built-in noise and echo cancelling speakerphone that allows you to receive calls, just at the touch of a button. What's more? You can build your own sound system ecosystem by pairing two JBL speakers, for an amplified musical experience.
It may be a lot smaller than other speakers in the market, but the sound produced is well balanced, with a greater emphasis on vocals and midrange. The treble and bass are not well boosted, but this can be solved by adjusting the EQ settings from your paired device.
A removable shoulder strap, would have been nice on the JBL charge 3, to complement the small size and lightweight properties for easier portability. This speaker is designed with a waterproof mesh that always seems to swallow the vocals, which distorts the whole balance of the sound.
PROS:
Strikes a good balance with the sound and vocals
Small hence very portable
Stylish; good design
IPX7 waterproof certified
Good battery life
CONS:
Unbalanced bass and treble
The waterproof mesh interferes with the vocals
May stop working if dropped
Related: The LTGEM Case has been specifically customized for your JBL Charge 3, and goes for approx. $18. It's waterproof, and easily fits your USB cable and charger. Hard EVA material has been used to ensure it's also shockproof and dustproof, protecting our speaker against damage at all costs.
Alpatronix​ ​AX410 ​Wireless​ ​Speaker
Price: Approx. $30
Weight: 5.1 oz.
Dimensions: 2.7 x 7.1 x 2.7 in
Color: Black, green
Play time: 10-12 hours
Battery: 3000 mAh
Specific features: Produces 12 W sound, Bluetooth 4.1 technology, 30 feet wireless range, 3000 mAh rechargeable battery, up to 10-12 hours of playback, 2 year warranty, 3.5 mm aux input
Best use: Cycling, hiking, travelling, camping
Description: A good Bluetooth speaker should be able to give you a good sound with bass and clarity, and this is precisely what the Alpatronix AX410 Wireless Speaker does.
It has an amazing sound, high definition 12 W powered by a passive subwoofer with full clarity and enhanced bass and vocals. This speaker utilizes the Bluetooth 4.1 technology that allows you to pair quickly with other Bluetooth devices within a 30 foot range.
The most notable features are its portability, not forgetting a water resistant and heavy duty stereo that's a perfect companion for all your outdoor activities. Designed with a long lasting rechargeable 3000 mAh battery, this awesome speaker will play music for up to 12 hours. Moreover, there is a built in microphone that gives you a hands free experience when receiving calls.
The Alpatronix is universally compatible with numerous electronic devices, including smart phones, iPads, iPods and tablets. You can even pair your speaker with a desktop PC. For non-Bluetooth devices, you have to use the 3.5mm Aux input cable that comes alongside your purchase.
If you are not satisfied with your speaker, there is a 2 year exclusive guarantee given with a 30 day money back guarantee.
The volume of the speaker always seems to depreciate as the charge goes down. Another major downside is the manual guide, which is not so detailed and therefore you may have some trouble figuring some things out. You may also want to keep it away from water, as its not super waterproof, and can get damaged.
PROS:
Good sound with full clarity
2 year exclusive warranty with money back guarantee within 30 days
Small and ultra-light for easy portability
CONS:
May get damaged if submerged in water
Manual guide not as detailed
Volume depreciates with decreasing battery level
Resets volume to maximum
Related: You will need this Mpow Universal Waterproof Case to keep your smartphones dry whenever you are pairing them up with your speaker around water sources. The case comes as a 2-pack at a price of about $8. The cases are clear which allows you to fully operate your phone and even take pictures using the volume button.
AOMAIS ​​GO Bluetooth ​ ​Speaker
Price: Approx. $70
Weight: 8 oz.
Dimensions: 13.5 x 7.5 x 3.8 in
Color: Black, blue, orange
Play time: 8 hours
Battery: 7200 mAh
Specific features: IPX7 waterproof certified, up to 33 feet wireless range, dust proof, mud proof, snow proof, Bluetooth 4.2 technology, 3.5 mm external microphone, 3.5 mm audio jack
Best use: Shower, hiking, beach, camping, poolside, boating
Description: Looking for a speaker that you can enjoy relaxing music as well as a karaoke night with your friends? This AOMAIS GO Bluetooth Speaker will give you this and so much more.
Its IPX7 waterproof, meaning you can even submerge it into 33 feet of water for about 30 minutes and not cause any damage. More so, its dust proof, mud proof and snow proof, making this speaker ideal for all outdoor situations.
The Bluetooth 4.2 technology enhances fast pairing with other devices, such as smartphones, tablets and laptops. You get a 3.5mm audio jack with your purchase, which connects all non-bluetooth devices to your speaker.
With the 30 W sound output, the AOMAIS GO gives you a booming bass and full volume powered by the two 15 W full range drivers. If you have two speakers, you can easily pair them up for a 60 W stereo surround sound.
The best part? The speaker comes with a 3.5 mm external microphone that will totally revolutionize karaoke nights. There is an additional inbuilt microphone that allows for hands free calling. Listen to good music for up to 8 hours, at about 60% volume when the battery is fully charged, which takes less than 3 hours. The speaker also acts as an external power bank, allowing you to easily charge your tablets and mobile phones.
Despite the good qualities, the speaker does not stay still on its own, and might wobble a bit and even fall when bumped. If you are not really into loud music, this may not be the stereo for you since even at a low setting, the music sounds pretty loud. It's also a little bigger than other similar speakers, which may limit ease in portability
PROS:
Pairs easily with other devices
Great sound quality and booming bass
IPX7 waterproof certified
Fast charging
Acts as an external charger
CONS:
Does not stand well on its own
Music is still loud even at a low volume
Bigger size than other similar speakers
Related: This Monoprice Stereo Jack Adaptor is 3.5 mm (male) to 6.35 mm (female), costs about $4 and is ideal for connecting your devices such as smart phones and tablets to your speaker's audio jack. It's gold plated and has a solid construction and works perfectly fine with all devices.
JBL Clip ​2 Bluetooth ​ ​Speaker
Price: Approx. $50
Weight: 6.6 oz.
Dimensions: 3.7 x 1.6 x 5.5 in
Color: Orange, black
Play time: 8 hours
Battery: 370 mAh
Specific features: IPX7 waterproof certified, integrated 3.5 mm audio cable, inbuilt mic for speakerphone, up to 8 hours of playtime, durable waterproof fabric, upgraded carabineer
Best use: Kayaking, poolside, hiking, shower, beach
Description: The waterproof fabric of the JBL Clip 2 Bluetooth Speaker, is what mostly enhances its waterproof capabilities. It has an IPX7 waterproof rating, ensuring that even when immersed in water, your speaker will still give you full music with clarity and zero distortions.
If you a more amplified sound, why not pair up two JBL speakers for that additional oomph? Moreover, you can pair your speaker with other Bluetooth devices, for a more diverse music collection. There is an audio cable that comes with the speaker that you can use to connect non-Bluetooth devices.
The speakerphone has an inbuilt microphone with noise and echo cancellation. You can easily receive your phone calls with this hands free function.
Furthermore, with a full charge, your speaker can easily give you up to 8 hours of playback time. It may be quite small, but it produces very loud music with a good range from bass to acoustic, and a long battery life. There is no battery level indicator on the speaker, but you can check the percentage from your iPhone.
You will not have a hard time with the controls, but when it comes to pairing with a smart phone, it may be a bit hectic. The speaker is fairly durable, and can take hits without getting damaged at all. The carabiner comes in handy when you want to attach your stereo to other objects.
The speaker's major flaw is the battery life that seems to depreciate with time. It may also stop charging after a few times of use, which largely affects its durability.
PROS:
Good battery life
IPX7 waterproof rating
You can pair two speakers for an amplified sound
Small size; easily portable
Produces clear music with good bass range
CONS:
You may have a hard time pairing with other devices
Lacks a battery level indicator
May stop holding charge for long after a few times of use
Related: Wondering how to further protect your speaker from damage? The FitSand Travel Carry Zipper is designed with an EVA hard case, to keep your speaker from scrapes and scratches. Its only costs approx. $9, and can also be a perfect gift for your friends who have the JBL clip 2.
HaMi ​ ​IP66 Bluetooth ​ ​Speaker​​
Price: Approx. $30
Weight: 10.6 oz.
Dimensions: 5.3 x 1.9 x 2.8 in
Color: Black
Play time: 15 hours
Battery: 3000 mAh
Specific features: 5 W x 2 selfie speaker, Bluetooth 4.2 technology, up to 33-66 feet wireless range, built-in microphone, hands free speaker function, 3000 mAh rechargeable battery, up to 15 hours playback time, shockproof, IP66 dust proof rating, TPU material, 12 months warranty , 3-5 hours charging time
Best use: Partying, camping, beach, shower, poolside
Description: The HaMi IP66 Bluetooth Speaker gives you so much more than just good music. It's designed with 2 x 5 W loudspeakers, which produce clear, loud and highly amplified sound. This speaker has a selfie function you can use to take pictures, as well as a self-timer you can use while still enjoying your music.
It utilizes an advanced Bluetooth 4.2 technology, which enhances the pairing of your speaker with other devices, as long as they are within a 33-66 foot range. There is an inbuilt microphone that allows you to receive calls via the hands free function.
Other notable features include, long battery life, powered by the rechargeable 3000 mAh battery. On a full charge, you can listen to music for up to 15 hours at maximum volume, and 24 hours at medium volume. There is a residual battery indicator function that shows you the battery levels at all times.
The Hami is rated IP66, to indicate that its fully dustproof and waterproof. It can withstand pressurized jets of water, and waves without getting damaged. TPU material fabric, is used to protect the speaker against shock and scratching. Additionally, it comes with a non-detachable hook and clamp for attaching to other objects, and an Aux cable to connect with non-Bluetooth devices.
Unlike other similar speakers, you cannot use the Hami as an external power bank for your mobile devices. There are voice commands for the on/off buttons or when connecting to other devices. However, these come at a very loud sound, even when your speaker volume is set at minimum.
PROS:
Produces high quality sound
Waterproof and dust proof
Has a selfie and self-timer function
CONS:
Very loud voice commands even on low volume
Cannot be used to charge other devices
Related: Since you cannot use your speaker as an external power bank, how about getting this TopBest Solar Charger to charge your smartphone when outdoors? It comes at a great price of approx. $25, has a large capacity of 12000 mAh, and has shockproof, waterproof and dust proof capabilities.
Wrapping It Up
We have come to the end of our portable Bluetooth speakers' review and we hope that you have learnt all you need to know about these stereo units. This will come in handy when you need to finally get yourself one.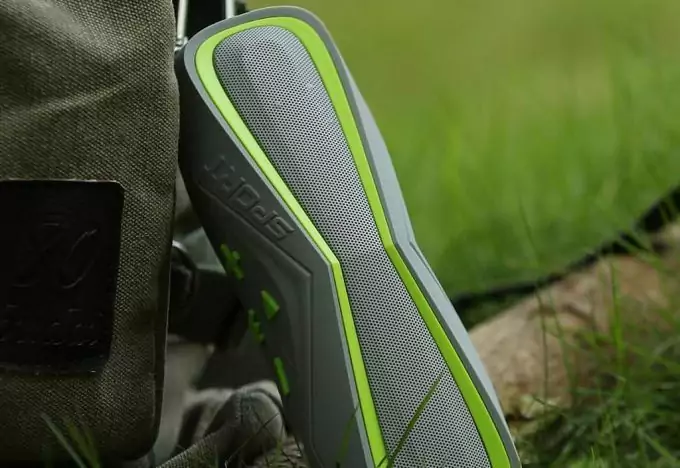 The price of the speakers' sure does matter, but you should not overlook other important characteristics such as the playback time and the physical dimensions. A good Bluetooth speaker is easily portable, waterproof certified and gives full music clarity without any distortions.
Do you think that a portable Bluetooth speaker is an essential buy? Is there any information you feel that we left out in our guide? Kindly leave your comments, thoughts or suggestions in the section below.
Click here to check out some of the best center channel speakers out there and enjoy the high-end sound quality.