There's nothing better than being in the great outdoors and enjoying the peace and quiet of the wilderness. From hiking to fishing you exert a lot of energy throughout the day and are going to be hungrier than a bear so to speak.
In order to cook your favorite meals fast and efficiently, you are going to need the best campfire cooking equipment. From cooking smores to burger to slow roasting your dinner or making a stew, you will need plenty of tools for your mobile kitchen.
In this article, we will explain everything you need to know about campfire cooking equipment and how to choose the one that will suit all your needs. To find out more, keep on reading.
Features to Consider
In this section, we are going to show you some cooking methods and other important things you should know before you use campfire cooking equipment.
Cooking Methods
Of course, the most popular cooking technique is making your meals over a campfire.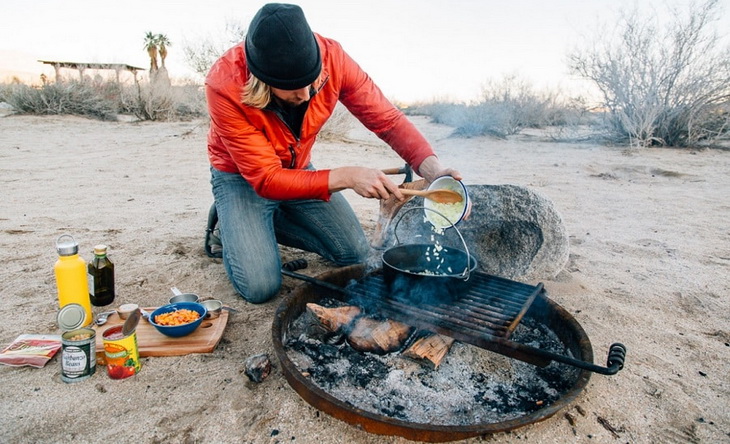 In order to cook your food safely and make it easier on you than just gathering sticks and throwing your meat on it, you will need some campfire cooking tools.
Direct heat from a campfire is the fastest way to cook. It is also the least predictable way to cook food, however, since you cannot control the flames.
The best food to cook with direct heat are ones that require frying with a skillet, heating up liquids like soups, coffee, or boiling water, grilling with a grate, and of course for roasting hot dogs and marshmallows. Naturally, you will need campfire cooking tools in order to make these tasty meals.
Hot heated coal offers the most steady and controllable heat. You can increase or decrease the amount of heat that you are using to cook your food with your campfire cooking tools. This is perfect for any meals that need to be cooked at a steady temperature like stews, veggies, or skillet meals as well as foil cooking.
How To Build A Campfire
Before you pull out your campfire cooking tools the first thing that you will need to do is build your fire. If you are outside and did not bring a fire starter and wood with you, you will need to first of all collect dry wood and kindling from the woods and it is also important to bring along some newspapers or cotton balls.
In order to start a fire, you need fuel, heat, and oxygen. Dry grass is also a good source of small tinder if you do not have a newspaper or cotton balls on hand. The simplest way to start a fire is by building your wood into a teepee.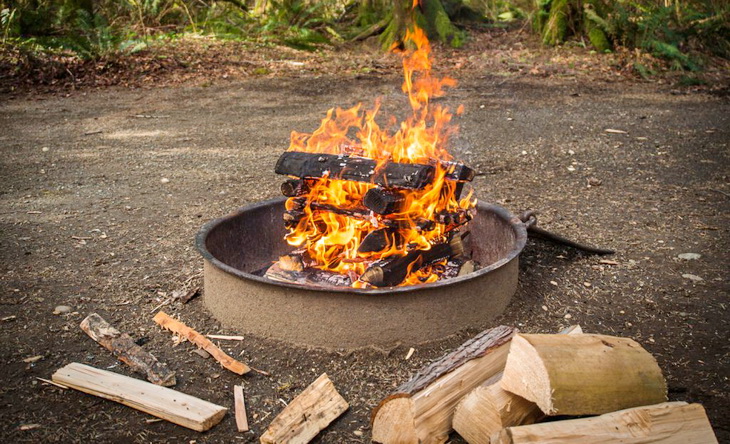 Then you can put the tinder in the center and light it and you have your fire to cook on with your campfire cooking tools! Start small and slowly build up the fire with more wood to keep it going. If you want an easy to maintain a fire that you can use your campfire cooking tools with without having to wait for it to die down to safely cook on it then building a fire with a platform is best for you. This creates a bed of coals that you can cook with.
To build this use big logs and put them on the bottom and then the smaller wood and tinder on top. This fire is easy because you do not have to tend to it and it will burn for a very long time. Always make sure that when you are done using your fire it is properly put out.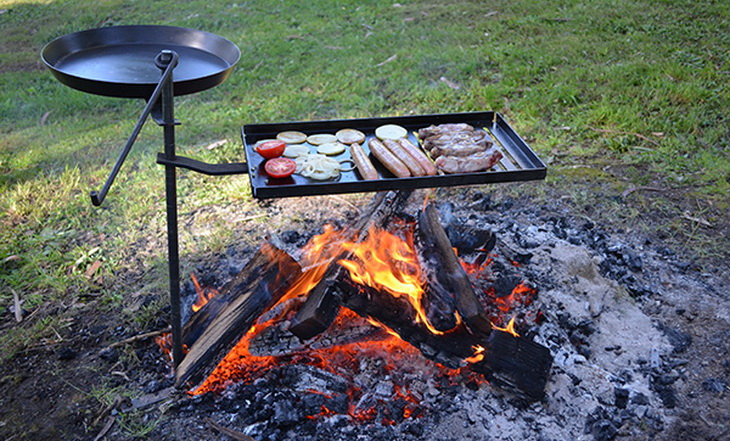 A fire that looks like it has died down might not necessarily be contained and can turn into a disaster, especially if you are camping in dry climates. Always make sure to have a bucket of water nearby just in case you lose control of the fire and definitely stay awake long enough to see it die down and keep a watchful eye on it at all times while it is burning.
Safely Cooking Your Food
The last thing you need is to get sick while in the outdoors do to food being prepared wrong or unsafely. It is important to take the proper precautions when cooking over a campfire to make sure that food is safe to eat.
Meal planning becomes very important so that you know you are bringing enough food along to sustain you as well as making sure that you bring the proper campfire cooking tools to prepare your food. Canned goods are always your safest bet when you are transporting food to a campsite.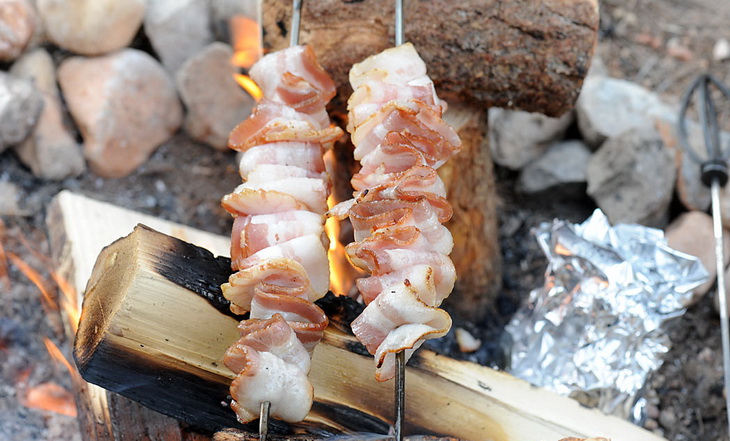 Baked beans, canned tuna, peanut butter, and other canned foods are great to take along. It is essential to make sure that your perishables stay at a proper cool temperature when you are camping. Perishables such as meat can become dangerous to eat if they are left out for more than two hours and if you are in extreme heat the time is even shorter.
Pack your coolers with ice and frozen packs to make sure food stays cool and have two separate containers for your drinks and snacks and the other for meats and other perishable items as they will need to be kept cooler. Then people won't be opening the lid all day of the food that needs to be kept cool.
When handling raw meat you must make sure to use extra caution since you are not in a typical kitchen environment. Keep meats in the cooler until you are ready to use them because if they sit out for too long then they will need to be thrown out.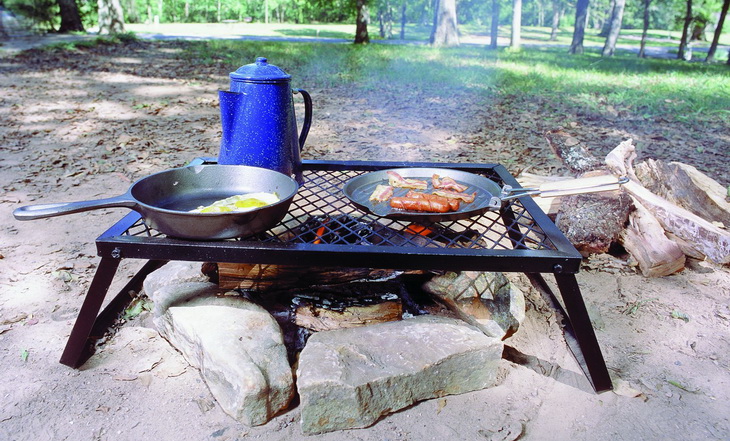 When cooking avoid cross contamination i.e. placing cooked meat where raw meat used to sit. It is also important you make sure that meat such as chicken or steak is cooked to the proper temperature so make sure to bring a cooking thermometer with you. In addition, it is essential to make sure you bring along with you the proper campfire cooking tools to ensure you are cooking your food properly and not skipping out on steps because you forget to bring the right equipment or don't have access to it.
A List Of Tasty Recipes To Make Over A Campfire
While hot dogs and smores are certainly a campfire favorite if you are at a campsite for more than a couple days this could get tiring and also not very healthy to eat for every meal.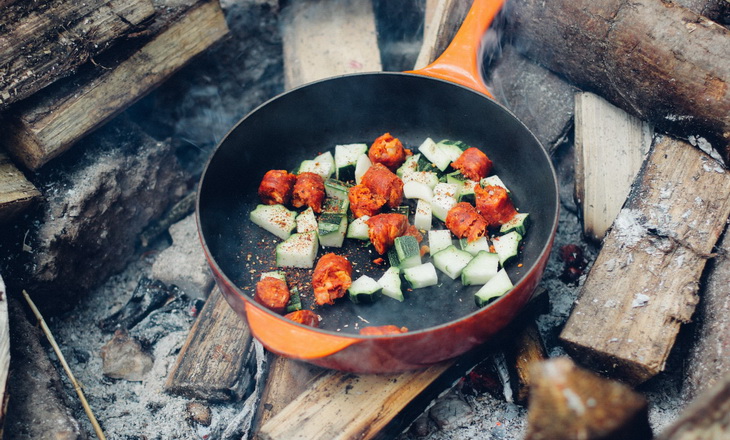 Here are some great options to make that you probably wouldn't have thought of with the help of campfire cooking tools:
Breakfast:
Breakfast burritos: prep these tasty filling breakfast items before you go camping. Add egg, cheese, and sausage or bacon, along with any veggies and put them inside a flour tortilla. Then simply heat them up over the fire for a filling breakfast before you start the day's activities.
Bagels: while you might not think these will go well since you don't have a toaster with the help of campfire cooking tools you can easily toast your bagels by putting them in aluminum foil and grilling them.
Campfire breakfast sandwich: A breakfast sandwich may sound hard and messy to make when you are on a campsite. However, they are definitely easy to prepare if you have the right campfire cooking tools. All you need is sausage patties, cheese, eggs, and biscuits. Simply cook the eggs and patties in a skillet, add cheese, and voila! A tasty, simple meal to start off your day.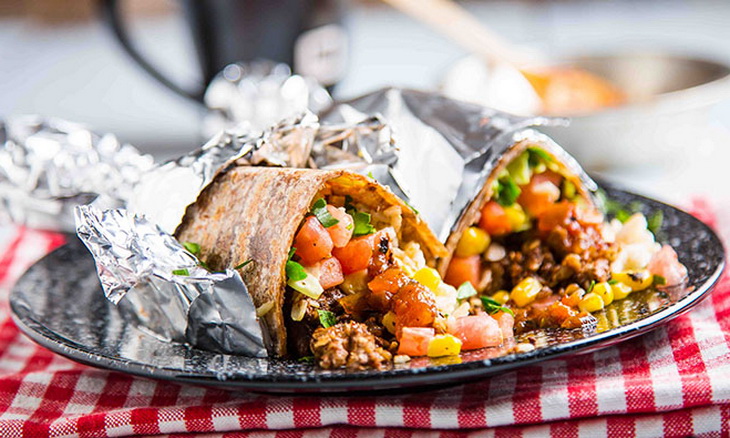 Lunch/Dinner:
Walking tacos: these are easy to clean up since you don't need plates and are always a favorite. Just grab snack size bags of Doritos, your favorite taco toppings like salsa, cheese, lettuce, tomatoes, and sour cream, and some beef or chicken for the meat and you're all set.
Chili: easy to make with a few campfire cooking tools. Just throw your ingredients in a pot and let it simmer for a filling meal.
Shish kebabs: these are just as easy to make as hot dogs and even tastier. Just throw meat of your choice like steak of chicken onto a skewer along with veggies and you have a tasty meal all you have to do is start roasting with your campfire cooking tools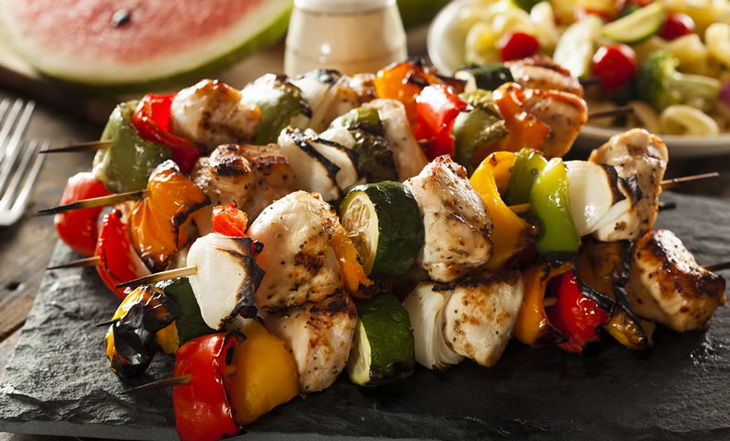 Dessert:
Puppy Chow: This dessert is easy to make at home and then take with you, but combines peanut butter, Chex mix, and chocolate for a delicious salty, sweet combination that is easy to grab a handful of when you get a sweet tooth outdoors.
Insider tip: add peanut butter to the graham cracker before you put your chocolate and marshmallow onto it and step up your smore
Top Product Reviews
Naturally, to make anything edible over a campfire you will need to bring along cooking tools to have a successful trip and not go hungry. From fire sticks to pots and pans there are many options out there to bring with you when you go camping. Here are some campfire cooking tool products reviewed so you can see which works best for your needs.
Coleman Classic 
Price: Approx. $40
Weight: 11.9 pounds
Dimensions: 23.25 x 5.5 x 14.75 inches
Specific features: Two burner 10,000 BTU propane stove with a high-pressure regulator and wind baffles to deflect extreme weather
Best use: Camping, hiking, grilling, extreme weather
Description: Coleman Classic Propane Stove is a two burner stove that uses propane so you will need to bring propane tanks with you as well to use this. The high-pressure regulator allows for you took to cook in even the most extreme weather conditions which is great for when you are caught off guard and can't build a campfire but still need to cook.
The stove comes with wind baffles that help to shield the stove flame from the wind and other elements. The stove runs on one propane tank for about an hour on high with both burners on so the stove can get you a couple meals before you need to refill your tank.
The cooking power is adjustable and the grate easily removes so you can clean it. This is great for cooking anything from burgers to stews. The only downside to this stove is some people have complained that the knobs have been hard to adjust the temperature with. However, this stove is great for grilling, cooking, and making just about any meal you could possibly want.
PROS:
Wind Block panels
20k BTUs
2 burners
CONS:
No low flame setting
Touchy valves
Related: You will need propane to run this stove. The Coleman 2PK Prop Bottle is a 2 pack that you can find for about $12.
Coghlan'S 7940 
Price: Approx. $6
Weight: 4.2 ounces
Dimensions: 5 inches
Specific features: Waterproof, produces no odor, and burns completely
Best use: Hiking, camping, backpacking, bonfires
Description: These Coghlan 7940 Waterproof Fire Sticks are a fast way to start campfires, fireplaces, as well as barbecues. They are also an excellent light source or can be used for an emergency flare and you do not have to worry about them getting wet because they'll still light. They are non-toxic and don't have any odors and  they are very safe to use to build a fire with.
One stick can start several fires so you don't have to carry the whole pack with you. In fact, you can break the sticks themselves up to start multiple fires with. This will lighten the load for people who have to hike to their sites or don't have a lot of room.
Get your campfire started with these campfire cooking tools so you can make smores, hot dogs, and much more. Users like these fire sticks because they did not have to worry about them getting wet, and they worked like a charm!
PROS:
Works well
Low price
Light weight
CONS:
Too long, may only need half of a stick for fire
Related: When starting up your fire, you should consider bringing matches. The UCO LongBurn Matches are perfect for camping, and can burn up to 1 minute.
Msr Alpine 
Price: $20 – $55
Dimensions: 775 ml
Specific features: Hinged handle flips over the fitted lid locks. Scratch and dent resisted.
Best use: Camping, cooking outdoors
Description: This campfire MSR Alpine Stowaway Pot is great for taking to a campsite because you don't have to worry about ruining them because they are scratch and dent resistant. The pots have a hinged handle that locks the lid into place and makes them very easy to transport as well as a pack. They do not take up a lot of room and you get a variety of pot sizes so you can either take one to make all your meals in or take them all.
Users like this pot because it is easy to clean and then store as they continue on camping, hiking, and doing other activities. This versatile pot only weighs 13 oz and has an easy lift handle that locks the fitted lid so everything stays in its spot. Made from stainless steel, this pot can withstand a lot of use because of its durability. Plus, it is not only for camping, but for backpackers, hikers, and travelers!
PROS:
Easy to use and store
Dent and scratch resistant
CONS:
Price ranges wildly
Some users say the pot will scuff
Related: Consider some fuel tablets for your camping trip. The Esbit Original Solid Fuel Tablets come in various amounts and are nearly smokeless.
Grizzly Spit 
Price: Approx. $50
Weight: 4.3 pounds
Dimensions: 40 x 6 x 6 inches, 26 inch vertical support rods, 36 inch support bar
Specific features: Battery powered for 20-30 hours of rotation, two spit forks motorized
Best use: Camping, hiking, campfire cooking
Description: This campfire Grizzly Spit Rotisserie is portable and battery powered so wherever you want to cook it can go. You can use it over an open fire, grill, or charcoal bed. It is great for roasting whatever meat that you are cooking up and only needs batteries replaced every 20 – 30 hours of rotation.
It has two 26″ vertical support rods,  one 36″ polished steel support bar, two spit forks, and one motor. You have to buy 2-D cell batteries in order for it to operate. The motor is not heat resistant, however so depending on the fire or how far above it is from the flame you will need to watch to make sure it doesn't melt the motor. However, it is very easy to transport.
At about $50, you get a lot for your money, and it all fits into a storage bag made of canvas. Users like this because it is easy to take with them and use while enjoying camping with family.
PROS:
Can run up to 20 hours
Comes with storage bag
CONS:
A little pricey
Spit bar is square while the bearings are round, can drag
Related: Consider getting a wheel for your rotisserie so you can make shish kebabs! The Napoleon 64007 Rotisserie is about $23 and is easy to clean, and comes with skewers!
Yygift 8M350 
Price: Approx. $10
Weight: Very light and easy to transport to a campsite
Dimensions: 12 inches long
Specific features: The skewers are made of non-toxic stainless steel so you don't have to worry about health safety hazards. The non-slip wooden handle makes roasting your food safe and easy without having to worry about it overheating.
Best use: Campfire cooking, hiking, roasting
Description: Roast the perfect marshmallow for a smore or a hot dog with the help of these campfire cooking tools. The YYGIFT 8M350 Campfire Grill Cooking are perfect for people who have bonfires or love the great outdoors. They are easy to wash, which makes clean up a breeze.
Some people have said that the metal falls out of the wooden handle so it is something to keep in mind. The pack of twelve skewers lets everyone give roasting a try and there's no need to pass around one skewer and wait to join in on the fun.
At about $10, this set of 12 is definitely worth the low price! Users like these skewers because they can make a variety of foods over the fire with them, plus they are long so they do not risk burning themselves. Another reason users like these is that they are extremely easy to clean!
PROS:
Low price
Set of 12
Stainless steel
CONS:
Handles may come off the skewer over time
Not for children
Related: For help starting your fire, the Weber 7417 FireStarters are small cubes are odorless and will start your fire quickly!
Sea To Summit X-Pot 
Price: Approx. $60
Weight: 250 g to 350 g
Dimensions: 1.4 L to 2.8 L
Specific features: Collapsible cooking pot with translucent lid and a built-in strainer.
Best use: Camping, hiking, backpacking, cooking meals for 2-3
Description: This collapsible Sea to Summit X-Pot is great to make meals in for about two to three campers. The lid has a strainer feature as well and the bottom of the pot is completely stove friendly, so you don't have to worry about ruining your pot while cooking. It can only be hand washed, however, and some people have noticed that the lid warps very easily.
The X-Pot comes in two attractive colors; Pacific Blue and Gray, and the pot has heat resistant silicone walls and is food grade. The handles on the X-Pot lock, to the lid to make sure nothing spills while you are taking it from one spot to another.
Overall, users are highly satisfied with this product because they can eat from it when food is done, or they can make enough to feed several people from one pot. It is also easy to use, easy to clean, and it makes camping more fun!
PROS:
Two colors
Locking lid
Pot holder on bottom
Related: If you are getting the pot, you might want to get the pan! The Sea to Summit X Pan is about $40 and is 8 inches, and made from aluminum.
Picnic Time 748 
Price: Approx. $50
Weight: 6.7 pounds
Dimensions: 23 x 12 x 3 inches
Best use: Grilling, camping, outdoors
Specific features: 18- piece set. The set includes a 25-inch spatula with a built-in bottle opener, 19-inch fork, an 18-3/4 inch pair of tongs, 20-inch knife, 18-inch basting brush, 17-1/2 inch grill brush scraper, and four 18-inch skewers, and eight 2-1/2 inch corn skewers.
Description: This 18-piece campfire Picnic Time 748 BBQ Set has all of the essentials that you will need to cook great meals while in the outdoors. The set is stainless steel and has extra-long wooden handles. The elongated handles allow you to safely use them near the fire and the loops let you easily hang them from your grill when not in use. The tools come in an easy to carry case.
The tools are great for cooking up any meal and are very durable. However, the case is not quite as durable and is a little flimsy. The carrying case comes in a Hunter Green color and measures in at 23 x 12 x 3 inches. Within the set, you will find such items as: Spatula with built in Bottle Opener, Tons, Fork, Knife, Basting Brush, Grill Brush with Scraper.
PROS:
18 pieces
Stainless steel
CONS:
Somewhat pricey for some
Case is not high quality
Related: If you want something with less pieces, the KOVOT R108353 BBQ Tool Set is about $30 and includes tongs, knife, and other pieces.
Concluding Thoughts
These meals are just a few of the many things that you can cook outdoors with the help of campfire cooking tools. It is important that you research which campfire cooking tools are best for you based on what you are cooking and make sure to meal prep anything that might be hard to prepare beforehand.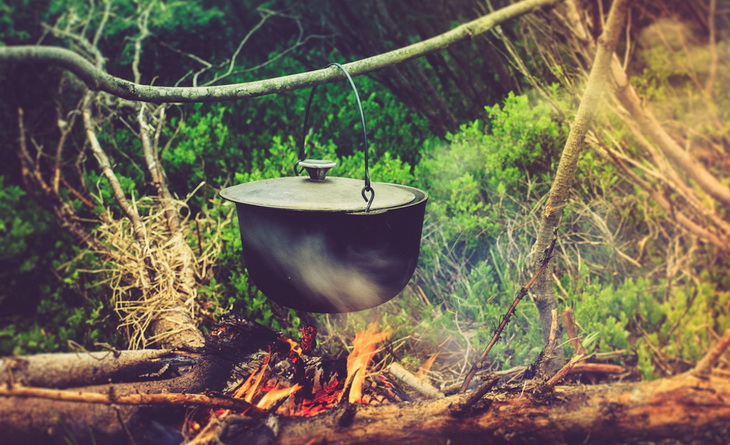 There are so many varieties of cooking tools out here so these campfire cooking tool reviews listed above can help you decide what will work best for your camping trip needs to be based on the recipes that you are making.
We hope that you have found this article informative. Please use the comment section below to tell us about what recipes you make while camping, and what cooking equipment you use! We love hearing from you!