With the promotion of health and hydration, there has been an explosion of reusable water bottles in the marketplace. More and more people are looking for better ways to carry water around with them so that they can stay fit and healthy.
But it's not only the health conscious who stand to benefit from such products; those who go camping and hiking require the means to have a supply of clean drinking water with them as well. Consider getting the best water bottle money can buy so that you're still getting all of the benefits without any of the drawbacks.
Water bottles benefits
Some people would prefer to keep buying bottles of water from the store and bringing those along on their trip, but there are plenty of benefits of buying a bottle that you can use over and over again.
Environmentally-friendly
A reusable water bottle reduces the number of bottles of water that are purchased, which means that there are less bottles being thrown into landfills.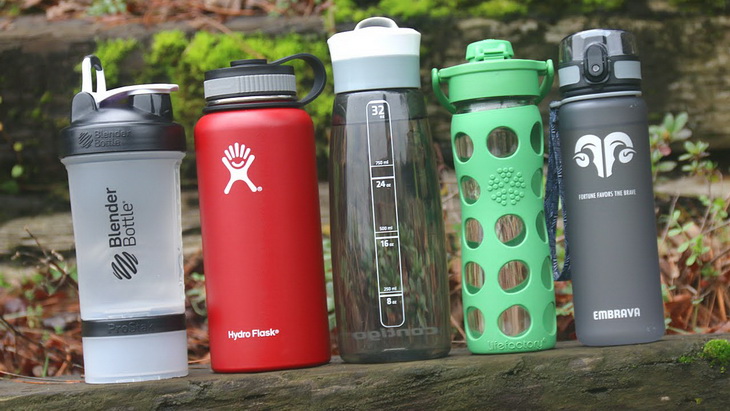 By reducing the purchase of bottled water, it's also communicating with suppliers that it is no longer in demand, and will help to reduce the production of them in the future.
Better on your wallet
Which do you think would save you more money, buying a bottle of water over and over again, or refilling your reusable bottle from the sink? With a bottle already on hand, it costs mere pennies to fill it up, instead of the dollar or more you'd be spending on a bottle of water.
Just as healthy
Suppliers tout their products by saying they're filtered and come from all-natural springs, but that's just a marketing strategy to make you spend money on them. Any fridge with a filter can produce water that tastes just as great as any bottled water.
Better for you
The plastic that's used in bottled water isn't designed to last longer and can break down over time. Harmful chemicals can start leaching into your water and can lead to health risks. Reusable bottles, on the other hand, are more likely to be BPA-free, which means that there aren't any harmful chemicals used in their production. But, if that's not enough to convince you, your choice of a reusable water bottle can be as personal to you as it needs to be.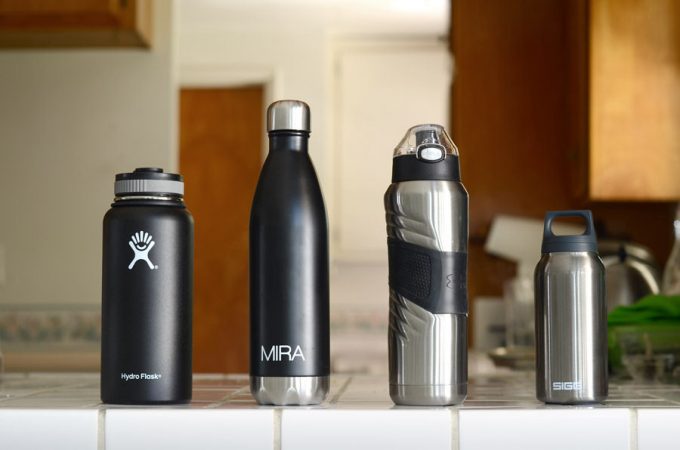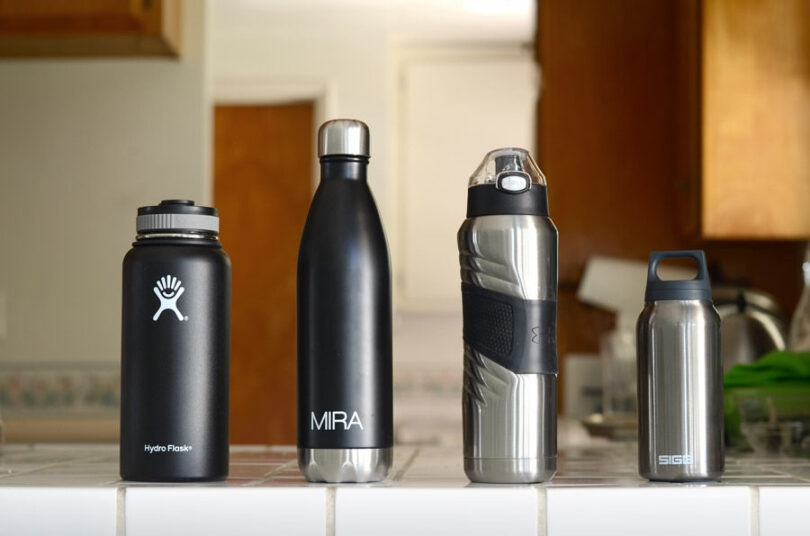 There are plenty of bottles on the market today, made from different materials and brands. To pick the bet water bottle isn't as easy as knowing your vowels. It actually entails lots of assessment, looking closely at the features in line with your camping needs and duration. We have provided the top products on he market below. Let us start by summarizing the key differences between these bottles on a table below:
Things to Consider Before Buying
The water bottles for outdoor activities come with a variety of features. They have a myriad of features that need you to buy to your personal taste. Take a look at some of the important aspects to consider before buying these bottles.
Portability
One of the most important features you want to consider first is how you're going to carry your bottle around with you. They can be rigid or collapsible, and there are pros and cons to both.
Collapsible bottles are focused on reducing the amount of weight you carry, as well as how much space it takes up in your backpack. This is easy to do when they're empty, but they can't collapse down when there's water in them. Collapsible bottles are also made from more flexible materials, such as plastic, and that can make them prone to wear and tear much more easily.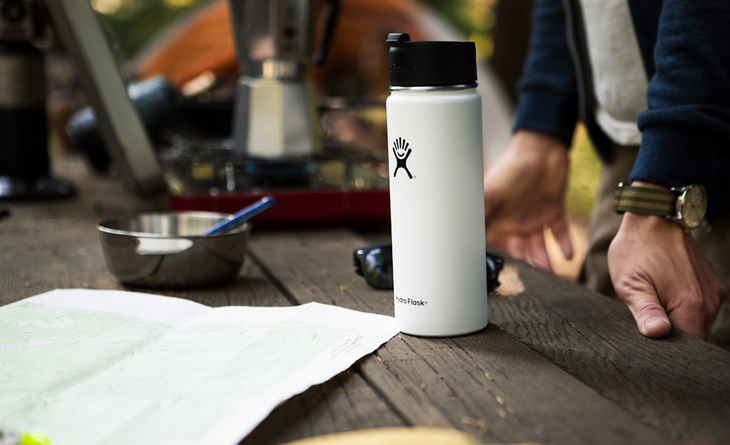 Rigid bottles, such as those made out of stainless steel and aluminium, are definitely more durable, but they take up a lot more space. They're also easier to drink from and don't flop around, risking spilling your water all over the ground or your belongings. And if you want water that will stay cold for a long time, then rigid bottles will get the job done for you.
The choice you make is dependent on what you're aiming for when you go camping or hiking, so weighing the benefits and disadvantages will definitely help you make the best choice.
Accesibility
It's not only important to be able to have a reusable bottle that you can carry with you, but it's a good idea also to choose a bottle based on how you gain access to water from it. Some are just easier to drink from than others, based on the mouth of the bottle. They're not all made the same way, so knowing the differences can help you make a more-informed decision.
Quick Access versus Screw Caps
This is more than just how you get your water; there are clear advantages and disadvantages to both. Quick access caps make it easy for you to get to your water quickly, with just the pull of the cap or flipping up a spout. This is good for those who are carrying gear and can only open their water bottle with one hand.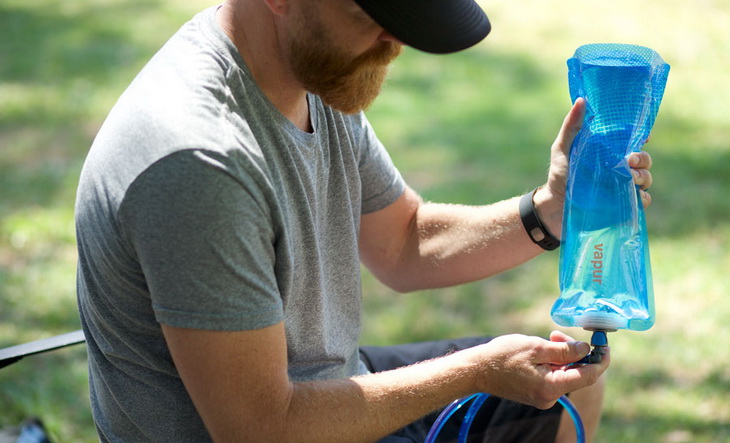 It's not only convenient, but also helps you to consume more water throughout the day and stay hydrated. On the other hand, adding more moving parts to the cap makes it easier for more parts to break. These quick-access openings also aren't very protected, so they tend to get filthy a lot quicker and that means exposing yourself to the presence of harmful bacteria.
A screw caps, on the other hand, reduce chances of failing when you're in the outdoors. They are generally easier to keep clean, and won't open accidentally and spill water all over your belongings. They do require both hands to open, so that means you're less likely to drink as much water as you should during the day.
Narrow Versus Wide Mouths
Narrow mouths tend to be a bit easier for most people to drink out, as they offer a steadier stream of water. There's little risk of it splashing all over your face or chest, and it's easier to stay on the move while you're drinking as well. Wide mouths, alternatively, tend to be a bit easier to clean and fill, but not by much. They do have one advantage going for them, and that's being compatible with many water filters.
Simply add it to the mouth of the bottle, and you'll have clean filtered water with every sip. This makes them very handy for those taking extended trips and need to refill their bottles from alternate water sources.
The choice you make is all dependent on the activities you'll be engaging in, and how long you plan to stay out in the wild. If you really can't decide, then having one of each couldn't hurt your chances of ensuring you stay hydrated.
Insulation
When you're thirsty, you want something that will keep your water cold for a very long time so that your drink is even more thirst quenching. However, have you considered that you may want to carry some hot water with you as well?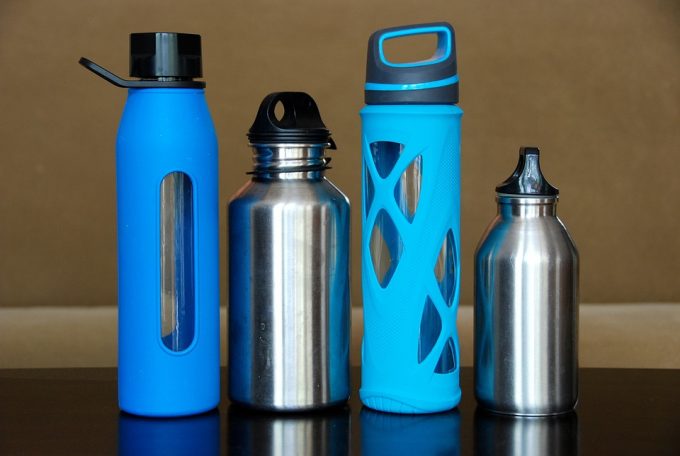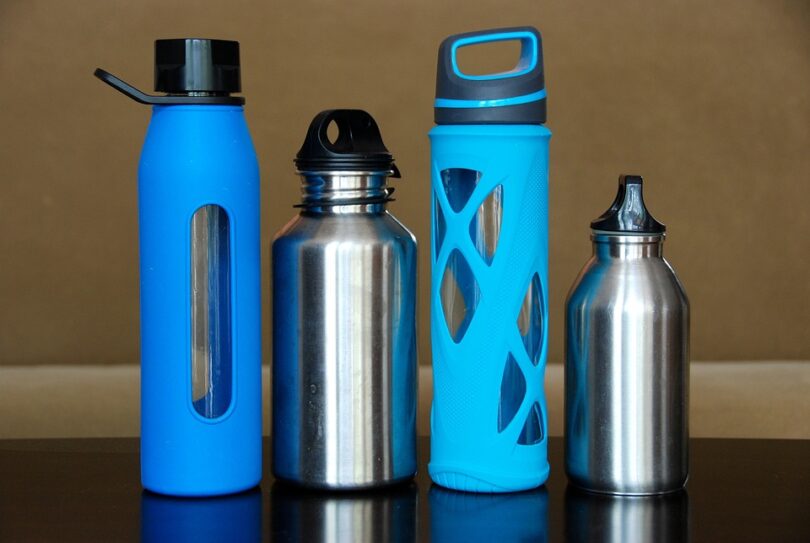 It can get cold at nights while you're camping, and it can be soothing to have a bottle of warm water to add your tea bag or hot chocolate powder into. Having the best insulated water bottle can make all the difference in maintaining your level of comfort. Well-insulated bottles also won't sweat when you add cold water to them, so you won't have to worry about your belongings getting damp.
Materials
Reusable water bottles come in a wide variety of materials, ranging from plastic to stainless steel to glass. They can all be quite fashionable, but there are pros and cons to be aware of before you go out and buy the first one that you see.
Plastic
Plastic does provide some amount of versatility for manufacturers, as it can be easily sculpted and shaped into any design they want. This way, they can create unique bottles that stand out from the rest in the marketplace with shapes or even designs printed on them.
The use of plastic also makes water bottles more flexible so that they can be collapsed and minimize the space taken up in a backpack. Plastic is a cheap material to make, so not only do manufacturers make more profit from every sale, but they're also cheaper for consumers to buy. They are made to withstand a lot of mistreatment, but they're not super durable: they're more durable than glass, but less so than metal.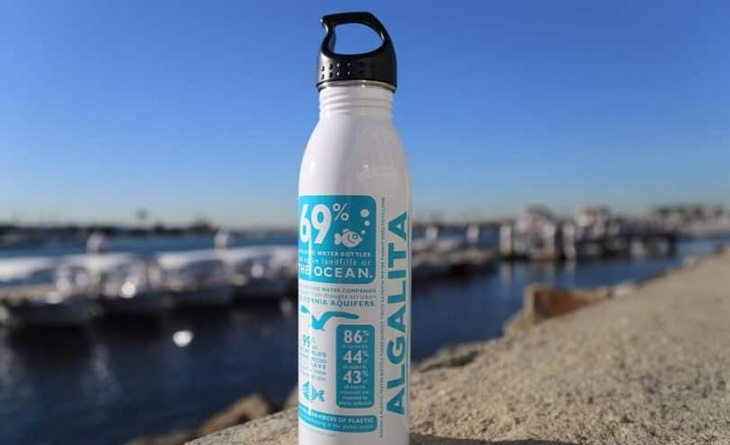 However, there are some drawbacks to the use of a plastic water bottle. There are the health concerns for the kinds of plastic being used, as those that aren't BPA-free can lead to the leaching of chemicals into your drinking water. Another concern is that they're not very environmentally-friendly, as they used non-renewable resources in their production.
Metal
The majority of reusable metal water bottles is made from stainless steel, but aluminium is an alternative. Aluminium bottles are light and durable, but they tend to be a bit pricier. Metal serves as a great conductor of heat, allowing you to keep your water hot when you need it. However, if it isn't insulated, you're going to burn yourself very quickly on the surface of even the best stainless steel water bottle.
It is considered to be the most reliable out of all the materials, as it is the most durable. It's lighter than glass, stronger than plastic, and can double as a cooking vessel on your campfire if you're desperate. It's also dishwasher safe, so you don't have to waste time washing it by hand.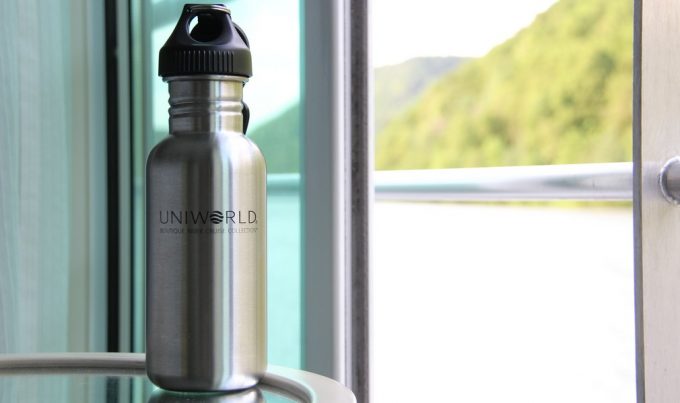 On the other hand, metal is much heavier than plastic, and the rigid material doesn't allow it to be compressed into a smaller size. In use, your water will have a slightly metallic taste to it, and that is normal. It's not hazardous to your health, but it isn't for everybody. Lastly, the metal water bottles are prone to dents, so if you want your bottle to look pristine for the rest of its life, take very special care not to drop it.
Glass
If you're looking for a completely pure taste, then you might want to go with a glass water bottle. It's considered to be a safer alternative to plastic, though even the best glass water bottle isn't very durable.
Many manufacturers have started including silicone sleeves on their bottles to prevent them from shattering when they're dropped. Glass bottles are also dishwasher safe, and the transparency allows you to see just how much water you have left before you need to refill. They are the heaviest out of all the materials, and don't work very well with liquids of extreme temperatures.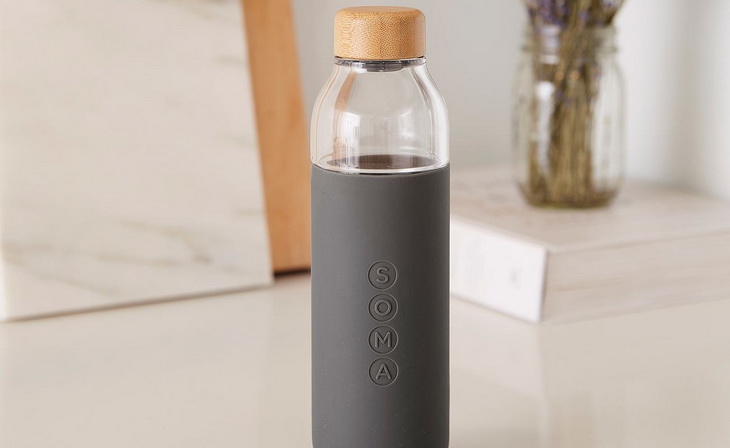 As you can see, there is a wide range of considerations to keep in mind when deciding the kind of water bottle you want to purchase. Plastic tends to be the cheapest, but if you want something that will last from one camping trip to another, then you'd be better off with something a lot more durable.
Size/Volume
The majority of water bottles holds 12 ounces of liquid, with varying sizes of bottles providing a large spectrum of volumes. The shorter your trip, the less water you'll need to carry, but it's better to have too much water with you than not enough. Emergencies can crop up at any time, so it's better to invest in a water bottle that can store some amount of water you're not using, or save it for someone else.
Best Products on Today's Market
Now that we've considered all of the important features of reusable water bottles, it's time to look at the top-rated products on the market. This is by no means an exhaustive list; rather, it's to serve as a starting point in your search for the best water bottle for you.
THERMOS INTAK 
Price: Approx. $10
Dimensions: 2.9 x 3 x 9.9 inches
Volume: 24 ounces
Specific features: Comes in 8 colors, one-handed push button lid, flip-up carrying loop, rotating meter allows measuring of water consumptions, BPA-free, dishwasher safe, impact resistant.
Description: If you want a fast and easy way to get to your water, then Thermos Intak Hydration Bottle, is it. The one-button push flips the cover quickly and easily, allowing you access to your drink whenever you need it.
The lid keeps the mouth of your container free of debris as well, so you won't have to worry about any germs or bacteria collecting on it and making you sick. It comes in a wide variety of colors that fit perfectly into everyone's lifestyle. Just picking a color may be the most difficult part about choosing this water bottle.
The rotating meter also makes it easy for anyone to measure and record how much water they've drank; this is essential information for those who are working out or training, so that they can ensure they're staying hydrated.
PROS:
Rotating meter to measure water consumption
BPA-free
Dishwasher durable
Push button for ease of open
24-ounce ergonomic design
CONS:
Other customers mentioned about a leak between bottle and lid. Check upon delivery to see if the lid fits properly
If fallen down, the spring can get damaged and then render the push button useless
Related: The bottle comes in different colors of your preference. For example, ladies can purchase the Thermos Tritan Hydration Bottle as their feminine style choice. Regardless of colors, they are priced the same.
Klean Kanteen Water Bottle 
Price: $14 – $70
Dimensions: Based on size
Volume: 18 ounces, 27 ounces, 40 ounces and 64 ounces
Specific features: Stainless steel, BPA-, phthalates- and lead-free, no toxins, fits in standard bike cages, available in 13 colors, screw-top, extra-wide opening, works with most water filters.
Description: Klean Kanteen provides such a wide variety of water bottles that they have one for every kind of consumer. Whether you're going for a day trip to do some hiking, or you're planning on staying an entire weekend, there are a lot of water bottles to choose from.
Klean Kanteen Water Bottle is made from stainless steel, it can double as an emergency cooking pot when you need something warm to drink. Get cold at night? Fill it up with some warm water, wrap a towel around it, and keep it in your sleeping bag with you. You couldn't ask for an easier way to stay warm.
However, because it's made of metal, it can be a bit more difficult to track just how much water you have left, so be sure to keep a constant eye on your supply so you know when to refill. Nonetheless, what is exciting is its durability and some features such as an extra wide opening to fit ice or pour contents easily. It is furthermore compatible with a wide range of backcountry filters. Moreover, it is dishwasher safe.
PROS:
Durable stainless steel
Extra wide opening
Can cook or warm water with it due to its good insulation capabilities
Dishwasher safe
Electro-polished interior and imparts no lousy flavors
CONS:
Stainless steel can be heavy
Can rust if not taken care of
Relatively costly
Related: Are you into sports accessories? The company offers a similar bottle with the sports cap. It is the Klean Kanteen Classic Bottle With Sport Cap. It has similar features as well and made with the stainless steel.
Nomader Collapsible Water Bottle
Price: Approx. $17
Dimensions: 3 x 3 x 11 inches
Volume: 22 ounces
Specific features: Leak proof, spout cover, available in 3 colors, durable, BPA-free, made from food-grade material, insulation sleeve for cold and hot drinks, foldable for compact travel, wide mouth.
Description: If you want an easy way to carry a water bottle with you, look no further. Nomader Collapsible Water Bottle folds up very easily when it's not in use, allowing you to carry more gear with you on your trip. And when it's full, you won't have to worry about spilling, because the twist top creates an airtight seal.
The top also shields the mouth of the bottle from any germs or debris, allowing each sip of water to be just as pure as the one before. It's also built to be rugged, as it can withstand temperatures of -4°F to 248°F, allowing you to transport very hot and cold liquids with you on your trip. The hard plastic sleeve saves you from burning or freezing your hand, and provides stability to the shape of the bottle so that it doesn't collapse and fall over.
The bottle is lightweight with 22-ounces and it is collapsible. So traveling from one point to another is not cumbersome. It was designed with environmental awareness in mind, hence no BPA, lead or any other toxins that could compromise your health. The bottle's ergonomic design is made of 100% food-grade materials. It is manufactured with the soft silicone body and the insulated sleeve. Whether holding cold or hot drinks, the bottle is effective.
PROS:
BPA and lead-free
100% food-grade materials
Leak proof lid
Lightweight 22 ounces
Suitable for hot and cold drinks
Related: If you decide that this bottle is the perfect one for you, now you need to fill it with something that will give you energy and strength for your outdoor adventures, we suggest the Hyburst WGM8CB6 Electrolyte Drink Mix. It gives you energy, helps you focus, and rehydrates you during your trips.
Vapur 10159 
Price: $10 – $1000
Dimensions: 11.5 x 6 x 0.5 inches
Volume: 34 ounces
Specific features: Available in four colors, BPA-free, integrated carabiner, flip-top cap, collapsible, wide mouth.
Description: Vapur 10159 Element Bottle makes it easy for you to stay hydrated, with the convenience of a collapsible bottle. It's easy to keep clean, and is free of the toxins that make up other kinds of plastic that could leach into your water. The flip-top cap provides for easy access and keeps the mouth spout clean when not in use.
The semi-translucent body of the bottle makes it easy for you to see how much water you have left, so you can always plan ahead and ensure you always have enough water for the trip. The attachment clip on the cap makes it easy to clip onto other things, such as a belt loop or your backpack so that you can expand the gear you bring with you in your backpack.
PROS:
Quality bottle
Compressible
BPA-free, no toxins
Wide mouth opening
Integrated clip to keep the rolled bottle user friendly
CONS:
A wide range of prices
Bottle not that versatile in keeping hot water
Some customers mentioned that the seam is prone to break if you drop it by mistake
Related: The company offers the variance in colors as well as cheaper models such as the Vapur Shades Water Bottle. It also comes with impressive features such as BPA-free. It is foldable, reusable and portable.
Hydro Flask TEGZI9E 
Price: Approx. $70
Dimensions: 9.87 x 4.87 x 9.87 inches
Volume: 64 ounces
Specific features: Stainless steel, double wall vacuum insulation to keep drinks cold or hot for 24 hours, BPA-free, available in three colors, wide mouth, light weight.
Description: Cold and hot drinks will definitely last the night when you put this water flask to good use. Hydro Flask TEGZI9E insulation ensures that your drink will remain at its desirable temperature even until the next day.
Soup, hot chocolate, or tea, you'll never have to worry again about having to reheat your drink on the campfire as soon as you get there. Drinks stay cold as well, and you won't have to worry about your belongings getting wet with sweating. The metal allows you to use it as an emergency cooking pot if you need to, and has a lifetime warranty. That's how much the manufacturer believes in this product.
Moreover on the features, the bottle is BPA free. It is constructed with the 18/8 stainless steel of the food-grade. So this makes it safe to use for your camping needs. It's TempShield technology is unbeatable in preserving the hot drinks for a max of 6 hours and cold drinks for a max of 24 hours. And to pour the contents into the bottle is made easy by its wide opening of about 2.19".
PROS:
Double-wall vacuum insulated to keep preserve hot and cold drinks
Wide opening to pour the contents with ease
Non-toxic BPA-free plastics and food-grade stainless steel
Slip-free with the powder coat
Lightweight and available in many colors
CONS:
The cap might loosen if you drop it
Little time to preserve hot stuff
Related: You may decide to purchase the convenient Hydro Flask GW2HF98 Water Bottle Straw Lid if you enjoy sports accessories. The other design of the sports lid by the same company is the  Hydro Flask 7T8QBH Water Bottle Flex Cap.
BKR Original 
Price: Approx. $45
Dimensions: 9.92 x 3.7 x 3.7 inches
Volume: 33 ounces
Specific features: Available in seven colors, no-leak screw cap, soft gripy sleeve, BPA- and phthalate-free, dishwasher safe.
Description: The BKR Original Glass Water Bottle  is considered to be one of the most fashionable water bottles used by celebrities and the elite. This water bottle has everything you could want and more. It's a glass water bottle that comes with a fashionable silicone sleeve to protect against breaking. It has a small mouth to allow for easy drinking and minimizes the risk of spilling down the front of your shirt.
The silicone sleeve, also protects the bottom of the bottle, so there's no slipping or tipping. Unfortunately, because it's made out of glass, it's not going to insulate as well as metal, but if that's not a high priority on your list, then it's definitely a water bottle to consider.
It is actually a luxurious bottle, hence the price tag. Investing in it is a good choice, but you have to take care of it because it is prone to damage if you drop it or let children play with it. But, should it come with manufacturer faults, the company offers a 90-day replacement guarantee at no cost at all. It's unlikely for the bottle to slip through your fingers because an easy to grasp silicone sleeve. Moreover, it is well insulated, although not like metals, to preserve your contents.
PROS:
90 day replacement guarantee
Easy to grasp silicone sleeve
Luxurious glass bottle
BPA free
Available in 6 stylish colors
CONS:
Glass expensive
Prone to get broken if you constantly drop it by mistake
Not a good insulator for hot drinks
Related: To clean your bottle to retain the fresh taste of your contents, we recommend buying the Casabella 20530 Soft Tip Brushes3. It is an effortless way to clean your luxurious bottles.
Lifefactory 234004 
Price: Approx. $20
Dimensions: 3.1 x 3.1 x 10.5 inches
Volume: 22 ounces
Specific features: Available in six colors, silicone sleeve, leakproof, screw cap, BPA-free, phthalate-free, dishwasher safe, wide mouth.
Description: A great alternative to disposable plastic bottles, Lifefactory 234004 Glass Water Bottle is easy to carry and easy to use. The wide mouth provides great access to a lot of water, so you can drink to your heart's content, as well as adding a few ice cubes to keep your drink cold.
The silicone sleeve, also makes it easy to hold onto, providing a great gripping surface to decrease the chances of you dropping and breaking it. The cap is shaped in such a way that a carabiner can be easily attached and then clipped onto a bag, so you won't have to worry about fitting all of your necessities in your bag.
PROS:
BPA-free
Constructed with silicone sleeve for ease of grip
Wide mouth opening
Dishwasher safe
Leakproof and screw cap
CONS:
Prone to break if dropped
Related: The Company offers a variety of colors and designs for the bottles. Take a look at the Lifefactory 236002 Glass Water Bottle with Flip Cap and Silicone Sleeve's also an attractive bottle with superior features.
Klean Kanteen K20VWSSL-BS 
Price: Around $32
Dimensions: 6 x 2.93 inches
Volume: 12 ounces
Specific features: Stainless steel, BPA-free, wide mouth, vacuum insulation, fits in most cup holders.
Description: When you're on the go, you need something convenient to carry in order to stay hydrated. Be it a day-trip to the woods or taking a small stroll after setting up camp, Klean Kanteen K20VWSSL-BS Wide Mouth Water Bottle  is easy enough to carry in your hands, yet versatile enough to be clipped onto a belt loop or backpack. The wide mouth makes it easy to drink from or add ice, but you'll never have to worry: the vacuum insulation guarantees to keep your drinks cold or hot for at least 24 hours.
PROS:
Stainless steel
BPA free
Vacuum insulation to preserve hot and cold drinks
Wide mouth opening
Portable
CONS:
Relatively expensive
Can rust if not taken care of
Related: For quality assurance, you can get the Klean Kanteen KWPCC-BK Cafe Cap as the replacement cap.
Final Thoughts
Hopefully, this handy list of water bottles has made it easier for you to consider what you should be looking for in a reusable water bottle. Knowing what you're looking for before you're bombarded with hundreds of choices will help you make a better informed decision in the end.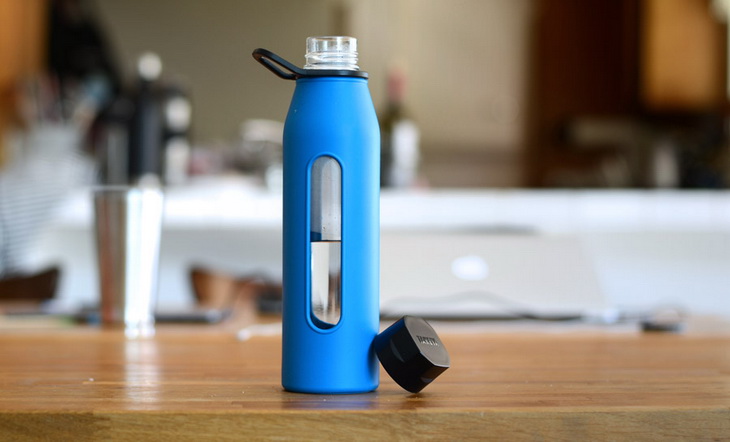 And there's absolutely nothing wrong with buying more than one if you're stuck between a few choices. The more options, the more versatile your hydration experience!
Are there some wonderful products we've forgotten to mention? Please leave a comment below and share your experience with us. We'd love to hear readers' stories about these handy products.