With foldable tents and sleeping bags that can fold up to almost 1/5 the original size, camping has almost become more portable than technology. We sometimes forget how important it is to save space on travels and with the best folding table, you will have that opportunity. Never again will you need to rely upon standard tables or force yourself to hold everything in your hand.
Having a surface to put all everything is sometimes forgotten about and when you plan on having a camping trip, you may not always have the luxury of tables in your camping area. A folding table will ensure that you are prepared and ready and that you can have a more comfortable camping trip.
We have set out to find the best camping table and to show you how these tables can benefit you for your next camping trip. Camping tables are not that expensive, but they are easily forgotten about and now you will know about them and have the opportunity to make an informed decision.
Our Top Picks
Features to Consider Before Buying
Not all brands are the same and camping tables can also range in size. While they may range in price as well, buying the cheapest table may not always be the best choice and the cheaper table may not be inclined to withstand the same amount of pressure and punishment than a more expensive and durable table. We like to recommend campers to consider these features before buying a camping table.
Frame Quality
The frame quality is extremely important and this is the first thing to look for. You are probably going to cut food and leave heavy objects on the table.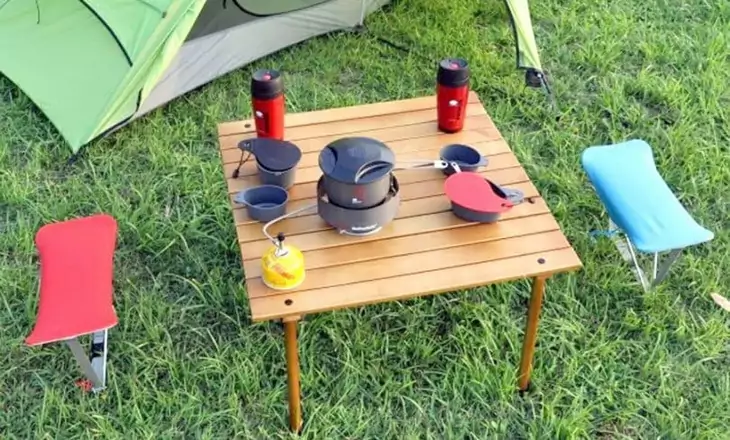 To ensure that the table meets those needs, you will need to make sure it is sturdy and that it can withstand downward pressure.
Weight
You have to remember that it is something portable that you are looking for. This means that it will be lighter than normal tables. The key is to make sure that the weight can justify the quality of the table. Many people believe that heavier tables are sturdier and while this seems logically correct, sometimes lighter metals can be tougher.
Size
Depending on what you plan to use the table for, you will need to take a look at the overall size and the dimensions of the table.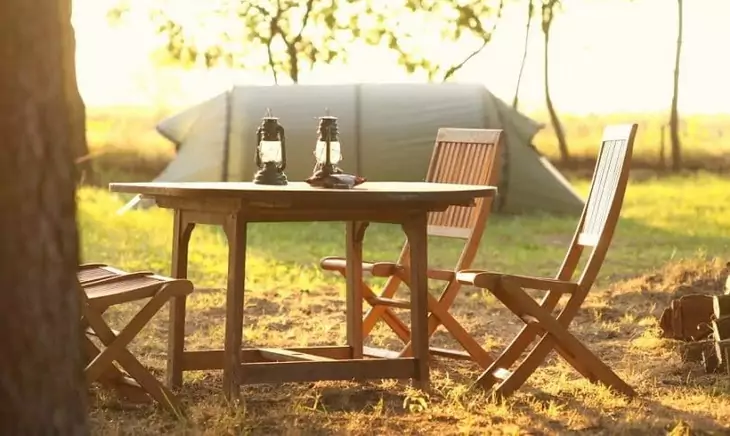 Some tables are big enough to accommodate you and your family for dinner, others may not give you that luxury and you might need to invest in a second table
Folded size
When you buy the table, you generally only focus on the size of the table. It is equally important to know the size that the table will fold into. This will allow you more space when packing and make the table easier to carry. Some table can fold into a briefcase and thus give you an added handle to carry with
Price
This goes hand in hand with quality and you will need to focus on the price versus the size and what you plan on using the table for. If you only plan to have a camping trip for two, you could focus on something much cheaper than someone planning a trip for eight. These five features should definitely be considered and they will make it easier for you to make a perfect choice.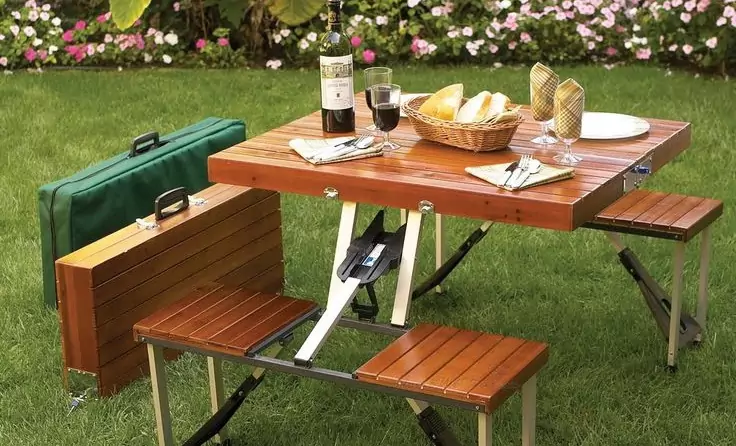 The main thing we like to encourage people is to focus on quality versus need, this will determine the price range that you need to consider looking in and will make your choices a lot simpler. With that said, let's look at the top folding table to improve your next camping season.
Top Product Reviews
The following reviews are for you to consider when you go shopping for the best folding table for you. See below for all of the information you need to know!
Alps Mountaineering B071H 
Price: Approx. $60
Material: Aluminum
Weight: 8 lb
Dimensions: 32 x 32 x 28 inches
Special features: Sturdy aluminum x-frame, easy to wipe, very lightweight, easy to fold up and carry along
Best use: Outdoor dining
Description: The ALPS Mountaineering B071H Dining Table is one of the top selling foldable tables currently on the market.  The table is big enough for 4 to 5 people to sit and dine at and the design will allow 4 people to easily slide in and have comfortable dining experience
The x-frame has always been known in the construction industry to be one of the sturdiest building frames available. This table incorporates this into the design and will provide you with a sturdier table to put heavier items on. This will make the table great for heavy duty use
If you are looking for portability, the table will easily fold down into a 4 x 4 inch and three feet long compact piece. Upon receiving the item, you will also receive a carrying bag that is made for carrying over your shoulder.
When it comes to packing for a camping trip, space can be the one thing you struggle with. This table will save you a lot of extra space, and you could easily just leave it on the back seat. The durability of the table is very highly rated and it has the ability to withstand downward pressure of up to 50 lbs.
Overall, this table is great for camping and going anywhere where you might need a portable surface. It is easy to carry by anyone in the family and the aluminum frame will never bend or break. This table will bring you comfort and generally increase your camping experience.
PROS:
Sturdy
Easy to fold and clean up
X frame construction
CONS:
Does not support a lot of weight
Shaky
Can collapse
Related: If you are cooking while camping, take along the Everest MS2HP Camp Stove which has a high output and 20k BTU burners!
Camp Chef Sherpa  
Price: Approx. $100
Material: Aluminum
Weight: 13.45 lb
Dimensions: 9 x 17 x 25 inches
Special features: Versatile aluminum roll-top table, padded carry handles to easily carry, extendable legs to adjust the height, the lower divider to accommodate extra baggage and Mtn. series stove
Best use: Campers who need a table and storage
Description: If you need extra storing space for bags and even perhaps a Mtn. series stove, the Camp Chef Sherpa Table may be the perfect fit to your set of outdoor equipment. The table can easily fold up and the aluminum to will come off to store in its very own bag.
With this table, you will have the ability to adjust the height depending on the specific need you have. If you need to use it as a dining table, you could easily lower it to fit the size of a chair and if you need to use the table for the grill, you will have the ability to increase the height to standing level.
The table features a lower divider. This divider will give you added storage space and you could easily fit two normal size traveling bags inside. The design was originally made to accommodate a Mtn. series stove, but the additional space can be used to store anything.
The table can also easily fold into a smaller size when you are done with it. The bag has been fitted with padded carrying handles to allow you more comfort when carrying the table. The table may seem heavy, but it will offer you a lot of extras and durability. And you will have free reign to customize the storage space. We do not recommend storing items that are too heavy as it may put a lot of stress on the seams.
PROS:
Roll top
Storage space
Extendable legs
CONS:
Hard to set up
Not super durable
Related: If you need a long hose adapter for cooking, the Camp Chef HRDSP Bulk Tank Hose Adapter is for a bulk tank, heavy duty and easy to use.
GCI Outdoor Slim 
Price: Approx. $85
Material: Aluminum
Weight: 20.8 lbs
Dimensions: 32 x 21 x 52 inches
Special features: Unique design, added storing rack, powder coated steel frame, aluminum counter top, 4 multi-use table than can fold out
Best use: Meal prep while camping
Description: The GCI Outdoor Slim Fold Cook Station definitely defines smart folding tables. The table will easily fold flat and even though it may seem heavy, it can still be carried by one person over a long distance.
The table is made for cooking and entertaining, and features 4 folding tables attached to the sides of the main table. These tables are great for cutting and preparing food, while also serving beverages to the family.
The tables also have the ability to withstand up to 30 pounds of pressure each, while the main table has the ability to withstand up to 50 pounds. Overall, the table is extremely durable and will withstand close to 200 pounds of pressure
At the bottom, you will find an added storage platform. The storage platform is made from aluminum and is extremely sturdy. This will be great for storing your cooler box and keeping it off the ground. Furthermore, the table also features cup and cutlery holders to ensure that nothing falls and breaks.
Finally, the table is powder-coated over the aluminum frame. This will make it resistant to rust and protect the outer metal from scratches and chips. This is definitely the perfect table to entertain the whole family and will become the centerpiece of the conversation.
Overall the table provides a lot of quality at a very cheap price and will definitely meet all the needs of scouts and veteran campers. The table can even be used in the backyard for added space when having a barbecue.
PROS:
Storage rack
Not very heavy
Holds up to 50 pounds
CONS:
A little wobbly
Be careful not to pinch fingers when folding up
Related: Don't forget a camping stove when you decide to sleep under the stars! The Coleman Classic Propane Stove has 20k BTUs of power and has 2 temperature zones.
Coleman Deluxe 
Price: Approx. $110
Material: Steel
Weight: 24.2 lbs
Dimensions: 7.6 x 21.75 x 41.5 inches
Special features: Portable food prep station, side table designed for Coleman stove, heavy-duty rust-resistant steel frame, compact and lightweight
Best use: Food prep
Description: The Coleman Deluxe Kitchen Table is one of the top folding tables on the market. The table is made for multi-functional use and provides a perfect added table that allows you to mount your stove on it. The main table is considered to be the food prepping table and has the ability to withstand a lot of weight.
The frame is made from extremely high-quality aluminum. The aluminum is covered with a protective coating to allow you to use the table even in wet conditions. The coating will also protect your frame from any rust and improve the overall durability.
If you plan on camping, the table can also fold up to fit in the trunk of any car. The frame is extremely lightweight but does not sacrifice any durability. When folded, the whole table fits into a suitcase that is easy to carry and only takes a few minutes to set up.
Overall the table has a lot of features and you will have the opportunity to set up your entire kitchen outside. The table also features a sink that will be great for keeping your dishes clean and the added dry rack will ensure that everything dries while being kept safe.
PROS:
Has handy things like a paper towel holder
1 year limited warranty
Heavy duty
CONS:
Wire mesh bends
Instructions are unclear
Related: You can get a wash basin like the Coleman Double Wash Basin that is easy to wash and will fold down when storing.
Kamp-Rite Kwik 
Price: Approx. $75
Material: Aluminum
Weight: 15 lb
Dimensions: 45 x 25.5 x 27 inches
Special features: Compact roll top side table, added a sturdy carry bag to walk long distances, heavy gauge aluminum tubed steel frame, comfortably seats 4 people
Best use: Dining
Description: The Kamp-Rite Kwik Table has been designed to bring the comfortable and delightful act of dining in the outdoors. The table is made from high-quality aluminum and features two X-frames to make the table stronger and keep everything sturdy.
The size of the table is quite larger than your normal table and will allow 4 people to sit comfortably while enjoying a meal. This will make the table a perfect fit for larger families and provide quality family time even in the outdoors.
Even though this may seem like the ultimate camping table, it is not only made for outdoor use. The table takes only a few minutes to set up and can be used whenever another table is required at a normal house party. The table also looks extremely stylish and the neutral color will fit most outside decor.
When you are done with the table, it will be extremely fast to fold down again. The surface rolls over and the frame easily folds down. All of the parts can then easily be fitted into a bag that you will receive with the product.
The bag has been designed to be carried like a duffel bag and because of the lightweight frame; you will be able to carry the table over longer distances
Unfortunately, the table is not made for heavy duty impact and the weight limit is up to 10lbs. But this could be enough to hold a pot and a few plates, making this a great dining table. The table will not do extremely well if you plan to use it as a storage area.
PROS:
Heavy gauge aluminum
Lighter than others
Roll top
CONS:
Does not support a lot of weight
Dimensions seem wrong from the manufacturer
Related: You will have to put your trash somewhere! You can get the Coghlan's 1219 Camp Trash Can which is spring loaded, portable and under $15!
Finether Portable Folding Table
Price: Approx. $60
Material: Aluminum
Weight: 16.9 lb
Dimensions: 3.25 x 25 x 25.25 inches
Special features: Stylish and modern look, adjustable height settings, 4 stools are included, waterproof and durable aluminum alloy frame
Best use: Dining
Description: Built to emphasize style and luxury, the Finether Adjustable Aluminum Folding Table  is one of the most innovative tables on the list.
The aluminum alloy frame is not only waterproof, but emphasizes the modern and stylish look of the table. This will allow you to use the table at home as well and it will perfectly fit the normal decor. The table can be used for grilling or dining and you will have the opportunity to easily adjust the height to 27.6 inches fully extended. The table can also withstand pressure of 55 pounds and even though it is stain resistant, you will still be able to quickly wipe it down.
The best feature of the entire table is the added 4 stools that you will receive when you purchase the table. These 4 stools perfectly match the color and the style of the table and can support a weight of up to 220 pounds. With the enormous size, you will comfortably dine at this table and enjoy quality family time while camping.
PROS:
Comes with folding stools
Affordable
Adjustable
CONS:
Not heavy duty
Seats seem unstable
Related: If you need some light at night, the Etekcity 664871 LED Camping Lantern has LED bulbs and are ultra bright! Plus, this 2 pack is under $20!
Concluding Thoughts
Whether you like camping a lot or if you are just an occasional camper, these tables could provide you with so much more. Many people choose to use these as backup tables for big events and some even leave them set up in their back yard. Whatever your desire, these tables could provide you with an extra platform.
We like to recommend folding tables to campers and any outdoor enthusiast. Most of these tables are extremely lightweight and can easily and comfortably be carried along. If you choose to have a table that fits around your shoulder like a duffel bag, it will allow you to carry farther without becoming tired or irritated.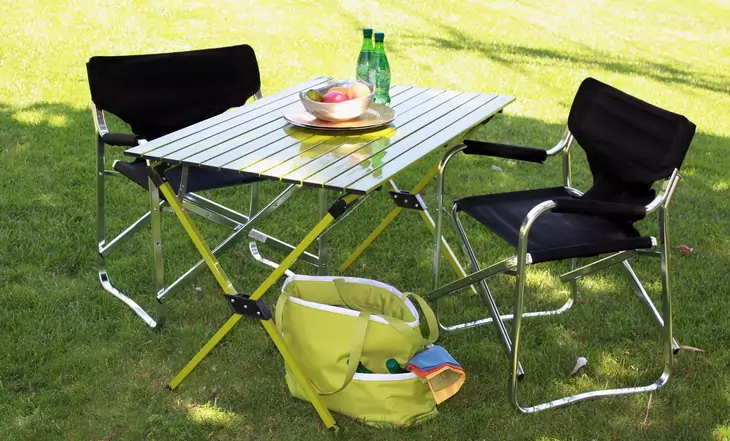 Finally, a lot of people also choose to set up these tables inside tents and then you could possibly have your very own tent kitchen, but as most of them are made from aluminum, you will have the added benefit of knowing that they are completely rustproof.
We would like to thank you for reading this article and we hope that we may have swayed you into considering an outdoor folding table. The multi-functionality is really great and they are extremely affordable for the amount of use you will get from them.
We would like to encourage you to let us know more about your thoughts on folding tables and how we could possibly assist you to find the perfect outdoor and camping table.