Tables are underrated. These important pieces of furniture serve such a wide variety of functions, especially when you're out camping. Tables can be used to prepare meals on, play board games on, stack gear on, and rest candles or other light sources on. You'll find that a good camping table will come in handy more times than you'd imagine. Unfortunately, many people don't yet have a table to take camping with them because their transportation can be difficult.
Never fear. The folding table options on the market today are perfect for taking on outdoors adventures no matter your form of transport. You can move these compact tables in their folded form and then when you arrive you can just unfold them. The question is not, "Should I have a camping table?" But rather, "How can I ensure that I get the best folding table for me?"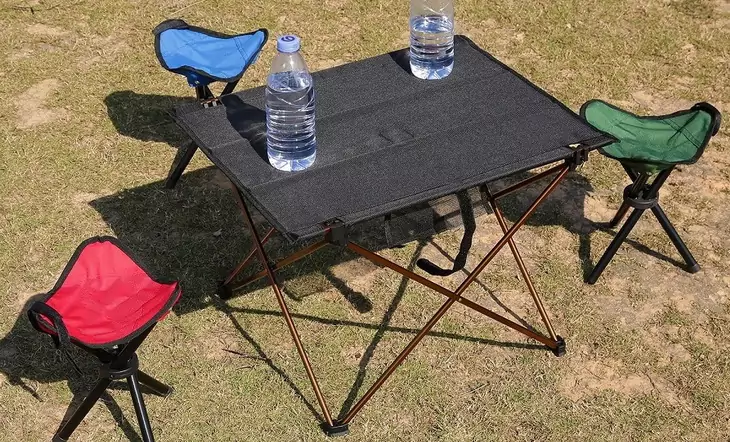 Fortunately, we can help you with this latter question. Our research has pulled up eight outstanding options for folding tables that you can easily take in the great outdoors. We have selected our top picks from a variety of price brackets to try and accommodate a variety of options for you. This means that you can analyze the differences and make an informed decision as to which table best suits your circumstances.
Before we get started on listing the best camping tables available and what each one can offer you in terms of functionality, let's take a look at the main features you should be considering when looking to buy a fold up and/or camping table.
Our Top Picks
Features to Consider Before Buying
Portable tables can be used in a variety of settings for many different things. Some people want them for in-tent storage, others want something to cook on outdoors, and still others are just looking for a place to put their food and drink while hanging out outside with friends.
We've identified a few key factors that distinguish the better portable tables from the general ones on the market. The things to look out for when you're considering getting a portable outdoor table are:
Weight
No matter how small that table folds up, if it's too heavy to carry then it's technically not very portable. Aim for a table that you can easily carry yourself.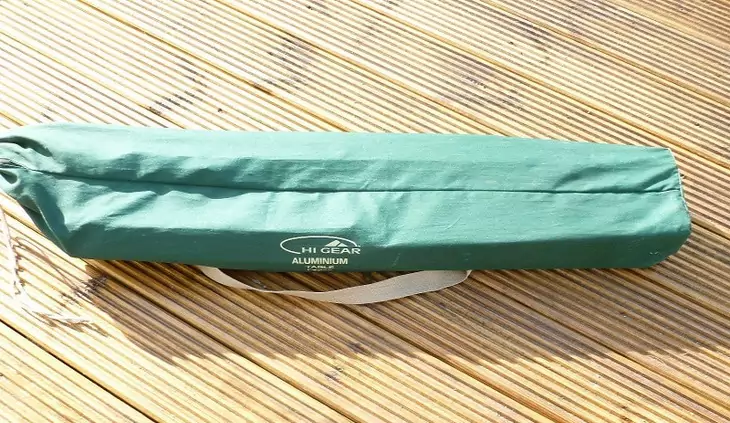 Many of the modern designs are made with lightweight aluminium – so don't settle for less.
Ease of setup
When you're outdoors, there's a certain relaxation to be found regarding time. Nevertheless, it's important to get a table that won't frustrate you with its many nuts and bolts during setup time. Get something that's quick and easy to flip out so you can go on enjoying your relaxing outdoor activities.
Strength
This is a big factor as you want a table that can hold a heavy load, especially if you're intending to use yours for cooking or in-tent storage options. Added strength does sometimes mean a slightly heavier design overall. It's worth trying to balance these two factors.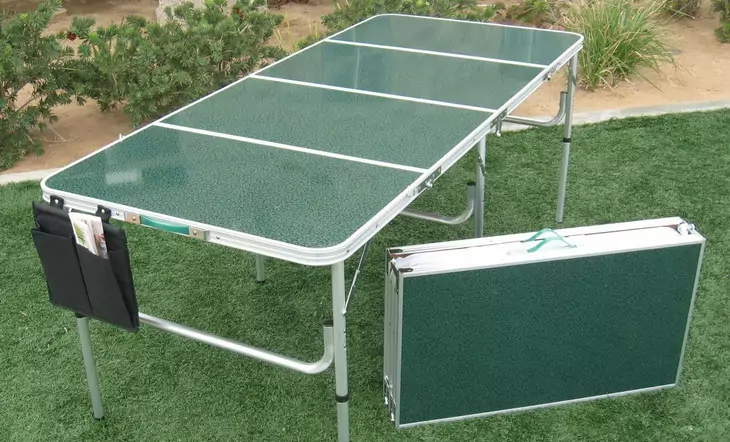 The best tables on the market will be made from lightweight yet strong materials.
Color
More of a personal preference of ours than anything else, we feel that neutral tone colors look a lot better outdoors. When you're looking down at your food or drinks on a table you don't want to be blinded by an unnaturally bright neon pink.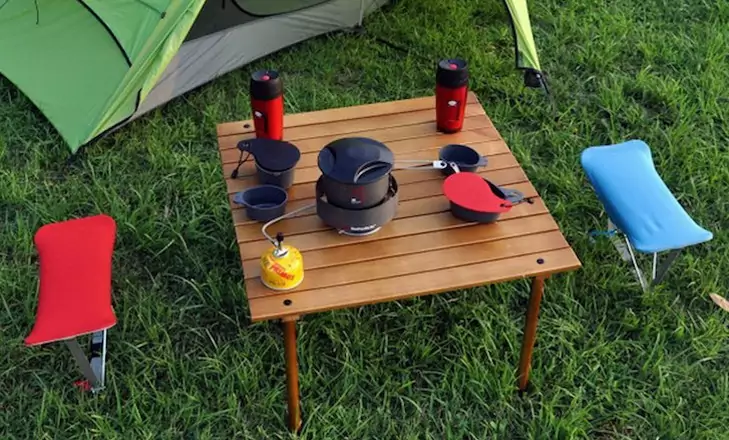 Unless, of course, the table is for your kids, in which case, go nuts! Just remember that color should play some sort of factor in your decision making process as you will be looking at this table for a long time to come.
Surfaces/Storage Capacity
Some folding tables are a traditional one surface setup, and others have multiple hooks and levels. There are even ones with tiny drawers or different surface tops available. In some cases, simplicity works best, and in others having those extra placement surfaces can be extremely convenient.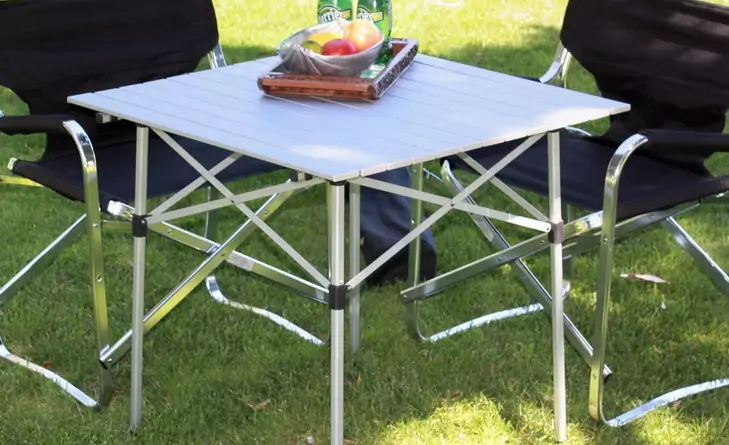 That's a quick overview of the main features we'd recommend looking at when you are choosing a folding table. It's a good idea to have a clear picture in your mind of some of the situations that you think you're likely to want to use your future table for before going on a table search. Once you've got a few ideas in mind as to how you could use your fold out table outdoors, read on to discover our top eight picks and find the folding table that works best for you.
Top Product Reviews
Below we have the top product reviews for folding tables. Take a look at the features, sizes and extras that the tables come with so you can get the right table for you and your family to camp with!
Coleman Pack-Away 
Price: Approx. $90
Weight: 14.02 lb
Dimensions: 16.3 x 3.4 x 31.9 inches
Specific features: Multiple configurations, lightweight, sturdy frame
Best use: Back-up table kept in car for surprise situations
Description: The Coleman Pack-Away Table provides you with two small tables right off the bat. This lightweight folding table is perfect for keeping in the back of your car in case of a need for it.
Ever randomly decided to go camping outdoors for a night or stopped by a friend's place to party on the patio? This table can be used as a companion to the spontaneous spirit as it's easy to keep on hand and quick to unfurl.
The two small connecting tables collapse into a mini arrangement that could best be described as a little suitcase with a handle on it. The aluminum frame is both lightweight and sturdy – a big plus. It also has leg extensions which means you can make the table very short or very high, great for use with children or on uneven ground as you can make certain legs longer to keep the stable sturdy despite the terrain. All in all, it's a good find.
PROS:
One year manufacturer's limited warranty
Folds up for storage
Sturdy with a 300 lb capacity
CONS:
Connectors wear out quickly
Bulky when storing
Related: In addition to selling great fold up tables, the Coleman brand also makes fantastic fold up chairs. Keeping a couple of these Oversized Quad Chair in the back of the car might be a good idea as well.
Coleman Compact 
Price: Approx. $45
Weight: 8.86 lb table weight, 9.85 lb shipping weight
Dimensions: 27.5 x 27.5 x 27.5 inches
Specific features: Easy to setup, the surface is impervious to heat, sturdy frame
Best use: Outdoor cooking table
Description: We quite like the large square Coleman Compact Table. This table features an aluminum top placed on a strong steel frame. Not only does this make for a sturdy table, but it also means the surface of the table is impervious to heat.
This makes it an ideal table for cooking on as you can place hot pots and pans on the table top while you prepare your meals or when you're serving them. That being said, while this table is great for cooking, it's height does mean that you wouldn't necessarily be comfortable pulling up a camping chair under it and digging in.
So we recommend that you don't look at it as a dining table as well. But for the outdoor cooking process, this table is a gem. The dimensions when folded up are very reasonable for portability too, coming in at only 5.5 x 5.5 x 27.5 inches.
PROS:
Family sized
Steel frame
Affordable
CONS:
Short
Flimsy when moving
Load rating of 100 lb seems wrong
Related: Wondering where you'd eat if you got this amazing table for cooking on outdoors? Why not try this fantastic large outdoor picnic blanket Pratico Outdoors Blanket, everyone will love its quaint feel.
Outad Ultralight Table
Price: Approx. $30
Weight: 1.5 lb table weight, 1.7 lb shipping weight
Dimensions: 22 x 16.5 x 14.6 inches
Specific features: Lightweight, strong frame, easy to setup
Best use: Table to store things on inside tent
Description:  The minimized design of the OUTAD Ultralight Table makes it the perfect simple table to take along when camping. It's lightweight and small folded up dimensions (22 x 2.4 x 2.4 inches) mean that it is incredibly easy to transport along with your tent bag.
We recommend it for storing things on inside tents because of its non-slip feet and rip-stop nylon fabric top which is able to withstand a heavy load of items. The table even has two small mesh pockets on its sides where you can store smaller items and the corners of the frame are soft so that you can bump past it in your tent without worrying about anyone getting injured.
Although it really does lend itself to an in-tent function, but we're sure it could work just as well outside. At about $30, this folding table is affordable and is great to take with you on any camping trip when serving food, or gathering where you need extra table space!
PROS:
Aluminum alloy frame
Comes with mesh carrying bag
CONS:
Table top can pop out of place
Hard to set up
Related: For those with a larger tent area, you might want to consider coupling your OUTAD table with an OUTAD Folding Chair that is as comfortable and well designed as it's table partner.
Rio Beach 
Price: Approx. $20
Weight: 1 lb table weight, 2.3 lb shipping weight
Dimensions: 22 x 7 x 43 inches
Specific features: Low to the ground, easy portability
Best use: On sand at the beach, river, or lakeside
Description:  This Rio Beach Table certainly fills a need well. You know that need to keep sand out of everything? If you're ever heading out to the beach, or even a sandy riverside, having a table to place your food or spare items on is super convenient.
Because nobody likes getting sand in their food. This table is low to the ground as well, which means that children can put their stuff on it too! This feature, combined with its easy portability (it comes with a carry bag) makes it a great table for families or couples who frequent beachy areas.
The plastic may be a little flimsy, but overall so long as it's handled with a bit of care during setup and take down, this fantastic little table can really add to your overall beach experience enjoyment level. Overall, this is a great little table that will keep the sand off of your food and drinks as you enjoy the outdoors!
PROS:
Comes with carry bag
Large surface
Adjustable
CONS:
Legs can snap
Not for heavy items
Related: It's important to stay safe from the sun's rays when you're at the beach for extended periods of time. Get prepared and place this table under a big 7 foot beach umbrella Tommy Bahama Anchor Beach Umbrella!
Camco Deluxe 
Price: Approx. $82
Weight: 5 lb table weight, 24.1 lb shipping weight
Dimensions: 19 x 57.75 x 32 inches
Specific features: Lightweight, multiple storage surfaces, portable
Best use: Barbecue, grilling and cooking, camping table
Description: The Camco Deluxe Table is a fantastic table in terms of both convenience and functionality. This table combines the ease of fold-up portability with all the features we'd expect from a non-folding proper grill table.
It has a large top surface, two side shelves AND a secondary main surface underneath the top one. Our favorite part is the hooks on either side of the table which are perfect for hanging grilling or cooking utensils on.
Camco has built this table to be strong enough to support items on all its many surfaces as well, as the frame is made from high strength steel. We'd recommend this to any avid outdoor grill masters. If you can stand the bland monotone appearance, it truly is a perfect camping companion. Users like this table because they can store items on the shelf, and there is a lot of space and hooks for their utensils.
PROS:
Easy set up
Lots of hooks
Fiberboard material on side shelving
CONS:
Top is slippery
Do not let it get rained on
Related: Table – Check! Grill – Check! Gas bottle – Check! Gas bottle to grill connector??? If you're in need of this last crucial item before getting your outdoor cooking show on the road, check out this super handy hose adaptor Char-Broil Adapter.
Gci Outdoor Slim 
Price: Approx. $85
Weight: 20.8 lb
Dimensions: 20.9 x 52 x 32.3 inches
Specific features: Easy setup, multiple storage surfaces
Best use: Outdoor cooking or in-tent storage
Description:  We love the GCI Outdoor Slim Table. Its multiple surfaces and many features, including cup holders and hooks, make it perfect for use as a cooking station or in-tent storage table.
Use it in your tent to store anything and everything conveniently. Or use it outside when cooking to provide yourself a large comfortable cooking area. The table has an aluminum counter top, a lower storage rack, and four plastic fold out side tables!
It comes in a sturdy steel design and the aluminum counter top is of course heat-resistant for your cooking convenience. The best part is the slim-fold patented design which is easy and fast to set up. A great option for hassle-free camping lovers. Users like this table for all of the shelving space and room for items! Easy to set up and take down, this table can hold anything from food and beverages to utensils and more!
PROS:
Easy set up
Folds flat
Has storage rack, multi use
CONS:
Some found it a little wobbly, have to find very level ground
Feels heavy
Related: Ever heard the expression, "they packed the kitchen sink"? Well, now you can! This Progressive Prepworks Collapsible Dish Tub makes a nice camp cooking counterpart to the slim folding table and gives you a place to wash your dishes when you're done enjoying your food.
EZ Travel Collection 
Price: Approx. $20
Weight: 2.5 lb shipping weight
Dimensions: 19 x 19 x 17.5 inches
Specific features: Portable, lightweight
Best use: Outdoor side table for placing drinks or food on
Description: This square EZ Travel Collection Table with drink holders is ideal for placing refreshments and snacks on as a side table. The inbuilt drink holders can ensure your bottles don't accidentally get tipped over at any point during your events.
Whether it's out on the sports field, at the beach, on the patio, or in the middle of the bush, this little table is easy to flip out and use. Super lightweight and portable, the folded design, comes to only 5 x 5 x 25 inches. That's small enough to fit in a hiking backpack!
So if you're looking for a nifty little outdoor table that you can take with you anywhere, this would be a great choice. If you don't have a pack to carry it in, don't worry! This table comes with its own little carry bag, which we think is pretty cool. The table also has plastic grooving along it's feet for added grip, meaning it'd be able to stand its own ground on rougher terrains.
PROS:
Comes with carry bag
Gripping feet at the bottom
Affordable
CONS:
Sits to low
Small
Not for lots of items
Related: Relax in style while you're out and about with this Sport-Brella Recliner Chair. The folding camping table with drink holders will work well beside it.
Outsunny Gueao 
Price: Approx. $55
Weight: 15 lb
Dimensions: 33.5 x 25.5 inches table top surface
Specific features: Portable, strong, dual seat-and-table functionality
Best use: Outdoor family or group meals
Description:  You can take your picnics almost anywhere with the Outsunny GUEAO Table. This folding table allows you to quickly and easily set up a multi-person dining area anywhere outdoors.
We like the idea of using it in the back yard or at the beach to turn a regular group or a family meal into a fun picnic adventure. This great table gives you all the convenience of a regular table and chairs without any of the transportation effort. The aluminium, steel and plastic frame slides together seamlessly to create a compact suitcase that you can easily carry around.
The setup is relatively quick and involves a tint and lock function to ensure the table stays safe for everyone sitting on it. Weighing in at only 15 lbs, most any member of your outdoor dining party should be able to carry it for you. A truly quirky and unique, not to mention useful item to have, this picnic table is a great piece of outdoor gear to have.
PROS:
Affordable
Comes in blue colors
Easy set up
CONS:
Not as sturdy as they seem
Plastic can get chipped
More for kids than adults
Related: Nothing says organized like bringing a picnic table to sit on. And nothing says prepared like having lights on hand when it gets dark. Use these Portable Outdoor Camping Lantern to illuminate your picnic table as the sun begins to set.
Concluding Thoughts
So now that you've had the chance to see a range of options available for folding tables, we hope you've found something that's ideal for your particular situation. If nothing else, at least you now know what's out there and have a general idea of what to look for when choosing a portable outdoor table.
Our personal favorite is… drum roll please… the Outsunny Portable Suitcase Picnic table. We can't get over how there's a whole picnic table in one suitcase! The blue and silver design reminds us of our childhood days exploring the outdoors and we know this picnic table would foster some great meal memories.
So which table was your favorite? You can let us know in the comments below.