There are times when you should wear a hat whether you love them or not, especially if you spend a lot of time outdoors, exposed to the elements like when hiking or taking part in other outdoor pursuits and sports.
Your skin and eyes, especially, need protection so consider this when choosing the best hiking hat for your use – comfort, breathability, durability and overall style.
Take care how the importance each of those factors will affect you and how they are incorporated into each hat style. Ultimately, the finest hiking hat is the one that you will be happy to wear.
Our Top Picks
| Product Name | Material | Size | Price |
| --- | --- | --- | --- |
| Sunday Afternoons Adventure | 100% Polyester | Small, Medium, Large | Check price on Amazon |
| Henschel 5310 | 55% Polyester, 45% cotton | Small, Medium, Large, X-Large, XX-Large, XXX-Large | Check price on Amazon |
| Outdoor Research Sombriolet | 86% Nylon, 14% polyester ripstop crown, supplex 100% nylon under brim | Medium, Large, X-Large | Check price on Amazon |
| Ultrafino Aficionado Straw Panama | Straw | Small, Small/Medium, Medium, Medium/Large, Large, Large/X-Large, X-Large, XX-Large, 3X-Large, 4X-Large | Check price on Amazon |
| REI Waterproof Rain Sombrero | Polyester | Small/Medium, Large/X-Large, One Size | Check price on REI |
| Outdoor Research Sun Runner | 100% Supplex nylon | Small, Medium, Large, X-Large | Check price on Amazon |
Things to Consider Before Buying
Various design features determine whether the hiking hat can satisfactorily fulfill all the requirements of the best hiking hat for you. There are hats with various width brims all round. There are cap styles with large brims and attached or detachable back of the neck protection flaps. There are styles that cover everything but block much of your vision.
There are synthetic and natural materials with varying degrees of sun block. There are fabrics that may be water resistant, waterproof, breathable, and wicking moisture. There are chin cords, fixed and removable. There are styles with numerous sizes or others that can be adjusted. There are stylish designs… and ugly designs.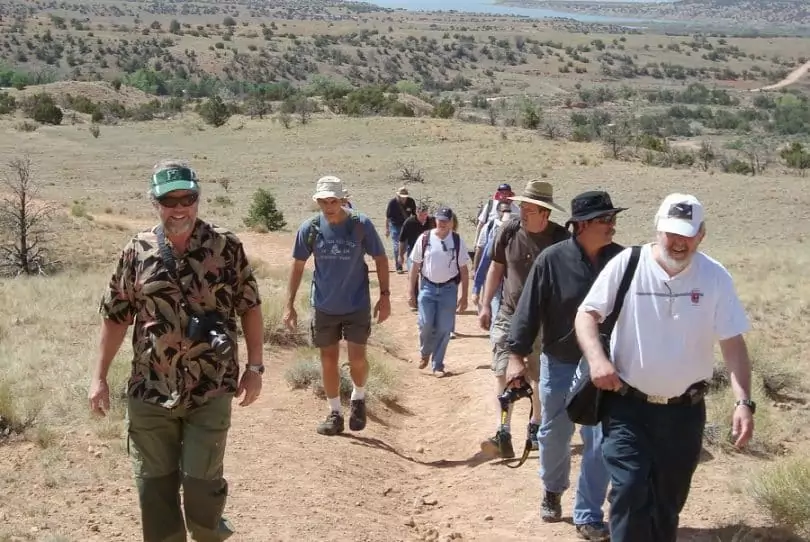 With so many different styles available that fit required functions to some degree, take some time to choose a hat that has a style and color that suits you, your lifestyle and your activities. Not just any old hat will do, so consider the following,
Sun protection
Health wise, the primary reason for wearing a hiking hat is sun protection. A low daily level of exposure to sunshine is healthy and beneficial as absorbing sunshine is the easiest way for our bodies to synthesize Vitamin D. However, small exposure quickly escalates to far more than required.
The sun beams ultraviolet rays (UVR) down on us in three forms – UVA, UVB and UVC.  The earth's ozone layer, as long as it is complete, keeps most of UVB and all of the UVC from reaching earth but UVA is not blocked at all.
Prolonged exposure and repeated sunburns from UVR can cause skin cancers, including life threatening melanoma. The skin areas most at risk are those longest and most often exposed such as our face, especially the nose, tops of ears, back of the neck, and our hands.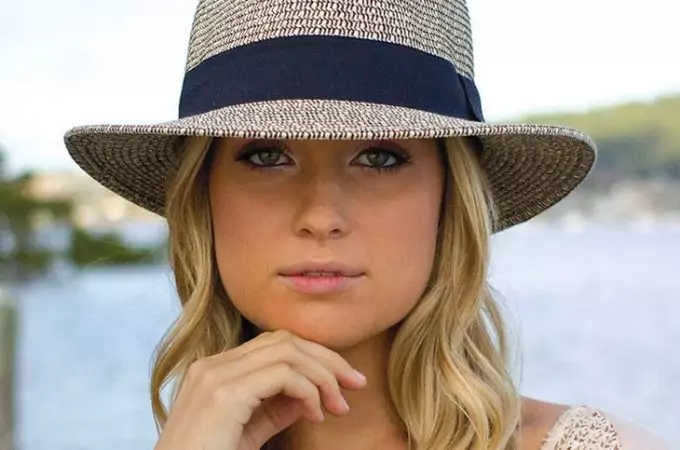 Suitable sun hats are the best way to protect our skin from repeated exposure. Being tanned offers a small amount of protection, but sun blocks, like effective fabric and high factor sunscreen creams, are the best protection.
Even on overcast days or in winter time UVR penetrates to earth, so our skin should have some level of protection for long exposures. Also, hikers moving at higher altitudes are usually going to be more exposed than someone at sea level.
On the other hand, being outside close to water or light reflective surfaces like snow, sand, and concrete, also increases the risk from UVR reflection. They can come at us from all directions!
Fabrics have different ultraviolet protection factors (UPF) which are affected by the fabric material, color, weight and weave. UPF ratings are given after specific laboratory testing situations according to the effectiveness for blocking UV rays. The rating is given according to the amount of UV that can penetrate, with the highest being the most effective.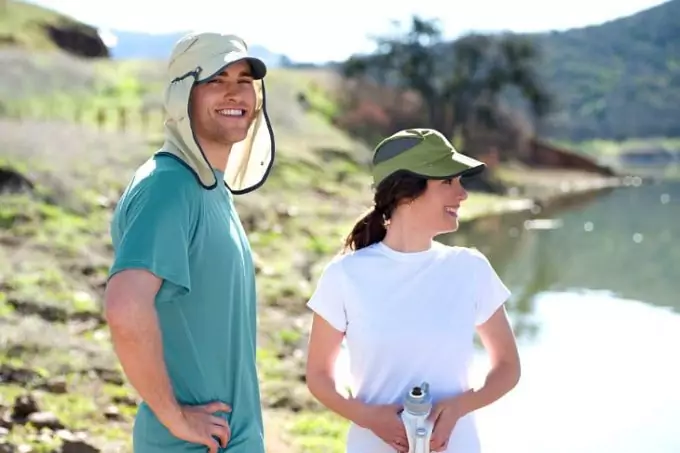 For instance, UPF50 indicates that 1/50th of the sun's UV radiation can penetrate through the fabric. A reasonable minimum factor level for an effective sun protection fabric for a hat should be UPF30. You can make some judgment without a stated factor by the density of the fabric. I got sunburned while sitting under a sun umbrella that did not have a close enough weave.
Another factor is the color, as darker colors absorb more UVR than lighter colors, although lighter colors reflect heat better. This is why the top of the hat may benefit from a light colored high UVP rated fabric, but have a darker underside brim to help combat reflection from surfaces on to your face and eyes.
Ventilation and breathability
Hiking is an activity that can build up a lot of body heat, especially if you are walking in warmer temperatures. It is important that any good hiking hat be able to dissipate heat and allow sweat to dry to keep your head feeling cool. This is achieved through well designed venting and breathable fabric.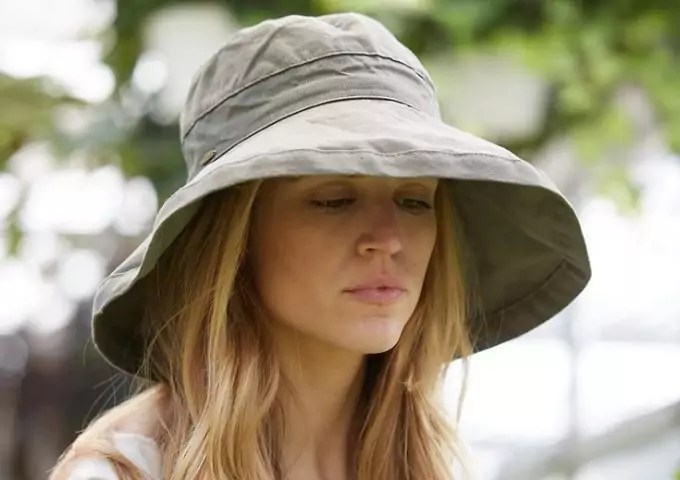 It is a debunked myth to say that a disproportionate percentage of body heat is lost through your head, but sweating while wearing an unsuitable hat on a hot day, certainly holds heat and makes you feel uncomfortable so you will probably be tempted to remove it to cool down. Remember the best hiking hat is the one you will continue to wear.
A more serious consequence of overheating is that if the body becomes too hot you may suffer from debilitating heat cramps, exhaustion or even worse, life threatening heat stroke. The normal, healthy reason for sweating and drying off is to cool your body as the fluid evaporates from your skin so nothing should impede this.
Comfort
Knowing you have the best fitting hat for you is as important as finding the right footwear. There is no point convincing yourself to wear a hat that is irritating and uncomfortable as you will find every excuse to avoid wearing it.
The best hiking hat will feel right, have the right weight, the right tactile feel, be able to be adjusted to fit and will hopefully almost feel like nothing on your head. It will be like a part of you.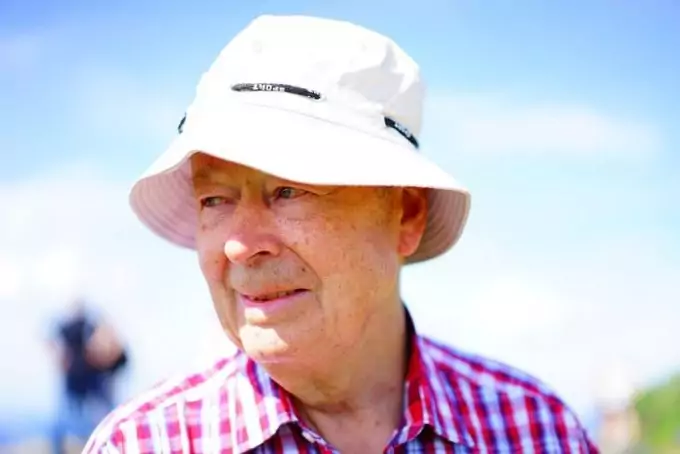 When deciding on fit, there may be some variability between manufacturers. To measure your head use a tape measure or a string to circle the crown just above your ears and across the middle of your forehead and the widest area at the back of the skull.
Because our heads are so sensitive there are minuscule differences between what feels loose and what feels tight so be as accurate as possible.
Durability
Because you are spending time and effort the best hat for you, search for one that is made to last and be value for money. Some fabrics and materials are longer lasting by far and any good hat will give hours of great service. Note I wrote hours, because sunshine hours are what will cause wear and tear on your hat, not the years it is hidden in a back closet.
Also consider how your hat will have to travel. Will your hat have to be stuffed in some corner of a bag when not in use or traveling or will it be in a hat box or on your head? Will it recover from crumpling up and cramming from the months it spent in your backpack, or will the brim be permanently skewed on your head?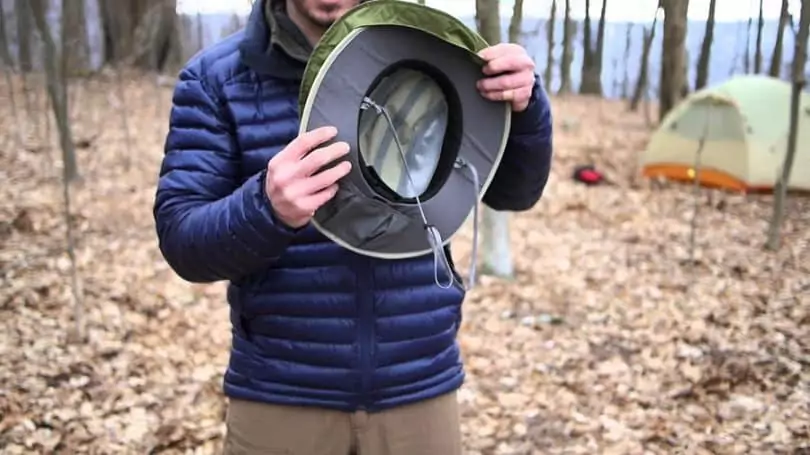 Is the stitching and thread of good quality and are the ties and toggles of strong material? With any luck the style you choose will be so successful that when your hat finally wears out, the model will still be manufactured to the same specifications because it is such a winner.
Price
Hiking hats  come in different prices on the market and you can find them in a price range from $20 to $150 handmade Panama hats) and choose one according to your budget and needs.
Best products on today's market
So, what's the best hiking hat for you? Here are six of the best hiking hats that you can pick from.
Sunday Afternoons Adventure Hat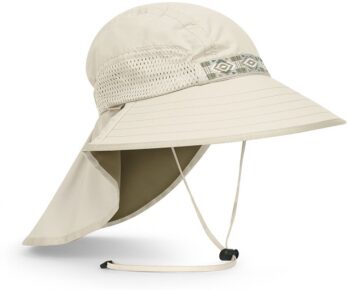 Price: $30 – $100
Size: Small, medium, large
Colors: Cream/sand, sand/black, tan/chaparral, cream, chaparral/charcoal, white/charcoal, caribbean, cream/black, grape, royal/royal, sand
Fabric: 100% Polyester
Specific features: UPF 50+ Certified (mesh vents not rated), strategic mesh ventilation, moisture wicking and breathable fabric, down-sloping brim with front 4″ deep tapering to side at 3 3/4″, floatable foam core brim, brim edged with poly wire, back, neck flap 7 ½", lift-up tab on back flap, water repellent/stain resistant fabric, cord with toggle under chin – pony tail slot
Best use: Hiking, backpacking, watersports, outdoor sports
Description: The Sunday Afternoon Adventure Hat is a hat that covers a lot of bases when it comes to being in the run for "best of" category. It is fabricated from excellent fabric regarding sun block and remains cool with wicking, breathable fabric plus inserted side vents.
It has a full brim that also protects the top of the ears and a long flap that covers the back of the neck. The latter can be pinned up when more ventilation is needed. The flap may not cover the front neck in full but it offers wide vision compared to some other models with flaps.
The darker color underside also reduces glare and the possibility of UVR from reflection. The, under the chin cord, and toggle and pony tail slot, make this suitable for wearing in windy conditions.
Overall, this is a well made stylish hat for outdoor living, whether for sport of recreation, light enough to carry anywhere and durable enough to survive a crushing pack. The Adventure Hat is available in a myriad of fashionable colors with small embroidered trim across the front band.
PROS:
Lightweight
UPF 50+ sun protection
Ventilation
Customizable sizing
Related:  Sunday Afternoons also make similar style of hats Sundancer Hat and Sport Hat, with slightly different neck cover variations.
Henschel 5310 Hat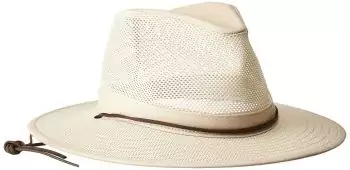 Price: $20 – $55
Size: Small, medium, large, x-large, xx-large, xxx-large
Colors: Distressed gold, khaki, earth, natural, olive
Fabric: 55% Polyester/45% cotton
Specific features: Material heavy duty UPF 50+, three" brim, adjustable chin cord, crushable
Best use: Hiking, casual wear
Description: The Henschel 5310 Hat is a great looking firmer shelled hat, but still able to stand squashing for packing, although I am not sure I would go so far as screwing it up in a corner.
It is more stylish than softer styles with long, back-neck flaps, but will still cover the face and ears adequately. The UPF factor 50+ is strong enough to block all of the sun, yet the fabric breathes to allow sweat to evaporate. It will also protect from showers and has a draw cord with wooden bead that can tighten under the chin.
This Breezer is well made in the USA by a well established company and if you're looking for something breathable that offers both easy packing and sun protection, you won't be disappointed at all by this hat. It's perfect for all who stay outdoors and work outside most of the time.
PROS:
Price
Adjustable chin cord
Fashionable
Related:  Henschel also manufactures other crushable hats with slightly different styles and fabrics, for example Aussie Crushable and Crushable Soft Mesh Breezer.
Outdoor Research Sombriolet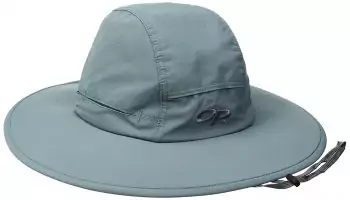 Price: $25 – $50
Size: Medium, large, x-large
Colors: Khaki, sand, fatigue, pewter
Fabric: 86% nylon, 14% polyester ripstop crown/Supplex® 100% nylon under brim
Specific features: lightweight UPF 50+ sun protection, fabric breathable and wicking, stiffened brim, Floatable foam brim, aeration vents, mesh lining, TransAction headband, chin drawcord, with toggle adjustment, is removable
Best use: Hiking, outdoor sports, water sports, casual wear
Description: This stylish, lightweight hat, Sombriolet Sun Hat from Outdoor Research provides good sun protection in intense sunshine, heat and humidity. The small mesh covered side vents allow sweat evaporation, but still keep full sun block.
This is probably the most breathable hat on our review list due to its great breathable material and ventilation and breathable material. The internal TransAction headband helps a secure, comfortable fit. Piping that stiffens the brim edge and the chin cord offers security in windy conditions while the foam stiffened brim ensures it floats should it land in water.
The fabric x is quick drying should it take a small dip in the water. The ripstop fabric construction ensures durability in rougher environments and the hat is soft enough to pack down in a small space if needed. For a more stylish look the chin cord can be removed.
Except for being the most breathable hat on our list, we can say that it's also the most comfortable hat as it's extremely lightweight and is easily packable.
PROS:
Lightweight
Protective for use in intense heat, sun and humidity
Vents in crown
CONS:
Washing in a washing machine not advisable
Unpredictable size
Related:  Outdoor Research offers a number of similar styles in different fabrics and sizes Seattle Sombrero, Snoqualmie Sombrero, Kids Voyager.
Ultrafino Aficionado Straw Panama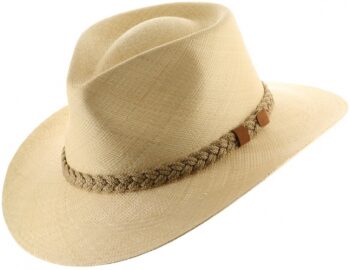 Price: $130 – $150
Size: Small, small/medium, medium, medium/large,  large, large/x-large, x-large, xx-large, 3x-large, 4x-large
Colors: Beige, putty
Fabric: Straw
Specific features: Natural fiber, handmade and hand blocked, 3"brim, crown 4 ½", reinforced underneath with fabric
Best use: Casual wear, light hiking
Description: This very stylish authentic Fedora from Aficionado is handmade in Ecuador and hand finished in the USA. Each Ultrafino Aficionado Straw Panama hat takes 2-3 weeks to produce in selected natural fiber.
The hat has a reinforced cloth under the side of the crown, so the style and shape of the hat will never fall flat. The detail of the braided brand provides the eye-catching detail and rustic charm. The width and shape of the brim, are perfect for casual sunlight protection and the hat band is much nicer than competitors' hats from our list.
The inner fabric lining assists with fit and durability. Stylish, comfortable and plaited hat sweatband adds a nice detail to this beautifully made top-quality hat. This straw Panama hat is available in lots  of sizes for a perfect fit so dust off your boots and pack your backpack as this hat will endure anything you throw its way.
CONS:
Price
Not washable
Low sun protection
Related: Havana Fedora Vented Panama Hat by Ultrafino offers a more vented style with a smaller brim.
REI Waterproof Rain Sombrero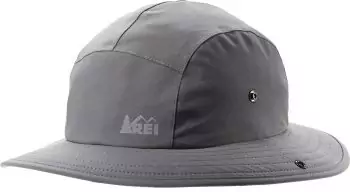 Price: Approx. $40
Size: Small, medium, large, x-large, one size
Colors: Army cot green, asphalt
Fabric: Polyester
Specific features: 50+ UPF rating, seams fully taped for waterproofing, waterproof,  breathable, soft crown, narrow brim, mesh lining, side domes, removable chin strap, unisex style
Best use: Hiking, backpacking
Description:  This soft stretch style hat is useful for both sun protection and rain, but, lacking ventilation, is not suited to hot temperatures. The REI Waterroof Rain Sombrero is fabricated in a technical stretch shell that has fully taped seams for warmth protection.
With the multi paneled soft crown it has a low-profile style with a short brim and cool mesh lining.  The chin cord with small toggle is removable. The hat is unisex and can be worn by men and women. It comes in 5 sizes, from Small to X-Large and One Size
If you love camping or hiking on rainy days, even if it rains for 48 hrs straight, this hat will keep your head perfectly dry all the time and if you need a good value hat that's durable, light and can be easily packed without damaging (unlike straw hats), this one's perfect for you. It's well worth the price.
Related: REI also produce other hats suitable for wearing while hiking in various climates including the Men's Explorer and Women's Sahara styles.
Outdoor Research Sun Runner Cap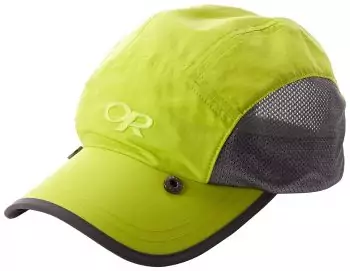 Price: $25 – $40
Size: Small, medium, large, x-large
Colors: Khaki, white, lemongrass, desert sunrise
Fabric: 100% Supplex nylon
Specific features: fabric UPF 30+, TransAction Headband, removable sun flap, mesh side panel, removable chin cord, Velcro adjustable strap
Best use: Hiking, running, outdoor sports
Description: This has to be one of the most versatile hats that offers good sunblock, but can also be worn as a casual cap. A distinctive feature of the Outdoor Research Sun Runner Cap is the removable sun flap which can be worn high at the back with the adjustable tab threading through slots to secure the flap or below which allows for a ponytail slot above.
This sun flap also closes in the front with a cord and toggle to completely protect the neck. When the sun flap is removed the hat reverts to a simple peaked cap. The mesh side vents allow plenty of airflow.
The rear hook and closure adjustment, as well as choice of sizes, mean that the Sun Runner will fit almost any head comfortably and securely. The durable fabric washes and dries quickly and packs away easily for travel.
This hat is so comfortable and light that you'll never want to take it off. To conclude, if you want a hat that will give you total sun protection and be extremely versatile, then this hat is for you.
PROS:
Ventilation
Comfortable
Durable
Washable fabric
CONS:
Not fashionable
Breakable buttons
Related: Other similar Outdoor Research styles with different sun protection flaps include the Radar Sun Runner Cap and Active Ice Cap.
Wrapping It Up
So, there you have it, now you know how to choose a proper hiking hat for your needs, and have a few models of hiking hats that may help you choose the best one for you. It will hopefully fit and function so well you will not even notice you are wearing it.
May your hat give you years of service and protection from the elements while you are out enjoying nature. Not to forget, if you think that we left out something important, feel free to let us know, or if you have some question, perhaps, again, feel free to leave those questions in the comments section below.