I'll share two things about myself with you to start out.  I love having my cup of coffee in the morning and I can be a bit of a perfectionist when it comes to my camping gear. For a number of years, I had to make due while camping either to have a subpar cup of joe in the morning or to simply go without that hot burst of morning caffeine to wake me up and help get myself into gear.
After coming home from one camping trip I started another quest.  It is a quest that I'm guessing you have also begun that very same quest.  The search to find the best camping coffee maker. At first, the quest seems like it will be a long and difficult one.  Nearly every company that supplies any kind of camping gear has put out their own version of a coffee maker.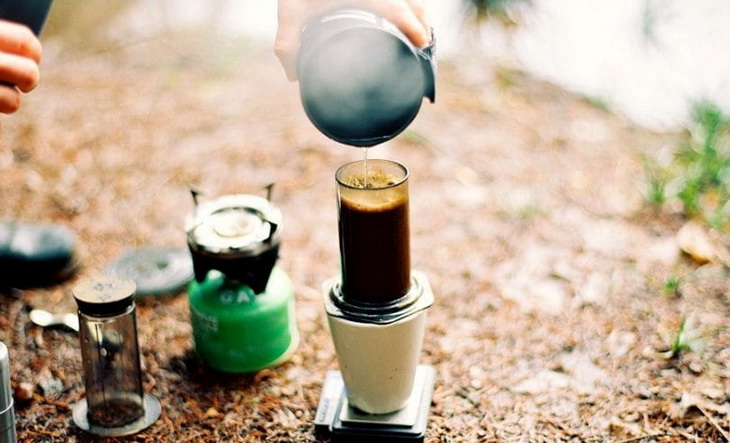 Add to that the confusion that comes with others telling you just to take a non-electric home coffee maker and not worry about purchasing a new device altogether. The way I see it, there are three paths that you can take as you go along this question.
Purchase a camp coffee maker, use a model that has been marketed for home use or make do with the equipment that you already have. You'll notice too that to the coffee lover, merely going without it while out in nature, is not a viable strategy.
Things to consider before buying
If you are going to make any camping equipment purchase you need to determine, just what are the important aspects of the item that you are looking to acquire.  In our case, we will need to determine what sort of camping you are looking to take on as it will guide some choices as far as size, material, and weight.
While taking a bulky, somewhat heavy object on a trip that you can park next to your tent is no problem, taking the same device into that backcountry is a whole different ball of wax. Also, you need to look at your other camping items and determine if you want something that uses the same type of fuel or are you ok with bringing special fuel just to make coffee.
Size
There is more to think about here than if you are backpacking or not.  Sure, if you are planning to carry everything on your back all space is at a premium, but even if you are driving to your campsite how much space do you have in the car to fit your device in?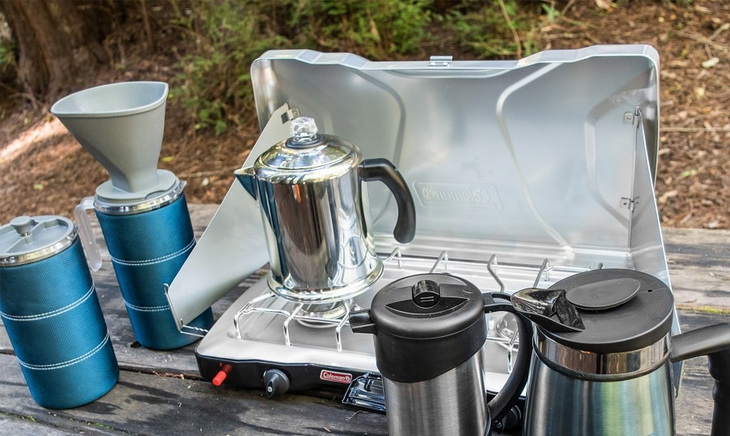 Also, think about the footprint that this will take up in the camp's kitchen area.  This is especially important to consider if you are running several things off one bottle of propane.
Material
I have a beautiful looking French press in my kitchen, it is made of glass and I love using it.  The problem is that I've had to replace the glass a few times because something bumped it the wrong way in the drying rack.  You don't want that something, think a branch, acorn or even a Frisbee, to quickly change the chance for morning coffee into a pile of glass.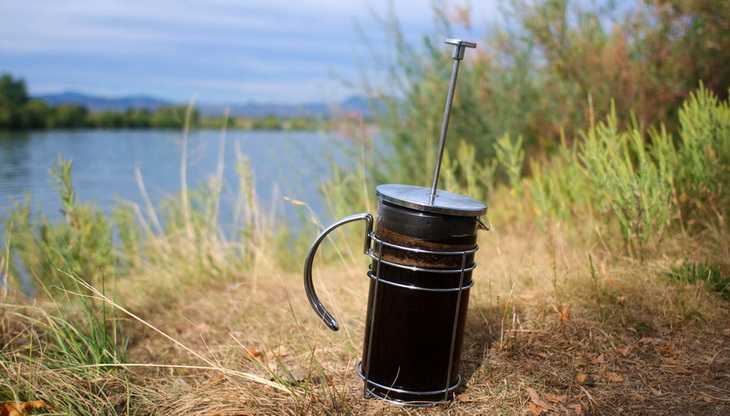 Also, when thinking about materials consider that you may need to place boiling water in this item as well as an acidic beverage.  The general opinion is that the metal is the leading choice of material for a camp coffee maker.
Weight
The downside to picking a metal is that it may end up weighing you down.  Again, just as in size this is a major concern to the backpacker, but the car camper shouldn't start laughing just yet.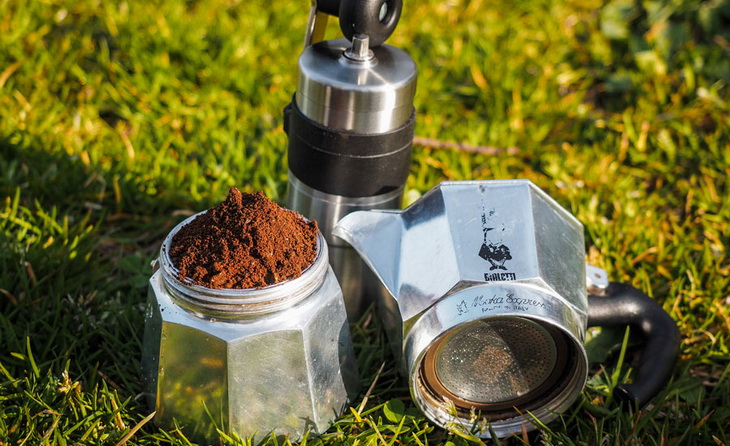 I've been to a number of campsites that even though you weren't backpacking, you still had to carry all the gear you would be using from a parking lot to your site.  Stuff gets heavy quick, especially if you are making a few trips.
Fuel Choice
Some coffee makers are mostly a holder for the grounds that will require you to have hot water from another source.  This offers the greatest flexibility, but also requires another separate piece of equipment that may be being used for another purpose in the morning.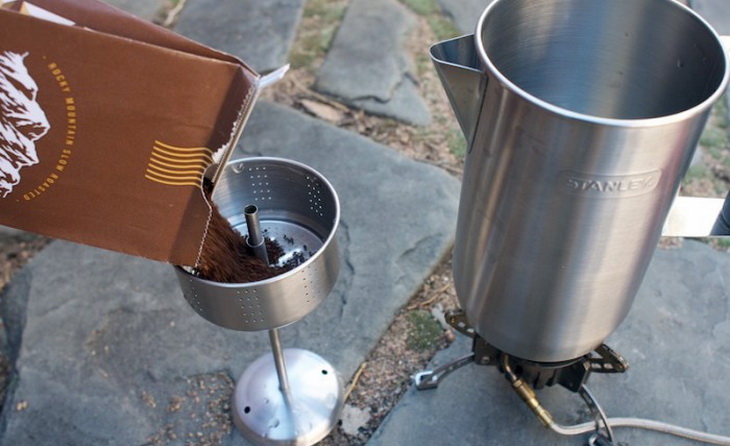 All in one unit can heat the water but will require some form of fuel.  I haven't come across any that require a particularly odd or hard to find fuel, but it is good to consider is this a fuel that you already bring with you or will you need to carry a special fuel with you just for this device. Now that we know the important things to look for in our coffee maker, let's take a look at some of the top choices.
Price
What is great about these camping coffee makers is that you can find them in a price range from only $30 to $170 and choose one according to your budget. The cheaper coffee makers are gonna serve their purpose equally good for all camping and hiking trips as the pricier ones.
Best products on today's market
When it comes to buying a camping coffee maker, same as for any other outdoor gear, you should never look only into one product. It is important that you do research and know what options are available on the market based on your needs. This is why I did some research and compiled a list of best camping coffee makers on Amazon before you finally decide on which coffee maker is right for you.
Coleman 5167 
Price: Approx. $40
Weight: 7.5 lb
Dimensions: 10.1 x 12.1 x 15.7 inches
Specific features: Brews 10 cups of coffee, for use with a 2 or 3 burner stove, brews a full pot in approx. 10 minutes
Best use: Car camping, rving
Description: The Coleman 5167 Coffeemaker is a great choice if you are going to be doing mostly car camping.  While staying lightweight it can deliver a good amount of coffee in not all that much time.
Also, it has most of the features found in a model such as a swing out the basket and a pause and serve feature that allows you to pour a cup before the whole carafe is full.
This unit is made to work with your camping stove, so it doesn't require its own fuel.  But it does mean that it will take up one of your burners.  The unit is metal wherever it might come in contact with a flame.
The carafe is glass, which can break if you aren't careful with it.  Since it operates like a standard home drip machine you are probably already familiar with how it works.  Also, it is a contained unit, so in order to clean it up you merely need to take out the filter full of grounds and disposing of it.  The downside to that ease is that you will need to remember to bring a filter along with the unit.
PROS:
Up to 10 cups of coffee
Easy-fill reservoir
CONS:
Glass carafe
Sometimes it can overflow
Related: Coleman QuikPot Coffeemaker Carry Case, a strong carry case for extra portability and easier carrying. The handle is paddedand has zippered pockets to store small things like spoon.
Aeropress 83R20 
Price: Approx. $30
Weight: 0.4 lb
Dimensions: 4.8 x 4.5 x 11.8 inches
Specific features: Brews a cup of coffee in under a minute, can brew either coffee or espresso, micro filtered to keep grounds out of your glass
Best use: Backpacking, car camping, hiking
Description: The Aeropress 83R20 Coffeemaker is small and compact, yet gives you control over your coffee.  With a mixture of selecting a good grind size and correct pressure to press the plunger down you'll be able to make a superior cup of joe.
This press is made out of plastic so there is no worry of it shattering, or if it falls or is knocked off a table. Additionally, with its micro-filter, you won't have to worry about finding grounds floating in your cup. That comes with a number of fresh filters to be able to brew quite a few batches, however, it does mean that you will need to keep an eye on your supply and stock up before a trip if you start to run low.
Doing double duty of making either a cup of coffee or a double shot of espresso is quite appealing and if you had a nice cooler to bring some milk you could even look at making some campsite lattes. One other downside to this is that it has quite a few different pieces, making it easy for some to get misplaced or to fall in the dirt while making your morning cup.  You will need some other devices.
PROS:
Fast
Plastic press
1 to 4 cups of coffee
CONS:
The rubber part on lower-use unit has a short lifetime (750-1000 cups of coffee)
Related: The Aeropress Coffee and Espresso Maker is usually bought with JavaPresse Manual Conical Burr Mill for finer brewing and Altura MESH Filter for AeroPress CoffeeMakers, a washable and reusable stainless steel filter that has a lifetime guarantee and comes with a FREE eBOOK with Recipes, Tips, and More
SterlingPro Double 
Price: Approx. $40
Weight: 1.9 lb
Dimensions: 8.9 x 6.7 x 4.4 inches
Specific features: Brews a full liter of coffee, double wall insulation keeps coffee warm and outside cool, the double screen system to keep the grounds out of your coffee
Best use: Car camping, backpacking
Description: This one is a beautiful looking piece, the SterlingPro Double Coffeemaker would look at home in a home or a nice office coffee station.  But the stainless steel build will keep it from rusting or denting when abused out on the trail.
Without having a glass component like many French presses you don't have to worry about it shattering when you shove it down in your pack your third morning into a backpacking trek.
The handle gives you enough room to be able to fit your hand in with room left over if you happen to be wearing a glove.
This is not designed to go on a stove, you'll need a different vessel to heat up the water you'll be using.  Also, you will want to consider cleanup when you are done drinking your liter of coffee.  Of course, if 1 liter isn't quite enough there is a 1.5 and 2-liter version as well.
PROS:
Stainless steel
Plastic press
Double Screens System
1 to 4 cups of coffee
CONS:
Different vessel to heat up the water is needed
Plastic  top of the handle
Related: If you consider buying Sterlingpro Double Wall Stainless Steel French Coffee Press then we would suggest opting for this Nice-W Travel USB Charging Hub with which you'll be able to charge your coffee press and have fresh coffee anytime and anywhere.
Coleman QuickPot 
Price: Approx. $100
Weight: 9.3 lb
Dimensions: 17.13 x 13.31 x 8.94 inches
Specific features: Brews 12 cups of coffee, push start ignition, keeps coffee warm up to 4.5 hours
Best use: Car camping, rving
Description: The Coleman QuickPot Coffeemaker is a stand alone campsite coffee making beast.  It takes its own propane tank, but there is no need to fiddle about with matches trying to get it lit.  The push start ignition gets you up and brewing.
Again, this is a drip coffee machine similar to home models, the only difference being the tank of gas instead of the electric cord.  The carafe is glass and could break if stored poorly or dropped, but the rest of the unit is rather solid.
Much like a home unit this will also keep your coffee warm, so if you aren't the first one out of the tent there is still hope for a warm cup.  The whole device will warm up a bit if you leave it on for a while, so take care with what kind of surfaces you place it on or trying to move it before it has had a chance to cool off. This is a heavier model, so most likely you'll find a place to put it when you first set up camp and not move it around overly much from there.
CONS:
Heavier
Glass carafe
Price
Related: The Coleman brand also offers Coleman QuikPot Carry Case which can be a nice addition to your coffemaker. Made out of PVC-coated polyester it'll protect your coffeemaker from accidents. It also has a comfortable and strong handle for easier carrying.
JetBoil Java Flash 
Price: $80 – $110
Weight: 1.45 lb
Dimensions: 12 x 9 x 6 inches
Specific features: Push button start, comes with 1-liter cooking cup, brews a ½ liter in 2 and a half minutes
Best use: Hiking, backpacking, camping
Description: For an all in one setup, you'll want to go with the Jetboil Flash Java Coffeemaker.  This setup gets you everything but the fuel canister.  It has a small single burner stove, a cooking cup with drink through lid and a press accessory.
Once you get your coffee and a fuel canister you'll be ready to go and just drink your coffee in the same vessel you made it in.  Of course, this might be a problem if your hiking buddy was hoping you'd share.
The jet boil fuel canisters can work with any jet boil stove, or you could simply buy a pot support for the included stove in this kit to make it your cooking stove as well.  The downside would be if you already had another stove and fuel setup, then you would be adding another fuel type to what you had to haul. While this type of stove is made for high elevations you might consider adding a windscreen of some type to it as a strong breeze can slow down your cooking time.
Related: If you're planning a longer camping trip, we suggest you bring the additional Jetboil Jetpower Fuel Blend. It's the fuel canister replacement for our review product and Jetboil Personal Cooking System, not to mention that is compatible with other canister stoves as well.
GSI 79480 
Price: Approx. $10
Weight: 0.4 lb
Dimensions: 1.1 x 5.5 x 5.6 inches
Specific features: Extremely compact, easy to use, easy to clean
Best use: Hiking, backpacking, camping
Description: The GSI 79480 Coffeemaker is about as simple as a camp coffee filter can get.  It collapses down flat for easy storage and getting packed away, but you can still tuck your filters into the lid.
When it is the coffee time you pop it up into a cone, put a filter in, scoop in your grounds, place the whole thing over a cup and slowly pour some not quite boiling water over the grounds. You can reuse the grounds to make a number of cups as long as you have some hot water and are willing to wait while the water makes its way through the grounds.
Then when cleanup time comes you can pull out the filter and used grounds and pour a bit of boiling water through just to make sure it is clean, dry it and collapse it back.  The product does have a bit of an odor to it when you first open it up, but it doesn't seem to affect your coffee at all.
CONS:
Doesn't work with gold filters
Related: This brand has designed an interesting GSI Infinity Backpacker Mug that will come in handy if you opt for this coffeemaker. It is insulated with collapsible and nylon-wrapped handle which makes this mug easy to hold and pack, but what's most important it'll keep your coffee warm for a longer period of time.
Handpresso Hybrid 
Price: $70 – $170
Weight: 2 lb
Dimensions: 10 x 6 x 4 inches
Specific features: Handles up to 16 bars of pressure, uses E.S.E. pods or ground coffee
Best use: Backpacking, hiking, camping
Description: If you are an espresso fanatic and love going backpacking then the Handpresso Hybrid Coffeemaker is for you.  I'll admit when I first looked at this thing I had no clue how you would even go about using it, but it seems rather simple if a touch messy.
The pod at the end you'll fill with your coffee grounds, it can get a touch messy when tamping it down.  Next, you'll fill the handle with hot water and then attach a bike pump to bring it up to pressure. Then you hit the release button and nice hot espresso flows into your cup.  Now you won't need any additional filters, but you will need to have another vessel to heat up your water, as well as a bike pump.
Also, this one only makes espresso, so if some people on your trip are wanting a regular cup of coffee and others are looking for espresso you may end up bringing multiple devices along.  However, if you just need that good quality espresso even in the backcountry this is for you.
PROS:
Lightweight
It come with filter for the ground coffee
CONS:
Price
Only for espresso shots
No heating system
Related: Handpresso Travel Case that will protect your Handpresso Coffeemaker wherever you go and Handpresso Domepod Case for transporting your freshly ground espresso without bringing plastic bags or large tins.
Melitta 64008 
Price: Approx. $5
Weight: 0.23 lb
Dimensions: 5 x 4.4 x 4.1 inches
Specific features: Dishwasher safe, ridged to stay put on top of cups, takes a #2 or #4 cone filter
Best use: Camping, hiking, backpacking
Description: The Melitta 64008 Coffeemaker knows what it is about and doesn't try to pretty it up with additional features.  It is a filter holder to put onto of a cup to make coffee in.  Add in your filter and ground and pour the water.
And if you are making a cup of coffee in the morning to help wake you up you definitely don't want to be dealing with anything complex to make that coffee.  Now you will need some extra materials to use this system.
You'll need another vessel to heat the water in as well as the filters to hold your coffee.  Though cleanup is a breeze with this type of coffee maker.  It is a solid piece of plastic, though, so it will take up the same amount of space in your pack as it will when making your cup of joe.
CONS:
No water heat vessel
No filters
Related: Considering the fact that this coffeemaker doesn't have filters to hold your coffee we suggest you opt for this pack of 100 Melitta Natural Brown #2 Cone Coffee Filter.
The Wrap Up
I think that I've taken you about as far as I can on this quest.  Now you'll need to take some time to consider your own preferences when it comes to a camp coffee maker and determining which you believe is the best.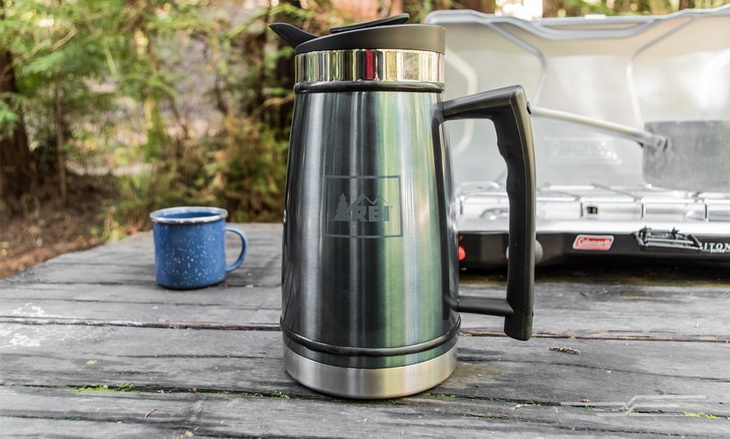 You'll want to think about the type of camping you are looking at doing, which will lead you into prioritizing features like weight, materials used or fuel type.  Then you will also need to think if you have a preference of a certain type of coffee, such as drip, press or espresso.
You might even want to think about those that you go on your outing with, will they want some and if so how much time will it take to brew up some for everyone.  I've even shown you some great choices, each can fill a spot for a certain person with particular preferences when it comes to their coffee on the trail.  I'll leave you with a hope of happy trails and great coffee.
One more thing before the end, if you have some questions, or you have a feeling that you experience needs to be shared with us, feel free to leave a comment or a question in the comments section below.