When you picture being out in the wilderness many people think of the romantic version of it, only needing a campfire to cook a fish that you've just pulled out of a stream.  However, most places will have limits on open fires. Some locations will only allow you to build fires in set locations; some will block them all together.
Additionally, all fires are different, they depend on what type of wood, how good of airflow you can get, and a number of other features. These can be overcome, but for consistency and ease of cooking a grill might be better.
Now some campgrounds have those grills mounted on a post in concrete, they can work, but they might not be set up for you. Other people may choose to get a cheap grill, and then just chunk it in the waste at the end of their trip.  But why not go for the best portable grill out there?
Our Top Picks
Features to Consider Before Buying
Fuel Choice
Grills today usually come in a choice of wood/charcoal or gas.  There are some units that are pellet driven, but these normally require electricity to run, so we won't be considering any, here.  Both the wood/charcoal and gas camps have their fan bases and points in their favor.
Those who enjoy wood/charcoal grills like the extra flavor imparted by an actual fire.  The down side however is that you need to carry a good amount of fuel or be sure that you can find some.  The gas grill fans enjoy that it is a clean burning fuel.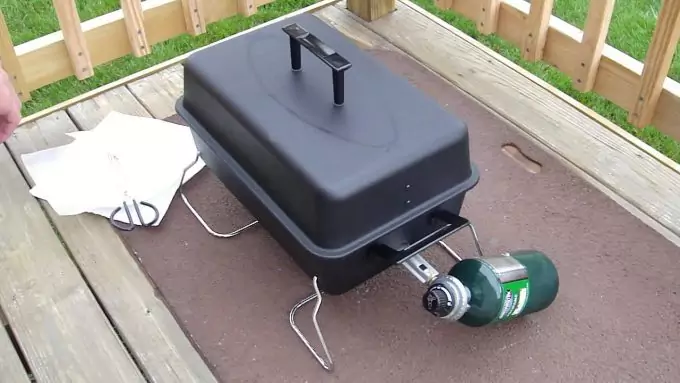 If you have other camping gadgets, there is a likelihood that some will run off the same gas.  However, this means that you have to bring all the gas you will need for your trip and if you run out you can't really just gather us some fallen sticks to cook your food.
Cooking Area
Since you are looking for the best small grill there will naturally be a limit to how much surface area you have before you move out of the category. However, looking at how much cooking area gives you an idea not only the size of the grill compared to each other, but also gives you a window into how many people you will be cooking for with the grill.
You will want to remember this as you select your grill, too small and you'll cook everything in batches to feed everyone, too large and you will be lugging around extra weight to your campsite.  Also, when considering cooking areas think about the surface itself.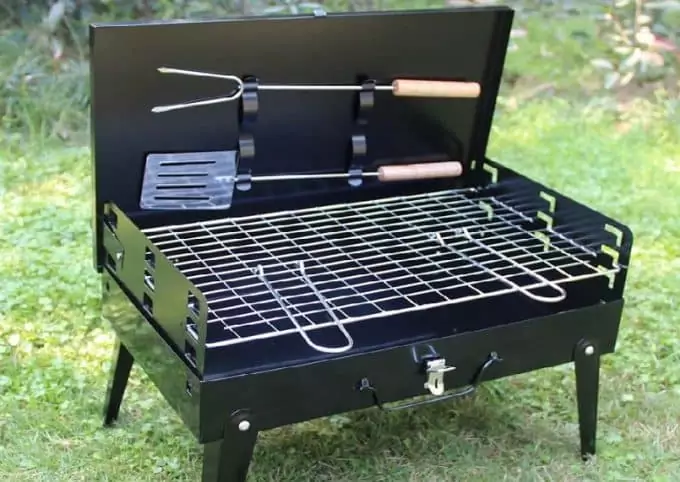 Do you what the classic grill lines or if it is a flat griddle like surface preferable to you and your cooking style?
Grill Stand
Another consideration is where will you put your portable grill?  If you know that your campground has a table, or if you are planning on bringing a table for your grill a stand is not all that important.  But if you are planning on putting it on the table think of how much space it will take up and how much space will be needed to eat and prepare your meals.
Another solution is to use a grill stand.  This will free up table space or keep you from having to bend down to the ground every time you need to check your dinner.  On the other side you will have to carry it with you and find a level spot to set it up.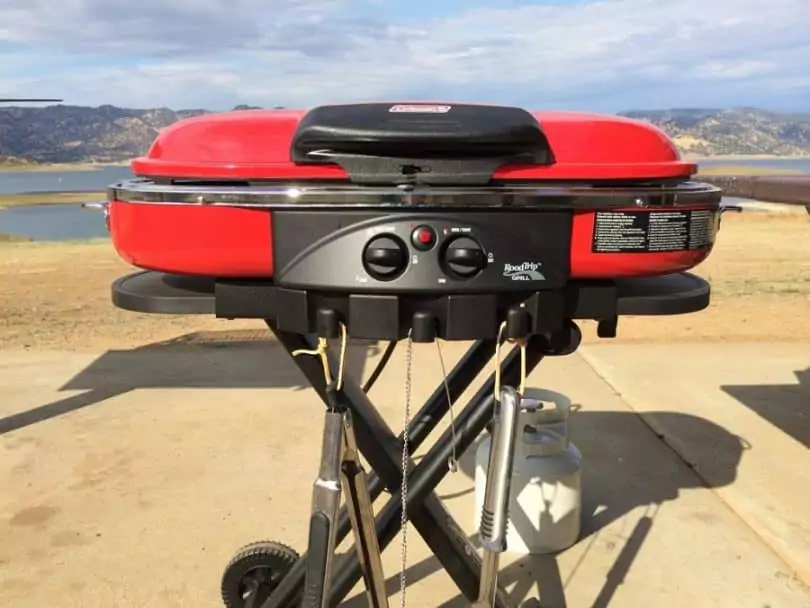 Some of these small grills come with a stand, others have the option of adding a stand, a few of them don't have a way to mount a stand at all. There are some other bells and whistles, but these three can serve as your guiding factors when you look to select which of these is the best portable grill for you.
Top Products on the Today's Market
Now that you know which features you should keep an eye on before deciding which model to buy, we will make your choice, even easier and present to you some of the best models available on the market.
Weber Q2200 Liquid Propane Grill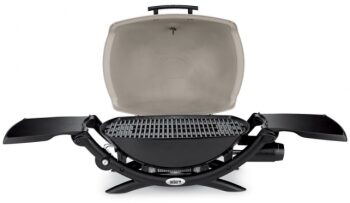 Price: Approx. $250
Weight: 42.5 pounds
Dimensions: 25.1 x 51.4 x 26 inches
Specific features: Easy start ignition, built in thermometer, one stainless steel burner
Best use: Camping, tailgating, cookout
Description: The Weber Q2200 Liquid Propane Grill is a great choice if you are looking for a propane grill.  It has an adapter to be able to use either the smaller disposable 14 or 16 ounce bottles, but there is an available adapter that will allow the use of the larger 20 pound tanks that can run the grill for hours.
This line has a wide range of accessories, from an optional grill stand to various grates to be able to swap between a standard grate and a griddle option.  As a nice added feature this grill features a pair of plastic preparation tables, one on each side of the grill to hold food that has just come off or that is about to go on.
This one comes fully assembled, allowing you to pull it out, attach a fuel bottle and start grilling.  Some reviewers have suggested that this grill is great for about 4 to 6 people, possibly being able to feed 8.
Many reviewers commented that they were pleasantly surprised that the grill heated up very quickly, however, it has been reported that if fuel bottles are left attached the burner can be turned on easily and cause a fuel leak.
PROS:
Comes fully assembled
Has two side tables
A very large cooking area
CONS:
BTU might not grill properly high quality cuts of meat
Related: This grill is a great match with the Weber Portable Cart, ideal for placing the grill on top of it and wheeling it anywhere.
Cook-Air EP-3620BK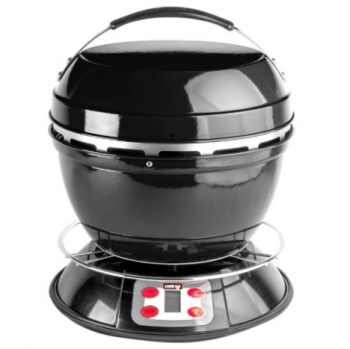 Price: Approx. $150
Weight: 22.7 pounds
Dimensions: 17 x 15 x 15 inches
Specific features: Wood burning, blower system, quick heating
Best use: Tailgating, cookout
Description: If you are looking for a grill that will burn hardwood chunks the Cook-Air EP-3620BK is one to consider.  This grill uses an electric blower system to assist in heating the hardwood fire quickly.
The system comes with a normal AC plug as well as an adapter to plug into a cigarette lighter.  Several reviewers report that these cords are about 8 feet long.
While this blower feature can help the grill to heat up in approximately 5 minutes it does mean that you will have to have the unit somewhere that you can run power to.
The bottom area of the grill is specifically made to remain cool even if the grill heats up to 1100 degrees.  This is another unit that comes nearly fully assembled.  You will need to attach the handle prior to use.
While this is a wood fired unit the manufacture specifically states that dried hardwood should be used, so you will need to search for those versus using charcoal or something similar.  Many retailers and online sites have a wide variety of hardwood chunks available to use for setups such as this.
PROS:
Lightweight
Reaches high temperatures in less than five minutes
CONS:
Rusts quickly
The fan might stop working after a while
Related: The Arres Barbecue Gloves are ideal for anyone who loves grilling and barbecuing, making them a good partner for this grill.
Weber Go-Anywhere Gas Grill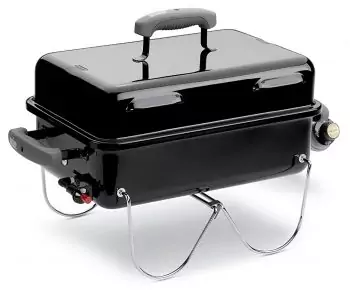 Price: Approx. $70
Weight: 14.9 pounds
Dimensions: 21 x 12.24 x 14.5 inches
Specific features: Push button ignition, lid cradle, one stainless steel burner
Best use: Camping, tailgating
Description: For a small, easy to move grill take a look at the Weber Go-Anywhere Gas Grill.  Coming in at under 15 pounds, it is rather simple to carry with you, where ever your journeys may take you. People that like portable grills understand the importance of a lightweight one that can be literally carried anywhere.
It also features porcelain-enameled cooking grates, these should help with cutting down flair ups while getting hot enough to ensure a good sear on your burger.  This grill is designed to be used with the smaller disposable propane bottles.
Some reviewers have commented that this grill has issues if you are trying to cook in a windy area.  Also, there a few years back there was a redesign that had a few kinks that needed to be worked out, if you opt with this model be sure that you have the most up to date version on the market.
PROS:
Very lightweight and easy to carry around
Push-button ignition for easy lighting
CONS:
Hard to regulate the heat
Related: Every grill in the universe (that we're aware of) needs an adaptor hose to feed gas into it. This Adaptor Hose from Weber would work perfectly with their Go-Anywhere Gas Grill.
Black Stone Table Top Camp Griddle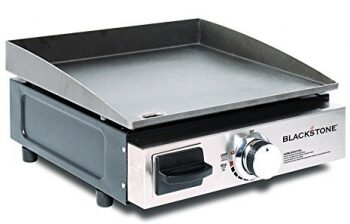 Price: Approx. $80
Weight: 21 pounds
Dimensions: 8.5 x 16 x 17.3 inches
Specific features: Griddle top, igniter, easy clean
Best use: Camping, tailgating
Description: The Blackstone Table Top Camp Griddle has perhaps one of the most unique form factors of any camp grill.  It looks more like something taken out of a kitchen at a local dinner and shrunk down to campsite use. Such design makes it incredibly easy to clean, just use a sponge with some detergent and after a few seconds it will be neat.
This is not a bad thing, as with that griddle the dinner can make a wide variety of dishes.  The smaller disposable propane bottles fuel it.  There is an available adapter that would allow it to use the larger size tanks as well.
Numerous reviews have commented on how enjoyable it is to cook breakfast at camp on this unit.  The marketing make a point of how easy it is to clean the cooking area, of cold pressed steel, and several reviewers have backed that claim up.
PROS:
Easy to clean
Very resistant and durable stainless steel construction
Very easy to take anywhere
CONS:
Propane bottles don't last long
Related: The Blackstone Cover is the ideal add-on for the grill, as it will keep it safe, clean and make it easier to carry on any trip.
CuisinArt CGG-180 Gas Grill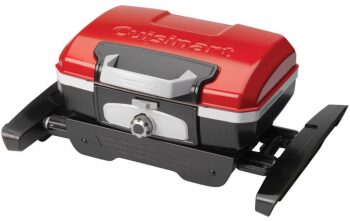 Price: Approx. $180
Weight: 17 pounds
Dimensions: 16 x 16.5 x 31.5 inches
Specific features: Telescoping stand, integrated lid lock, briefcase style carrying handle
Best use: Cookout, camping, tailgating
Description: Even if table space is at a premium the Cuisinart CGG-180 Gas Grill will keep you off your hands and knees to check your meal.  With its telescoping stand you can go from having it sit on a table to having it stand on the ground on its own.
A reviewer has reported the legs telescope out to 32 inches.  The lid lock and the carry handle beg you to take it with you on your adventures, no matter where they may be headed to.
And while the grill is compact they claim that you can fit 8 hamburgers on it at the same time and be able to cook them all evenly.
Though a few reviewers have put this grill at more of the size ready to feed 1 to 2 people instead of making a whole family meal on it.  It can use the smaller tanks directly or there is a hose available to be able to hook into a larger style propane tank, if you are looking for more grilling time.
PROS:
Stands up
Briefcase style carrying handle
Easy to fold back
CONS:
The automatic lighter can be tricky sometimes, takes time to work
Related: When you go through the trouble of getting such a good looking grill, chances are you want to keep it looking great. An easy way to do this is by using a grill cover, and this Cuisinart Gas Grill Cover would fit perfectly over this grill.
Coleman RoadTrip LXX Grill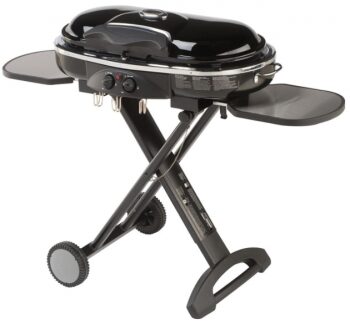 Price: Approx. $150
Weight: 50.35 pounds
Dimensions: 13.6 x 34 x 19.1 inches
Specific features: Push button ignition, interchangeable, cooking plates, collapsible stand with wheels
Best use: Camping, tailgating, cookout
Description: Sure, the Coleman RoadTrip LXX Grill may be one of the heaviest options in the small grill category.  It however comes standard with a folding stand with wheels, so you won't be carrying this to the campsite, so much as wheeling it along, which helps out quite a bit with the weight.
This stand can be removed if required, but it is not an easy task to accomplish.
As with many modern camping gas grills you can use the smaller size bottles screwed directly into that grill or purchase an adapter that will allow you to use the larger size propane tanks.
This grilling system has other grates available, so you can mix and match to get just the right style for what you are cooking and your cooking style.  It also sports, tables on either side of the grill and hooks to hang your grilling tools when they are not in use.
Some reviewers have noted that they did see more flare ups than with other grills.  Many people noted that this grill can get seriously hot, that can be a very good thing, depending on what you are cooking, but it is something that may take some getting used to for your first few grilling sessions.
PROS:
Stainless steel sliding side tables
Collapsible stand with wheels, easy to move around
22,000 BTU, more than other portable grills
CONS:
Flames too close to grill, it heats the whole item too much
Related: The Coleman Propane Hose is a good add-on for this grill, allowing to use it with any propane fuel and safely.
Weber Smokey Joe Premium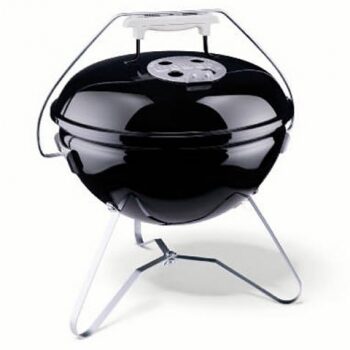 Price: Approx. $40
Weight: 9.8 pounds
Dimensions: 31.4 x 18.4 x 15.9 inches
Specific features: Lid locks, nickel platted grill grate, reinforced handle
Best use: Cookouts, camping, tailgating
Description: If you believe that grilling should be done on charcoal and that a gas grill is nothing more than an outdoor stove, the Weber Smokey Joe Premium is the portable grill for you.  It is the shrunken down version of the well know and highly used Weber kettle grill.
This is just the one that you can pick up and take with you.  There is no stand option, so it either needs to find some table space or you need to get comfortable with bending down to the ground each time you need to check it.
The lid lock system allows you to flip up the lid when it is not covering the grill and use it as a wind block.  Being a charcoal grill you have the option burning charcoal, hardwood, or just about anything else that you feel comfortable cooking over in it to get the heat to cook your food.
Many reviewers report how well it works, and it is clear that the company stands behind this, as they offer a 10-year warranty.  Now to their credit there isn't really much that could break on a model like this, but, that does drive home just how simple it is.
It is a step above just having a campfire, however, unlike building a campfire this grill has several vents that allow you more precise control as to how hot your fire is running.  And since it is contained, many areas that won't allow campfires will allow you to use this to cook your food.
PROS:
10 year warranty
Easy to use with charcoal
Cheaper than most
CONS:
Not the best ventilation system design.
Related: The Inlifiny BBQ Grilling Set is a great idea to purchase alongside this grill. Be prepared for any occasion with all the utensils you need.
Wrapping It Up
So, in the end, which is the right grill for you?  That depends an awful lot on just what you are looking for in a portable grill.  Perhaps the first thing you need to think about is the number of people that you will be cooking for, as mentioned above going to big or too small both have their drawbacks.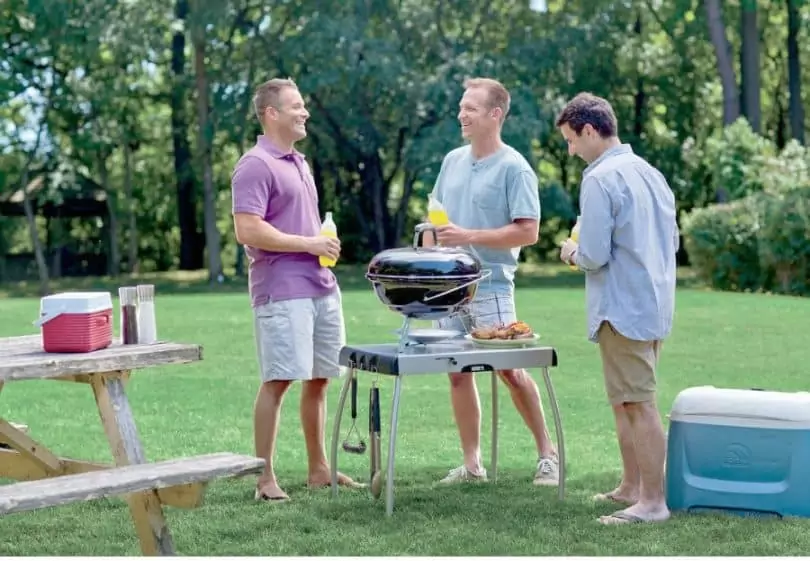 Consider where you will go and what you are going to use to fuel your grill.  Some places may not allow charcoal or wood fires even in an enclosed grill, but even though the small propane tanks are called "disposable" it doesn't mean that you can toss them in just any trash can.
Any of the grills that we've gone over would be a great choice if it fits within your cooking style.  Lastly, remember that you are starting a fire in these, many parts are metal and without caution you could easily get a burn or worse.
In the case you think we missed something, or you maybe want to share some of your experiences with this topic, feel free to leave a comment in the comments section below.