It has been an old axiom that water is a major part of the human body, and this will remain as we continue to live a healthy life. Whenever we go out it is beneficial for us to carry a water bottle as we are unsure whether the water guarantees us safety, most especially if you are in the middle of the wilderness.
It will then be a cherry on the cake if the bottle comes within filter rather than just from a traditional water bottle. However, choosing the best water filter bottle could be a tough endeavor. Never bother because this post will be your guide on this journey.
We will help you find the best-filtered water bottle for any occasion like trekking, outing, traveling or anywhere you want to go. Continue reading and select your budget-friendly, environmentally friendly water filter bottle on the market.
Our Top Picks
Features to Consider Before Purchase
The next time you visit a store to purchase your water bottle with a filter inside; these features should be present
The Materials Making up the Bottle
Water bottles should be BPA Free. Many consumers go for water bottles made from stainless steel, as they trust this material more than the unknown chemicals found in plastic.
The Items the Filter Will be Able to Filter
Does the filter of the water bottle only remove lead, chlorine or other toxic chemicals? Keep in mind that the majority of the filtered water bottles are designed for potable water, just as you get from a drinking fountain or from your sink at home.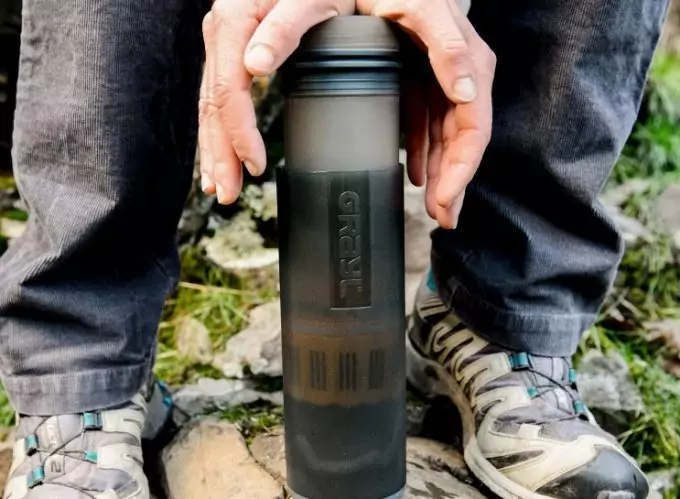 If you are in the wild, it is best to check whether the water bottle can be used in filtering toxins and microorganisms before filling it from a stream or lake. Make sure you double check claims in its reviews and conduct your own research before risking yourself with unclean water.
The Durability of the Water Bottle
Remember that there is a huge difference when a filter needs to be changed following 150 uses compared to the 300 refills. Your water bottle should last longer if you are using it for outdoor activities like hiking, trekking or doing some sports events.
Consider your Source of Water
It is imperative to consider your water source when selecting the best filter water bottle for all your needs. Take into account that the bottle, developed for one particular application, might be unequipped for any other task.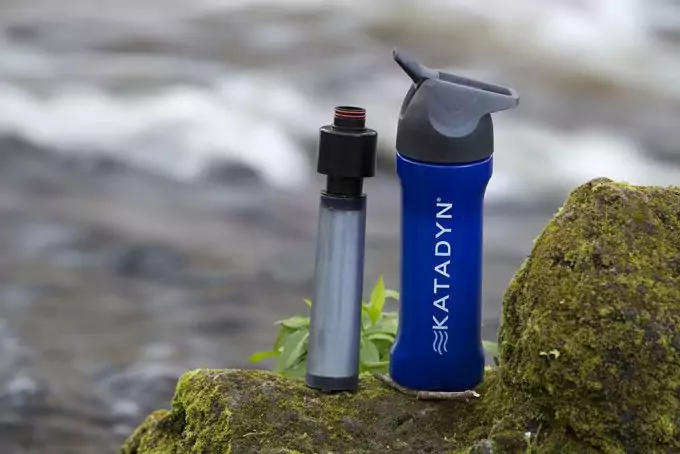 So if you only need an additional filter for your body and your daily tap water, any simple filter water bottle will just do. Also, check if the water bottle is specifically made for specific use with tap water or if it has the capability to safely filter from the other sources.
Types of Filter Water Bottles
There are two filter forms that are usually used in water bottles with filters:
Carbon filter
These filters are extensively used for their effectiveness and simplicity at filtering chemicals. They are composed of activated carbon, which the water passes, eliminating the contaminants to small sizes, which is dependent on how fine the filter was made for.
They need to be replaced periodically as they slowly wear out and accumulate waste.
Ultraviolet filter
These filters are more expensive and less common when compared to carbon filters. They use ultraviolet light in killing the bacteria and viruses. Although they tend not to change the taste of water or eliminate chemical compounds, they are effective in removing viruses and sterilizing water. Both types of filter can also be integrated to have a double-whammy method of having clean water.
Top Products on the Market Today
Below are some of the best options for filtered water bottles. Some of them are better when compared to the others in the list, depending on where exactly you are going to use them and where you will source the water from.
Lifestraw Go Bottle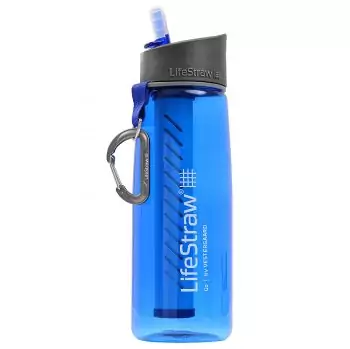 Price: Approx. $30
Weight: 23 ounces
Dimensions: 3 x 3 x 9 inches;
Specific features: Filter as much as 264 gallons, filter size of 0.2 microns, zero aftertaste, food-grade flexible silicone removable mouthpiece, BPA-free Tritan
Best use: Hiking, backpacking, fishing, mountaineering, camping, traveling
Description: The LifeStraw Go Water Bottle has the capability to hold up to 22 ounces of water and will stop taking on water when it is time to be changed, making it a fantastic product so that you will know when it is not working great anymore. The bottle incorporates the water bottle and the basic LifeStraw product.
It is recognized as one of the water bottles that comes with filters that can filter water from streams and ponds other than the regular tap water. It is lightweight and leak proof, which makes it ideal for outdoor enthusiasts, especially when you are hiking on an unknown terrain.
You just have to put water into the bottle without having to worry about its purity. Those who have used the bottle complain the necessary effort to exert in sucking the water through its filter.  It even Removes 99.999% waterborne bacteria or protozoan parasites
There are also those who attested about the chlorinated and plastic-like taste of the water they sip from this bottle. Overall though, many are still recommending this brand for every person who loves to spend time outdoors.
PROS:
BPA Free
Can filter water from ponds and streams
Chemical Free
CONS:
Plastic-like water taste
Low flow rate through the filter
Related: You'll want to make sure that you have a few replacement filters ready for when it is time to change out.  The 1-Stage Replacement Filter is a great option to keep on hand.
Grayl Ultralight Water Purifier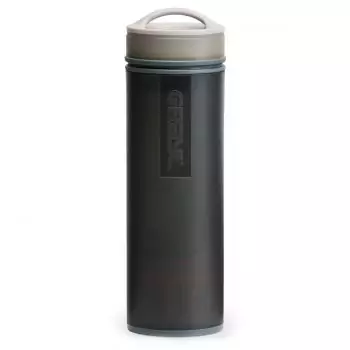 Price: Approx. $60
Weight: 20.8 ounces
Dimensions: 9.6 x 2.9 inches
Specific features:  One press purification + filtration, purification and filtration in 15 seconds for 2 liters per minute, Filters particulates, heavy metals, and many other chemicals, ultra light
Best use: Office, hiking, backpacking, mountaineering, camping, traveling
Description: This Grayl Ultralight Water Purifier looks professional when used in the office. The bottle can change the filter to water purifier that is used when doing some nature adventure, outdoors, although it is a little bit heavy.
It is made up of stainless steel, which makes it the best bottle, and the most expensive as it offers great water purification and filtration when you decide to change it to a water purifying filter.
You can change out its filter from its typical water filter for tap water to a water purifier for camping, hiking, and other outdoor activities to purify the water. This great feature allows you to bring the bottle anywhere you want. This product guarantees no leaks even though it is knocked over and it does not spill out the water.
You can actually carry it in your bag for work or in your backpack for a trek or hike. It permits you to filter as much as 40 gallons of water before you need to replace its filter.
Keep in mind that this can also be heavy even when it is empty. When it comes to its water content, it is fresh and clean. It even removes the dissolved solids and any other contaminants so you will get to enjoy drinking the water again.
PROS:
Can fill from lakes or streams
300 Use lifespan
10-year warranty
CONS:
More difficult to filter after a few uses
Related: You will want to keep a few of the Grayl Purifier Cartridges on hand for when it is time to swap out to a new one.
$averpak 2 Pack Water Bottles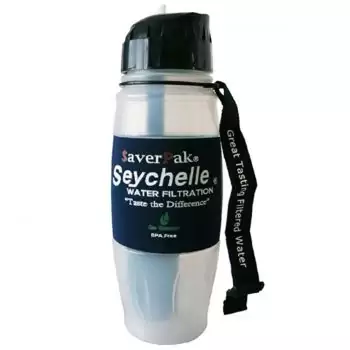 Price: Approx. $130
Weight: 17.6 ounces
Dimensions: 9 x 3.5 x 3.5 inches
Specific features: Alkaline enhancing filter, enhances water to 9.5 ph, enhanced filtration, filter removes as much as 99.99% aesthetics
Best use: Office, hiking, backpacking, mountaineering, camping, traveling
Description: The $averPak 2 Pack Water Bottles can be used with tap water and helps instantly enhance the alkalinity of the water as you drink it. It has the capability to provide you with as much as 100 gallons of better quality and great-tasting water.
Depending on its source of water, this pH, enhancing filter, offers you with a pH of up to 9.5. Its high pH water concentration stays in the alkaline condition for several weeks. The filter eliminates 99.99% aesthetics like dirt silt, sand and chlorine, heavy metals such as copper, chromium, and zinc, and chemicals. It can eliminate up to 90% of fluoride.
It can also be used as a replacement for a bottled water and as a drinking water filter. Some find it annoying to use this bottle, as you need to hold it straight and squeeze water out of it.  Its filter takes more room that it does not hold enough water for some.
There are also those who recommend customers getting a pitcher and then pour into the bottle that you need. The water bottle remains very useful in keeping you hydrated while you are always on the go.
PROS:
Claims to remove radioactive material
Includes neoprene grip
Includes spare filters
Related: As with any filtering system, you'll want to keep extra filters on hand.  For this set, you'll want the $averPak Single.
Camelbak Groove Tritan Bottle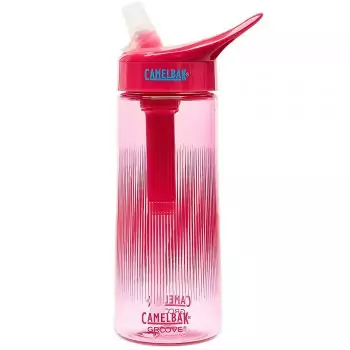 Price: Approx. $25
Weight: 11.2 ounces
Dimensions: 3 x 3 x 9.84 inches
Specific features: Numerous color options, Sustainable and plant-based filter, CamelBak for BakTM Lifetime guarantee, BPA-free, NSF International-certified
Best use: Office, hiking, backpacking, mountaineering, camping, traveling
Description: The CamelBak Groove Tritan Bottle is not recommended for children under the age of 5 years because its Bite Valve may dislodge and pose choking risk for the children. This bottle can be used in low-pressure environments such as airplanes and mountain altitudes as well as in high-altitude. It is suggested to keep its bite valve close at the bottle's right side upward position.
Take extra care for hot water, as there is a tendency to damage the bottle when filled with hot fluids. It is better to discard the use of washing the filter in the dishwasher and place it in your bottle, making it very handy.
Most customers recommend CamelBak Groove due to its durability, good tasting water, ability to take out and use its filter and quality of materials used in its manufacturing. Some, though, complain about the difficulty in drinking from it and the quality and safety of its filter.
PROS:
Plant Based Filter
NSF certified
Can use with hot (not boiling) water
CONS:
Doesn't purify the wild water
Bottle leaks
Related: You'll want to be sure and order a few of the Camelback Groove Filters to have ready when it comes time to replace.
Aquasana AQ-PB Water Bottle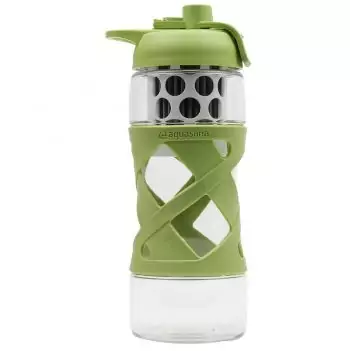 Price: Approx. $30
Dimensions: 3 x 3 x 9.2 inches
Weight: 10.4 ounces
Specific features: Numerous colors available, professional grade filtration, eliminating over 99% lead, cryptosporidium, giardia, chlorine, bacteria, and lead, economical
Best use: Office, hiking, backpacking, mountaineering, camping, traveling
Description: The Aquasana AQ-PB Water Bottle produces high quality filtered water with its large main filter and its smaller pre and post-filters that are effective at eliminating unwanted water contaminants. It does not use backwash system, unlike the other water filter system. The large-size filtration system of the bottle's big version requires installation in a garage, outdoor or basement area.
It provides sun protected sumps for the post- and pre-filters. It has a distinct design keeping the channels from forming in filtration media. One of its great features is the fact that it does not waste any water as it allows you to filter all water coming into the system. The bottle can actually produce the water needed by every person using it.
Its filtration system has exceeded the NSF standards as it removes as much as 99% of chlorine in the water and any other common contaminants resulting to a quality drinking water thereafter. It can even transform an ordinary tap water into an extraordinary water wherever you want to go. The annual operating costs of the system tend to be very low, although its initial upfront cost is definitely high.
PROS:
Exceeds NSF standards
Can be used without the filter
CONS:
Filter detaches in the bottle
Squeaks while drinking
Related: You'll want to keep a couple of the Aquasana Filter Replacements on hand, the company suggests swapping them every 3 months.
Fit Top Filtering Water Bottle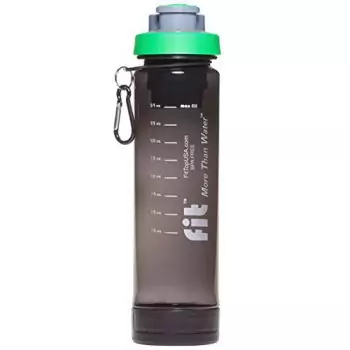 Price: Approx. $17
Weight: 14 ounces
Dimensions: 8 x 3 x 3 inches
Specific features: Multiple colors, filter isolation technology (FIT), BPA-free, FIT Top that filters water when the bottle is filled, comes with replaceable filters
Best Use: Office, Hiking, Backpacking, Mountaineering, Camping, Traveling
Description: The Fit Top Filtering Water Bottle manages to become fairly durable although it is made from thin plastic. Such bottle is still able to redeem itself from being a bit flimsy with the filtering mechanism on its lid. Its design behind the filters helps filter water as it is poured in the bottle unlike in the other filtered bottles available in the market. This ability to filter liquid makes its distinctive despite those bottles that incorporate a filter inside the bottle. It allows you to also put some additives in the water if you wish to add nutrients or flavor to your water.
Take into account that filling this water bottle can be slower when compared to a normal bottle. It utilizes a replaceable carbon filter to eliminate unwanted contaminants in water, which makes it great for getting rid of odd tastes or ensuring to get the cleanest water.
Meanwhile, the quality of the bottle has suffered due to its filtering lid, although it seems appealing to customers in some ways. Leak from the area where the lid screws on is also an issue encountered by those using this bottle.
PROS:
Fairly durable construction
Filters on filling, not during drinking
Able to pour filtered water out into another vessel
CONS:
Can't put ice in the bottle
Leaky top
Related: Believe it or not, this manufacturer offers you a chance to use that filtered water and mix it with fruit for a quick vitamin infusion on the go with their Topfit Juicer Cup Portable Rechargeable Fruit Mixer.
Clearly Filtered Hydro Flask
Price:  Approx. $60
Weight: 12.6 ounces
Dimensions: 3 x 3 x 10 inches
Specific features: Filters up to 99.99% contaminants, clear filtered cap, filter eliminates biological elements, double wall vacuum insulated, 18/8 stainless steel
Best use: Office, hiking, backpacking, mountaineering, camping, traveling
Description: With its combined Hydro Flask and Clearly Filtered features, Clearly Filtered Hydro Flask delivers only the best looking insulated bottle in the market today. The water bottle is equipped with the best water filtration technology that is made available anywhere.
It is specifically developed to eliminate as much as 90% of fluoride and 99.99% of any other contaminants from tap water. Its replaceable filter is made from activated coconut carbon with lasting adsorption media to 100 gallons.
In fact, a single filter can generate more pure water than the 750 disposable half-liter bottles. It comes with a filtration system that is easy to use, allowing you to save cash while saving the environment.
One complaint from the users is its straw as it easily breaks when accidentally dropped on the floor. Another issue is the difficulty in filling up and taking out of its filter, which may sometimes lead to its breakage. It has been recommended not to leave water in the bottle overnight, after prepped the first time because of the sewage-like smell of the filter. The overall work of the water bottle is superb as attested by the majority of its consumers.
PROS:
Removes Chlorine
Stainless Steel Construction
Removes 90% of fluoride
Related: To be on the safe side and not worry about your filter quiting on you when you most need it, we suggest getting the Clearly Filtered Pitcher Replacement Filter.
Wrapping It Up
You definitely need the best water bottle with filter whether you want to go for a survival mode or just to drink a filtered water. All the filtered water bottles above have quality filters to make your drinking more convenient and safer, and to remove unwanted contaminants to only drink the purest possible water wherever you may be.
With these featured filtered water bottles, you can finally find the right bottle for your water. Yes, it is a tough task, but you still have to be very careful in scrutinizing each one of them so you will be able to get the best one that will satisfy your needs.
Do you have any experience with these selections?  If so, we'd love to hear about it.  Let us know in the comments section below.