When you're outdoors, backpacking, and involved in energy consuming activities all day, you need the best backpacking food for nourishment and to revitalize your strength. Taste matters a lot too, because if the food isn't tasty enough, you'll not each much.
Food is one of the essential things that you need to carry in your backpack. Extra food will always come handy, but don't overdo it because you are going to carry that backpack and you don't want to exhaust yourself with too much weight.
The amount of food you need to carry depends on your weight, size, and energy level. A reasonable amount is 2500 to 4500 calories for an individual for a day.
Our Top Picks
Things to Consider Before Buying
The most important things that you need to give consideration to when packing food are following.
Dehydrated Food
Dehydrated or frozen food is a really good option for a backpacking trip. Though it's a little expensive but it tastes good and requires little effort. Dehydrated food is lightweight this easy to carry.
Canned Products
You can avail canned products only when you are going on a short backpacking trip and you want homemade food with you. You can take rice or fish with you if you must but avoid taking bulky canned products.
Fresh Food Items
Fresh food items won't last long because you don't have the luxury of a refrigerator during the trip so it'll probably last for a day or two. Carrots are a good option, though.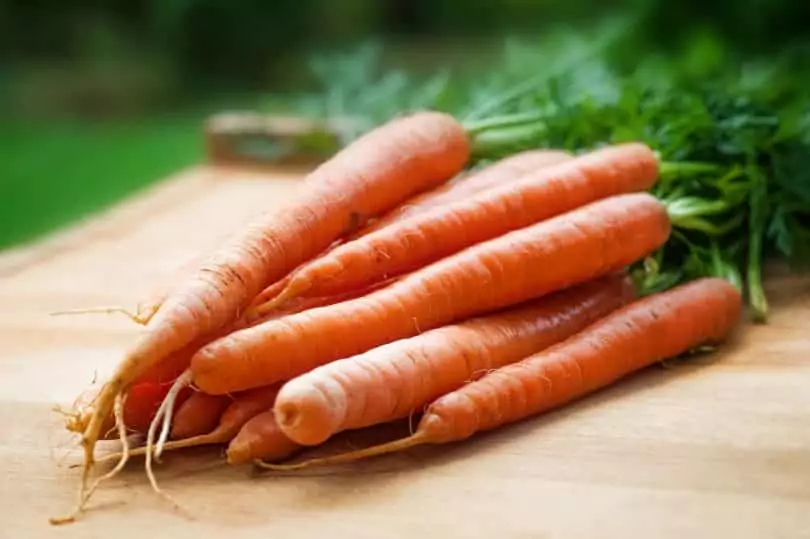 Dry Food
Dry food like pasta, instant soup, instant noodles, is lightweight and easy to make so they can be convenient to carry and eat.
Spices
Spices can add taste to even boring food so you can take black pepper, salt, basil, red pepper, cumin, cinnamon or some other spices that you use in everyday cooking with you.
Flavored Drinks
Flavored drinks can serve as refreshment during your backpacking trip and you'll have something except water to drink.
Nutrition
It seems really convenient to have a toffee during your backpacking trip, but you need carbohydrates and proteins for energy.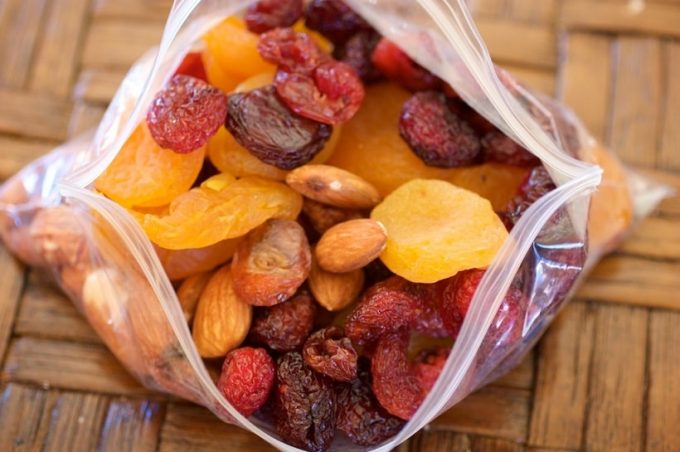 Dry fruits and nuts can serve the purpose of a quick snack and are a good source to provide the much-needed energy to your muscles requirements.
Calories
For a long trip, you need a fair amount of calories to function properly during a backpacking trip. To overcome a headache and weariness you'll need those calories.
Taste
Take what you like with you. Don't try to taste developing a new type of food during a backpacking trip. You need energy so need to eat properly and that can happen only when the taste of the food is according to your liking.
Amount of Food
Pack food which is light weight and low bulk as much as possible, especially on long backpacking trips. Try packing food into plastic bags so you can dispose of them off as you eat them.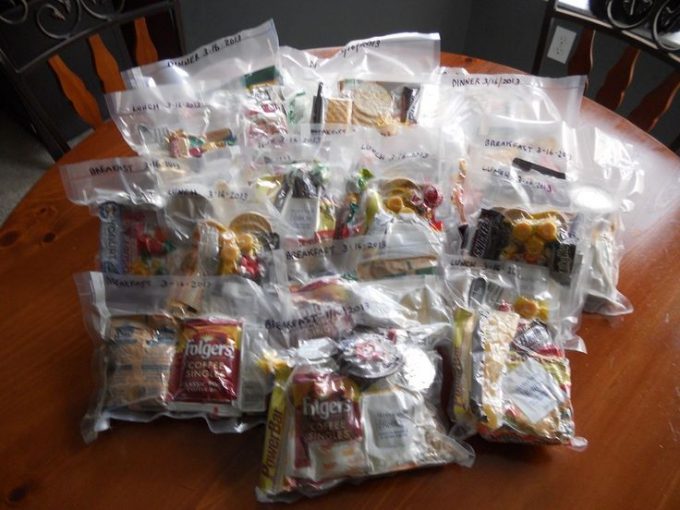 Read the cooking instructions carefully and put a label on the bags for convenience.
Water Availability
Water availability is a really important factor is food packing. This mostly depends on where you are going and what are the water availability conditions there. You need to pack food accordingly.
Ready to Cook/No-Cook Food
Prefer ready to cook food because it'll cook quickly or no cooked food which will save you the time and effort it takes to cook.  It will also save you the extra trouble and effort of carrying a stove. And in case your stove stops working due to some reason, you'll have something to eat.
Cost
Frozen food is quite expensive, but if you can afford it then it's a really good investment because at the end of a really tiring day, you don't even have the energy to boil water this seems a really good decision.
Top Products on the Market
Sincerely Nuts Honey Roasted Sesame Sticks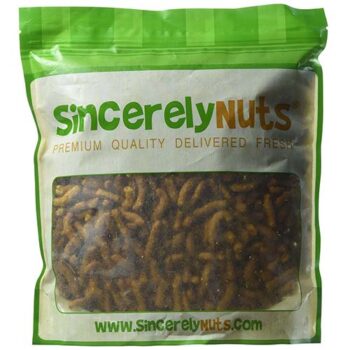 Price: Approx. $13
Weight: 2 lb
Dimensions: N/A
Specific features: Honey roasted, vegetarian-friendly and mineral rich, Kosher certified
Best use: Ultralight backpacking, hiking
Description: The Sincerely Nuts Honey Roasted Sesame Sticks are filled with minerals, proteins, and fiber, which make it a reliable energy source during a backpacking trip. With the price of around $13, they are quite affordable. Magnesium in it will keep your blood pressure in check and the fiber will make the digestion easy.
Honey and sesame are quite a delicious combination that adds to the taste. This product has it all freshness, quality, and healthiness. The rich minerals like calcium, zinc, and phosphorus in the product are really good for your bones and the taste is mouthwatering. The crunchiness makes it all more delicious.
The product is ultra-lightweight so it is perfect for backpacking. If you need a quick snack during your trip to get your energy this is the product you should take with you. The sesame seeds used in the product are the finest of the USA available ones, and the healthy plant protein makes it vegetarian-friendly.
PROS:
It is affordable
It is fresh
Vegetarian friendly
Probar Fuel Energy Bar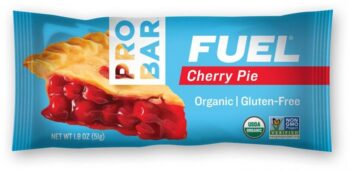 Price: $30
Weight: 0.11 lb
Dimensions: 6 x 5 x 4 inches
Specific features: Sweet and juicy flavors with seeds and nuts, gluten free, omega rich chia seeds, contains antioxidant, usda organic
Best use: Marathon Training, Backpacking, Hiking
Description: The Probar Fuel Energy Bar is intended for an action packed days. The price of this product is $91. The Chia seeds help in regulating hydration and raw oats makes the digestion process easy.
The product is gluten free and is packed with energy with super fruits like oats and cashews. The product provides energy boost quickly during the exhausting trip. The soft and juicy flavor makes it easy to chew. The product has 12 bars in one pack so it's durable.
They taste good and are healthy which makes a good combination. The product gives you the necessary fuel you need to keep moving. If you are allergic to peanuts or dairy then this is a great combination for you.
They are tasty, easy to digest and quick and easy to eat. The texture of the product is a bit dry so try to drink some liquid with it.
PROS:
It is affordable
Easy to digest
Gluten free
Primal Strips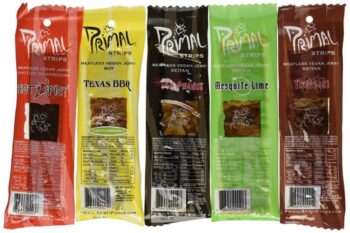 Price: $15
Weight: 0.95 lb
Dimensions: N/A
Specific features: Made from Soy, Seitan and Shiitake mushroom, No cholesterol, no preservation and no artificial colors, all natural
Best use: Hiking, backpacking, camping
Description: The Primal Strips are a really good investment if you are a fan of meat. The price of the product is $15 which is quite reasonable. They provide you an alternative to meat.
The quick snacks are full of healthy ingredients like Seitan, Soy and Shiitake Mushrooms all with the added benefit of meaty pleasure. The product is known for being one of the best alternative meat products.
There a lot of varieties of flavors available, including Texas BBQ, Hot and Spicy, Thia Peanut, Teriyaki, Hickory Smoked and Mesquite Lime. The product is all natural with no added preservatives and no artificial colors. The product has a pack of 12 strips containing 2 of each flavor.
Even if you are a picky person you will definitely love this product because of its many tasty and interesting flavors. Fans of meat will definitely enjoy them and it is also very unique affordable.
PROS:
It is affordable
Tasty
Diverse
Bob's Red Mill Muesli Cereal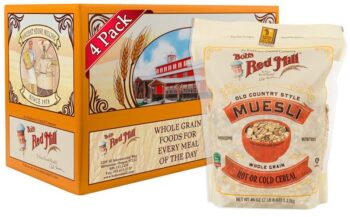 Price: $26
Weight: 10.5 lb
Dimensions: 13 x 6 x 7.5 inches
Specific features: Vegetarian, no added sugar, 100% whole grain, dietary fiber, 4g of proteins per serving
Best use: Backpacking, camping, hiking
Description: Bob's Red Mill Muesli Cereal is one of the bestsellers backpacking foods. With the weight if only 40 ounces and very reasonable of the price of $26, it's a great choice.
The products recipe is inspired by a Swiss nutritionist Dr. Maximilian's original recipe of the 19th century. The Muesli is packed with healthy ingredients. You can eat the cereal with cold or hot milk, juice or even water.
If you want a soft texture, then you can leave it in the liquid to soak.  Also, you can eat the directly out of the bag for a quick and fulfilling snack.
Therefore, if you are a vegan this product is ideal for you because it does not have meat nor sugar but it has dietary fiber and protein. It would be a great source of energy. You can eat it hot or cold according to your preference.
PROS:
It is tasty and for vegans
It is affordable
Healthworks Cacao Nibs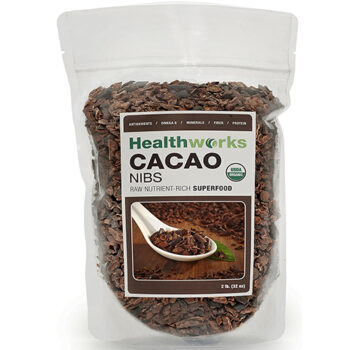 Price: $20
Weight: 2 lb
Dimensions: N/A
Specific features: USDA certified organic, contains high amount of the obromine, rich supply of antioxidants
Best use: Ultra lightweight backpacking, hiking
Description: Healthworks Cacao Nibs are basically cacao beans that are roasted then chopped into very small broken pieces. Cacao Nibs are the base of all chocolate things. The price is between $18 and $33 depending on where you buy it.
Cacao Nibs can be combined with yogurt, oatmeal, smoothies, ice cream and can be a good chocolate alternative. It gives you an energy boost with its powerful ingredients during tiring backpacking days.
The obromine present in the product has similar effects of caffeine to give you head start for the day. They offer a full refund or replacement within 30 days if you are not satisfied with the results.
These Cacao Nibs are rich in antioxidants, magnesium, potassium, dietary fibers and have low carbohydrates and sugar. The product is grown on small Peruvian farms and is USDA certified pure, organic and raw.
This product is a great energy boost and provides you with great nutrients.
PROS:
It is affordable
An energy boost
Good nutrients
Starkist Yellowfin Tuna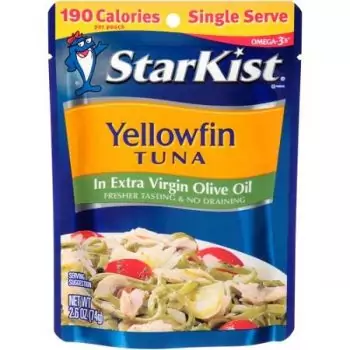 Price: $19
Weight: 0.97 lb
Dimensions: N/A
Specific features: 2.6-ounce pouch, pack of 6
Best use: Camping, backpacking
Description: Starkist Yellowfin Tuna is by Starkist with the price of $19 which is quite affordable. The product provides 190 calories per serving and serving size is 1 pouch. The tuna is packed in extra virgin olive oil that means it's full of nutrients and high in proteins.
Omega 3s present in tuna joined with the rich flavor of extra virgin olive oil makes the product perfect for your desired recipes. The product has 230 mg of EPA and DHA omega 3s combined per serving. The ingredients include extra virgin olive oil, light tuna fish.
The taste is delicious and the health factor makes it all more desirable. What makes it so tasty is definitely yellowfin tuna ingredient that is put into extra virgin olive oil. This also means that it is packed with proteins. The product also contains the omega 3s. This is a great product filled with very strong nutrients.
Chicken Textured Vegetable Protein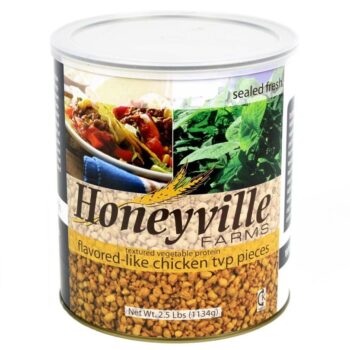 Price: $20
Weight: 2.5 lb
Dimensions: N/A
Specific features: 100% vegetable product, has real meat texture and taste, made for chicken replacement
Best use: Camping, lightweight backpacking
Description: Chicken Textured Vegetable Protein is a meat analog product which has 100% vegetable contents made by an extrusion process. A perfect blend of soy flour and Honeyville flavored chicken makes it healthy and tasty.
The product provides you 52% of proteins and 18% dietary fibers which make it perfect for a backpacking trip when you need all the energy you can get. The price of the product is from $14 to $19 depending on where you buy which is reasonable enough.
The low moisture and low-fat content make this product perfect for long term storage and emergency vigilance. What makes this product unique and tasty is the fact that many users who are not even vegans enjoyed it. They praised the smell and taste of the protein in the comments.
You can try adding it to the noodles, which might spicy up the taste and make it even more delicious.
Backpacker's Pantry Macaroni and Cheese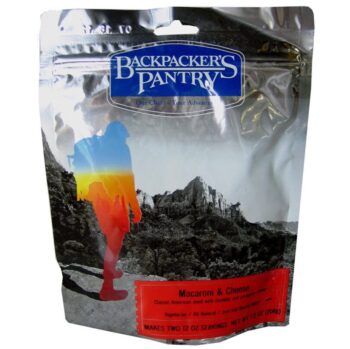 Price: $8
Weight: 0.44 lb
Dimensions: 9 x 1 x 6.5 inches
Specific features: Vegetarian option, awesome treats for kids, shelf life of 84 months, makes 2 twelve oz servings
Best use: Cycling, backpacking
Description: The Backpacker's Pantry Macaroni and Cheese by Backpacker's Pantry is a sure way to keep the kids happy during a family outdoor trip. With the price ranging from $6 and $8, it's a great choice for the backpacking journey.
The shelf life of 84 months makes it reliable during a long trip. You just need to add boiling water and you can enjoy the Macaroni and Cheese with little effort.
The two 12 oz servings will leave you with a full stomach and energy. They are also available in vegetarian option.
There are many people who have bought this product praised it for how tasty it is but also said that it is very simple to use. You can bring it with you wherever you go, even camping trips. The pack fits nicely into your bag and it is also a great option for children, they will love it.
PROS:
It is affordable
Great for children as well
Gerbs Dried Mango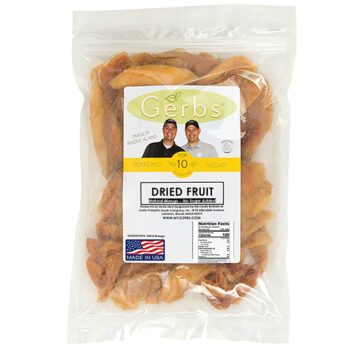 Price: $30
Weight: 2 lb
Dimensions: N/A
Specific features: 100% all natural, Rich in amino acids, No added colors or preservatives, freshly harvested mango slices
Best use: Ultralight backpacking, hiking, camping
Description: Gerbs Dried Mango is a 100% natural with no added colors, preservatives, NonGMO, and chemicals.
The product is fairly priced between $29 and $49 depending on where you buy. Mango is called the king of fruits for a reason; it is enriched with amino acids, calcium, magnesium, iron, vitamin C & E and beta carotene.
The digestive enzymes present in mango, make the digestion easy. According to Slash and Scroll Mango also has the ability of relieving pores, thus effective for acne. The fibers in mango will help with constipation.
For anemic people mangoes are a really beneficial because of the iron available in them and vitamin C helps in the absorption of iron from vegetables. It's really great for the skin too. The product is available in 28 amazing flavors.
You can rest assured that all of the ingredients are GMO free, organic and there are no artificial preservatives in them, which makes them to be of great quality.
PROS:
Non GMO
No artificial preservatives
Tasty
What Have We Learned?
No matter what you decide to take with you, make sure that it's reliable and according to your taste. If you want to try something new, make sure that it's something you'll enjoy eating.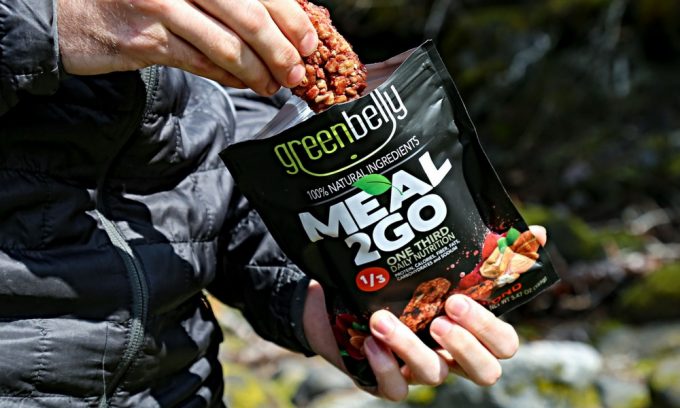 Always pack extra food with you because you never know when you may need it. There are a lot of choices for you available in the market so choose wisely and make sure you're not missing out anything.
We hope that you found our article useful and informative, and if you think that we left something out, feel free to share your thoughts in the comments section below.