What's your reason for wanting to know what the best bear canister is? Are you planning on going camping or hiking in bear occupied territory? Whether it's Yosemite National Park in the United States or Banff Park in Canada, bears are everywhere. With excellent noses, it's well known that food supplies left out of camps at night have every chance of attracting, and then being devoured by these predators.
The best solutions to bear stealing is not counter balancing, but rather bear canisters. These handy capsules provide a safe bear-proof space for people to store their food in. Not only are these canisters intended to withstand the harshest attempts to open them, but they also help to deter the attempts in the first time.
With high class sealing technology, most modern bear canisters effectively block the smell of the items they encapsulate, meaning that bears, rodents and other animals won't even be attracted to them. This is a fantastic way to help keep your campsite safe and non-alluring to the local wildlife. As such, we've decided it's well worth getting a canister. The question is only, which one?
Below you'll find a thoroughly researched list of bear canister reviews to help you choose the best canister for your next trip. Before starting in on the reviews, though, let's get a general understanding of what features the experts look for when choosing a bear canister.
| Product Name | Weight | Size | Specific Features | Price |
| --- | --- | --- | --- | --- |
| BearVault XYGSYK | 2.6 lb | 9 x 9 x 9 inches | Lightweight, sturdy, medium capacity. | Check price on Amazon |
| Backpacker's Cache ZZWBWC | 3.4 lb | 12 x 12 x 12 inches | Sturdy, tough to open, large capacity. | Check price on Amazon |
| UDAP No-Fed | 2.4 lb | 8 x 10 inches | Sturdy, high visibility color scheme, medium capacity. | Check price on Amazon |
| Counter Assault | 3.5 lb | 9 x 1.75 inches | Strong, high visibility color scheme, large capacity. | Check price on Amazon |
| Frontiersman FBS-01 | 2.9 lb | 8.5 x 8.5 x 10 inches | Sturdy, tough to open, medium capacity. | Check price on Amazon |
Features To Consider Before Buying
All bear canisters come in a sturdy frame because their entire purpose is to keep bears out and away from your food. This strong outer shell is usually made from some sort of poly-carbonate blend. Apart from the strong outer shell, common to all canisters, there are features which distinguish better canisters from worse ones. Often these features could be considered as both pros and cons depending on the intended use for a canister.
For instance, a smaller canister is perfect for short trips because it's not onerous to transport, but for long trips into the bush a small canister simply cannot store enough food, so it's size would be a con, instead of a pro in that situation. The three key features to consider in light of your own intended use for a bear canister are:
Color Scheme
Bear canisters are generally left away from your tent or house overnight so that if an animal (bear, raccoon, squirrel, etc.) does find it, then they can play around trying to open it without causing havoc near where you're sleeping.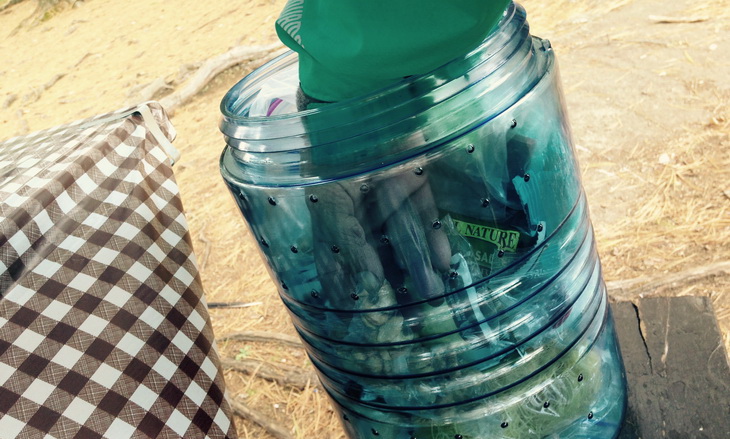 Although animals can't get into the canister they can move it around a bit, which is why a highly visible color scheme is very useful in helping you locate your canister again the next day. The alternative is to tie your canister down each night. Why not do both.
Weight
Given the same storage capacity, the lighter your canister can be the better. Being lighter means it'll be easier to transport and also easier to hang up in a tree if you so choose.
Most canisters come in at anywhere from 2 lbs to 4lbs. We'd recommend picking up an item near you that's about that weight in order to get a feel for what the canister you're looking at will be like to transport.
Size/Dimensions
As mentioned earlier, this factor is totally dependent on what you want to use your canister for. If in doubt, go for the bigger sizes as they will give you more storage room. The shape and lid of the item will also affect how much stuff you can pack inside your canister, with cylindrical being quite a common approach to the usual designs. You'll find there's a great variety of sizes of canisters.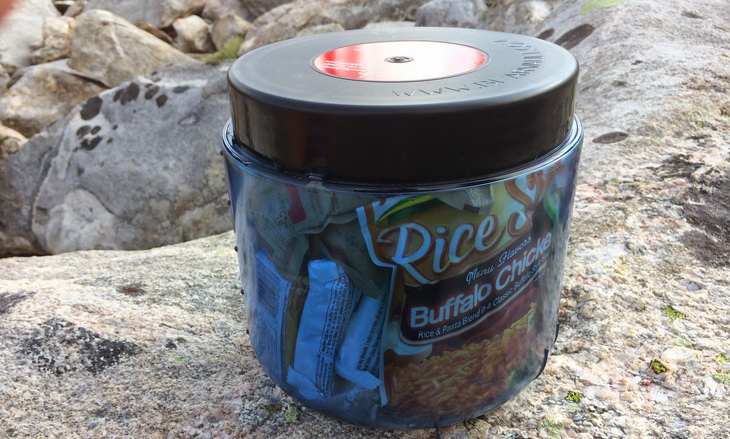 Those are the key features to be aware of when looking at bear canisters. We'd recommend you have a solid idea in your head of what it is you're after and what you'd like to use your canister for before taking a look at the options available on the market. Once you are ready though, there is a list below of our top picks from within the online industry.
We've written a short review about each canister to give you a feel for what distinguishes it from others. All these models are strong high quality items that will serve you well. Which one will serve you best is completely up to personal circumstances.
Top Product Reviews
In this section, you will find some of the finest bear canister models, to keep your food safe from the bears. And, based on the knowledge you gained from the previous section of our article, we are positive that you will find a product that perfectly matches your personal needs and that you will be more than happy with your choice.
BearVault XYGSYK 
Price: $60 – $80
Weight: 2.6 lb
Dimensions: 9 x 9 x 9 inches
Specific features: Lightweight, sturdy, medium capacity
Best use: Storing food supplies in the wild
Description: The BearVault XYGSYK food canister allows you to go traveling anywhere with its lightweight yet effective outer frame. It's pretty standard for a bear canister to have a strong outer case, as that's exactly what they're made for.
What excites us about this particular one is the lightweight design of it. This means you can easily pack it in your backpack for long hikes or chuck it in the camping bag for future use. The aim is to make your life more convenient with this device, and by keeping it easy to carry around the designers have done so.
Despite it's un-cumbersome weight it still holds a decent amount of supplies at 700 cubic inches, complete with a wide lid, which makes it easier to put your supplies into it. You could confidently head out into bear country with this canister. Plus, it's also transparent, a feature that not all canister have. This makes it easier for you to see which products you have inside the canister in case you forgot, and it doesn't affect in any way with the bear.
PROS:
Holds up to 4 days of food
Light, and not as uncomfortable to carry as other canisters
CONS:
ADK's High peaks do not accept this canister
Not as strong as other canisters
Related: The BaseCamp F232335 Odor-Barrier Bag is a good product to buy with the canister for any hiking trip. Any food leftovers, put them in the bag and reduce the odor not to attract bears.
Backpacker's Cache ZZWBWC 
Price: $60 – $80
Weight: 3.4 lb
Dimensions: 12 x 12 x 12 inches
Specific features: Sturdy, tough to open, large capacity
Best use: Storing food away from camp
Description: This Backpacker's Cache ZZWBWC container is in our eyes less than ideal for backpackers (because of its awkward shape), but definitely the perfect solution for camping food storage. The canister holds a large amount of food, with one user quoting 6 days of dried food in one go. It does what it should, keeps the bears away from your food.
Though anyone whose been camping will tell you that it's probably going to protect your food more from raccoon, squirrels, porcupines and other rodents than actual bears. Nevertheless, it's nice to know this sturdy black canister can stand up to the food-stealing attempts of a bear.
This canister makes for great food storage outside of camp (for safety reasons it's important to store your food away from your camp). Just do remember to take a flathead screwdriver or similar tool with you when camping as you'll definitely be needing that to open this tough canister with.
PROS:
One of the best reviewed canisters for it's strength
A bit larger than most, holds more food
CONS:
Some find it too big, takes too much space in the backpack.
Related: The safer you can keep yourself or your family while camping, the better. This Guard Alaska 10PG6 Bear Spray is the perfect backup plan to keep on hand in case of a bear encounter while you're enjoying the great outdoors.
UDAP No-Fed 
Price: $60 – $70
Weight: 2.4 lb
Dimensions: 8 x 10 inch
Specific features: Sturdy, high visibility color scheme, medium capacity
Best use: Short outdoors trip companion
Description: We totally dig the UDAP No-Fed bear canister. This tough canister is made of a special polymer blend to withstand bear attacks. It is also relatively easy to open with just a coin or similar object being needed to get past the metal fastener. Within the canister you can store a short trip worth of food.
This canister perfectly fills the gap left between large storage, camping canisters, and small day trip canisters. You can expect to fit about 3 to 4 days worth of food in this one, which can be a nice length of time to get out and about outside. Though advertised as having a yellow lid, many people report getting a red one.
Never fear, both colors are highly visible and will allow you to easily find your canister when you go looking for your food in the morning. Overall, this is a great medium sized canister that comes with our recommendation for sturdiness.
PROS:
Considered by much to be the perfect size for a canister.
Sturdy and strong
Related: The Grizzly Peak 5615B Backpacker's Trowel is commonly bought alongside the canister. It can come in handy in any outdoor trip.
Counter Assault 
Price: $70 – $80
Weight: 3.5 lb
Dimensions: 9 x 13.75 inches
Specific features: Strong, high visibility color scheme, large capacity
Best use: Long camping trip food storage
Description: We really appreciate the larger size of the Counter Assault bear canister. It lends itself to being taken along on long camping trips because of its massive 3 gallon (716 cubic inches) capacity for supplies storage. You might want someone with a bit of muscle around camp to carry it and store it up a tree, but once it's there it'll be wonderful.
The best part about this canister apart from its size is its high visibility coloring. Completely covered in a bright yellow design, the canister will be visible for miles, helping to ensure that you don't lose your valuable supplies at any point with a missing canister.
The lid is reportedly very easy to operate and the only complaint we could imagine is directly related to its biggest selling point: it is large. Large means difficult to carry and heavy. It also means plenty of room to store supplies. It's up to you to decide whether the size of this particular canister is a pro or a con for your intended use situations. We'd say that if you can transport it, then it's a great option.
PROS:
Stores from 6-8 days of food
Probably the strongest bear canister reviewed here
Made for longer camping trips
CONS:
Heavier than most
Bigger than most
Related: The Counter Assault P-14 Container Pack was designed specifically for this canister, making it the ideal add-on. It will make it easier for you to take the canister anywhere without having to put it in your backpack.
Frontiersman FBS-01 
Price: $50 – $60
Weight: 2.9 lb
Dimensions: 8.5 x 8.5 x 10 inches
Specific features: Sturdy, tough to open, medium capacity
Best use: Storing animal food outside houses in the country
Description: The only bear canister on our list recommended for use outside homes, the Frontiersman FBS-01 Bear Container is perfectly sized for placing farm animal or pet feed in. Many people living on the outskirts of town, or even those with just overly determined household pets, can find that their animals often find a way to get to the food and make a big mess of things.
This canister is a bit heavy and impractically sized for outdoor trips, but makes a perfect canister for at home. One lady reported great success in storing her dog treats in this outside. You won't have bears poking their nose around your place if you keep your outdoor food safely stored in a bear canister.
For those who do want to use this canister in the wild, though, we'd recommend adding a strip of reflective tape to the outside to increase its visibility. After all, chances are high that some animal will knock it around a little bit trying to open it, and you want to be able to find your investment afterwards.
PROS:
Easier opening lid than many other canisters
Better price than most
CONS:
A bit small
Not approved for the Yosemite National Park
Related: This canister comes with a stylish and practical Frontiersman FBS-02 Carrying Case to make transporting it super easy. We appreciate the matching black and orange color scheme of the canister and it's special order carrying case.
Wrapping Up
If you're out and about in the wilderness or national parks a lot, then you definitely do need a bear canister. Hopefully the above reviews have helped you to identify one that best suits your unique situation and intentions for its use. Many National parks are starting to regulate that use of them so be sure to get one before your next expedition. You could say they're a "bear" essential.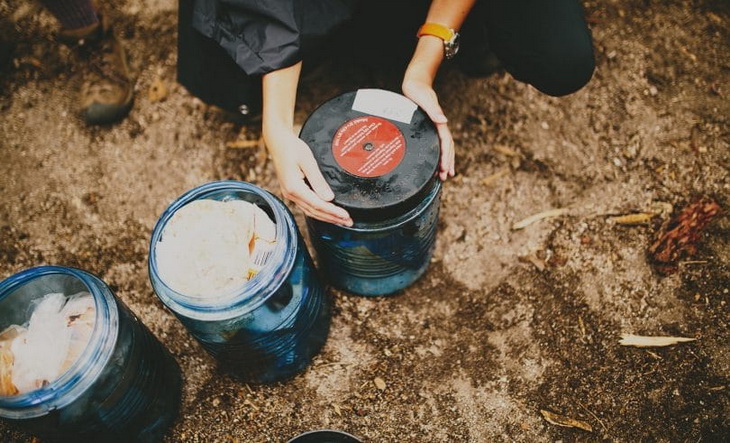 With this said, these reviews should help you choose the right bear canister based on the length of your camping trip and the weight that you want to carry. You are now in a position to make an informed choice.
All the best with your search. Have we missed any bear canister that you prefer? If you have, please let us know in the comments below.