Taking as little gear as you can when you're hiking or traveling outdoors is important because it helps you cut down on excess weight. But figuring out ways to cut down isn't always easy, which is why you want to look at even the little things, like a spork instead of a fork and spoon.
Taking a spork with you can help you save a little bit of space and weight, and it's super easy to find them. They're actually just about everywhere that you normally shop for your outdoor gear.
With this article, we're going to help you find the absolute best sporks that are out there, so you can make sure you're prepared. We'll also make sure that you have something that will work and save you space and weight.
Things to Consider
A spork is a simple thing, so at first, it might seem that there isn't much to look at as far as features go. And since you are looking for a utensil that will go camping with you, you need something that will put up with some level of abuse.
Material
The first thing that you should consider is what your next spork should be made of. Most of the options that you will find are made of either metal or plastic. Now, this is not the same cheap plastic of fast food models.
These are made from a much thicker plastic that is meant to stand up to being tossed in a backpack, dunked in boiling water and other hazards of going on a camping trip.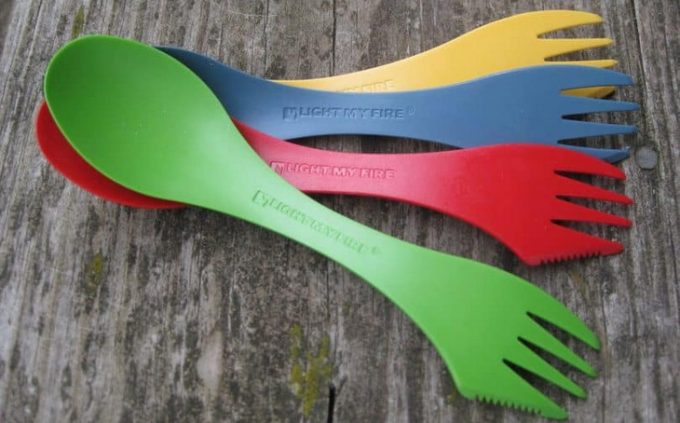 As for metals, normally you will find either stainless steel or titanium. Either of these will stand up to plenty of use, but in general titanium will be a bit stronger and more lightweight. Of course, some options are now made out of wood as well.
Spork Volume
You will want to take into account how much this utensil can hold. With the tines of a fork added into a spoon, you won't have the entire spoon to hold a liquid. Some companies will address this by making the whole spork larger, but this can run the risk of being too large to comfortably fit into your mouth.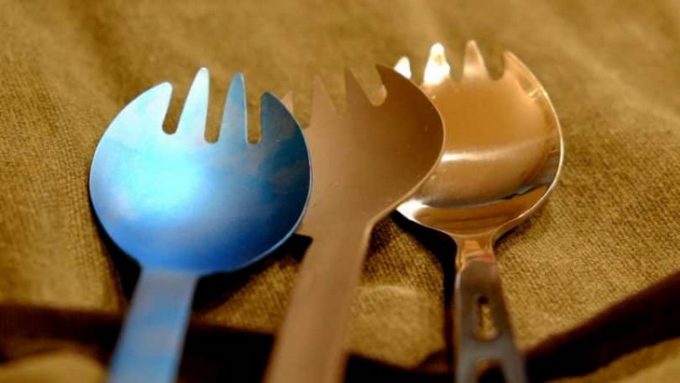 Also, you will need to think about the amount of dry foods that will be held, since most won't be affected by the gaps between the tines. And, when you are looking into how much your spork can hold, you will also need to consider the weight that it can handle.
Usability
Scooping up like a spoon is only half of what a good spork is required to do. You need to be able to stab into certain foods, otherwise, you might as well just pack a spoon. When you look at a lot of sporks, you will notice that some of them have very dull tines, or the tines are just too small to be of any real use.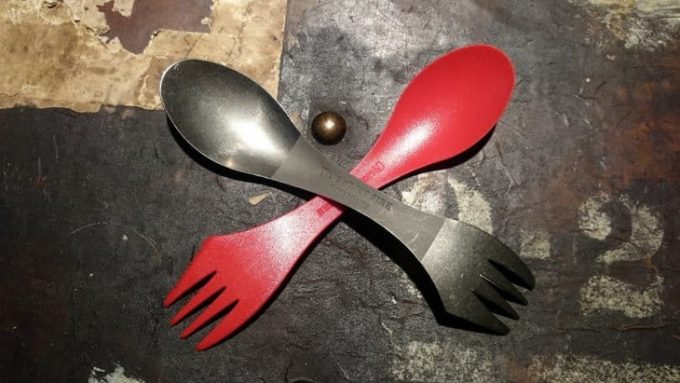 On the other hand, if those tines are too sharp, they could be uncomfortable to use. You want to make sure that the spork you choose is going to work well for any purpose that you have. That's why you want a spork in the first place.
Handle Size and Design
There are some sporks that stick to the tried and true method of just having a standard handle. This option is the safe bet since everyone has an idea of how it will feel. Other companies take things in a different direction and put a fork on one end with a spoon on the other.
While this might make it easier to eat with, it also makes for a situation where you are holding one end in your hand. This could be a bit uncomfortable or even messy if you are actively swapping between the two.
You will also need to think about how long the handle design is. This needs to work with whatever you will be eating out of during your trip. If everything is going in your mess kit, you won't want a very long handle at all.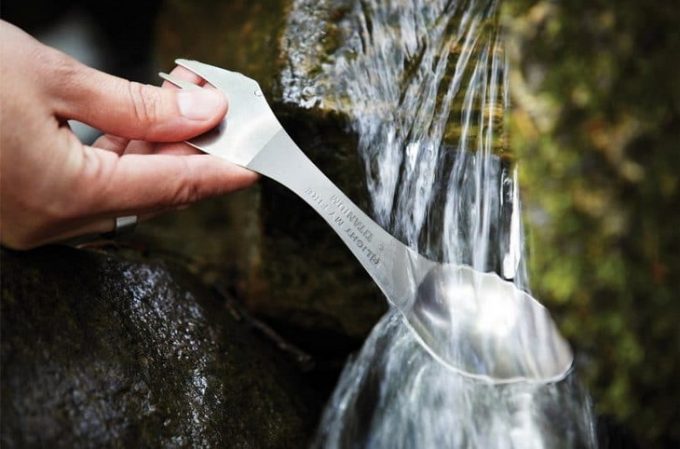 On the other hand, if you are planning on eating out of those freeze-dried meal pouches, you'll want a handle that can reach deep into one.
And, consider the design of the handle. Some will be a solid piece of material, others will be a wire frame to save more weight. When you consider it, think about when you will be using it. At the end of the day, is this going to be a comfortable thing to hold while you eat? If it folds, do you trust that it won't fold in the middle of your meal?
Odds and Ends
Some companies just present their sporks and leave them as basic cooking utensils. There is nothing wrong with this, but, others see it and feel that some type of extra feature is needed. This may range from a small carabiner, to hex wrenches, and the like.
No matter what it is, stop and ask yourself, when will I use this out on the backpacking or hiking trip? A carabiner, for example, what use will you put it to on your trip? It might be useful to hang up after cleaning, it might be helpful to clip to your mess kit. But then again, it might not fit into how you do things while camping.
While things may look like they would be useful while shopping, stop and think about how useful it will truly be in the wilderness. Also, some sporks are now designed to have one edge that works similarly to a basic knife.
This probably isn't going to be what you reach for in carving a steak, but it may still make things a little bit simpler for you.
Best Products on Today's Market
While there are any number of these utility utensils on the market, we have trimmed the field down to a mere 9. Any of these choices will no doubt serve you well in your camping endeavors.
Why don't we take a closer look at these, so you will be armed with the right knowledge and able to make an informed choice when it comes time to place an order.
Light My Fire Tritan Spork

Price: Approx. $3
Weight: 0.02 lb
Dimensions: 0.67 x 1.4 x 6.67 inches
Specific features: Serrated edge, dishwasher safe, 100% BPA free
Best use: Picnics, school, camping
Description: The Light My Fire Tritan Spork is quite the departure from the traditional idea of the utensil.
Instead of having the fork and the spoon blending into a single end, this design puts a full fork on one end and a full spoon on the other. To add one more utensil in, the right-most tine of the fork has a serrated edge to allow it to be used like a knife.
Made out of plastic, you don't have to worry as much about breaking it during use and you don't have to worry about BPA as the spork is made entirely without this harmful chemical. Available in just about any color you could think of, it's also dishwasher safe, heat resistant and works well with non-stick cookware as well.
This combination tool is made in Sweden and has a handle long enough that you can comfortably use it wherever you are and no matter what you may be eating. It's inexpensive, which makes it great for just about anyone and it's still durable enough to last for a long time.
PROS:
Full size spoon and fork
Fits easily into a mess kit
Serrated edge for cutting
Works well for just about any meal
Ultra lightweight for transport
CONS:
Could be more durable
Serrated edge not comfortable when using spoon
Fork tines are very flexible
Related: If you're going to be heading out into the wilderness you'll need not only the fork and spoon from this but also a bowl or dish to eat out of. The Ecoart Bowl is a great tool for that because you'll be able to fold it up small and unpack it when you're ready to eat.
Snow Peak Titanium Spork

Price: Approx. $10
Weight: 0.02 lb
Dimensions: 0.1 x 1.6 x 6.5 inches
Specific features: TSA approved, 4 claws to work as fork tines, dishwasher safe
Best use: Picnics, camping, backpacking.
Description: If you are looking for a classic design, the Snow Peak Titanium Spork is an excellent example. The tablespoon sized spoon has 4 slightly pointed tines on it to give you some ability to stab food when required.
Being crafted out of titanium you don't have to worry about this one breaking, even if it finds its way out of your mess kit, or ends up getting stepped on.
With the incredibly strong material and the shape of the curved edges, it can be used to cut through some foods. Even with all of that, this is still viewed as a basic eating utensil, so if you find yourself traveling by the friendly skies you don't need to worry about the TSA taking this from you.
If you are looking something a little bit more fun than the metal look offered by so many companies, Snow Peak gives you the option of having 3 different colors coated on. Another perk of this being 100% titanium is the cleaning options afforded you. It is dishwasher safe and while on the trail you can also simply dunk it into boiling water.
PROS:
Titanium for strength and durability
Easy to use and carry
Inexpensive to purchase
Lightweight for weight conscious packers
Heat resistant and dishwasher safe
CONS:
Color coating comes off over time
Handle is somewhat thin
Fork is not ideal
Related: If you're out in the wilderness and don't know where your next drink is going to come from you may also want to take a look at the Sawyer Mini Water Filtration System. For a low price you can get a tool that keeps you a whole lot safer and makes sure you stay hydrated.
Tapirus Blue Spork To Go

Price: Approx. $10
Weight: 0.10 lb
Dimensions: 7 inches long x 1.5 inches wide
Specific features: Set of 4, carrying case included, 3 utensils in one
Best use: Traveling, picnic, camping
Description: Are you looking for a set of convenient flatware for those family outings? One that will work for everyone from toddler to adults? The Tapirus Blue Spork To Go may just be the one that meets all of what you are looking for.
Instead of a single spork this is a set of 4 matched ones, complete with a carrying case to keep them all together. These are not quite the traditional design, in that one side has a full spoon, the other a full fork with one tine serrated to provide you a cutting tool for your meals.
These are made from a material called Tritan which the company claims to produce the strongest spork in the world.
Entirely BPA free, these sporks are lightweight and also dishwasher safe, which means you won't have a problem getting them clean at the end of that long trip. They're also super easy to use and hold no matter which tool you're using.
PROS:
Very lightweight and easy to carry in case
Safe with non-stick cookware
BPA free construction
All three utensils included
Sturdy for most uses while camping
CONS:
Can bend with too much heat
Knife is not very durable
Not easy to switch from one side to the other
Related: Some good dishes can be important when you're out in the wilderness as well and these Fozzils Solo Pack are a great addition. They're unique and fun looking and they can be packed flat to make extra room in your bag.
Sea to Summit Alpha Light
Price: Approx. $7
Weight: 0.02 lb
Dimensions: 1.5 x 3.2 x 7.5 inches
Specific features: 7075-T6 aircraft aluminum, ultra-light, includes mini carabiner
Best use: Backpacking, camping, travel
Description: Sea to Summit offers a line of extremely lightweight eating utensils and the spork from the line, Sea to Summit Alpha Light, is a standout. This piece is crafted from aircraft aluminum for its light weight and also its durability.
Of course, if you don't think the regular handle is quite long enough to get to the bottom of your meal pouch without getting your knuckles messy, there is a long handled option too.
This sticks with the traditional design of a spoon with some tines added on for a true spork. While the tines are rather blunt looking, they can still do the job of spearing some hunks of food when called upon to do so. Plus the overall tool is large enough that you can comfortably hold and use it.
Being made of aluminum you should have no worry about this one deforming when stirring a hot beverage, though you may want to watch your fingers if you leave it in your cooking pot while it is still on the heat. The small carabiner that is included makes for a great way to keep your spork handy.
PROS:
Aircraft grade aluminum alloy
Traditional spork style
Long handle for easy use
Carabiners make it easy to carry
Very lightweight
CONS:
Not ideal for frozen foods
Fork not very effective
Strange texture when holding and using
Related: Cooking your food is definitely easier with a good quality cook set and this one from Stanley is a great choice. The Camp Cook Set gives you a 24 oz. container that you can easily use to heat up your food and get ready for any meal.
Bamboo Sporks

Price: Approx. $10
Weight: 0.04 lb
Dimensions: 0.6 x 2.4 x 7 inches
Specific features: Double-sided, 4 pack, 100% natural
Best use: Camping trips, picnics
Description: A little more unique, the Bamboo Sporks are a great choice for you and your next trip. This comes as a four pack, with all of the utensils made from bamboo with no chemical finishes. This is probably the most environmentally friendly selection on the market.
The company has opted to go with the double sided design on these, and give you both a full-size spoon and a full-size fork. Even better, the bamboo won't scratch your pots and pans like metal utensils might, giving you the option of eating right out of your cookware.
Bamboo products can be stronger than you might think, plus they're great for those who are eco-conscious and want a tool that is better for the environment.
Sanded and smooth, they are dishwasher safe and super easy to keep clean and ready for your next camping trip. Because you can use them anywhere without having to worry about scratching or damaging your tools, they're definitely a great choice.
PROS:
Eco/environmentally friendly
Don't damage your pots and pans
Great size for travel
Easy to use for most meals
100% natural bamboo with no chemicals
CONS:
Not as easy to clean
Tend to absorb a lot of moisture
Not as durable as other materials
Related: While you're looking for environmentally friendly things for your family, these Bamboo Toothbrushes are a great option as well. They're inexpensive, great quality and they don't have chemicals.
TOAKS Titanium Spork

Price: Approx. $9
Weight: 0.03 lb
Dimensions: 6.5 x 1.5 x 0.5 inches
Specific features: Titanium, polished bowl, matte finish
Best use: Backpacking, camping, travel
Description: This TOAKS Titanium Spork is a classic design. It has a polished bowl for a smooth texture while you are eating and the handle features a matte finish to provide you a good surface to grip. The four tines have a point to them, which lets you get a good stab of pieces of your food that you don't want to scoop up.
One thing you will quickly notice is that the handle has two holes cut in it, even though titanium is light, this move trims the weight down just a touch more.
That means you get an even lighter weight to go in your bag. It's also designed to keep aftertaste out of your meals and make it feel more normal to use this utensil compared to your normal ones.
The size is comparable to your normal utensils and with a low price point you're not going to have a problem picking up a couple for your next trip. You also won't have a problem with durability or with bending as it's designed to be very sturdy no matter what you use it for.
PROS:
Very lightweight for easy carrying
Strong and easy to use
Durable for extended use
Great size to make eating easy and normal
Very inexpensive for nearly any budget
CONS:
Somewhat short for preparing food
Can scratch dishes
Tines are sharp
Related: A good quality cup that you can heat your food in and then eat easily is definitely going to be important and with the TOAKS Titanium Cup you'll have all of that. It goes perfectly with your new spork and makes eating on the go a whole lot easier.
OutSmart Titanium Spork

Price: Approx. $10
Weight: 0.03 lb
Dimensions: 0.66 x 1.45 x 6.69 inches
Specific features: Dishwasher safe, carry case included, heat resistant
Best use: Camping, traveling, picnic
Description: If you are looking for a titanium 3 utensil-in-one solution to flatware while camping, the OutSmart Titanium Spork may be the one that you want.
They opt for the design of spoon on one end and a fork with a serrated edge on the other. However, this company sets their offering apart from others in the way that the handle is crafted.
In adding a pair of ridges along the edge of the middle part, they have built in bend protection, so even hard frozen foods shouldn't be much of an issue.
You may also notice the spoon has a few more angles than a normal design. This was done to help you scrape the edges of your eating vessel, making sure that all the food gets to you instead of being stuck in the bottom of the bowl.
Made of titanium, you don't need to worry about bending, breaking or scratching your dishes when you use it. It's also non-corrosive, non-magnetic and hypoallergenic, as well as being non-toxic.
PROS:
Titanium for durability
Unique spoon design for easier eating
Doesn't scratch your dishes
Non-toxic and hypoallergenic
Includes lock case
CONS:
Cutting edge is quite dull
Fork is very wide and awkward
Metal is a little bit weak
Related: If you're going out camping you'll definitely want to be able to roast some marshmallows, which you can with these Roasting Sticks. They're lightweight and fold up small, so they're easy to carry, but they still do a great job.
Light My Fire Titanium Spork
Price: Approx. $15
Weight: 0.01 lb
Dimensions: 0.79 x 1.54 x 6.69 inches
Specific features: Biocompatible with human skin, hypoallergenic, dishwasher safe
Best use: Travel, camping, picnics
Description: Did you like everything about the original offering from Light My Fire, but wished it came in titanium? Luckily the company has heard you and is offering the Light My Fire Titanium Spork. This one matches the design of their first offering (spoon on one side, fork with a serrated tine on the other).
The choice to go with the non-reactive metal also means that this piece is hypoallergenic. It also makes for a choice that is non-corrosive and also non-magnetic. That means it's super easy to carry and durable to use as well as being heat resistant.
It's small enough to fit in a bag or backpack and even though it's a little heavier than the plastic version, it still is lightweight enough to carry with ease, no matter how you prefer to go camping. Designed for right handed users, this tool has a little bit of everything for your utensil needs.
PROS:
Titanium for durability
Lightweight and easy to carry
Allowed by TSA
Includes all utensils in one
Small and easy to store
CONS:
Serrations are not ideal
Tines are not very sharp
Somewhat expensive
Related: You can never have too many carabiners when you're out camping and this is one way to make sure you have plenty. There are ten in this HOSALA Keychain Clip and you can use them for absolutely anything you want.
Tapirus Spork of Steel

Price: Approx. $12
Weight: 0.05 lb
Dimensions: 7.5 x 2 inches
Specific features: Carrying case, stacks together, dishwasher safe
Best use: Camping, travel, school
Description: The Tapirus Spork of Steel gives you a family pack of classic design combination eating utensils. The set stacks together to easily fit into the included carrying case and the handles have had some of the extra material trimmed out to lighten the weight even more.This also allows you to put them all on a ring if you need an additional method of keeping them together.
Since they don't have the serrated "knife" edge of some of the other offerings, you don't need to worry about sending these to school in a lunch box and when they come back home they can go in the dishwasher with no problems. They are also inexpensive and come with a 30 day refund if you're unhappy for any reason.
With a nearly standard size compared to other utensils, these are scratch resistant and can be used anywhere you want. They're made with stainless steel to resist rusting, even in outdoor conditions and they can be used as much as you want.
PROS:
Traditional spork design
30 day refund guarantee
Stainless steel to resist rusting
Extra material cut out for less weight
Can be used indoors and outdoors
CONS:
No knife edge
Spoon edge is squared for a rougher feel
Not as concave as it could be
Related: A good dish for your food can be very important when you're camping and these Wealers Round Plates are a great choice at a low price. They also come with their own carry bag to make them easier to transport.
Wrap Up
That just about wraps up all that you need to know about finding the best spork out there. There is a wide range of things that this simple eating utensil can accomplish and that is why they are becoming a natural choice for backpacking.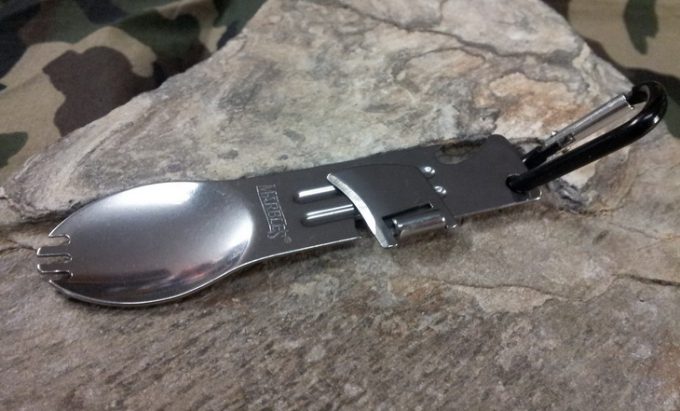 No matter which one of our reviewed products you choose, you will not make a mistake and they will serve you for many outdoor adventures. You just have to decide which of their features are the most appealing to you, and make the choice based on that.
We want to know what you think about these sporks and any others you might have found out there. What makes a really great spork for you? Do you really love one of these? Or maybe you have a different one that you love even more and want us to know about? Make sure to let us know.