If you own a recreational vehicle (RV), chances are you're the adventurous type. You likely enjoy the flexibility that comes with maneuvering your setup wherever it needs to be. Whether you're camping in a caravan park or setting off on some off-road adventures, RVs are suitable for family getaways, solo road ventures, and everything in between—including self-guided hiking tours. If you're an RV-owning hiking enthusiast, you're likely forever searching for new places to explore. If you live in Australia—or intend to tour Australia in your RV—we have some great recommendations.
Read our state-by-state breakdown of amazing hiking trips you have to try (including two territories but excluding Tasmania. No bad blood towards Tasmania, but we're saving the hassle of deviating your trip with aquatic travel).
Let's start at the tippity-top: Queensland
And what better place to start than sunny Queensland, home of the best Australian beaches? Fraser Island is the world's largest sand island, accessible just 15km off Hervey Bay. If you want to fully explore this sand-stretched slice of heaven, we recommend the Fraser Island Great Walk, spanning a total of 90km (and taking six to eight days). This walk is an ever-changing kaleidoscope of scenery, ranging from coastal heathland and vast sand dunes to both woodland and subtropical rainforests. It also features aquatic attractions including Lake McKenzie and Central Station. Because this hike is so huge, you can complete the full route or just enjoy select sections. We think it's no coincidence that this walk winds up in Happy Valley.
Lake McKenzie, Fraser Island
New South Wales: the coastal mid-way point
New South Wales wouldn't be New South Wales without its iconic Blue Mountains. If you're passing through the state, why not explore this famous, World Heritage-listed landscape? The Grand Canyon Track is located in the Blackheath area of the Blue Mountains National Park. It spans 6.3 km and takes three to four hours to complete. Starting at Evans Lookout, this shady hike never strays far from Greaves Creek, looping back through the gorgeous gorges of Grose Valley. You will witness many sandstone walls, cascading waterfalls, and native flora such as golden wattles and ferns. If you're a Sydneysider, you could even visit this hike on a daytrip—no RV required.
New South Wales' iconic Blue Mountains
A tiny capital: Australian Capital Territory
The Australian Capital Territory—frequently abbreviated to 'the ACT'—is best-known for Parliament House, but it does have a few decent hikes. The Canberra Centenary Trail is a whopping 145km long and will take you seven days to complete. Alternating between country and city sights, it is essentially the territory's highlight reel. Parliament House itself is a feature, as well as the Australian War Memorial, the National Arboretum, and Black Mountain. This is also a popular route for cyclists.
Completing the coastal tour: Victoria
Phillip Island is a popular holiday destination for Victorians and tourists alike. It features many beaches, as well as boardwalk-based strolls that look out across the ocean. It also has more challenging walks that snake through and around the sandy clifftops of the island. The Cape Woolamai Circuit is an 8.5km hike that takes 2.5 hours to complete. Kicking off at the Cape Woolamai Lifesaving Club, its clifftops are the Island's optimal vantage point, featuring stunning beach views, as well as native birds including the shearwater rookery. Keep an eye out for their burrows or watch the surfers of Woolamai Surf Beach from afar. If you're not feeling adventurous, there are shorter variations of the walk spanning between 4–6.6km. For Melbournians, Phillip Island makes for a fantastic day trip.
One of the many picturesque views from the Cape Woolamai Circuit, Phillip Island.
Left turn, please: South Australia
South Australia boasts one of Australia's Great Walks: Kangaroo Island Wilderness Trail. Located in Flinders Chase National Park, this hike is 61km long and will take you five days to complete. The Kangaroo Island Wilderness Trail jumps off at Rocky River and finishes at the Kelly Hill Caves. It is a picturesque showcase of South Australia's most unique botany combined with stunning views of the Southern Ocean coastline. This hike is one of the many sights you can explore on a Kangaroo Island holiday.
Show me the best of the West!
Western Australia is known for the Kimberley—and the Kimberley boasts the spectacular Manning Falls. This is the major feature of the gorgeous Manning Gorge: a relatively short 5.6km hike to complete in one to three hours. Access this hike via the campground at Mount Barnett Roadhouse—and don't forget to bring your bathers. To kick-start this adventure, you will need to swim or wade across the Manning River. Manning Gorge has many rocks to climb over and pools to swim through. Beware the rockier terrain towards the end of the hike, which some hikers may find challenging. End your journey by swimming in the massive pool at the foot of Manning Falls. This is one of the best swimming locations in Kimberley.
Finally, what's oop North?
Make no mistake: this is not Northern England. We have come full-circle to Australia's Northern Territory—featuring the most iconic Aussie landmark of them all: Uluru. The Valley of the Winds Walk is a 50km drive from Uluru, and it is located in Uluru-Kata Tjuta National Park. This walk is a wonderful way to experience the quiet peace of Australia's central point. Please note that this 7.4km hike is a sacred Indigenous site, and that access is accordingly restricted to specific tracks. For the same reason, you will not be allowed to upload photographs to social media. The domes of Kata Tjuta are over 500 million years old and are quite a sight to behold. It will only take you three to four hours to complete this hike.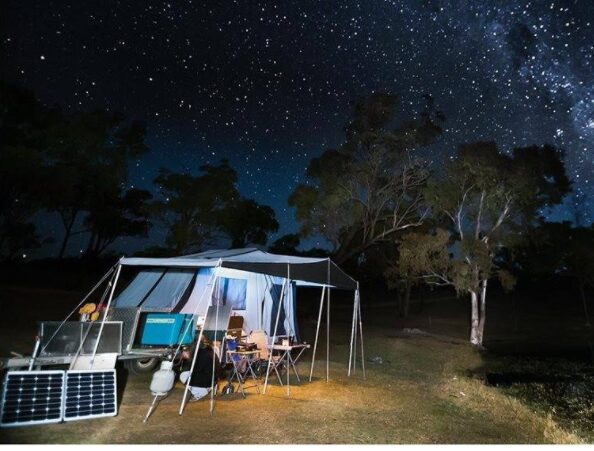 Camping beneath the star-studded sky of the Australian desert. Image: Cub Campers
Of course, this is just a sample of some of the great hikes Australia has to offer—and this doesn't even include Tasmania, which hosts many great hikes similar to the ones you've just read about. Whether you want to explore the coastline, the mountains, the desert, or all of the above, we hope that we have inspired you to load up the RV set up on some awesome Aussie hiking adventures.