Every traveler needs a packable daypack because it's not possible to move around with a suitcase or a too big/heavy bag as it might hinder you from accomplishing your mission. Manufacturers realized this gap, and most of them set to come up with all sorts of daypacks.
And for this reason, there are so many bad model, as they all look so similar that it takes more than just your two eyes to tell the difference. If you choose to learn by experience, it might take you years of trying to get the best packable daypack and maybe you never will because there is so much that makes one better than the other.
With our experience in the field, we would like to make it simple for you by listing and expounding on the important features that make one daypack better than the rest.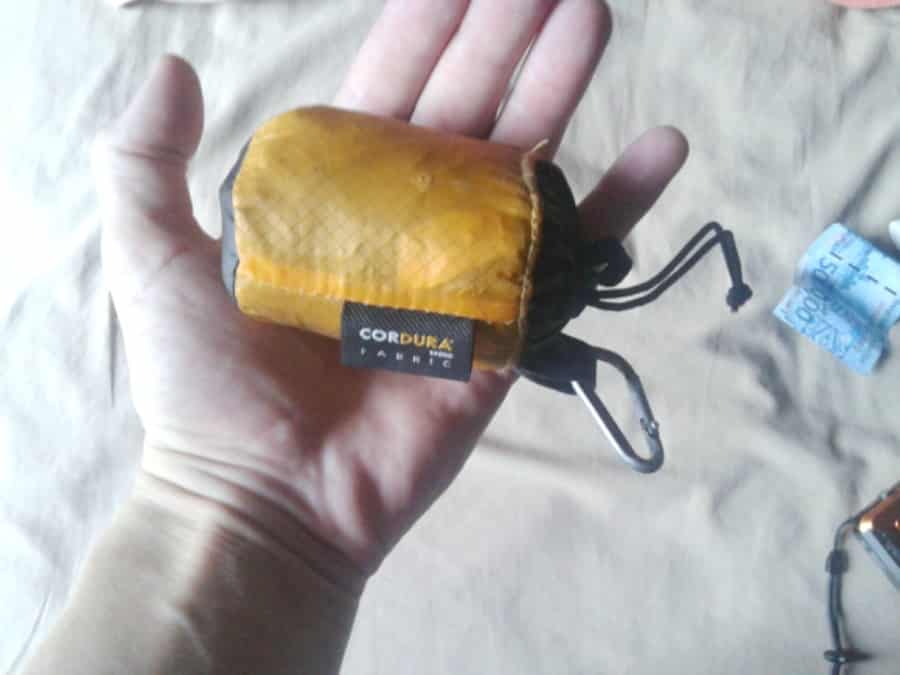 We compiled a list of the best models on the market, and it's going to be helpful when purchasing the one suitable for your needs. Enjoy!
Features to Consider before Buying
Weight: If you are out, traveling, then you should buy a model that does not add weight to your already heavy luggage.
Carry capacity:The bag you choose to buy should be big enough to fit everything you need in your day pack yet small enough to feel comfortable as you walk around. Everyone wants to know that their daypack will be sufficient for their essentials because there is no fun in walking around with two bags.
Durability:Your packable daypack should be made from the highest quality materials. Otherwise, it might not take go in one piece through your trip, and you might forgo extra costs in repairs or replacing it. You have to do some research before going to the market so that you be able to tell whether whatever you are buying is what you really wanted.
How comfortable it is when carried? You should feel comfortable while carrying your day pack whether it's for the whole day or only for a few hours. Bags with wide spongy/padded straps are more comfortable as opposed to bags with unpadded straps.
Water/rip resistant material: When out on your trips, you might never know when it's going to rain or encounter tough items that would otherwise tear an average bag. To be on the safe side, ensure that your items are safe despite weather changes by getting the right material.
Zippers: Ensure that your zippers are of the best quality to avoid difficulties in unzipping. Also, getting a 2-way zip might more convenient when unzipping.
Number of pockets: You might need to separate your items or pack more than you expected. Enough pockets mean more packing space. Also, more pockets help in organizing your items, thus it's easy to access them, and it also minimizes the chances of damage.
Price: Do not go broke while trying to get the best bag. Determine your needs then go for the perfect choice in terms of the price. In the current markets, a high price is not correlated with high quality. Most of the time, prices are based on brands or demand. Therefore, you will be surprised to find that an item with very low quality is priced higher that one of high quality.
Top Products of 2017
Hikpro Packable Backpack Hiking Daypack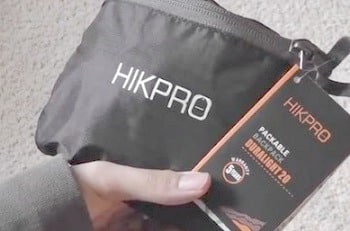 Dimensions: 18x12x5 inches
Weight: 6.5 oz
Color: Black
Capacity: 20L
Specific Features:
Has 3 zippered compartments i.e. 1 main pocket for bulky items, an outer smaller pocket, and one inner zippered pocket.
Has two large side mesh-pockets
Ultra lightweight (6.5oz)
Bigger carry capacity (20L)
Tear and water resistant nylon material
Abrasion resistant material zippers
Foldable thus can be carried in a smaller bag
Wide mesh shoulder straps that make carrying it on your shoulders comfortably
Adjustable shoulder straps
Best Use: perfect for day hikes, vacation, day trips, travel, shopping, camping and school
Descrption: If you are planning to be on the road for a day or several weeks/months, the first to think of is how you are going to carry whatever you need, and this is where the packable day pack comes in handy.
Everyone needs to find the model that meets their needs and Hikpro #1 Rated Ultra Lightweight Packable Backpack Hiking Daypack is one of the best on the market. It has every feature that makes it qualify as the top choice.
First is the material. This day pack is made of tear and water resistant nylon material, thus, no matter the environment you will be in, you can be sure that your luggage will be okay and also, you are sure that your bag will serve you for a long time without being torn.
When it comes to zippers, you must be sure that your bag has the best zippers; otherwise, you risk losing your items or having to carry them by hand. With this model, you get the Abrasion resistant-material ones, which are the best quality on the market, durable and easy to zip up.
Also, with this day pack, you will never worry about hurting your shoulders while carrying on your shoulders because it has wide mesh shoulder straps that make carrying it comfortable and they are adjustable, which means you can be sure that it will be comfortable all day long.
The packable day pack itself has 3 zippered compartments: 1 main pocket for bulky items, an outer smaller pocket and one inner zippered pocket, enabling you to separate your items. It also has two large side mesh-pockets where you can carry a bottle of water comfortably.
The empty bag itself is ultra-lightweight (6.5oz). Thus, you will not have unnecessary weight after packing and has a bigger carrying capacity (20L) to enable you to stock as much as you want.
Venture Pal Packable Daypack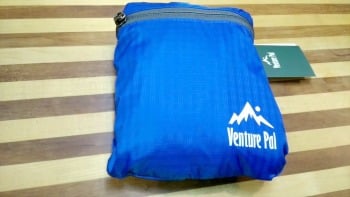 Dimensions: 9×2.2×8.5 inches
Weight: 0.7 pounds
Color: Blue
Capacity: 35L
Specific Features:
Made of high-quality water and tear resistant materials
Has a double-layer bottom piece
Has two-way heavy duty SBS metal zippers
Has bar-tracks at the stress points
Mesh shoulder straps (breathable) with sponge padding to relieve stress from the shoulders
Adjustable shoulder straps
Whistle buckled chest straps
Multi-compartments to keep items separate and organized
Large carrying capacity (35L)
Lightweight (0.7 LB)
Compact/ foldable
Best Use: short and long trips
Descrption: With Venture Pal Packable Daypack, you get more than just a backpack. It is the ideal deal for anyone planning to have a single day or even a week's trip. Every feature of it suits any type of trip and any type of a traveler.
First, it's about durability. Once you purchase this backpack, you will have many trips without the need to go back to the market. The Venture Pal Backpack has the longest durability because it is made of high-quality water and tear resistant materials that provide long-lasting performance.
As long as you pack your day pack to the required capacity, you will enjoy many years of quality service. Also, this backpack gets extra strength from its double-layer bottom piece thus making it perfect for carrying more load when on your journey.
When you think of convenience, this model has it all. Its heavy duty SBS zippers are two-way thus can be operated from either side and has bar-tracks to enhance its longevity at its major stress points.
The last thing anyone carrying a backpack wants is their zippers to bust unexpectedly or get stuck when you really need to open them. With the Venture Pal Backpack, you will never know any of these problems. It is also lightweight and has a large carry capacity for all your items.
Being comfortable is everyone's first consideration when shopping for a backpack because no one wants to end up with sore shoulders after a long journey.
This backpack makes sure that you are totally comfortable because it has sponge padded breathable mesh-shoulder straps to relieve stress from the shoulders. Also, these straps are adjustable, and the chest straps have a whistle buckle to help lock the backpack securely.
Gonex Ultra Lightweight Packable Daypack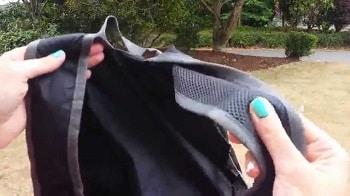 Dimensions: 2.4×7.2×12.4 inches
Weight: 0.35oz
Color: Orange
Capacity: 20 L
Specific Features:
Made of Tear/water resistant, high-quality nylon material
Abrasion resistant material zippers
Large carrying capacity. Has 3 zippered compartments i.e. 1 main pocket for bulky items, an outer smaller pocket and one inner zippered pocket for important items such as passport, cash and credit cards.
Lightweight (0.35oz)
Easily foldable
Available in 8 different colors
Bottle/umbrella holders on both sides
Breathable and adjustable spongy shoulder straps
Best Use: Outdoor traveling, camping, hiking, cycling, school
Descrption: The Gonex Ultra Lightweight Packable Daypack is all you need to make your trips as comfortable and as enjoyable as you ever wished. This backpack was designed to meet every traveler's needs because all its features are everything a traveler would need.
First, if your most important feature in a backpack is durability, this should be the deal for you. This backpack's material is the best, from the body to the zippers. You can actually use it every day and still enjoy its durability.
You can also use it in any weather condition, sunny or rainy, and still get your items in perfect condition.
Second, this model has several pockets enabling the user to keep their items organized and separate. For long-journey travelers, this comes in handy as one might want to keep their dirty clothes from the clean ones or just keep the sensitive items separate.
Also, the bottle/umbrella holders mean that you can have your water whenever or an umbrella if need be. Basically, with this backpack you can fit all your items, organized, in it and keep them safe throughout the trip.
Third, whether you will be hiking or moving up and down on whatever trip, you need a comfortable backpack whether heavy or light. With the Gonex Packable Backpack, you get all this and more.
The backpack has spongy breathable and adjustable mesh shoulder straps. You can, therefore, go about your activities comfortably and have no painful shoulders at the end of the trip. The fact that it's lightweight and foldable is a plus too.
Explore Outfitters Packable Backpack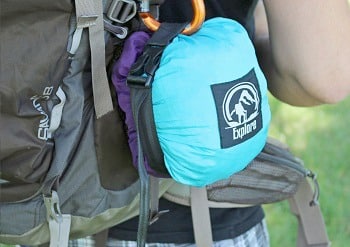 Dimensions: 2.2×7.1×7.5 inches
Weight: 0.45 pounds
Color: Black
Capacity: 35L
Specific Features:
Large and spacious (35L) for extra storage meaning you can carry all your items for short or long trips
Compact/foldable to 7x7x2 inches
Lightweight (0.45 pounds) making it ideal for different activities
Multi-compartments to keep items separate and organized. These pockets are in different sizes and has zips thus one can secure their valuables
Mesh pockets on either side for water bottles or umbrellas
Made with durable material (water and rip resistant) thus can be used in different weather conditions and also be used for a long time without damage
Best Use: Travel, camping and outdoors
Descrption: Well, compared with smaller and many expensive bags, the Explore Outfitters Packable Backpack beats them all in terms of durability, size and carry capacity.
In fact, for the price and quality, this is the best backpack on the market. Its size and design make it ideal for many purposes and for different kinds of people. It's ideal for any short or long trips and given that it's comfortable to carry all day, you can use it for any purpose.
The different pockets make it easy to organize different items and also easy to access whatever you need because you can easily separate each. The zippers are also durable and of high-quality material, thus enabling you to secure your items and also open them with ease.
Also to note is that you can actually buy just one backpack and use it as a family because it is ideal for both men and women and older kids as well. This model is also foldable, which means you can carry it in your smaller or bigger bag if you have some space, then remove it and back other items if the need arises.
It is also lightweight thus making it usable even by most children while also reducing unnecessary weight. On its own, the backpack weighs less than 0.5 pounds and do to its design, even your luggage feels light when on your back.
The strength of this backpack is unbeatable. Because it's made with high-quality materials, this Explore Outfitters backpack can hold much weight without getting damaged and can also withstand sharp items without tearing.
This is important because when planning a trip, you need to know that all your items will be safe in your backpack.
Travel Backpack Packable Day Pack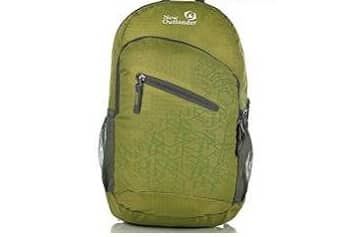 Dimensions: 2x7x9 inches
Weight: 0.7 lbs
Color: Blue
Capacity: 20/33 L
Specific Features:
Lightweight but sturdy
Durable
Packing flexibility (has an additional bag)
Very strong (holds up to 35L)
Comfortable straps (wide and spongy)
Many pockets to store your items
Ideal for hiking and any day packing
Available in different colors
Best Use: Hiking, backup bag, vacation,
Descrption: The Travel Backpack Packable Day Pack gives you everything from quality, durability, multi-functionality, ultra lightweight, largest carry capacity, carry comfort and more.
If you are looking for a bag that will serve you perfectly for a long time with zero damage, then go for this packable day pack. For the price, you will hardly come across anything near it in the market.
With this backpack, you get to hit more than one bird with a single stone because you can comfortably use for different occasions. Its design makes it multi-functional and thus, it helps in cost cutting.
On durability, it's clear that the manufacturers here did their best in sourcing the best material for the body and also for the zippers.
The material is water and rips resistance, meaning you can use it without fear of your valuables getting soaked if it rains and also, you will have the freedom to carry different items because the material is strong enough to withstand some sharp items.
The zippers are strong and of high quality such that they do not bust or get stuck while opening or closing. This enables one to carry their luggage comfortably no matter the day's activities.
This model is also ultra-lightweight, enabling the users avoiding adding extra weight to their bags. This is important, especially if you will have weight fees. Its size is also something to admire.
It's small enough to save on space when one needs to carry it in another bag and also big enough to hold all the items you need. Whether you choose it because of its price or quality, either way, you will win. This is the most versatile day pack ever.
Mengar 35L Foldable Packable Backpack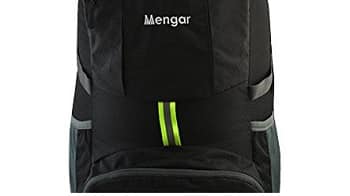 Dimensions: 13×7.5×10 inches
Weight: 0.45 Pounds
Color: Black
Capacity: 35L
Specific Features:
Made from nylon fabric that's water and rip resistant to provide strength
Reinforced stress points with bar tacking thus increasing longevity
Two-way high-quality SBS zippers that have easy pulls to give trouble free-closure
A strong loop & carry handle for one-hand lifting
Breathable, adjustable shoulder straps
See through mesh large front pocket
Pressure strap with click-lock
2 side pockets to carry water bottles and umbrellas
Spacious main compartment for carrying personal stuff and small inner zipped pocket for smaller items
Foldable bag
Ultra lightweight
Best Use: hiking, trips, outdoors, sailing
Descrption: If you tend to over pack, even for short trips, give the Mengar 35L Foldable Packable Backpack a try because you can to stuff in so many items without even realizing as its design gives it more room than one could see when it just empty on the floor.
Also, while traveling on a plane, this bag will save you some luggage because you can just carry it by hand and still be able to move around with it, even when fully packed, on your back for a whole day.
Again, if your trips involve sailing or you are suspecting it might rain during the day, this is still the best choice for you because it's made of waterproof material thus making it ideal for use during wet conditions.
You can move around with your luggage without the slightest worry of them getting wet or damaged by the water. This feature is important because most travelers move around with their important gadgets and the last thing one wants is to incur repair or replacement charges.
Because of its design, this packable day pack is appealing to most people on quick trips that require them to have legs and arms free because it has enough pockets to stuff everything you need and you can carry it on your back or if in the airplane, tuck it in an overhead compartment.
You will be surprised to see that you don't even need an extra bag for your trip if you have this bag because it has a ton of pockets enough to fit most of what you will need. After your trip, you can effortlessly zip up and fold your bag into a small pouch and store it in the smallest space available.
When purchasing it for the first time, you might think that the package is empty because it's too small and too light, until you pack it.
Sea to Summit Ultra-Sil Day Pack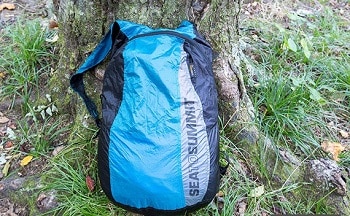 Dimensions: 1.89×2.83×5.2 inches
Weight: 2.4oz
Color: Blue
Capacity: 20L
Specific Features:
Packs down small thus fitting in luggage, purses or pockets
Simple and streamlined design that makes it light
Siliconized Cordura for extra strength and durability
Bar tacking on the stress points
2-way zippers for convenience when unzipping
Very lightweight
Spacious
Easy and comfortable to carry
Comfortable shoulder straps
Best Use: day pack, backup backpack, travel kit, carrying groceries, extra traveling tote
Description: From moms to backpackers, the Sea to Summit Ultra-Sil Day Pack is the ideal deal for carrying groceries and extra traveling tote. If you love hiking or shopping, kindly do yourself a favor and order this bag! It's outstanding in all ways possible.
It's so compact and lightweight that it's almost unbelievable that it can hold as much stuff as it does. It is also perfect for long backpacking trips where you can use it as a day pack.
Once you adjust its straps, almost all the weight moves on your waist, making walking/hiking easier. Alternatively, you can as well buy it as stocking stuffers for Christmas. Either way, you will never question your choice.
When bought for carrying groceries, everyone's concern is whether the bag is water resistance. Well, this bag is water resistance, and you can shop and pack your shopping without worry of it leaving perches on the bag.
With this bag, you can shop for everything you want and carry it on your back home or to the car comfortably. This is what every shopper wishes and that's exactly what this bag gives you.
Would you be quick to believe me if I said that you could fold this bag to a size equivalent to a can of Coke? Most people will say no, but this is the truth. If you are careless, you might just drop it and not notice it. It is the real definition of compact.
However, it includes a slipcover sewn into its lining; thus it's hard to lose it, and it can hold a lot! When you are out, traveling, you will have enough room to carry all your purchases.
Most of the times while traveling, one is unable to buy everything they want because they have limited space. Well, this bag is the problem solver.
What Have Learned?
A packable day pack is necessary, but it's more important to get the best. There are so many features that distinguish one from the other, and most of these features help in telling which among the two or three is better.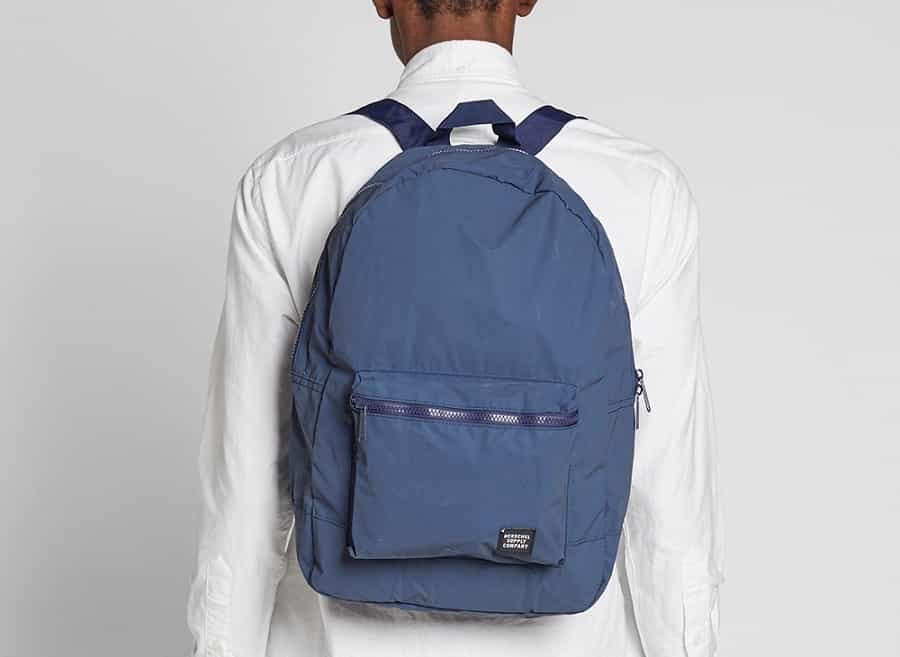 The list above was carefully analyzed and if it's your first time choosing one, we believe this list will be of great help. Furthermore, even if  you are on your second or third purchase, the list will help you see where you went wrong on your first purchase.
Despite our experience, we know that there is never enough knowledge and so we would like to learn from you as well. Therefore, if there is any point(s) that you feel we left out, point(s) that shouldn't be in the article or point(s) that were not well expounded, kindly leave us a comment on our comments box and we will tackle it in our next review.
However, if this article was helpful to you, feel free to share it with a friend or two. All the best!