Anyone who has experience in long-term wilderness camping or hunting, or those who have been lost for longer than a few minutes, already know that having a heavy-duty, durable knife can mean the difference between life and death.
That's why it is so important to choose the best survival knife for a more rugged adventure.  Some key features to look for is the type of materials it is made from, the length and thickness of the blade, and the possible uses for your new knife.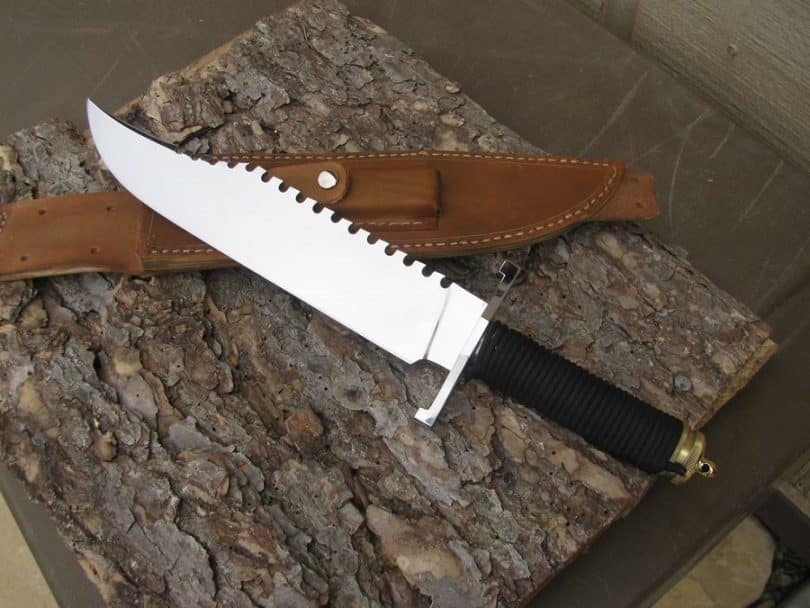 For instance, a folding knife is handy for small tasks, and is easily concealed, but for rougher jobs like chopping wood or cutting through plastic or a steel pipe, it won't meet the task as well as a quality fixed blade knife will.  That's why we've selected the top knives for use in survival and other potentially dangerous situations, to make the decision of which to buy a little bit easier.
Features to Look for in A Survival Knife
Before you purchase your new knife, it is best to consider the features of each knife to be sure you are getting a quality tool for your personal needs.  The reason these features are so important is because you want your knife to withstand any beating you put it through.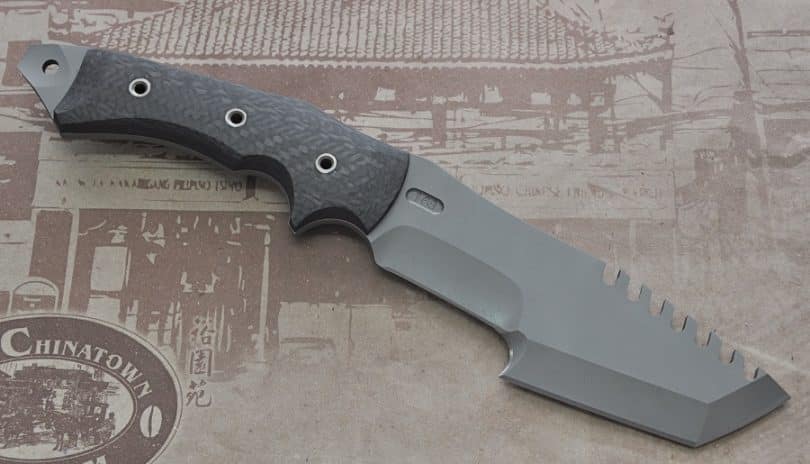 Scrimping on these details could leave you stranded in more ways than one.
Blade Material: Quality survival knives use either stainless or carbon steel for their blades. Stainless steel is extremely strong, and will not corrode like some other metals, but it will not retain its edge with prolonged use, and will need sharpening more often.
Though still a durable metal, carbon steel is prone to rust if used in damp conditions, but it will keep its keen edge regardless of the torturous tasks you put it through.  If properly oiled and cared for, corrosion can be kept from tainting this type of steel, so they will last a lifetime.
Blade Thickness: The thicker the blade, the stronger the knife. You don't want it to bend when you're in a tough or dangerous situation, because bending can lead to breaking, and if your only knife breaks, you may as well go home.
Look for one a blade with a thickness of about 1/4 inch, to be sure it will be strong enough for cutting wood, but still capable of skinning a deer.
Handles: There are two things to consider when looking at handles: the material used and the tang. Solid handles made of polymer or hard rubber are the most common, and provide a comfortable grip.
Textured is better, because it will reduce slipping during use.  Never buy a knife with a hollow handle.  These may have neat additions like a compass or storage compartment, but they will compromise the handle's strength.  A full tang means the blade reaches all the way to the end of the handle, which can also eliminate the possibility of the handle breaking.
Overall Length: For survival purposes, a small knife will never do. Anything over 6 inches is best, to be sure it can meet all your needs, whether camping, hunting, or even during tactical or search and rescue missions.  10" is usually the max for easy carrying, though with the proper sheath, a couple inches longer won't add too much extra weight.
A Great Sheath: Don't underestimate the need of a decent sheath. It needs to attach securely to your belt, preferable with holes at the end and sides, so it can be strapped securely to your leg.
If it also includes loops or straps that can attach to a pack or vest, even better.  Quality material and construction are also important, so your sheath doesn't break or tear when you're in the woods miles from home.
Possible Uses for A Survival Knife
Knives are meant for cutting, everyone knows that.  A survival knife not only has a longer, stronger blade that can cut through pretty much anything, it could even replace the need for an axe, a hatchet, a hammer, and in some instances, even a shovel.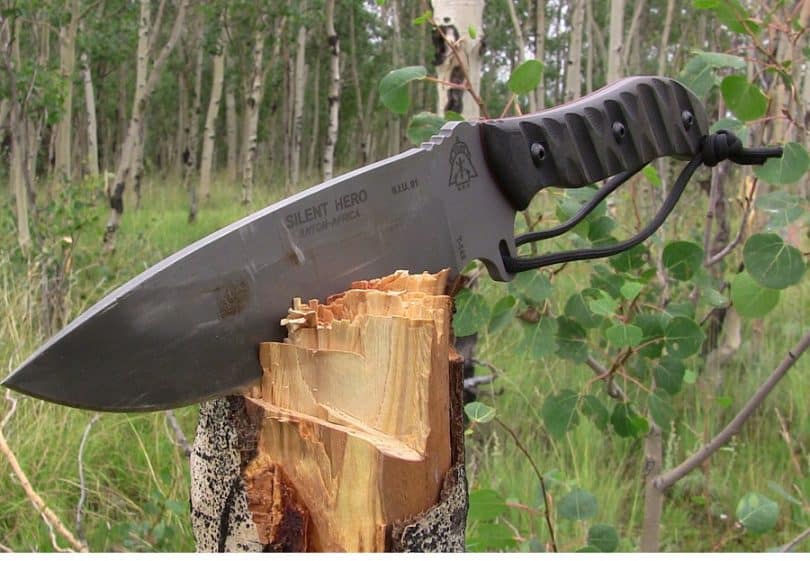 Some uses for a durable knife are:
Chopping wood
Cutting branches
Producing tinder from a Ferro rod
Creating a spear when tied to a thick branch, for hunting or fishing
Digging (fire pit, feces disposal, or for worms when fishing, etc.)
Gutting and skinning game
If strong enough, the handle can pound in tent pegs
Carving or whittling
As a pry bar (but only if necessary, as this could damage the blade)
Breaking glass
Protection against wildlife or home intruders
Now that we've discussed the features you should keep an eye out for when looking for knives to buy, here are a few of the top rated survival knives on the market to serve as a starting point for your search.
Survival Knife Reviews
KA-BAR BK-22 Companion Fixed Blade Knife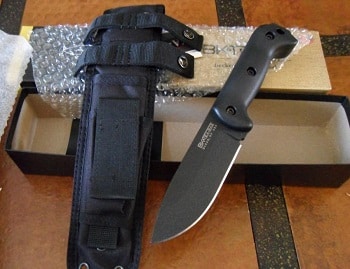 Weight: 14.6 oz
Dimensions: 10.5 inches in length overall, blade is 5.25" of length and ¼" thick
Specific Features: 1095 Cro-Van steel blade, Grivory handle, wrist lanyard hole, heavy-duty polyester sheath
Best Use: Camping, hunting, military, industrial use, any outdoor situations.
Description: The KA-BAR BK-22 Companion Fixed Blade Knife is a heavy duty tool that is perfect for those who need a reliable blade for a variety of outdoor uses.  The flat ground, drop point blade retains its sharp edge, and is perfect for delicate work, such as skinning a deer, but also has a 56-58 HRC hardness rating, so it can be used for more difficult work usually suited to a small hatchet.
The handle is made of glass-reinforced nylon from Switzerland called Grivory, and is easily controlled while still being comfortable in the hand.  It is not textured, though, so it can become slippery if it gets wet.
This is the second generation of the Companion model, and includes an extended pommel, perfect for self-defense, breaking glass, or for pounding tent pegs into rocky terrain.
The sheath is heavy-duty polyester, has Velcro closures, and can be hung from a belt or strapped to a pack for easy access.  Though a great knife for a variety of outdoor adventures, it is a bit heavier, so it is not suitable for someone looking to travel light.
Related: Cutco also has an earlier version of this, the BK-2.
ESEE 6P Black Fixed Blade Knife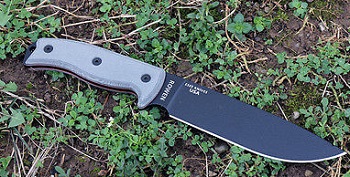 Weight: 1 lb
Dimensions: 11.75" in length overall, blade of 6.5" in length
Specific Features: High carbon 1095 steel blade, gray Micarta handle, molded Polymer sheath
Best Use: Camping, hunting, survival situations, hiking
Description: The ESEE 6P Black Fixed Blade is a knife that feels lightweight, though it has the durability to last through heavy-duty use.  If properly cared for, the powdered steel blade will stay sharp, even when cutting through thick tree branches.
It is tapered at the end, so if a bit of surgical use is necessary when hunting, this knife will meet those needs as well.  There is also a small serrated edge on the top of the blade if needed.  The textured Micarta handle is easy to grip, and won't slip from your hand, even when using the knife in the pouring rain.
The Polymer sheath is Desert Tan colored for easy blending, and includes a removable belt clip for multiple carry options.  This multi-purpose survival knife is excellent for anyone who prefers no-frills outdoor activities, though it is a bit heavy and long, so may not be suited for ultralight backpacking.
Related: ESEE also makes a 6S model.
Tops Knives Tom Brown Tracker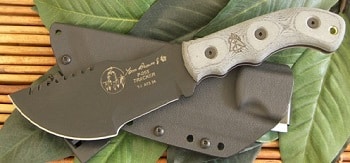 Weight: 13 oz
Dimensions: 10.62" in length overall, blade length of 5.5"
Specific Features: ATS-34 stainless steel blade, black Micarta handle, Kydex sheath
Best Use: Hiking, camping, hunting, fishing, tactical use, survival situations
Description: Tops Knives Tom Brown Tracker is a great knife for multi-purpose use.  The stainless steel black traction coated blade has a wide design, curved at the bottom with a serrated edge on top.
The full tang Micarta handle has finger grooves for added comfort and control.  Dual clips on the sheath allow you to hang it from your hip, or sideways at your back.  The sheath also comes with a survival whistle, for those unexpected emergencies.
This heavy-duty knife is the perfect workhorse, and is great for anything from a short hike through rugged terrain to a week-long camping or hunting trip, and can be used to build traps, skin game, or even a bit of carving, just for fun.  Though a bit large for lightweight travelers, and not exactly suited for self-defense because of its larger size, it is an excellent knife for multiple outdoor uses.
Related: Tops Knives also has a few other models of the Tom Brown Tracker, included the #1, #2, #4 mini, and the Coyote Tan.
Fallkniven A1 Survival Fixed Blade Knife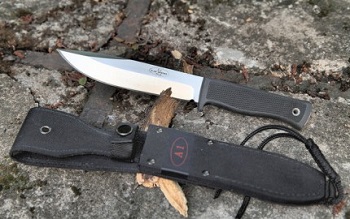 Weight: 12.8 oz
Dimensions: 11" in length overall, blade length of 6.3" and 0.24" thick
Specific Features: Laminated VG10 steel blade, Kraton handle, black Zytel sheath
Best Use: Hunting, fishing, camping, military use, survival situations
Description: The Fallkniven A1 Survival Fixed Blade knife is suitable for all types of rugged outdoor use.  It is a lightweight knife, yet durable enough to withstand the roughest punishment.  The Kraton handle is textured perfectly so you can retain your grip no matter the job or the weather.
It covers a full tang blade made of laminated VG10 steel with a drop point tip.  Though the edge is plain and has no serrated edge, this knife will still cut through anything you need it to, from fish to bone to wood for a fire.  The Zytel sheath is perfect for those in rainy areas, because it is quite light, drains water easily, and is tough enough to withstand any damp environmental conditions.
This survival knife is perfect for all types of outdoor adventures, from easy hikes to long-term hunting trips, and the majority of its users feel that if you only want to purchase one knife of this type, the Fallkniven A1 is the best one to choose.
Related: Similar models from Fallkniven include the A1 Pro,F1 Pro, and the S1 Pro.
Gerber LMF II Survival Knife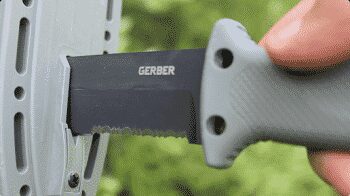 Weight: 11.67 oz
Dimensions: 10.59" inches in length overall, blade length of 4.84"
Specific Features: 420HC stainless steel blade, Glass-filled nylon handle with TPV overmold, Ballistic nylon sheath.
Best Use: Hunting, survival, tactical, military, industrial, camping, hiking, fishing
Description: Gerber LMF II Survival Knife is the ultimate survival knife, designed by a former member of the military, Jeff Freeman, as a heavy-duty knife to be used by infantry or search-and-rescue teams in life-saving situations.  The serrated drop point blade is strong enough to cut through a plane's fuselage, the thick material of a seatbelt, or a chunk of wood to make a fire.
The overmolded handle offers a comfortable, yet secure grip, so it will not slip in wet conditions, and includes a stainless steel buttcap, perfect for breaking glass or fighting off an assailant.
With the knife comes the Ballistic nylon sheath that has been fire retardant coated for added protection.  This sheath can be strapped securely to a belt or to a MOLLE vest using its handy lashing holes, and includes a built-in carbide sharpener for emergencies.
Related: As well as this black LMF II Infantry model, there are also Coyote Brown and FG504 Green models available.
Spyderco Bushcraft G-10 Plain Edge Knife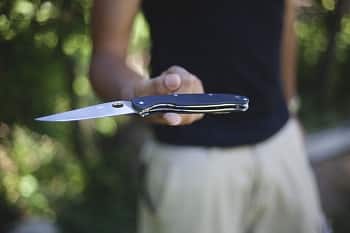 Weight: 7.75 oz
Dimensions: 8.75" in length overall, blade length of 3.9" with 0.14" thickness, 0.23" blade hole
Specific Features: O-1 tool steel blade, G-10 handle with lanyard hole, black leather sheath
Best Use: Tactical, military, survival, hunting, camping, carving
Description: The designers at Spyderco teamed up with the expert of tactical bushcraft, Chris Claycombe, and those behind the popular website BushcraftUK.com to come up with this high quality G-10 survival knife.
The high carbon of the blade's tool steel retains its edge through all types of work, from cutting up your kill to some creative carving.  This full tang blade has a single bevel Scandi grind that will sharpen easily when needed, though it needs to be oiled to prevent any rust in wet conditions.
There is no handguard on the handle, so you must be careful that you don't slip and cause needless injuries, but the contour will fit comfortably in your hand.
The leather sheath holds your knife securely in place using both the belt loop and the holes on the side and bottom that can be used to strap it tightly to your leg.  There is also a lanyard hole on the knife, as an additional carry option.
Related: The Spyderco Proficient FB36CF is similar to the Bushcraft G-10 knife.
Cold Steel 3V SRK fixed 6-inch Blade Knife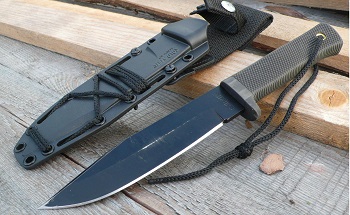 Weight: 8.8 oz
Dimensions: 10.75" in length overall, blade length of 6" with 0.19" thickness
Specific Features: CPM 3V high carbon steel, Long Kray-Ex handle
Best Use: Military, tactical, law enforcement, survival, search and rescue, hunting, camping
Description: Cold Steel 3V SRK fixed 6-inch Blade Knife was designed to be a versatile, heavy-duty knife for use by those performing rescue operations or survival missions.  It is popular with members of the military and those in law enforcement, because it can withstand the demands of the job.
The blade is coated with a black DLC finish, which will help to keep rust from setting in as well as maintaining the flat blade's edge.  The clip point is perfect for more delicate maneuvers, but is strong enough for skinning or cutting anything outdoor life may throw at you.
The textured Kraton grip won't slip out of your hand, and the finger guard will keep your hands away from the blade when sawing at a chunk of wood.  Though there is a Kydex sheath available, it is not necessarily included with the knife.
Related: The 3V Master Hunter is similar to the SRK model.
Gerber 06995 Silver Trident Double Serration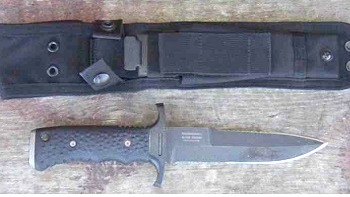 Weight: 17.4 ounces
Dimensions: 11.22" in length overall, blade length of 6.18"
Specific Features: 154C stainless steel blade, Hytrel co-mold handle, black ballistic nylon sheath
Best Use: Hunting, fishing, tactical, military, survival, camping, industrial
Description: Gerber 06995 Silver Trident Double Serration was designed to be used by those in Special Ops, and has been field tested in the most rugged conditions to be sure it is up to the standards of those performing such dangerous missions.  The clip point blade is not only double-edged, but it is double serrated as well.
It also has a non-reflective black coating, so it will not shine in the light and give away your position when performing military maneuvers or hunting in the woods.  The co-mold handle uses two versions of Hytrel, a solid inner layer that is incredibly strong, and a softer outer layer that provides a comfortable, yet sturdy, textured grip.
This contoured handle even has a buttcap made of stainless steel that you can use to break glass or hammer in a few difficult tent pegs.  The heavy-duty sheath comes complete with leg ties for a secure hold, or can be used with a MOLLE vest.
Related: The closest Gerber has to this model is the Strongarm Fixed Blade SE, which comes in either black or coyote brown.
The Last Word on Knives for Survival
Survival situations can be dangerous, and having the proper tools and defensive weapons can keep you alive when far from the comforts of home.  The knives listed here are the top rated of their class, made of high quality materials, perfect for a camping or hunting trip with your buddies, tactical missions, or search and rescue operations.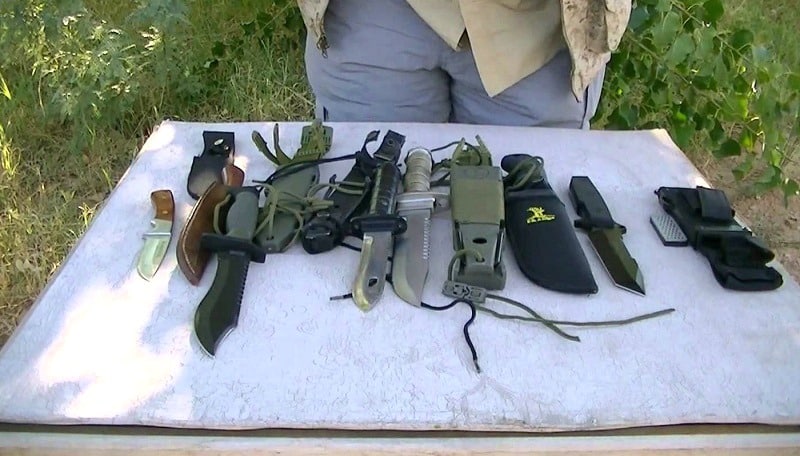 Of course, which one to use depends on the size of the knife, and your own specific needs.  Of course, there are many other survival knives available, so if you feel one has been overlooked, please let us know in our comments section.