You will agree with us that owning the best camping cookware available is a must for you and your hiking group. When you are camping or hiking you need proper meals to keep your energy levels up and, let's be honest, to add to the atmosphere of the trip. When you are backpacking or hiking, pots and pans need to work efficiently, in order to get the desired results you need to pick the best backpacking cookware. There are a lot of options available on the market, which makes it difficult to choose the right product.
Campers who go on short trips usually prefer basic, simple, and lightweight cookware, but the campers who go in groups for long trips need more complex cookware because they need to make food for more people. To help you wade through all the selection the open market has to offer you, we have taken all of this into consideration for you in the following list.
After reading through this article you have a basic knowledge of all things portable cookware and all things related to it. Be you camper, hiker, or climber, we have you in our minds and have hopefully met all of your needs below. Enjoy.
Our Top Picks
Features to Consider Before Buying
With all the differing kinds and types of camping cookware that is available on the market today, it can be very easy to get lost and caught up by them all.
This short explanation of everything you need to know about portable cookware should help you get back on track and guide you through our list of what is the best camping cookware out there.
Material Types
Camping cookware comes in different kinds of material. How are you going to decide which material suits you the best? We are going to tell you about the pros and cons of all these material to help you make the best decision.
Aluminum – Cookwares made of aluminium are quite cheap and aluminium is a good conductor of heat, which means it cooks the food quickly. Additionally the aluminium made cookwares are lightweight. The downside of aluminium cookware is that they its not that durable in comparison with stainless steel. Also, they dent easily and aluminium can react with alkaline foods or acid.
Hard Anodized Aluminum – Hard anodized material has a thicker coating than regular anodized aluminum. It's more popular even for home cookware and its durable. It's lightweight, easily cleanable and good conductor of heat so cooks quickly. The downside is that it's expensive and it comes with a nonstick coating mostly which requires more maintenance.
Titanium – The most prominent feature of titanium made cookware is that they are extra lightweight. In fact they weigh 45% less than stainless steel or aluminum cookware. Its durable and abrasion resistant. Also the pots made of titanium have thin wall which makes them heat fast. The downside of this is that titanium made cookware is expensive and titanium is a poor conductor of heat so it can create hot spots.
Stainless Steel – Stainless steel cookware is popular among campers because it is durable and abrasion resistant. Campers need something that works in rough situations and has stability. But the downside of this cookware is that it conducts heat poorly, which can result in hot spots or burnt food. Also stainless steel is heavier than its competitors.
Cast Iron – Cast iron is a great option for camping cookware. Cast iron cookware is durable and is naturally nonstick. It cooks food evenly and it's quality cookware even for home. The downside of this cookware is that it's quite heavy and needs maintenance to retain nonstick coating.
Non-Stick Cookware – Nonstick cookware is known for its easy clean up that's why most of the campers who avoid cleaning up prefer nonstick cookware. The downfall of this cookware is that it can be easily stretched and once it got scratched the chances of it breaking down are high.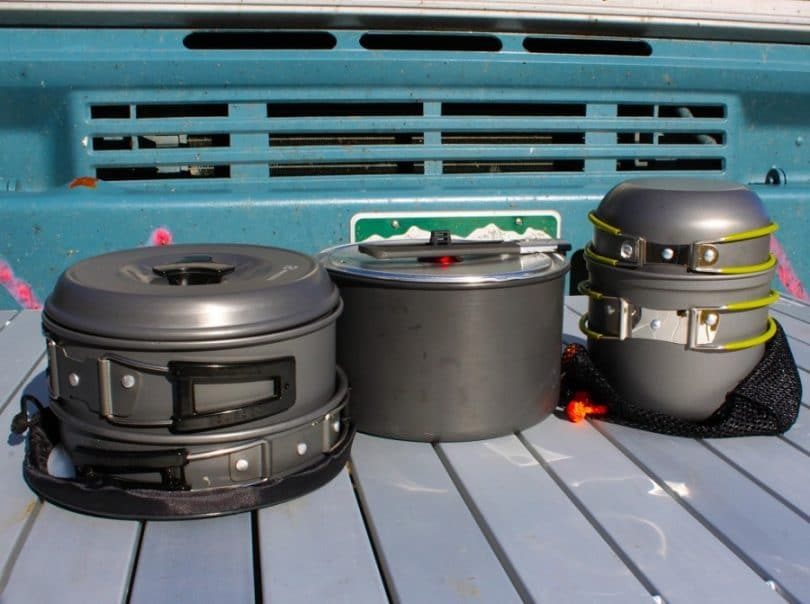 Weight
For most backpackers and campers weight is the most important factor, so before making any important buying decision you need to know how much weight you will have to carry if you decide to buy the product.
You need to find the something that has all that you need in less weight. You need to compare your options and make sure that even if it's lightweight it performs well. Because if the cookware doesn't perform then it will be of no use for you when you need it most.
Durability
Most campers prefer a cookware that will last longer because they often go on long trips. Therefore, durability is a crucial feature in cookware when you are making a buying decision. As we all know that camping set up can prove to be a little rough, so the cookware has to be hard enough to suffer through all that.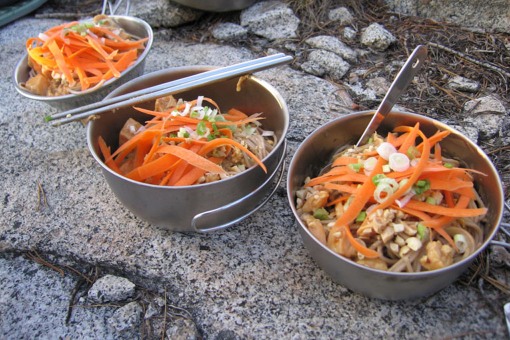 Othervise, you will end up with cookware that will last you only one or two trips and you will have to buy new each new season.
Convenience
When you are outdoors, you need something that you are easy to work with and it doesn't give you a lot of trouble. You are already tired from all the outdoor activity, nobody wants to deal with extra work that maybe your cookware can cause.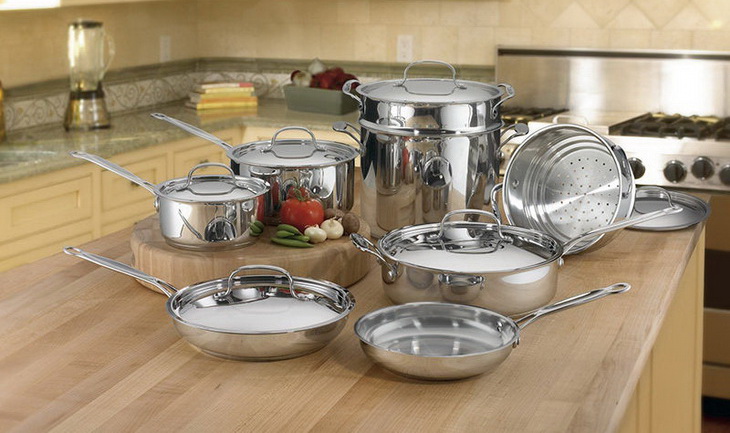 You need the food three times so make sure the cookware that you have is versatile and convenient to use. Othervise, your cooking sessions will not be relaxing and appetite opening and it can brake your entire outdoor adventure.
Storage
Another important thing is the storage. When you are backpacking or camping you have to wrap up the cookware in something that will fit into your backpack. Look for the packable measurement of the cookware sets that you are interested in buying and make sure that they will fit into your backpack comfortably.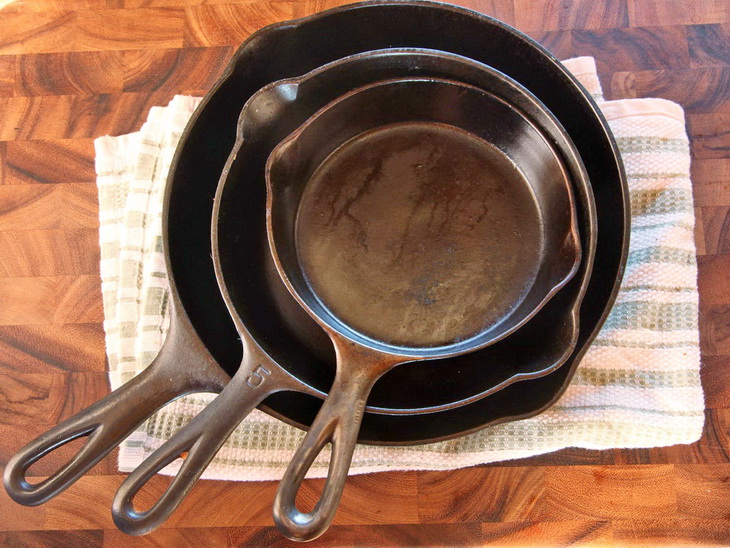 You definitely don't want to end up with a set that is great for use but too big to fit even your biggest backpack, or close enough to fit the backpack but no room left for the rest of the gear.
Top Products on Today's Market
Here, we will take a good look at which models are the best on the market and highlight everything they have to offer. Now that you know what are the features to keep an eye on, finding the perfect model for you will be a piece of cake.
MSR Alpine 2-Pot Set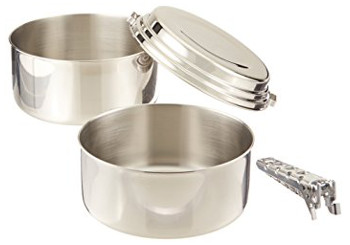 Price: Approx. $50
Weight: 1.7 pounds
Material: Stainless steel
Dimensions: 6 x 6 x 4 inches
Best use: Camping, backpacking
Description: This MSR Alpine 2-Pot Set is made of stainless steel, which makes this product durable, but it also means that it weighs more and is costly. As we have mentioned above that stainless steel is a poor conductor of heat and which means it will take more time to boil water and it will create hotspots.
The lid of its pot serves multi functions as it can be used as a lid and a plate. The design of this cookware is compact and its efficient nesting gives you enough packing room.
The volume is of this product is great to serve one or two as the larger pot can hold more than 1 liter and smaller pot can hold 1 L volume. The pots don't have any non stick coating so the cleaning up isn't easy but any scrub can be used on it because of the stainless steel to get it cleaned up.
PROS:
Non stick coating
The larger pot can hold more than a liter
CONS:
Not the lightest item in this list
Related: Perfect tupelware for your camping/hiking adventure needs to be sealed tight, reliable, and compact enough to fit inside any daypack with ease. The Sea to Summit Delta Bowl just just this with Nylon66 and BPA-free materials that are cut resistant and very hard to crack.
GSI Bugaboo Cook Set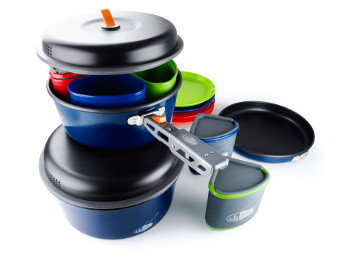 Price: Approx. $100
Weight: 3 pounds
Material: Teflon coated aluminum
Dimensions: 6 x 2 x 8 inches
Best use: Gourmet camping, camp stove
Description: The GSI Bugaboo Cook Set is made of Teflon coated aluminum material. The items found in this cookware kit are color coordinated and can offer you further option for personalized pieces.
With this cookware we would recommend to order another handle so that you are not left empty handed whilst cooking out on a hiking trail.
This cookware is perfect for a family camping trip thanks to the kits vivid use of colour and for the perks of the materials used. The Teflon aluminium coating makes it scratch resistant and is convenient to use. The cookware comes with comes with a wash basin, which is basically a rubber walled caddy that doubles into a wash basin.
The size of one skillet is 8.5 inches, the size of one pot is 7.5 x 3.5 inches and the size of the other pot is 8.5 x 4.5 inches. The compact design and the good quality make this product a really good investment decision.
PROS:
Scratch resistant
Personalized color schemes available
CONS:
A little too many pieces to carry
Related: Making a gourmet meal on the trail is easy with the right equipment, and serving it up to the hiking party is not a differing matter. Using the GSI Outdoor Pivot Tongs help take the meal from pan to plate with ease. The tongs are also super lightweight and easy to carry around.
G4Free Outdoor Cookware Kit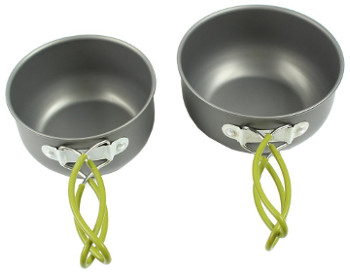 Price: Approx. $20
Weight: 1.5 pounds
Material: Anodized aluminium
Dimensions: 6.8 x 6.8 x 8.2 inches
Best use: Backpacking, camping
Description: This G4Free Outdoor Cookware Kit is perfect if you are only in need of the bare cooking essentials and are not going to need fancy extra pieces.
This is the best mess kit for hiking, camping, and even for serving as a part of the basic survival kit. The folding handles of both pot and the pan saves space in your daypack and provide compactness.
After fitting this cookware together, it has enough space to store spices, the stove and a box of matches. Along with many other things you think will help to keep the overall space minimum. The silicon tube handles will protect from burning.
The anodized aluminum makes this reliable and durable mess kit. This cookware is perfect for 1-2 persons. The product comes with a mesh bag for storage. This kit includes 2 non stick pots, 2 non stick frying pans and the mesh bag that it all comes in.
PROS:
Folding handles
Overall lightweight cookware
CONS:
Only serves up to two people
Related: After building the fire you will need a sturdy and reliable surface to balance your cooking ware over the flames. A Sportneer Cooking Tripod is a securely fastened, temp-resistant, foldable tripod made of high grade stainless steel. Ideal for backpackers.
Winterial Camping Cookware and Pot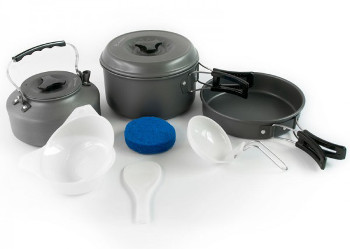 Price: Approx. $70
Weight: 1.5 pounds
Material: Aluminum oxide with teflon coating
Dimensions: 3.5 x 6.75 x 6.75 inches
Best use: Backpacking, trekking, hiking, camping
Description: The Winterial Camping Cookware and Pot is made of aluminum oxide with a Teflon coating which makes this cookware friction resistant and high temperature resilient. This cookware is cheap, lightweight, reliable and durable.
The non stick coating on each piece ensures an easy cleanup – which is all that you could hope for during a mid-hike meal.
The design of this 11 piece cookware kit is compact and they are stored together so that they can be carried anywhere with convenience. This cookware boils water very quickly and cooks delicious meals.
The design is made to stand against high temperatures. Even the handles are heat resistant and won't melt during normal usage. The teapot is perfect for winter camping trips.
PROS:
Friction resistant cookware
Can stand very high temperature
CONS:
Too many pieces in the set
Related: By way of fuel to heat the pans, Optimus have made their own brand of gas to work with the cooking mechanism. Optimus Energy Gas is a must if you are to buy this cooking ware, as no other fuel supply will do in the perfection of balance and flame required to evenly cook all of your meals.
Optimus Crux Lite Stove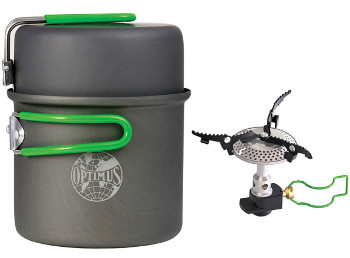 Price: Approx. $45
Weight: 0.6 pounds
Material: Anodized aluminium
Dimensions: 3 x 2.2 x 2.2 inches
Best use: Camping, hiking
Description: The Optimus Crux Lite Stove is made using anodized aluminium materials which has some great and highly useful qualities. The 3 piece cook system has a little portable stove and a Cookset.
The miniature stove is ultra lightweight and the saucepan included has pouring lips with measurement marks, making it easier for those who like to control their portion sizes.
The frying pan is multi-functional as it doubles as a lid. The boiling time of the pot is very quick and the burn time of the stove's gas canister usage runs on average of 90 minutes. The product comes with a generous 2 year warranty.
This compact cookware is perfect for 1-2 persons. It is extremely versatile as each piece can be used individually, and can double as another item of the cookware kit. Additionally, it is extremely lightweight and compact which makes it ideal for backpacking and hiking.
PROS:
Ultra lightweight
2 year warranty
CONS:
Can only serve one to two people
Related: Having the best cutlery for your hiking party is almost as necessary as having the right cookware. This Tapirus 4 Spork To Go Set is perfect for any trip for their durability and usefulness. Highly recommended.
Coleman Stainless Steel Mess Kit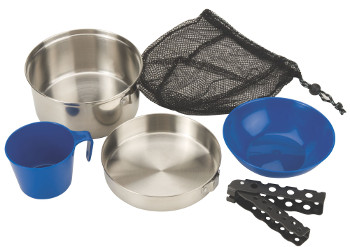 Price: Approx. $25
Weight: 1.4 pounds
Material: Stainless steel
Dimensions: 7 x 7 x 5 inches
Best use: As a camp stove, for backpacking, hiking
Description: This Coleman Stainless Steel Mess Kit is manufactured with stainless steel material which makes it durable, reliable, makes it incredibly lightweight, but unfortunately makes it a little pricier.
Stainless steel is usually not a good conductor of heat, which means that it will take a longer time to boil water whilst on the trail.
The entire mess kit stores all of the cookware pieces together, making for a compact and easy to pack away vibe. The BPA free bowl and mug that come with the kit are microwave and dishwasher friendly.
The kit includes 2 stainless steel pots each with a lid, the lid found on the 6.5 inch pot can convert into a frying pan when you use the interchangeable handle and lock onto its side. The kit is packed in a black mesh bag with attached drawstring and can be dip cleaned.
PROS:
BPA free bowl included
Made of Stainless Steel
CONS:
Not the best conductor of heat
Related: Are you tired of the all in one cutlery solution that is the Spork? Try your hands at these all-in-one SE Stainless Steel Utensil Set. A set of four kitchen utensils (bottle opener, fork, knife, spoon) in one handy, easy to use set.
GSI Glacier Stainless Pot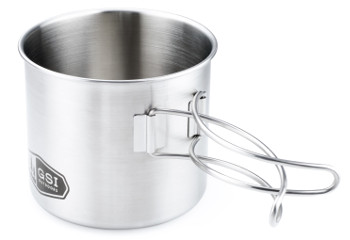 Price: Approx. $30
Weight: 1 pound
Material: Stainless steel
Dimensions: 4.1 x 4.1 x 4.7 inches
Best use: Hiking, as a camp stove
Description: The GSI Glacier Stainless Pot is made of stainless steel which means it is durable but pricey and a poor heat conductor.
The pot that on the .6 L size mark has a lid that helps it retain heat and boil water quickly, which is a sizable advantage needed whilst on the trail. The ultra light design is made for easy cooking and boiling water.
The telescopic 4" long foon (or spork) serves as both a fork and a spoon so that you have to pack less by way of cutlery. For secure handling of anything over the stove, the pot gripper is included in the campware kit.
This cookware is ultra lightweight – thanks to the stainless steel material used in making the Glacier – and is is also very durable, which makes it a great choice for any backpacking trips or camping adventures. The compact size this stove kit offers makes it perfect for 1-2 persons.
PROS:
Ultra lightweight
Can serve up to two people
Related: A TOAKS Titanium Long Handle Spoon will be the bane of all your other outdoor cooking utensils. Its durability and accessibility will never fail you.
Light My Fire Meal Kit 2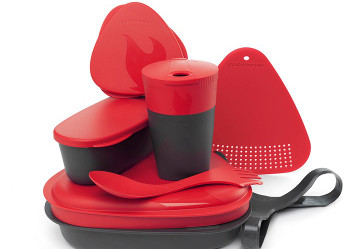 Price: Approx. $30
Weight: 0.85 pounds
Material: Polypropylene
Dimensions: 7.6 x 7.6 x 2.4 inches
Best use: Hiking, camping, backpacking
Description: The Light My Fire Meal Kit 2 is compactly designed to stow and serve food outdoors. Though the kit come in many different pieces, they are all incredibly easy to pack away and keep in your hiking bag.
This 8 piece cookware includes 1 plate, 1 lid, 1 Snapbox original, 1 Snapbox Oval, 1 pack up cup, 1 cutting board, 1 Spork original and 1 Harness.
The Snap boxes are waterproof and have locks. The pack up cups expand when you use them and they collapse when you need to carry them. The cutting board doubles easily as a makeshift strainer and the Spork original is scratch resistant.
The cookware is microwave and dishwasher friendly. This product is available in 8 different colors for all your customization needs.
PROS:
All the snapboxes are water proof
Scratch resistant spork
Related: With all of your preparations into how to get the dish cooked, you may have overlooked the how and with what you will make it with. The Culina Collapsible Mixing Bowl helps answer at least where you are going to combine your ingredients. It is very light and extremely easy to use.
Stanley Mountain Compact Cook Set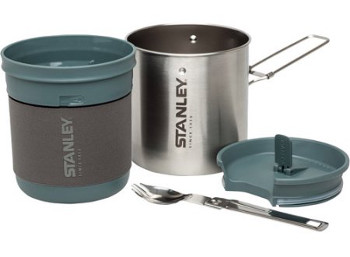 Price: Approx. $30
Weight: 2 pounds
Material: Stainless Steel
Dimensions: 5 x 4.6 x 5.5 inches
Best use: Hiking, camping
Description: The Stanley Mountain Compact Cook Set is made of stainless steel which means it will not rust, is made of super lightweight materials, and also it is naturally BPA free.
The kit includes a nested pot, a vented lid, mug or bowl and a folding Spork, which will all come in handy on any camping/hiking trip.
The Stanley Mountain's lid is melt resistant and vented. It also can double as a strainer easily for any of the pot's contents, and you can use a drink thru lid in case of bowl or mug. The mug or bowl has measurement marks for easy preparation and for those who like to use the correct amounts of food whilst cooking.
The fuel used for this stove, comes in the form of a lightweight canister that heats the extremely lightweight stove. All of which is easily stored in the complimentary cook set to save space in your daypack.
PROS:
Melt resistant lid
BPA free
CONS:
Having more cutlery than a Spork would be a plus
Related: The necessity for a compact folding knife that can make short work of anything in the wilderness with a couple of well placed saws, is definitely worth its weight in gold. The Bahco Lap-Knife is that and more. Small enough to fit in any daypack and durable enough for even the thickest of logs. Useful in all areas of outdoor cooking.
MSR WhisperLite Stove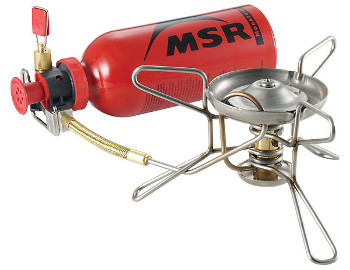 Price: Approx. $140
Weight: 0.72 pounds
Material: Stainless steel
Dimensions: 7 x 7 x 4 inches (when open)
Best use: Hiking, camping, traveling
Description: This MSR WhisperLite Stove works as a hybrid fuel stove that combines liquid and canister fuel capabilities into one easy to maintain package. It is manufactured and constructed using stainless steel. Making the stove lightweight, super convenient to use and offers a highly stable working space for those on the go.
It has patent pending aircontrol technology, which enables the Whisperlite to perform with optimized efficiency across all possible fuel types. The product has a limited lifetime warranty available upon purchasing.
This stove offers easy to clean, clear, and pack maintenance which makes it best for backpacking trips. The multi fuel access point is easily available and costs less to manage.
The supporting legs are strong enough to handle even bigger pots than most stoves on this list. It is an easy addition to anyone's daypack, but, all in all it's a perfect choice for a backpacking or hiking expedition.
PROS:
Patented air control
Lightweight stainless steel
CONS:
Only offers a limited lifetime warranty
Related: A compact, easy to carry, Primus Fuel Bottle. It packs a mean punch when it needs to and is easily affixed to any portable stove. This fuel bottle really is one of the best on the market.
Wrapping it Up
We have reached the end of our article. By now, you should have learned what are the most important features that should be taken into consideration before buying the cookware for your next camping adventure in the great outdoors.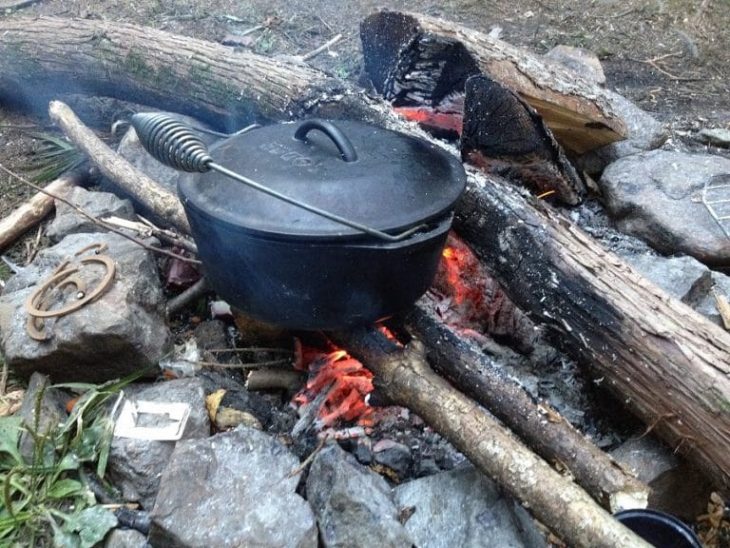 Furthermore,these reviews of the cookware we provided, should give you enough to choose from as they are the finest that the market has to offer, and you will definitely find a model that suits all your personal needs.
Also, the recommended products are there to make your main chosen product even more useful and to make your outdoor cooking easier and more fun, so, they should definitely be taken into consideration as well.
Now, it's time for you to share your thoughts on the models we reviewed here, or to ask some questions if you have any. We would love to hear from you and you can visit the comments section below. Thanks for reading!