Outdoor activities lovers know the importance of owning a portable grill. Even when you are out hiking, backpacking and camping, you can still have the same kind of fun you would while dining indoors. To achieve this desire, you need to, of course, purchase the best tailgate grill you can find for a proper amount of money.
While buying the grill you need to realize that it's not just mere purchasing. You are instead making an investment that can make friends and family enjoy a nice dinner and create memorable moments for life.
One terrible mistake while buying your grill is enough to turn a meat eater into a vegetarian for the rest of their lives. The wrong choice while purchasing a grill, can give you a running stomach or more, get you or your surroundings on fire! With this kind of impacts, it is, therefore advisable that you be very careful while buying your grill
Types of Portable Tailgates
While it comes to tailgating, there are usually two types of grills available, charcoal and gas grill. Choosing either of the two usually, confuses many people.
To help you with the dilemma, we are going to look at both types, their features, pros and cons and hope at the end of the review, you will be comfortable to make a choice.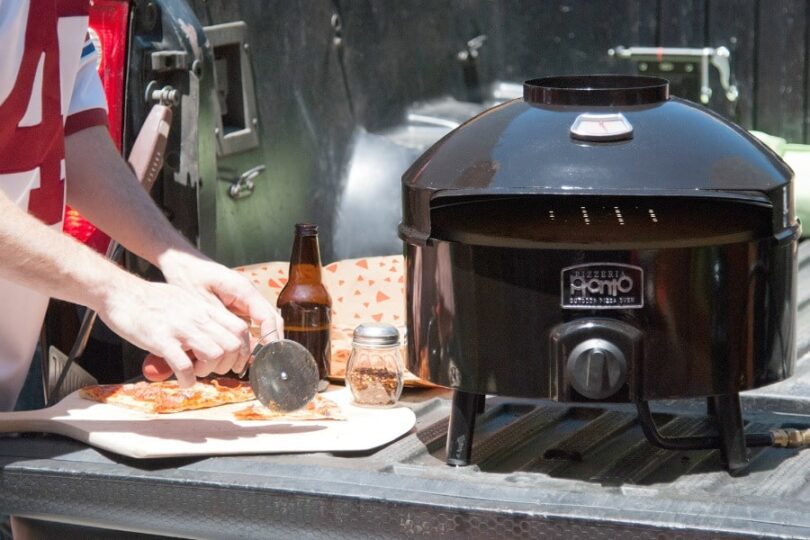 Even before you can choose the tailgate grill, there are some crucial questions that you need to ask yourself. Answers to the questions will help you settle for the most suitable tailgate grill for your need.
What's the size of your crew? Is it a large bash or small and are there dogs with you?
How often will you be tailgating?
What's your budget?
Once you get the answer to the above questions, you can go ahead to choose between charcoal and gas grill.
Charcoal Grill
Oh yes, who doesn't have the memories for old fashioned, but incredible charcoal grills. The pouring of the black charcoal pieces on the grill, splashing it with lighter fluid and then with just one matchstick, whoosh, the grill lights up!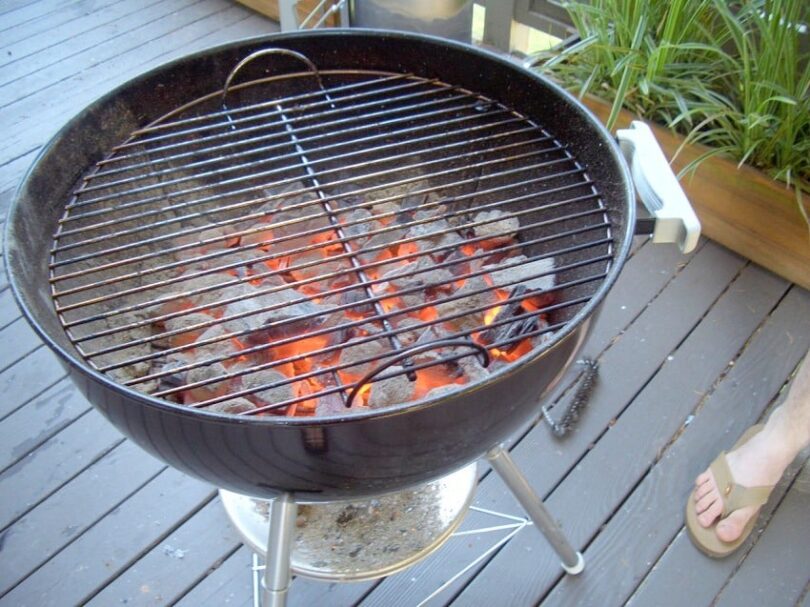 It might sound old school in an era where gas and electric grills are useable, but the truth remains, they have the best-flavored and textured meat any of these other grills could ever make.
Advantages:
Charcoal grills are lighter and hence easier to transport to the party.
They can handle wood chips if you have no charcoal at your disposal
They give the best flavored and delicious meat
They don't require larger spaces
They are quite affordable
Cons:
Takes a lot of time from setting up, lighting and allowing the charcoal to heat up well enough to cook meat.
You need to cook while eating your meat while it's still hot as there is no turning on or off the charcoal grill
They are a bit dirty and messy compared to gas grills
Gas Grills
Advantages:
They are quick and can warm up to cooking standards within five minutes
With gas grills, you have full control with the heat applied to the meat
They are clean and environmentally friendly as they leave no ashes and do not emit carbon monoxide as compared to a charcoal grill.
Cons:
You cannot compare the flavor of food cooked on a gas grill with that cooked on a charcoal grill.
Gas grills are expensive
The gas produces wet heat that changes the flavor and color of the meat
With all said, the choice on tailgating is entirely a personal choice ad there is no tailgate grill is perfect. In fact, you might have a charcoal grill at home, while your tailgating grill is a gas grill and vice versa. As long as you are getting the most significant benefit, cooking, the other features can come as a BTW.
Tailgating Checklist
To make sure you have a mind blowing tailgating experience, you need to have a checklist of things you will require.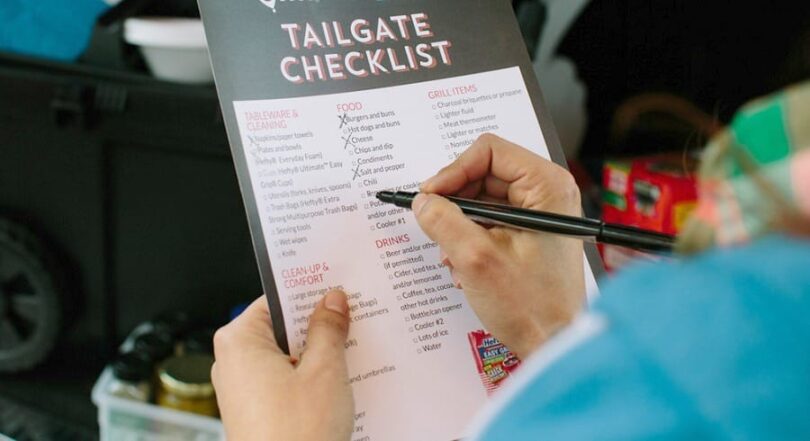 Remember, you are out on a picnic in place with no refrigeration or running water. This checklist will help ensure you achieve required food cleanliness standards even when accessibility of hot or running water is dusputable.
Grill
Aprons
Grill gloves
Charcoal, chimney and lighter (for charcoal grill)
Propane and lighter (for a gas grill)
Heavy duty aluminum foil
Ice
Meat: hotdogs, ribs, pork, burgers, Italian sausages
Paper towels, cups, and plates
Pots and pans
Utensils: knives, spatula, serving spoons and tongs
Fire extinguisher
Drinks: beer, water, wine or soft drinks
Side dishes; potato salad and stew
Salt, herbs and any other spices you may need
Rain gear: umbrella, caps, ponchos
Trash bags
Top Products of 2017
Now let's see some of the finest tailgate grill models that you should consider buying.
Weber 40020 Smokey Joe Premium 14-Inch Portable Grill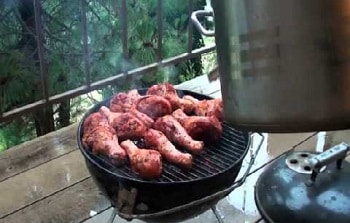 Weight: 9 pounds when empty, 11 pounds while loaded with charcoal
Dimensions: 22-inch cooking area
Features: glass reinforced nylon handles, triple nickel plated cooking grate, durable all weather wheels, rust resistance ash catcher, lid hook inside the grill
Best Use: Picnic, car camping, tailgating and portable grill cookouts
Description:  Weber 40020 Smokey Joey Premium 14-Inch Portable Grill is your best solution if you are planning a tailgating party or are going on camping and don't want to miss your grilled meat flavor.
This grill is a lightweight, weighing around 9 when empty and 11 pounds when loaded with charcoal loaded. The nylon glass reinforced handle is one of the best features you will probably note when you purchase this grill. It doesn't go hot when touched by fire and can withstand all environmental conditions.
It has a Tuck n Carry lid holder and lid lock. The top is tapped in the Tuck n Carry for cradling when moving the grill when hot.
The entire Tuck-nCarry lid allows easy transportation of the grill without it moving all over the place. With such great features, this grill is worth its prices.
Related: while using this tailgating grill, you might also require a Weber-7447-Compact-Rapidfire-Chimney to help control the fire and smoke while a Weber-7431-Cooking-Grate is necessary to help you efficiently cook your meat.
Cuisinart CGG-220 Everyday Portable Gas Grill, Green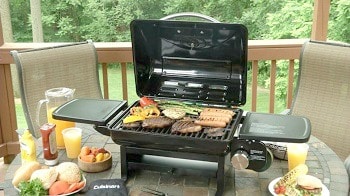 Weight: less than 40 pounds
Dimensions: 26 x 18 x 19 inches
Features: 240 sq inch porcelain enamel, temperature gauge, two removable side tables, TwistStart electric ignition, removable drip tray,
Best Use: Camping, tailgating, backyard grilling
Description: Cuisinart CGG-220 Everyday Portable Gas Grill, Green weighs less than 40 pounds making it an easy one to carry when you want to do an outdoor grilling for your family or when you are out camping with your friends.
The grill has a 240 sq inch porcelain enamel cast iron grill which heats fast and efficiently hence helping save on time. The integrated precision temperature gauge helps you have full control of your grilling. The removable side table offers the invaluable benefit of countertops where you can place your beverages, prep, and tools.
The TwistStart electric ignition, on the other hand, makes grilling easy every time you use this tailgating grill.
Related: Cuisinart-QG-012B-Adaptor-Hose-4-Foot will be helpful while using this grill. With a 4-foot hose, you can place your propane cylinder a little further from your grilling location hence minimizing chances of gas leaking and causing a fire.
Weber 57060001 Q3200 Liquid Propane Grill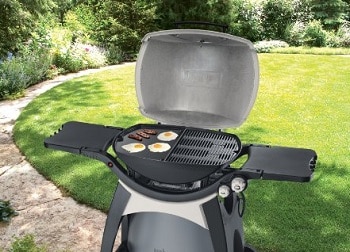 Dimensions: 55.5 x 50.2 x 30 inches
Features: Aluminum hood, large cooking surface, push button ignition, porcelain enameled iron cooking grates, stainless steel burners, hose and regulator
Besyt Use: Picnic
Description: Weber 57060001 Q200 Liquid Propane Grill is an excellent grill for someone who lives in an apartment and without ample space. It has 468 sq cooking area, which is big enough for you to cook your meat, burgers and hot dogs without congestion. The cast iron grates retain heat for heating up your food later.
Many people prefer this grill due to its large size which enables one to cook for up to six people without much struggle. It has a sleek design, and the food comes looking yummy. This grill assures you services as the burners are stainless and highly durable.
Char-Broil Grill2Go X200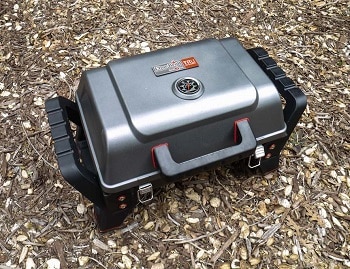 Weight: 26 lbs
Dimensions: (13.6 x 26.2 x 15.7)inches
Features: Die-cast aluminum design, TRU-infrared technology, porcelain-steel coated cooking grate, 200 sq cooking area, hood mounted temperature gauge, piezo ignition
Best Use: camping ad canyon tailgating
Description: The piezo ignition allows quick light up without necessarily using a lighter of matches hence saving time. The porcelain steel coated cooking grate, on the other hand, heats up fast and also maintains heat.
While cooking, you can control the temperatures of the Char-Broil Grill2Go X200 using the hood mounted temperature gauge. By controlling the heat of the grill, you can cook at your pace.
The TRU-infrared technology ensures there are no flare-ups and hence helping retain the flavor of your food.
The grill is easily convertible into a 20pound propane tank simply by disconnecting the hose and adapter which are sold separately. You can cook up to 12burgers in the large stainless steel cooking grate.
Related: while buying this tailgate, you might also consider buying Char-Broil-4-Foot-Hose-and-Adapter for connecting with your 2PK-16-4OZ-Prop-Bottle-Pack. The two are usually sold separately hence the need to consider purchasing them.
Son of Hibachi Combo with Snuff Out Pouch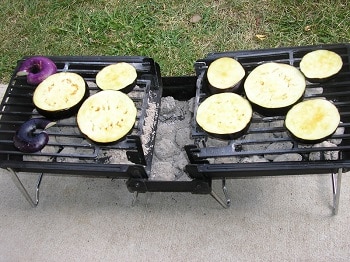 Weight: 19 pounds
Dimensions: 10.25 x 13.69 x 9 inches
Features: improved ash drawer, self-cleaning, self-extinguishing, 170 sq. Inches cooking area, easy to light up(in under ten minutes), snuff of pouch, battery operated, built in chimney
Best Use: camping, fishing, hunting, picnic and tailgating
Description: The snuff pouch is insulated with a burn elastic fabric which helps the Son of Hibachi Combo with Snuff out Pouch helps you safely pack your grill after cooking and hence saving on charcoal.
It uses less coal and remains hot for a long time. Being battery operated means you can use this grill no matter where you are without lighting stress.
Related: To keep your Son of Hibachi grill clean, you might consider using Alpha Grillers 18″ Grill Brushes
Coleman RoadTrip LXX Grill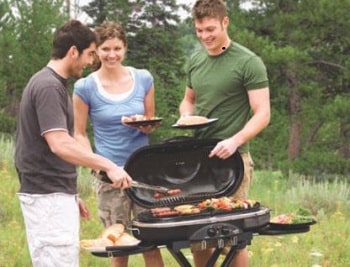 Weight: 50 lbs,
Dimensions:13.6 x 34 x 19.1 inches
Features: Push button igniter, 285 sq inch cooking area, towing handle and wheels, detachable side tables, supports mix and match cooking surface
Best Use: camping
Description: With the ability to accommodate mix and match cooking surfaces, this Coleman RoadTrip LXX Grill offers you the flexibility of cooking food of your taste.
The detachable side tables give you the invaluable benefit for placing props, beverages, and cooking utensils. The grill is towable, making it easy to move to the desired grilling sport.
Many people prefer this tailgating grill because it is easy to clean, provides a steady heat and cooks grill flavored meat.
Related: For more comfortable transportation of your grill, you might consider buying Coleman-RoadTrip-Wheeled-Carry-Case. A Coleman-5-Ft-High-Pressure-Propane-Adaptor, on the other hand, will help you connect the grill with the gas cylinder. The fact that its five foot long, you can place the cylinder at a safer distance.
Portable Kitchen PK 99740Cast Aluminium Grill and Smoker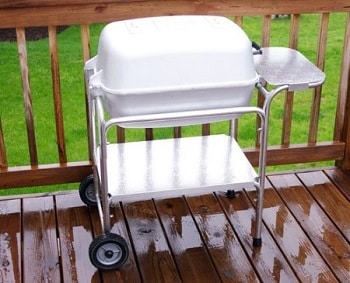 Weight: 35 pounds
Dimensions: 35 x 20.5 x 35.5 inches
Features: Detachable charcoal carriage, hinged cooking grid that is easy to refuel, thick cast aluminum that provides maximum heat rotation, adjustable vents, and dampers that help you control the temperature,
Best Use: tailgating, patio/garden grilling
Description: The Portable Kitchen PK 99740Cast Aluminium Grill and Smoker have many desirable features that should prompt you into buying it. The grill is very flexible, and with it, you can cook almost all the foods you cook in your kitchen.
The semi-pneumatic rubber wheels make the cooker highly flexible depending on where you want to place your grill. The temperature control also offers a lot of flexibility, depending o what you are cooking, you can set the temperatures high as long as it takes and reduce when you want to cook something that doesn't require too much heat.
The aluminum cookers are also highly durable, and you can rest assured that once you buy it, it will be several years before you think of replacing it.
Related: if you are purchasing new outdoor grilling tools, you might consider Grill-Grates-PK-GrateTool to go with this aluminum grill.
To Wrap It Up
With so many tailgate grills, your needs should be the primary guide in making a decision on which is the best cooker. Also, remember to make a cost comparison. Some grills will come at a lower price, but lack essential features and by adding just a few bucks to the cost might land you a good cooker.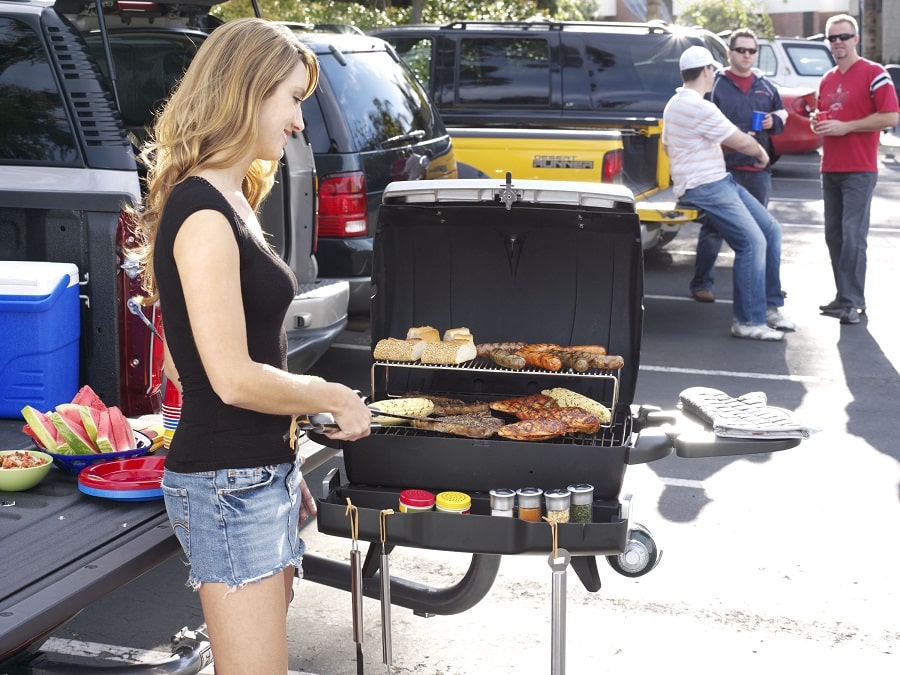 In case you are a novice in grills, remember to go through the features of every tailgate grill discussed here and compare them with your requirements. That way, you will choose a cooker that perfectly suits you.
Hope this article helped you in making the right choice, and remember, if you want to find out more on this topic, feel free to leave a question in the comments section below.