Windbreakers are a type of extremely lightweight, wind-resistant jackets that can either be used as part of a layering system, or worn alone. Extremely versatile, these jackets effectively cut the wind, which makes a huge difference for outdoor activities ranging from hiking to mountain climbing.
Although they are not designed to be worn in the rain or snow, most windbreakers do offer some degree of water resistance. In this article, we go over the features to look for when shopping for windbreakers, and also offer a list of the best windbreakers available on the market.
Features to Consider When Shopping for A Windbreaker
Windbreakers versus other types of jackets
Windbreakers are different from both rain jackets and heavier hard shell jackets in a number of ways. The most common material for these jackets is nylon, which is extremely light, but blocks the wind and can also be made rip-proof.
Because they are unlined, windbreakers can compress into very small packs (generally, they have an attached stuff sack). Certain models, such as the Patagonia Houdini Jacket, which is great for alpine sports, come with an additional carabiner or clip for easily attaching the packed jacket to your pack.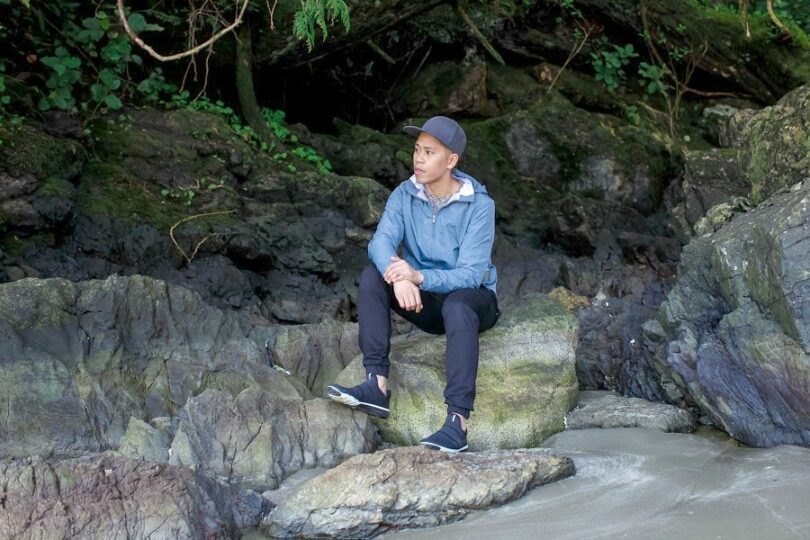 Other types of outdoor jackets, such as rain jackets and hard-shell jackets, are thicker and more targeted to a particular set of conditions, making them less versatile than windbreakers. Rain jackets are specifically designed to repel water. Hard-shell jackets are the thickest option and worn on top of other layers.
These jackets are designed for a high level of exposure to the elements, and they tend to be more expensive and bulky. On the other hand, windbreakers can be used in all sorts of weather conditions, except for heavy rain, snow, or cold.
Main features
The most important feature of any windbreaker is its ability to cut the wind. Different models can also be more or less breathable, which is another important feature to consider. Unfortunately, these two aspects tend to work against each other, as wind resistance implies a lack of breathability.
Some jackets do manage to successfully combine both, and you may want to consider their relative importance given the activities you primarily engage in. Another important feature of most windbreakers is water resistance.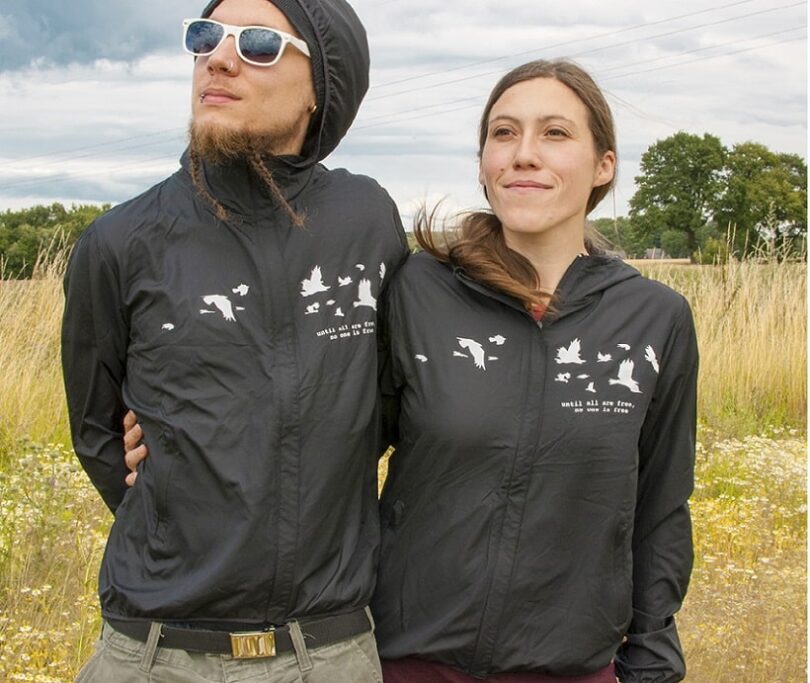 On their own, windbreakers are not generally waterproof; however, they often have some sort of DWR (durable water repellent) coating that resists water. The Rab Windveil jacket, the second option on our list, has a naturally DWR fabric, so it does not run the risk of having its coating rub off.
Activities for which it is useful to have a windbreaker
Windbreakers are somewhat rare in their applicability –  they can be useful for an essentially limitless number of different applications and activities. They are invaluable for running (in the city or out on the trail), casual outdoor activities, cycling, climbing (look for jackets with clips), backcountry skiing in light conditions, or simply walking by the ocean in cooler weather.
Top Product Reviews
Below, we review eight different windbreaker jackets from several manufacturers. Most are sized for men, but one, the Breaker jacket by Danish maker RAINS, features unisex sizing. With a range of different price points and features, you'll be sure to find the perfect windbreaker in the list below.
Patagonia Houdini Jacket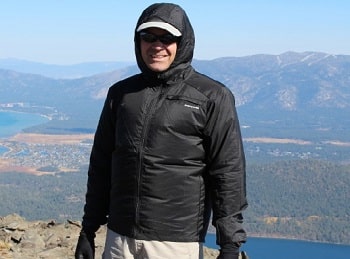 Main Features:
Weight: 3.6 ounces
Available in five sizes (extra-small, small, medium, large, and extra-large) and five colors (black, navy, peppergrass green, forge gray, and electron blue)
100% nylon ripstop with DWR (durable water repellent) finish
Features: full-length zipper, drawcord hem, machine washable, adjustable hood, zippered chest pocket/stuff sack with carabiner, half-elastic cuffs
Price: $168.95 – $188.95
Description: The Houdini Jacket by Patagonia is a high-performing, hip-length water-resistant men's windbreaker jacket. Because it is so light, and has a water-repelling DWR (durable water repellent) coating on the 100% nylon ripstop shell and front zipper, it is ideal for trail running in all sorts of outdoor conditions, even in light rain or snow.
The chest pocket doubles as a handy stuff sack, which can easily be clipped to your pack using the included reinforced carabiner. Other features on this lightweight wind-blocking jacket include a reflective detail, an adjustable hood, and lightweight cuffs and drawcord.
The Houdini Jacket is slim-fitting and can fit over a light midlayer, or base layers.
Related: Patagonia also makes a Houdini Alpine Jacket.
Rab Windveil Jacket – Men's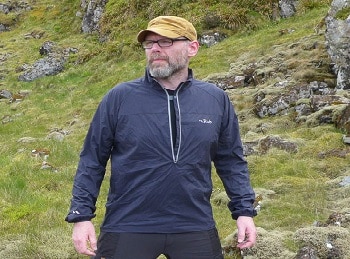 Main Features:
Weight: 165 grams (large)
Material: Pertex Microlight 'Super DWR' fabric, 100% nylon
Features: internal storm flap, chin guard, hood, reflective trim, inside pocket/stuff sack, YKK front zipper, two YKK zipped A-line pockets,
Description: The Rab Windveil men's jacket is a highly breathable (1.0 cc breathability rating) and ultra-lightweight (weighing just 165 grams for size large) windbreaker jacket.
Made of DWR Pertex Microlight fabric, this slim-fitting hip-length jacket has an advanced degree of wind and water resistance, without depending on an exterior coating that runs the risk of rubbing or washing off.
In addition, it has been engineered for optimal breathability. Some of the elements designed to maximize breathability include mesh-lined pockets, an internal storm flap, and a venting control popper.
Other features include a hood, soft Lycra bound cuffs, a half-hem drawcord, a reflective trim for safety, and a chin guard. Because of its high-performance details, the Windveil jacket by Rab is very versatile and ideal for active activities ranging from running to climbing and mountain biking.
Related: Rab also makes a women's version of the Windveil jacket.
Marmot Ether DriClime Jacket – Men's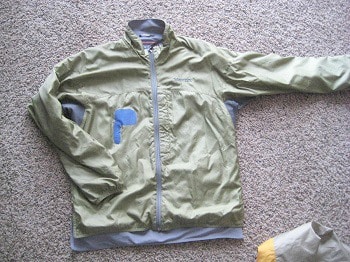 Main Features:
Weight: 8.8 ounces (on average)
Available in four sizes (small, medium, large, and extra-large) and four colors (arctic navy, black, citronelle, and dark rust)
Material: 100% nylon, double mini ripstop (1.0 oz/yd)
Features: zippered hand pockets, zippered chest pocket/stuff sack, elastic cuffs and drawcord hem, mesh underarm vents, wicking liner, 360° reflectivity
Price: $100
Description: The Marmot Ether DriClime Jacket is a hip-length men's windbreaker jacket ideal for outdoor sports in cooler weather. The athletic fit, which has tailored shoulders and a fitted hem, helps ensure that the garment moves seamlessly with the body.
Unlike other windbreakers on this list, the Ether DriClime has an additional DriClime bicomponent lining that helps with moisture wicking. While this liner increases warmth, breathability, and wind resistance, it also adds bulk and makes it somewhat less packable than other options.
Other features on this water-repellant jacket include 360° reflectivity for visibility, elastic cuffs, mesh underarm vents, and zippered pockets (both hand and chest).
Arc'Teryx Squamish Hoody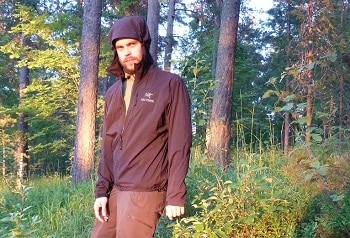 Main Features:
Weight: 155g (5.5 oz)
Available in six sizes (extra-small, small, medium, large, extra-large, and XXL) and five colors (basalt, silver lining, magma, bourbon, and twinleaf)
Material: 100% nylon Tyono™ 30 denier shell with DWR treatment
Features: reflective logo, articulated elbows, gusseted underarms, front zip, helmet-compatible StormHood™, DWR (Durable Water Repellent) coating, durable die-cut Velcro cuff adjusters, drop back hem, adjustable hem drawcord, chest pocket/stuff sack, machine washable
Price: $169.95
Description: The Arc'Teryx Squamish Hoody is a durable, super-lightweight hooded men's windbreaker offering protection for high-powered outdoor activities. The hoody's StormHood™ is helmet-compatible and has a soft brim and adjustable drawcords that can be used one-handed.
While it is on the expensive side, this is a versatile, highly-packable performance jacket that can be used for everything from trekking to backcountry skiing. In addition, it has an attractive, athletic stretch fit with gusseted underarms, and it does not sacrifice style for performance.
Offering great breathability and freedom of movement, the Squamish jacket has been awarded Editor's Choice awards from both Outdoor Gear Lab and Climbing Magazine.
Marmot Vapor Trail Hoody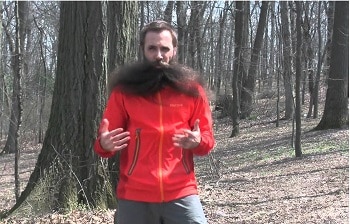 Main Features:
Weight: 13.8oz (391.2g)
Materials: WP Softshell 79% Polyester, 21% PU Stretch with DriClime® Technology 3.4 oz/yd, 86% Polyester, 14% Elastane Plain Weave Stretch 4.5 oz/ yd
Features: Marmot M2 Softshell, adjustable hood, zippered sleeve pocket, interior zip pocket with iPod-compatible headphone port, asymmetric cuffs, an elastic drawcord hem, breathable side panels and jacket back, pack pockets, Angel-Wing Movement™
Price: $165.95
Description: The Marmot Vapor Trail Hoody is a highly breathable, water repellent windbreaker for intense activity outdoor such as skiing, backwoods trail running, or climbing.
Other features of the Vapor Trail Hoody include several zip pockets, including an interior one that has an iPod-compatible headphone port; an adjustable hood; and an easy-to-adjust elastic drawcord hem.
Breathability features include a breathable, wicking jacket back, as well as venting side panels. Several users have noted that Vapor Trail Hoody's athletic fit tends to run on the slim side, so you may want to consider ordering up a size for optimal movability.
Related: There is also a version of this jacket for ladies and it is called Women's Marmot Vapor Trail Hoody.
Fjallraven High Coast Wind Anorak Jacket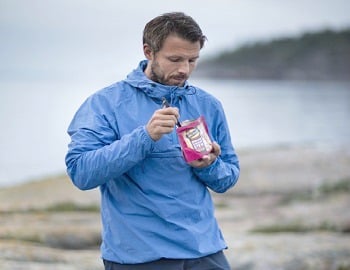 Main Features:
Weight: 9 ounces
Available in six sizes (extra-small, small, medium, large, extra-large, and XXL) and three colors (UN blue, navy, and seashell orange)
Material: 54% polyamide, 46% cotton
Features: kangaroo pocket/stuff sack, thumb-holes, drawstring hem, close-fitting adjustable hood, half-length front zipper
Price: $116.97 – $180.00
Description: The High Coast Wind Anorak Jacket is a stylish men's anorak windbreaker jacket made by Swedish outdoor goods company Fjällräven. This hip-length versatile regular fit jacket is ideal for hiking and other casual outdoor activities.
Featuring an elegant pullover style with a half-length front zipper, it is constructed using a ventilated and fast-drying combination of waxed polyamide and organic cotton; it is also very wind and water-resistant.
Light and packable, the kangaroo pocket can be used as a stuffsack for easy storage and packing. Additional features of this light, functional jacket include sleeve thumb holes, an adjustable hood, and a drawcord hem.
4ucycling Windproof Full Zip Wind Jacket with 3-layers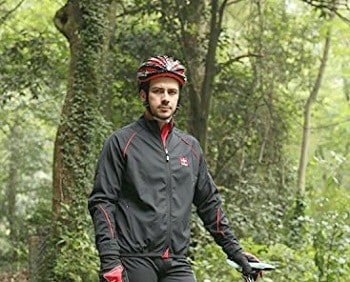 Main Features:
Features: three-layer construction, fleece interior, sturdy full-length front zipper with left-hand orientation for safety
Price: $39.99
Description: The 4ucycling Windproof Full Zip Wind Jacket is a stretchy, three-layer wind-blocking winter jacket with numerous features that are especially useful for cyclists. The first (internal) layer has a soft, warm fleece interior with a thermal lining.
The second (middle) layer is made of a breathable fabric that is also very effective for blocking the wind. Other design elements include a longer back (for when you are bending over to ride a bike) and a left-hand zipper to help promote safety and stability when riding.
With a stretch and a slim athletic fit, this jacket ensures excellent range of motion and warmth. It is particularly well suited for cyclists, but can also be used for other outdoor activities, such as jogging or skiing. The manufacturer offers a product satisfaction guarantee.
RAINS Men's Breaker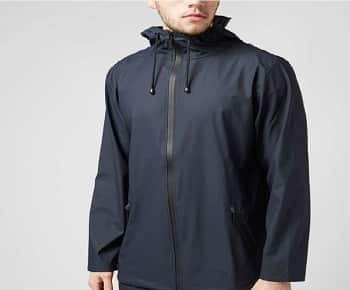 Main Features:
Available in eight sizes and seven colors
Material: 100% polyurethane (outer), 100% polyester (inner), stainless steel fittings
Features: full-length waterproof front zipper, two waterproof front pockets, hood, machine washable
Price: $76.20 – $193.25
Description: The RAINS Men's Breaker jacket is a casual, regular-fit jacket by Danish manufacturer RAINS offering both wind and water-blocking capabilities.
Unlike most of the other options on this list, it features unisex sizing and is available in eight different sizes (and seven attractive colors, from basic black or blue to more colorful options such as bright sky blue).
The zippers on the full-length front closure, as well as the two front pockets, are waterproof. This elegant jacket also has an adjustable hood and adjustable drawstring waist. Other features for breathability and ventilation include eyelets under the armpits and back air circulation holes.
What Have We Learned?
Windbreaker jackets are an essential piece of clothing for blocking out one of the most powerful of the elements – the wind. Heavy wind can impact and slow you down when you're outdoors, whether you are out on the slopes, cycling, or trail running.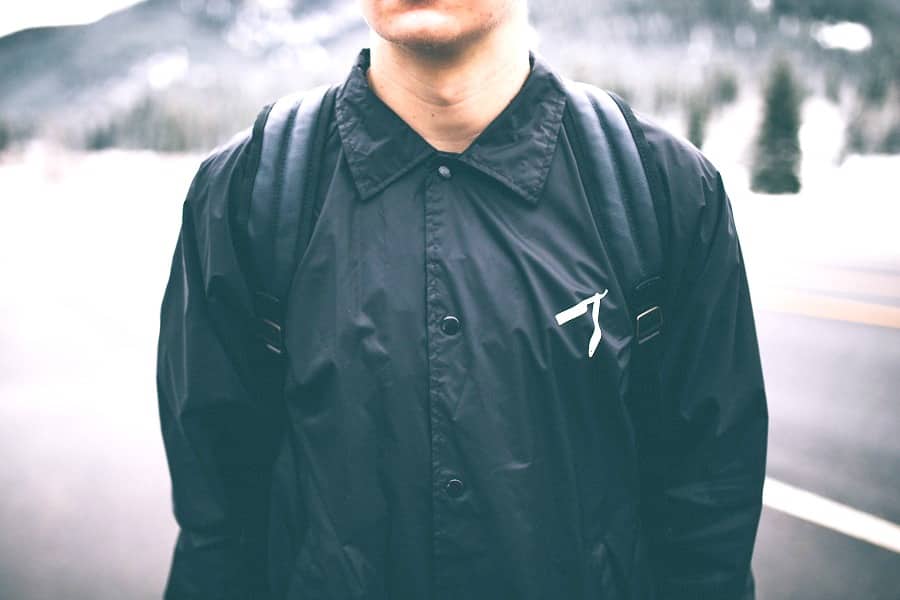 Without an adequate windbreaker, you will feel the chill much more quickly, which could negatively impact your performance. In this article, we went over some of the main features to look for when shopping for a windbreaker.
We also provided a list of eight high-performance options, which offer different features, weights, and price points. Because of its versatility, very light weight, and impact on performance, a great windbreaker is a worthwhile investment for any outdoor enthusiast.
Think we missed some of the great windbreakers that are out there? If so, please leave us a comment to let us know!